Strategic Analysis Caucasus Brief
Bi-weekly review (16.-29.11. 2020)
Tomáš Baranec
Armenia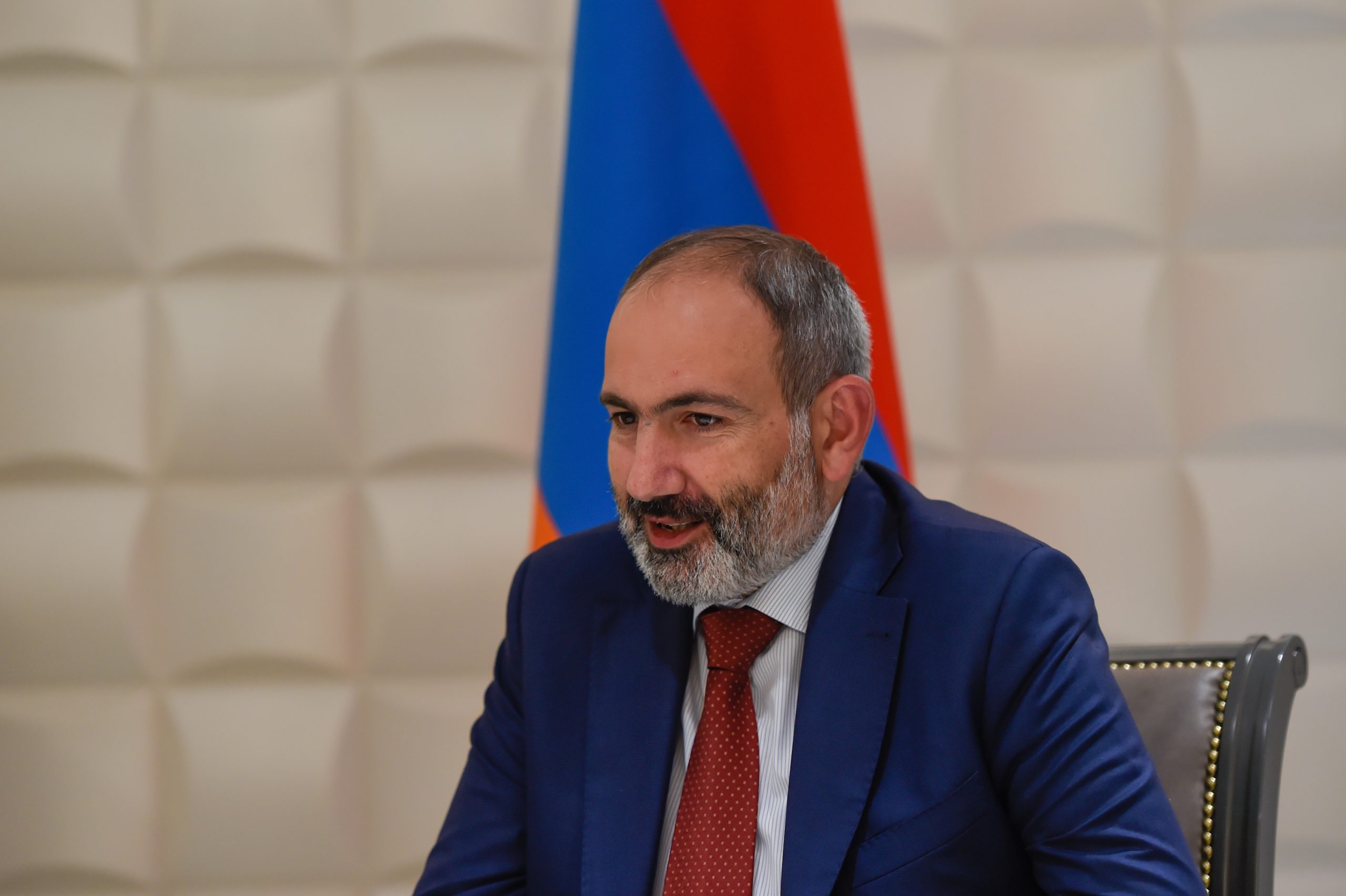 Nikol Pashinyan, Armenia. Photo: Asatur Yesayants/ Shutterstock.com
Armenian Prime Minister has presented a government roadmap for coming months
Armenian Prime minister Nikol Pashinyan has put forward a 15-point roadmap for his government on November 18 following the ceasefire in the Nagorno-Karabakh. Points can be divided into two groups, one which aims to mitigate imminent consequences of the Nagorno Karabakh war and the other focusing on more general challenges Armenia is currently facing.
"It is time to talk about paths, methods and programs to overcome the current situation. I am the main person responsible for the current situation. I am also responsible for overcoming the situation and establishing stability and security in the country. I emphasise that not only do I not intend to relinquish that responsibility, but I am fully committed to it," Pashinyan wrote on his Facebook page
Regarding the consequences of the war, PM wants to focus on:
The restoration of the negotiation process on Nagorno-Karabakh's status in the format of the OSCE Minsk Group.
The return of civilians and restoration of destroyed infrastructure in Nagorno-Karabakh.
The provision of social guarantees for the families of killed and injured citizens and servicemen.
Restoration of residential and public buildings and infrastructure damaged during the war.
Provision of social guarantees, prosthetics and professional training of military personnel with disabilities.
Immediate return of captured soldiers and civilians. Providing social guarantees for their families.
Formation of a system of psychological rehabilitation of people who participated in the war, and society as a whole.
Other important aspects include:
A reform of Armenia's Armed Forces.
Overcoming the coronavirus pandemic and restoring economic activity.
Restoration of the business environment.
Activation of programs to solve demographic problems.
Making changes to the electoral code and the law on political parties.
Introducing the institution of specialised judges as the first step in the creation of an anti-corruption court.
Conducting regular consultations with representatives of the political and civil society of Armenia.
Conducting regular consultations with Armenian organisations and representatives of the diaspora.
Pashinyan has given himself six months to realise these goals and promised to report on the roadmap's implementation in June 2021, informed civilnet.am.
Armenian government faces a severe crisis following the war
Altogether five ministers of Armenian government have either been fired or resigned since the end of the recent war in Nagorno-Karabakh. One wave of resignations has followed a controversial Facebook post in which Armenian PM Nikol Pashinyan called soldiers to support his government.
Minister of Foreign Affairs Zohrab Mnatsakanyan resigned on November 16, and Minister of Emergency Situations Feliks Tsolakyan resigned on November 17. On November 20, two ministers, Minister of Defence Davit Tonoyan and Minister of Labour and Social Affairs Zaruhi Batoyan, were fired. Finally, on November 23 Armenian Minister of Economy Tigran Khachatryan has tendered his resignation following criticism of the government over a ceasefire that secured advances for Azerbaijan in Nagorno-Karabakh after six weeks of fighting.
Resignations have also hit the country's parliament. On November 16, after a controversial Facebook post by Pashinyan, two MPs from the ruling My Step bloc, Gayane Abrahamyan and Lusine Badalyan announced their resignations as member of parliament, while two other My Step MPs, Taguhi Tovmasyan and Vardan Atibekyan, announced that they were leaving the ruling faction, writes OC Media.
On November 15 Pashinyan made a controversial call to soldiers of Nagorno Karabakh who had expressed their support for his government. "Today I watched dozens of videos of soldiers from the front line, I was struck by the thoughtfulness of the soldiers", PM wrote on November 15. "You, guys, are right. I am waiting for you in Yerevan to finally resolve the issues of the snivelling people under the walls". Armenian Human Right Defender warned that Pashinyan's words could lead to violence.
Armenians handed over Agdam and Kalbadjar districts to Azerbaijan
Azerbaijani troops entered Agdam district in accordance with the trilateral agreement on November 20 and Kalbadjar district on November 25. The newly re-established interstate border between Armenia and Azerbaijan runs through the Sotk gold Mine.
"According to the trilateral statement, signed by Azerbaijan's President, Russia's President, and Armenia's Prime Minister, on November 20, units of the Azerbaijani army entered the Agdam district," reads the statement by press service of Azerbaijani Ministry of Defence.
Kalbadjar was to be handed over by November 15, but Baku agreed to postpone the event. However, since the withdrawal of Nagorno-Karabakh's military servicemen from the territory of the Kelbadjar district the interstate border now runs through the Sotk gold mine – part of which is located in the Armenian territory, while the other was earlier a part of separatist Nagorno-Karabakh.
On November 26, the Azerbaijani Armed Forces set up a post in the territory of the Sotk mine, said Tiran Khachatryan, First Deputy Chief of the General Staff of the Armenian Armed Forces. "Half of the territory of the Sotk Gold Field is ours, the other half is located in the territory that passed under the control of Azerbaijan," the Aysor.am quotes Mr Khachatryan as saying.
Lachin district is to be surrendered on December 1. Altogether seven Azerbaijani districts, occupied by Armenian forces in the first Nagorno Karabakh war, formed a buffer zone surrounding the separatist region. Four of them were taken over by Baku during the fighting in fall 2020.
Sources:
Caucasian Knot, "Operation of Sotk Mine suspended", http://www.eng.kavkaz-uzel.eu/articles/52915/
TASS, "Azerbaijani troops enter Agdam district in accordance with trilateral agreement", https://tass.com/world/1225779
Seenews, "Azerbaijan Regains Control over Kalbajar District", https://see.news/azerbaijan-regains-control-over-kalbajar-district/
En24news, "Armenia hands over Kalbajar district to Azerbaijan", https://www.en24news.com/2020/11/armenia-hands-over-kalbajar-district-to-azerbaijan.html
World Today News, "Azerbaijani Army Takes Over Second Armenian Karabakh District / Day", https://www.world-today-news.com/azerbaijani-army-takes-over-second-armenian-karabakh-district-day/
French Senate adopts resolution calling for Recognition of Nagorno-Karabakh
The French Senate has voted in favour of the resolution "On the need to recognise Nagorno-Karabakh" on November 25. The document, which is advisory in its nature, has been adopted nearly unanimously with 305 deputies voting in favour and only one against it.
The text of the resolution was presented by the leaders of the five largest parliamentary factions. The resolution not only contains an appeal to the recognition of the separatist republic, but it also demands the withdrawal of Azerbaijani military forces from the territories occupied since the outbreak of clashes on September 27.
The resolution calls on the French government to recognise Nagorno-Karabakh and provide large-scale support to the peaceful population of Karabakh. It also talks about the need to create an international commission to investigate war crimes committed against the peaceful population of Nagorno-Karabakh.
As reported by JamNews, the rapporteur on the resolution, Senator Bruno Retayo, said during his speech that the conflict ceased to be local after the massive and decisive support of the Turkish President, who is pursuing an expansionist, neo-Ottoman and Islamist policy:
"I am quoting exactly the words of Erdogan: "Nagorno-Karabakh has become a country of Islam and returned to the shadow of the crescent." How much more aggression is needed for Europe to finally announce real sanctions – diplomatic, but above all, economical? When will we ourselves cease to be naive?"
Armenian Prime Minister Nikol Pashinyan has expressed gratitude for France for the Senate resolution recognising the independence of Artsakh. "I extend my deep gratitude to France and the French people for the Senate Resolution on the recognition of the Republic of Artsakh," the Prime Minister said in a Facebook post. "France reaffirms its adherence to universal values, as well as to respect for the fundamental principles of international law," PM Pashinyan said.
In its statement, Azerbaijani parliament said that France should be expelled from the OSCE Minsk Group while requesting the government to reconsider the political relations between Baku and Paris and to review economic relations and take appropriate measures.
Sources:
JamNews, "French Senate adopts resolution On the need to recognise Nagorno-Karabakh", https://jam-news.net/french-senate-adopted-a-resolution-on-the-recognition-of-nagorno-karabakh/
Livehournal, "French Senate Adopted Resolution Calling To Recognition Of Nagorno-Karabakh", https://izwest.livejournal.com/8240173.html
Public Radio of Armenia, "Armenian PM hails French Senate vote on recognition of Artsakh", https://en.armradio.am/2020/11/25/armenian-pm-hails-french-senate-vote-on-recognition-of-artsakh/
JAMNews, "Azerbaijani parliament: France should be excluded from Minsk Group following Karabakh recognition", https://jam-news.net/milli-majlis-parliament-france-osce-minsk-group-news-azerbaijan/
Azerbaijani authorities continue their crackdown on journalists and peace activist
On November 17 The Baku Court for Grave Crimes has sentenced journalist Polad Aslanov to 16 years in prison. Meanwhile, anti-war activist Latif Mammadov claimed Azerbaijani security services threatened to kill him and his family over his online activities.
Aslanov, the editor-in-chief of two Azerbaijani editions, was detained on suspicion of espionage back in June 2019. According to State Security Service (SSS) Aslanov "held secret meetings with employees of foreign special services outside Azerbaijan." The journalist is suspected of having agreed to disseminate articles in the media and social networks aimed against the Azerbaijani authorities.
Following the verdict, "Polad said that he was being punished for revealing extortions of travel agencies that organised pilgrimages to Shiite shrines in Karbala (Iraq) and Mashhad (Iran). Agents of special services extorted from bosses of travel agencies 10-20 USD for each pilgrim. Polad said that he was ordered to delete these records, but he refused, and then a criminal case was fabricated against him," his wife, Gyulmira Aslanova, has stated.
The coordinator of the Centre against Repressions and Torture, Namizad Safarov told the Caucasian Knot news portal that Azerbaijani authorities are often accusing journalists, including of espionage for Iran, but such charges look implausible. The Committee to Protect Journalists (CPJ) has condemned the verdict as well.
Just a couple of days earlier an anti-war activist Latif Mammadov, 24, told OC Media he was physically abused and threatened while being interrogated on November 14. "One of them asked me a question and when he didn't like my answer he grabbed me by the collar and just started shaking me vigorously, I pushed him on his shoulder so he let me go, but then his colleague got up, and they pushed me down on the chair", Mammadov said. Officers also told him that they would "kill him and his parents if he does not stop" his online activity.
During interrogation, he was advised not to read international media, as they are "biased and against Azerbaijan", stating it is not a democracy. "You can't be a socialist, anarchist, even a liberal because we did not give you these rights", said one of the officers later on.
As OC Media reminds, the State Security Office of Azerbaijan has received numerous public complaints online in regards to social media posts containing anti-war sentiments and opinions criticising the government. They have previously questioned at least five other activists for making anti-war statements.
Sources:
OC Media, "Azerbaijani Security Services 'threatened to kill' activist and family", https://oc-media.org/azerbaijani-security-services-threatened-to-kill-activist-and-family/
Caucasian Knot, "Azerbaijani journalist Aslanov sentenced to 16 years in prison", https://www.eng.kavkaz-uzel.eu/articles/52798/
Caucasian Knot, "Azerbaijani rights defenders treat verdict to journalist Aslanov as absurd", https://www.eng.kavkaz-uzel.eu/articles/52814/
Caucasian Knot, "Azerbaijani journalist suspected of treason", https://www.eng.kavkaz-uzel.eu/articles/47485/
Azerbaijani Prosecutor General's Office has launched an investigation  into videos showing alleged war crimes by Azerbaijani forces
The Prosecutor General's Office has stated that it is investigating videos which appear to show war crimes being committed by Azerbaijani soldiers against Armenian soldiers and civilians.
The investigation comes as a large number of videos have begun to circulate online appearing to show Azerbaijani soldiers taunting, torturing, and executing captured men, as well as mutilating and otherwise degrading human remains, writes OC Media.
"We have also initiated an investigation into the inhumane treatment of Armenian servicemen that were taken prisoners. There are many fake videos. But we must say frankly that there also are videos which could be authentic," claimed Azerbaijan's Prosecutor General Kamran Aliyev.
He also added that Azerbaijan had initiated 73 criminal cases of Armenian forces shelling civilian targets in Azerbaijan. The attacks "claimed the lives of 94 civilians, including small children, women and elderly people", Aliyev said, adding that four ethnic Armenian leaders – including the president of the unrecognised Nagorno-Karabakh Republic, Arayik Harutyunyan – were charged with war crimes in absentia.
The international investigative outlet Bellingcat had earlier investigated videos of the alleged murder of two Armenian POWs by Azerbaijani forces, tracing them to Azerbaijani Telegram channels and concluded that they were likely genuine. They also geolocated the videos to a square in the city of Hadrut which was captured by Azerbaijani forces in the course of the war. Azerbaijani officials have claimed that the video of the two POWs being executed was fake.
Sources:
OC Media, "Videos appear to show more war crimes in Nagorno-Karabakh", https://oc-media.org/videos-appear-to-show-more-war-crimes-in-nagorno-karabakh/
Al Jazeera, "Baku to probe alleged war crimes by both Azerbaijan, Armenia", https://www.aljazeera.com/news/2020/11/25/baku-to-probe-alleged-war-crimes-by-both-azerbaijan-armenia
Historic low turnout in Georgian election after opposition boycott
The victory of Georgian ruling party the Georgian Dream (GD) in the second round of the parliamentary elections on November 21 was marred by an opposition boycott and record low turnout.
In the second round of elections, GD has won all of the 17 majoritarian constituencies and the mayoral by-elections in Kutaisi. The results will give Georgian Dream 91 MPs in the new parliament, a majority of 16.
Claiming that the October 31 parliamentary elections were falsified they demand new elections to be held under the new CEC leadership, the candidates of five opposition political parties who had qualified for the run-offs had unanimously declined to participate.
Turnout was just 26%, which is lower than in any parliamentary or presidential elections in Georgia's post-independence history. The figure is significantly lower than the 38% who turned out during the second round of the previous parliamentary elections, in 2016, which were at the time an unprecedented low, writes OC Media.
Despite their boycott, opposition continues to hold negotiations with the ruling party under the foreign ambassadors' mediation aimed to reach a consensus over the current political crisis.
On November 22, the EU Delegation to Georgia stated that it hopes and expects all political parties will overcome their differences and enable elected MPs to take up their seats, "notwithstanding their differing assessments of the electoral process".
The observation missions, although critical of a set of specific elements of the election process, did not question the overall integrity of the October 31 elections in Georgia.
Man took hostages in Tbilisi. Demanded lower interst loeans and ban on gambling
An armed man broke into the building of the microfinance organisation MBC on Tsereteli Avenue in Tbilisi on November 20 and took nine people hostage. Man has been disarmed and arrested a few hours later. No one was injured during the incident.
While still in the building of MBC, attacker Levan Zurabashvili published a video recorded on his Facebook account where he urges MPs prohibit gambling throughout Georgia, to limit the interest rate on loans to seven per cent annually and the interest rate of already issued loans to be brought down to seven per cent and to decrease the price of medications and pharmacies to only be allowed to receive 10 per cent profits out of selling medicines.
Zurabashvilis lawyer later claimed that his client held a lighter, not a weapon and that the man is a victim of gambling. "It was not robbery as he demanded no money, he was demanding changes that could benefit the whole population of the country. It was a type of performance by him," said the lawyer.
Sources:
JAM news, "Hostages freed, attacker arrested following hold up of microfinance organisation in Tbilisi", https://jam-news.net/an-armed-man-took-hostages-in-tbilisi-news-microfinance-organization/
Agenda.ge, "All nine hostages freed in central Tbilisi, attacker arrested", https://agenda.ge/en/news/2020/3663
Agenda.ge, "Lawyer says man who attacked microfinance company held lighter, not a weapon, calls perp 'victim of gambling'", https://agenda.ge/en/news/2020/3668
Moscow, Sokhumi Sign "Common Social-Economic Space Program"
Russia and Abkhazian de facto authorities have signed program on the "formation of common social and economic space" on November 23. Georgia condemned the move as Moscow's "another illegal step towards de-facto annexation" of occupied Abkhazia.
The program which should be based on 2014  Russo-Abkhaz "Treaty of Alliance and Strategic Partnership" was probably agreed during the meeting between Abkhaz leader Aslan Bzhania and Russian President Vladimir Putin in Sochi on November 12.
The document, setting 2-3 years time-frame for undertaking changes, contains 45 independent paragraphs, obliging Abkhaz side to make legislative and administrative amendments according to the Russian law in social, economic, health and political spheres, such as regulation of dual citizenship between occupied Sokhumi and Moscow, enactment of legal act on regular medicine services, provision of energy security of the region, and development of a law on investment partnership, writes civil.ge. Agency added that in general, it should gradually transform Abkhaz laws into an analogue to the Russian legislation.
Given plan was condemned by Georgian authorities, which consider it to be an "another illegal step towards de facto annexation, which serves the gradual integration of Georgia's indivisible regions into the Russian military, political, economic and social system".