Strategic Analysis Caucasus Brief
Bi-weekly review (18. – 31.10.2021)
Tomáš Baranec
Armenia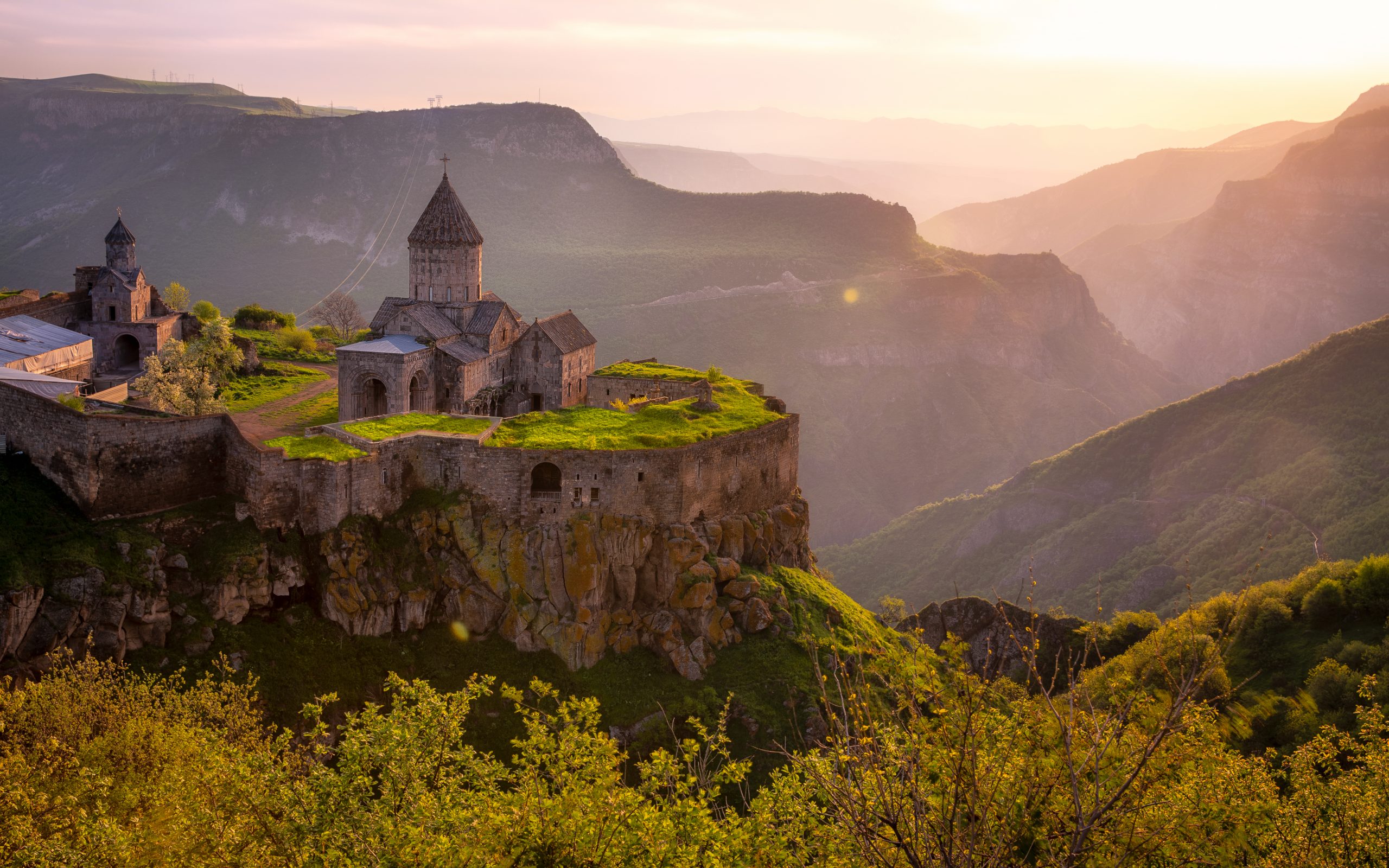 Tatev Monastery, Syunik province, Armenia. Photo: Mike Ilchenko/ Shutterstock.com
Pashinyan talks about closer economic integration with Russia
Armenia is committed to further deepening commercial ties with Russia, its main ally and trading partner, Armenian Prime Minister Nikol Pashinyan said on October 19.
"The Russian Federation not only plays a key role in maintaining peace and stability in our region but also occupies a central place in our country's economy," Pashinyan said in an address to a Russian-Armenian interregional conference held in Yerevan.
"We need to improve our economic relations in a way that will foster the development of competitive industries in our countries," he told government officials and business people from the two states attending the forum. "In this context, we regard as important further mutual integration of our economies, which must be based on a free movement of goods, services, labour and capital. The [Russian-led] Eurasian Economic Union serves this strategic goal," told Pashinyan as cited by The Armenian Mirror-Spectator.
Sources:
The Armenian Mirror Spectator, "Pashinyan Backs Closer Economic 'Integration' With Russia", https://mirrorspectator.com/2021/10/21/pashinyan-backs-closer-economic-integration-with-russia/
Alternative Tatev-Aghvan road bypassing territory controlled by Baku to be commissioned in November
As ARKA News Agency informed citing Armenian Deputy Prime Minister Suren Papikyan, the strategic (18km long) alternative) the road from Tatev to Aghvan in the southern Armenian province of Syunik will be commissioned by the end of November
"Together with the Chief of Staff of the Prime Minister Arayik Harutyunyan and the Governor of Syunik province Melikset Poghosyan, we visited the Tatev-Aghvan section of the road to see the progress made so far. The strategically important road is expected to be fully commissioned by the end of November," he wrote, adding that the Tatev-Aghvan road is also being built. The construction of the Tatev-Ltsen road has also started, and when completed, will be much more convenient for large trucks, reminds the agency.
Papikyan also said that the construction of alternative roads in the Syunik region is underway. In his words, all these roads will be ready for operation next spring, as a result of which a completely new road communication system will appear.
After the leaders of Armenia, Russia and Azerbaijan signed a statement on the cessation of all hostilities in Artsakh on November 9, 2020, more than 190 settlements of Nagorno-Karabakh and adjacent seven regions came under the control of Azerbaijan.
As a result, the borders of the Syunik region in the south of Armenia and the Gegharkunik region in the east appeared in close proximity to the Soviet-time border of Azerbaijan.
Azerbaijani forces have set up a police checkpoint on a section of the road between Goris and Kapan. The checkpoint is on a section of a strategic road that connects Armenia with Iran. Armenian forces had pulled out of that road section after the end of hostilities in Nagorno-Karabakh last autumn. Now Azerbaijani forces control a 21-kilometre stretch of the highway. The other sections of the highway, which is Armenia's sole transport link with Iran, are patrolled by Russian soldiers and border guards.
Sources:
Arka.am, "Alternative Tatev-Aghvan road to be commissioned in late November, deputy prime minister says", http://arka.am/en/news/economy/alternative_tatev_aghvan_road_to_be_commissioned_in_late_november_deputy_prime_minister_says/
1News, "Bypass roads to be built in Vorotan-Goris section: Suren Papikyan received Ambassador of Iran", https://www.1lurer.am/en/2021/09/29/Bypass-roads-to-be-built-in-Vorotan-Goris-section-Suren-Papikyan-received-Ambassador-of-Iran/566252
Armenia's ruling party faced defeat in limited local elections
PM Nikol Pashinyan's ruling Civil Contract Party suffered a setback in the limited municipal elections held on October 17. Polls were held in four major municipalities, including Goris, Meghri, Gyumri and Dilijan, as well as the smaller towns of Tatev and Tegh.
The Civil Contract Party was defeated in three out of the four municipalities, where it declared a decisive victory in the June 2021 snap parliamentary elections.
Among the ruling Civil Contract's poor performances in the October 17 vote was in Armenia's second city of Gyumri, where the party got 7,785 votes, after winning more than 28,000 votes in the city in June's parliamentary elections. Incumbent mayor Samvel Balasanyan's Balasanyan Alliance party got 9,637 votes, and under the city's proportional system, the parties that made it over the threshold to enter the city council will pick a mayor.
In Goris, Syunik, the bloc aligned with the incumbent mayor Arush Arushanyan swept in the local election, securing about 60-percent of the vote against the Civil Contract Party's 34-per cent. Arushanyan, who participated in the parliamentary elections as an MP with the Armenia Alliance, ran as the head of an electoral slate with his own coalition, including the Resurgent Armenia Party.
This party is led by the former governor of Syunik and current MP Vahe Hakobyan. Resurgent Armenia is largely composed of community heads from Syunik, who unilaterally blamed Pashinyan for Armenia's defeat in the 2020 Artsakh War and demanded his resignation in the runup to the snap election.
In Meghri, Syunik, Aram Sargsyan's Republic Party won with 42-per cent of the vote. The Civil Contract Party came in second with 32-per cent. Sargsyan, who has been critical of both the ruling and opposition parties, was previously part of the Yelk Alliance alongside the Civil Contract Party. Following the June elections, he immediately recognised Pashinyan's victory and expressed his readiness to cooperate with his Government.
Out of the four major municipalities to hold elections, Dilijan is the only town in which the Civil Contract Party secured a victory, with nearly 60-percent of the vote.
Opposition Armenia Alliance MP Artur Khachatryan said the Civil Contract Party lost in Gyumri, Goris and Meghri because Pashinyan did not personally campaign in these races. "The ruling political force is completely dependent on Pashinyan's popularity," he told RFE/RL's Armenian Service. Khachatryan also said that the ruling party's defeat testifies to a drop in the prime minister's ratings. "People's lives are not getting better," he said. "On top of that, there is the most important thing: national security considerations."
The municipal elections, Armenia's first since the snap parliamentary election in June, registered a low turnout of only 33.2%, with 55,410 of 166,753 eligible voters participating. Additionally, local election observers reported that elections in Syunik province were marred by "abuse of administrative resources by both ruling authorities and opposition candidates", informs OC Media.
Sources:
AVETISYAN Ani, OC Media,  "Armenia's ruling party faces defeat in limited municipal elections", https://oc-media.org/armenias-ruling-party-faces-defeat-in-limited-municipal-elections/
MEJLUMYAN Ani, Eurasianet.org, "Armenian ruling party suffers election setback", https://eurasianet.org/armenian-ruling-party-suffers-election-setback
AVEDYAN Lillian, "Ruling party faces defeats in local elections", https://armenianweekly.com/2021/10/20/ruling-party-faces-defeats-in-local-elections/
Several top-brass Shia figures detained in Azerbaijan
Six influential representatives of local Shia clergy were recently detained in Azerbaijan. Local experts link to increasingly hostile relations between Baku and Teheran.
On October 25, Ahliman Rustamov, a theologian and former prayer leader of the Haji Javad Mosque in Baku, was detained by the State Security Service and taken for questioning before being released shortly after, informed OC Media.
His son, Gasim Rustamov, told OC Media that Security Service agents confiscated "about 15 religious books" belonging to his father. "We were not told why he was detained", the younger Rustamov said. Rustamov was interrogated by the State Security Service. No further details were reported.
On October 19, Sardar Babayev, Jalal Shafiyev, Gadir Mammadov and Tamkin Jafarov, all members of the Union of Clergy, an organisation representing Shia scholars and religious figures in Azerbaijan, were detained. Relatives said that police had confiscated phones and laptops during the arrests.
Ilgar Ibrahimoglu, a theologian, prominent Shia cleric, and chair of the Centre for the Defense of Freedom of Religion and Conscience, was also detained on October 19. He was released several hours later after questioning.
Shafiyev, Mammadov, and Jafarov were released without charges on October 26. Sardar Babayev, meanwhile, has remained in custody and has been charged with high treason and is facing up to life in prison if convicted.
A roundup of local Shia clergy comes at the time of strained relations between Azerbaijan and Iran over arrests of Iranian truck drivers by Azerbaijani authorities as well as by war games Teheran held close to Azerbaijani borders. Some experts in Azerbaijan have therefore speculated that the arrests signal a belief on the part of authorities in Baku that Azerbaijan's Shia clerics have a connection with Iran's security services.
Zardusht Alizade, a political analyst and former opposition politician, told Turan News that the arrests were likely "directly related" to the tension between Iran and Azerbaijan. "We have witnessed this from time to time. Both during the Soviet era and after independence, there have been such arrests", he said.
"I do not think that a few theologians will stage a coup in Azerbaijan. Of course, this image is being created, and society is already accustomed to it. If there was a threat to the security of the state, why didn't they take security measures in advance?"
"As relations with Iran soured, they again arrested "those who serve Iran" to create the image they wanted in public", Alizade said.
Sources:
For additional information, see:
Caucasian Knot, "Analysts explain wave of persecution of Shiites in Azerbaijan", https://www.eng.kavkaz-uzel.eu/articles/57139/
Georgian ruling party wins in 19 out of 20 municipal run-offs. Opposition calls for a rally
With 100% of precincts counted, results published by the Central Election Commission show Georgian Dream candidates victorious in 19 mayoral run-offs, including in self-governing cities of Tbilisi, Kutaisi, Batumi, Rustavi and Poti.
United National Movement's mayoral hopeful won the Tsalenjikha race, as per the preliminary results, informed civil.ge.
As polling stations closed at 20:00 on Saturday, both the ruling party and opposition groups celebrated victory based on conflicting exit polls by Gorbi, commissioned by pro-government TV channel Imedi, and by Anova for pro-opposition TV channel Mtavari. However, following the official results, Georgian Dream will add another 19 municipalities and cities to 44, where the ruling party won outright in the first round on October 2.
With all ballots counted, Giorgi Kharchilava from the United National Movement (UNM) narrowly defeated Georgian Dream candidate Goga Golordava in Tsalenjikha Municipality with 51% of the vote, making him the only opposition mayor in the country. The municipality in the western Samegrelo Region borders Abkhazia's Gali District. Georgian Dream also lost its majority on Tsalenjikha's municipal council, where 16 out of 27 councillors will be from opposition groups.
A UNM-dominated coalition of opposition parties that included Girchi ⁠— More Freedom, Lelo, and Droa, failed to win the mayoral races in all five self-governing cities: Batumi, Kutaisi, Poti, Rustavi, and the capital Tbilisi.
"I would like to congratulate all of you for concluding the second round with victory," Prime Minister Irakli Garibashvili addressed supporters shortly after the first exit polls, "now we must calmly wait for final data to be announced," he added.
In his brief remarks, GD party chair Irakli Kobakhidze thanked the public for supporting "our political power once again." "Today, we saw this victory through," he maintained. Mayoral candidate Kakha Kaladze said he was "happy" that Georgian Dream clinched a "dignified" victory in the second round.
On the other hand, the opposition leader Nika Melia, the United National Movement's Tbilisi mayoral candidate, has called on supporters to gather outside the Parliament building at 19:00 to discuss a "concrete plan" to fight against "rigged elections." In his short announcement in Lelo party office earlier this afternoon, Melia said mayoral run-offs yesterday went against the backdrop of "total violence," the process that also included "total rigging" of the vote. No one should expect the Government of Georgian Dream founder, former Prime Minister Bidzina Ivanishvili to be forgiven "this rigged election, won by soul-crunching insult [to voters]," the UNM leader noted. Stressing the need for a "very peaceful, but steadfast fight," Melia concluded: "The fight did not end but began yesterday."
OSCE/ODIHR and European Parliament (EP) observation missions have assessed Georgian municipal election run-offs held yesterday, stating that the race "was generally competitive and organised professionally", but increasing polarisation and negative rhetoric, as well as allegations of voter intimidation and the "continuing advantage of incumbency, demonstrated the need for further reforms". Albert Jonsson, head of the ODIHR election observation mission, added that while the elections were technically well run, concerns over the impartiality of election commissions at the lower level persisted. Other election watchdogs Transparency International Georgia and International Society for Fair Elections and Democracy (ISFED) said today election results were possibly affected by violations.
Pandora Papers: Ivanishvili's purported secret stakes cause row over Anaklia Deep Sea Port
The Pandora Papers, a massive leak of about 12 million documents from 14 offshore service providers, detail, among others, purported secret financial stakes of Georgian billionaire Bidzina Ivanishvili. These should include a large share in Poti Industrial Zone, a project rival to the proposed yet unsuccessful
initiative to build a deep-sea port in the nearby city of Anaklia.
The Georgian Government pulled its contract with the Anaklia Development Consortium (ADC) to build the $2.5 billion Anaklia port, dubbed the largest international port on the Black Sea, back in January 2020.
ADC voiced their concern over Poti as early as in May 2019, when the Georgian Government greenlit Poti's expansion into a new deep-sea port in detriment to Anaklia — only to backtrack on it following the scandal it triggered.
Since 2019, numerous reports have emerged pinpointing that problems with Anaklia port were connected with Bidzina Ivanishvili lobbying for the rival port project in Poti, a seaside town less than 30 kilometres south of Anaklia.
Despite the Georgian Government's instances that they intend to find new investors to pursue the Anaklia project, the Pandora Papers suggest that Georgia's wealthiest man, whom critics accuse of being the puppet master of local politics, might have other plans. The International Consortium of Investigative Journalists (ICIJ), which examined the "Pandora papers" leaks, says the documents reveal that Ivanishvili established 12 companies in the British Virgin Islands, an offshore haven, between 1998 and 2016. The group says all the companies, at some point, listed Panama-based offshore service provider Alcogal as an agent.
Already in June 2021 report by TI Georgia claimed Ivanishvili's Brightsone Finance Ltd., established in 2015 according to the Pandora Papers, is a controlling shareholder of Georgia-based Eurasian Invest LLC, a company that, through several other firms, holds sizeable stakes in Poti Free Industrial Zone, a tax haven near Georgia's key port of Poti. In an earlier report of April 2021, TI Georgia argued the profitability of the Poti Free Industrial Zone was directly related to cargo turnover in the Poti port.
ADC, which was supposed to carry out the Anaklia Deep Sea Port Project before the Government terminated its contract with the firm in 2020 over unfulfilled obligations, stated on October 4 the Pandora Leaks confirmed Ivanishvili "lobbied" against the project because of his "personal economic interest" in developing Poti port instead. "Ivanishvili's total influence over the Georgian Dream government is known," stressed the ADC, claiming Ivanishvili had opposed the Anaklia Project since 2017.
Georgian Economy Minister Natia Turnava claimed that the arbitration "waged by previous investors" against Georgia have complicated the construction of the project. Turnava signalled again that they supported the projects and would seek an international tender for "better investors".
Sources:
For further context, see:
Lomsadze Giorgi, Eurasianet.org, "Georgia cancels contract for Black Sea megaport", https://eurasianet.org/georgia-cancels-contract-for-black-sea-megaport
Saakashvili continues huger-strike and refuses medical assistance
Mikhail Saakashvili, who is continuing his hunger strike in prison, again refused to consult with doctors and take medication, informed the Caucasian Knot.
Mikhail Saakashvili has been on the hunger strike in prison in Rustavi since October 1. The former Georgian president demands to release him.
On the 27th day of his hunger strike, he refused medical procedures and examinations because a solid glass wall was installed in the prison's meeting room. Mikhail Saakashvili claimed that he could no longer exchange documents with advocates. On October 28, the prison administration again permitted him to fully communicate with the advocates, and Mikhail Saakashvili agreed to undergo medical examinations.
He then, however, again refused to consult with doctors and take medications. His advocate Giorgi Gelkhauri explained that earlier, his client accepted medication since he wanted to remain conscious during the second round of the municipal elections on October 30. "Starting from now on, I will not accept treatment to ease the hunger strike, and I will not undergo any medical tests. I returned to Georgia because I thought that the country was finally headed towards totalitarianism and destruction of Georgians, but in these elections, we must try to stop the above and take steps to return," claimed Mikhail Saakashvili in his appeal read out by Giorgi Gelkhauri.
In his reaction, Georgian Prime Minister Irakli Garibashvili noted that Saakashvili has the right to commit suicide. "The law says an individual has the right to suicide," Georgian Prime Minister Irakli Garibashvili told Imedi TV late on October 28, asked about the possible "finale" of jailed ex-President Mikheil Saakashvili, on hunger strike since October 1.
Arguing Saakashvili is harming his health, the Prime Minister stressed that "if an individual decides to kill himself, they can… the state cannot take responsibility for this, of course."
Prime Minister added the authorities are "doing everything" to ensure Saakashvili is treated and monitored accordingly by doctors in prison.
After the Imedi TV anchor pointed out that the state should help out someone harming himself, the PM said, "we will help [Saakashvili], we will transfer him, if needed, in due course" to the No. 18 prison hospital in Gldani.