Strategic Analysis Caucasus Brief
Review of 10.1. – 13.2.2022
Tomáš Baranec
Armenia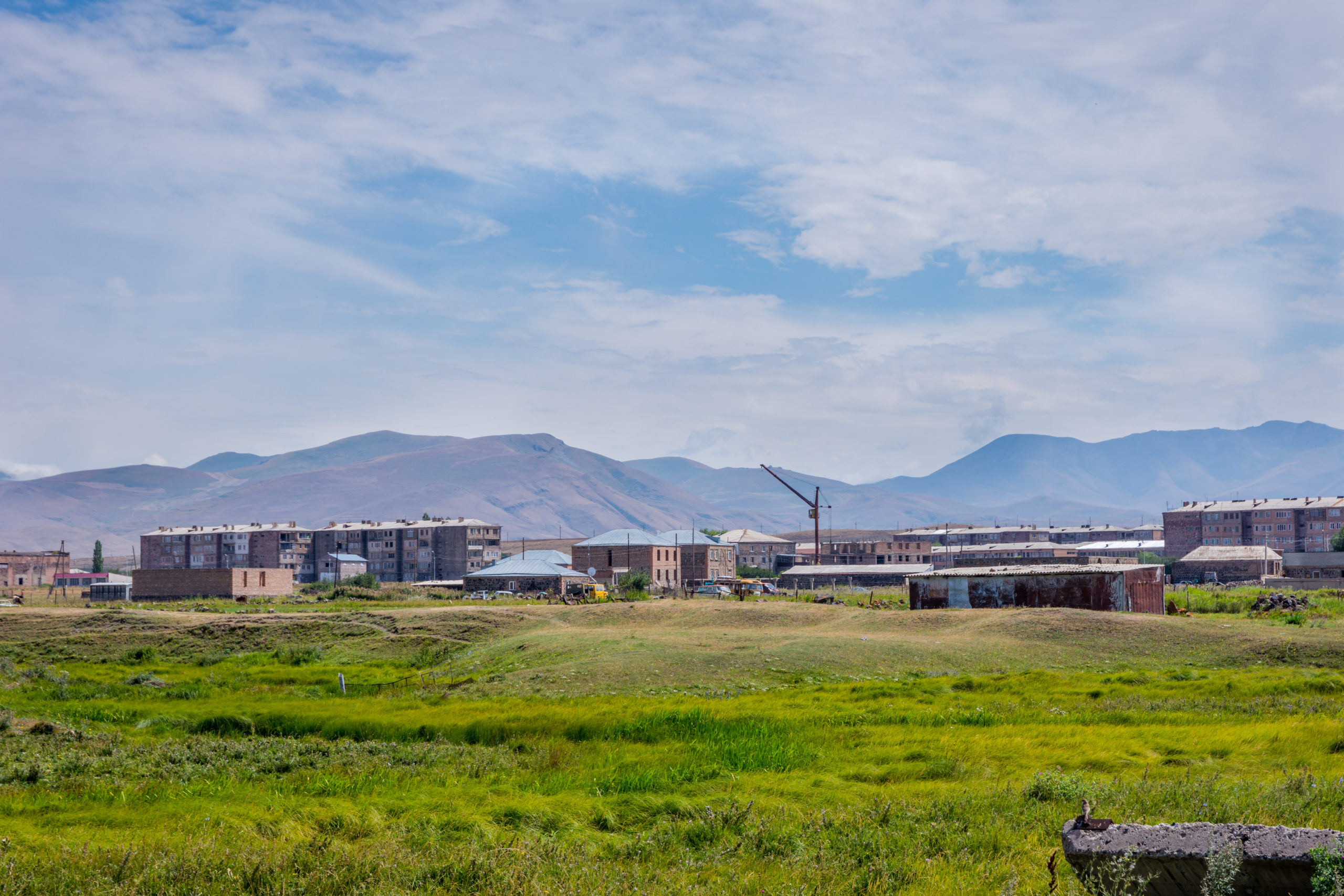 Vardenis, Gegharkunik province, Armenia. Photo: Ana Flasker/ Shutterstock.com
Baku announces regular bus trips to Nagorno Karabakh
The first passenger bus trip on the Baku-Shusha/i and Baku-Agdam routes should be carried out on January 24, informs JAM News.
As the portal writes, trips are available only to citizens of Azerbaijan once a year and without the right to spend the night there. Police officers along the entire route will accompany the buses.
Sources:
JAM News, "Azerbaijan announces the launching of regular bus trips to Karabakh", https://jam-news.net/azerbaijan-announces-launching-of-regular-bus-trips-to-karabakh/
EU allocates 2 billion euros to Azerbaijan
As part of the economic investment plan, the European Union (EU) will allocate a financial package of 2 billion euros to Azerbaijan, European Commissioner for Neighborhood and Enlargement Oliver Varhelyi said during a meeting with Azerbaijani Foreign Minister Jeyhun Bayramov, writes Trend.az.
Varhelyi also expressed the EU's readiness to participate in the process of rehabilitation and reconstruction carried out in Azerbaijan. The sides expressed readiness to strengthen cooperation in regional security, energy partnership, economic ties, transport and communications.
Commissioner also stated that partnership relations with Azerbaijan are of great importance for the EU, and it is important to strengthen these relations even more. He said that Azerbaijan is a reliable partner of the EU.
Azerbaijan starts construction of Agdam-Fizuli highway
The Aghdam-Fizuli highway, with a total length of almost 65 kilometres, will become a continuation of the Barda-Agdam highway and will connect Aghdam, Aghjabedi and Fizuli, informs Caucasian Knot. The road will be 15 meters wide and will have four traffic lanes.
Source:
Caucasian Knot, "Азербайджан начал строительство трассы Агдам – Физули (Azerbaijan starts construction of Agdam-Fizuli highway)", https://www.kavkaz-uzel.eu/articles/372808/
Azerbaijani Prosecutor's Office refuses to investigate the beating of prominent oppositionist
The Prosecutor's Office of Azerbaijan refused to launch an investigation into a criminal case in connection with a complaint filed by opposition politician Tofig Yagublu who claimed law enforcers had beaten him. The defence called the arguments of the Prosecutor's Office of Azerbaijan about the absence of corpus delicti as groundless writes Caucasian Knot.
Opposition leader Yagublu was detained on December 1 during a protest in defence of the activist, Saleh Rustamov. Yagublu, 60, later said police severely beat him while videoing him and demanding that he say on camera that he would stop criticising Azerbaijan's leadership.
Sources:
Caucasian Knot, "Azerbaijani Prosecutor's Office refuses to investigate the beating of oppositionist Tofig", https://www.eng.kavkaz-uzel.eu/articles/57908/
Azerbaijan to erase Armenian traces from churches in the Nagorno Karabakh
Azerbaijan's Government has announced that it intends to erase Armenian inscriptions on religious sites in the territory that it reclaimed in the 2020 war with Armenia, writes Eurasianet.org.
The Azerbaijani minister of culture Anar Karimov said that a working group would be set up to identify what he called "Armenian forgery" from churches, putting into practice a pseudoscientific theory that denies the churches' Armenian origin.
"We are going to inspect those places with the working group members, and after the inspection, we will consider our next steps," Karimov said. While he did not identify who would be in the working group, the minister stated that the group would consist of "both local and international experts."
As Eurasianet.org explains, he justified the move by arguing that the churches, in fact, were originally the heritage of "Caucasian Albania", an ancient kingdom once located in what is now Azerbaijan. The theory, which mainstream historians do not support, has long been propagated by nationalist Azerbaijani historians and embraced by the current Government in Baku.
Sources:
ISAYEV Heydar, Eurasianet.org, "Azerbaijan announces plans to erase Armenian traces from churches", https://eurasianet.org/azerbaijan-announces-plans-to-erase-armenian-traces-from-churches
Attempt to impeach de facto South Ossetian President failed
Opposition lawmakers in de facto South Ossetia failed on January 19 to impeach Anatoly Bibilov over an alleged attempt on ceding 200 square kilometres of territory to the central Georgian Government, informs Civil.ge.
The proposal was pushed forward by 14 deputies in the 34-member legislature earlier in January, hoping to garner the support of three-quarters of sitting lawmakers. But only 13 deputies backed the motion, and one went against it, while pro-Bibilov United Ossetia party, Unity of the People and communist MPs did not participate in the voting.
The opposition lawmakers claim that the draft law submitted by Bibilov to the legislature back in 2019 that sought to approve the "state border" – that did not pass back then – would lead to the region giving up claims on 200 km2 territory to Georgia proper.
The issue came into prominence only in November 2021 after the new "State Commission on Delimitation and Demarcation of Borders with Georgia" – created under Bibilov's decree in April — found that the boundaries proposed by Bibilov's administration contained 200 km2 less territory compared to that envisaged in April 1922 Soviet decree that created the South Ossetian Autonomous Oblast.
During the heated exchange in the legislature in Tskhinvali on December 30, de facto President shifted the blame to his opponents. He said Moscow recognised the region's independence in 2008 within its current "borders," not with the ones outlined in the 1922 Soviet decree.
Also, Bibilov noted that if the claims on the boundaries are made as per 1922 decree, the villages of Gujabauri, sandwiched between Tskhinvali and Georgia-controlled territory, as well as village Orchosani, close to Georgia's major east-west highway, should be given to Georgia proper.
The development comes some three months before the de facto presidential elections" in the region, in which Bibilov is seeking re-election. On January 21, the de facto Parliament of South Ossetia adopted the resolution on the date of presidential elections on April 10, 2022.
Another Russian opposition leader was barred from entering Georgia
Russian opposition leader, former MP Dmitry Gudkov, was barred from entering Georgia and was deported from Tbilisi International Airport back to Kyiv on January 31.
Gudkov claimed his deportation was a "political decision" made at the level of the Georgian Government. He argued that Georgian border authorities knew his biography, did not specify reasons for the deportation and said their superiors made the decision, informed Civil.ge.
"So much for [Georgia being] the centre of the Russian emigration. So much for half soft power and half Russian World," noted Gudkov ironically.
According to Gudkov, he was visiting Tbilisi to hold meetings with politicians, journalists and diplomats following an "official invitation." But the Russian opposition leader did not specify who had invited him.
The Interior Ministry told Civil.ge Gudkov was refused entry under Article 11 (1i) of Georgia's law on the Legal Status of Aliens and Stateless Persons. The provision envisages refusing a Georgian visa or entry into the country in "other cases provided for by the legislation of Georgia."
Georgian Chairperson of the Parliamentary Foreign Committee, MP Nikoloz Samkharadze lashed out at Gudkov. He reminded that Gudkov is a political ally of Alexei Navalny, who — in August 2008 amid the Russo-Georgian war — likened Georgians to rodents and called on expelling all Georgian citizens from Russia.
Samkharadze also held against Gudkov for being a member of the Russian State Duma, which recognised the independence of Abkhazia and de facto South Ossetia. On October 30. 2021 Georgia refused the entry of Lyubov Sobol, another close ally of jailed Russian opposition leader Alexei Navalny.
Sources:
Civil.ge, "Russian Opposition Leader Barred from Entering Georgia", https://civil.ge/archives/469920
Civil.ge, "Georgian Dream MP Lashes Out at Deported Russian Opposition Leader", https://civil.ge/archives/470946
Georgia calls on the EU to stop using the term "South Ossetia."
Nikoloz Samkharadze, Chairman of the Parliamentary Committee on Foreign Relations, appealed to the European Union to remove the term "South Ossetia" from its official use, informs Interpressnews.ge.
"You and the West are fighting Stalinist manifestations. Despite this, you use the term "South Ossetia" in all your documents, which is also a Stalinist term and was coined in 1922. Before that, it did not exist. Georgian constitution does not recognise such formation as "South Ossetia". So my request, a call, is to discuss together how we can remove this term altogether from your official documents. It is not pleasant when the European Union or even any other state use the term of Stalin's time. If we need to make an official appeal, we will do it," said Samkharadze at the joint sitting of the Committees on European Integration and Foreign Relations in the legislature, where the European Parliament rapporteur on Georgia Sven Mikser was present.
In this regard, Mikser claimed that the issue would be noted and taken into account in the future when the European documents will be worked out.
Source:
Interpressnews.ge, Chairman of Parliamentary Committee on Foreign Affairs appeals to EU to remove the term "South Ossetia" from official usage, https://www.interpressnews.ge/en/article/118078-chairman-of-parliamentary-committee-on-foreign-affairs-appeals-to-eu-to-remove-the-term-south-ossetia-from-official-usage