Strategic Analysis Caucasus Brief
Bi-weekly review (26.7. – 9.8. 2020)
Tomáš Baranec
Armenia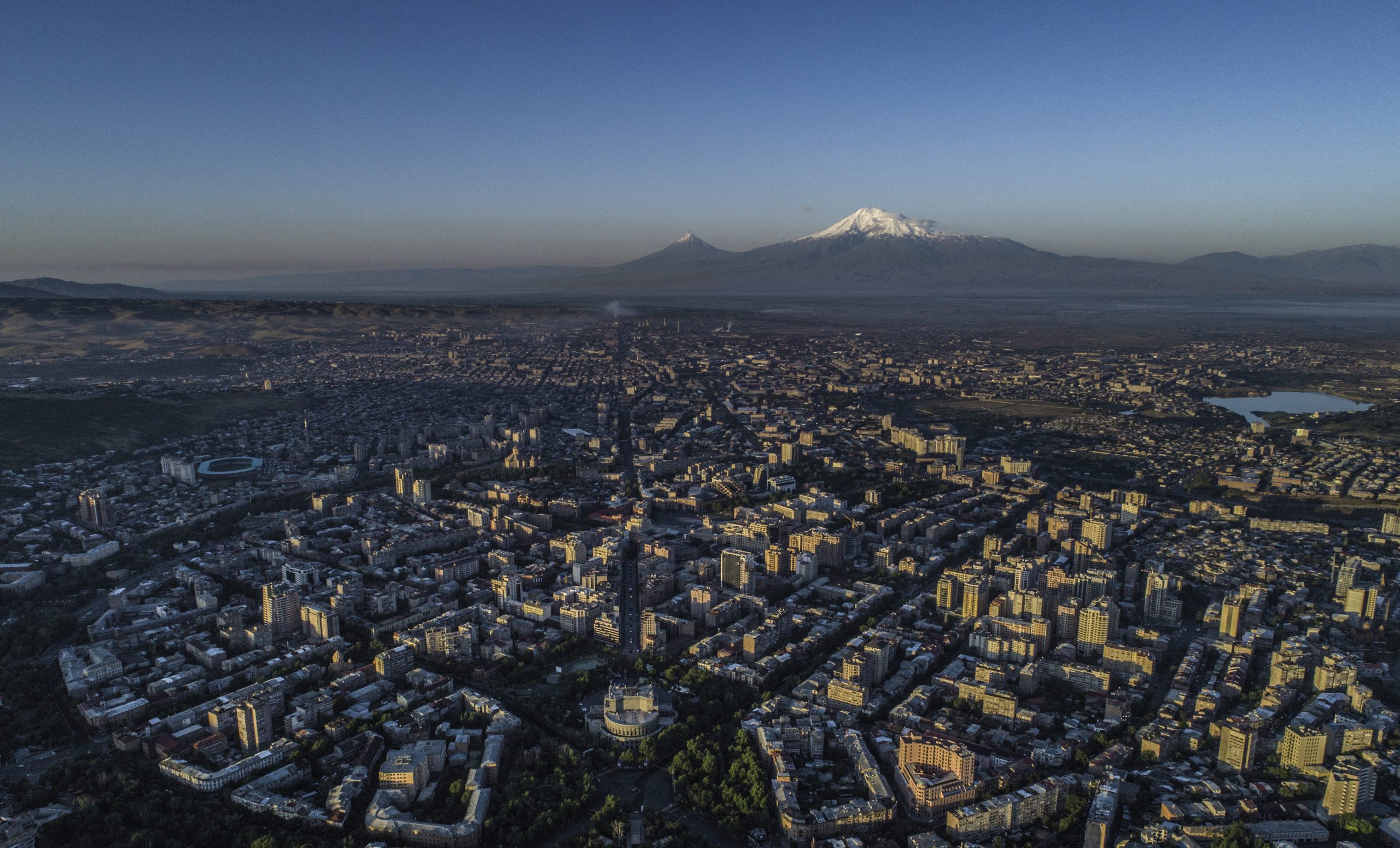 MAIN STORY
Conflict on the Armenian-Azerbaijani border spills to diasporas
Despite the cessation of fire on Armenian-Azerbaijani border, cities like Moscow, London, Los Angeles, or Toronto witnessed an unprecedented series of brawls and attacks between members of local Armenian and Azerbaijani diasporas.
Prelude to clashes happened in Moscow, which is home to large diasporas from both Armenia and Azerbaijan, after a supermarket chain run by businessmen from Azerbaijan on July 18 abruptly stopped buying apricots from Armenian dealers. Although this episode ended peacefully, with Armenians banding together to preserve the fruit before it spoiled, violent physical clashes across whole Russia followed soon after. These incidents included groups of men armed with clubs attacking Armenian and Azerbaijani restaurants or individuals from another ethnic group. On July 23-24, Russian Police arrested 30 persons for taking part in massive fights and riots in Moscow and the surrounding area.
On July 21 large demonstration of Armenian-Americans at local Azerbaijani consulate led to a massive brawl with a much smaller group of Azeri counterprotesters. Over the next two days, there were several incidents in Belgium, including a group of Armenian men beating a single Azerbaijani young man, a video of which particularly sparked rage in Azerbaijan.
As Eurasianet.org mentioned in its report on violence between Armenian and Azerbaijani diasporas, "news coverage and social media discussion of the events in Armenia and Azerbaijan tilted toward their respective side's victimisation".
Despite that, a group of Armenians and Azerbaijanis organised a joint statement condemning the growing violence and created a hashtag for the campaign, #WordsNotSwords. "While our societies have fundamental disagreements regarding the Armenian-Azerbaijani conflict, fistfights in streets across the world do nothing to advance the cause of either side," reads its statement.
Between July 12 – 16, 2020 the conflict between Armenia and Azerbaijan escalated into a major military confrontation along the state border straddling Azerbaijan's Tovuz and Armenia's Tavush regions.
Armenia might have overcome the plateau of the COVID-19 epidemic
Armenia registered a decrease in the percentage of positive cases of infections by the coronavirus SARS-CoV-2 to the number of daily tests. Local experts assume, that given data indicate a stabilisation of the situation with the COVID-19 epidemic.
David Melik-Nubaryan, an expert from the Yerevan State Medical University, and Epidemiologist Ruben Ovannisyan suggested that state-enforced restrictive measures were effective to a certain extent in this context. According to Ovannisyan, apart from the above, the weather conditions in summer play an essential role.
By August 5, 39.586 cases of COVID-19 were recorded in Armenia. The new coronavirus claimed 770 lives in the country. Armenia leads among the nations of Southern Caucasus in terms of the number of coronavirus-infected people per 100,000 residents.
Protest at Armenia's Amulsar mine results in a brawl with Police and private security
Hundreds of locals and anti-mine activists have clashed with the Police and private security outside the Amulsar mine on Tuesday, August 4, after security guards dismantled a part of a blockade at the mine's entrances. It was the latest incident in a dispute surrounding the gold mine in the vicinity of a mountain spa town of Jermuk.
Protesters were enraged by the fact, that on Monday night mining company Lydian Armenia removed their cabins from two of the three entrances to the mine with cranes and replaced them with its structures. By Tuesday afternoon, over a hundred protesters arrived at the entrance to the mine to protest the cabins' removal. The brawl between demonstrators and security escalated into pushing, yelling, and throwing rocks and other projectiles. Ten people were detained in the result. Protests continued through Wednesday and Thursday, though they remained mostly peaceful.
Lydian Armenia, a subsidiary of Lydian International, registered in the British tax haven of Jersey, stated that the protesters' cabins were built illegally and that the blockade in front of the mine trespassed on land that belonged to the company. Opponents argue that the local Police had assured them that the exact area on which the cabins stood did not belong to Lydian.
The blockade of the mine began in summer 2018. Protesters are concerned that the project endangers the environment, the nearby resort town of Jermuk, as well as local villages.
Sources:
For additional information see:
Russia and Armenia conducted joint military exercises
Russian forces, stationed in Armenia, carried out joint military exercises with Armenian army on August 1.
More than one and a half thousand Russian servicemen, as well as more than 500 units of military equipment, took part in the joint exercises with Armenian military. Training was focused on the utilisation of MiG-29 fighter jets, Mi-24P, Mi-8MTV helicopters and combat drones.
According to the Southern Military District of Russian armed forces, battalion tactical exercises were held simultaneously on the territory of eight regions of the North Caucasus, Transcaucasia, the Lower Volga region and the Don, including in Dagestan, North Ossetia, Chechnya, Volgograd and Rostov regions, as well as at the Russian military bases in Armenia and in Georgian separatist regions of Abkhazia and South Ossetia.
The Armenian city of Gyumri is home to the 102nd Russian military base. On August 20, 2010, Russia and Armenia extended the term of the agreement on the deployment of the base until 2044.
Aliyev intensifies crackdown on opposition forces following spontaneous mass demonstrations
As many as 120 opposition figures and supporters have been rounded up by Azerbaijani security services in the past two weeks following spontaneous mass demonstration, during which protesters shortly occupied building of parliament in Baku. The crackdown seems to be focused primarily on the Azerbaijan Popular Front Party (AXCP), high ranking members of which have been charged with "attempting to overthrow the government".
Fuad Qahramanli, an executive member of the AXCP, was accused of committing actions aimed at "forcible seizure of power or change of the constitutional order" on July 24 with Mammad Ibrahim, Advisor to the Chairman of the AXCP, facing the same accusation just four days later.
Qahramanli and Ibrahim were not the only high-ranking party members who were detained. Earlier, on July 20, two other members of the party praesidium, Asif Yusifli and Bakhtiyar Imanov were also arrested. AXCP claims however that Gahramanli did not participate in the rally and called his arrest "politically motivated".
Political analysts, contacted by Radio Free Europe Radio Liberty (RFERL), say charges of "attempting to overthrow the government" against the AXCP's Fuad Qahramanli and Mammad Ibrahim suggest a regime of Azerbaijani President Ilham Aliyev is ultimately seeking to arrest and silence AXCP leader Ali Karimli. "President Aliyev feels he has a green light for this crackdown because Western democracies are too busy right now focusing on their problems with the coronavirus and their economies," said Alex Raufoglu, a Washington-based Azerbaijan specialist for Amnesty International.
Also "thanks to COVID-19 and recent border clashes between Azerbaijani and Armenian forces, Aliyev has found that he can go after his opponents without having to face international criticism," added analyst who also is a journalist for the independent Turan news agency.
Pro-war protests in Baku spun out of control on the night from July 14 – 15, after several thousand protesters broke into the building of the parliament. In a speech on July 15, Azerbaijani President generally praised the July 14 rally, calling it "another picture showing the unity of the people and power" while alleging AXCP of "infiltrating the masses and trying to induce people to illegal actions". He also accused the AXCP of collaborating with the Armenian Government in the ongoing Nagorno-Karabakh conflict.
Turkey and Azerbaijan conduct joint military drills
The land and air forces of Turkey and Azerbaijan are participating in the military exercises that started on July 30 and should last to August 10. Drills are held in line with the agreement on military cooperation between Azerbaijan and Turkey, under the annual plan.
According to the plan, exercises involving the Land Forces were held from August 1 to 5 in Baku and Nakhchivan, while exercises involving the Air Forces have been conducted from July 29 till August 10 – in Baku, Nakhchivan, Ganja, Kurdamir and Yevlakh.
The Armenian ministry of foreign affairs expressed concern at the exercises. Defence Minister Davit Tonoyan said on July 28 that Armenian army units, as well as a Russian-Armenian military contingent, are "continuing to constantly monitor and analyse" Turkish-Azerbaijani military activities "with all reconnaissance means" at their disposal.
Georgian opposition TV channel co-founder Giorgi Rurua sentenced to 4 years in prison
 Georgian opposition figure and co-founder of TV channel Mtavari Arkhi – Giorgi Rurua has been sentenced to four years in prison for the illegal possession and carrying of firearms. U.S. Senate Foreign Relations Committee Chair James Risch called upon the Georgian President Salome Zurabishvili to pardon Rurua, who is considered to be a political prisoner by the Georgian opposition. Zurabishvili denied both, pardon for Rurua as well as existence political prisoners in Georgia.
The Tbilisi City Court found Rurua guilty on July 30 and sentenced him the same day. His lawyer has told the media that they "were expecting an unfair verdict," adding that they will appeal the court's decision.
Rurua was arrested November 18, 2019, for illegal possession and carrying of a firearm, shortly after attending a meeting of opposition forces. Nika Gvaramia, the director of Mtavari Arkhi, has written about Rurua's arrest on his Facebook page that the "firearm was planted on Giorgi Rurua".
Moreover, the opposition says Rurua's release constituted a part of the electoral system agreement signed by the ruling party and the opposition party on March 8 of this year. The ruling Georgian Dream party, however, denies the existence of the second part as well as it denies the existence of political prisoners in Georgia. It was because of Rurua that The United National Movement and European Georgia opposition parties refused to vote for constitutional changes earlier this year. Both parties later strongly condemned German ambassador to Georgia Hubert Knirsch who, as one of the facilitators in the ruling Georgian Dream party and the united opposition's election talks, claimed, that Rurua was not mentioned in the March 8 election agreement.
Meanwhile, U.S. Senate Foreign Relations Committee Chair James Risch said on July 30 that he "remains very concerned" about sentencing Giorgi Rurua "on spurious charges". "As she did earlier with Giorgi Ugulava and Irakli Okruashvili, President Zurabishvili should pardon Mr Rurua in the interest of depolarising the political climate as elections near," noted the U.S. Senator.
Zurabishvili responded to Senator by claiming that there are no political prisoners in Georgia. "Georgian society knows everything about him, and it also knows why I will not pardon him. Nothing and no one can influence my decision, "added the President.
In mid-May, Zurabishvili already pardoned two opposition politicians – Gigi Ugulava, the leader of European Georgia-Movement for Freedom and a former mayor of Tbilisi, and former Defense Minister Irakli Okruashvili, who leads the opposition Victorious Georgia party.
Giorgi Rurua is the brother of a deceased official under the previous United National Movement government – Nikoloz Rurua. 
Sources:
For additional information see:
First IPRM after 11 months held in "positive atmosphere "in Ergneti
The 96th Incident Prevention and Response Mechanism (IPRM) took place in Ergneti near the administrative border line (ABL) with Tskhinvali Region/South Ossetia after 11 months on July 30. Meeting was co-facilitated by the new Head of the European Union Monitoring Mission in Georgia (EUMM), Marek Szczygieł, and the Special Representative for the South Caucasus of the OSCE Chairperson-in-Office, Ambassador Rudolf Michalka.
During 6-hours long meeting participants discussed Detention of Georgian citizens – Zaza Gakheladze, Khvicha Mghebrishvili and Genadi Bestaev – by South Ossetian de-facto authorities, continuous process of "borderisation" across the occupation line, continued closure of the crossing points, security incidents, including alleged airspace violations and the issue of Chorchana checkpoint, as well as the death of Georgian citizens Archil Tatunashvili and Davit Basharuli.
The co-facilitators noted that meeting took place in a "positive atmosphere," and called on the participants to continue using the IPRM format for discussing a range of important practical issues".
As civil.ge reminded in its article, IPRMs in Ergneti have been stalled since late August 2019, when Tskhinvali representatives, angered by Tbilisi's construction of a police checkpoint in village Chorchana near the dividing line, disrupted the 95th meeting. The next 97th IPRM is scheduled for September 24, 2020.
Source:
For additional information see:
Anaklia Development Consortium filed arbitration lawsuit against Georgia
The Anaklia Development Consortium (ADC), the major foreign investor in Georgia, has started a legal battle against Tbilisi in the international arbitration court on July 29 over their infringed rights in the Anaklia Port project. Foreign investor Bob Meyer has filed an independent arbitration claim against Georgia.
Both consortium and Meyer, claim that they were damaged by what they called a Georgian government campaign during the implementation of the Anaklia Port project. The amount of this claim is substantial, exceeding $1 billion, and consists of the losses of the ADC and Meyer, which is a direct result of the Georgian Government's campaign to undermine the Anaklia port project," the statement said.
Tbilisi decided to construct a first Georgian deep seaport at Anaklia in 2016 with planned enter into commercial operation in December 2020. With a handling capacity of up to 10,000 TEU vessels, it was supposed to become one of the largest ports in the Black Sea. The Georgian Government has revoked a contract to construct the nation's first-ever deep-sea port in January 2020.
Source:
For additional information see:
New NDI Poll: Georgians continue to support the Western integration
A new survey conducted by the National Democratic Institute (NDI) shows that the Georgian population continues to support country's integration in Western structures.
Georgian Government's stated goal of becoming a member of the European Union was supported by 76% of respondents, while 69 % agree with the NATO membership.
In comparison to the results of a public opinion poll conducted in November-December 2019, the support for EU and NATO membership in the country decreased by 6% and 5% respectively.
Altogether 59% of respondents consider membership in EU and NATO to be more beneficial than integration with Russia, while 11% would prefer closer ties with Moscow.
The NDI public opinion poll was conducted on June 26-30, 1550 people were interviewed by phone throughout Georgia (excluding the occupied territories).