Strategic Analysis Caucasus Brief
Bi-weekly review (7.2 – 27. 2. 2022)
By Tomáš Baranec 
Armenia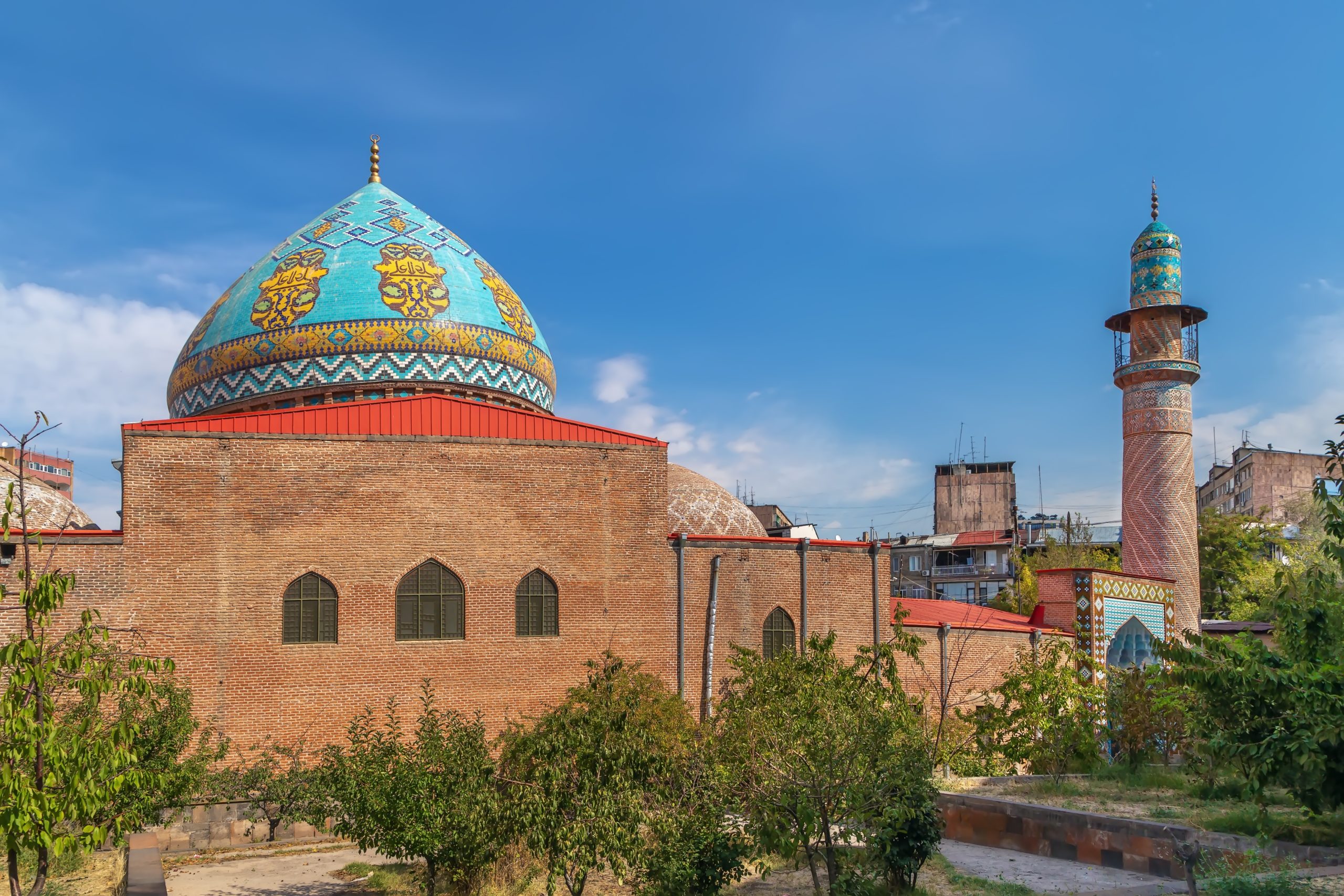 Blue Mosque, Yerevan, Armenia. Photo: BorisB17/ Shutterstock.com
Lukashenka stirs diplomatic conflict with Armenia
During a two-hour interview with Russian journalist Vladimir Soloviev on February 4, Belarus President Alexander Lukashenka (not recognised by the EU and the West) undiplomatically claimed that Armenia has no choice but to join the Union state with Russia and Belarus.
"Armenia can't escape it. Do you think anyone needs them? They have already seen it," Lukashenka said, adding that Nikol Pashinyan has already witnessed this fact. "Belarus is already there. I think it was a good lesson for Kazakhstan too. If you say the term is fifteen years, I am sure that Ukraine will be there if we do not make mistakes… Armenia has no place to run."
Pashinyan's government hit back at Lukashenka through the Armenian Foreign Ministry and pro-government parliamentarians. "We believe that the Belarusian president's peculiar geopolitical analyses aim to first and foremost serve his domestic political agenda and have nothing to do with Armenia and its foreign policy," the ministry spokesman, Vahan Hunanian, said in written comments to the press.
Some lawmakers representing Pashinyan's Civil Contract party went further, launching scathing attacks on Lukashenka on the Armenian parliament floor, writes Azatutyun.am. Civil Contract deputy, Hovik Aghazarian, accused Lukashenka of "doing the Russian authorities and Russian statehood a disservice." Aghazarian also said: "Before making statements, Lukashenka had better inspect the airport of [the Belarusian capital] Minsk, which looks more like a pigsty."
Russia and Belarus signed a Union State treaty in 1999 and have been negotiating on and off since then.
Sources:
Hetq.am, "'Armenia Has Nowhere to Run', Says Lukashenka", https://hetq.am/en/article/140871
BEDEVIAN Astghik, "Armenia Rounds On Belarus Leader", https://www.azatutyun.am/a/31692961.html
Azerbaijani MPs visit Armenia for the first time since 2012
Two Azerbaijani MPs, Tahir Mirkishili and Soltan Mammadov have visited Yerevan as participants in the Euronest Parliamentary Assembly hosted by Armenia. MPs later sparked a scandal by picking fights over the city's history.
The arrival of the MPs was met by a small group of protesters holding a demonstration near the hotel where the MPs would be staying. The protest continued on Tuesday outside the Karen Demirchyan Complex, where the plenary session was held. One of the protest organisers, former Chief of Staff of the Constitutional Court of Armenia Edgar Ghazaryan, told reporters that they were protesting not only the "arrival of the Azerbaijani delegates" but also "the situation with democracy in Armenia ", writes OC Media.
The main session of the parliamentary assembly took place on Tuesday. During the session, the Azerbaijani MP Soltan Mammadov, an independent member of the Azerbaijani Parliament, spoke about the "reintegration of the Armenian ethnic minority [of Nagorno-Karabakh] as equal citizens of Azerbaijan ". "Azerbaijan is in favour of the restoration of all relations with Armenia. This will bring peace and security, at the same time economic benefits to our region ", he said. "This will turn the region into a bridge between north and south, east and west".
He also commented on Armenian POWs in Azerbaijan, denying their status as prisoners-of-war, as "all the prisoners of war and detainees were returned to Armenia after the war".
Things got especially tense when Mirkishili posted on Facebook about his February 23 visit to Yerevan's 18th-century Blue Mosque. While the structure is today presented in Armenia as "Persian," as it was built when the territory was part of the Persian Empire, Azerbaijanis argue that it is part of their history, given that the Turkic-speaking builders were the ancestors of today's Azerbaijanis.
"We have been to the Blue Mosque. As far as we know, it is the only Azerbaijani monument preserved in Yerevan, although there are inscriptions related to another state on its walls," Mirkishili wrote, apparently referring to Iran. "Its architecture, walls, and spirit as a whole are affiliated with Azerbaijan. We believe that its true owners will soon be able to offer their prayers in the mosque." Predictably, the post angered many Armenians.
A former lawmaker from Armenia's ruling party, Tatevik Hayrapetyan took Twitter, to shoot back. She shared a screenshot of the post, tagging the Iranian embassy in Yerevan. A few hours later, the embassy tweeted its own statement, saying the Blue Mosque is a "symbol of Iranian art."
Georgian-Armenian dispute over Matsoni and Matsun
The controversy surrounding matsun and matsoni resurfaced in Yerevan and Tbilisi after Georgian customs hindered the transit of Armenian matsun to Russia through Georgian borders, basing the restriction on the similarity of the product's name to a local yoghurt. The yoghurt-like dairy products both share similarities in production, taste, and name informs OC Media.
On February 9, Tengiz Kalanadze, Head of the Agricultural and Rural Development Agency, confirmed the restriction of Armenian matsun's transit via Georgia, saying that foreign products holding "similar names" to local ones were "not allowed under Georgian legislation".
Kalanadze may have been referring to the Georgian law on appellations of origin and geographical indications of goods, which regulates the commercial use of products that have registered geographical indications.
According to the Armenian Ministry of Economy, the problem emerged as a result of Georgia registering a geographical indication on matsoni in 2012, which offers it protection in international markets as a national product.
On February 10, Georgian TV channel Imedi reported on the controversy sparked by the dairy product, with the headline "Georgian matsoni against 'matsun'", and a background image of two bottles labelled matsoni in Georgian, with text reading "Karabakh is Azerbaijan" and "Dolma is also Azerbaijani" in Armenian.
Imedi later took down the original video published online and issued an apology for using the image, claiming it was due to a "technical error".
On February 10, Georgian news watchdog Mediachecker quoted an unnamed Imedi graphic designer claiming responsibility for the mistake that went on air. The designer claimed that they had googled "matsoni" in Armenian and incorporated one of the results into the image without knowing what the text said.
It was reported that the company "Dustr Marianna" had problems with export.
In an interview with one of the local publications, Kristina Karapetyan, deputy director for quality control, explained the problem.
According to her, in 2012, Georgia already registered the name "matsoni" as its "geographical indication" [identification of goods with Georgia]. "During this time, there were no problems with exports, but for some reason, in September 2021, a car with the products of our company, which was heading to Russia, was stopped in Georgia. Then we were told that henceforth Georgia would ban the export of goods called "matsun" through its territory.
We needed to adapt to the current situation quickly. We decided to label the product exported to Russia as "Armenian Mountain Yogurt", said Kristina Karapetyan. She also said that the name change did not affect their product sales in Russia, thanks to a "prompt and effective information campaign".
As JAM News reminds the word "matsoni" itself and the origin of this product, opinions are divided in the Georgian segment of the Internet. Some believe that this is a Georgian name and a national product. However, some Georgian historians and linguists claim that it came to the Georgian language precisely from Armenia.
For example, Director of the Museum of Literature Lasha Bakradze cites data from the dictionary of Bakar Gigineishvili, who, among others, refers to the linguist Hrachya Acharyan and notes that in Armenian, "matsun" means "sour milk".
Azerbaijan and Russia cement "Alliance"
On February 22, President Vladimir Putin signed a wide-ranging agreement with his Azerbaijani counterpart, Ilham Aliyev, deepening their diplomatic and military cooperation.
As Eurasianet.org stressed, the 43-point agreement, Declaration on "Allied Interaction between the Republic of Azerbaijan and the Russian Federation", covers bilateral cooperation in several spheres, but it is in the foreign policy and military realms that it carries its most significant implications.
Point 4 stipulates that the two countries "holding the same or similar positions on topical international issues, deepen constructive cooperation." Point 7 obliges them to "refrain from any actions that, in the opinion of one of the Parties, damage the strategic partnership and allied relations of the two states."
As per point 25, Azerbaijan and Russia agree to "refrain from carrying out any economic activity that causes direct or indirect damage to the interests of the other Party." Azerbaijani officials have promoted the idea that gas from their fields in the Caspian Sea could replace Europe should Russia cut off its energy exports due to the Ukraine conflict.
Point 40 obliges both countries to "ensure the protection, preservation and development of the historical, cultural and religious heritage, as well as the ethnic, linguistic and cultural identity of national minorities living in the territories of the Parties." That would appear to be a reference to the many medieval Armenian churches on territory that Azerbaijan retook due to the 2020 war with Armenia, which Azerbaijani officials have repeatedly threatened.
It also says that the two sides will not only step-up Russian-Azerbaijani military cooperation but may also "consider the possibility of providing each other with military assistance."
"This declaration takes our relation to an allied level," Aliyev told reporters after the talks. Putin similarly emphasised the "strategic" character of the document. He said he and Aliyev also agreed to closely cooperate in implementing the Russian-brokered agreements on the opening of economic and transport links between Azerbaijan and Armenia and the demarcation of their joint border.
Some Azerbaijanis expressed their discontent with the agreement.
"Did you read it carefully?" Ali Karimli, the head of the opposition Popular Front Party of Azerbaijan, wrote on his Facebook page. "One of the parties (of course it will be Russia) can decide by itself that an activity of the other party (Azerbaijan) "damages allied relations." And then we have to refrain from that activity. With this point alone, we have given Russia the authority to supervise all our activities and make us refrain from any activity."
As Eurasianet.org stressed, significantly, the document binds both countries to recognise each other's territorial integrity. For Baku, this means that Moscow sees Nagorno-Karabakh as Azerbaijani territory, which Russia has previously declined to formally do. "Russia has never, at the top level, officially and explicitly confirmed Azerbaijan's territorial integrity on any occasion, not even in multilateral contexts," Kamal Makili-Aliyev, an Azerbaijani expert on international law, told Eurasianet. "This is why the declaration is important."
Azerbaijan also had a military alliance with Turkey, which proved critical for the outcome of the six-week war.
Sources:
For more information, see:
azertag.az, "Declaration on allied interaction between the Republic of Azerbaijan and the Russian Federation", https://azertag.az/en/
Azerbaijan Vows To Arrest Karabakh Leader
The Azerbaijani authorities said on February 15 that they intend to arrest and prosecute soon Ara Harutiunyan, the de facto president of Nagorno-Karabakh, informs azatutyun.am.
"Harutiunian, who presents himself as the leader of a self-proclaimed regime, will be brought to justice by operational divisions and special services and intelligence agencies as quickly as possible," a senior prosecutor, Nemat Avazov, told reporters in Baku.
He said that Harutiunyan is wanted for his role in Armenian missile strikes on Azerbaijan's second-largest city of Ganja carried out during the 2020 war over Karabakh.
The strikes, which reportedly left over two dozen civilians dead, followed relentless Azerbaijani shelling of Karabakh's capital Stepanakert and other towns. The deadly shelling continued until the Russia-brokered ceasefire stopped the six-week war in November 2020.
"The fact that Harutyunyan has not been brought to trial is temporary," the department head added, "I think that in accordance with the international convention, Harutyunyan will be detained by the investigative team and handed over for launching an investigation in a short period of time."
Sources:
MUSAYELIAN Lusine, ASLANIAN Karlen, azatutyun.am, "Azerbaijan Vows To Arrest Karabakh Leader", https://www.azatutyun.am/a/31704819.html
en.azvision.az, "Arayik Harutyunyan to be detained and brought to trial – Azerbaijani Prosecutor General's Office", https://en.azvision.az/news/154927/-arayik-harutyunyan-to-be-detained-and-brought-to-trial-azerbaijani-prosecutor-general%E2%80%99s-office-.html
Azerbaijani MP Javanshir Feyziyev resigns from Press Council after conflict with journalists
In the lengthy address published on Facebook, Javanshir Feyziyev denounced his critics, which included a long list of journalists and members of the opposition as "lumpenproletariat thinkers" and "national traitors" who "join hands with Armenians" in an "international smear campaign against Azerbaijan", informs OC Media.
Feyziyev's conflict with media representatives sparked after a scandal in which £5 million of assets owned by him and his family were seized by British authorities following an investigation by the United Kingdom's National Crime Agency.
The MPs comments sparked particular outrage as he had criticised individuals who were members of the Press Council, a body of which he was also a member. The Council was established as a nominally self-regulatory press body in 2003 and is widely understood to be under the purview of state authorities.
Upon announcing his resignation from the board of the Press Council, Feyziyev explained that he now believed the initial post to be "quite harsh" and a result of the "impact of negatively charged materials on [him]" — though he also said he did not intend to "contradict" it.
A group of journalists demanded that Feyziyev be charged under Article 147 (slander) of the Criminal Code. The appeal was submitted to the Sabail District Court by Judge Azer Tagiyev. The preliminary hearing is scheduled for February 17.
Sources:
For additional information, see:
SVANN Steve,  CASCIANI Dominic, BBC, "Court approves £5.6m seizure over money laundering", https://www.bbc.com/news/uk-60203664
Prominent queer journalist brutally murdered in Azerbaijan
Avaz Hafizli, one of Azerbaijan's best-known openly queer journalists, has been stabbed to death and then dismembered, allegedly by his cousin Amrulla Gulaliyev.
"Initial investigation shows that Gulaliyev was drunk when he committed the crime and has admitted to killing his cousin as a result of a dispute," a joint statement by the attorney general and ministry said.
Freelance journalist Teymur Karimov, who reportedly arrived at the scene of the crime shortly after the killing, told Toplum TV that Hafizli was "beheaded at the entrance to his house". He said that police were already present when he arrived and that they refused to touch Hafizli's body.
A criminal case has been launched under the relevant articles of the Criminal Code. Gulaliyev was detained and handed over for investigation.
Hafizli worked as a reporter for the independent video news website 13Kanal, where he covered a range of issues, including LGBT rights. He took part in rallies against the new media law in Azerbaijan and staged protests demanding the government end discrimination against LGBTQ citizens. Last year, the journalist chained himself to the fence outside the chief prosecutor's office to protest a lack of action against threats to the gay community.
Reporting on such issues is limited in Azerbaijan, where media watchdog Reporters Without Borders (RSF) says authorities harass and jail independent or critical journalists, increasing censorship. The country ranks 167 out of 180 countries, where one is the freest on RSF's World Press Freedom Index.
Sources:
Aghayev Ismi, OC Media, "Prominent queer Azerbaijani journalist brutally murdered", https://oc-media.org/prominent-queer-azerbaijani-journalist-brutally-murdered/
Voa News, "Azerbaijan Mourns Tragic Killing of Gay Rights Activist and Reporter", https://www.voanews.com/a/6457639.html
minorityaze.org, "LGBTI+ activist Avaz Hafizli was murdered", https://minorityaze.org/en/840-lgbti-activist-avaz-hafizli-was-murdered
The Georgian government refuses to introduce sanctions on Russia. Thousands of protesters in Tbilisi against Russian invasion
Georgian Prime Minister Irakli Gharibashvili told reporters that he would not introduce sanctions against Russia in response to its invasion of Ukraine. He justified the move by citing Georgia's "national interests ". Meanwhile, Thousands gathered to express support for Ukraine in Tbilisi.
"I will not do anything; I will not make any decision that will in any way harm the national interests of our country and the national interests of our people ", Gharibashvili said on Friday. "I want to state clearly and unequivocally that Georgia is not going to participate in financial and economic sanctions ".
The Prime Minister framed the issue as one of national security and condemned the opposition for their insistence on sanctions. "Their goal is to organise provocations and to repeat the tragedy of the August war of 2008, which they were unable to avoid ", Gharibashvili said as cited by OC Media. "Anti-state, anti-national and reckless policies in Georgia are over".
Georgian Dream MPs have also refused to attend an extraordinary sitting of the parliament concerning Russia's war on Ukraine called by the country's president Salome Zurabishvili — ensuring that, due to lack of quorum, the sitting could not go ahead.
The First Deputy Head of the International Committee of the Federation Council of Russia, Vladimir Jabarov, welcomed Georgian Prime Minister Irakli Gharibashvili's clear-cut announcement on not joining West's sanctions against Russia over Ukraine attack." One can only welcome such a decision," Jabarov told Russian paper Izvestia. He said Georgia maintains good trade relations with Russia, including in the supply of fruits, vegetables, and wine. They probably realised that "the West will not reimburse Georgia for any of this," Jabarov remarked.
Nika Melia, chair of the United National Movement, the largest opposition party, dubbed the Prime Minister's statements as "collaborationist acts in this crucial time for Ukraine, Georgia and the whole international order." "I want to make clear that Russia's puppet regime in Georgia does not represent the position of the Georgian people," he asserted.
Natia Mezvrishvili of ex-PM Giorgi Gakharia's For Georgia party meanwhile slammed today the Georgian PM and Government as "fainthearted." Referring to the PM's claims that his decisions were based on Georgia's "national interests," Mezvrishvili argued the GD has "decided to pursue an anti-national policy under the guise of these words."
Thousands of citizens attended a solidarity rally for Ukraine in Georgia's capital Tbilisi on Friday, February 25, evening, expressing their support for Ukraine amid the ongoing Russian invasion and demanding Georgian Prime Minister Irakli Gharibashvili's resignation over his rejection to join sanctions on Russia.
People initially gathered near the government administration office and later proceeded in front of the parliament building, condemning Russia's aggression against Ukraine and denouncing Gharibashvili's remarks. The demonstrators asserted the majority of the Georgian population disagreed with the Georgian PM's decision not to join the sanctions placed on Russia by multiple countries.
Ukrainian President Volodymyr Zelensky thanked the people of Georgia for support, noting, "there are times when citizens are not the government, but better than the government."
Sources:
KHVEDELIDZE Salome, KINCHA Shota, OC Media, "Georgian government refuses to introduce sanctions on Russia", https://oc-media.org/georgian-government-refuses-to-introduce-sanctions-on-russia/
Civil.ge, "'Attaboy!' – Moscow Praises Georgia's Prime Minister", https://civil.ge/archives/475279
Civil.ge,  "Garibashvili Under Fire over Ukraine Remarks", https://civil.ge/archives/475235
Agenda.ge, "Thousands gather to express support for Ukraine in Tbilisi", https://agenda.ge/en/news/2022/436
Parliament Terminates Mandates of Three Opposition MPs and Former Speaker
On February 15, the Georgian Dream-led Parliament terminated the MP mandates of Lelo party's Badri Japaridze, Labor chair Shalva Natelashvili, Droa leader Elene Khoshtaria and former Speaker Kakha Kuchava. This move may create an obstacle for the initiative led by the biggest opposition party, the United National Movement (UNM), to set up a parliamentary fact-finding commission into alleged mistreatment of their founder, Georgia's third President Mikheil Saakashvili, among their top priorities.
GD lawmakers stripped Japaridze of his mandate as he was found guilty of fraud by the Tbilisi City Court in January in the controversial TBC Bank case.
However, Japaridze walked free as the Court noted the statute of limitations on the crime had passed.
Meanwhile, the Parliament revoked the credentials of Natelashvili and Khoshtaria over their absence from parliamentary sittings. The two were the last elected opposition MPs continuing to refuse to enter the Parliament following the boycott over the "rigged" 2020 elections until Natelashvili announced on February 10 he would take up his mandate. Khoshtaria has not objected to the termination, however.
In the case of Natelashvili and Khoshtaria, majority MPs referred to a parliamentary regulation they had recently amended, which sanctions lawmakers for "failing to attend without good reason more than half of the regular sittings during regular sessions".
Additionally, as OC Media stressed, article 30 of the recently amended Law of Georgia On Political Associations of Citizens triggers the cancellation of financial support from the state budget and free TV air-time for parties that fail to take up half of their parliamentary mandates. Thus Lelo and the Labour party are expected to lose out on ₾800,000 ($270,000) and ₾290,000 ($99,000) of state financial support, respectively, as of March.
Kuchava requested to have his powers terminated after resigning as Parliament Speaker in late December 2021.
Georgian Dream's U-turn on rescinding the mandates for several opposition leaders came not long after the United National Movement (UNM), the largest opposition party in Georgia, decided to end their parliamentary boycott last month, followed by Labour soon after.
Upon taking up their seats, the UNM named setting up a parliamentary fact-finding commission into alleged mistreatment of their founder, Georgia's third President Mikheil Saakashvili, among their top priorities. The launch of the commission requires the support of one-third of the total number of MPs — 50 votes — a task complicated by Georgian Dream's latest move.
Following the termination of the three mandates, Khatia Dekanoidze, an MP from the UNM, argued that their initiative for the commission was exactly what made the parliamentary majority go forward with axing seats in an expedited manner.
Georgian Dream's move was widely condemned by leading watchdog groups in Georgia, as well as President Salome Zurabishvili.
Sources:
KINCHA Shota, OC Media, "Georgian lawmakers expel three opposition leaders from parliament", https://oc-media.org/georgian-lawmakers-expel-three-opposition-leaders-from-parliament/
Civil.ge, "Parliament Terminates Mandates of Three Opposition MPs, Former Speaker", https://civil.ge/archives/472122
Georgian Economy Minister Natia Turnava ousted in a government reshuffle
Minister of Environmental Protection and Agriculture of Georgia Levan Davitashvili has replaced economy minister Natia Turnava, with the reshuffle announced by prime minister Irakli Gharibashvili on February 9, writes Agenda.ge.
The outgoing minister said the move marked "new initiatives and challenges" for her, adding she would look to "test herself in another field" and pledging to inform the public of her plans.
Turnava also expressed confidence in the new economy minister, noting Davitashvili "with his experience and professionalism, will manage everything at a very high level and will be one of the successful ministers of the economy."
In further comments on the change, Gharibashvili said deputy agriculture minister Otar Shamugia would take Davitashvili's position and credited the promoted official for his "16 years of experience in the ministry".
As OC Media reminds, Turnava was appointed as Minister of Economy and Sustainable Development in April 2019, during the brief tenure of Prime Minister Mamuka Bakhtadze; despite the apparent precarity of her position, she outlasted even Prime Minister Giorgi Gakharia, who resigned in February 2021.
Serving under several different Prime Ministers, Turnava was steadfast in her expressions of loyalty to the government and was known as an ardent defender of some of its most controversial policies, including the construction of the Namakhvani dam and the cancellation of the Ankalia deep-sea port.
Sources:
Agenda.ge, "Agriculture minister Davitashvili replaces economy minister Turnava in reshuffle", https://agenda.ge/en/news/2022/284
Kincha Shota, OC Media, "Georgian Economy Minister Natia Turnava resigns", https://oc-media.org/georgian-economy-minister-natia-turnava-resigns/
Abkhazia welcomes Belarusia's Lukashenka statement on its possible recognition and recognises Ukraine's Donetsk and Luhansk regions
Belarusian president Alexander Lukashenka (not recognised by the EU and the West) signals readiness to recognise the independence of Abkhazia and de facto South Ossetia, as well as Crimea as part of Russia. Meanwhile, de facto president of Abkhazia Aslan Bzhaniya recognised the Ukrainian regions of Donetsk and Luhansk.
Lukashenka said that he expects "signals" from Russia to recognise the independence of a given separatist de facto state. The official Sukhumi took the words of the Belarusian president positively, while the Kremlin said that there would be no signals, informs Jam News.
The Kremlin will not send any signals to Belarusian President Alexander Lukashenka to recognise the independence of South Ossetia, Abkhazia, and Crimea as a Russian region; Tass news agency cited the press secretary of Russian President Dmitry Peskov. "Our ally and partner will make his own decision when he deems it necessary", the Kremlin spokesman said.
The facto Ministry of Foreign Affairs of Abkhazia responded to Lukashenka's statement. "The Republic of Abkhazia positively assesses the statement of the Belarusian leader about the possibility of recognising the sovereignty of the Abkhazian state. Such a step on the part of Minsk would confirm the course of President Lukashenka to build strong allied relations between Belarus and Russia", the de facto Foreign Ministry said in a statement.
Meanwhile, Sukhumi recognised the independence of Ukrainian occupied regions on February 26. Bzhaniya cited Abkhazia's "special relations with the two regions, and what he called their' struggle for justice, for the right to a decent life". He defended Russia's invasion of Ukraine as 'absolutely justified' and repeated unsubstantiated Russian claims that Ukraine was committing genocide against Russian speakers.