Strategic Analysis Caucasus Brief
Bi-weekly review (23. 8. – 6. 9. 2020)
Tomáš Baranec
Armenia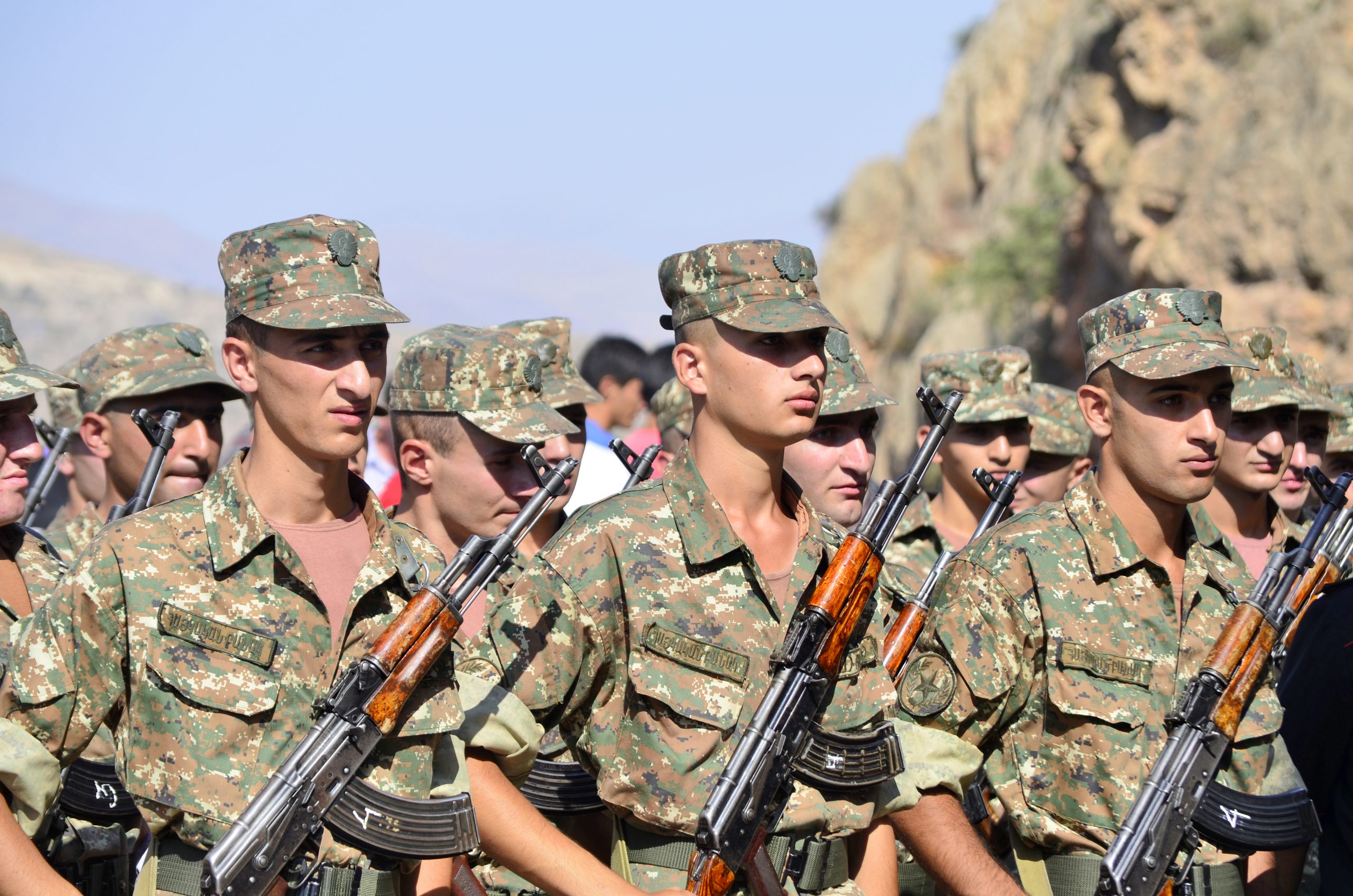 Armenian Conscripts. Photo: Karen Feljyan/ Shutterstock.com
MAIN STORY
Armenia proposes the creation of 100.000 men strong militia
Armenian Ministry of Defence has recently prepared a bill on forming an "Armenian model of militia" including women and citizens up to 70 years old to reflect new realities of war and "to protect the territory, population, key facilities and infrastructure from possible enemy attacks". Baku, in contrast, sees this plan as an outcome of the ongoing demographic crisis in Armenia.
"In conditions of the existing and developing threats and risks around Armenia, and new bellicose statements from the neighbourhood, the resources of solely the active armed forces could certainly not be sufficient," said Armenian minister of defence Davit Tonoyan while introducing the bill.
Armenian deputy Defense Minister Gabriel Balayan explained to reporters that studies of enemy's potential moves show that "the centre of their (enemy) military operations can be shifted inland through the widespread use of diversion, terrorism, reconnaissance or special operations".  Balayan also stressed that citizens involved in the forces would not be given weapons in peacetime, only "when taking part in certain operations".
Volunteers up to 70 years of age, including women, would be able to join the militia on a voluntary basis if they meet the physical fitness requirements. Ministry plans to enlist up to 100,000 citizens.
Hikmat Hajiyev, Azerbaijan's Presidential Aide and the Head of Foreign Policy Affairs Department of the Presidential Administration, has accused Armenian leadership of creating militia in order to use these units for "deceitful purposes, including in domestic affairs". "We consider these decisions as another example of the current demographic crisis in Armenia. This shows that Armenia faces difficulties in the recruitment of the armed forces," he added.
Yerevan negotiates with Moscow a purchase of 4+ generation Su-30SM fighter aircrafts
Davit Tonoyan, Minister of Defence of Armenia, has announced that Yerevan is negotiating with Russia to purchase Su-30SM fighters, adding that Armenia is planning to establish private Armenian-Russian companies in the military-industrial complex.
Although the contract for the purchase of Su-30SM fighters was signed back in 2012, it did not enter into force due to the financial difficulties faced by the customer. In January 2019, Yerevan finally bought four Su-30SM fighters. Now, the authorities of Armenia are negotiating with Russia to purchase another batch of fighter aircraft, wrote Caucasian Knot citing the Russian news agency TASS.
The Sukhoi Su-30 is a twin-engine, two-seat supermanoeuvrable fighter aircraft of 4+ generation developed in the Soviet Union by Russia's Sukhoi Aviation Corporation. It is a multirole fighter for all-weather, air-to-air and air-to-surface deep interdiction missions. Unlike Sukhoi Su-27 it is a full-fledged fighter-bomber.
Sources:
Caucasian Knot, "Yerevan reports negotiations with Russia on purchase of fighter aircrafts", https://www.eng.kavkaz-uzel.eu/articles/51984/
lietadla.com, "Suchoj Su-27PU/Su-30", http://www.lietadla.com/lietadla/ruske/su-27pu.htm
For additional information, see:
airforce-technology.com, "Su-30SM Multirole Fighter Aircraft, Russia", https://www.airforce-technology.com/projects/su-30sm-multirole-fighter-aircraft/
High-profile COVID wedding: Justice for government, double standards, and political schism for the opposition
A long-time grey eminence of Azerbaijani politics, Ramiz Mehdiyev, was jailed by a Baku court on August 22 for organizing a mask-less wedding for his granddaughter during the country's strict coronavirus lockdown. Video footage recorded during the wedding on August 18 started to circulate on social media and outraged Azerbaijani public, exhausted by COVID-19 severe restrictions.
Government-friendly media hailed Mehdiyev's punishment as a show of justice. "No one is above the law," announced the State television, adding that "President Ilham Aliyev taught Academician Ramiz Mehdiyev a lesson."
Opponents, on the other hand, believe justice has been served selectively reflecting rising political schism in the country. Activist Bakhtiyar Hajiyev believes the arrests are "the next stage of the battle between the clans." He claimed that Prime Minister Ali Asadov also hosted a wedding for his daughter recently and that it went unnoticed by the government.
As Eurasianet.org reminds in its analysis, Mehdiyev was pushed out last October as Aliyev's top adviser. At the time, several top officials were replaced by allies of Mehriban Aliyeva, the first lady and first vice president. Aliyeva's increasingly public role in recent years, and the rising stature of some of her relatives, have fuelled speculation that she may one day succeed the president, or at least that people close to her family are benefiting from power.
Sources:
For additional information, see:
Detainment of Armenian officer by Azerbaijan forces brings the exchange of prisoners between Baku and Yerevan back on the table
Both Yerevan and Baku are discussing a possible exchange of prisoners after recent detainment of an Armenian officer by the Azerbaijan security forces. Nevertheless, prospects of exchange are being hindered by Armenia's demand to involve the authorities of Nagorno-Karabakh in the negotiations and alleged pressure on the detained soldier by Baku.
Azerbaijan's Ministry of Defence has informed, that in the early morning on August 23 the officer of Armenian army was detained in the zone of the Nagorno Karabakh conflict during a sabotage operation. In its turn, the Armenian MoD has objected stating that Gurgen Alaverdyan is not a saboteur; he just got lost due to bad weather conditions.
The incident led to speculations among Azerbaijani analysts about the possibility of all for all exchange of prisoners among both parties of the conflict. Avaz Gasanov, the head of the Society for Humanitarian Studies, said for the Caucasian Knot that Alaverdyan could be, together with two other convicted Armenian military servicemen, exchanged for the Azerbaijani citizens kept in jails in the separatist Nagorno-Karabakh Republic (NKR) and Armenia. "Azerbaijan sticks to exchanging prisoners on the principle of 'all for all.' In the occupied NKR, Azerbaijani citizens Shakhbaz Guliev and Dilgam Askerov were sentenced to long prison terms. On the other hand, Azerbaijan keeps two Armenian soldiers, detained while suppressing diversion. Nevertheless, Armenia would disagree with this, claiming that Guliev and Askerov were convicted by the 'Karabakh authorities', and they cannot influence them," Gasanov has noted.
Meanwhile, Azerbaijan published a video statement made by Alaverdyan in which he states that he "regrets his actions and wishes to serve Azerbaijan". In reaction to the footage, the Armenian Ministry of Defense and Ministry of Foreign Affairs have already accused Azerbaijan of violating the rights of a prisoner of war. Yerevan believes that Azerbaijan forced the officer to read the statement.
Sources:
Caucasian Knot, "Political demands hinder prisoner exchange between Azerbaijan and Armenia", https://www.eng.kavkaz-uzel.eu/articles/51963/
Kavkazskij uzel, "Офицер армии Армении взят в плен в зоне карабахского конфликта (Armenian army officer captured in the Karabakh conflict zone)", https://www.kavkaz-uzel.eu/articles/353370/
Caucasian Knot, "Azeri analysts treat exchange of captured Armenian officer as possible", https://www.eng.kavkaz-uzel.eu/articles/51922/
JAMnews, "Will Armenia and Azerbaijan exchange prisoners? Opinions from Armenian experts", https://jam-news.net/exchange-prisoners-armenia-azerbaijan-expert-opinions/
For additional information, see:
Council of Europe, "Ensuring the right of Dilgam Asgarov and Shahbaz Guliyev to a fair trial", http://assembly.coe.int/nw/xml/XRef/Xref-XML2HTML-en.asp?fileid=21561&lang=en
Death of a young man in custody sparks a severe political crisis in South Ossetia
Anatoly Bibilov, de facto president of Moscow-backed separatist republic of South Ossetia, has dismissed his government late on August 28, following a mass protests in Tskhinvali over the death of Inal Dzhabiev. Public anger erupted, after Dzhabiev, a 28-year-old man detained earlier on charges of attempted murder of the occupied region's interior minister Igor Naniev, was brought to the hospital already dead from the temporary detention facility where he was being held.
Pictures of a severely beaten body of young man appeared on social media soon after his death. One of Dzhabiev's relatives told local journalists that according to medics he was "already dead" when he was brought to the hospital. They tried to give him adrenalin, but "the heartbeat was gone, and his body was already cold".
The first group of approximately 300 protesters gathered in Tskhinvali on the same day, forcing Bibilov to dismiss the government. However, popular anger has not been assuaged, and many have called for South Ossetian leader himself to step down, as well. Bibilov's decision was preceded by resignation of Erik Pukhaev – regions de facto prime minister.
On August 30, local media informed that two other persons detained on charges of attempted Nanievs assassination were severely beaten in detention. First, of the two, Nikolai Tskhovrebov was hospitalized with traces of beating and could not walk on his own. Another suspect, Gennady Kulaev, has been denied access to lawyers for a week and information has emerged about him being beaten and tortured with electricity.
Next day nearly 2.000 persons, including Bibilov, attended Dzhabiev's funeral with approximately 1.000 mourners staging a protest on Tskhinvali's main square calling for Bibilov and de facto prosecutor-general Uruzmag Dzhagaev to resign. Former de facto president of South Ossetia Eduard Kokoity, who is close to Kremlin, joined voices calling for Bibilov's resignation promising that in such case, he will not return to South Ossetia.
Another act in the crisis had begun on September 2 when seventeen out of 34 deputies of the South Ossetian Parliament announced a suspension of work in connection with Dzhagaev's unwillingness to resign.
Such statements have no legal force; however, problems with the work of the parliaments may become the reason for its dissolution, said the first vice speaker of the Parliament Petr Gassiev.
Seven suspects – staff members of the de facto interior Ministry – were detained in relation to Dzhabiev's death. No official charges have been yet brought as investigations are still underway and forensic medical examination has been scheduled.
Sources:
Kavkazskij Uzel, "Следы побоев на теле Джабиева ужаснули пользователей соцсети (Beat marks on Jabiev's body terrified social network users)", https://www.kavkaz-uzel.eu/articles/353547/
Kavkazskij Uzel, "Источники сообщили о жестоком избиении еще двух задержанных в Южной Осетии (Sources reported brutal beating of two more detainees in South Ossetia)", https://www.kavkaz-uzel.eu/articles/353585/
Ekhokavkaza, "С Джабиевым простились, протест продолжается (Protest continues after Dzhabiev's funeral)", https://www.ekhokavkaza.com/a/30813428.html
Kavkazskij Uzel, "Кокойты призвал Бибилова уйти в отставку (Kokoity urged Bibilov to resign)", https://www.kavkaz-uzel.eu/articles/353635/
Kavkazskij Uzel, "Половина депутатов парламента Южной Осетии объявила бойкот (Half of the deputies of the South Ossetian parliament announced a boycott)", https://www.kavkaz-uzel.eu/articles/353708/
Civil.ge, "Seven Detained over Inmate's Death as Protests Continue in Tskhinvali", https://civil.ge/archives/364610
For additional information, see:
Alliance of Patriots makes several headlines over the last two weeks
In just two weeks, opposition party Alliance of Patriots of Georgia has managed to provoke political conflict in Abkhazia and face allegations of receiving funds for their campaign from Moscow.
Opposition TV station Mtavari Arkhi was first to inform about the unique visit in Abkhazia by representatives of the Georgian Parliament's party. Arkhi claimed that two leaders of the Alliance of Patriots, vice-speaker of the Georgian Parliament Irma Inashvili and David Tarkhan-Mouravi visited separatist region secretly on August 18.
Inashvili later confirmed this information, although the MP said that she was accompanied to Abkhazia not by Tarkhan-Mouravi, but by another Alliance of Patriots MP, Giorgi Lomia.
Lasha Sakania, the aide of the Moscow-backed Abkhaz leader Aslan Bzhania, later explained that his "old friends from Russian Federation" asked him to help arrange the said visit to donate the icon of the Virgin Mary to the Ilori Church of St. George, located in eastern Abkhazia's Ochamchire District, upon request by Davit Tarkhan-Mouravi. Sakania, who later had to resign after an outcry from local opposition, stressed that visit was "purely humanitarian, with no political agenda or consequences".
"The Abkhaz Orthodox Church," one of the two groups exercising factual ecclesial control in Abkhazia later refused to accept the Virgin Mary icon donated by Inashvili, noting that "such actions are unacceptable until the recognition of the Abkhaz Orthodox Church and the Abkhaz state by the Georgian Orthodox Church."
However, Inashvili's visit to Abkhazia did not cause discontent only among Abkhaz opposition, Georgian opposition party United National Movement (UNM) claimed that the politician's visit had been coordinated with Russia and the "openly pro-Russian" ruling "Georgian Dream" Party.
As Caucasian Knot wrote, experts are divided in their assessment of Inashvili's visit. Political analyst Mamuka Areshidze believes that the Irma Inashvili's trip may lead to a drop in the rating of the "Alliance of Patriots of Georgia" Party before the upcoming parliamentary elections. On the other hand, political analyst Nika Chitadze suggests that the politician's visit to Abkhazia can attract refugees from Abkhazia and residents of the Gali District, who worship the Ilori Church, to the side of the "Alliance of Patriots of Georgia" Party.
Meanwhile, Dossier Center, a Russian investigative project established by the prominent Kremlin critic, Mikhail Khodorkovsky, released an investigative report on August 24, claiming that Kremlin funds the election campaign of the Alliance of Patriots.
Dossier Center bases its investigation on documents lifted from the secretariat of Vladimir Chernov, General of the Foreign Intelligence Service (SVR) of the Russian Federation, who reportedly hired Sergey Mikheev – a Kremlin-associated "election expert" – to promote the Alliance of Patriots for Georgia's October parliamentary elections.
Mikheev had sent a USD 700,000-draft budget services of political consultants at the beginning of the year, says the report. Besides that, Alliance of Patriots reportedly handed Moscow a USD 8,430,625 budget proposal to cover the party's campaign expenses.
Although Inashvili confirmed that the Alliance of Patriots had hired a Russian agency for the election campaign, she called allegations made by Dossier Center "absurd".
According to the report released by Transparency International Georgia, a local watchdog, the revenues of the Alliance of Patriots in 2019 stood at GEL 1,676,618 (USD 543,000), making it the second after the ruling Georgian Dream party which received GEL 9,502,653.
Sources:
JAMnews, "Alliance of Patriots makes a stir – what were pro-Russian, Georgian politicians doing in Abkhazia?", https://jam-news.net/alliance-of-patriots-abkhazia-visit-lasha-sakania/
Civil.ge, "Georgian 'Patriots' Visited Abkhazia for Piety, Bzhania's Aide Says", https://civil.ge/archives/363496
Caucasian Knot, "Georgian politician's visit provokes political conflict in Abkhazia", https://www.eng.kavkaz-uzel.eu/articles/51941/
Civil.ge, "Russian Watchdog: Kremlin Interferes in Georgia Polls, Aids Alliance of Patriots", https://civil.ge/archives/363628
Georgian opposition agreement "On Protecting Each Other's Votes" endangered just two days after its signature
On August 24, Georgian opposition parties have united for the upcoming October parliamentary elections and signed an agreement "On Protecting Each Other's Votes".
Overall 30 opposition parties including former President Mikheil Saakashvili's United National Movement, European Georgia, Strategy Agmashenebeli of Giorgi Vashadze, Lelo for Georgia of TBC's Khazaradze, right-libertarian Girchi party, Republican Party, Natelashvili's Labor Party and former Speaker Nino Burjanadze's United Georgia – Democratic Movement have signed the agreement to defeat ruling Georgian dream in upcoming parliamentary elections scheduled at October 31.
Only two days later on August 26, UNM has nominated Khatia Dekanoidze, former Minister of Education, as a majoritarian candidate for Isani constituency in Tbilisi. However, this step has caused a significant discontent among other opposition forces, since Giorgi Vashadze, leader of the New Georgia party and former UNM MP, had already been named since June 19, including by the UNM, as a joint opposition candidate to run in Isani.
The UNM, however, blamed Vashadze for breaching the agreement first, by endorsing Tako Charkviani from the Law and Justice party as a contender in Saburtalo constituency. Charkviani denied the accusations, claiming that she was never a part of the deal in the first place.
Source:
Civil.ge, "Opposition Agree on 'Defending Each Other's Votes' for October Elections", https://civil.ge/archives/363539
Civil.ge, "A New Twist as UNM Names Isani Majoritarian", https://civil.ge/archives/364090