Strategic Analysis Caucasus Brief
Bi-weekly review (12. 6. – 17. 7. 2022)
Tomáš Baranec

Armenia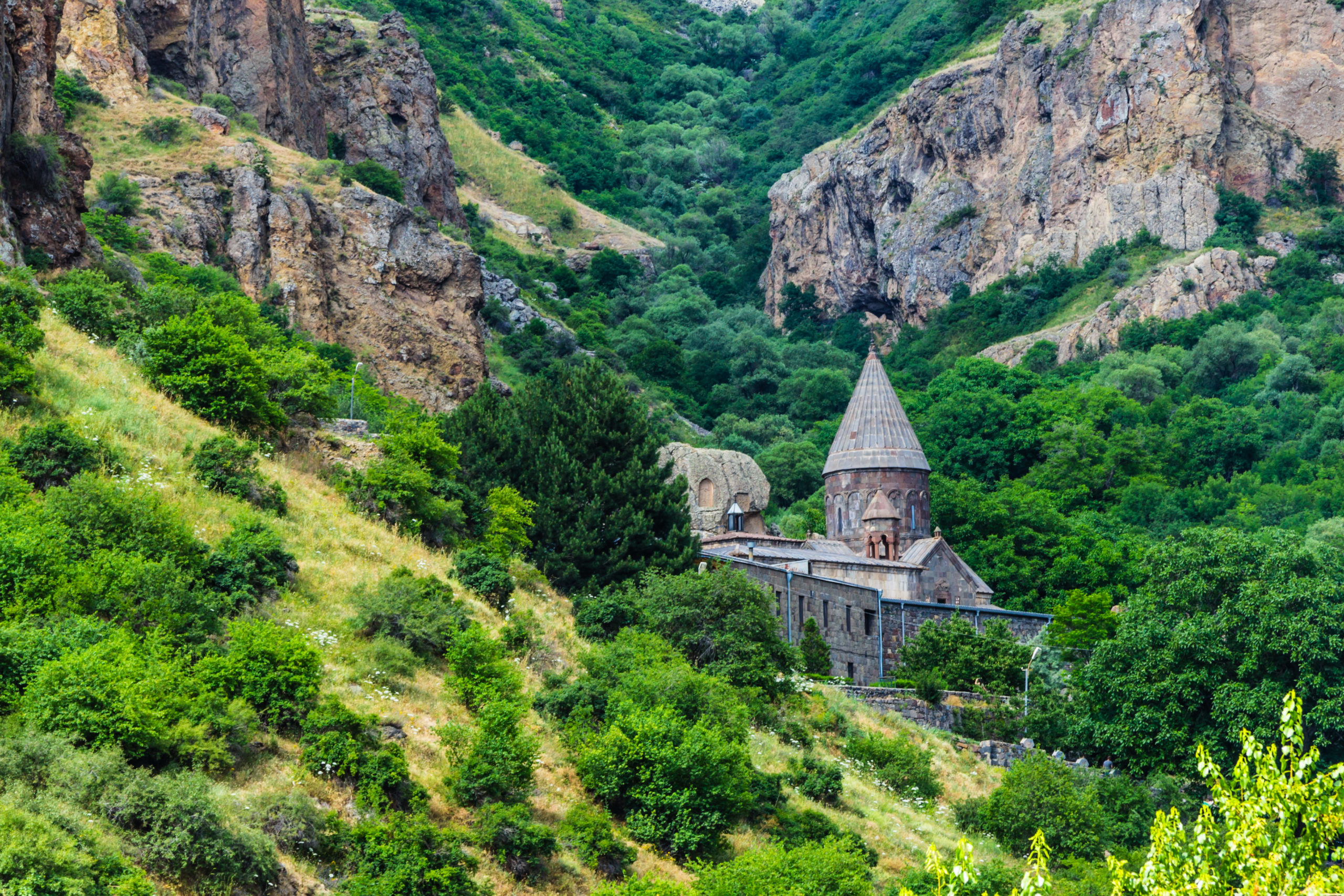 Geghard monastery, Armenia. Photo: Damira/ Shutterstock.com
After six weeks of protests, the opposition closes its tent camp in central Yerevan
The participants of the protest action, held in central Yerevan since late April, have rolled up their tents and will now join the activists seeking the resignation of Nikol Pashinyan in their street protests.
Ishkhan Sagatelyan, an oppositional MP and a Vice-Speaker of the Armenian
0Parliament said that the tent camp had fulfilled its mission, and now the activists will act according to the new strategy. The opposition will try with all its efforts to disrupt the conclusion of a peace treaty of the Pashinyan's government with Azerbaijani authorities, Mr Sagatelyan has added.
The opposition will regularly hold street actions, rallies, marches and discussions; it will set up its subdivisions, including in Nagorno-Karabakh. According to the oppositionist, the main issue – the removal of Nikol Pashinyan from power – remains unresolved, but over these months, the movement has had serious achievements.
According to him, before the street struggle, only "the voice of defeat and compromise" was heard from Armenia, which was also noticed by the international community: "The Armenian people have shown that the current government does not have a mandate for new concessions".
Saghatelyan assured that the international community heard the opposition's approach. The oppositionist called this circumstance a historical achievement:
"No matter how much [the authorities] try to ignore it, this movement is discussed at the highest level. They no longer think they can do whatever they want with Armenia," said Sagatelyan as cited by JAM News.
However, as the Caucasian Knot writes, experts believe the protest movement has no broad public support. The movement has reached a critical point, Armen Badalyan, a political strategist, stated on June 13. He believed that coordinators made tactical mistakes, and since May 4-5, the actions have been going on by inertia. Opposition supporters have been holding protests in Armenia since April 25; mass detentions and clashes accompanied them. The most significant incident occurred on June 3 in Yerevan, when 39 policemen and 21 demonstrators received trauma.
Sources:
JAM News, "'We did not give up': Armenian opposition changes its tactics after over a month of protests", https://jam-news.net/we-did-not-give-up-armenian-opposition-changes-its-tactics-after-over-a-month-of-protests/
Caucasian Knot, Opposition closes its tent camp in central Yerevan, https://www.eng.kavkaz-uzel.eu/articles/60438/
Caucasian Knot, "Armenian political analysts note the absence of public support of opposition", https://www.eng.kavkaz-uzel.eu/articles/60416/
Turkey and Armenia to partially open the border
In identical statements, the two countries announced on July 1 that they had agreed to "enable the crossing of the land border between Armenia and Turkey by third-country citizens visiting Armenia and Turkey respectively at the earliest date possible," reports Eurasianet.org.
July 1 was the fourth meeting between the two envoys, Ruben Rubinyan of Armenia and Serdar Kilic of Turkey. After the initial meeting in Moscow, each of the subsequent meetings has been in Vienna, with no mediators. The border opening agreement was the first concrete result of the talks. Rubinyan and Kilic also agreed to commence direct air cargo traffick between Armenia and Turkey "at the earliest possible date" and "discussed other possible concrete steps that can be undertaken towards achieving the ultimate goal of full normalisation between their respective countries."
The statement also reiterated the agreement "to continue the normalisation process without preconditions." As RFE/RL writes, some villagers near the shared border are already preparing for long-abandoned crossing points to reopen. "I'm renovating my house. I'm going to turn it into a hotel," Vacho Smbatian told RFE/RL as his flock of sheep grazed near the overgrown Akhuryan train station, 3 kilometres from the Turkish border.
Turkish/Armenian border crossings have been shut since 1993 after ethnic Armenian forces seized Azerbaijan's Kalbacar district during the first war between Yerevan and Baku over the disputed region of Nagorno-Karabakh.
In solidarity with Azerbaijan, Turkey cut off ties with Armenia, further isolating the small state, whose eastern border with Azerbaijan was already locked shut. Turkey insisted its border would reopen only if Kalbacar was returned to Azerbaijani control.
When Azerbaijan launched a massive offensive to wrest land back from Armenia in late 2020, that territory was recaptured by Baku, meaning Turkey's stated reason for the border closure had disappeared.
Sources:
ISAYEV Heydar, MEJLUMYAN Ani, Eurasianet.org, "As Armenia moves to open border with Turkey, Azerbaijan closes its own", https://eurasianet.org/as-armenia-moves-to-open-border-with-turkey-azerbaijan-closes-its-own
CHAPPLE Amos, RFE/RL, "Excitement, Unease As Armenians Await Turkish Border' Reopening' ",
https://www.rferl.org/a/armenia-reopening-turkey-border/31899569.html
Armenia's parliament opposition faction leader gives up a seat in the legislature
Arthur Vanetsyan, the head of the "I have the honour" oppositional parliamentary faction, has announced his resignation of his parliamentary powers and the withdrawal of his "Fatherland" Party from the Parliament, reports Caucasian Knot. According to his version, the Parliament can no longer defend the interests of Armenia and de facto Nagorno-Karabakh.
"Today, in the manner prescribed by law, I have submitted a petition to resign from my parliamentary mandate (…). The reason is obvious: Armenian citizens had voted for us to stop the destructive activities of these authorities and to bring the country out of the disaster. However, in my opinion, this Parliament has ceased to be an effective platform for achieving the goal," said Vanetsyan, as cited by News.am.
He added that the Board of the Homeland Party had decided to continue its activities outside the Parliament. "By the decision of the party, the "With Honor" bloc we formed with the [former ruling] RPA [party] (…) [hereby] de jure and de facto ceases to exist," he said. As News.am writes, the next candidate on the "With Honor "bloc's electoral list is former MP Martun Grigoryan. It is unknown whether he will take the mandate or not.
Sources:
Caucasian knot, "Head of opposition faction in Armenian Parliament denies his mandate",
https://www.eng.kavkaz-uzel.eu/articles/60510/
News.am, "Armenia parliament opposition faction leader gives up a seat in the legislature", https://news.am/eng/news/708286.html
News.am, "Who will replace Artur Vanetsyan in Armenian Parliament?", https://news.am/eng/news/708322.html
Construction of the tallest statue of Christ suspended shortly after the groundbreaking ceremony
The ceremony for the construction of the statue-complex of Jesus Christ was held on the top of Hatis Mountain in Armenia on July 9. The statue itself would be 33 meters tall, and with the pedestal, 77 meters – more than double the height of Rio de Janeiro's Christ the Redeemer statue, becoming the tallest statue of the saviour in the world.
The tycoon and former opposition leader Gagik Tsarukyan announced his plan to build the statue earlier this year. Attending the ceremony were Economy Minister Vahan Kerobyan and Secretary-General of the World Tourism Organization Zurab Pololikashvili. "It was with excitement that I witnessed the groundbreaking ceremony for the installation of the statue of Christ in Armenia," Pololikashvili said in a Twitter post.
He thanked the Minister of Economy of Armenia, Vahan Kerobyan, and Tsarukyan for the invitation. The Armenian government at first greenlighted the project, with the Armenian PM claiming it would attract more tourists to Armenia. But the culture ministry had other ideas. On July 10, it said that Tsarukyan's charity foundation had never responded to queries it had sent about the statue's proposed location and that the proposal would have to be reviewed in light of Armenia's law on the protection of historical sites. The next day, the environment ministry announced that construction had been suspended. The same day, the Ministry of the Environment reported that it had not received the paperwork from Tsarukyan's foundation required for its approval, as well.
The Hatis Mountain is the site of some 20 sites registered in Armenia's list of cultural and historical monuments that are protected by the law, including a Bronze-Iron Age fortress discovered in 2019. But Tsarukyan owns 146 hectares of land on the mountain, which he bought in 2008, including the top of the mountain on which the statue is to be built.
Sources:
MEJLUMYAN Ani, Eurasianet.org, "Construction of massive Jesus statue in Armenia suspended", https://eurasianet.org/construction-of-massive-jesus-statue-in-armenia-suspended
GHAZANCHYAN Sirubash, Public Radio of Armenia, "Ground was broken for Jesus Christ statue in Armenia", https://en.armradio.am/2022/07/10/ground-broken-for-jesus-christ-statue-in-armenia/
Armenia moves to bolster government control of the military
Armenia's National Assembly voted 58-0 on July 7. to pass amendments to the country's defence law that restructure the Defense Ministry's leadership structure. The changes, which Defense Minister Suren Papikyan announced last month, would see the chief of the general staff, who oversees the army, serve automatically as the first deputy minister of defence as well, writes Civilnet.am
In most Armenian government agencies, the first deputy minister will take over for the minister in the case of their absence, but the new amendments specifically prohibit this in the Defense Ministry.
Only lawmakers from the ruling Civil Contract party were present at the vote, but the party has enough seats to push bills through Parliament without any support from the opposition, which has been boycotting legislative sessions since April.
Papikyan has presented the changes as a way to streamline and simplify the structure of Armenia's military. In contrast, the opposition has decried the move as an effort by the government to exert greater control over the army.
Eurasianet.org reminds us that the move comes a year after the military leadership called on Prime Minister Nikol Pashinyan to resign in the aftermath of the 2020 war defeat to Azerbaijan, in what Pashinyan called a "coup attempt."
"The armed forces must report to the defence minister and the commander-in-chief," Defense Minister Suren Papikyan told the members of Parliament.
Pashinyan promised a significant military reform shortly after the 2020 defeat, but this is the first considerable restructuring. It appears to be motivated by the events of February 2021, when dozens of high-ranking officers, including the chief of staff of the armed forces Onik Gasparyan, called on Pashinyan to resign.
Pashinyan ultimately dismissed Gasparyan and more than 40 other officers, but it was the sharpest moment in the long-running political crisis he has faced since 2020. Armenia has gone without a chief of the general staff since then.
Sources:
MEJLUMYAN Ani, Eurasianet.org, "Armenia moves to bolster government control of the military", https://eurasianet.org/armenia-moves-to-bolster-government-control-of-military
DOVICH Mark, Civilnet.am, "Armenia's Parliament approves Defense Ministry restructuring", https://www.civilnet.am/en/news/667414/armenias-parliament-approves-defense-ministry-restructuring/
Canada to open embassy in Yerevan
On June 29, Canada's Foreign minister Mélanie Joly announced the plan to open an embassy in Yerevan to help strengthen Armenia's democracy. "This diplomatic expansion will help guide Canada's response to evolving security threats, enhance political and economic cooperation to support European Allies, and further counter the impacts of the Russian invasion of Ukraine and support Armenia in its democratic development," read a statement released by the Canadian government.
It also quoted Joly as saying that this will give Ottawa "the tools we need to reinforce Armenian democracy and address some of the greatest security and diplomatic challenges of our time." The statement was timed to coincide with a NATO summit in Madrid that focused on continued Western military support for Ukraine. It said Canada's current geopolitical priorities include "pushing back on Russian influence, whether they assert it through soft power, disinformation or military force."
Armenia was quick to welcome Canada's decision to open an embassy in Yerevan, with Foreign Minister Ararat Mirzoyan calling it "another milestone in progressively developing Armenian-Canadian relations." The Russian embassy in Yerevan has condemned a Canadian Foreign Ministry statement that described the move to open a Canadian embassy in Yerevan as a way to "push back on Russian influence."
Sources:
Azatutyun.am, "Canada To Open Embassy In Armenia", https://www.azatutyun.am/a/31923007.html
Ghazanchyan Siranush, Public Radio of Armenia, "Canada to open an Embassy in Armenia", https://en.armradio.am/2022/06/29/canada-to-open-an-embassy-in-armenia/
Civilnet.am, "Russia and Canada in a war of words over Armenia embassy", https://www.civilnet.am/en/news/667213/russia-and-canada-in-war-of-words-over-armenia-embassy/
Armenian Prosecutor General suggests greater state control over the Internet
Armenian Prosecutor General Artur Davtyan proposed in a letter to the government that various state agencies discuss the issue of subjecting the security of information spread over the Internet to legal regulation and implementing state control over such content.
Davtyan, in his letter, noted that Russia had created a list of "proscribed" information (including information on suicide methods and inciting suicide, preparation and use of narcotics, psychoactive substances, involvement of minors in illegal behaviour, and a Statement containing the offer of retail sale of restricted or prohibited drugs, alcoholic products, etc.) that needs to be blocked.
Once Russia's prosecutor general sends Roskomnadzor alerts regarding such "banned" information, the agency then immediately requests that the author(s) immediately remove it and not spread it via the Internet.
Armenian Prosecutor's Office, in its letter, also mentions, as an example, Germany's law "On improving the state of law enforcement in social networks", according to which it is prohibited to promote an organisation recognised as unconstitutional, to prepare a serious act threatening the state, to spread literature motivating the execution of such an act, to encourage criminal behaviour, national, religious, sexual or other information inciting enmity and other information, and social networks have been put under the obligation to remove or block information that contradicts the law.
The initiative of the Prosecutor General's Office has not yet been formalised in the form of a draft law. But if this regulation is adopted, it will apply not only to the media but also to users who publish a post on Facebook, writes JAM News. Critics of such legislation argue the Russian government uses it to silence government opponents, given that the law is quite arbitrary and not subject to judicial review.
Armenian information security specialist Artur Papyan believes the Armenian Prosecutor General's Office wants to create another tool for persecuting and punishing people. Papyan told Hetq that there is no public demand for establishing such internet monitoring.
"If this was an important and key topic for the public, why isn't the National Assembly, the legislature, raising it? I find it very strange that the example of Roskomnadzor was cited in the report because my first impression was that they wanted to create such a body. In recent years, as much as there are restrictions on the Internet and freedom of speech, in almost all cases, initiatives start with statements about protecting minors, and then you see that these projects take a different direction. In other words, I don't trust the motivations as to why the prosecutor's office took the initiative. The explanations are not very convincing, nor are the examples," Papyan said.
Sources:
JAM News, "Will Armenia follow Russia's example in controlling and censoring publications on the Internet?", https://jam-news.net/will-armenia-follow-russias-example-in-controlling-and-censoring-publications-on-the-internet/
MUSHEGHYAN Trdat, Hetq, "Armenian Prosecutor General Wants to Monitor Internet Content", https://hetq.am/en/article/146218
Azerbaijan's religious prisoners start hunger strike
On June 3, Azerbaijan's most prominent religious-political prisoner Taleh Baghirzade started a hunger strike, with several other members of his group joining in. They are protesting what they describe as police abuse and blasphemy, writes Eurasianet.org.
In a letter from prison in Gobustan, where he is serving a 20-year sentence, Baghirzada demanded that police stop "cursing God while torturing citizens."
That appeared to refer to two members of the movement who reported that police had beaten them while in custody on May 20. "They pushed me onto the ground with my face down and started kicking me in the head," one of the men, Suleyman Alakbarov, told news outlet Vetenugrunda.az. "Then they started jumping up and down on my back. They were swearing with the ugliest words. They were also cursing God," he recalled, as cited by Eurasianet.org.
Muslim Unity Movement's Razi Abbasov, who was sentenced on May 20 to six years in prison on drug charges, also said police officers had insulted God as they tortured him. Five more members of the group were detained outside the hearing, with three of them sentenced to 30 days in prison on charges of resisting police. They also claimed to have been tortured while in police custody.
On June 18, three more religious activists from Azerbaijan's second-largest city, Sumgayit, were detained after writing graffiti on a wall calling for the police officers who insulted God to be punished. During a live broadcast on YouTube on June 19, Elgiz Mammadov, a member of the Muslim Unity religious movement who was detained a month ago and later released, stated that he was raped while being detained by police.
In his letter, Baghirzada – who was convicted in 2017 on charges including plotting to overthrow the government – said he would not stop the hunger strike until every officer involved in the episode was punished. As Eurasianet.org reminds us, the Azerbaijani government has been for years steadily increasing its control of Islamic practices in Azerbaijan. Religious activists have long been thought to pose a political threat potentially more serious than that of the secular opposition.  At the same time, the government continues to dabble in Islamic piety when it is politically convenient.
On June 9, India's Ambassador to Baku was summoned to Azerbaijan's foreign ministry over some remarks about the prophet Muhammad by an Indian official. "It was noted that the Islamophobic position shown by Indian officials affected the feelings of Muslims around the world, and the Indian ambassador was informed that Azerbaijan condemned this behaviour," the ministry said in a statement.
Sources:
ISAYEV Heydar, Eurasianet.org, Azerbaijan's religious prisoners start hunger strike
AGHAYEV Ismi, OC Media, "Hunger strike of Azerbaijani religious leader continues",
https://oc-media.org/hunger-strike-of-azerbaijani-religious-leader-continues/
JAM News, "Azerbaijani Muslim Unity member, claims he was raped by police while in detention", https://jam-news.net/azerbaijani-muslim-unity-member-claims-he-was-raped-by-police-while-in-detention/
Caucasian Knot, Human rights defenders: religious activists in Azerbaijan punished too severely, https://www.eng.kavkaz-uzel.eu/articles/60506/
Fuel prices rise in Azerbaijan
On the night of July 13, 2022, the price of AI-95 premium gasoline in Azerbaijan rose by 25% to 2 manats (approximately 1,17 EUR). At the same time, AI-98 super-gasoline increased in price by 15 per cent. A litre of this gasoline is already being sold for 2 manats 30 gepiks (approximately 1.35 EUR), reports Jam News.
According to experts, more than 90 per cent of car owners in Azerbaijan use AI-92 gasoline, a litre of which, as before, costs 1 manat (approximately 0.59 EUR). For this reason, rising prices for expensive brands of gasoline should not affect the cost of vital products.
However, on July 13, the media reported a lamb price rise by about 20 per cent. No rise in prices for other products and goods has been noticed so far. Azerbaijan MP Azar Badamov said on July 12 that the rise in oil prices around the world accelerates global inflation. Although increases in oil prices do increase some revenue for oil-producing countries, they in general lead to higher prices, he claimed.
"For example, the prices of diesel fuel and gasoline in most countries of the world change every day. Since Azerbaijan is an oil-producing country, the prices of oil products are controlled by the state and are maintained at a constant level. Diesel fuel and gasoline are more expensive in neighbouring countries than in Azerbaijan," Badamov said.
"Azerbaijan ranks 13th" worldwide for low prices of petroleum products. I want to note that since March of this year, the cost of RON-95 gasoline has increased in neighbouring countries – in Russia – 77.8 per cent, in Georgia – 34.8 per cent, in Kazakhstan – 10 per cent, in Turkey – 51.7 per cent, "Badamov noted.
He also noted that although Azerbaijan produces RON-92 gasoline and diesel fuel, it imports RON-95 and RON-98 Gasoline. "Bringing RON-95 and RON-98 brands of gasoline into our country becomes more expensive when prices rise. The supplier company is paying for the increase at its own expense, even though RON-95 and the import prices for RON-98 gasoline have increased, and the increase was not allowed for local prices," he said.
Sources:
JAM News, "Fuel prices rise in Azerbaijan", https://jam-news.net/fuel-prices-rise-in-azerbaijan-2/
Georgia News, MP speaks of Azerbaijan being affected by rising RON-95 fuel prices around the world, https://darik.news/georgia/mp-speaks-of-azerbaijan-being-affected-by-rising-ron-95-fuel-prices-around-the-world/655103.html
The EU Commission recommends denying Georgia candidate status
On June 17, the European Commission recommended that Georgia be denied EU candidate status later that month, stating that Ukraine and Moldova should be offered immediate candidacy to join the bloc. The commission has recommended that Georgia gain a "European perspective" and be admitted as a formal candidate for European Union membership once it fulfils certain conditions.
Announcing the decision, Commission President Ursula von der Leyen said the decision was based on a number of political and economic criteria. She said Georgia's application had "strength" and that its application could be reassessed in the future if the country met a number of criteria.
"The sooner you deliver, the sooner there is progress", she said in an address to Georgia. "Therefore, it is in Georgia's hands to speed up and be clear." She said Ukraine was a "robust presidential-parliamentary democracy" while praising Moldova's "decisive step towards reforms". Von der Leyen said that Ukraine and Moldova would still need to carry out a number of reforms in parallel to their candidacy.
Ruling Georgian Dream party chairperson Irakli Kobakhidze has pledged that the government would "do everything" needed to improve its democratic institutions and join the European Union in response to the European Commission's Opinion today, which recommended that Georgia should meet conditions before being granted a candidate status.
However, citing recent remarks by French President Emmanuel Macron, MP Kobakhidze laid blame on geography rather than the country's democratic performance for failing to immediately obtain candidate status, unlike Ukraine and Moldova. He expressed hopes that geography would "no longer be a reason for Georgia to be denied candidate status or membership status."
Albeit noting that "candidate status does not give a country any financial or other material privileges," MP Kobakhidze emphasised that "not receiving the status at this stage is, to some extent, disappointing for us." MP Kobakhidze said against the backdrop of the Russian invasion of Ukraine, as well as subsequent economic and humanitarian consequences for its neighbouring Moldova, the two countries received candidate status as a "small incentive" from the European Union.
"We understand, however, that Georgia, unlike Ukraine, and even Moldova, has not made the necessary sacrifices to obtain this status today. We understand that the sacrifices and bloodshed 14 years ago [meaning Russo-Georgian War of 2008 – editor] and even 30 years ago and 300,000 IDPs, unfortunately, have already lost their relevance for our European partners."
Asked whether the ruling party would take responsibility for carrying out the reforms recommended by the Commission, MP Kobakhidze said the outlined requirements coincide with existing conditions in the Association Agreement, which the government had already taken responsibility for. "Relevant reforms will be implemented according to each of these points," he said, as cited by civil.ge.
Local opposition, on the hand, criticised the government for being responsible for not getting the status. "The West made it clear that its door remains open, and we can knock at it once the commitment to "de-oligarchization" is fulfilled. Do you put up with the oligarch? Do you want to see Bidzina Ivanishvili's personal guards who do not care about the state interests in top positions? Then, it's up to you to decide… This government has no will to implement successful democratic reforms… It is naïve to think that the oligarch will give up his levers unless Georgian people express its firm will…" claimed Nika Melia from United National Movement.
MP Giorgi Vashadze, Strategy Agmashenebeli, said that opposition and civil society had worked hard "to prevent the door from closing for Georgia ". He also called on people to take part in the demonstration on July 20. On July 24. the European Council granted Ukraine and Moldova the membership candidate status, while Georgia was granted a "European perspective". Georgia, Ukraine and Moldova jointly applied for EU membership. Georgia applied for EU membership on March 3. All three countries filled out the EU questionnaires, where they answered more than 3,000 questions.
On July 13, The European Commission decided to push back re-examining Georgia's membership application until next year in order to give the country sufficient time to work on implementing reforms. The decision was announced by Michael Rupp, the European Commission's representative at the European Parliament, during a session on Georgia's implementation of the Association Agreement. The tentative deadline was originally understood to be December.
Sources:
GABRITCHIDZE Nino, Eurasianet.org, "Georgia recommended for EU candidacy, but with conditions", https://eurasianet.org/georgia-recommended-for-eu-candidacy-but-with-conditions
OC Media, "EU Commission recommends denying Georgia candidate status", https://oc-media.org/eu-commission-recommends-denying-georgia-eu-candidate-status/
KINCHA Shota, OC Media, EU pushes back re-examining Georgia's candidacy until 2023, https://oc-media.org/eu-pushes-back-re-examining-georgias-candidacy-until-2023/
Jam News, "Georgian government: Geographic location prevented us from obtaining EU candidate status", https://jam-news.net/georgian-government-geographic-location-prevented-us-from-obtaining-eu-candidate-status/
Civil.ge, "Georgian Dream Reacts to Commission's Opinion", https://civil.ge/archives/496673
Civil.ge, "Georgian Opposition Reacts to EU Commission's Opinion", https://civil.ge/archives/496798
Agenda.ge, "PM highlights 'historic day' as European Council recognises country's European perspective", https://agenda.ge/en/news/2022/2409
Pro-EU demonstration in Tbilisi turned into one of the biggest in recent history
Civic activists, citizens and representatives of various opposition parties gathered outside the Parliament building in Tbilisi on June 20 to show support for European integration of the country. In total, several hundred thousand people participated in the demonstration in the capital. The demonstration organised by liberal group Shame came after the European Commission recommended on June 17 that Georgia be denied EU candidate status while endorsing Moldova and Ukraine's applications.
Organisers announced they were forming a movement made up of civil society groups, media organisations, opposition parties, student groups, and trade unions, which would issue a list of demands to the government. They said that if those demands were not met, they would engage in a campaign of mass civil disobedience nationwide. Several members of the European Parliament addressed the crowd in pre-recorded messages of support, with some taking aim at the Georgian government.
Lithuanian MEP Rasa Juknevičienė accused the Georgian government of "(doing its best) not to make the EU Commission's recommendation favourable". She told people to "remember those who pushed Sakartvelo (Georgia) back towards Russia" when standing at the ballot box.
The demonstration was met with criticism from the ruling Georgian Dream party. After it was announced, several party leaders repeated claims it was orchestrated by the opposition United National Movement party. "This rally is a rally of the National Movement; we should call everything by its name. People see everything and understand everything. If anyone thinks they are misleading the public with any propaganda, they are very mistaken", Tbilisi Mayor Kakha Kaladze said, as cited by OC Media.
Demonstrations were also held in Batumi, Kutaisi and Zugdidi and in eight European cities: London, Prague, Hanover, Paris, Budapest, Berlin, Hamburg, and Reykjavik.
Sources:
OC Media, "Tens of thousands demonstrate in Tbilisi calling for EU membership", https://oc-media.org/tens-of-thousands-demonstrate-in-tbilisi-calling-for-eu-membership/
Caucasian Knot, "Supporters of European integration hold rallies in Tbilisi and Zugdidi", https://www.eng.kavkaz-uzel.eu/articles/60503/
Agenda.ge, "Tbilisi rally sees activists, opposition parties support European integration", https://agenda.ge/en/news/2022/2351
Garibashvili: "To join NATO, Georgia first has to solve its territorial conflicts."
Prime Minister Irakli Garibashvili has invited controversy by stating that to join the North Atlantic Treaty Organization (NATO), Georgia first has to solve its territorial conflicts, writes Civil.ge. On June 21, at the Qatar Economic Forum, the Georgian Prime Minister, Irakli Garibashvili, said, "We are not naive; we are aware that Georgia has territorial issues, which we must resolve before joining NATO. This is an understanding of our European (partners) and NATO member countries."
He emphasised the desire and determination of his administration to join the Alliance but added that doing so depends on the consensus of all member nations, contending that this consensus cannot be achieved as long as Russia occupies Georgia's borders. While pointing out that more than 80% of Georgians favour Euro-Atlantic integration, Prime Minister asserted that the (ruling) Georgian Dream was crucial to the country's progress along the Euro-Atlantic route.
PM evaded the question of the moderator, Bloomberg's John Micklethwait, on whether he trusted Russian President Vladimir Putin. He said, "in 2008, we experienced a large-scale war, in the 1990s when Georgia regained independence, we had two wars in our breakaway regions in Abkhazia and (South) Ossetia… and Russians at that time, 30 years ago, were helping these separatist groups."
"We fought against Russia three times over the last 30 years, so our government's policy is to restore territorial integrity and sovereignty through peaceful negotiations," he concluded. He also said to have had "no contacts" with Putin on political matters since the Georgian Dream came to power "only economic and trade relationship exists", he said.
Kakhaber Kemoklidze, a former security official and ex-Head of the Government Administration, now at For Georgia party, said the Prime Minister's remarks were "damaging" and "a gift to Russia." Kemoklidze argued in a post on Facebook that Georgia has to "(first) integrate fully into the European and Euro-Atlantic structures" and then try to resolve its territorial disputes. The membership, Kemoklidze said, "will increase the pace of the country's development and its attractiveness. It is the latter that will become the main determining factor in the restoration of territorial integrity."
Former Deputy Foreign Minister and ex-Vice Speaker of the Parliament Sergi Kapandze also reacted in a tweet, saying that PM Garibashvili "basically says NO to NATO, claiming that Georgia first has to resolve territorial problems and then join."
Sources:
Caucasus Watch, "Garibashvili: 'To join NATO, Georgia first has to solve its territorial conflicts'", https://caucasuswatch.de/news/5558.html
Civil.ge, "Georgian Prime Minister's NATO Remarks Stir Controversy", https://civil.ge/archives/497257
"Pussy Riot" members not let into Georgia
Olga Borisova was returning via Turkey from the European tour of the "Pussy Riot" group to Georgia, where she lives, but border guards at Tbilisi Airport would not let her enter the country, reports Caucasian Knot. Olga Borisova has reported the refusal to enter Georgia on Twitter. "I was denied entry to Georgia for no reason. I have no home other than Tbilisi, I have my boyfriend there and an apartment that I pay for," she wrote on June 20.
As RFE/RL reminds Georgia has been a destination for some of the estimated 300,000 Russians to flee their country since they can travel to the former Soviet republic without a visa. Despite the visa-free regime, Georgia has recently refused entry to some Russian citizens. A blogger from Russia's Kabardino-Balkaria, Insa Lander, has been caught in a neutral zone between the Russian-Georgian border since June 12 after the Georgian authorities refused to allow her to enter the country. Lander fled Russia seeking political asylum in Georgia after she was charged with participation in terrorist activities over a 2014 online chat she had with an acquaintance. Lander rejects the charge as politically motivated and calls it retaliation by Kabardino-Balkaria's officials for her investigation of possible corruption in a local charity foundation.
Sources:
Caucasian knot, "Pussy Riot member not let into Georgia", https://www.eng.kavkaz-uzel.eu/articles/60500/
RFE/RL, "Russian Pussy Riot Member Borisova Refused Reentry To Georgia", https://www.rferl.org/a/georgia-pussy-riot-refused-entry/31908100.html