Strategic Analysis Caucasus Brief
Bi-weekly review (17. 7. – 04. 8. 2023)
Tomáš Baranec
Armenia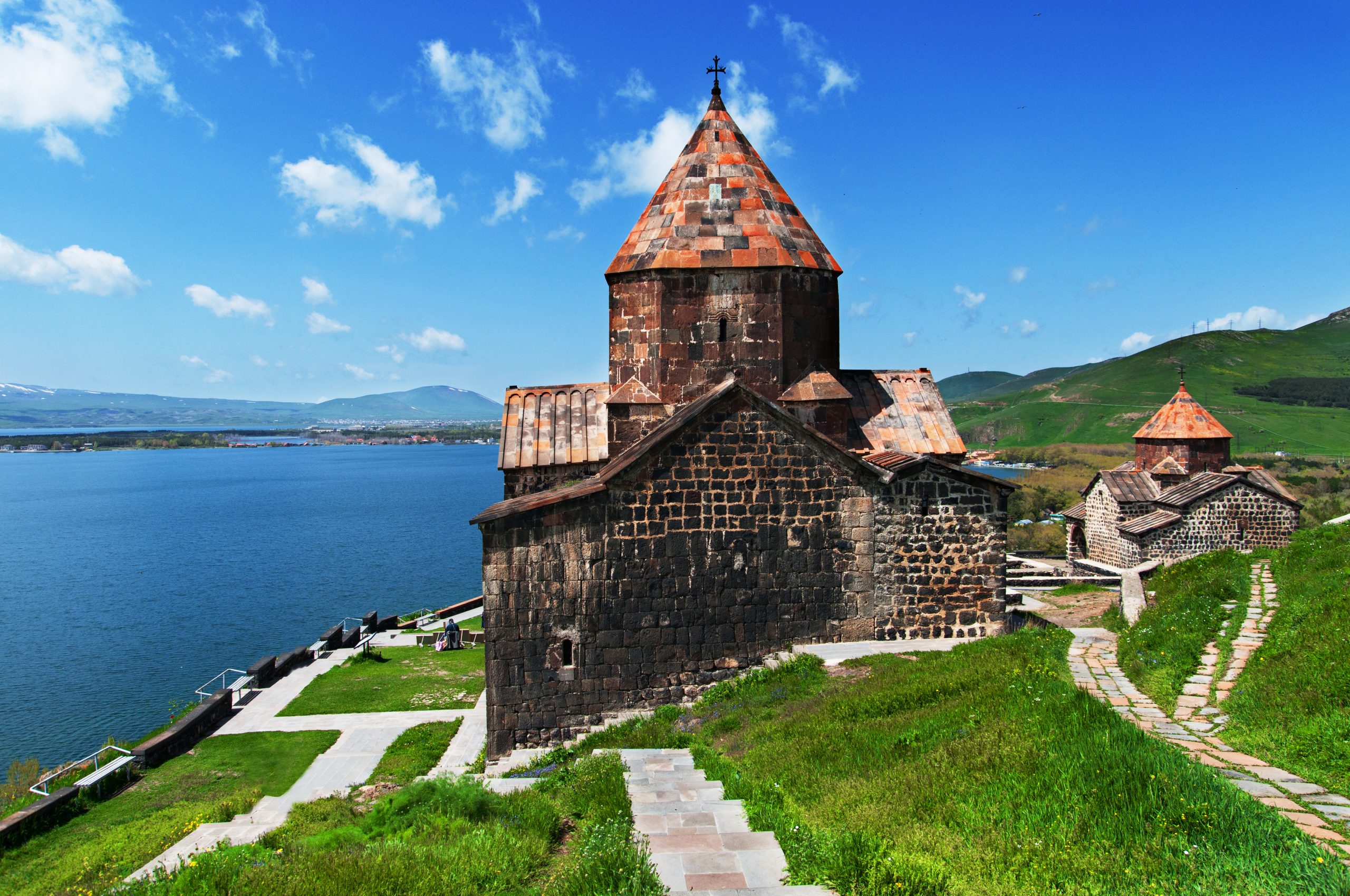 Sevanavank is a monastic complex located on a peninsula at the northwestern shore of Lake Sevan in the Gegharkunik Province of Armenia. Photo: Eteri Okrochelidze/Shutterstock.com
Russia says Karabakh Armenians need to accept Azerbaijani rule.
For the first time, Russia has explicitly said that the Armenian population of Nagorno-Karabakh should submit to Azerbaijani rule, reports Eurasianet.org. "The path [ahead] is not an easy one. A number of complicated and important issues need to be resolved. The most sensitive among them has been and remains the problem of guarantees for the rights and securities of the Armenians of Nagorno-Karabakh in the context of ensuring Azerbaijan's territorial integrity," Russian Foreign Minister Sergey Lavrov said on July 25 after meeting with his Armenian and Azerbaijani counterparts.
According to Eurasianet.org, it is a stark change in policy from Russia, which sought to freeze the issue of Nagorno-Karabakh's status for a long time. It had, however, signalled a shift on July 15 with a statement that "by recognising Nagorno-Karabakh as part of Azerbaijani territory," Armenia had "cardinally changed the fundamental conditions" under which the Russian-brokered cease-fire that ended the 2020 Second Karabakh War was signed.
In contrast to statements by European and US intermediaries overseeing a separate track of negotiations, Lavrov's statement contained no reference to an "international mechanism for the rights and securities of the Karabakh Armenians". He spoke instead of Karabakhis' rights "proceeding from relevant legislation and international obligations (in this case Azerbaijan's), including numerous conventions on ensuring the rights of ethnic minorities."
On July 26, the de facto leadership of Nagorno-Karabakh demanded explanations from the Armenian government over Russian Foreign Minister Sergei Lavrov's claim that it has accepted Azerbaijan's terms of a dialogue between Baku and Stepanakert. As of the same afternoon, the Armenian Foreign Ministry declined to comment on Lavrov's statement, prompting serious concern from the Karabakh de facto premier, Gurgen Nersisian. "It is becoming clear from yesterday's statement by the Russian foreign minister that Armenia has already decided the range of issues to be discussed during the dialogue or has agreed with the subject of discussion proposed by Azerbaijan," Nersisian wrote on Facebook. "Now either Armenia must deny that, or we will have to conclude that the 'bar' on the Baku-Stepanakert dialogue has also been lowered to an unspeakable extent."
The tensions between Yerevan and Stepanakert have been further stoked by a controversy caused by Pashinian's wife, Anna Hakobian after she posted on her Facebook page photographs of vegetables grown in the garden of the Pashinian family's state-owned residence and a soup cooked by her. Critics in Armenia and especially Karabakh said the post was inappropriate and ill-timed given the worsening food shortages in Karabakh.
Pashinian bristled at the criticism during his news conference, seemingly blaming de facto Stepanakert. He spent about 15 minutes detailing the Armenian government's economic aid to Karabakh and accusing the Karabakh authorities of failing to develop local agriculture to better cope with the blockade. "Some should have planted eggplants instead of [relying on] 150 billion drams [in Armenian government aid,]" he said.
Nersisian hit back at Pashinian in his speech at the Stepanakert rally. He argued that Karabakh farmers had cultivated more land this year than in 2022 and 2021 but now have trouble harvesting their crops because of systematic gunfire from Azerbaijani army positions. Also, he said, a lack of fuel prevents them from delivering agricultural produce to markets.
Sources:
Eurasianet.org, "Russia says Karabakh Armenians need to accept Azerbaijani rule", https://eurasianet.org/russia-says-karabakh-armenians-need-to-accept-azerbaijani-rule
Azatutyun.am, "Yerevan Draws Fresh Criticism From Karabakh", https://www.azatutyun.am/a/32521259.html
Pashinyan: Armenia cannot protect Karabakh's population
Armenian Prime Minister Nikol Pashinyan said at a press conference on July 25 that Armenia cannot "determine the fate of the people of Nagorno-Karabakh." He stressed instead that de facto authorities in Stepanakert should engage in direct talks with Baku "within the framework of an international mechanism" to ensure the civilian population's rights and security, writes Civilnet.am.
Pashinyan has signalled in the past that Armenia will recognise Azerbaijan's sovereignty over de facto Nagorno-Karabakh in the context of ongoing negotiations between the two countries, a move decried by authorities in Stepanakert and the Armenian opposition. "I am the prime minister of 29,800 square kilometres," added Pashinyan, referring to Armenia's internationally recognised area.
In response to a journalist's question, Pashinyan said the government has not discussed any potential relocation of Nagorno-Karabakh's population into Armenia and is "only discussing the issue of creating opportunities for Nagorno-Karabakh Armenians to live in their own homes, in their birthplace."
Moreover, in reference to a statement this month by Russia's Foreign Ministry, which said "not to burden third countries with the responsibility for the fate of Karabakh's Armenian population," Pashinyan stressed the need for Yerevan and Stepanakert to take responsibility in the negotiations process and decrease their dependence on Russia.
Source:
Civilnet.am, "Pashinyan: Armenia cannot protect Karabakh's population", https://www.civilnet.am/en/news/745607/pashinyan-armenia-cannot-protect-karabakhs-population/
Azerbaijan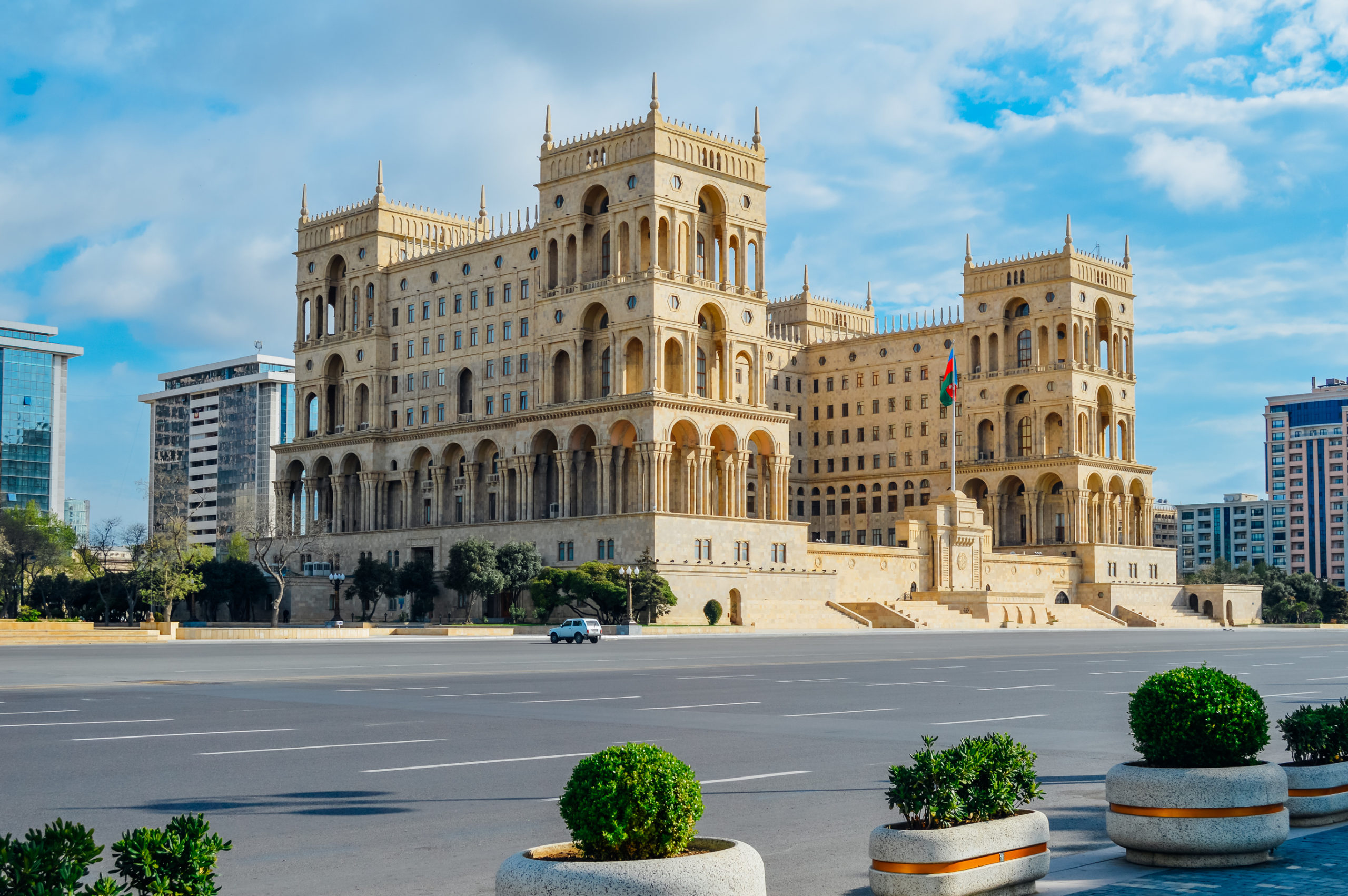 The Government house of Azerbaijan in Baku, Azerbaijan. Photo: Andrii Lutsyk/Shutterstock.com
Prominent Azerbaijani oppositionist arrested, allegedly tortured.
On July 23, Gubad Ibadoghlu, an economist and chair of the opposition Azerbaijan Democracy and Welfare Party, was arrested on charges he claims are politically motivated. Ibadoghlu was later sentenced to four months of preventive detention. Jala Bayramova, Ibadoghlu's daughter, shared information about his detention on Facebook, stating that her father had been detained while travelling to meet young people in Sumgayit, a city north-west of Azerbaijan.
Irada Bayramova, Ibadoghlu's wife, later stated that she had been physically assaulted by police in civilian clothes while being detained with her husband. "They stopped our car by blocking the road with their car. Then they took Gubad out of the car. They also took me to the Main Organised Crime Department in another car. They used physical force on me while I got into their car", Irada Bayramova said. She noted that police had hit her during her detention, leaving bruises on her shoulders and legs.
On July 24, Ibadoghlu was interrogated and charged with making, acquiring, or selling counterfeit money or securities as part of an organised group. Azerbaijan's Interior Ministry on July 23 stated that Ibadoghlu's detention took place following the detention of four individuals in Azerbaijan based on information received from the Turkish Interior Ministry. The individuals were alleged to be supporters of exiled Turkish cleric Fethullah Gülen, whom Turkey blames for an attempted coup in 2016.
Anar Aliyev, one of the four people detained, stated that he had a "connection" to Ibadoghlu, prompting a search of the opposition figure's office. The Interior Ministry reportedly found documents connecting Ibadoghlu to the so-called "FETO" in the office, leading to his detention. Ibadoglu later testified in court that he was not acquainted with Anar Aliyev.
Ibadoglu's lawyer Zibeyda Sadigova told journalists investigators informed her that 40,000 USD was found in her client's office. Ibadoglu's daughter, Zhala Bayramova, who is herself a rights activist, reported that shortly before the search, her uncle (Gubad's brother) tried to enter the office but failed. "The police broke into the office the night before, planted fake money and changed the lock so as to prevent anyone from entering the office before the search," she asserted.
Ibadoglu's detention came shortly after he announced the creation of a study abroad fund for Azerbaijani students, which he said would reclaim "money stolen from the Azerbaijani people and economy by the Azerbaijani government." The United States said on July 24 it is closely following the arrest. "We are closely following the arrest of Gubad Ibadoglu. The United States remains strongly committed to advancing respect for human rights and fundamental freedoms," State Department Spokesperson Matthew Miller told a daily press briefing in response to the Azerbaijani opposition news agency TURAN's questions.
Ibadoglu is the founder and chair of the opposition Democracy and Prosperity Party. Earlier, he was a member of another major opposition party, Musavat. He has been known for his criticism of the government, particularly on its handling of the economy, via his Facebook page, interviews with local media, and his YouTube channel Biz TV, which has nearly 64,000 subscribers. Before teaching at LSE, Ibadoglu worked at Rutgers University, Princeton University, Duke University, Central European University, and several other higher education institutions abroad and in Azerbaijan as reminds the Eurasienet.org.
Sources:
AGHAYEV Ismi, OC Media, "Azerbaijani opposition party chair detained for 'collusion with a terrorist organisation'", https://oc-media.org/azerbaijani-opposition-party-chair-detained-for-collusion-with-a-terrorist-organisation/
Eurasianet.org, "Prominent Azerbaijani oppositionist arrested, allegedly tortured", https://eurasianet.org/prominent-azerbaijani-oppositionist-arrested-allegedly-tortured
Turan.az, "State Department Says 'Closely Following' Arrest Of Qubad Ibadoglu", https://www.turan.az/ext/news/2023/7/free/politics_news/en/6799.htm
Nagorno-Karabakh blockade continues: US and EU call for immediate route reopening.
On July 28, the US once again called for the immediate lifting of Azerbaijan's blockade of Nagorno-Karabakh, as Armenian trucks carrying essential food supplies for the residents of Karabakh encountered a deadlock at the entrance to the Lachin corridor for the third consecutive day. "We reiterate [Secretary of State Antony] Blinken's call for an immediate reopening of the corridor to commercial and private traffic," the US Embassy in Armenia wrote.
The European Union echoed its call for Azerbaijan to reopen the Lachin corridor earlier. The EU expressed deep concern about the escalating humanitarian crisis in Nagorno-Karabakh. "The European Union is deeply concerned about the serious humanitarian situation affecting the local population in the former Nagorno-Karabakh Autonomous Oblast. The movement through the Lachin corridor remains obstructed for more than seven months, despite Orders by the International Court of Justice to reopen it," the EU's foreign policy chief, Josep Borrell, said in a statement.
Amid escalating tensions along regional borders, Azerbaijan's State Border Service reported on July 25 that Armenia had planned a provocation at the troubled Lachin border crossing. The alleged plan involved the assembly of a number of vehicles.
This development took place on July 26, when a large convoy with 360 tons of humanitarian aid left Yerevan for Nagorno-Karabakh. However, the Azerbaijani border guards and Russian peacekeepers stationed at the checkpoint on Hakari bridge at the entrance to the Lachin road denied the convoy entry into the region.
This demonstrates Azerbaijan's decision to enforce its demand that the Agdam-Stepanakert/Khankendi road should become the primary route for cargo deliveries rather than the Lachin corridor, writes Caucasus Watch. According to President Ilham Aliyev's aide Hikmet Hajiyev, this stipulation resulted from an agreement reached during the recent trilateral meeting between Ilham Aliyev, Nikol Pashinyan and Charles Michel in Brussels. However, the Armenian Prime Minister Nikol Pashinyan's press secretary denies such an agreement in Brussels on the proposed route change. Also, the EU's foreign policy chief Josep Borrell followed up with a statement explicitly explaining that the "Aghdam road" should not be considered as a replacement for the Lachin road.
In connection with the worsening humanitarian situation, members of diplomatic missions accredited in Yerevan visited the border area near the Lachin Corridor. The diplomats got acquainted with the situation on the ground. They were accompanied by the governor of the Syunik region Robert Ghukasyan who said, "Baku is talking about integration. But it wants to achieve it by bringing people to starvation? Right there, in Syunik, the ambassadors participated in a closed discussion."
The Deputy Foreign Minister of Armenia, Vahan Kostanyan, recalled that in recent days, partners from various countries have made statements, but "this is not enough. It is necessary that the international community acts as a united front and not only send clear signals to the Azerbaijani authorities but also take steps that will ensure the passage of people, goods and vehicles through the Lachin corridor."  Kostanyan said that "official Yerevan will try to ensure the opening of the Lachin corridor by all political means available to it," but he did not elaborate further.
Sources:
ISAYEV Heydar, SHAHVERDYAN Lili, Eurasianet.org, "Azerbaijan arrests Nagorno-Karabakh resident during medical evacuation for 'war crime'", https://eurasianet.org/azerbaijan-arrests-nagorno-karabakh-resident-during-medical-evacuation-for-war-crime
Caucasus Watch, "Nagorno-Karabakh Blockade Continues: US and EU Call for Immediate Route Reopening", https://caucasuswatch.de/en/news/nagorno-karabakh-blockade-continues-us-and-eu-call-for-immediate-route-reopening.html
Caucasus Watch, "Azerbaijan Accuses Armenia of Planning Provocation at Lachin Border, Blocks Humanitarian Aid Convoy", https://caucasuswatch.de/en/news/azerbaijan-accuses-armenia-of-planning-provocation-at-lachin-border-blocks-humanitarian-aid-convoy.html
JAM News, "Diplomats go to the border of Armenia where there is cargo for NK", https://jam-news.net/diplomats-in-kornidzor-near-the-lachin-corridor/
SOCAR Begins Delivering Gas to Hungarian Storage Facilities.
Azerbaijan's state oil company SOCAR began injecting the first 50 million cubic meters of gas into Hungarian storage facilities, said Hungarian Minister of Foreign Affairs and Trade Peter Szijjarto. Szijjarto stressed that Europe has been constantly facing serious energy shortages in the past year and a half. Due to the sanctions, prices have skyrocketed, and regular transport routes have ceased, writes Business Media.
The largest Hungarian wholesale natural gas trader, MVM CEEnergy, and SOCAR signed a contract on June 2 to transport 100 million cubic meters of gas, with deliveries set to begin in the fourth quarter of 2023. While the contract is a one-time deal, negotiations for further cooperation are ongoing. The existing infrastructure will be used for these gas deliveries.
Azerbaijan began supplying gas to Europe through the Southern Gas Corridor on December 31, 2020. The initial capacity of the Trans Adriatic Pipeline (TAP), which is the European section of the corridor, is 10 billion cubic meters per year, with the potential for expansion up to 20 billion cubic meters.
Sources:
Business Media, "SOCAR starts injecting gas into Hungarian storages", https://bm.ge/en/news/socar-starts-injecting-gas-into-hungarian-storages/139602
Report.az, "Peter Szijjarto: SOCAR started filling Hungarian storage facilities with Azerbaijani gas", https://report.az/en/energy/peter-szijjarto-socar-started-filling-hungarian-storage-facilities-with-azerbaijani-gas/
Georgia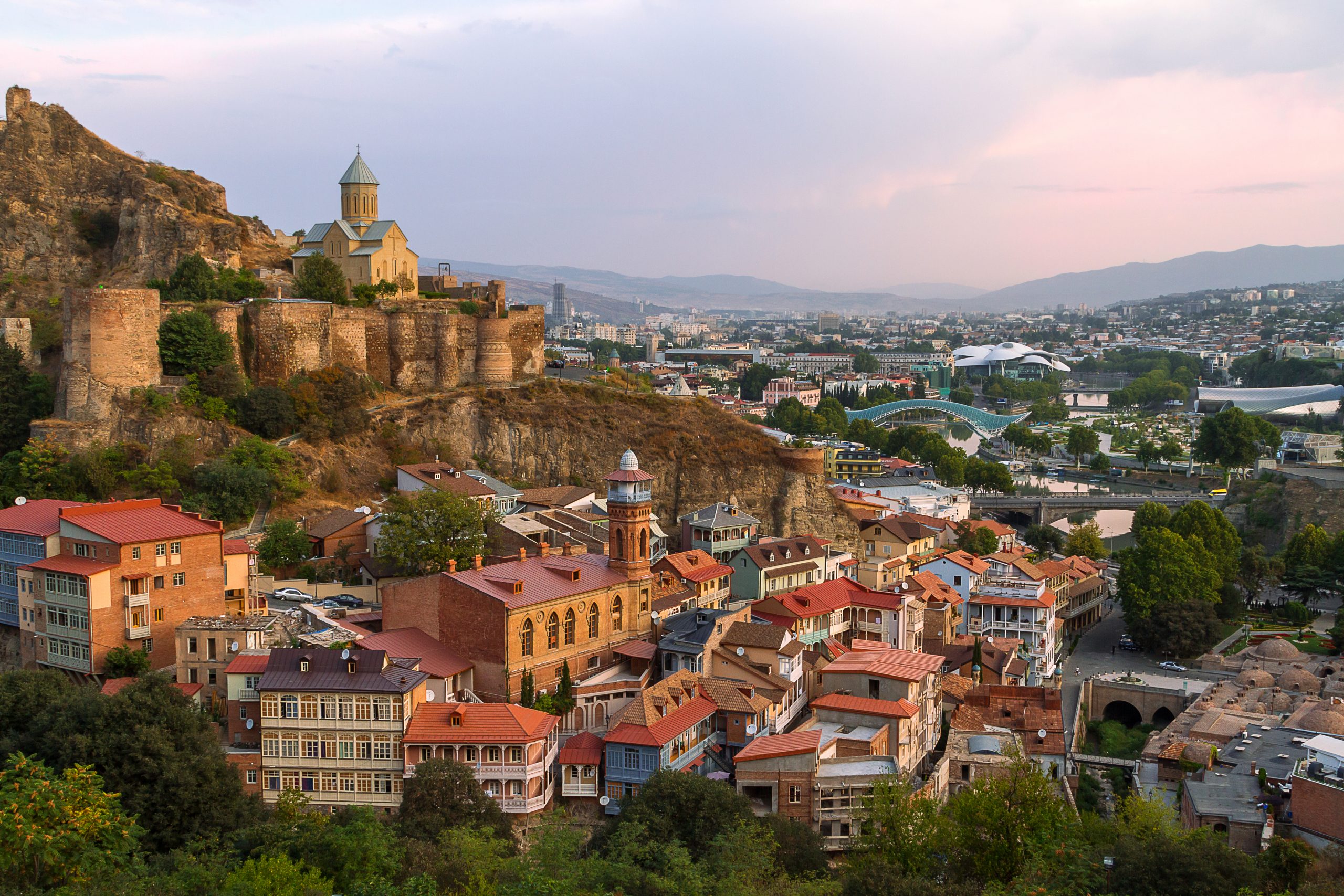 Skyline of Tbilisi and Narikala Castle, Tbilisi, Georgia. Photo: MehmetO/Shutterstock.com
Georgia's UNM and Strategy Aghmashenebeli to run joint election list.
On July 20, Giorgi Vashadze, the head of Strategy Aghmashenebeli, and Levan Khabeishvili, the United National Movement (UNM) chairman, declared a pre-election agreement. Khabeishvili said that UNM, as the largest pro-European party, decided to put together a "platform for victory" with other pro-Western parties.
Following extensive negotiations, we have come to a consensus with the party, which all surveys and studies indicate is also the greatest pro-Western party among the parties. I'm talking about Aghmashenebeli's plan," Khabeishvili stated. Vashadze said that the alliance's goals include solving [citizens'] problems, accelerating Georgia's accession to NATO and the European Union, de-occupation, and restoration of territorial integrity. He also accused the ruling Georgian Dream party of putting Georgia on a course of "Putinisation".
The alliance was announced after months of speculation from the ruling party that London-based former defence minister Davit Kezerashvili, currently wanted in Georgia on charges of embezzlement, sought to consolidate liberal opposition parties after backing the new UNM chair Levan Khabeishvili.
In their reactions, representatives of the ruling party tended to downplay the alliance. "Of course, we do not expect any results from this. It is not good for the country. We always say that Georgia really needs new political unions, preferably made up of young people, who will oppose the ruling power on a competent, serious, and above all patriotic basis, and this is how the country will develop," said Tea Tsulukiani, Vice Prime Minister, Minister of Culture and Sports of Georgia. Kakha Kaladze, General Secretary of Georgian Dream and Tbilisi Mayor, added, "with the union of these two losers, it is clear that nothing can change".
Moreover, other opposition parties, including Girchi — More Freedom and Droa, both of which recently issued joint statements and held joint events with Strategy Aghmashenebeli, indicated they had no plans to join the alliance.
Irakli Kupradze, the General Secretary of Lelo for Georgia, emphasised: "Such a union is not interesting. Regrouping around the 'National Movement' does not serve the order of Georgian society. It is inevitable to create a third alternative centre, to which we will invite those pro-Western parties that do not see themselves alongside the National Movement".
Iago Khvichia, the leader of the "Girchi," stated: "Khabeishvili and Vashadze will unite, and everything will be fine? We do not find this convincing because [they] were united both inside the [National Movement] and outside of it, but that brought no significant changes in the social and political life of the country".
As OC Media reminds us that centre-right pro-Western parties founded in Georgia in recent years have struggled to shape their political brands and win the hearts of voters amidst accusations from the government that they lacked independence from the UNM. Strategy Aghmashenebeli could benefit from allying with the larger party as, like other smaller parties, it faces the issue of overcoming the 5% electoral threshold for entering the parliament. In 2020, the ruling party promised to lower the threshold to 2% but later backtracked on the promise.
The announcement came 15 months ahead of parliamentary elections in Georgia, the country's first under a fully proportional system.
Sources:
KINCHA Shota, OC Media, "Georgia's UNM and Strategy Aghmashenebeli to run joint election list", https://oc-media.org/georgias-unm-and-strategy-aghmashenebeli-to-run-joint-election-list/
Caucasus Watch, "Major Georgian Parties Unite for Pro-European' Platform for Victory'": A Pre-Election Twist, https://caucasuswatch.de/en/news/major-georgian-parties-unite-for-pro-european-platform-for-victory-a-pre-election-twist.html
Civil.ge, "Reactions to the UNM-Strategy Agmashenebeli Pre-election Deal", https://civil.ge/archives/552981
For additional information, see:
Civil.ge, "Explainer: Why do the parties start to merge?", https://civil.ge/archives/553006
Georgia to start UAV production with Poland.
Georgian Defense Minister Juansher Burchuladze said that Georgia would soon begin mass production of uncrewed aerial vehicles with Poland, reports the Caucasus Watch. "We are fully prepared to start mass production. We conducted test flights when trial copies were brought from Poland. This month, we have already tested five of the drones assembled here. If not in the coming days, then we will start mass production in August-September," Burchuladze added.
As previously reported by Caucasus Watch, on January 27, combat and intelligence crewless aerial vehicles (UAVs) manufactured by a Georgian-Polish enterprise, Delta-WB LLC, completed the test flight. Those were two types – loitering munition UAV Warmate and observation UAV FlyEye. Delta-WB and the Georgian Defense Ministry have signed a contract to advance the military industry, which calls for establishing the first UAV training facility in the area. The government noted that the appropriate defence personnel would receive new training from the centre's qualified teachers.
Source:
Caucasus Watch, "Georgia to Start UAV Production with Poland", https://caucasuswatch.de/en/news/georgia-to-start-uav-production-with-poland.html
Georgian security forces uncover potential ISIS network, arrest two suspects.
Two Georgian citizens have been arrested for membership in the Islamic State terrorist organisation and Illegal purchase, storage and carrying of firearms and ammunition, the Georgian State Security Service said on July 26. "The security service carried out a special operation simultaneously in two regions of Georgia. During the searches, electronic media, symbols of a terrorist organisation, ammunition and explosive devices were seized," the Georgian State Security Service said in a statement.
The SSS Counter-Terrorism Center launched an investigation under Articles 327 and 236 of the Criminal Code of Georgia. Operational-search measures are ongoing both to identify the nature of the participation of the detainees in the activities of the Islamic State terrorist organisation and to identify other persons involved.
On April 22 of this year, the counter-terrorism centre of the State Security Service of Georgia arrested Malkhaz Paksashvili, the leader of an Islamic State group and citizen of Georgia. According to the State Security Service, Paksashvili left Georgia in 2013, went to Syria and joined the Islamic State terrorist organisation.
Sources:
Agenda.ge, "Two arrested for membership of Islamic State terrorist group", https://agenda.ge/en/news/2023/2871
JAM News, "Two Georgian citizens arrested for links with ISIS – security service", https://jam-news.net/georgian-citizens-arrested-for-links-to-isis/
Georgian PM Gharibashvili sets course for strategic partnership with China.
In the framework of the visit of Georgian Prime Minister Irakli Gharibashvili to China, the two sides issued on July 31 a joint statement on establishing Strategic Partnership. According to the PM administration, the statement consists of four parts: political domain, economic domain, people-to-people relations and cultural domain, and international cooperation domain. The announcement came during the Georgian prime minister's long official visit to China, which he himself described as "historic."
As per the PM administration, in the political domain, the two sides reaffirm their respect for the sovereignty, independence, and territorial integrity of all countries, and Georgia firmly adheres to the one-China principle.
As for the economic domain, the sides expressed readiness to increase bilateral trade further, optimise its structure and increase the export of Georgian goods and services to China. Georgia welcomes China's Belt and Road Initiative, the sides signing a Bilateral Cooperation Plan between the Government of the PRC and the Government of Georgia under the framework of the Belt and Road Initiative "to gain greater strengths and opportunities for cooperation" and promote sustainable development of both sides."
The sides expressed readiness to "facilitate mutual investment and trade and promote cooperation in the areas of transportation, communications, infrastructure modernisation, development and strengthening of the Middle Corridor, digital technologies, manufacturing, upgrading and expansion of railway networks, agriculture and food safety, water resources, environment protection, fighting desertification, water desalination, conformity assessment, usage of Georgia's transit infrastructure for smooth export of Chinese products to Western markets, the exchange of know-how and technology as well as human resource training."
In the people-to-people and cultural domain, the sides agreed to actively conduct scientific and technological cooperation and renew the agreement on cooperation in the field of science and technology signed between the People's Republic of China and Georgia in 1993. The sides also agreed to foster cultural collaboration, including tourism, health, youth, sports and cooperation among universities.
As for the cooperation in the international domain, the sides will "strengthen coordination and collaboration in regional and international affairs, jointly uphold true multilateralism, firmly uphold the UN-centered international system, the international order based on international law, and the basic norms governing international relations underpinned by the purposes and principles of the UN Charter, and promote the establishment of a new type of international relations."
Irakli Kobakhidze, the head of the ruling Georgian Dream party, said establishing a strategic partnership with China was "one of the most important foreign policy achievements" of Prime Minister Irakli Gharibashvili. It is important to take advantage of all the resources that can be derived from this partnership [with China]. Naturally, all steps will be taken so that the strategic partnership is properly implemented", Kobakhidze told reporters.
Yet, while acknowledging the need for better economic ties with Beijing, the Georgian government's pro-Western critics have raised questions on what "strategic partnership" might mean in terms of the country's foreign policy orientation. "China is a country with a huge economy, with which we certainly need economic cooperation, and it is important for us… Georgia has the great privilege of having a free trade agreement with both China and the European Union. Still, we must understand that some important issues arise when we talk about Strategic Partnership. The first is that this Strategic Partnership will inadvertently damage our relations with the existing strategic partners – the European Union and the United States, with whom we have strengthened our strategic relations through our Constitution," said Mikheil Daushvili from the political group For Georgia.
Sergo Chikhladze from Strategi Aghmashenebeli also believes that talking about strategic partnership is "premature". "So far, we have a Strategic Partnership with the United States. Parliament has not given the government the approval for a Strategic Partnership with China. The government must take into account the opinion of the Parliament and fulfil the request of the Parliament. Of course, we should have a good attitude, a partnership attitude, but the strategic partnership implies a different level, and it needs an agreement with the parliament".
China, which signed a free trade agreement with Georgia in 2017, has long been active in the region, including through large infrastructure projects. Beijing has also long shown interest in the Middle Corridor as part of its Belt and Road Initiative (BRI). Currently, China is Georgia's fourth-largest trading partner, and Georgian exports to China have seen solid growth over the past four years.
Sources:
GABRITCHIDZE Nini, Eurasianet.org, "Strategic partnership between Georgia and China puzzles critics", https://eurasianet.org/strategic-partnership-between-georgia-and-china-puzzles-critics
Civil.ge, "Georgia and China Issue Joint Statement on Strategic Partnership", https://civil.ge/archives/553820
Civil.ge, "Politicians Assess Establishment of Strategic Partnership Between Georgia and China", https://civil.ge/archives/554087
Agenda.ge, "Ruling party head: strategic partnership with China 'one of PM's most important foreign policy achievements'"
Twenty-three arrested at the Batumi port cruise protest.
At least 23 people were arrested on July 31 while protesting the arrival of a cruise liner from Russia in Batumi for the second time in less than a week. They were detained on charges of petty hooliganism and disobeying police officers on Sunday, according to the Ministry of Internal Affairs, reports OC Media.
The cruise liner visited Batumi twice on July 27 and July 31. During the first visit, the liner embarked from the port of Sochi and carried mostly Russian tourists, some of whom had made anti-Georgian statements in the media in the past.  One woman, when asked by the Georgian TV station Formula: "Do you know that Russia occupies our territories?" responded by defending Georgia's place in the Soviet Union. "No, we don't know a thing like that. You were some republic of ours, a union, and not occupied. You were our brothers," she said.
When the journalist clarified that they were asking about Abkhazia and South Ossetia, the woman responded that Russia "liberated Abkhazia from you". "They asked us for help; you went there with tanks", she said. She also said that she had visited Abkhazia, where she saw buildings damaged during the war. "They were destroyed by you. Russia helped Abkhazia to free itself from you."
On July 27, several hundred people gathered in front of the dock to protest the "politics of the Russification" in Georgia. Demonstrators whistled and chanted, "Russian warship, go fuck yourself" and "Abkhazia is Georgia". Some also brought photographs depicting Abkhazia and the 2008 August War.
Local media reported that several dozen police officers were mobilised on July 31 night to set up barricades in anticipation of the cruise liner's arrival the following day. They blocked access to the port until the protest started.
The trip's itinerary showed that several Russian celebrities were on board to provide entertainment. The protest escalated after the vessel docked in port and the police allegedly escorted its passengers through cordons. Protesters threw eggs and bottles at buses bringing tourists from the ship.
Representatives of the ruling Georgian Dream party criticised the protesters. Mayor of Tbilisi and Georgian Dream General Secretary, Kakha Kaladze, said that the protest in Batumi was directed against the country. "The door of Georgia is open for tourists. They can be Russian, European, or American. I don't see a problem", he said. The vice-speaker of the parliament, Gia Volski, repeated the words of the party's chair, Irakli Kobakhidze, who on Thursday described the protesters as "boorish" and added that the demonstration was "fake".
Following the protests, Astoria Grande's website no longer lists Georgia among the destinations for upcoming cruises this summer. According to JAM News, it is also worth noting that in January 2023, the administration of the port of Sochi announced that it was in negotiations with Georgia and the authorities of Abkhazia to begin navigation to their ports. At that time, Yuri Vladimir, the director of the Sochi port, stated that they planned to start the voyages by the summer of 2023. In response, the Georgian Maritime Transport Agency said they were not rushing and denied what was being discussed.
Sources:
SHOSHIASHVILI Tata, OC Media, "Sochi cruise liner causes stir in Batumi", https://oc-media.org/sochi-cruise-liner-causes-stir-in-batumi/
SHOSHIASHVILI Tata, OC Media, "Twenty-three arrested at Batumi port cruise protest", https://oc-media.org/twenty-three-arrested-at-batumi-port-cruise-protest/
JAM News, "Protest in Batumi against cruise liner from Russia", https://jam-news.net/protest-in-batumi/
Sources:
SHOSHIASHVILI Tata, OC Media, "Sochi cruise liner causes stir in Batumi", https://oc-media.org/sochi-cruise-liner-causes-stir-in-batumi/
SHOSHIASHVILI Tata, OC Media, "Twenty-three arrested at Batumi port cruise protest", https://oc-media.org/twenty-three-arrested-at-batumi-port-cruise-protest/
JAM News, "Protest in Batumi against cruise liner from Russia", https://jam-news.net/protest-in-batumi/