The new Democratic Wo/Men of the Western Balkans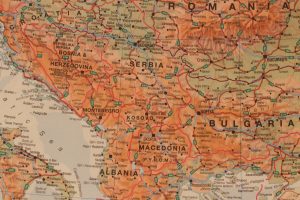 Our goal is to fight apathy, hopelessness, disillusionment, and pessimism among young people and give them the courage to fight for the causes they are passionate about.
Based on numerous studies published, the majority of today's youth in the EU and the Western Balkans are the least politically engaged generation – both formally and informally. They often claim that authorities do not care about their needs and problems and young people cannot have any impact at all on the current direction of their country – their voice is unheard even through elections since their level of participation is low. Young people tend to be passionate about a single-issued topic, e.g. climate change, poverty, individual freedoms, LGBTIQ+ rights, etc., which often not necessarily translates into votes. The youth is becoming more and more socially inactive, detached from the local and national policies.
Throughout the project, young people will:
get involved in real and actual political various issues that challenge the nation,
solve problems faced by nations modeled by a variety of actual problems,
learn about the importance of leadership, organisation, and getting involved with local and national activism, and
adapt their knowledge and skills to be able to become an active citizen promoting democracy.
The aim of the project is to increase the interest of young people about issues that surround them– from politics to how government work and how they could contribute to their community. Democratic maturity influences patterns of political participation of the youth: while individuals situated in established democracies are politically more active, youth engagement in new democracies could be improved. Throughout the project, young people will get involved in real and actual political various issues that challenge the nations.
Project Activities:
1st International Online Meeting, February 19-21, 2020
Between 19-21 February 2021, the Humanity in Action Bosnia and Herzegovina, in cooperation with partners from Western Balkan and Visegrad 4 countries, including Strategic Analysis Slovakia, organized the 1st International Online Meeting.  The participants from Bosnia and Herzegovina, North Macedonia, and Montenegro had the opportunity to participate in lectures of the two modules set up by the project– the Introduction to Democracy and Linking Legislation to Practice. The two modules were covered by the experts representing the implementing consortium from the Western Balkan and Visegrad 4 countries. 
 Topics covered by interactive lectures were the following:
 

Pillar of Democracy, Alexandra Tothova, Strategic Analysis, Slovakia

Democratic Challenges in Multiethnic Societies, Dr. Damir Kapidzic, Humanity in Action Bosnia and Herzegovina

Political Polarization as a Threat to Democracy, Dina Arnaut, Euro-Atlantic Council of North Macedonia

Legislation Shaping the Business Environment, Jan Cingel, Strategic Analysis, Slovakia

Gender-Based Politics, Veronika Kusyova, Humanity in Action Bosnia and Herzegovina

Division of Powers- Comparative Politics, Todor Lakic, Alpha Centre, Montenegro

Lobbying and Advocacy, Szczepan Czarnecki, Institute of Central Europe, Poland

Lobbying: The Success Story of the Bologna Process, Reka Salamon, AEGEE-Budapest, Hungary

To Centralize or to Decentralize?, Zuzana Kasparova and Filip Gabor, Be International, Czech Republic
International Online Meeting, participants were working on their joint essays on the topic, how they see the future of their countries. The original assignment was: "Imagine you have a Genie`s lamp which allows you to gain limitless executive power in your (real) country, that enables you to immediately solve three problems that concern young people the most. What policy issues will you be focusing on and why?". Seventeen essays were submitted, written by 17 teams of young leaders from 3 project countries. The essays were focusing on various topics that young leaders found the most pressing in their countries — education, corruption, law enforcement and transparency, youth unemployment, housing, brain drain, radicalization, digital transformation, climate change, and pollution.
Kick-off Coordination Meeting, October 6, 2020
Official kick-off coordination meeting of participating organizations ogranized via video conference with the aim of fine-tuning and approving the project timeline, selection criteria for participants and team coordinators, discussions about project materials, creating the layout of project materials used through the implementation of the project.