Strategic Analysis Caucasus Brief
Bi-weekly review (21.9. – 4.10. 2020)
Tomáš Baranec
Armenia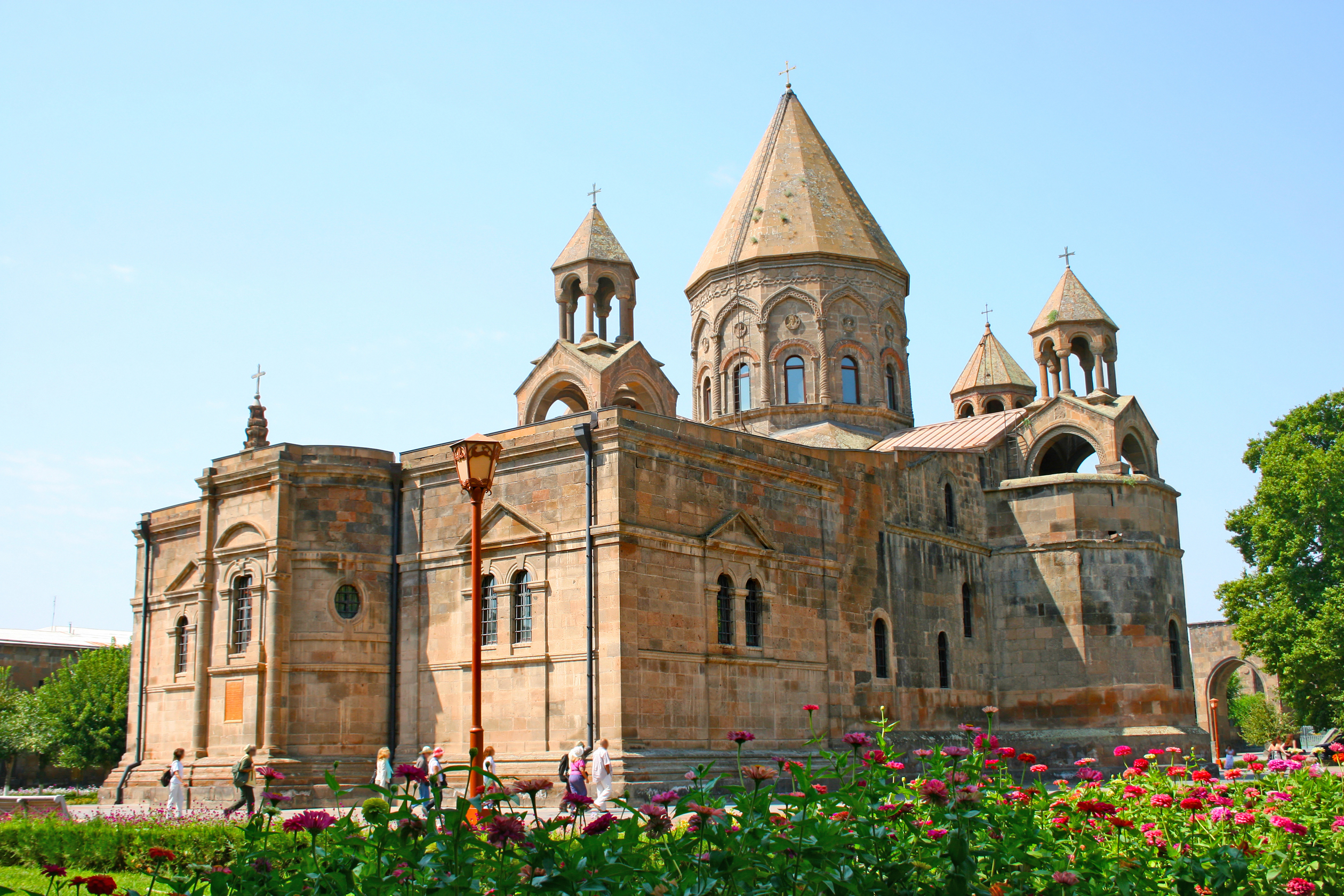 Mother Cathedral of Holy Etchmiadzin, Armenia. Photo: Ruzanna/ Shutterstock.com
Armenian opposition leader Gagik Tsarukyan was detained for two months
Gagik Tsarukyan, Armenia's wealthiest businessman and leader of the opposition Prosperous Armenia Party (BHK), has been placed under arrest for two months and taken into custody on September 25 after a Yerevan court approved the National Security Service's motion on remanding him in pre-trial detention on charges of vote-buying.
The court cited the risk that influential politician could obstruct the investigation as a basis for the decision, said one of Tsarukyan's defenders Yerem Sargsyan.
Representatives of BHK called the decision of the court illegal. "No solid facts were presented by the court as to how Gagik Tsarukyan obstructed the investigation four months after the charge that was brought (against him). What happened is obviously political revenge against the leader of the largest parliamentary opposition force and the BHK. It is obvious that Gagik Tsarukyan is now a political prisoner," writes BHK in its statement.
Tsarukyan has been charged with vote-buying under Article 154.2 of the Criminal Code of Armenia (Forcing the voter to divulge the results of the ballot, checking the ballot list to reveal the results of the vote, entering the ballot booth room as well as breaching the confidentiality of the voting otherwise) back on June 17. It happened just a few hours after he was stripped of immunity from prosecution by the National Assembly.
In his speech to lawmakers, Prosecutor-General Artur Davtyan accused Tsarukyan of creating and leading "an organised group that bought more than 17,000 votes for his Prosperous Armenia Party during parliamentary elections held in April 2017."
Sources:
For additional information, see:
Eurasianet.org, "Armenian government moves against opposition figure", https://eurasianet.org/armenian-government-moves-against-opposition-figure
Activists and experts disappointed by Pashinyan's compromises on the court reform
The Armenian National Assembly has elected three new judges to the Constitutional Court on September 14. However, relatively close relations of new justices with the former regime prompted questions about the future of promised reforms under Nikol Pashiniyans government.
As Public Radio of Armenia explained, Yervand Khundkaryan was nominated by the General Assembly of Judges, while Arthur Vagharshyan and Edgar Shatiryan were nominated by the President and the Government respectively. The two opposition factions – Prosperous Armenia Party and Bright Armenia – boycotted the voting.
Pashinyan later declared the crisis to be "over" while admitting that newly formed Constitutional court is not "ideal". Armenian civil society seems to agree mostly with the second part of the PMs statement.
"These elections contradict their (government's) initial policies," said Hayk Martirosyan, a legal expert with the local branch of Transparency International. "After so much noise around the Constitutional Court, it seems like this is not how the results should look," he added.
"I think civil society expected from Pashinyan that he would not think about his power as the former authorities did," added Avetik Ishkanyan, the head of the Armenian Helsinki Committee. "That he was ready to create an independent court with high-quality judges, that was the expectation," Ishkanyan told Eurasianet.
As Ani Mejlumyan wrote in her analysis especially Khundkaryan, who had been head of the Court of Cassation, is considered to be the most controversial pick.
"Khundkaryan personally participated in Kocharyan's seizure of power," independent MP Arman Babajanyan said during the September 14 parliamentary vote, describing it as "a slap to the revolution and democracy."
Sources:
Public Radio of Armenia, "Three new judges elected to Armenia's Constitutional Court", https://en.armradio.am/2020/09/15/three-new-judges-elected-to-armenias-constitutional-court/
Eursianet.org, "Armenia's Pashinyan compromises on court reform", https://eurasianet.org/armenias-pashinyan-compromises-on-court-reform
Nagorno Karabakh sees the worst flare-up of fighting in nearly three decades
The new outbreak of heavy fighting in Nagorno Karabakh has begun on the morning of September 27, with the Armenian side reporting Azerbaijani missile attacks on military and civilian positions in the separatist region including its de facto capital, Stepanakert.
Although a lack of credible information from the battlefield, hostilities seem to be fiercest in nearly three decades with various yet nonconfirmed information about the direct involvement of the Turkish army and already confirmed information about pro-Turkish fighters from Syria and Libya.
Although neither side has claimed responsibility for recent fighting, as Joshua Kucera claimed for Eurasianet, "it followed a week of accelerating rhetoric from Baku that appeared aimed at making a case for war to the international community". Also, the presence of Azerbaijani and Turkish journalists on the frontline shortly after the beginning of Azerbaijani offensive, indicates that the operation was prepared in advance by Baku and Ankara.
Although several incidents of bombing and reconnaissance in Armenia and Azerbaijan excluding Nagorno Karabakh have been reported, the bulk of the fighting remains to be confined to the territory controlled by Armenian separatists. Azerbaijani offensive supported by modern UAVs of Turkish and Israeli origin seems to be focused mostly on lowland areas of Fuzuli and Jabrayil regions in the Southern part of the contact line.
Gaining control of these two regions, outside of rugged and mountainous Nagorno Karabakh, might be the strategic aim of current Azerbaijani offensive. "Although Azerbaijan's leader, Ilham Aliyev, has vowed to take all territory currently under Armenian control outside the boundaries of the Republic of Armenia, the Azerbaijani military simply does not have sufficient military superiority to attain such maximalist aims. Even with Turkish support, it is more realistic they will only be able to recapture the outer lying buffer territories that once belonged to Azerbaijan", writes Michael Kofman for Russia Matters.
Meanwhile, evidence has piled up about more direct involvement of the Turkish military and pro-Turkey Syrian mercenaries in the fighting. On October 1 French President Emmanuel Macron has said that France has confirmed that Syrian fighters are joining the Nagorno-Karabakh theatre of combat.
Russia, the traditional power in the region, seems to be focusing on diplomacy in an attempt to further balance between Yerevan and Baku.
Richard Giragosian, one of the leading experts on the region, has recently outlined three possible scenarios of further development with the first one being de-escalation and disengagement, as a result of a military standoff. In the second scenario, fighting and combat operations will continue, with localised and limited military attacks and counterattacks contributing to a sustained cycle of ongoing warfare. In a last and worst-case scenario, Azerbaijani offensive escalates and expands as Turkey and Russia would be compelled to intervene in support of the rival sides directly.
Sources:
For additional information, see:
For up to date situation in the region you can follow these Twitter accounts:
Renewed fighting in Nagorno Karabakh resonates in Georgia
On the backdrop of renewed fighting in the Nagorno Karabakh, the Armenian community in Georgia has mobilised in a series of protests against Georgian law enforcement forces as well as against former Georgian president Mikheil Saakashvili.
Some 3,000 to 5,000 Armenians from Georgian region Samtskhe-Javakheti have blocked the road to the Georgian border with Turkey in Kartsakhi village of Akhalkalaki region, banning the movement of trucks on September 29. Local ethnic Armenians protested against the unwillingness of Georgian authorities to let their donation of food and tires for kin in Nagorno Karabakh to leave the country. Later law enforcement authorities allowed two trucks with foodstuff to cross the border, but the shipment of tires had to remain in Georgia.
The situation in Javakheti started to escalate already on September 28, when registration of volunteers, ready to join in combat organised by young Facebook users, began in Akhalkalaki and Ninotsminda. The information on the possibility of registering as volunteers spread quickly, even leading to queues. Organisers claimed that the lists would be sent to Armenia and drafting would start if necessary, wrote JAMnews.
Another wave of discontent among Armenians in Javakheti was caused by former Georgian president Mikheil Saakashvili, who declared that Karabakh was a part of Azerbaijan. Saakashvili also said that "Nagorno-Karabakh is a sovereign territory of the Republic of Azerbaijan, and nothing will change this fact", adding that the dispute shall be "settled peacefully".
Local Armenians in Ninotsminda told JAMnews that whoever from their regions votes for Saakashvili's party United National Movement (UNM) will be "a traitor" since they are "allies of Turks".
Meanwhile, Armenian Minister of Education and Culture Aarayik Harutyunyan declared, that former Georgian president should be, in connection to his commentaries, deprived of the title of Honorary Doctor from the Yerevan State University. "Today I decided to address the Scientific Council of Yerevan State University with the request to deprive former President of Georgia Mikheil Saakashvili of the title of Honorary Doctor of the Yerevan State University. This decision was made because of Saakashvili's support for Azerbaijan," wrote minister on his Facebook.
On October 1, up to 300 persons from Tbilisi's ethnic Armenian community held a rally outside the pro-opposition Mtavari Arkhi TV office in protest against the channel's "pro-Azerbaijani" coverage of the ongoing conflict in Nagorno-Karabakh.
Approximately 200,000 ethnic Armenians live in Georgia. The Armenian community is mostly concentrated in Tbilisi, Samtskhe-Javakheti and Abkhazia.
Sources:
JAMnews, "How the escalation in Karabakh has affected Armenians living in Georgia", https://jam-news.net/georgia-javakheti-saakashvili-armenia-azerbaijan-karabakh-war/
Armenpress, "Armenians of Javakhk block Georgia-Turkey road, banning movement of trucks heading to Azerbaijan", https://armenpress.am/eng/news/1029534/
Hetq.am, "Georgian Police Halt Assistance Destined for Artsakh", https://hetq.am/en/article/122133
Asbarez.com, "Javakhk Armenians Block Road to Prevent Passage of Azerbaijan-Bound Trucks from Turkey", https://asbarez.com/197216/javakhk-armenians-block-road-to-prevent-passage-of-azerbaijan-bound-trucks-from-turkey/
Civil.ge, "Tbilisi Armenians Rally Against Mtavari Arkhi TV's 'Pro-Azerbaijani' Coverage", https://civil.ge/archives/372330
Civil.ge, "In Quotes: Georgian Politicians on Nagorno-Karabakh Developments", https://civil.ge/archives/371383
Rustavi2, "Mikheil Saakashvili should be deprived of the title of Honorary Doctor of Yerevan State University – Armenian Minister of Education and Culture", https://rustavi2.ge/en/news/177282
Georgia launches investigation into Georgian-Azerbaijan border deal. UNM considers it to be a part of the pre-election campaign
The Georgian Chief Prosecutor's Office has launched an investigation into unlawfully ceding lands to Azerbaijan by former State Border Delimitation commission. Opposition United National Movement (UNM) called it a "long-planned provocation" by the ruling Georgian Dream (GD) party in a run-up to parliamentary elections.
The Prosecutor's Office said in its statement that the investigation had been launched according to information provided by the country's Defence Ministry on August 17, 2020, referring to the activities of the Georgian governmental commission working on the demarcation of the Georgian border with Azerbaijan. The investigation allegedly concerns the actions of the border commission under the previous, UNM government.
Archpriest Andria Jagmaidze, Head of the Public Relations Department of the Georgian Orthodox Church (GOC), claimed in the reaction to the investigation, that the work of the previous border delimitation commission was "ineffective" and that "raised great doubts". In his remarks, Jagmaidze added that "all disputes (regarding the disputed border with Azerbaijan) were resolved to the detriment of Georgia" by the previous state experts working in the commission.
Former Georgian president Mikheil Saakashvili has called the investigation "a cheap Russian operation", slamming the investigation as a "long-planned provocation" by GD to blame his former government for transferring territories to Azerbaijan ahead of upcoming parliamentary elections on October 31.
As civil.ge noted, two-thirds of the border between Georgia and Azerbaijan have been settled, while the remaining one-third of the border, where the medieval David Gareja Monastery complex is located, has yet to be agreed. Lack of agreement on where the border passes came into a sharp focus in April 2019, when Azerbaijani border guards restricted access to parts of the Monastery.
Sources:
Civil.ge, "Georgia Suspects State Experts of Ceding Lands to Azerbaijan", https://civil.ge/archives/371577
Civil.ge, "Orthodox Church on Investigation into Ceding Lands to Azerbaijan", https://civil.ge/archives/371923
Agenda.ge, "Prosecutor's Office launches investigation into Georgia-Azerbaijan border deal 'against Georgia's interests'", https://agenda.ge/en/news/2020/3028
 For additional information see:
Georgia adopts a new Labour code package
The Georgian parliament has adopted sweeping amendments to the Labour Code to better protect workers' rights on September 29. Bill drafted by the ruling Georgian Dream party has been passed by 82 votes in favour and 0 against. Opposition parties did not participate in voting.
For the first time, Georgian workers will be guaranteed overtime pay, layoff benefits, and paternity leave. The bill also addresses the workplace discrimination due to race, skin colour, language, ethnicity, gender, sexual orientation or any other personal, political, religious, social or health reasons "on purpose or negligently". Employers are now also obliged to ensure equal pay for a woman and a man conducting the same work.
Amendments were praised by U.S. Embassy in Georgia, as well as by the Ambassador of the European Union to Georgia, Carl Hartzell.
Source:
Civil.ge, "Georgia Passes Sweeping Labor Code Package", https://civil.ge/archives/371502
The Financial, "The U.S. and EU Ambassador commend adoption of amendments to the Georgian Labour Code", https://www.finchannel.com/world/georgia/78444-the-u-s-and-eu-ambassador-commend-adoption-of-amendments-to-the-georgian-labour-code
For additional information, see:
Pre-election violence casts shadows on upcoming parliamentary elections in Georgia
Georgian law enforcement agencies are investigating three separate incidents of pre-election violence over two days. As for now, seven cases of alleged physical violence on political grounds have been detected during the pre-election period, reads the fourth interim pre-election monitoring report of the International Society for Fair Elections and Democracy (ISFED).
Several people, including reporters and camera operators, were injured on September 29 during a night brawl between supporters of Georgian Dream (GD) and Strength is in Unity, an opposition bloc dominated by the United National Movement party (UNM) in Marneuli.
As OCmedia informed, pro-opposition TV channel Mtavari Arkhi claimed that two of their employees were assaulted while covering an ongoing attack on a car belonging to UNM member Givi Kveladze. Just two days before the incident in Marneuli Georgian Dream and UNM's youth wings clashed in nearby Bolnisi district.
Meanwhile, ISFED informed in its fourth pre-election monitoring interim report that already seven such cases were reported during the pre-election period.
"The sharp increase in the number of such cases, as voting day approaches, poses a significant challenge and damages the electoral process. On the one hand, it complicates the communication between politicians and population, and on the other hand, it hinders the free expression and implementation of the will of voters. The cases of physical retaliation is also a challenge, the number of which is increasing as the election day approaches. It is extremely important to conduct a timely, impartial and transparent investigation into the cases of pressure, threats and obstruction and to punish the perpetrators," reads the report, adding that, especially the situation in Bolnisi and Dmanisi districts requires special attention.
Sources:
For additional information, see:
Civil.ge, "Georgia, Azerbaijan Agree on 'Important Portion' of Border", https://civil.ge/archives/112040