Strategic Analysis Caucasus Brief
Bi-weekly review (27.12. 2020 – 10.1. 2021)
Tomáš Baranec
Armenia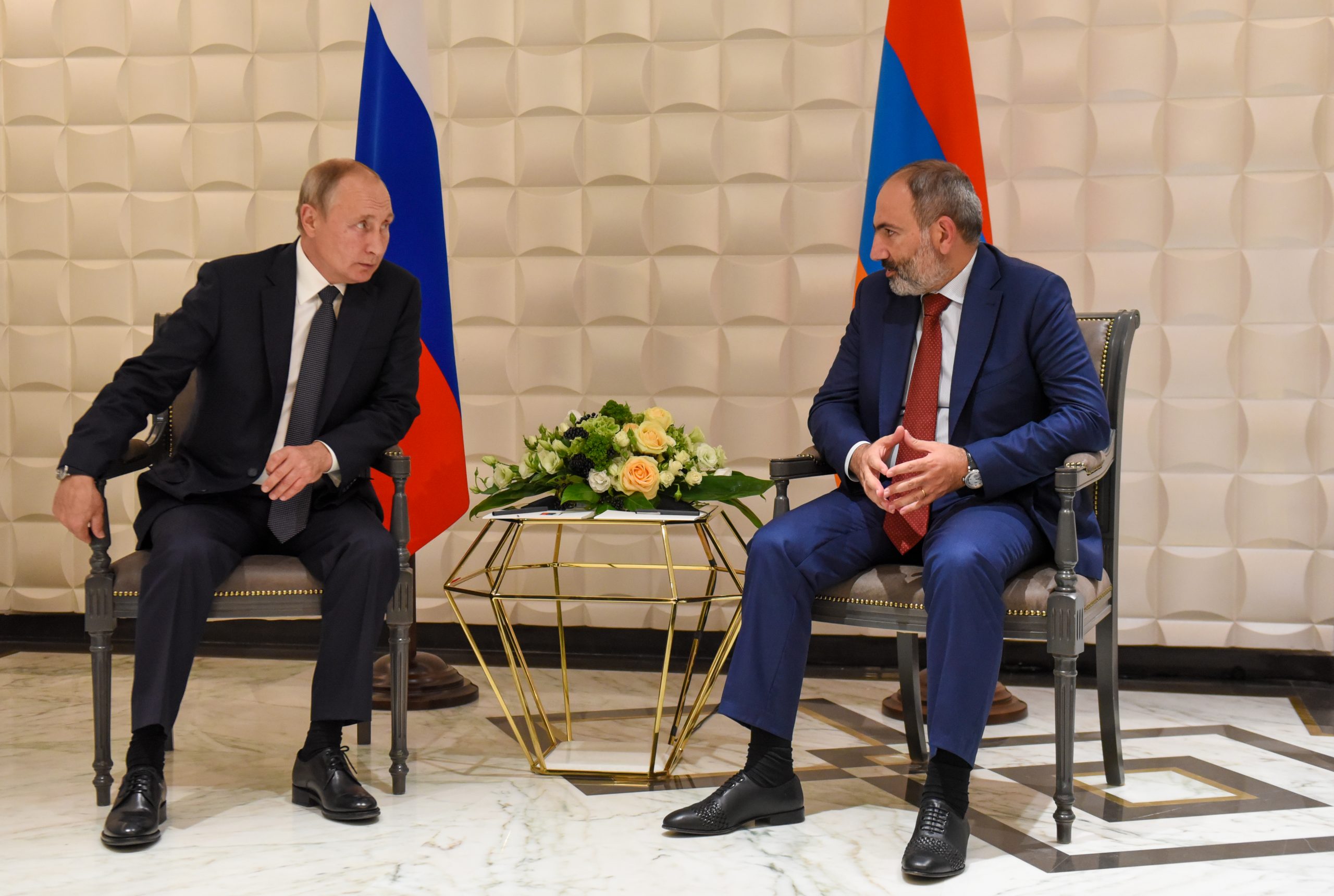 Vladimir Putin and Nikol Pashinyan in Yerevan. Photo: Asatur Yesayants/ Shutterstock.com 
Pashinyans proposal for snap elections fell on deaf ears
Armenian opposition has rejected the proposal from the Prime Minister Nikol Pashninyan to hold a snap election as a solution for the ongoing political crisis. "I can abandon the post of the prime minister only if the people decide so," wrote Pashinyan on Facebook, while proposing for a snap election. A coalition of more than a dozen opposition parties trying to unseat Pashinyan with street protests called the "Homeland Salvation Movement", claims PM lost his "moral and political legitimacy and betrayed national interests" due to the recent war in Nagorno-Karabakh.
They consider PMs offer to be a "manipulative attempt" to deflect the public demand for his resignation. The opposition grouping demands him to hand over power to an interim government that would hold new polls within a year.
Edmon Marukian leader of the Bright Armenia Party (LHK), another major opposition group which is not part of the movement, also insists on the prime minister's resignation. Marukian blamed Pashinyan that the fresh elections will be rigged if the current government holds them.
As Azatutyun reminds, virtually all Armenian opposition parties have blamed Pashinian for the Armenian side's defeat in the recent war in Azerbaijan and demanded his resignation. Their demands have been backed by President Armen Sarkissian, the Armenian Apostolic Church and many public figures.
Sources:
Azatutyun, "Armenian Opposition Rejects Pashinian's Offer", https://www.azatutyun.am/a/31022531.html
JAM News, "Armenian political crisis continues: opposition refuses snap elections, demands PM resignation", https://jam-news.net/armenian-prime-ministers-meeting-with-opposition-tsarukyan-marukyan-early-elections-premiers-resignation/
FEATURED: Azerbaijani authorities threaten to cancel benefits for IDP's if they refuse the return to Nagorno-Karabakh
Baku is not willing to pay benefits to Azerbaijani Internally Displaced Persons (IDPs) who refuse to return to Nagorno Karabakh and surrounding areas following the recent war with Armenian separatists.
Fuad Guseinov, the deputy chairman of the Azerbaijan State Committee for Refugees and Internally Displaced Persons, has announced on January 8 that IDPs must agree to return to Nagorno-Karabakh; otherwise, they will be deprived of their status.
"The status of the IDPs who do not want to go to the lands liberated from the occupation will be considered lost. As a result, they will lose all the benefits intended for IDPs and persons equated to them," said Guseinov.
The "Caucasian Knot" has reported that only a part of the hundreds of thousands of displaced persons in Azerbaijan is expected to return to their native towns and villages in Nagorno-Karabakh. Most of them – 315,000 IDPs – received apartments and houses from the state even before the autumn escalation of the conflict, and not all of the IDPs are ready to change their way of life and quit their jobs.
Sources:
For additional information see:
The shooting of Russian helicopter by Azerbaijani army reclassified
Russian military investigators have reclassified the criminal case on the shooting of a military helicopter Mi-24 on the border of Armenia and Azerbaijan by Azerbaijani army to a more serious article; an informed source told Interfax.
"The criminal case, which was initially initiated under Article 351 of the Criminal Code of the Russian Federation (violation of the rules of flights or preparation for them, resulting in death by negligence) was re-qualified to a more serious article – part 2 of article 105 (intentional murder of two or more persons)", – said the source. He also clarified that if in the first case, the offender faces a sentence up to seven years in prison under the second article, it may be up to life imprisonment.
The Azerbaijani air defence shot down a Russian Mi-24 helicopter on November 9, 2020, claiming two Russian servicemen's lives. Baku admitted that it mistakenly shot down the Russian helicopter over Armenia and apologized.
Sources:
Interfax.ru, "Дело о сбитом Ми-24 переквалифицировали на более тяжкую статью (The case of the downed Mi-24 was reclassified to a more serious article)", https://www.interfax.ru/russia/743995
Nika Melia to lead UNM as a new Chairperson
The United National Movement (UNM), Georgia's largest opposition party, confirmed Nika Melia, 41, as Chairperson at the 9th party congress of December 27. Melia will replace Grigol Vashadze, who recently quit the party citing differences with the leadership.
Nika Melia and Levan Varshalomidze, former Head of Adjara region Government competed for the post in an online Facebook poll as part of the UNM's efforts to democratize intra-party decision-making. Melia received 13,491 votes, amounting to 64.9% of the 20,779 votes cast, informed civil.ge.
Former Georgian president and Honorary Chairmen of UNM Mikheil Saakashvili congratulated Melia stressing that he is "a symbol of perseverance, courage and self-sacrifice". "After removing usurpers from power, the Georgian people will make all major decisions electronically. Georgians around the world will decide their homeland's fate," he added.
Nika Melia is an opposition MP, who has been a member of the Georgian Parliament from November 2016 to December 2019 and acted as the governor of the Mtatsminda district since 2010. In 2019, Melia was stripped of the MP immunity on inciting and arranging public unrest and violence. While on bail for the previous charges, Melia was also involved in a high profile Cartu Bank case, in which Tbilisi City Court found Melia guilty of the abuse of authority and banned him from undertaking public office for two years and three months, as well as a fine of 25,000 GEL.
Sources:
Civil.ge, "Nika Melia Confirmed as New UNM Chairperson", https://civil.ge/archives/389096
1tv.ge, "Mikheil Saakashvili: Nika Melia is symbol of perseverance, self-sacrifice", https://1tv.ge/en/news/mikheil-saakashvili-nika-melia-is-symbol-of-perseverance-self-sacrifice/
The Messenger Online, "Nika Melia to become the new head of the United National Movement party", http://www.messenger.com.ge/issues/4801_december_28_2020/4801_veronika.html
 For additional information, see:
Civil.ge, "Court Finds MP Melia and ex-Minister Adeishvili Guilty into Cartu Bank Case", https://civil.ge/archives/330072
Japaridze established a new party called "Girchi – More Freedom"
Former right-libertarian Girchi party leader Zurab Japaridze, who recently split his ways with his teammates over Chairperson Iago Khvichia's child pornography remarks, established a new Girchi – More Freedom party on December 26.
"The name of the party will be More Freedom – Girchi. Today we will discuss formal issues", Japaridze told reporters, adding that he will be a chairman of the party. According to him, the new Girchi will be different from the old Girchi.
The new party will be using a logo identical to the original Girchi party, with Japaridze arguing that neither he nor his former party colleagues adhere to intellectual property rights.
Japaridze announced on December 4 he will be parting ways with Iago Khvichia, Vakhtang Megrelishvili and Aleksandre Rakviashvili due to internal disagreements.
Although Japaridze has not specified the nature of disagreements, his statement came shortly after a scandal in which the party found itself due to recent Khvichias statements on child pornography.
The announcement was following Khvichia's controversial remarks in defence of a suspect arrested for purchasing and watching pornographic content involving minors. However, Japaridze argued "many reasons" were behind the decision, not the contents of Khvichia's remarks, hinting about other disagreements and rifts taking place among the party leadership.
Sources:
Civil.ge, "Former Girchi Leader Launches New Girchi Party", https://civil.ge/archives/389111
Interpressnews, "Zurab Japaridze establishes new Girchi", https://www.interpressnews.ge/en/article/111019-zurab-japaridze-establishes-new-girchi
FEATURED: Georgian opposition continues to split
Elene Khoshtaria, the senior member of the opposition European Georgia party, announced on December 28 about quitting the party and establishing a new political platform. Meanwhile, four members of the Alliance of Patriots (AoP) left the party to enter Parliament.
"I have not changed my political positions. I simply have new plans to create a new political force, and I will provide detailed information about my plans to the public, "said Khostaria at a news briefing adding that she remains committed to the opposition's decision to boycott the new Parliament.
Less committed to the decision are four members of AoP, Avtandil Enukidze, Zaza Mikadze, Pridon Injia and David Zilpimiani, who decided to accept their mandates.
According to the final vote tally by the Central Election Commission, the Patriots secured 3,14% of the votes in the October 31 parliamentary elections and gained four parliamentary seats. However, the party decided to follow other opposition parties in rejecting the legitimacy of the CEC results and declaring the parliamentary boycott.
First to break the ranks was Enukidze, number four on the party list, who had stated that he would keep his parliamentary mandate. On January 5, the Parliament of Georgia approved the mandates of three MPs from the proportional-party list of the AoP. Zaza Mikadze (number 5 on the list), Pridon Injia (#7) and David Zilpimiani (#8) will be replacing the party's top three Irma Inashvili, Giorgi Lomia and Gocha Tevdoradze, respectively, whose requests to annul their MP mandates had been granted by the Parliament the day before.
In a joint statement, the four MPs explained their decision underscoring the significance of political stability amidst the country's current crises and citing the lack of "well-founded proofs" of election-rigging. The lawmakers also announced leaving the Alliance of Patriots party and forming the new political union of "European Socialists."
Earlier, a similar split occurred in opposition party Girchi, following its former leader Zurab Japaridzes decision to establish new Girchi – More Freedom.
Sources:
Civil.ge, "Senior Member Quits European Georgia Party", https://civil.ge/archives/389243
Civil.ge, "Four Opposition MPs Quit Alliance of Patriots Party, Enter Parliament", https://civil.ge/archives/390038
North Caucasus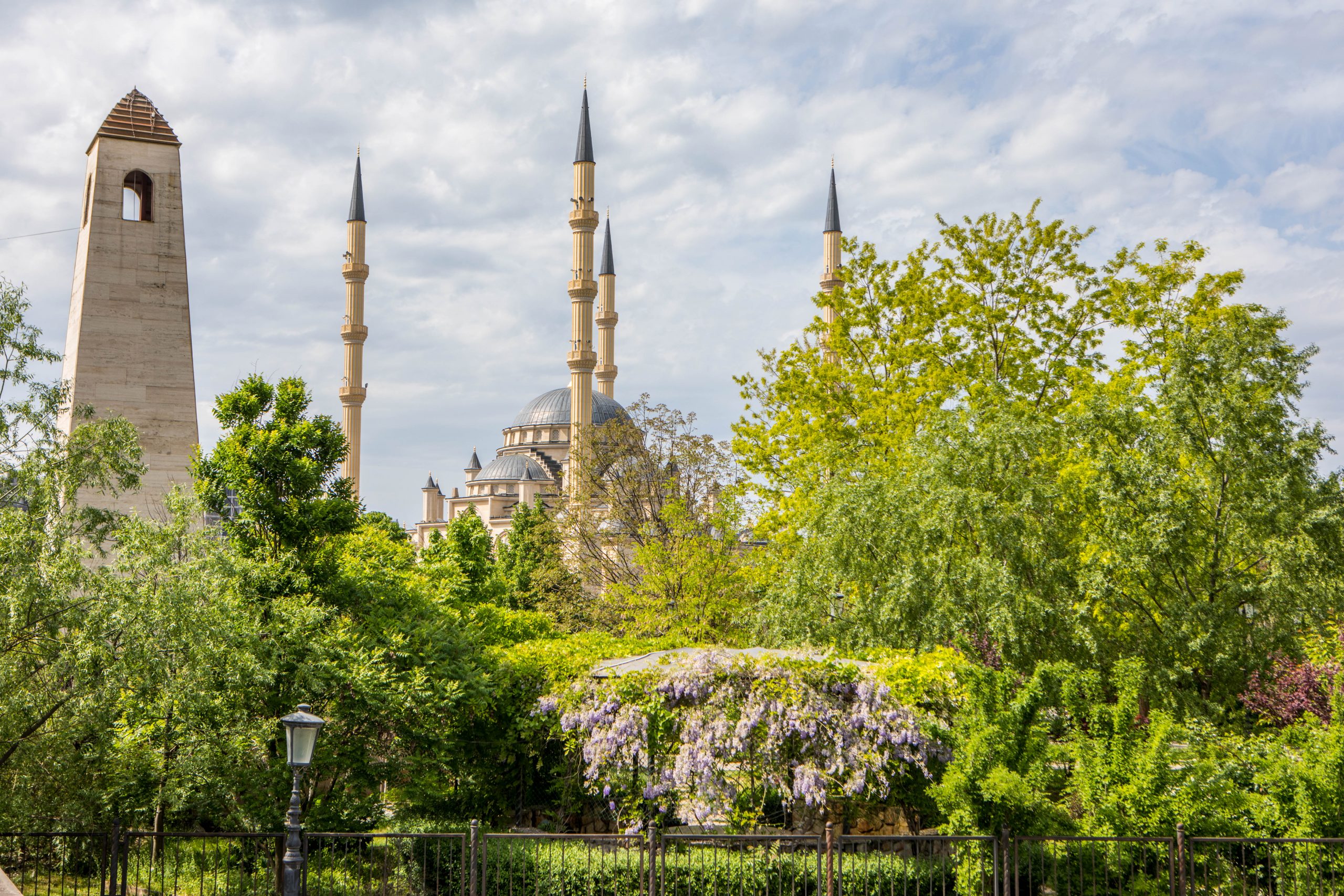 Grozny, Republic of Chechnya. Photo: Eva Mont/ Shutterstock.com
FEATURED Two Ingush militants and one police inspector died during an attack in Chechnya. Feud between Grozny and two Ingush teyps avoided.
Two militants were shot and killed by Chechen law enforcers on December 17 at a road-and-patrol service (known as DPS) checkpoint in Chechen village of Kurchaloi. In a result of an attack, one police inspector died as well.
According to the Chechen Ministry of Internal Affairs (MIA), law enforcers stopped a car to check drivers and passengers' IDs. Khasan and Khusein, both natives of Ingushetia, threw an improvised explosive device (IED) at the law enforcers and opened fire.
Members of the Timurzievs and Sultygov Ingush teyps (family clans) requested Chechen leader Ramzan Kadyrov to prove that natives of Ingushetia killed by law enforcers in Grozny were terrorists. "The killed men were our people. And if they were terrorists, as you say, you should prove that," said Sarazhdin Sultygov as quoted on the Ingush activists' website "Fortanga". In their turn, Instagram users called on the Chechen authorities to post the footage from surveillance cameras on the Internet.
Shortly after members of both teyps posted their second video. According to their version, they watched the video from the attack and admitted that Khasan and Khusein were indeed the attack perpetrators. Members of both teyps also expressed condolences to the killed law enforcer's family, informed Caucasian knot.
Sources:
For additional information, see:
Caucasian Knot, "Caucasian scholars name reasons for armed attacks in Chechnya", https://www.eng.kavkaz-uzel.eu/articles/53235/