Strategic Analysis Caucasus Brief
Bi-weekly review (29.6. – 12.7.2020)
Tomáš Baranec
Armenia
Nikol Pashinyan, Photo: Alexandros Michailidis / Shutterstock.com
MAIN STORY
New amendments on Constitutional Court sparked protests by opposition and led to an incident between police and one judge
Armenian ruling My Step Block adopted on June 30 more legal amendments meant to complete the controversial dismissal of three of the nine members of Armenia's Constitutional Court. This step met with defiance of opposition parties and three ousted judges.
Given amendments were passed after a short debate that was boycotted by the two opposition parties represented in the Parliament – Prosperous Armenia Party (BHK) and Bright Armenia. BHK claims that constitutional changes contradicted other articles of the Armenian constitution and were enacted with severe procedural violations. Amendments from June 30 made ousted judges eligible for a state pension to address their previous objections.
Since Armenian President Armen Sarkissian declined to sign the relevant bill into law, under the constitution bill must be signed by the Parliament speaker. President later claimed that he must be legally empowered to appoint, rather than nominate, three of the nine members of Armenia's Constitutional Court.
Disagreement on the legality of new amendments led to an incident outside Constitutional Court on June 3 in which one of the ousted judges, Hrant Nazaryan, was denied entrance into the building of court by police.
The Parliament approved constitutional changes calling for their replacement by other judges to be appointed by its pro-government majority already on June 22. The amendments require the gradual resignation of seven members of the Constitutional court installed before April 2018. Three of them are to resign with immediate effect. Also, Hrayr Tovmasian must quit as court chairman but remains a judge, as explained by azatutyun.am.
Sources:
For additional information see:
Poll: Majority of Armenians support the prime minister
As much as 85% of respondents in Armenia approve of the activities of Prime Minister Nikol Pashinyan, say the results of a poll conducted by MPG (Marketing Professional Group), which is the only sociological organization in Armenia officially representing Gallup International, wrote media platform Jamnews.
"22.7% of respondents approve of the work of the opposition, 54.7% approve of the National Assembly, 67.9% approve of the government, 79.3% approve of the president, and 85% approve of the prime minister," MPG Director Aram said Navasardyan at a July 3 press conference.
Azerbaijani president casts doubt on further negotiations with Armenia
Azerbaijani President Ilham Aliyev has decried international mediators of his country's negotiations with Armenia on Nagorno Karabakh conflict, describing the peace process as "meaningless". President made his comments in a July 6 interview with local television following the construction of a new hospital in Baku for the treatment of coronavirus patients.
"Today, the negotiation process is not moving," he said. "Video conferences of the foreign ministers of Armenia and Azerbaijan are meaningless. It simply is meant to show that the Minsk Group is active. But is it? To be active means to act."
Aliyev also complained that western countries pick on Azerbaijan because of the influence of the "Armenian lobby" and ethnic Armenian officials in Western governments, while calling Armenia "fascist," a "dictatorship," and "a country of criminals, thieves, and bribe-takers".
These comments by Azerbaijani leader were made just one week after the last meeting, via videoconference, of the foreign ministers of the two sides, which were jotted by mutual condemnation. They also came as Armenian prime minister Nikol Pashinyan has been trying to get the Minsk Group to accept the ethnic Armenian de facto leadership of Nagorno Karabakh as a third part of the negotiation, despite outcry from Azerbaijan.
As Eurasianet.com reminds, although complaints from both sides of the conflict on the role of the OSCE Minsk Group are not uncommon, such direct attacks are rather rare. The last time Aliyev addressed such sharp criticism on the Minsk Process was in February and March of 2016, just a month before the so-called April war – bloodiest clashes in Nagorno Karabakh since the two sides signed a ceasefire in 1994.
         Sources:
        For more information, see:
OSCE Minsk Group Co-chairs noted an increase of aggressive rhetoric after the online meeting of Armenian and Azerbaijani Ministers of foreign affairs
The OSCE Minsk Group Co-chairs noted the increase of aggressive rhetoric between representatives of Armenia and Azerbaijan after Ministers of Foreign affairs of both countries held an online meeting to discuss the settlement of the Armenia-Azerbaijan Nagorno-Karabakh conflict on June 30.
Azerbaijani Minister Elmar Mammadyarov claimed that this negative trend is caused by infrastructural changes in the occupied territories of Azerbaijan.
His Armenian counterpart Zohrab Mnatsakanian, on the other hand, condemned, due to his press office, Azerbaijani leaders' latest "bellicose and unconstructive" statements, wrote azatutyun.am.
Although the press office did not specify which statements he was referring to, azatutyun.am assumes, that Mnatsakanian referred to Azerbaijani President Ilham Aliyev's June 25 remarks in which Aliyev said that the 2018 popular protests that brought Nikol Pashinian to power were not a democratic revolution. President also described Armenia's post-Soviet history as "shameful".
Sources:
For more information, see:
Georgian Parliament Endorses Changes to the Electoral Code
Georgian lawmakers endorsed changes to the Election Code in a third and final round of voting on July 2 aimed to comply with the legislation with the OSCE/ODIHR recommendations. The way for these changes was cleared three days earlier on June 29, when Georgian Parliament approved constitutional amendments on election reforms.
Changes to the Election code were endorsed with 94 votes in favour, and one against after Opposition European Georgia and United National Movement parties remained on the boycott. They did not participate in the voting as their demand to release "political prisoner" Giorgi Rurua had not been met.
Under the freshly approved amendments, the 2020 parliamentary elections will be held based on what is referred to as the 120/30 system, which means that 120 MPs will be elected through proportional party lists and 30 using the majoritarian voting system. Also, the election threshold will be fixed at 1 % of votes, while a constraint barring any single party that receives less than 40 % of votes from claiming a majority of seats in the Parliament will be enacted as well. The amendments also introduce the so-called 25% gender quotas, meaning that in their proportional party-list, the political parties are obliged to include at least every fourth person of a different gender. Also, starting from 2024, Georgia will move to a fully proportional system.
Shortly after the adoption of amendments on June 29 Georgian opposition parties released a joint statement in which they appealed to the Government for the release of the shareholder of pro-opposition Mtavari Arkhi TV Giorgi Rurua to "complete fulfilment" of the March 8 agreement.
As Radio Free Europe – Radio Liberty recalled in its article, under the current electoral system, 73 of 150 parliamentary seats are claimed by candidates who won in majoritarian race, while remaining seats are distributed proportionally. This system led to Georgian Dream, led by billionaire founder Bidzina Ivanishvili, holding three-quarters of the legislature's seats even though it won just under half of the popular vote.
Sources:
For additional information, see:
Nativist movement Georgian March creates a political party
Georgian far-right group Georgian March, known primarily for its anti-LGBT rhetoric, has created a political party called Georgian March – National Movement on July 2.
The newly established party declared, it has plans to protect" ethnic, religious and cultural rights of people, strengthen state independence, reintegrate the occupied territories and ensure good living conditions for the Georgian people". The opposition United National Movement and European Georgia parties were declared as key opponents of a new political force, which plans to run in the October parliamentary elections.
Party members elected Irakli Shikhiashvili, a former member of the ruling Georgian Dream party and former chairman of the Tbilisi City Council, as the party's secretary-general.
Georgian March was established in 2017 by Sandro Bregadze, who will serve as chairman of the new party.
Source:
For additional information, see:
EU Agreed to Lift Travel Restrictions for residents of Georgia, yet Tbilisi is not ready to reciprocate
The Council of the European Union agreed on June 30 to start lifting travel restrictions for Georgia along with 13 other non-EU countries, starting from July 1. Georgian authorities, however, have said their borders will remain closed for at least another month, due to the COVID-19 pandemic.
Media Advocacy Coalition calls press freedom in Georgia "alarming "
The Georgian Government came under harsh criticism of the Media Advocacy Coalition, uniting over ten local media watchdogs. CSOs first condemned on July 3 the investigation launched by the Georgian State Security Service into an alleged act of sabotage in connection with a TV story aired by pro-opposition Mtavari Arkhi, calling it an act of censorship.
Four days later, on July 7, Media Advocacy Coalition released another statement, criticizing amendments initiated by the Government's administration and the Georgian National Communications Commission (GNCC) to the Laws on Broadcasting and Electronic Communications. CSOs warned that the given package of changes contains "the risks of unjustified restriction".
Source:
For additional information, see:
The second suspect in the murder of Zelimkhan Khangoshvili associated with the FSB
A Russian, who is mentioned in an investigation into the murder of a Chechen Zelimkhan Khangoshvili in Berlin, may be associated with the Security Agency of Russia – FSB.
Investigators were able to detect several other people, allegedly associated with the special service. At least three of them were suspected of contract killings abroad. The investigation was released by the British group Bellingcat, the German magazine Der Spiegel and the Russian edition of The Insider.
Source:
Kavkaz Realii, Второго подозреваемого в убийстве чеченца в Берлине связали с ФСБ (The second suspect in the murder of a Chechen in Berlin associated with the FSB), https://www.kavkazr.com/a/30698479.html
For additional information, see:
North Caucasus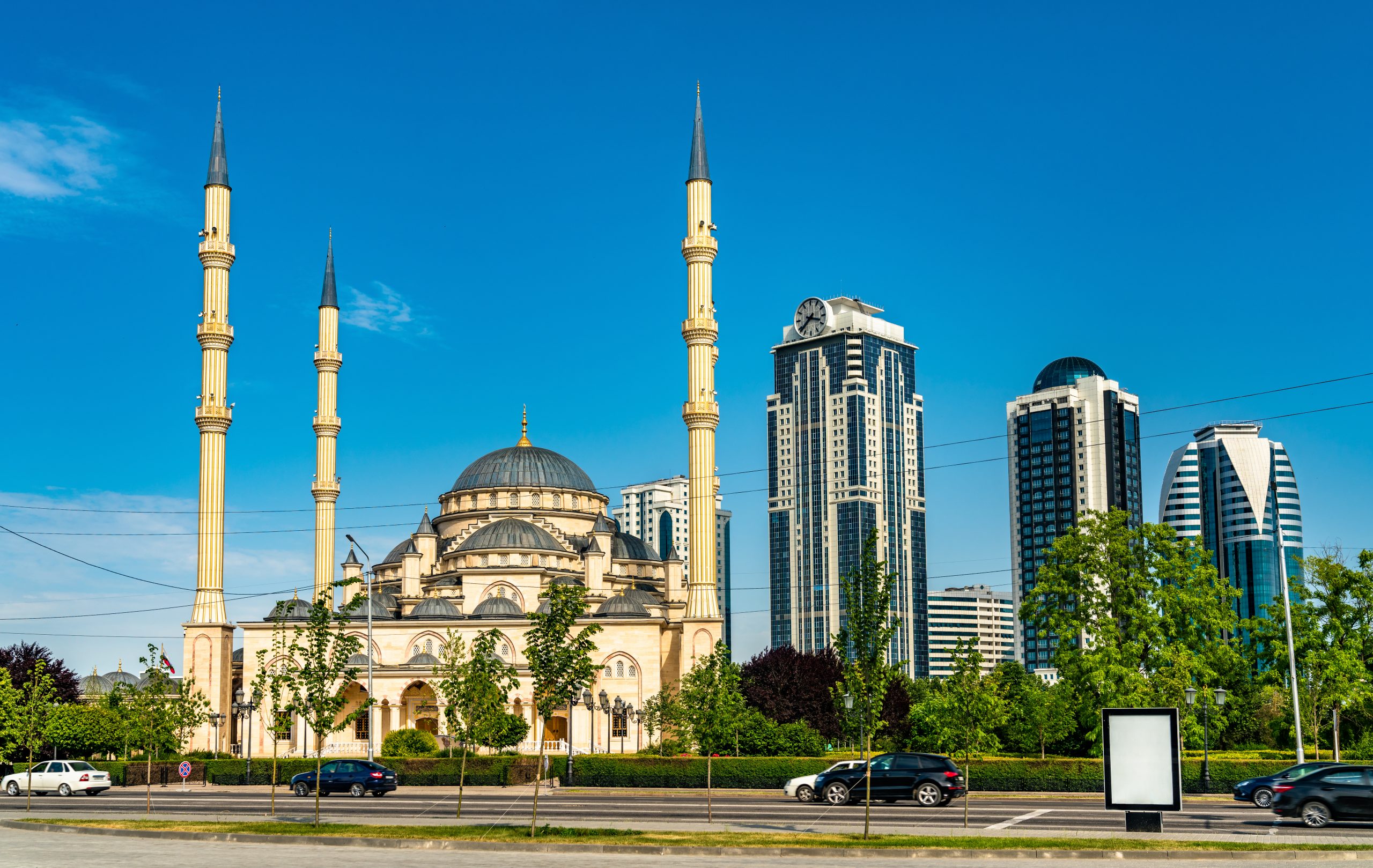 Grozny, Chechnya, Photo: Leonid Andronov/ Shutterstock.com
MAIN STORY
Yet another blogger from Chechnya murdered in Austria
On July 4, another critic of the Head of the Chechen Republic Ramzan Kadyrov was murdered. Blogger Mamikhan Umarov, a native of Chechnya, well-known as Anzor from Vienna, was shot dead just three days after he posted a video on YouTube, criticizing Chechen leader and insulting his parents.
As Caucasian Knot stresses in its article, Umarov insulted by foul language both parents of the Chechen leader. At the same time, it should be noted that Imran Aliev, another blogger from Chechnya, who was killed in France in January, used a similar vocabulary while criticizing Ramzan Kadyrov.
Members of the Chechen diaspora also assert, that murdered blogger had collaborated for many years with the Austrian secret services, trying to identify Chechen killers sent to Europe, and he complemented the list of critics and opponents of the Chechen authorities assassinated in Europe in recent years.
Source:
For additional information, see: