Strategic Analysis Caucasus Brief
Bi-weekly review (13. – 27. 6. 2021)
Tomáš Baranec and Marina Avram
Armenia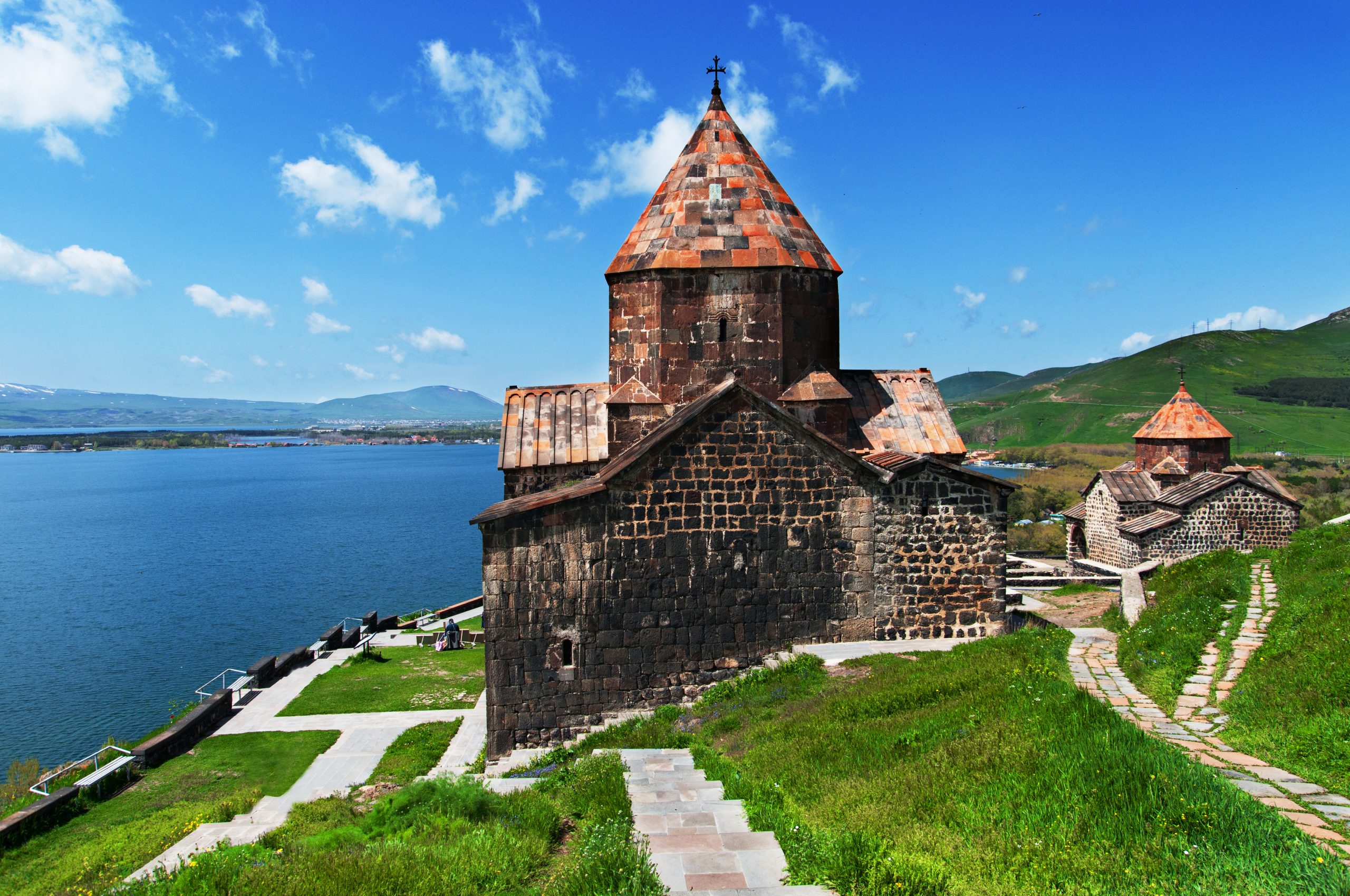 Sevanavank church at lake Sevan, Armenia. Photo: Eteri Okrochelidze/Shutterstock.com
My Step faction of acting PM Nikol Pashinyan wins a landslide victory in Armenian snap elections
Acting Prime Minister Nikol Pashinyan and his Civil Contract party won the Armenian parliamentary election with 53.92% of the votes, according to the country's electoral commission. PM's party will maintain its two-thirds majority in the Armenian parliament with 72 out of 105 seats.
The main contender, the Robert Kocharyan-led Armenia Alliance, ended up in a distant second with roughly 21% of the vote earning 28 seats. I Have an Honour coalition of the formerly ruling Republican party of Serzh Sargsyan with the Homeland party led by Artur Vanetsyan is a third party to enter the parliament. Despite not passing the 7% threshold for electoral coalitions, it will receive 7 seats, as a minimum of three parties or blocs must enter parliament according to the Armenia elections law.
Pashinyan hailed the results of the election in the early hours of June 21. Speaking to supporters outside of the main Civil Contract office in Yerevan, he acclaimed a "second" revolution of "steel". "The dictatorship of the law is the next mandate that the people have given us", he said. "We cannot wait to use that mandate". PM then called for his supporters to join him at a rally in Yerevan at 20:00 on June 21.
As Eurasianet reminds, the result was a far more decisive win than any public polls had predicted, though it did track with Civil Contract's own internal projections. Pashinyan won in every region of the country, even the far southern district of Syunik, where the government was thought to be especially vulnerable due to security concerns that have proliferated there. However, for many, elections were a choice of a lesser evil.
Meanwhile, Armenia Alliance has declared it does not accept the results of the June 20 parliamentary elections and will contest them at the Constitutional Court. "We have serious grounds to consider these elections illegitimate and to declare that with such results, the National Assembly does not reflect the real balance of power. Our observations and information from the bloc's election headquarters show that the violations started long before the election day. And the preliminary summary of the alarms of our proxies from many polling stations on election day proves that it is a matter of systematic and pre-planned falsification of the election results," the statement reads.
Despite black-offs in several regions during the electoral night, International observers described elections as free and competitive. "Armenia's early parliamentary elections were competitive and well-managed within a short time frame. However, they were characterised by intense polarisation and marred by increasingly inflammatory language from key contestants, as well as by the sidelining of women throughout the campaign," reads the statement by OSCE and several other international observers. A similar conclusion was stated by observers from Russia-led CIS and CSTO organisations.
Sources:
KUCERA Joshua, MEJLUMYAN Ani, Eurasianet.org, "Armenia's Pashinyan wins re-election in a landslide", https://eurasianet.org/armenias-pashinyan-wins-reelection-in-landslide
OC Media, "Nikol Pashinyan wins landslide in Armenia elections", https://oc-media.org/nikol-pashinyan-wins-landslide-in-armenia-elections/
DW.com, "Armenia: Pashinyan wins the election with over half the votes", https://www.dw.com/en/armenia-pashinyan-wins-election-with-over-half-the-votes/a-57970798
Public Radio of Armenia, "Armenia Alliance to contest election results at Constitutional Court", https://en.armradio.am/2021/06/21/armenia-alliance-to-contest-election-results-at-constitutional-court/
OSCEPA, ODHIR, Parliamentary Assembly, Council of Europe, "INTERNATIONAL ELECTION OBSERVATION MISSION Republic of Armenia – Early Parliamentary Elections, June 20 202", https://www.osce.org/files/f/documents/1/3/490307_0.pdf
Regnum.ru, "Наблюдатели от СНГ и ОДКБ назвали выборы в Армении состоявшимися (Observers from the CIS and CSTO called the elections in Armenia valid)", https://regnum.ru/news/3301460.html
Robert Kocharyan presented his vision of Armenia's future: Closer ties to Russia and Foreign agent law
Robert Kocharyan presented his vision of Armenia's future: Closer ties to Russia and Foreign agent law.
The second president of Armenia and former PM candidate called for a stronger Russian military presence, foreign agent law and retrieval of Karabakh's Hadrut region in a bid to mobilise his voters prior to snap parliamentary elections, which were held on June 20.
"As well as rebuilding our armed forces, we must also try to modernise the Russian military presence here," said Kocharian, who led an opposition alliance running in parliamentary elections during a campaign trip to northwestern Shirak province bordering Turkey. "This can and must be done especially considering ongoing developments in this region," he told supporters in the town of Artik. "We can see Turkey's growing role, it's very obvious. And it's also obvious that … the only country that can deter the Turkish expansion is Russia."
On another occasion, during the campaign, Kocharyan said he plans to "set strict controls" on the work of organisations funded by foreign donors. "They will either be banned or will operate as foreign agents under strict control," Kocharyan stated on June 13 during a campaign stop in Armenia's Tavush province.
As OC Media reminds us, the proposal appears to echo Russia's "foreign agent'" law, which has led to the censure and closure of civil society and media organisations.
Kocharyan, who is a close friend of Russian President Vladimir Putin, also hinted that "after normalising relations with allies (Russia)", he will be able to return some of the territories Armenians lost in the recent Second Karabakh war. "I'm very certain about the opportunities for retrieval of Hadrut, and I'm almost certain about the retrieval of Shushi," he proclaimed on June 13 during a campaign meeting in the city of Dilijan of Tavush Province.
Robert Kocharyan participated in the elections in an alliance with two parties – the "Armenian Revolutionary Federation (ARF)", also known as "Dashnaktsutyun", and the recently established "Reviving Armenia," which unites almost all Mayors of the Syunik region and is led by the former governor of Syunik.
Sources:
Kaghzvantsian Satenik, "Azatutyun.am, Kocharian Wants Stronger Russian Military Presence In Armenia", https://www.azatutyun.am/a/31311372.html
AVETISYAN Ani, OC Media, "Robert Kocharyan proposes Armenia 'foreign agent' law", https://oc-media.org/robert-kocharyan-proposes-armenia-foreign-agent-law/
News.am, "Armenia 2nd President: I'm certain about opportunities for retrieval of Karabakh's Hadrut", https://news.am/eng/news/648695.html
POGHOSYAN Benyamin, Commonspace.eu, Opinion: "All against all" or "all against Nikol"?, https://www.commonspace.eu/opinion/opinion-all-against-all-or-all-against-nikol
The main opposition party to challenge election results on the Constitutional court
Former President Robert Kocharian's main opposition Armenia alliance said on June 21 that it will ask Armenia's Constitutional Court to overturn the official results of Sunday's parliamentary elections that gave a landslide victory to the ruling Civil Contract party.
"We have serious grounds to consider these elections illegitimate, to declare that with such results the National Assembly does not reflect the real balance of power," the statement reads. The bloc alleges that election violations started much earlier than June 20 and that reports from the polling stations point to a "systematic, pre-planned falsification of the results". The bloc said it is launching political consultations with other forces that participated in the election to discuss the possibility of applying jointly to the Constitutional Court.
As azatutyun.am reports, the opposition blocs fuelled speculation that they could refuse to take up their seats in protest against the alleged vote-rigging. With the Armenian constitution reserving at least one-third of the parliament seats for the opposition, commentators wondered if such a drastic step could hamper the work of the new parliament or call into question its legitimacy.
Sources:
SARIBEKIAN Gayane, NALBANDIAN Naira, azatutyun.am, "Kocharian's Bloc To Challenge Election Results In Court", https://www.azatutyun.am/a/31318981.html
Hetq.am, "Armenia Alliance to Challenge Election Results in Constitutional Court", https://hetq.am/en/article/132509
Turkey and Azerbaijan sign Shusha declaration on military assistance
On June 15, a declaration of alliance between Azerbaijan and Turkey has been signed in the city of Shusha (Arm. Shushi), the historical and cultural centre of Nagorno Karabakh, captured by Azerbaijani forces in the recent war with Armenia last year.
"Today is a historic day. Today, we welcome the Turkish President, my brother Recep Tayyip Erdogan, to the liberated Shusha. My brother has been to Azerbaijan many times, but he came to Shusha for the first time. The Joint Alliance Declaration we have signed today will raise our relations to the highest possible level. The name of the declaration speaks for itself. All its points are a guarantee of our further cooperation," said Azerbaijani President Ilham Aliyev on occasion.
In his speech, Turkish President Recep Tayyip Erdogan also addressed Armenia. "New opportunities for cooperation have emerged after the signing of the ceasefire agreement. We are witnessing the sincerity of our Azerbaijani brothers in this matter. Turkey wants to direct our geographically neighbourly relations towards deeper cooperation", President Erdogan claimed.
The declaration of alliance signed by Aliyev and Erdogan include, among others, "coordination of actions in strategic regional and international issues of mutual interest and cooperation in the defence industry and mutual military assistance". Ankara and Baku should also start conducting joint consultations, coordinating the actions of the power and administrative structures of the armed forces of the two countries in the event of a threat to sovereignty. Declaration also stipulates regular joint meetings of the security councils of the two countries as well as cooperation on the issue of opening the so-called "Zangezur corridor". In the near future, a consulate general of Turkey will open in Shusha.
As Eurasianet writes, this is not the first such agreement between Turkey and Azerbaijan. In 2010, Aliyev and then Turkish president Abdullah Gül signed a "Strategic Partnership and Mutual Aid Agreement," which also includes a mutual defence agreement.
"The main new thing in the agreement is that joint meetings of the Security Councils [of the two countries] will be held. That means policy on defence and security will be coordinated," analyst Shahin Jafarli told the BBC Azerbaijani service. Jafarli believes the agreement in a message to both Armenia and Russia. "This means that Turkey openly declares that if any further attacks and provocations are carried out against Azerbaijan, Turkey will defend Azerbaijan," he claimed.
Sources:
For additional information, see:
Caucasian Knot, "Шушинская декларация стала констатацией усиления роли Турции на Кавказе (Shusha Declaration became a statement of the strengthening of Turkey's role in the Caucasus)", https://www.kavkaz-uzel.eu/articles/365014/
The de facto President of Nagorno Karabakh is facing mounting discontent over his support for Pashniyan
Nagorno-Karabakh's de facto President Arayik Harutyunyan is facing protests calling for his resignation. Approximately 1.500 demonstrators came out to the streets of Stepanakert on June 21, outraged by his apparent support for Armenia's acting Prime Minister Nikol Pashinyan.
"I wish success to you and your team," Harutyunyan said in a congratulation statement to Pashinyan following his victory in snap elections. "I hope the results of the elections will enable Armenia's authorities to strengthen the security and foreign policy positions damaged by the war," he added.
A day earlier, on the day of the vote, Harutyunyan made a highly publicised visit to the office of Pashinyan's Civil Contract party in Yerevan. Following the meeting, Harutyunyan said he had come to the office "on personal business" and later claimed that his "visit to the office of the Civil Contract Party on the day of the elections was misinterpreted".
Meanwhile, Pashinyan is being blamed by many Armenians, despite his recent re-election, for his role in leading Armenia to a disastrous defeat in the September-November 2020 war against Azerbaijan over Nagorno-Karabakh. Many of the demonstrators in Nagorno-Karabakh have seen the re-election of Nikol Pashinyan as a legitimisation of the November 9 Tripartite Ceasefire Declaration, which opponents have derided as a "capitulation", writes the OC Media.
"During and after the war, Arayik Harutyunyan betrayed us. We are non-partisan, we have decided to gather in the square with friends to raise our voice of protest. Today we are already waiting for more people to join us and force Arayik Harutyunyan to resign", one protester told Hetq, an Armenian investigative outlet.
On the following day, in reaction to the demonstration, Harutyunyan gathered his supporters in Stepanakert's Renaissance Square and delivered a speech. However, rally to his support was eventually upstaged by counter-demonstrators who gathered in the square immediately after the speech, underscoring the depth of public dissatisfaction with Harutyunyan in Karabakh, writes Civilnet.am.
Sources:
AVETISYAN Ani, OC Media, "Protesters in Nagorno-Karabakh call on president to resign", https://oc-media.org/protesters-in-nagorno-karabakh-call-on-president-to-resign/
DOVICH Mark, Civilnet.am, "Competing Stepanakert Rallies Underscore Post-War Political Tensions in Karabakh", https://www.civilnet.am/news/623896/competing-stepanakert-rallies-underscore-post-war-political-tensions-in-karabakh/?lang=en
PACE reports continuous problems with political prisoners in Azerbaijan
On June 23, the Parliamentary Assembly of the Council of Europe (PACE) published a report in which it criticised the Azerbaijani government for lack of progress in addressing problems of political prisoners.
"The problem of political prisoners in Azerbaijan, as identified and described in a January 2020 resolution of the Assembly, "has been neither duly recognised nor adequately addressed by the authorities, let alone resolved", according to a follow-up report declassified yesterday," reads the report.
According to the document, prepared by Thorhildur Sunna Ævarsdóttir (Iceland) and approved by the PACE's Legal Affairs Committee at a meeting on June 23, most of the provisions of the PACE's resolution were not implemented by the authorities of Azerbaijan.
"The only exceptions are the inexcusably late quashing of the convictions of Mr Ilgar Mamedov and Mr Rasul Djafarov […] and the late submission of partial information to the Committee of Ministers in the context of its supervision of relevant judgments of the European Court of Human Rights," reads a statement posted on the website of the Council of Europe.
According to the report, the Azerbaijani side refused to cooperate with PACE Rapporteur Thorhildur Sunna Ævarsdóttir. Meanwhile, in response to her letter, Samed Seidov, the head of the Azerbaijani delegation to PACE, denied that there were any political prisoners in the country.
The PACE urges Azerbaijan's authorities to reconsider the cases of sentenced activists and journalists.