Strategic Analysis Caucasus Brief
Bi-weekly review (4.10. – 17.10. 2021)
Tomáš Baranec 
Armenia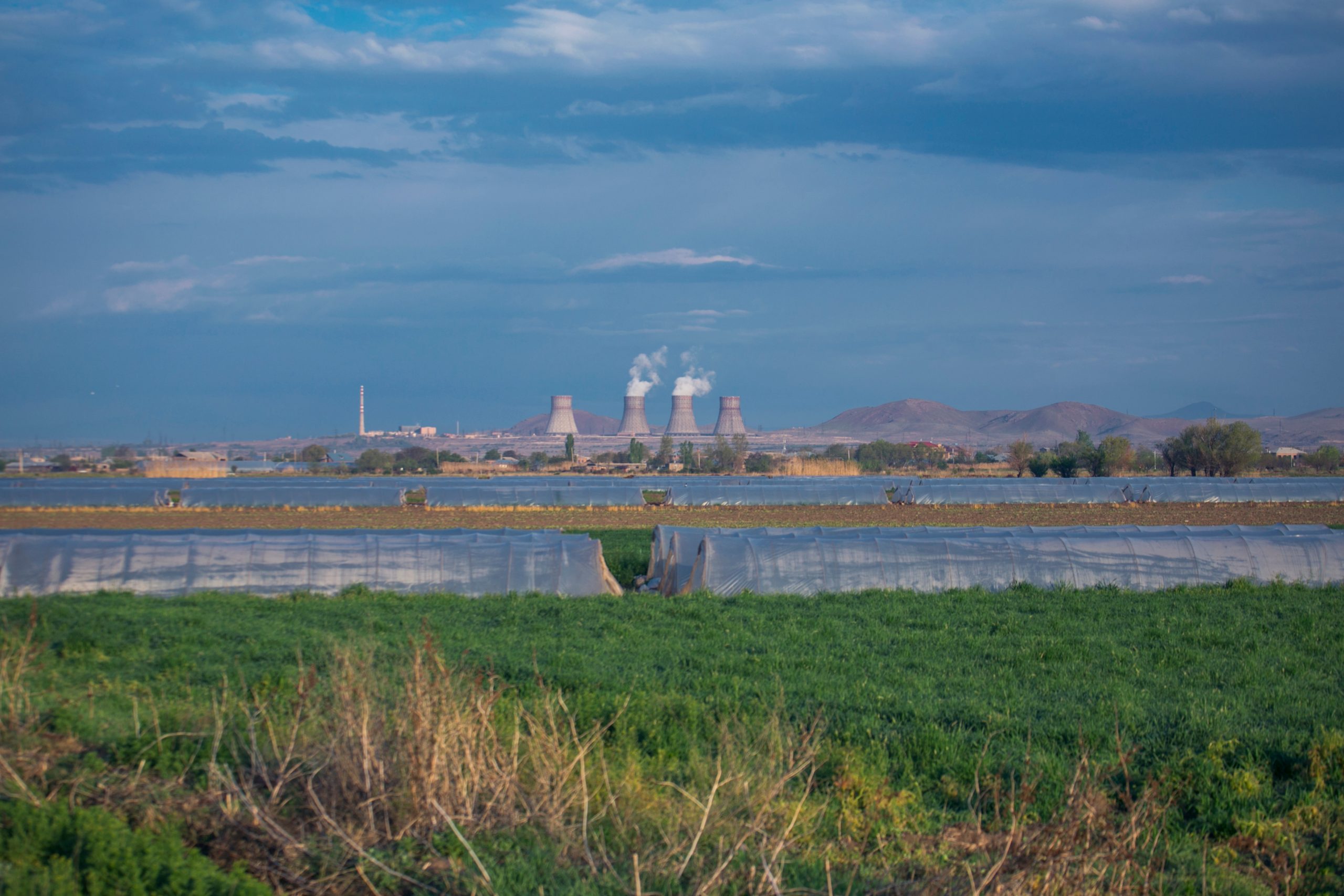 Armenia's current nuclear power plant at Metsamor. Photo: Vahagn Mrkrtchyan/ Shutterstock.com
Medical staff arrested in Armenia for issuing fake coronavirus vaccination papers
Armenia's National Security Service (NSS) reports that medical staff at the Gyumri Family Medical Center issued fake coronavirus vaccination papers to 700 individuals in exchange for bribes ranging from 5,000 to 10,000 AMD (9 euro – 18 euro). The NSS says that six staffers, having confessed to taking bribes, were arrested on October 15.
The arrests came shortly after Armenian Prime Minister Nikol Pashinyan expressed dissatisfaction with the low vaccination rate in the country, writes the OC Media. In a government meeting on October 7, Pashinyan stated that he was giving a "task" to the state bodies: "go and solve it". He specifically appealed to law enforcement bodies to crack down on false vaccination documents.
"To the National Security Service and to the Police: I don't want to hear about fake vaccinations anymore. Arrest them", he said. A day earlier, the NSS reported they had arrested a nurse from a clinic in the village of Yeranos, in Gegharkunik Province, also for distributing fake vaccine certificates to residents of the village. The only such arrest before Pashinyan's instructions was in Yerevan when a doctor allegedly issued a fake vaccine passport in exchange for money.
The issue of fake vaccine certificates arose after vaccination or bimonthly, paid PCR tests became mandatory for many employees in the country. Meanwhile, Armenians contracting COVID-19 after refusing to get vaccinated against the disease may soon be required to pay for their treatment in hospitals, a senior government official warned on Thursday.
The Deputy Health Minister Gevorg Simonian said the Armenian Ministry of Health is considering taking the harsh measure as part of its efforts to boost the very slow pace of coronavirus vaccinations in the country of about 3 million. According to the ministry, just over 344,000 people received at least one dose of a coronavirus vaccine, and only 170,212 of them were fully vaccinated as of October 10.
Sources:
For additional information, see:
New nuclear power station to be built in Armenia
According to Armenian Prime Minister Nikol Pashinyan, Armenia is in talks with a Russian mining company over the construction of a nuclear power station in the country.
The offer to build the plant was made by one of the owners of GeoProMining, one of the largest industrial companies in Armenia which will also build a new large scale copper smelter in the country, said the PM on October 6 during a parliamentary Q&A session․
"Armenia will no longer export copper concentrate and import ready-made copper", Pashinyan said, adding that the whole supply chain for copper production would be located in the country. "Second, the construction of a new nuclear power plant is part of this programme". Negotiations on the construction of the plant "have already started", he said.
According to the Armenian Prime Minister, the new plant would not be fully privately-owned and operated as "the government should have active participation in it". If everything goes according to the plan, the construction will begin by June 2025.
Sources:
AVETISYAN Ani, OC Media, "Pashinyan: Negotiations underway over new nuclear power plant", https://oc-media.org/pashinyan-negotiations-underway-over-new-nuclear-power-plant/
Caucasus Watch, "Armenia plans to build new nuclear power plant", https://caucasuswatch.de/news/4233.html
ROGERS David, Newsbreak, "Armenia in talks with Russian mining company over the construction of nuclear power plant", https://www.newsbreak.com/news/2400594550989/armenia-in-talks-with-russian-mining-company-over-construction-of-nuclear-power-plant
Pandora papers expose alleged secret wealth and dealings of Aliyev family
The latest investigation by the  International Consortium of Investigative Journalists (ICIJ), dubbed the Pandora Papers, found the family of Azerbaijani President Ilham Aliyev and their close associates have secretly been involved in property deals in the UK worth approximately 600 million Euro. Deals were supposedly facilitated using several offshore companies.
The files show how the Aliyev's bought a total of 17 properties, the BBC reported. Aliyev's son, Heydar, owned four buildings in London's Mayfair district when he was just 11 years old. A $44.7 million block was bought by a front company owned by a family friend of the President in 2009 and was transferred one month later to Heydar. Most of these properties were purchased in cash.
The opposition Azerbaijan Movement for Democracy and Prosperity has issued a statement on October 12 on the Pandora papers. The oppositionists demanded that President Aliyev and his family report on the facts about them that were mentioned in the material.
"According to Pandora's Dossier, the Aliyev family's real estate trade turnover in London in 2006-2016 amounted to 429 million pounds sterling or one billion manats. No one doubts that dirty corruption money is the source of this business. For the reason that it would take Ilham Aliyev 3,070 years to accumulate such an amount, given his average salary for the reporting period", reads the statement of the Azerbaijani Movement for Democracy and Prosperity.
The opposition movement further said in a statement that "investment in the real estate business in London by the Aliyev family during the years of his leadership of the country is the result of abuse of power, involvement in corruption and illegal business activities.
Azerbaijani leader reacted to accusations the following day in an interview with the Italian newspaper La Republica. "What has been published is only 5% true", he said, commenting on facts revealed in the Pandora Papers. "These questions have accompanied me for many years. Depending on the political situation, some forces in the West are trying to use such slanderous materials to weaken the position of Azerbaijan and discredit it. It is clear that this is not a journalistic investigation. It is clear who is behind this. It is clear why Azerbaijan appears there. I don't know about others. We knew that such campaigns were planned against Azerbaijan after the victory in the war."
"As for the topic itself, I have been President for 18 years. Before that, I was a businessman engaged in business. My biography is well known. Moreover, I was a successful businessman. When I was elected President, I was not a poor man.
After that, I suspended my direct involvement in the business and transferred it to family members. Maybe you will understand me, unlike other people in the West who bequeathed all their inheritance to cats and dogs, in Italy and Azerbaijan, they prefer family values. Therefore, I transferred my entire business to my children. They try and develop it", stressed the Azerbaijani leader.
The files from offshore companies dubbed the Pandora Papers involve some 35 current and former leaders and more than 300 officials. The findings of an examination of the files — the largest organised by the ICIJ were released on October 3.
Sources:
BBC, "Pandora Papers: Secret wealth and dealings of world leaders exposed", https://www.bbc.com/news/world-58780465
RFE/FR, Pandora Papers Expose Secret Wealth, Dealings Of Aliyev, Zelenskiy, Putin, Other World Leaders, https://www.rferl.org/a/pandora-papers-tax-havens/31490744.html
JAM News, "I handed over my business to family members" – Ilham Aliyev commenting on Pandora Papers", https://jam-news.net/i-handed-over-my-business-to-family-members-ilham-aliyev-commenting-on-pandora-papers/
JAM News, "Azerbaijani opposition demands the authorities to provide an explanation on Pandora Papers", https://jam-news.net/azerbaijani-opposition-demands-the-authorities-to-provide-explanation-on-pandora-papers/
Violence in Nagorno Karabakh claims one dead and several wounded on the Armenian side
Aram Tepnants, a 55-year-old resident of the town of Martakert (Az. Aghdara) in Nagorno-Karabakh, was reportedly shot dead by an Azerbaijani sniper on October 9 while working on a farm that was under the direct supervision of Russian peacekeepers. Several days later, on October 14, six Armenian servicemen were wounded during another attack by Azerbaijani forces.
Mikayel Gyurjyan, the Mayor of Martakert, told Tert.am that the man was shot while driving a tractor, adding that "five to six" Russian peacekeepers were in the immediate area where the man was working. The deadly incident reportedly took place roughly one to two kilometres away from the line of contact.
The Armenian Prosecutor General's Office added that the Russian peacekeepers arrived at the field where agricultural work was carried out to ensure the security of the people, given its proximity to the contact line.
According to preliminary information from the department, the driver did not want to start work, but one of the peacekeepers offered to sit with him in the tractor cab as an additional guarantee of safety, and they drove several laps across the field. Although Azerbaijan's Defence Ministry has called the reports of the shooting "untrue", the Russian Ministry of Defense also confirmed the incident and stated that Russian peacekeepers have launched an investigation "with the involvement of representatives of both sides".
Later, on October 15, the Nagorno-Karabakh de facto Ombudsperson has informed that six Armenian servicemen were seriously wounded on the previous day when Azerbaijani militaries have attacked the positions of the Karabakh de facto Army near the village of Nor Shen.
In the evening on October 14, the positions of the Karabakh Army stationed near the Nor Shen community in the Martuni District were attacked; six servicemen were wounded; all of them are now in a military hospital, Gegam Stepanyan, the Nagorno-Karabakh Ombudsperson, told the "Caucasian Knot" correspondent.
"Two of them are in grave condition; the state of four others is assessed by doctors as moderately grave. The Azerbaijani side is periodically shelling army positions and dwelling settlements; this is the second case when servicemen were wounded. A few days ago, a similar incident was fixed near the village of Shosh, Askeran District: an Armenian serviceman was wounded by shelling from the Azerbaijani side," Mr Stepanyan has stated.
Azerbaijan removes mannequins and helmets from the "trophy park"
Azerbaijan has confirmed that displays depicting Armenian soldiers and helmets of killed Armenian soldiers seized during last year war in Nagorno-Karabakh have been removed from the "Trophy Park" in Baku.
Representative of the Republic of Armenia to the International Court of Justice in Hague Yeghishe Kirakosyan earlier said that all the mannequins and helmets have been removed at Armenia's request.
"The Azerbaijani side confirmed that the mannequins and helmets have been removed from the "trophy park". This is a very important circumstance to emphasise because it was actually done in the period after Armenia filed the lawsuit", Kirakosyan said, adding that the Armenian side demands to fully close the park.
Sources:
Armenpress.am, At the request of Armenia, Azerbaijan removes mannequins and helmets from the "trophy park", https://www.armenpress.am/eng/news/1065628/
asbarez.com, "Baku Removes Exhibits from Macabre 'Trophy Park' as International Court Begins Hearing Case Against Azerbaijan", https://asbarez.com/baku-removes-exhibits-from-macabre-trophy-park-as-international-court-begins-hearing-case-against-azerbaijan/
Thousands demanded the release of Mikheil Saakashvili in Tbilisi
Thousands of people have gathered in Tbilisi on October 14 in support of former president Mikheil Saakashvili, who was recently detained in the eastern Georgian city of Rustavi.
Protesters shouting "Georgia, Georgia!" and "Free Misha!" marched from the First Republic Square to the main Freedom Square, stopping traffic at Shota Rustaveli Avenue, the capital city's main thoroughfare, informed the OC Media.
"I came here over great hardship [we have] in Georgia… We have got nothing. We want the government to change," a woman hailing from the western Samegrelo region, a traditional stronghold of Saakashvili's United National Movement party, told Radio Free Europe/Radio Liberty.
At the rally on Freedom Square, Nika Gvaramia, director general of government-critical Mtavari Arkhi TV and Saakashvili's defence lawyer, read out the address by former President from Rustavi prison. "My foremost wish is Georgians to have a state, distinguished by freedom and welfare, fairness and safety, as the oldest Europeans, we should have a European country." "I am here [in Georgia], firmly decided to stay to contribute to the defeat of the regime, to have my share in the fight of Georgian people against poverty, corruption, injustice and destruction," said Saakashvili's letter.
In his message, the former President vowed: "to stand up to [Georgian Dream founder Bidzina] Ivanishvili regime that is dragging our country towards Putin's Russia." "We should return Georgia to a path to the West, turn it into the lighthouse of democracy, reforms and development," Saakashvili went on, adding that "it is of utmost importance to realise that our country and society needs a great reconciliation. We should be ready for it."
The protest was organised by Georgia's largest opposition party, Saakashvili's United National Movement (UNM). The UNM mobilised supporters from across the country, with many arriving by convoy to the capital. They were greeted by several groups of people holding brooms, with some throwing them at vehicles and cursing Saakashvili.
UNM later declared its plan to hold "large rallies" in all large cities in Georgia, during which demonstrators will demand the release of the former President of Georgia, Mikheil Saakashvili, from prison.
Sources:
KINCHA Shota, OC Media, "Thousands rally in Tbilisi demanding freedom for Saakashvili", https://oc-media.org/thousands-rally-in-tbilisi-demanding-freedom-for-saakashvili/
Civil.ge, "Thousands Protest in Tbilisi to Demand Release of Saakashvili", https://civil.ge/archives/447953
Agenda.ge, "UNM announces rallies in all large cities in Georgia", https://agenda.ge/en/news/2021/3144
Georgian FM hints at the possible involvement of Georgia in 3+3 format
Georgia's Deputy Prime Minister and Foreign Minister David Zalkaliani has said on October 8, that while Tbilisi finds it "very hard" to join the so-called 3+3 platform (involving Russia, Turkey, Iran as well as Armenia, Azerbaijan and Georgia), the country should still find ways to engage in prospective infrastructure projects in the region.
"Our partners and neighbours, including Armenia and Azerbaijan, strategic partners, [Turkey] and the U.S., are aware that it'll be very hard for us to participate in the format together with the occupier country [Russia]. Given the situation that we do not see any process towards de-occupation, it is very difficult to sit down in this format and discuss infrastructure projects," the top Georgian diplomat told the Georgian Public Broadcaster on October 7.
But the Georgian Foreign Minister voiced some "food for thought" for the public, noting that Georgia, in some form or another, should engage in "major geopolitical projects and relations."
"We must not be lagging behind processes developing in the region," Minister Zalkaliani went on, adding that the country "should be involved in new infrastructure projects, that may [otherwise] miss Georgia, leading it to lose its role and function."
He noted, however, that the engagement should not take place at the expense of national interests and concessions to the occupier country, stressing that sovereignty and territorial integrity are "red lines" for the Georgian government.
The Foreign Minister Zalkaliani's media remarks came a day after Russian Foreign Minister Sergey Lavrov resurfaced the idea of the 3+3 platform amid top Iranian diplomat Hossein Amir-Abdollahian's visit to Moscow.
The 3+3 format was offered by the Turkish President Recep Tayyip Erdogan in the aftermath of the second Karabakh war. The format includes three South Caucasus countries – Georgia, Azerbaijan, and Armenia – and three regional powers – Turkey, Russia, and Iran. Azerbaijan, Iran, and Russia supported the proposal. Georgia offered Tbilisi as the platform for dialogue between the countries of the region, noting that it could not become involved in broader regional peace platforms together with Russia.
Sources:
Caucasus Watch.de, "FM says Georgia to take part in 3+3 format 'in some form' ", https://caucasuswatch.de/news/4237.html
Civil.ge, "Foreign Minister Zalkaliani Talks 3+3 Platform", https://civil.ge/archives/447118
Unprofessional reconstruction caused a collapse of an apartment building in Batumi
A seven-storey apartment building partially collapsed on October 8 in Batumi as a result of hazardous renovation work. The tragedy claimed the lives of nine people — including three minors.
Three people have been arrested in connection with the collapse – the owner of a first floor flat of the building, Zaur Budatov, and two construction workers allegedly hired to make renovations to the flat, father and son Husein and Giorgi Surmanidze.
The three have been charged with breaching safety regulations and property damage leading to deaths and face up to 10 years in prison if convicted. The suspects have been remanded into pre-trial detention, and their trial is set to begin on December 1.
According to the Prosecutor's Office, the renovation work that led to the disaster was carried out without permission and "in violation of any engineering and safety rules, without the participation of a specialist with relevant engineering knowledge". "The defendants dismantled both non-load-bearing and load-bearing structures [walls], thus disrupting the strength and durability of the residential building", they said in a statement.
Batumi Deputy Mayor Lela Surmanidze stated that "repair works inside the house do not require a permit from the City Hall" and that they had no idea what was being done inside the building.
The building collapsed with several people inside at around noon on October 8. After almost 30 hours of work by search and rescue services, only one person trapped under the rouble survived.
October 11 has been declared a National Day of Mourning over the victims of the collapse.
According to RFE/RL, the building was built in 1978 and was originally designed as a 5-floor building, although a sixth floor was added during construction. Another floor was added in the 2000s, and 5–6 years ago, a lift was added to the entrance.