Strategic Analysis Caucasus Brief
Bi-weekly review (27. 12.2021 – 11. 1. 2022)
Tomáš Baranec
Armenia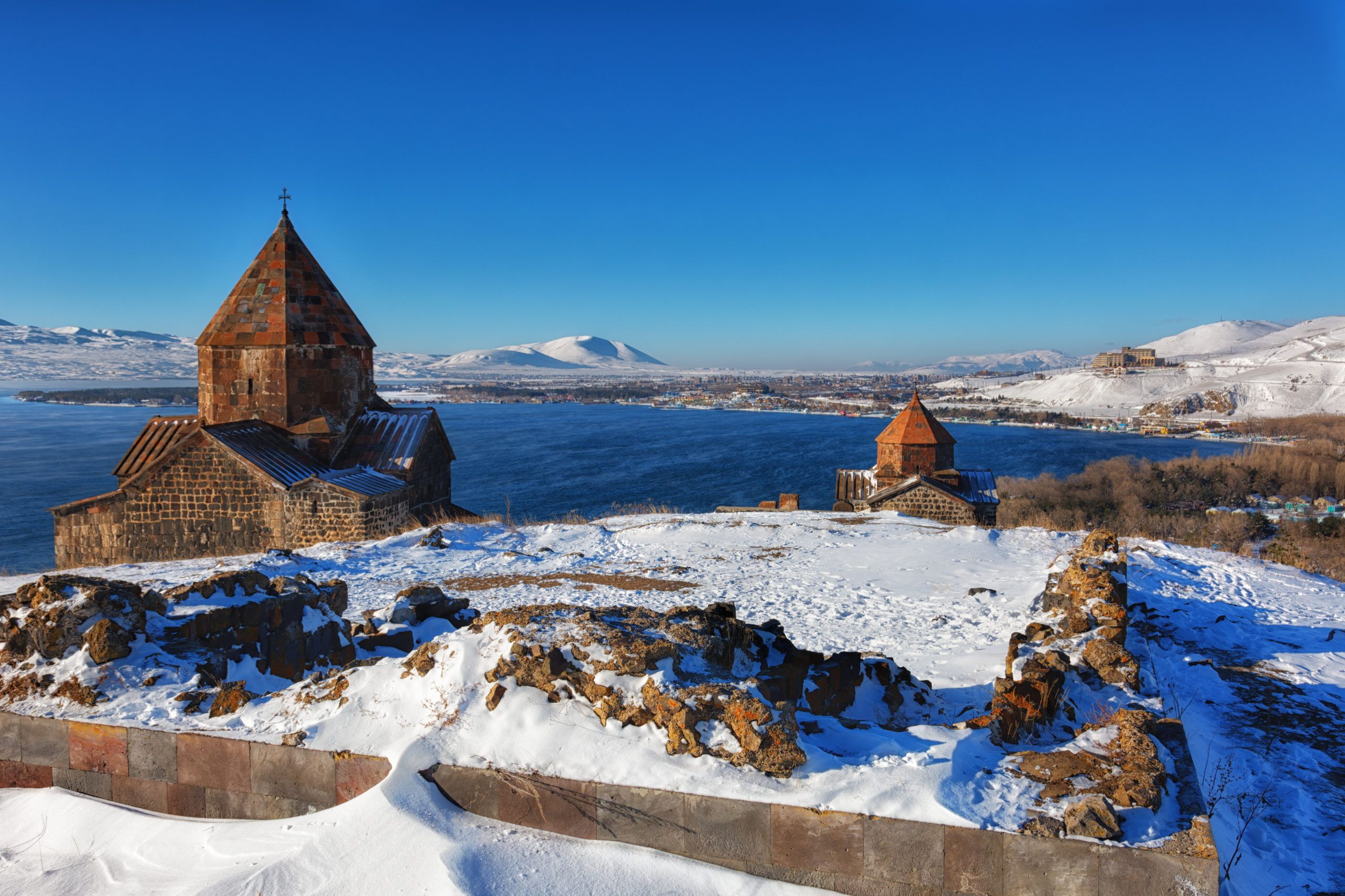 Sevanavank monastery and Lake Sevan, Armenia. Photo: Elena Shchipkova/ Shutterstock.com
Armenia sends soldiers to Kazakhstan as a part of the CSTO mission
Armenia has dispatched 100 soldiers to Kazakhstan as part of a Collective Security Treaty Organization (CSTO) peace-keeping force sent to "stabilise the situation" in the central Asian country after mass protests broke out there last week, informs Hetq.am.
The Armenian Ministry of Defense, in a statement released on January 7, announced that the decision is based on Article 4 of the CSTO. Armenia has held the rotating chair of the Russian-led military bloc since September 2021.
As the OC Media writes, Armenian Prime Minister Nikol Pashinyan, who came to power through anti-government street protests in 2018, said that CSTO would send forces to Kazakhstan "for a limited time" to "normalise and stabilise" the situation. In his statement, the Armenian PM also claimed that the protests across Kazakhstan were the result of "external intervention".
For his words, Pashinyan became a target of sharp criticism. On social media, many were quick to point to the irony of Armenia's involvement in a mission to quell anti-government protests, hearkening back to the revolution that thrust the country's ruling party, Civil Contract, into power in 2018.
Others have argued that Armenia should not participate in the mission in response to the CSTO's inaction following the May 2021 Armenian-Azerbaijani border clashes or even Kazakhstan's support to Azerbaijan in the Second Nagorno-Karabakh War.
Following the May clashes, Armenia addressed the bloc citing Article 2 of its treaty, calling for coordinating positions and measures among its member states to eliminate "emerging threats". The organisation responded only that it was "closely following developments" and "if necessary, actions will be taken" under the bloc's treaty and charter. The CSTO's "peace-keeping" mission to Kazakhstan is the very first one the organisation has implemented so far.
Sources:
AVETISYAN Ani, OC Media, "Armenia sends troops to quell Kazakhstan protests", https://oc-media.org/armenia-sends-troops-to-quell-kazakhstan-protests/
Hetq.am, "Armenia Sends 100 Soldiers to Kazakhstan as Part of CSTO "Peacekeeping" Force", https://hetq.am/en/article/139788
For additional information, see:
MEJLUMYAN Ani, Eurasianet.org, "Armenians take a dim view of deployment to Kazakhstan", https://eurasianet.org/armenians-take-dim-view-of-deployment-to-kazakhstan
Five Armenian PoWs were released with Hungary's mediation
On December 29, five Armenian prisoners of war have returned from Azerbaijan to their homeland through the mediation of the Hungarian Government.
As azatutyun.am stressed, it is not clear whether the handover followed a direct contact between Armenian and Hungarian authorities. Armenia froze diplomatic relations with Budapest in 2012 after the Hungarian Government extradited to Azerbaijan an Azerbaijani army officer who hacked to death a sleeping Armenian colleague in Budapest in 2004. The officer whom a Hungarian court sentenced to life imprisonment in 2006 was upon arrival to Azerbaijan pardoned, rewarded and promoted by President Ilham Aliyev.
A total of 32 Armenian soldiers were taken prisoner during November 16, 2021, fighting on the border, which left at least 13 troops from both sides dead. Azerbaijan freed eleven POWs on December 4, 2021, and ten others on December 19, 2021. For its part, the Armenian military detained two Azerbaijani servicemen on December 18, 2021. They both were freed two days later.
Sources:
azatutyun.am, "More Armenian POWs Freed", https://www.azatutyun.am/a/31631905.html
Ghazanchyan Siranush, Public Radio of Armenia, "Five Armenian PoWs released", https://en.armradio.am/2021/12/29/five-armenian-pows-released/
Armenia lifts ban on Turkish imports
On December 30, 2021, the Armenian Government lifted a ban on the import of Turkish goods imposed over Ankara's backing of Azerbaijan in the Second Nagorno Karabakh war. The decision took effect on January 1, 2022.
The Government's last cabinet meeting of the year took place on December 30, and the Economy Ministry issued a statement afterwards in which it said that as a result of interdepartmental discussions, it was decided not to extend the embargo on Turkish goods.
The lifting of the ban is expected to create more favourable conditions for exporting Armenian goods. According to the ministry, the ban has had both positive and negative consequences over the past year.
"The ban has prompted the emergence of new companies and expansion of productions by existing light industry companies, as well as by companies engaged in the production of construction materials, furniture and agriculture," according to the Facebook post. "However, the major negative impact of the embargo was a significant inflation rise, which heavily affected consumer goods. We have also received many appeals and requests from our businessmen to lift the ban," the ministry said.
The Ministry of Economics of Armenia noted that several business entities had initiated the production of goods replacing the Turkish products during this year.
"Consistency will be demonstrated to ensure the viability and competitiveness of such companies in the new environment, using, if necessary, additional tools to support them," the ministry said.
As RFE/RL reminds us in this respect, earlier this month, Turkey and Armenia appointed special envoys on mending relations. The first meeting is scheduled for January 14, in Moscow.
On December 31, 2020, the ban was imposed for six months and was extended for another six months in June 2021. It was set to expire on December 31.
Sources:
RFE/RL, "Armenia Lifts Ban On Import Of Turkish Goods", https://www.rferl.org/a/armenia-lifts-ban-turkish-goods/31633546.html
Business Media Georgia, "Armenia lifts ban on Turkish imports", https://bm.ge/en/article/armenia-lifts-ban-on-turkish-imports/98949/
ABC News, "Turkish, Armenian envoys to meet in Moscow on January 14", https://abcnews.go.com/Business/wireStory/turkish-armenian-envoys-meet-moscow-jan-14-82091853
For additional information, see:
KUCERA Joshua, Eurasianet.org, "Armenia ends ban on Turkish imports", https://eurasianet.org/armenia-ends-ban-on-turkish-imports
The former political prisoner tried to set himself on fire in front of the Azerbaijani Presidential Administration
On January 7, former political prisoner Giyas Ibrahimov tried to set himself on fire in front of the building of the Presidential Administration in Baku, informs JAM News.
For almost two years now, he has been trying to obtain compensation of 36,000 EUR from the state. This is the amount that the ECHR fined the Azerbaijani Government for the illegal arrest of Ibrahimov.
"When freedom burns, the final solution, dreams fade away, and all hope turn to dust". This is the last thing that Giyas Ibrahimov wrote on his Twitter before his attempted self-immolation in front of the Presidential Administration of Azerbaijan building.
Ibrahimov was detained by the police and was held at the police station, but has already been released, writes the portal.
Sources:
JAM News, "Former political prisoner tried to set himself on fire in front of Azerbaijani Presidential Administration", https://jam-news.net/former-political-prisoner-tried-to-set-himself-on-fire-in-front-of-azerbaijani-presidential-administration/
Abolishment of Georgian independent investigative body sparks concerns in the West
On December 30, 2021, the Georgian Parliament approved a bill to replace the State Inspector's Service with a Special Investigation Service and Personal Data Protection Service in March 2022.
Eighty-one MPs supported the amendments proposed by the ruling Georgian Dream party (GD) MPs in its third and final reading in the 150-member legislative body.
The State Inspector's Service and position will be abolished in March 2022, while two new state agencies – a Special Investigation Service and Personal Data Protection Service- will be established to investigate authorities' offences and monitor the personal data processing, respectively.
Lawmakers from the ruling GD party put forward a draft of given legislation on December 27, immediately raising the alarm among local key watchdog and opposition groups.
Agency's head, Londa Toloraia, has speculated the move could be aimed at pushing her from her position, which she was due to hold until 2025. The State Inspector's Service has been responsible for a number of high-profile investigations since it was created in late 2019 and has in several instances issued highly critical conclusions finding the authorities at fault.
Toloraia later claimed that the speed and timing of the amendments, which were introduced in an expedited manner, were a calculated move to avoid scrutiny.
"The new draft law envisages not reorganising the [State Inspector's] Service but abolishing it. This is not a reform […] This is a punishment of the Service for its independence, "said Toloria as cited by the OC Media.
The ruling GD party MP Mamuka Mdinaradze explained earlier that the GD proposed splitting the State Inspector's Service into two agencies because the investigative and personal data protection functions are "not compatible with each other".
The GD maintains that the proposed changes will strengthen both the country's investigative and personal data protection mechanisms.
"Thanks to our western partners for supporting Georgia and even for expressing their critical opinions. Strong and independent state institutions represent Georgia's integration way towards European and Euro-Atlantic structures. Georgian Dream will continue building and developing independent state institutions", said ruling party MP Rati Ionatamishvili.
On the other hand, many Western representatives voiced their concerns over the new bill. Acting Head of the EU Delegation to Georgia Asuncion Sanchez Ruiz has said that "abolishing" the State Inspector's Service' bears high risks' for the country's democracy. Ruiz pointed out that the EU took part in the creation of the Inspector's Service and invested "substantial financial and human resources in its development".
"We are, therefore, very disappointed to see these actions and regret the fact that it has not proved possible for EU representatives to engage with the parliament on this matter", she added.
"[These] steps that weaken democratic institutions, such as the judiciary or independent oversight agencies, damage Georgia's aspirations for NATO and European Union membership, and undermine the basic freedoms that are the foundation of Georgian culture and society," the US Embassy said in reaction to the bill.
Facing criticism from the opposition, civil society, international partners, the Public Defender, and Toloraia herself, the Georgian Dream partially backed down on December 29 and agreed to allow the staff of the Service to be transferred to to-be established agencies.
Sources:
KINCHA Shota, "Georgian authorities move to 'abolish' crucial check on official abuses", https://oc-media.org/georgian-authorities-move-to-abolish-crucial-check-on-official-abuses/
Agenda.ge, "Parliament approves bill to replace State Inspector's Service with two new agencies", https://agenda.ge/en/news/2021/4102
Agenda.ge, "EU delegation head: 'abolition' of State Inspector's Service' bears risks' for Georgian democracy", https://agenda.ge/en/news/2021/4080,
Agenda.ge, "US Embassy: abolition of State Inspector's Service undermined gov't accountability", https://agenda.ge/en/news/2022/13
Civil.ge, "Georgian Dream Abolishes State Inspector's Service", https://civil.ge/archives/465270
Georgian ex-President Mikheil Saakashvili was transferred from hospital back to prison
Jailed ex-president Mikheil Saakashvili, under treatment at the Gori military hospital since November 19, was transferred back to the Rustavi prison early on December 30, informed Civil.ge.
Reports of Saakashvili's transfer emerged at around 02:30 in the morning. The Special Penitentiary Service eventually confirmed that the ex-President had indeed been taken back to prison at 12:00 on the same day, nearly ten hours later.
Later, over 200 protesters demanding former president Mikheil Saakashvili's release from prison, have stopped a mass hunger strike announced on December 21, following the former President's request to do so on January 1, 2022.
The opposition party UNM head Nika Melia stated that the decision was made at Saakashvili's request, noting that otherwise, he would have been "forced to resume" the hunger strike.
"The start of [another] hunger strike by Mikheil Saakashvili will be fatal, and therefore, together with our comrades, we decided to move to the next stage of the fight, which will be diverse and non-violent, until justice prevails in the country and political justice is completed," said Melia, while announcing the end of the hunger strike.
Saakashvili, who currently holds Ukrainian citizenship, is serving a sentence for abuse of power after his clandestine return in October 2021 from eight years in political exile. The former President was convicted in absentia on two counts of abuse of power and sentenced to six years in prison. He faces additional charges including illegal seizure of property, embezzlement, illegal rally dispersal, and illegal border crossing, reminds agenda.ge.
Sources:
Civil.ge, "Hospitalized Saakashvili Transferred Back to Prison", https://civil.ge/archives/465150
Agenda.ge, "Opposition ends mass hunger strike at ex-president Saakashvili's request", https://agenda.ge/en/news/2022/8
De facto President of South Ossetia facing impeachment
De facto President of South Ossetia Anatoly Bibilov is facing possible impeachment proceedings by opposition MPs who have accused him of harming South Ossetia's territorial interests.
The crisis was sparked by a disagreement with Georgian officials over a roadblock built up near the settlement of Tsnelisi.
During Thursday's parliamentary session, opposition MPs, including from Nykhas and the Popular Party, claimed that a report from the border commission set up following the Tsnelisi crisis had found a "critical gap" between South Ossetia's current de facto borders and those defined in an April 1922 Soviet-era decree.
They said the current situation, including border proposals tabled by Bibilov in August 2019, ceded 200 square kilometres of what should be South Ossetia's territory to the Georgian Government.
The President has several times voiced disapproval of following the borders based on the 1922 decree, claiming that doing so would require recognising some settlements currently under South Ossetian control as belonging to Georgia.
Bibilov named the settlements of Gudzhabauri (Os. Gudzabar), Orchosani (Os. Orchosan), Artsevi (Os. Artseu) as examples of such possible losses.
Opposition MPs expect to have the necessary number of signatures to initiate impeachment proceedings against the President. However, for them to succeed, they would require a three-quarters supermajority of the 34-member Parliament.
Over the last two years, Bibilov has been under growing criticism from the opposition, including protests and an opposition boycott of Parliament over his handling of the coronavirus outbreak and the death of a citizen in police custody. Bibilov assumed power in 2017 and is expected to seek reelection in April 2022.