Strategic Analysis Caucasus Brief
Bi-weekly review (11. 10. – 23. 10. 2022)
Tomáš Baranec
Armenia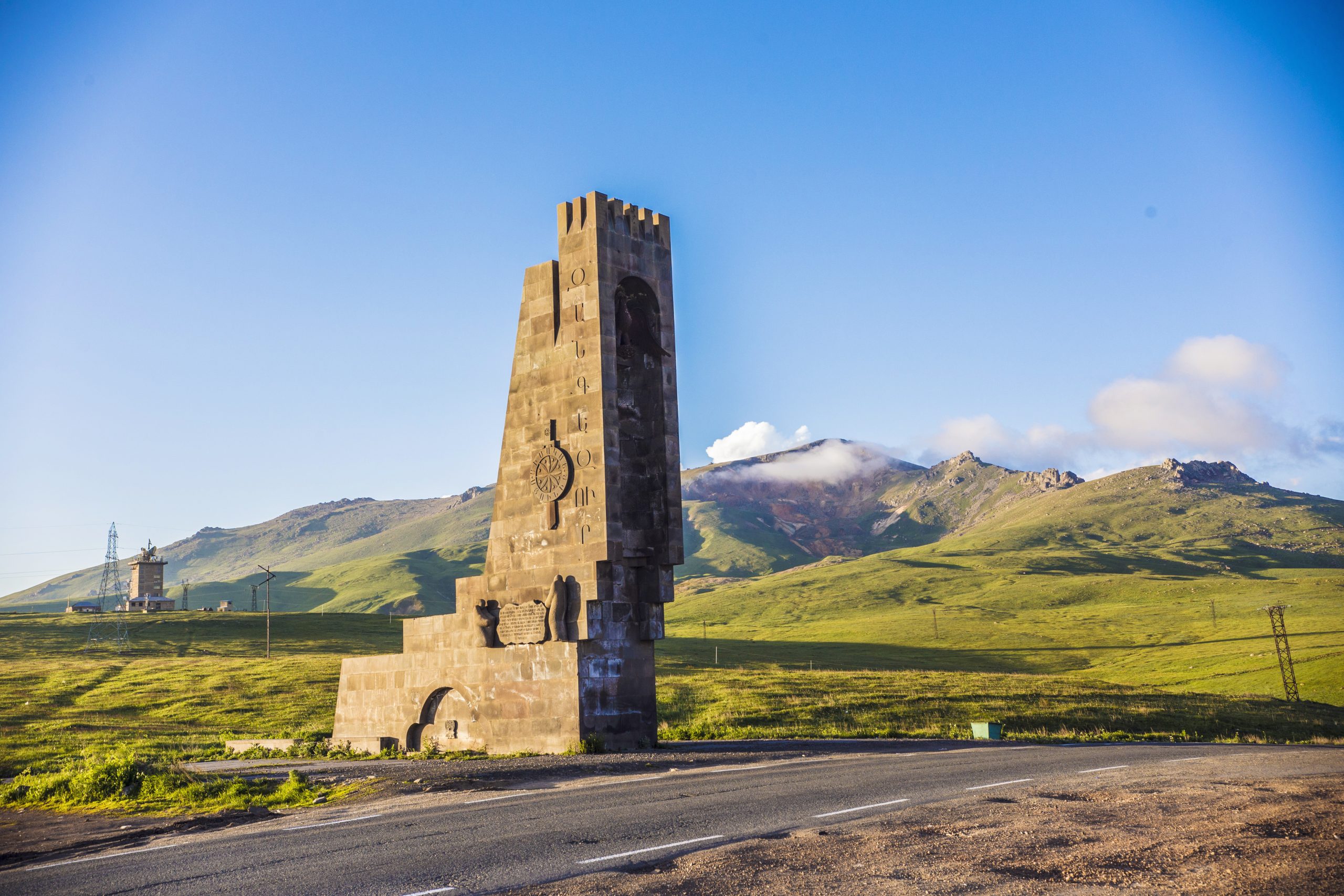 Gates of Syunik, Armenia. Photo: Sun_Shine/Shutterstock
Iran opens consulate in Kapan
The Consulate General of the Islamic Republic of Iran officially opened in Armenia's Kapan town on October 21, reports Armenpress. "Today is a remarkable day in the history of the Armenian-Iranian centuries-old and friendly relations. I can surely state that the establishment of the Consulate General of Iran and its effective operation will give a new quality to the special relations between the two countries, will boost the bilateral mutual partnership and will contribute to the development of the Armenian-Iranian ties" the Armenian FM Ararat Mirzoyan said in his remarks, calling this step an indicator of warm relations between the two countries.
The Foreign Minister also highlighted the fact that this event is taking place on the 30th anniversary of the establishment of diplomatic relations between Armenia and Iran. Mirzoyan assured that Armenia highly values Iran's decision to open the Consulate General in this part of the country, the Syunik province.
"I want to once again reiterate the intention of the Armenian side on opening the Consulate General in Tabriz. The Islamic Republic of Iran has always been and will remain a key partner for Armenia…", he added. The first Iranian consul general in Kapan is Morteza Abedin Varamin.
At the same time, the Iranian Foreign Minister, Hossein Amir-Abdollahian, headed a delegation to Yerevan amid tensions in the region. On his first visit to Armenia, Amir-Abdollahian met with his counterpart Ararat Mirzoyan and some other country officials to discuss the latest regional developments.
Sources:
Armenpress.am, "Consulate General of Iran opens in Armenia's Kapan", https://armenpress.am/eng/news/1095414/
Arka.am, "Iran's consulate general inaugurated in Armenian Kapan", http://arka.am/en/news/politics/
Iran International, "Iran's Foreign Minister Visits Armenia Following Military Drills At Border", https://www.iranintl.com/en/202210200487
For additional information, see:
Panorama.am, "Iranian consul general: We are here for Armenian people", https://www.panorama.am/en/news/2022/10/21/Iranian-consul-general/2745779
Leader of Armenian Oppositional Independence Movement Beaten Up in Yerevan
On October 18, Edgar Ghazaryan, the opposition politician and ex-head of the Constitutional Court of Armenia apparatus, was severely beaten at the entrance of his own house in Yerevan.
Ghazaryan is known as the founder and leader of the "Independence Movement," which appeared on the socio-political scene after the "Resistance Movement" of the parliamentary opposition of Armenia, which from late April to June 15, held mass protests in the capital of the republic demanding the resignation of Prime Minister Nikol Pashinyan. Ghazaryan was discharged from the hospital on the same day with a head injury.
"The identity of the attackers is still unknown, but we hope the investigation will identify them and the villains and their instigators will be held to account," his colleague Avetik Chalabyan, a member of the Consolidation Movement, wrote on Facebook. "In the meantime, I condemn this despicable act and wish our friend a speedy recovery," he added.
Sources:
Caucasus Watch, "Leader of Armenian Oppositional Independence Movement Beaten Up in Yerevan", https://caucasuswatch.de/news/6181.html
Panorama.am, "Edgar Ghazaryan discharged from hospital after the attack", https://www.panorama.am/en/news/2022/10/18/Edgar-Ghazaryan/2744297
Mixed signals about a possible peace deal with Azerbaijan from Armenian officials
On October 12, the Secretary of Armenia's Security Council, Armen Grigoryan, announced that an agreement on the peace deal with Azerbaijan had been reached. Just five days later Armenian PM warned against possible further aggression from Baku.
In his statement, Grigoryan claimed that a peace deal would be signed by the end of the year. He said that the mechanisms of the deal and border delimitation are not yet agreed upon. He added that "the complete withdrawal of Azerbaijani troops from the territory of Armenia continues to be on the agenda ".
The statement appeared to confirm a similar claim by Azerbaijani President Ilham Aliyev shortly after the Prague meeting between the Armenian and Azerbaijani leaders with the mediation of French President Emmanuel Macron and EU Council President Charles Michel. "If a decision is made soon, the working groups of the two countries will start working on the text of the peace agreement. We can reach an agreement by the end of the year ", Aliyev said. "I must say that no one — neither the Armenian side nor the European Union — has any questions about the five principles we announced."
As OC Media reminds, earlier this year, Azerbaijan sent a five-point proposal for a peace deal to Armenia, including recognising each other's territorial integrity, cessation of "territorial claims "against each other; an end to threats "to each other's security in international relations "; the demarcation of borders and establishment of diplomatic relations; and the opening of lines of transport and communications.
However, on October 17. the Armenian Prime minister Nikol Pashinyan accused Azerbaijan of creating new pretexts for aggression. "Azerbaijan is continuously attributing its ceasefire violations to Armenia. Obviously, this is a creation of a pretext for new military aggression against Armenia. A permanent international mechanism is needed to maintain the ceasefire regime and provide border security," Pashinyan wrote on his microblog on Twitter. He also stressed that a permanent international mechanism is needed to maintain the ceasefire regime and provide border security.
Sources:
AVETISYAN Ani, OC Media, "Armenia says peace deal with Azerbaijan to be signed by year's end", https://oc-media.org/armenia-says-peace-deal-with-azerbaijan-to-be-signed-by-years-end/
MKRTCHYAN Marianna, ARM Info, "Armenian PM accuses Azerbaijan of creating new pretexts for  aggression", https://arminfo.info/full_news.php?id=72257&lang=3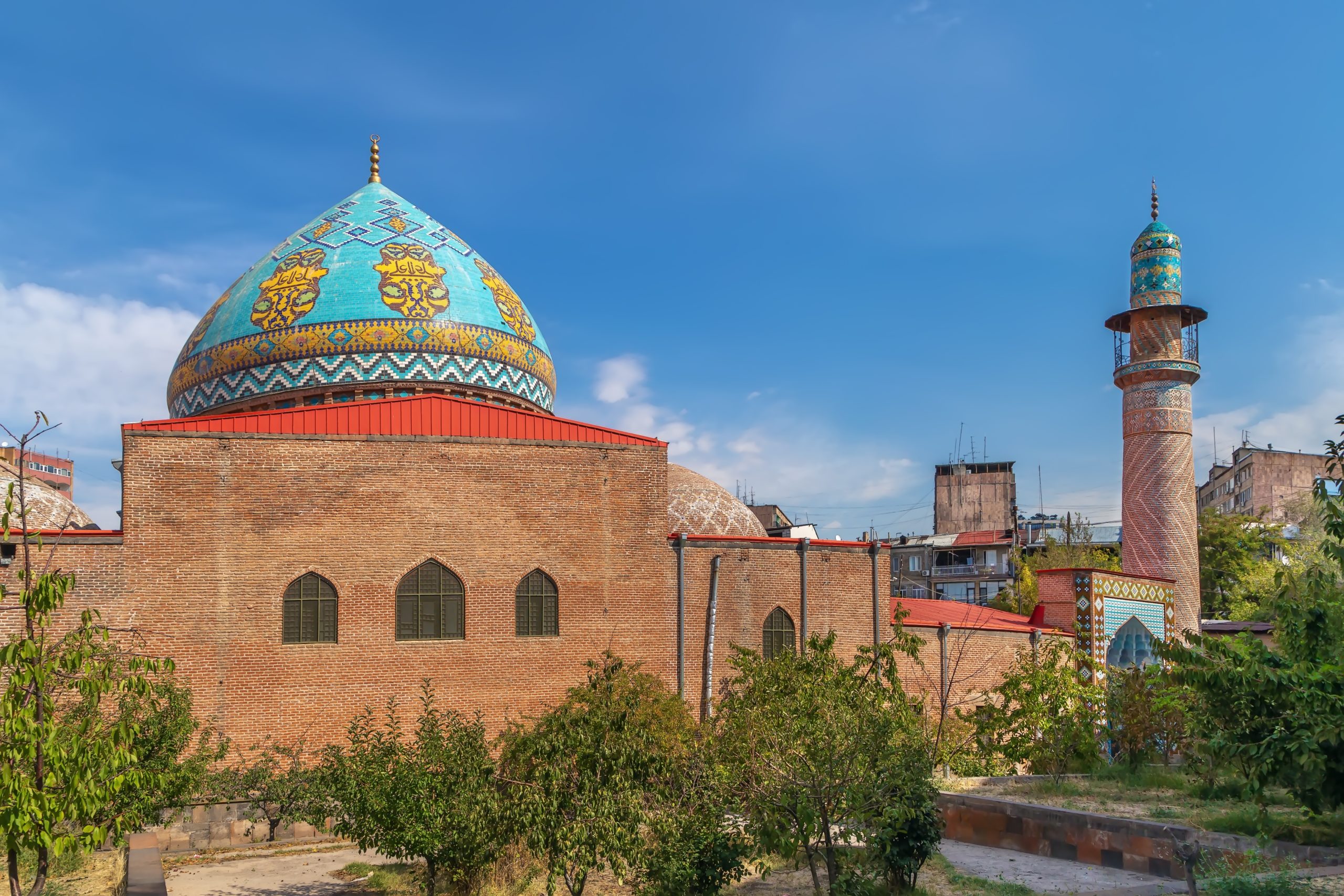 Blue Mosque, Armenia. Photo: BorisB17/Shutterstock
Azerbaijan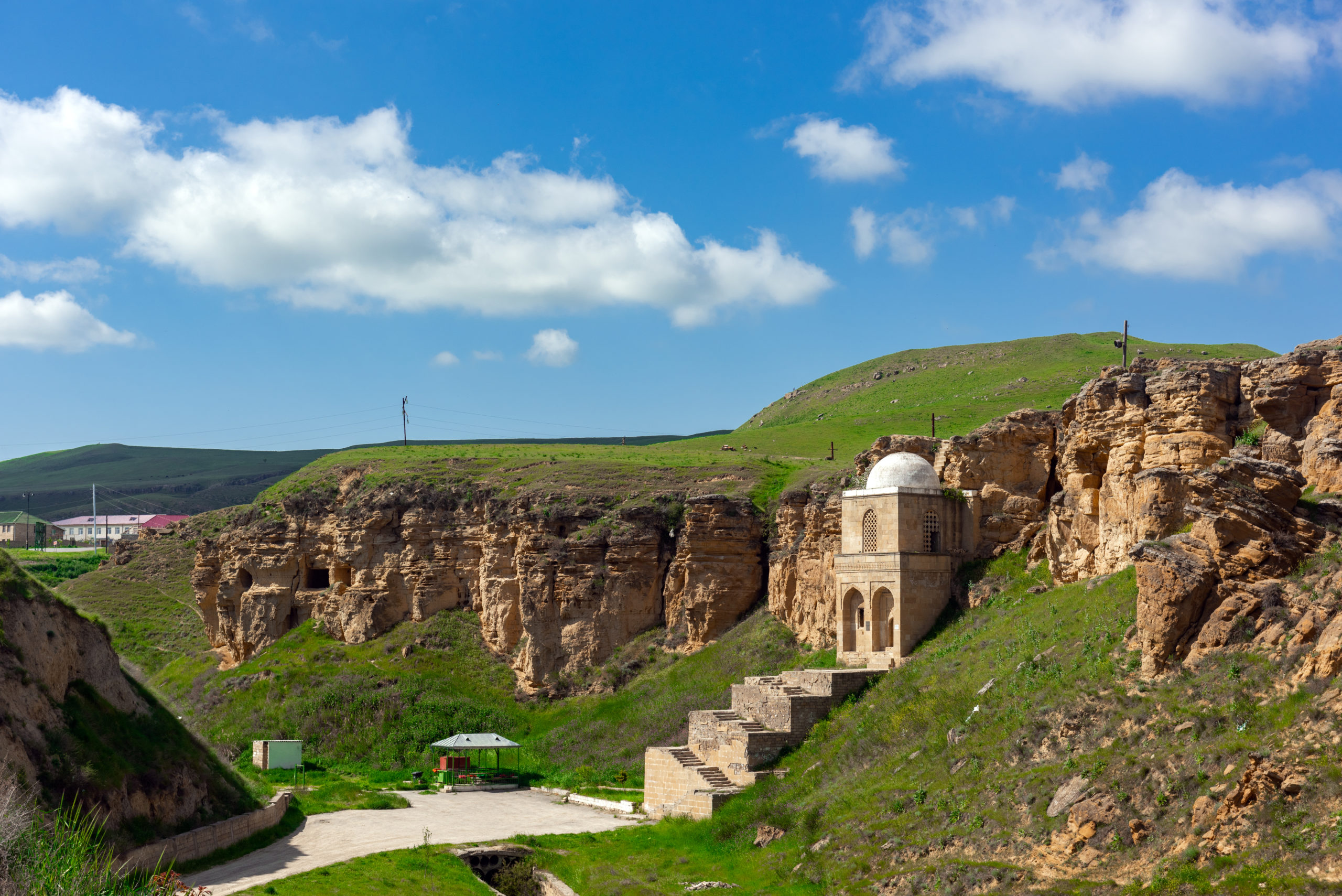 Ancient Diri Baba, Azerbaijan. Photo: Vastram/Shutterstock
Iran's military starts "massive" drills on the Azerbaijani border
On October 17. Iran's Revolutionary Guards (IRGC) kicked off its three-day military exercise — codenamed "IRGC Ground Force's Might" — in areas striding the northern sectors of East Azerbaijan and Ardabil provinces, writes Iran International. IRGC Ground Force Commander Brigadier-General Mohammad Pakpour said the war game is part of an annual routine to boost the force's combat preparedness.
Heliborne parachute operations, night raids, helicopter combat ops, and suicide drone operations were carried out during the first day of the exercises. Construction of a temporary bridge over the Aras River, which separates Iran from Azerbaijan and Armenia, seizure and control of supply roads and heights, and offensive and destructive operations against designated targets, constitute other parts of the drill.
According to Eurasianet.org, the exact location has not been specified, but Iranian media placed them in between Iran's provinces of Ardabil and East Azerbaijan, the part of Iran across the Aras from Azerbaijan's Fuzuli region. One expert on open-source intelligence, however, analysed photos of the pontoon crossing and placed it across from Azerbaijan's exclave of Nakhchivan.
Both portals stressed that the drills come as Iran has been stepping up its diplomatic warnings to Baku about Azerbaijan's intentions for a new transport link connecting Azerbaijan's exclave of Nakhchivan with the Azerbaijani mainland, a route that Baku calls the "Zangezur corridor." The route would pass along Armenia's border with Iran, with uncertain consequences for Armenia-Iran commerce.
"Iran will not permit the blockage of its connection route with Armenia, and to secure that objective, the Islamic Republic of Iran also launched a wargame in that region," Iran's Foreign Minister Hossein Amir-Abdollahian said in an October 19 interview with the IRNA news agency.
So far, the most crucial element of the exercise has been the practice of crossing the Aras River using pontoon bridges, which Iranian media said was the first time the forces have drilled that technique. The Aras River forms a large part of the Iran-Azerbaijan border, though presumably, they chose a rare section in which the northern bank is Iranian, not Azerbaijani, territory. October 19 video from the exercise showed tanks and supply trucks driving over a pontoon bridge.
Sources:
Iran International, "Iran's Guards Launch War Games Along Armenia, Azerbaijan Border", https://www.iranintl.com/en/202210171439
KUCERA Joshua, "Iran's military starts "massive" drills on Azerbaijani border", https://eurasianet.org/irans-military-starts-massive-drills-on-azerbaijani-border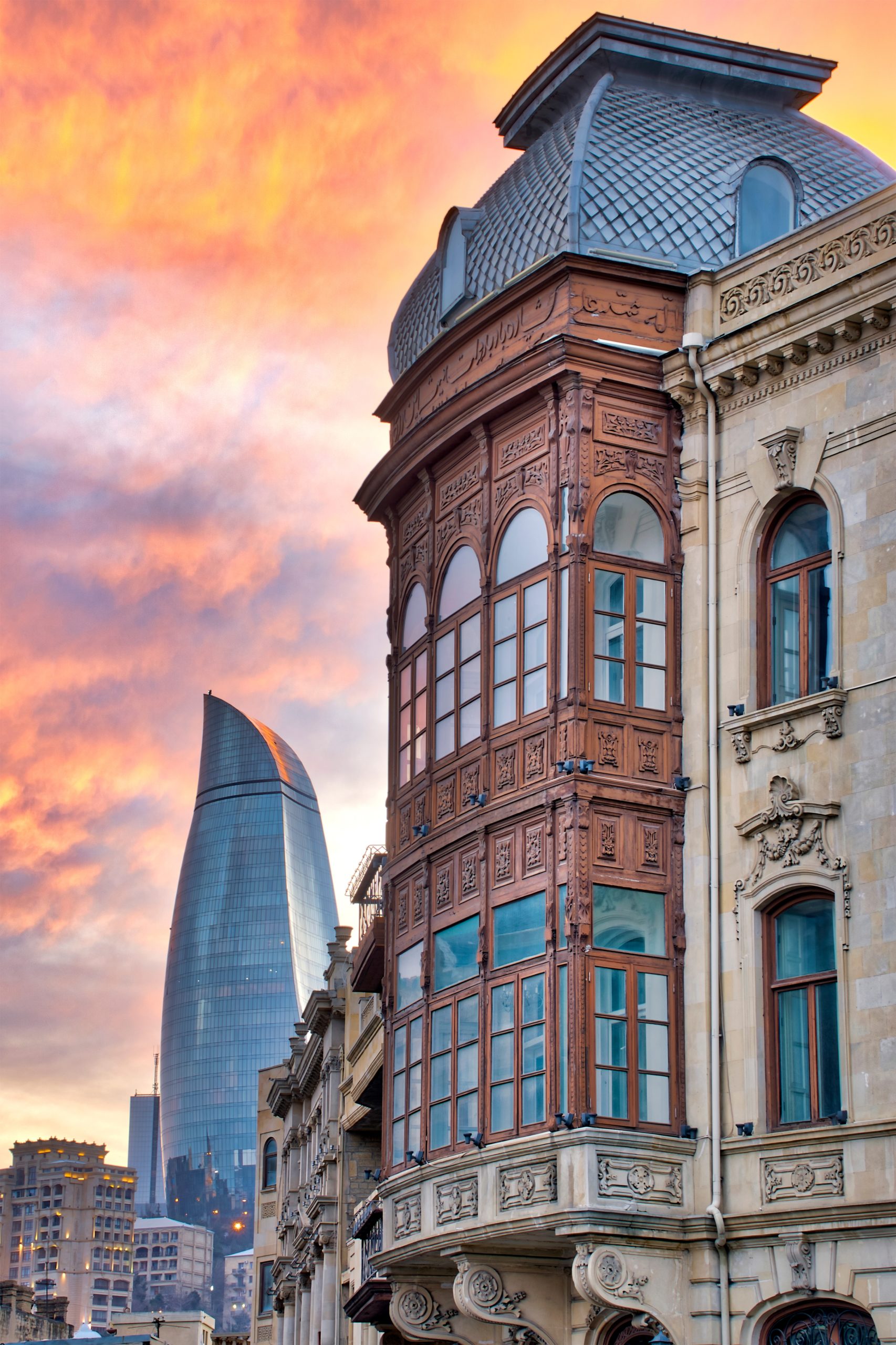 Street in Icheri, Azerbaijan. Photo: Only Fabrizio/Shutterstock
EU mission in Armenia
The European Union agreed on October 17 to send up to 40 experts to Armenia to help watch over its border with Azerbaijan to help restore peace and build confidence between Yerevan and Baku, reported ABC news. The monitoring mission will be deployed for up to two months. It aims to restore some confidence when a lack of security "is putting lives at risk and jeopardises the conflict resolution process," EU headquarters said in a statement.
The EU mission will help with the work of border commissions set up earlier this year to address concerns over the delimitation of the two countries' shared border. On October 13, a technical group from the European Union arrived in Yerevan to discuss the logistics of the EU mission in Armenia. Meanwhile, the Organization for Security and Cooperation in Europe announced that it would also send an "assessment mission" to Armenia between October 21 and 27. 
Last month, at least 286 people were killed on both sides before a US-brokered truce ended the worst clashes since 2020 when simmering tensions escalated into all-out war.
Sources:
ABC News, "EU to send 40 experts on Armenia, Azerbaijan border mission", https://abcnews.go.com/International/wireStory/eu-send-40-experts-armenia-azerbaijan-border-mission-91614623
Arka.am, "EU's technical group arrives in Armenia today", http://arka.am/en/news/politics/eu_s_technical_group_arrives_in_armenia_today/
France 24, "EU to send 'civilian mission' to Armenia to help mark borders with Azerbaijan", https://www.france24.com/en/europe/20221007-eu-to-send-civilian-mission-to-armenia-to-help-mark-borders-with-azerbaijan
OSCE.org, "OSCE sends a needs assessment team to Armenia", https://www.osce.org/chairmanship/529239
For additional information, see:
JAM News, "'Better than nothing': EU civil mission on the border of Armenia", https://jam-news.net/better-than-nothing-eu-civil-mission-on-the-border-of-armenia/
Azerbaijan opens its second international airport in Karabakh
On October 20, Turkish President Recep Tayyip Erdogan and his Azerbaijani counterpart, Ilham Aliyev, opened another international airport near Nagorno-Karabakh in Zangilan. It is the second airport to have been built there since Baku regained control over parts of the breakaway region and seven adjacent districts in 2020.
The two leaders were presented with the symbolic keys of the airport after cutting the ribbon. They also toured the airport following the opening ceremony. During the Turkish leader's one-day working visit, the presidents broke ground for new projects for the region's development. Earlier in the day, Erdogan participated in the opening of the Dost Agropark smart agricultural village project in Zangilan.
Later, he attended the groundbreaking ceremonies of Kumlak Train Station, Azerbaijan-Türkiye International Forest Education Center, and Intelligent Arboriculture and Friendship Forest Complex in Jabrayil district.
In October 2021, Erdogan joined Aliyev in the official opening of Fuzuli International Airport.
Sources
RFE/RL, "Erdogan, Aliyev Open Another International Airport Near Nagorno-Karabakh", https://www.rferl.org/a/karabakh-airport-aliyev-erdogan-azerbaijan-armenia/32093333.html
aa.com.tr, Turkish, "Azerbaijani presidents inaugurate Zangilan airport", https://www.aa.com.tr/en/world/turkish-azerbaijani-presidents-inaugurate-zangilan-airport/2716220
Georgia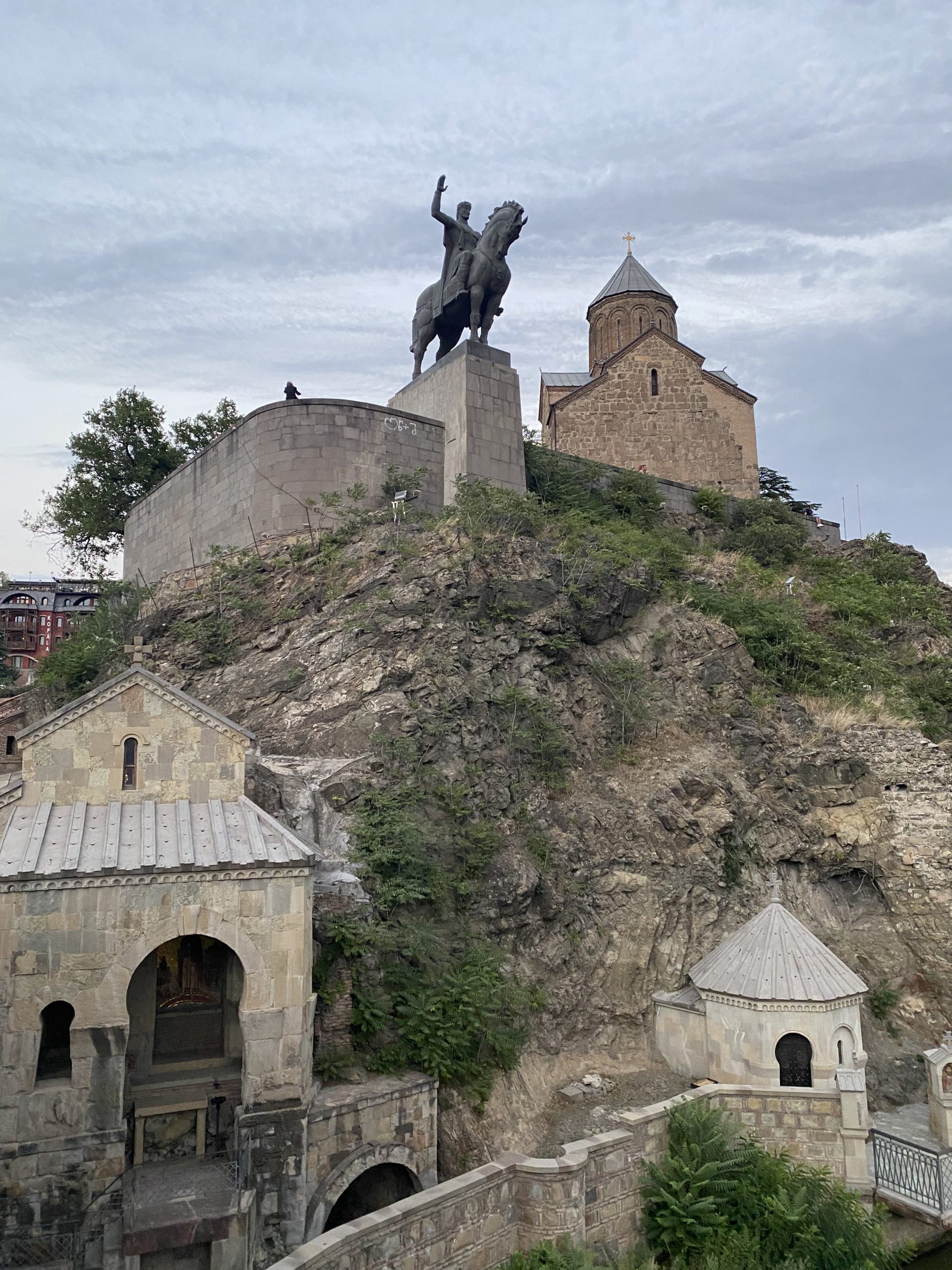 The capital city Tbilisi, Georgia. 
Ukraine sanctions Ivanishvili's relatives and 'business partners'
President of Ukraine Volodymyr Zelensky has sanctioned four relatives of Georgian ex-Prime Minister Bidzina Ivanishvili and several of his Georgian businesspersons, according to a decree dated October 19.
A list of 256 individuals identified for sanctions by Ukraine's National Security and Defence Council includes the former PM's brother, Aleksandre Ivanishvili, Aleksandre's spouse, Ketevan Kharaidze, Bidzina Ivanishvili's cousin, Ucha Mamatsashvili, and Mamatsashvili's son, Tate Mamatsashvili. The list of those sanctioned also includes Russia-based Georgian businesspeople Davit Iakobashvili, Aleksandre Japaridze, and Giorgi Japaridze.
The sanctioning implies freezing assets in Ukraine and a ban on commercial transactions in the country for those included. The Ukrainian authorities did not provide any information on what, if any, assets the sanctioned individuals held in Ukraine.
In reaction to sanctions, Irakli Kobakhidze, the chair of the ruling Georgian Dream party, said that the diplomatic response is the prerogative of the Georgian government. Kobakhidze said, "such steps" required a reaction. Still, he personally would not "follow" his emotions on the matter and would maintain a "one-sided" friendship with the Ukrainian government "simply" because Georgia had "friendly relations" with the Ukrainian people and the country was in a "challenging" situation amid the ongoing war.
Irakli Zarkva, MP, a member of the Georgian Dream party on his part claimed: "It's unfounded. This is blackmail because the Georgian government – quite rightly – refused to open a second front. Ukraine must understand that this is not a game nor in its state interests. The Danilovs, Podolaks and similar people will not affect Georgian-Ukrainian relations."
On the other hand, the opposition welcomes the recent step of Ukraine targeting the Ivanishvili family. "The Ivanishvili family is involved in circumventing sanctions imposed by the West. Thus, the Ukrainian government's move is a clear signal. Mr Ivanishvili is nothing more, nothing less, than an ally of Putin and an enemy of the democratic world," said Nika Melia, chairman of the opposition National Movement party.
Giga Bokeria, Chairman of the opposition European Georgia Party, claimed that Ivanishvili "is on the side of evil", adding that Georgia will be able to wash away the "shame of sanctions" only after the change of regime.
Sources:
KINCHA Shota, "Ukraine sanctions Ivanishvili's relatives and 'business partners'", https://oc-media.org/ukraine-sanctions-ivanishvilis-relatives-and-business-partners/
Agenda.ge, "Ruling party head: diplomatic response to Ukraine's sanctions on Georgian citizens is govt's prerogative", https://agenda.ge/en/news/2022/4089
JAM News, "'This is an attempt to drag Georgia into a war. ' Reactions to sanctions on the Ivanishvili family", https://jam-news.net/this-is-an-attempt-to-drag-georgia-into-a-war-reactions-to-sanctions-on-the-ivanishvili-family/
EU to ban the use of Russian passports issued in Abkhazia, South Ossetia
The European Parliament agreed on October 20 not to accept travel documents that Russia has issued in the areas it illegally occupies in Ukraine and Georgia.
By 540 votes in favour, six against and 36 abstaining, the European Parliament approved its mandate for negotiations with the Council on a legislative proposal on the non-recognition of travel documents issued by Russia in occupied Ukrainian regions and so-called breakaway territories of Georgia to issue a visa or when crossing the EU's external borders.
MEPs noted that the Russian annexation of Crimea and Sevastopol, Donetsk, Luhansk, Kherson and Zaporizhzhia in Ukraine is illegal and that the EU has condemned Russia's decision to recognise the independence of the breakaway regions of Abkhazia and South Ossetia in Georgia. Therefore, EU member states and EEA allies should no longer accept travel documents issued by Russia in these regions.
The press release from October 12 noted that while Russian travel documents issued in these regions are already not recognised or in the process of not being recognised by EU member states, this decision aims to outline a common approach and ensure the "proper function of the external border and common visa policies, and safeguard the security of EU member states."
Tragedy in Tbilisi Vake park
A 13-year-old girl died from injuries sustained in an electrocution incident in Tbilisi's Vake Park recreational area on October 13. The tragedy caused public outrage in the Georgian capital.
The tragic development follows the incident reported by local media, where three minors were injured after attempting to retrieve a ball that had fallen into the recently renovated fountain in the park. One of the other minors was in critical condition, undergoing treatment under artificial ventilation at the New Hospitals clinic in the city, while the third was hospitalised at the Children's Central Hospital with minor injuries. Both minors were discharged by October 16.
The Georgian interior ministry has launched an investigation for "breach of safety regulations during the placement, design, construction or other works". Expressing his "deep sorrow" over the incident, Tbilisi mayor Kakha Kaladze named company Greenservice as a principal contractor in the renovation work of the famous park, with the recreational area reopening to the public on Wednesday.
Kaladze said the work on the infrastructure had been completed "long before" the opening of the park and that "everything had been checked [with the latest check conducted on August 29]". He said he was "shocked by the tragedy" and promised those responsible would be "strictly punished". "It is a horrible fact. We are all saddened. An investigation has been launched. All the relevant agencies are involved, and, of course, those responsible will be punished accordingly, within the law," he said.
On October 17. civil activists and members of the opposition parties' youth wings organised a protest at Tbilisi City Hall. Protesters argued that Kaladze, among others, should accept responsibility for the Vake Park tragedy. "The whole City Hall and Kaladze's office are involved in fraudulent dealings and tenders." Unfortunately, such reckless behaviour has such repercussions," said Nika Mosiashvili, a Girchi-More Freedom party member.
The second phase of the cascade and fountain renovation in Vake Park was completed on Wednesday, with the city hall spending 6,500,000 GEL (2.3 mil USD) on the project. On October 18, nine people were arrested in connection with the tragedy. Among the arrested was the deputy head of the city environmental service, the heads and employees of the Greenservice and Mshenexpert companies, a representative of New Metal Design LLC, and two electric welders. It is said the list of those accused may be added to.
According to investigators, though repairs on the park's main fountain had already been officially completed, the deputy head of the city environmental service asked the manager of Greenservice to wrap black water pipes coming out of the electric motor in the fountain with a white stainless structure. Director of "Greenservice" Lasha Purtsvanidze entrusted this task to an employee of subcontracting company "New Metal Design".
According to the Ministry of Internal Affairs, however, electric welders hired by New Metal Design LLC violated safety standards during the assignment. To fit the stainless metal structure over the water pipes, they removed a metal grill from the electric motor and, when re-attaching, installed electrical wire between the concrete surface and the grill, causing damage to the wire.
Sources:
Agenda.ge, "Minor dies in electrocution incident in Tbilisi's Vake Park fountain", https://agenda.ge/en/news/2022/3992
1TV.ge, "Vake Park tragedy survivor teen discharged from Hospital", https://1tv.ge/lang/en/news/vake-park-tragedy-survivor-teen-discharged-from-hospital/
Georgiatoday.ge, "Tbilisi Mayor on Vake Park Tragedy: Those Responsible Will be Punished",https://georgiatoday.ge/
1TV.ge, "Civil activists rally at Tbilisi City Hall over Vake Park tragedy", https://1tv.ge/lang/en/news/civil-activists-rally-at-tbilisi-city-hall-over-vake-park-tragedy/
JAM News, "Nine arrested over death of a child in Vake park – Georgian Ministry of Internal Affairs", https://jam-news.net/nine-arrested-over-death-of-child-in-vake-park-georgian-ministry-of-internal-affairs/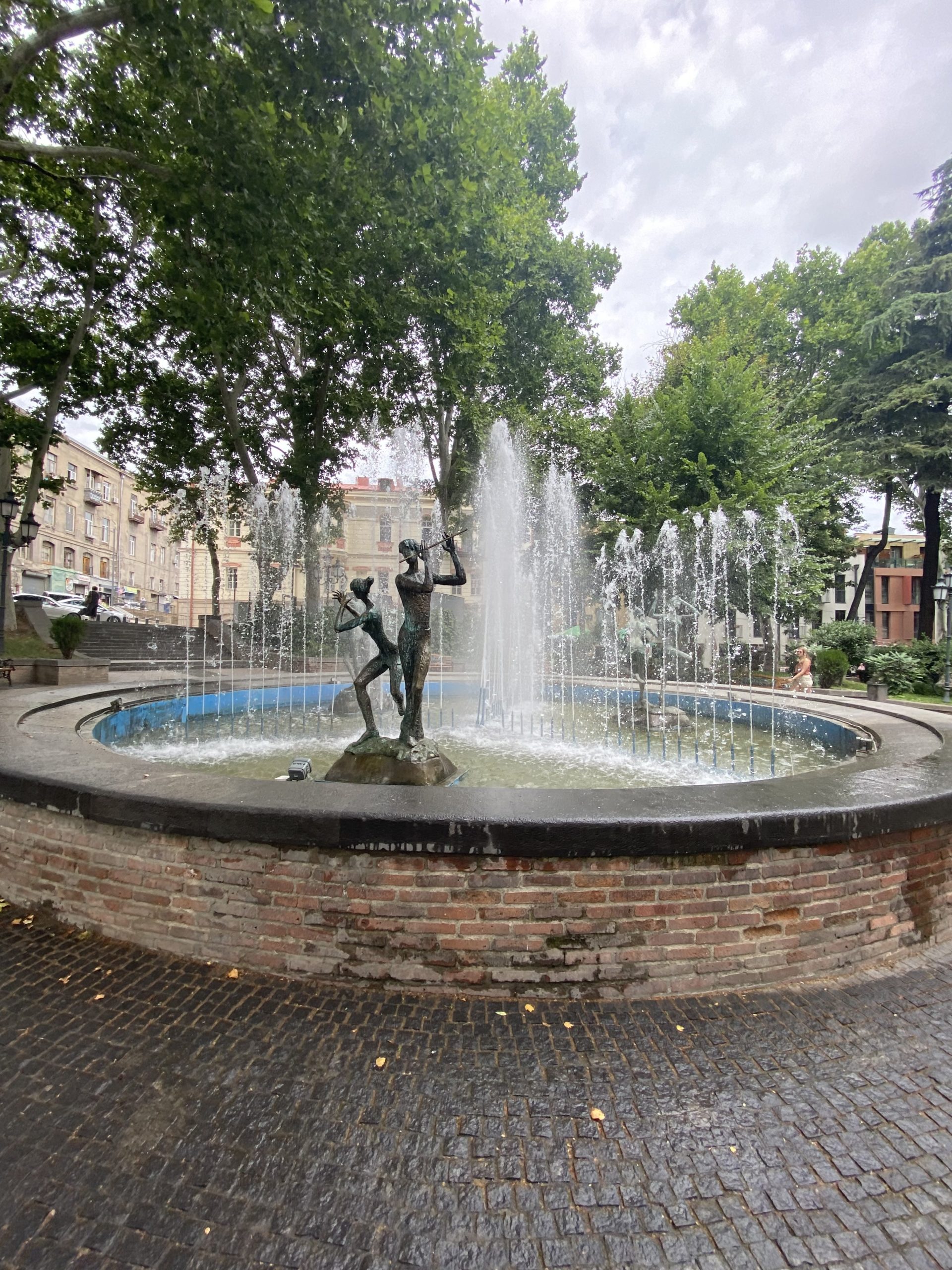 Fountain in Tbilisi, Georgia.