Strategic Analysis Caucasus Brief
Bi-weekly review (9.-23. 8. 2020)
Tomáš Baranec
Armenia

Republic Square, Yerevan. Photo: Andrei Bortnikau/ Shutterstock.com
MAIN STORY
By its indecisiveness regarding Amulsar goldmine, Armenian government may both alienate electorate and anger foreign investors
About 20 activists gathered in front of the building of the Armenian parliament on August 10 to support residents of Jermuk in their protest against the development of the Amulsar goldmine. Rally in Yerevan, which followed a much bigger demonstration in Jermuk on August 4, is a reminder that one of the most sensitive issues the new government has had to face will not disappear by itself if ignored long enough.
The police detained half of the protesters participating at the demonstration in Yerevan for conducting a rally during the state of emergency just to release them several hours later. According to Edgar Djanoyan, the deputy chief for the Information Department of the Armenian Police, activists were detained for disobeying the lawful demands of the police. Protesters, on the other hand, denied police demands as "illegal".
Deputy of the ruling My Step faction of the National Assembly of Armenia Mary Galstyan informed on August 12 that the government discusses the development of situation regarding the controversial gold mine and its representatives might conduct other meetings with "the residents of the community and interested citizens "to address the issue.
As Eurasianet.org remarked in its analysis of the on-going situation, the contract signed by the previous government, "has pitted grassroots activists, of the type that were instrumental in bringing Pashinyan to power, against proponents of the project – including Western embassies and investors – who insist that it will provide the kind of jobs that the prime minister has promised".
At first, the new government of Nikol Pashinyan tried to resolve the issue by ordering the environmental impact assessment, which was released a year ago and which Pashinyan took as a green light to let the development of the mine proceed.
However, just two weeks later, the government, facing heated public debate, decided to study the issue further. Since then, the problem has languished until developments of the last couple of weeks reminded the new Armenian leadership, that by its inability to make difficult decisions it might at the end alienate both sides of the dispute.
Sources:
For additional information see:
Tourism in Armenia was reduced by 59,6% in comparison to the previous year
Economic activity index of Armenian tourism, sector most affected by the COVID-19 pandemic, declined by 56,6% in comparison to the second quarter of 2019, economist Hrant Margaryan said on August 18 at a press conference.
"Because of the tourists who did not come, the services they did not buy and use, an amount of 315 million dollars—which was there last year—did not enter Armenia (in 2020)," stressed Margaryan.
Regarding the government's measures to facilitate negative impacts of the pandemic, the economist said that they were not targeted enough, and tax breaks could have been offered to tourism and construction as the most affected sectors.
Face to face economic downturn Aliyev criticises state giants and calls for privatisation
Azerbaijani President Ilham Aliyev has harshly criticised leading state-owned companies calling for a new wave of privatisation.
"If we take the taxes paid by them and the state subsidies given to them, as well as direct state investments, we will see a big difference. What does this mean? This suggests that state-owned companies are dragging our country and our economy down. There is no other explanation for this," said Aliyev on August 7 during the meeting in connection with the measures taken in Azerbaijan to combat the coronavirus and the socio-economic situation.
President has further announced a new wave of privatisation in order to boost the country's economy. In his speech, he has stressed the need "to attract investors" and let them "for their own money to improve the territory, create public areas and buildings ".
Although he mentioned several state giants such as Caspian Shipping Company, Azerbaijan Railways or flag carrier Azerbaijan Airlines, President's main criticism targeted the State Oil Company of Azerbaijan Republic – widely known as SOCAR.
"Even extending gas lines to homes is financed from the state budget in our country. However, this is a direct responsibility of the State Oil Company. This year, we have envisaged 100 million manats (49,6 million Euro) in the state budget for (gas lines to be extended to) villages. If the state does all this, then what is the state company doing? After all, this is its job and its duty," he said.
As Eurasianet.org writes in its analysis, president's criticism of state-owned companies came "as Baku is facing twin economic crises: the coronavirus-driven economic downturn and the massive international slump in oil and gas prices", which account for roughly two-thirds of budget revenues.
Aliyev's condemnation of "socialist economic model" behind largest state companies was denounced by local activists. "Where was the country's president looking all these years? Why did he keep those people in power?" asked activist Bakhtiyar Hajiyev on Facebook.
Before taking over from his father as president in 2003, Aliyev was vice president of SOCAR for almost ten years.
Sources:
For additional information see:
Aliyev called Putin to seek clarification of arms shipments to Armenia
Azerbaijani President Ilham Aliyev has expressed concerns about Russian shipments of military goods to Armenia in a telephone call with his Russian counterpart Vladimir Putin on August 12, Aliyev's press service informed.
Azerbaijani leader was referring to the reports from the previous week, published by local pro-government media which claimed, that Moscow had been supplying Yerevan by arms shipments during recent open hostilities along the state border straddling Azerbaijan's Tovuz and Armenia's Tavush regions.
"President Ilham Aliyev said the volume of the military cargo transported from Russia to Armenia via the air space of Kazakhstan, Turkmenistan and the Islamic Republic of Iran immediately after the military clashes on the Armenia-Azerbaijan border to the present time exceeded 400 tons, emphasising that the main purpose of the phone call was to clarify this issue," wrote Azerbaijani media citing the press service.
The analysis published by Day.az claimed that "in total, according to available data, there were seven flights: 2 flights – on July 17, in the midst of the fighting (fighting ceased by July 16), one flight each – on July 18, 20, 27, 29 and August 4. The Russian Il-76 flew in a roundabout way – along the route Rostov – Minvody – Aktau-Turkmenbashi – Nowsher – Rasht- Meghri – Yerevan". Although Aliyev claimed in the phone conversation that 400 tons of goods had been transported to Armenia from Russia, the report said it was 280.
Some Azerbaijani websites, such as minval.az, hinted that Russian shipments of arms were "perceived in Yerevan as an unambiguous 'green light' for a new provocation". Aliyev followed a different narrative, stressing that by provoking recent armed clashes on the border Yerevan seeks "to draw third countries into the Armenian-Azerbaijani conflict".
At least five Armenian servicemen and 12 Azerbaijani servicemen, including a general, were killed as a result of fighting on the Armenian-Azerbaijani border between July 12 – 16, 2020.
New Abkhaz de facto leadership suggests détente with Tbilisi and passports for Georgians from the Gali district
Two high ranking officials of the new Abkhaz de facto government – the head of the region's security council, Sergei Shamba and its de facto prime minister Alexander Ankvab – have recently suggested the development of trade relations and dialogue with Tbilisi. These statements, coupled with support for passportisation of ethnic Georgians living in the Gali district controlled by Abkhazian de facto authorities were met with harsh criticism from local opposition groups.
Sergei Shamba gave a lengthy interview to RFE/RL's Russian-language Ekho Kavkaza on August 8 in which he claimed that the armed conflict with Tbilisi "is over" and therefore, Sukhumi should think, how to build "friendly relations" with Tbilisi.  Former Abkhazian prime minister and minister of foreign affairs specifically spoke of "legalising" trade and preventing smuggling across the Enguri River, which divides this separatist region from Georgia proper. Shamba admitted that agreement with Georgia on trade is not realistic at the moment, as Tbilisi rejects sealing any deal with representatives of Sukhumi, but he added that the latter could still introduce customs control on such goods.
Regarding the sensitive issue of Abkhaz citizenship for ethnic Georgians living in Abkhazia's easternmost district of Gali, Shamba stressed, that these people should not be alienated, especially "as they are mostly indigenous inhabitants of Abkhazia." Denying Abkhaz "passports' to Gali Georgians on the grounds of their holding of Georgian citizenship is "wrong", taking into account the fact that Abkhaz enjoy having Russian passports even though Sokhumi and Moscow have not yet signed an agreement on dual citizenship, added the new head of the region's security council.
In a similar sense continued Alexander Ankvab, Abkhazia's de facto head of the government, in his interview with local media outlet Apsnypress on August 13.
Ankvab noted that it is "unfair "to deprive Gali Georgians their Abkhaz passports. On the other hand, de facto prime minister slammed a recent statement by Georgian Reconciliation Minister Paata Zakareishvili, who claimed that the new Abkhaz leadership is "less pro-Russian" than the previous one. Ankvab called it "ridiculous." "There were no such leaders in the Abkhaz political space, and there are none. This fully applies to president Bzhania, Ankvab, Shamba, and Khajimba," he underscored.
These comments were however met with harsh criticism from local opposition groups. In its statement from August 17, "Aruaa", an influential union of Abkhaz war veterans, said that Ankvabs statements regarding passportisation of the Gali district have bred resentment "among all patriotic forces of the country." Organisation also claimed that the de facto prime minister is neglecting the rights of other nationalities residing in Abkhazia while advocating exclusively for the rights of Georgian nationals. Aruaa reminded Ankvab that similar policies of "illegal" issuance of Abkhaz "passports" to Georgian citizens had led to his ousting from the office back in 2014, and threatened with protests.
Abkhaz political party "Apsny" in its statement expressed concerns over Abkhaz leadership's consideration of cooperation with Georgia, which due to the statement remains "in a state of war with us (Abkhaz)".
In 2014, the Abkhaz Parliament annulled the previously-issued Abkhaz passports of the 27,000 inhabitants of Gali District, due to the dual-citizenship of its inhabitants (most of whom are ethnic Georgians) with Georgia, which is illegal under the laws of Abkhazia.
Sources:
 For additional information see:
Poll: Less than three months before parliamentary elections most Georgians support the ruling Georgian dream
According to a new International Republican Institute (IRI) poll released on August 12, support for the ruling "Georgian Dream" party grew by ten points to 33% in comparison to poll from October 2019.
Support for its arch-nemesis former ruling party of the United National Movement (UNM) stays relatively stable at 16 % (15% in Oct'19).
European Georgia – Free Democrats, which split from UNM after last elections and holds more seats in the parliament, is at 5% from 7% in last October.
New Georgia/Strategy Aghmashenebeli of Giorgi Vashadze and Alliance of Patriots have equal support of 3% of respondents.
Labor party, Civic Movement of Alexander Elisashvili, Lelo for Georgia, and Girchi each would receive 2%.
A significant number of respondents (17%) said they do not know whom they would vote for, while another 11% refused to answer.
The poll was carried out by Institute of Polling and Marketing in a period between June 4 and July 2 through face-to-face interviews with 1,500 respondents and had a margin of error of plus/minus 2.5.
Source:
For additional information see:
The car carrying South Ossetia's de facto interior minister Igor Naniyev came under fire
Unidentified individuals opened fire with a pistol at a car carrying South Ossetia's de facto interior minister Igor Naniyev. The incident, which happened in the evening on August 17 in the centre of Tskhinvali, did not claim any lives or injuries.
Attack was carried by pistol from an abandoned house in the centre of the de facto capital of unrecognised republic from the distance of approximately 30 meters. Projectiles did not puncture the vehicle.
"Apparently, they simply decided to warn Naniev in this way. He has many enemies not just in the underworld, but even on the part of his colleagues: sometimes he speaks with his subordinates not that harshly, but rudely. Searching for shooters is a matter of time since the city is small and everyone knows each other" anonymous source from law enforcement agencies told the website Kavkaz Realii.
The criminal case on the attempt on the life of the head of the Ministry of Internal Affairs of South Ossetia Igor Naniev was opened by the General Prosecutor's Office of the de facto republic on August 18. Deputy Prosecutor General Sergei Bitiyev said that the case was initiated under two articles: an attempt on the life of a statesman and illegal acquisition, transfer, sale, storage, transportation or carrying of weapons, its main parts, and ammunition.
North Caucasus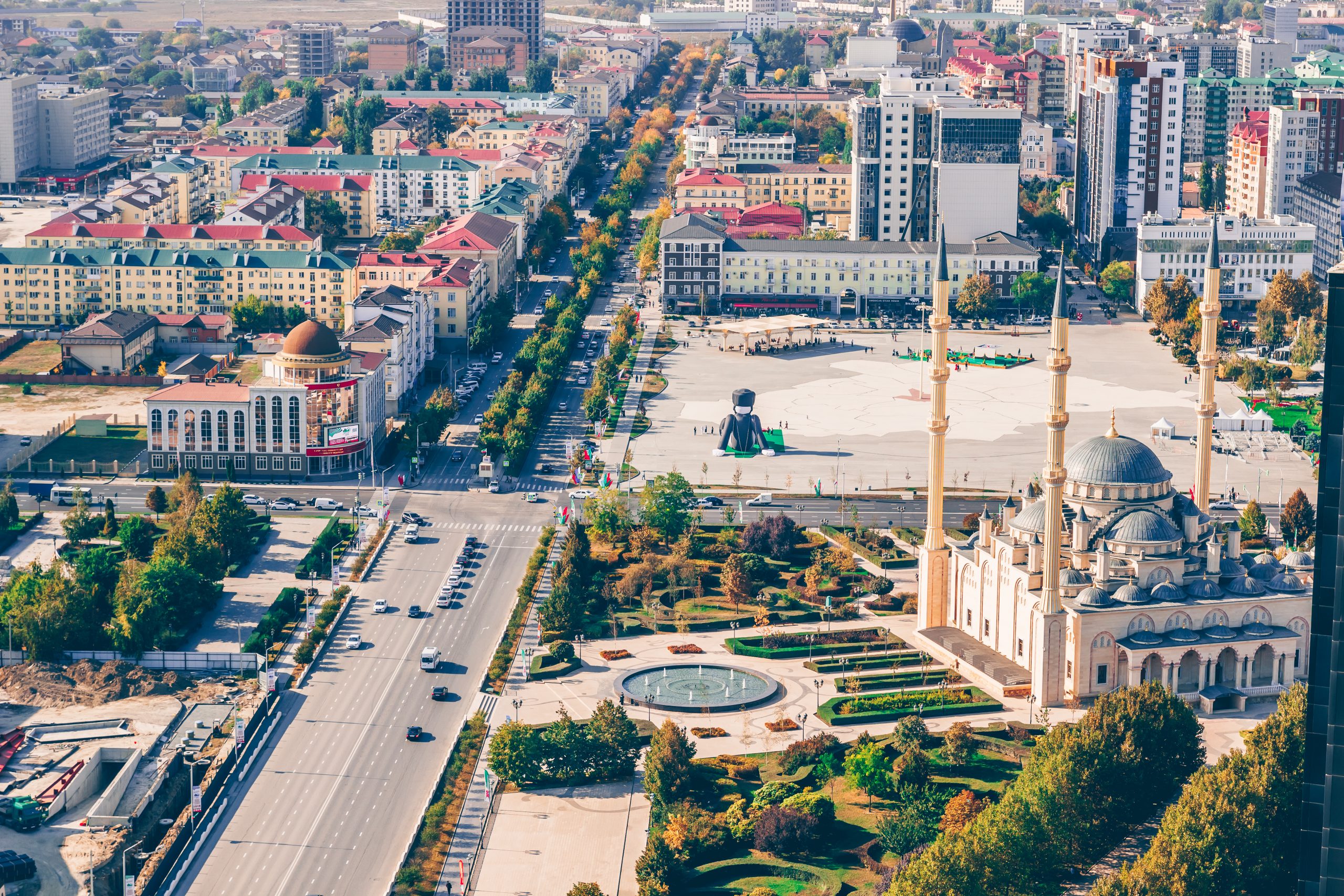 Heart of Chechnya Mosque, Grozny. Photo: Julia Mikhaylova/ Shutterstock.com
MAIN STORIES
Relatives of Anzor Maskhadov, son of the late de facto president of Ichkeria, harassed by Chechen authorities
Anzor Maskhadov, the son of late Aslan Maskhadov, the president of the separatist Chechen Republic of Ichkeria, told the Caucasus Knot correspondent that his maternal relatives, who live in Chechnya, have been subjected to pressure from local authorities.
Maskhadov, who lives in Norway, links these threats with his open criticism of current Chechen authorities. He says that there were no detentions or arrests so far, but members of his family back in Chechnya were warned that they "will be dealt with if they won't stop him".
"As far as I found out, Kadyrov and Daudov started talking about me and throwing mud at me … During a meeting in a mosque, they discussed my father and me personally. I could not stand it and spoke out in public," Maskhadov said, adding that although he had conducted "no public activities for a long time "he had decided to open his YouTube channel to counter such statements.
Maskhadov's channel on YouTube, called Nizam, has over 8 million views.
Federal budget aid to Chechnya due to the epidemic compensated loses 12 times
The assistance from the Russian federal budget to the Chechen Republic to compensate for the consequences of the coronavirus epidemics exceeded the region's losses by 1272%. This is a conclusion of a study conducted by Natalia Zubarevich, a professor at Moscow State University, published on portal "Proyekt".
The Chechen Republic, whose budget is by 80% covered from federal subsidies, with a fall in its revenues by half a billion rubles, received aid for 6 billion.
The assistance of the Russian budget to Dagestan exceeded the region's losses from the pandemic by 626%, North Ossetia-Alania by 583%, Karachay-Cherkessia by 413%, Kabardino-Balkaria by 405%, Ingushetia by 329% and the Stavropol Krai by 132%.
At the same time, losses from the pandemic of some other Russian federal subjects were covered by Moscow just by less than one fifth.
Source:
Kavkaz Realii, Помощь федерального бюджета Чечне из-за эпидемии превысила потери в 12 раз (Federal budget aid to Chechnya due to epidemic exceeded losses 12 times), https://www.kavkazr.com/a/30789847.html
For additional information see: