Strategic Analysis Caucasus Brief
Bi-weekly review (18.10.-1.11. 2020)
Tomáš Baranec
War in Nagorno Karabakh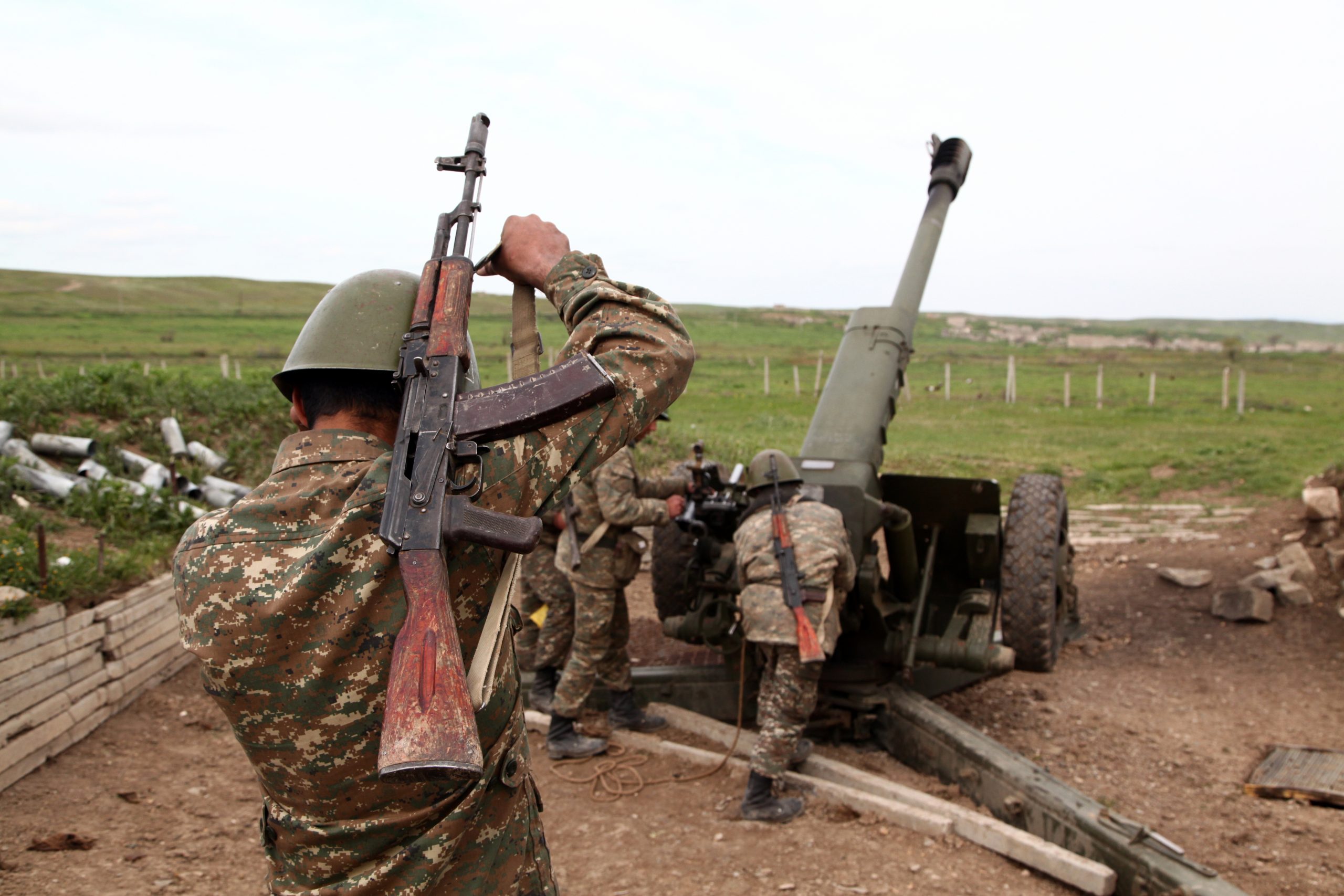 Armenian positions, Karabakh. Photo: Albert Khachatryan/ Shutterstock.com
Russia may signal greater involvement in Nagorno Karabakh conflict, but no boots on the ground for now
Analysts and local journalists draw attention to several events possibly signalising an increasing Russian involvement in the Nagorno Karabakh war. Meanwhile, Azerbaijani president Ilham Aliyev blamed Moscow for supplying Armenian forces with vital arms and other military equipment.
Until now, the war was characteristic by Russia's relatively hands-off approach to Nagorno Karabakh, which is not recognised as a part of Armenia and therefore is not covered by The Collective Security Treaty Organization.
The first sign of more direct involvement is a small military outpost, Russia set up on the border of Armenia next to Tegh. This settlement is located on the road to a strategically essential Lachin corridor connecting Armenia to Nagorno-Karabakh.
Although neither Russia nor Armenia have officially confirmed the existence of the outpost, it was reported by foreign journalists. As Eurasianet wrote in its assessment of the situation, the Russian deployment in this vital narrow region is a "significant deterrence for Azerbaijan", since despite its small size it would act as a "tripwire deterring Baku from triggering a more substantial Russian response".
Carey Cavanaugh, United States Ambassador and Special Negotiator for Eurasian Conflicts, agrees that Azerbaijani attack on Lachin corridor would cause "a humanitarian catastrophe" and might drag Russia in the conflict. "If this corridor is severed, the conflict will stand on the brink of a humanitarian disaster. This could lead Moscow to act in accordance with its mutual defence pact with Armenia which in turn could elicit the entry of the Turkish military," claimed the diplomat.
Alleged Russian involvement in the conflict was also criticised by Aliyev in his interview for Italian TV channel Rai-1. "After all, we do not talk every day about how many weapons are supplied from Russia to Armenia. We do not talk about the fact that Armenia would not have lasted a day in the occupied territories without external assistance. Political support, military support, moral support – all this comes from countries that are supposed to stay neutral," said the President.
International media also informed about other less direct, yet still indicative steps by Kremlin. Stephen Bryen claimed for the Asia Times on October 26, that Moscow "has unleashed" its "drone killer" electronic warfare system 'Belladonna' in Armenia" knocking out at least nine Turkish Bayraktar armed UAV's.
Moreover, some analysts suggested already in the first days of the war, that Kremlin, instead of conducting operations directly in the Nagorno Karabakh, might disengage Ankara's involvement in the South Caucasus by causing trouble in Syria or Libya. And indeed, on October 26 Russia conducted an airstrike on the military training camp of Failaq al-Sham, one of the largest Ankara-backed groups in Syria, just several kilometres from the Turkish border. The attack, which claimed lives of at least 78 fighters and injured many others, was seen by many experts as "a message to Turkey".
For now, however, Russia does not seem eager to send boots on the ground of Nagorno Karabakh. Armenian Prime Minister Nikol Pashinyan has sent a letter to Russian President Vladimir Putin on October 31 requesting 'immediate consultations to determine the type of assistance that the Russian Federation can provide to the Republic of Armenia'. Kremlin reacted with a statement saying that Russia will give Yerevan "all assistance necessary" if the fighting reaches Armenia proper.
Sources:
MEJLUMYAN Ani, Eurasianet.org, "Small outpost is Russia's first visible aid to Armenia", https://eurasianet.org/small-outpost-is-russias-first-visible-aid-to-armenia
Haqqin.az, "Ильхам Алиев: Российская военная база снабжает армянскую армию (Ilham Aliyev: Russian military base supplies the Armenian army)", https://haqqin.az/news/192507
BRYEN Stephen, Asia Times, Russia knocking Turkish drones from Armenian skies, https://asiatimes.com/2020/10/russia-knocking-turkish-drones-from-armenian-skies/
The National News, "Russia airstrike in Idlib warning to Turkey on other international action, say experts", https://www.thenationalnews.com/world/mena/russia-air-strike-in-idlib-warning-to-turkey-on-other-international-action-say-experts-1.1101602
NAJJAR Farah, "Al Jazeera, Russian strike on Syria's Idlib fighters a 'message' to Turkey", https://www.aljazeera.com/news/2020/10/27/russian-strike-in-syrias-idlib-a-message-to-ankara
JAMnews, "Live updates: Day 35 of Nagorno-Karabakh fighting", https://oc-media.org/live-updates-day-35-of-nagorno-karabakh-fighting/
Russian Ministry of Foreign Affairs, Заявление МИД России в связи с обращением Премьер-министра Республики Армения Н.В.Пашиняна к Президенту Российской Федерации В.В.Путину  (Statement by the Russian Ministry of Foreign Affairs in connection with the appeal of the Prime Minister of the Republic of Armenia Nikolai Pashinyan to the President of the Russian Federation Vladimir Putin), https://www.mid.ru/ru/foreign_policy/news/-/asset_publisher/cKNonkJE02Bw/content/id/4411939
For additional information, see:
KRUTIKOV Evgeny, VZ.ru, "Почему Армения терпит поражение в Карабахе (Why Armenia is losing in Karabakh)", https://m.vz.ru/world/2020/10/27/1067238.html?fbclid=IwAR3vHZVcPF-NCUuGv0xEDPlUMdHCKUL_IurWuU_zCRCp0gv8vanS_bHvAy0
Both parties of the conflict in Nagorno Karabakh continue targeting the civilian population
On October 28, Non-governmental organisation Amnesty International (AI) has confirmed first use of banned cluster bombs by Armenian forces against the city of Barda. On the same day, a maternity hospital in Stepanakert was partially destroyed by Azerbaijani shelling.
As AI informed, its Crisis Response experts verified pictures (taken by Vice News reporters Barda) of fragments of 9N235 cluster munitions from Russian-made 9M55 Smerch rockets, that appear to have been fired into the city by Armenian forces. "The firing of cluster munitions into civilian areas is cruel and reckless, and causes untold death, injury and misery," said Marie Struthers, Amnesty International's Regional Director for Eastern Europe and Central Asia. She added that "as this conflict continues to escalate, Armenian, Armenian-backed and Azerbaijani forces have all been guilty of using of banned weapons that have endangered the lives of civilians caught in the middle".
The Azerbaijani Prosecutor General's Office has stated that the attack has claimed lives of at least 21 people, with an estimated 70 more injured. Since the beginning of the war, Baku has repeatedly used cluster munitions in residential areas in Nagorno-Karabakh, as confirmed by non-governmental organisation Human Rights Watch.
Deadly attack on Barda happened on the same day as Azerbaijani rocket strike on the maternity hospital in Stepanakert. In the time of the attack, the hospital was fully operational, luckily nobody was injured.
Cluster munitions are inherently indiscriminate weapons that inflict suffering for civilian populations years after their use and are internationally banned by a treaty backed by more than 100 states. Neither Armenia nor Azerbaijan are parties to this treaty.
Sources:
Amnesty International, "Armenia/Azerbaijan: First confirmed use of cluster munitions by Armenia 'cruel and reckless", https://www.amnesty.org/en/latest/news/2020/10/armenia-azerbaijan-first-confirmed-use-of-cluster-munitions-by-armenia-cruel-and-reckless/
Human Rights Watch, "Azerbaijan: Cluster Munitions Used in Nagorno-Karabakh", https://www.hrw.org/news/2020/10/23/azerbaijan-cluster-munitions-used-nagorno-karabakh
USA Today News, "Azerbaijan hits maternity hospital in conflict with Armenia over Nagorno-Karabakh", https://eu.usatoday.com/story/news/world/2020/10/29/azerbaijan-hits-hospital-dispute-armenia-over-nagorno-karabakh/6073536002/
The US-brokered cease-fire in Nagorno-Karabakh has failed
The US-brokered humanitarian cease-fire in the Nagorno-Karabakh conflict frayed just a couple of minutes after it officially started on October 26 at 08:00 local time. Both Armenia and Azerbaijan have alleged the other side of the conflict for breaching the truce, agreed in Washington the day before.
Shortly after the collapse of the cease-fire, Azerbaijani president Ilham Aliyev claimed in a televised address that he wanted to resolve the conflict "by political and military means".
Armenian prime minister Nikol Pashinian later wrote on his Facebook page that he did not believe Azerbaijan was interested in a peaceful resolution to the conflict, adding that "the Armenian people are ready for mutual concessions, even painful ones, but not for the capitulation of Karabakh."
The Washington-negotiated truce was already a third attempt by Minsk-group co-chairs to cease hostilities in Nagorno Karabakh. Two other attempts were conducted by Moscow, which managed to bring the parties to a cease-fire agreement – on October 10 and 18. However, both times the truce was violated very shortly after the signing. 
Sources:
BBC News, "Nagorno-Karabakh conflict: US-brokered cease-fire frays soon after starting", https://www.bbc.com/news/world-europe-54686284
Reuters, "U.S.-backed truce crumbles as Nagorno-Karabakh fighting resumes", https://www.reuters.com/article/us-armenia-azerbaijan/us-backed-truce-under-threat-as-nagorno-karabakh-fighting-resumes-idUSKBN27B0QB
JAMnews, "Who will help solve the Karabakh conflict – Washington or Moscow?", https://jam-news.net/who-will-help-solve-the-karabakh-conflict-washington-moscow-usa-russia-putin-pompeo-armenia-azerbaijan-bayramov-mnatsakanyan/
Georgian opposition parties signed an agreement not to form a coalition government with the ruling party
Georgian opposition political parties have agreed on October 30 not to form a coalition government with the ruling Georgian Dream (GD) party.
The opposition parties, including the United National Movement, the European Georgia, Strategy Aghmashenebeli, Girchi, the Labor Party, the Republican Party, European Democrats, Victorious Georgia, Democratic Movement – United Georgia, and the Movement – State for People, signed an agreement, pledging to not form a coalition government with the GD party regardless of the outcome of October 31 parliamentary election. "Cooperation between the opposition today and the coalition partners tomorrow will be the key to bringing goodness to the country", – said Giorgi Vashadze, leader of the Strategy Aghmashenebeli party.
Under the recently approved amendments of the Georgian constitution, the 2020 parliamentary elections are being held based on what is referred to as the 120/30 system, which means that 120 MPs will be elected through proportional party lists and 30 using the majoritarian voting system. Also, the election threshold was fixed at 1 % of votes, while a constraint barring any single party that receives less than 40 % of votes from claiming a majority of seats in the Parliament was enacted as well. The amendments also introduced the so-called 25% gender quotas, meaning that in their proportional party-list, the political parties are obliged to include at least every fourth person of a different gender. Also, starting from 2024, Georgia will move to a fully proportional system.
Some analysts believe that given changes might lead to a first coalition government in Georgian post-soviet history.
Sources:
For additional information, see:
Ivanishvili-founded Kutaisi International University opens its doors to students
Kutaisi International University (KIU), founded by the ruling Georgian Dream (GD) party chairman Bidzina Ivanishvili, has opened its doors for students on October 21, just ten days before the upcoming parliamentary elections.
Instead of earlier planned 60,000, the new university has welcomed only 246 students in three undergraduate English language programs: Management, Mathematics and Computer Science.
Ivanishvili came up with the idea of KIU even before the 2012 parliamentary elections, as a result of which GD came to power. However, the project had been forgotten until the run-up to 2016 parliamentary elections, when Ivanishvili suddenly returned to the topic. Since then, the deadline for opening the university has been postponed several times, turning the large-scale project into an object of "criticism from the opposition as well as the topic of jokes on social media", writes Jamnews.
In her remarks, Georgian president Salome Zurabishvili compared the opening of the new Kutaisi University to that of the establishment of Tbilisi University in 1918, in the wake of Georgia's regaining independence following the dissolution of the Russian Empire. She also stressed that KIU represents an "extended arm for the youth from Abkhazia and Tskhinvali, giving them a unique opportunity to create their own future, feel themselves as free citizens of the contemporary world."
As JAMnews reminds the idea of ​​building a university in Kutaisi arose "after Ivanishvili abandoned a similar project already launched by former President Mikheil Saakashvili in Batumi – the Batumi Technical University", selling the building of university to a private investor.
Bank robbery fuels pre-election tensions in Georgia
Masked robber in a military uniform, armed with firearms and hand-grenades broke into the Bank of Georgia building in the western Georgian town of Zugdidi in the afternoon of October 21, taking 43 people hostage. After approximately 8 hours, assailant, who requested 500,000 USD, managed to leave premises of the bank in a car with four hostages, including the Head of the Samegrelo-Zemo Svaneti Regional Police, Avtandil Galdava.
"Perhaps 10 out of 43 hostages were accomplices of the criminal, but it is impossible to say for sure," said Minister of Internal Affairs of Georgia, Vakhtang Gomelauri, in his first commentary for the media following the incident.
At a press conference on October 26, the Deputy Interior Minister Vladimer Bortsvadze confirmed the identity of the Zugdidi bank robber, who is still at large, as Badri Esebua.
Taking place just ten days in the run-up to crucial parliamentary elections, the incident has added to already high pre-election tensions. As Civil.ge reported, the pro-governmental Imedi TV came with a story that Irakli Kvaratskhelia, one of the hostages who was instructed by the hostage-taker to call into the live broadcast on pro-opposition Mtavari Arkhi TV and transmit the assailant's demands, is a supporter of the United National Movement party (UNM). Imedi TV suggested in this respect that the UNM was linked to the robbery and sought to benefit from it electorally.
Supporters of the UNM, on the other hand, speculated on social media that the incident was, in fact, staged by the government. Nanuka Zhorzholiani, who is running as an MP for the UNM, suggested that the situation appeared 'artificial' and 'unbelievable'.
Meanwhile, Giorgi Gabedava, Zugdidi majoritarian candidate of the nativist Georgian March accused Gigi Ugulava, the European Georgia's majoritarian candidate in Zugdidi of pulling strings, triggering a brawl between the supporters of the two parties.