IN FOCUS: Ukraine & Moldova Brief
Review of September 2023
Petra Bošková, Laura Ďorďová, Sára Gregová, Katarína Žiaranová
UKRAINE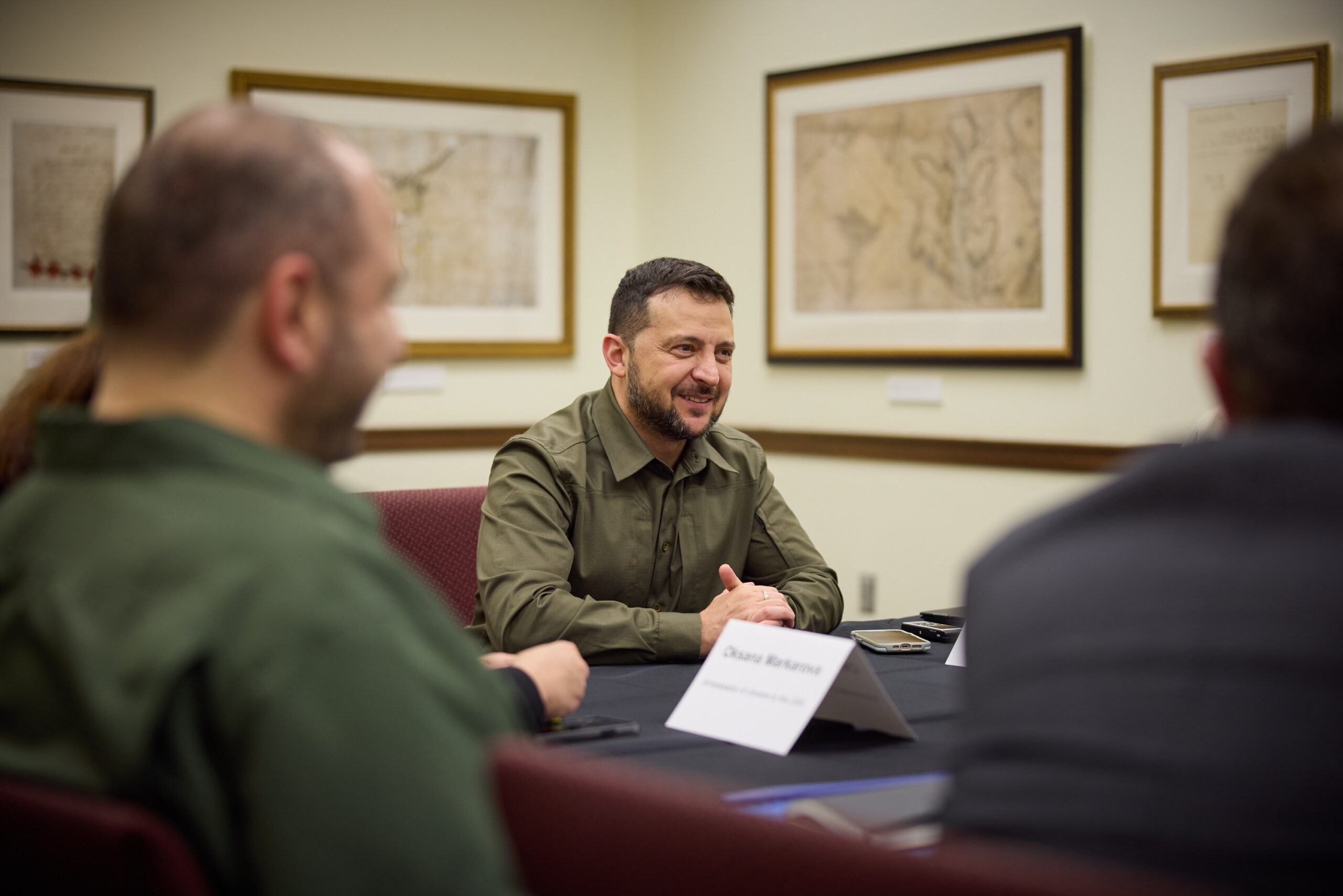 Visit of the President of Ukraine and the First Lady to the United States of America. Photo: Official site – President of Ukraine
Zelenskyy's visit to Washington
On September 21, Ukrainian President Volodymyr Zelenskyy embarked on his second visit to Washington DC, since the Russian invasion of Ukraine started over 18 months ago. During his visit, he emphasized the critical need for additional assistance to alter the course of the ongoing war. President Biden and the majority of Congress members warmly welcomed the Ukrainian president. However, some Republican lawmakers expressed skepticism regarding the allocation of more weaponry and funding to Ukraine. Intense negotiations are ongoing concerning US budget legislation as Republicans push for significant spending reductions.
Zelenskyy's visit to Washington marks the culmination of a swift and vigorous effort by the Ukrainian president, who journeyed to New York on September 21, to seek support from world leaders at the United Nations. It marked his first in-person appearance at the United Nations since Russia's invasion in February 2022. Both Zelenskyy and President Biden addressed the UN General Assembly, emphasizing that Ukraine's security is intricately linked to global security.
Concurrently with Zelenskyy's visit to DC, the administration revealed an additional $325 million in presidential drawdown assistance for Ukraine. Secretary of State Antony Blinken specified that the security aid focuses on air defence munitions with the winter season approaching. This package includes extra air defence capabilities, artillery ammunition, cluster munitions, and various other weaponry. However, it is evident that Ukraine requires even more support, and President Zelenskyy had the opportunity to present his case in person.
Zelenskyy's itinerary began with closed-door meetings with House and Senate members on Capitol Hill. Subsequently, he proceeded to the Pentagon before concluding his journey with a significant meeting at the White House with President Biden. Zelenskyy described the meeting with Biden as "highly significant." Furthermore, he characterized his discussions with members of Congress as "candid" and "productive" and expressed anticipation about deliberating on US military assistance.
Nevertheless, Zelenskyy encountered a somewhat different scenario on Capitol Hill compared to his December visit when Democrats still held the majority in the House. The issue of providing aid to Ukraine has become a contentious point among Republicans as they work to secure government funding and prevent a potential shutdown by month's end. Within the Republican-dominated lower chamber, a notable portion of members either harbours scepticism or openly criticizes the ongoing financial support the United States extends to Ukraine. Following his meeting with Zelenskyy, GOP Senator Josh Hawley reiterated his staunch opposition to providing further funding for Ukraine. On the other hand, Zelenskyy emphasized a clear message that if the United States withdraws its support for Ukraine, it will pave the way for a Russian victory.
However, National Security Adviser Sullivan downplayed concerns about dwindling Republican support, expressing confidence in the enduring bipartisan backing for Ukraine. He also urged Americans to reflect on Ukraine's accomplishments with US assistance.
Sources: 
Watson, Kathryn, CBS News, "Biden welcomes Ukraine's Zelenskyy to White House as some Republicans question aid", https://www.cbsnews.com/news/ukraine-volodymyr-zelenskyy-visits-washington-2023-09-21/
Al Jazeera, "Zelenskyy culminates Washington visit with a White House pledge of $128m", https://www.aljazeera.com/news/2023/9/21/zelenskyy-culminates-washington-visit-with-a-white-house-pledge-of-128m
Knickmeyer, Ellen et al., AP News, "Zelenskyy delivers upbeat message to US lawmakers on war progress as some Republican support softens", https://apnews.com/article/zelenskyy-biden-washington-visit-congress-ukraine-war-1d20574fb3ea4fb5efcc7db5458a33a3
Grain restrictions on Ukraine by its neighbors
The conflict in Ukraine has severely disrupted the export of commodities, impacting one of the world's leading grain exporters due to its favourable geographic location. Since the onset of the conflict, Ukrainian farmers have had to rely on grain exports through neighbouring countries as the use of Black Sea ports has become challenging.
The European Union (EU) established alternative land routes, known as "Solidarity Lanes," to facilitate Ukraine's grain and oilseeds exports. However, the increased volume of products entering neighbouring countries led to reduced prices, affecting the income of local farmers. Consequently, several governments began imposing bans on agricultural imports from Ukraine. In response to these unilateral bans, the EU intervened in May to enable Ukraine to continue exporting through these countries, with the products finding markets elsewhere. The EU allowed this ban to expire on September 15, following Ukraine's commitment to enhance export controls.
Nevertheless, three countries—Poland, Slovakia, and Hungary—swiftly implemented their own restrictions.
"The ban covers four cereals, but at my request and at the request of our farmers, it has been extended to include products derived from these cereals, such as corn, wheat, and rapeseed. This step is aimed at safeguarding the Polish market," stated Robert Telus, the Polish Agriculture Minister. Polish Prime Minister Mateusz Morawiecki added, "We will persist with this ban despite their disagreement and despite the European Commission's objections. We do so because it is in the interest of Polish farmers." Hungary also issued a national import ban on 24 Ukrainian agricultural products, including grains, vegetables, various meat products, and honey, as per a government decree. Slovakia's agriculture minister followed suit by announcing its own grain ban.
It's important to note that these bans solely affect domestic imports and do not impact transit to other markets.
In response, Ukraine has decided to file lawsuits against these three countries with the World Trade Organization (WTO). Yulia Svyrydenko, Ukraine's Economy Minister, emphasized the significance of proving that individual member states cannot unilaterally ban Ukrainian imports. She stated, "It is crucially important for us to prove that individual member states cannot ban imports of Ukrainian goods. That is why we are filing lawsuits against them (Slovakia, Poland, and Hungary) with the WTO." Despite Poland and Slovakia being key allies of Ukraine in its conflict against the Russian invasion, the dispute over grain imports has led to tensions.
Sources:
BBC, 2023. Ukraine sues EU neighbours over food imports ban. https://www.bbc.com/news/world-europe-66849185
Euractiv, 2023. Poland, Hungary, Slovakia to introduce own bans on Ukraine grains. https://www.euractiv.com/section/europe-s-east/news/poland-hungary-slovakia-to-introduce-own-bans-on-ukraine-grains/
Euractiv, 2023. Polish PM tells Zelenskyy 'never to insult Poles again'. https://www.euractiv.com/section/elections/news/polish-pm-tells-zelenskyy-never-to-insult-poles-again/
NATO Secretary General visiting Kyiv
NATO Secretary General Jens Stoltenberg unexpectedly visited Kyiv on September 28, where he met with Ukrainian President Volodymyr Zelenskiy. The visit carried significant implications for Ukraine, NATO, and the global geopolitical landscape. Stoltenberg commended Ukraine for its counteroffensive efforts against Russian forces, noting that they were "gradually gaining ground." He emphasized the resilience of Ukrainians fighting for their families, future, and freedom, contrasting it with Moscow's pursuit of "imperial delusions." The visit highlighted the ongoing conflict in Ukraine, which has seen Ukrainian forces progress steadily against Russia's main defensive line.
During the visit, President Zelenskiy stressed Ukraine's urgent need for enhanced air defence capabilities in the face of relentless Russian attacks, including Shahed drones. Stoltenberg pledged ongoing support and urged NATO allies to expedite the delivery of air defence systems to Ukraine. He announced that NATO had established contracts worth 2.4 billion EUR for ammunition, with a substantial portion allocated to support Ukraine, a vital factor in the ongoing war.
Stoltenberg condemned Russian strikes near Ukraine's border with NATO member Romania, characterizing them as "reckless" and "destabilizing." This reinforced NATO's commitment to the security of its member states and regional stability.
The visit's outcomes had profound implications. It underscored NATO's unwavering support for Ukraine and its determination to bolster Ukraine's defence capabilities. The commitment to supplying air defence systems and training F-16 pilots demonstrated NATO's dedication to strengthening Ukraine's military.
Furthermore, Stoltenberg's visit signalled a unified stance against Russian aggression. He highlighted Russia's international isolation, citing its disconnection from global markets and exclusion from international summits. This underscored the global repercussions of the conflict and Russia's diminishing influence on the world stage.
In discussions about Ukraine's NATO membership, although a clear timeline remained elusive, NATO reaffirmed its support for Ukraine by offering enhanced support, establishing a dedicated council, and streamlining the membership process. This demonstrated NATO's commitment to Ukraine's security and its goal of ultimately ending Russian aggression in the region.
MOLDOVA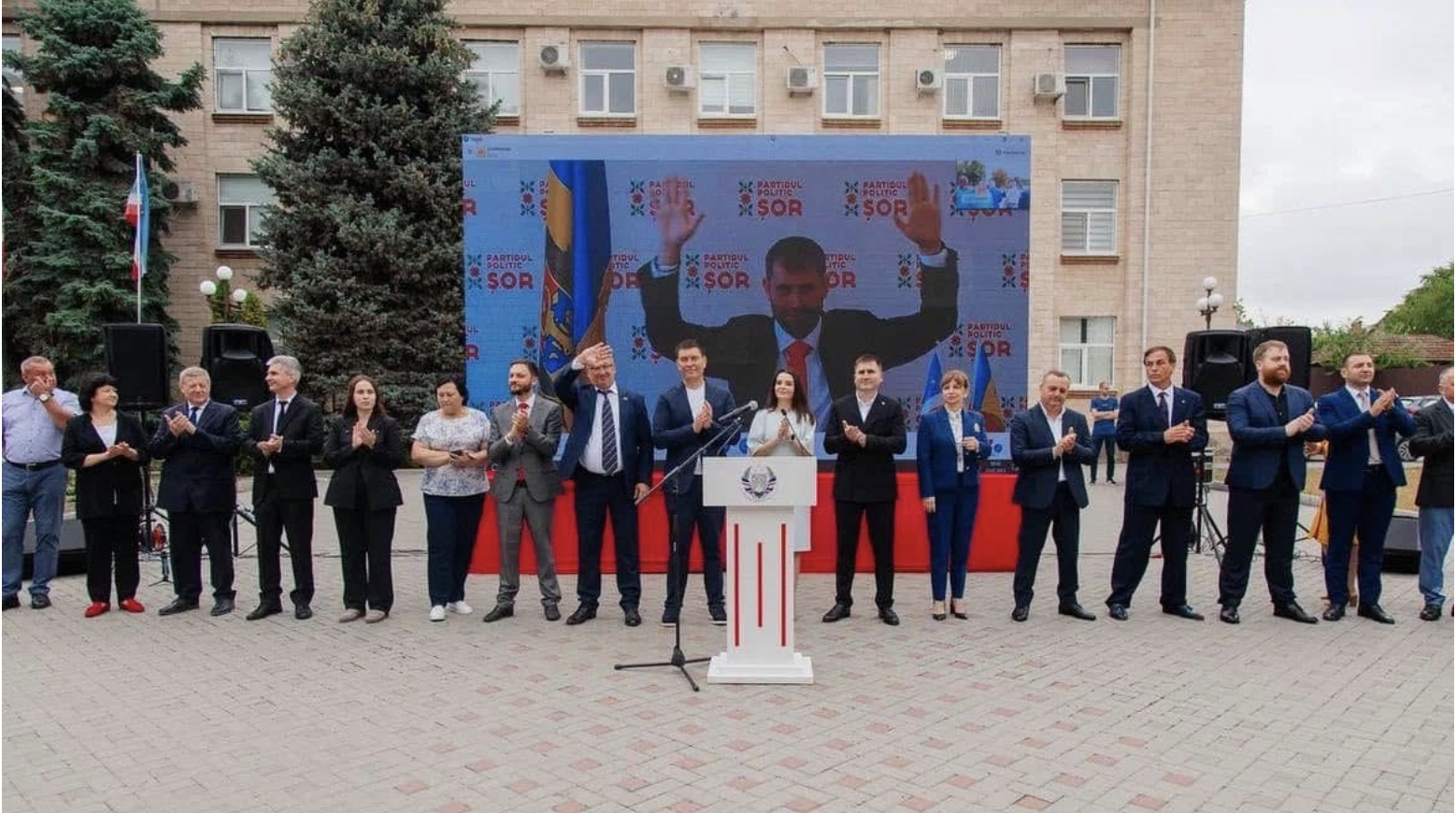 The fugitive oligarch Ilan Shor speaks from a big screen at a rally of his  supporters in Comrat, the central city in the southern autonomous region of Gagauzia in Moldova on July 27. Photo: BalkanInsight
Five-year electoral ban for The Shor Party
The Constitutional Court of Moldova declared the Shor Party unconstitutional back in mid-June. Despite the party's appeal, the Constitutional Court rejected this appeal in a subsequent decision on September 19. This ruling is final and cannot be further contested; it came into effect immediately upon adoption. Members of this contentious political party have also been handed a five-year ban, prohibiting their participation in any elections during this period. They will not have the right to take part in this year's local elections or any upcoming presidential or parliamentary elections.
The Shor Party, established in 1998, has a history of legal entanglements. Its leader, oligarch Ilan Shor, was sentenced to 15 years in prison in a case known as the 'Grand Theft,' in which $1 billion disappeared from three Moldovan banks between 2012 and 2014. Last year, he faced sanctions from the US State Department, which accused him of collaborating with Moscow-based entities and other corrupt oligarchs to "create political unrest in Moldova." An investigation is also ongoing into this year's gubernatorial election in the pro-Russian autonomous region of Gagauzia in southern Moldova, where Evghenia Gutul, an ally of Shor, emerged victorious.
The party was dissolved under the Court's decision in June, and a special commission was established to complete the legal procedures for its dissolution. However, Shor's structures fragmented into several satellite parties, with ambitions to participate in the local elections scheduled for November this year. Marina Tauber, the party's vice-chairwoman, condemned the Court's ruling, stating, "We will still come to power with our team. For us, this shameful process is an experience." She emphasized that "citizens must have the right to free choice" and pledged that Shor would continue his work.
Moldovan President Maia Sandu welcomed the Court's decisions, as they align with the desires of Moldovans who "value and want to live in a democratic state, a state of law, where criminal organizations are not protected but prevented from capturing the state."
Sources: 
Al Jazeera. 2023. Moldova bans pro-Russian Shor party after months of protests. https://www.aljazeera.com/news/2023/6/19/moldova-bans-pro-russian-shor-party

BalkanInsight. 2023. Moldovan Constitutional Court Bans Fugitive Oligarch's Party from Polls. https://balkaninsight.com/2023/09/20/moldovan-constitutional-court-bans-fugitive-oligarchs-party-from-polls/
Moldova's debt to Gazprom
On September 6, Moldova declared that it owed Gazprom $8.6 million for gas, a significantly lower sum compared to the $709 million asserted by the Russian energy conglomerate, which has expressed its intention to continue pursuing the full amount. Moldova had been a purchaser of Russian natural gas until March 2022, when Moldovan authorities announced the halt of gas imports from Russia.
Moldova's Energy Minister, Victor Parlicov, disclosed that an international audit determined that the publicly-owned natural gas distributor, Moldovagaz, was only indebted in the amount of $8.6 million. The audit also unveiled exorbitant interest rates claimed by Gazprom. Documents reportedly indicated that nearly 50% of the debt comprised late fees, accumulating at daily interest rates of about 0.35% in USD. Parlicov emphasized that the government had no intention of paying non-existent debts.
 Prime Minister Dorin Recean added, "Following the clarification of the natural gas debt, Moldova and its citizens are not obliged to settle the corresponding bills." The audit report also highlighted Gazprom's own shortfall of approximately $160 million in gas transit fees dating back to 2007. Recean stressed, "The citizens of the Republic of Moldova should not bear the burden of debts that Gazprom claims don't exist, particularly those of Gazprom's subsidiary, Moldovagaz."
Russia's Foreign Ministry urged Moldova to refrain from politicizing the energy supply issue. Spokeswoman Maria Zakharova stated that Gazprom had been a reliable energy supplier for decades and called on Moldovan authorities to fulfil their responsibilities without politicizing, especially in the energy sector.
However, Moldova's Energy Minister mentioned that auditors did not receive documents from Moldovagaz and Gazprom to account for $276 million of the alleged debt. He clarified that this didn't imply the documents didn't exist but rather weren't provided to the auditors.
 An additional $400 million was reportedly unaccounted for due to procedural issues, and the government shared the audit results with Moldovagaz and Gazprom, awaiting Gazprom's response.
 President Maia Sandu stated that the audit refuted Gazprom's claims, reiterating that Moldova had no outstanding debts to Gazprom for natural gas.
Sources:
Euractiv"Moldova puts its debt to Gazprom at $8.6 million, Russia disagrees",
Intensifying cooperation between Moldova and Germany
Moldova and Germany have recently intensified their cooperation, with significant implications for Moldova's future. Prime Minister Dorin Recean discussed with German officials to strengthen their partnership in various vital sectors.
In a meeting with Germany's Federal Minister for Economic Cooperation and Development, Svenja Schulze, the focus was on economic and energy sector reforms. They explored opportunities to extend Moldovan-German commercial and economic cooperation. Recean emphasized the Moldovan government's commitment to improving the investment climate and shared forthcoming initiatives with Germany's support. He also highlighted Moldova's European integration as a national priority, relying on Germany's backing for accession negotiations with the EU, set for December. This cooperation is seen as a means to connect Moldova more closely to Europe, leveraging bilateral agreements and identifying new areas of sustainable economic collaboration.
Prime Minister Recean expressed gratitude for the support from Germany, including through the upcoming Moldova Support Platform scheduled for Chisinau in October. Minister Svenja Schulze reiterated Germany's support for Moldova's European modernization efforts and highlighted Moldova's resilience in supporting Ukraine during Russia's ongoing conflict with Ukraine. This reaffirmed Germany's commitment to regional stability and European values.
In a separate meeting in Berlin, Prime Minister Recean engaged with various members of the German parliament, including Michael Roth, Johannes Schraps, Anton Hofreiter, and others. The discussions revolved around cooperation in key sectors and Moldova's significant progress in implementing recommendations from the European Commission, particularly in combating corruption and strengthening the rule of law.
Recean stressed the transformative impact of Moldova's status as a candidate for EU membership, driving reforms and modernization. He sought Germany's political support for initiating accession negotiations. The members of the German parliament recognized the importance of Moldova's reforms and reaffirmed Germany's support for Moldova's European agenda.
This intensified cooperation between Moldova and Germany is poised to impact Moldova's future profoundly. It demonstrates Moldova's determination to align itself more closely with European values and institutions, with Germany as a crucial partner in advancing these aspirations. As Moldova continues its path toward European integration, German support will be instrumental in shaping the country's political and economic