Strategic Analysis Balkan Brief
Review of October 2021
Petra Bošková, Matúš Babulík, Ivan Iliev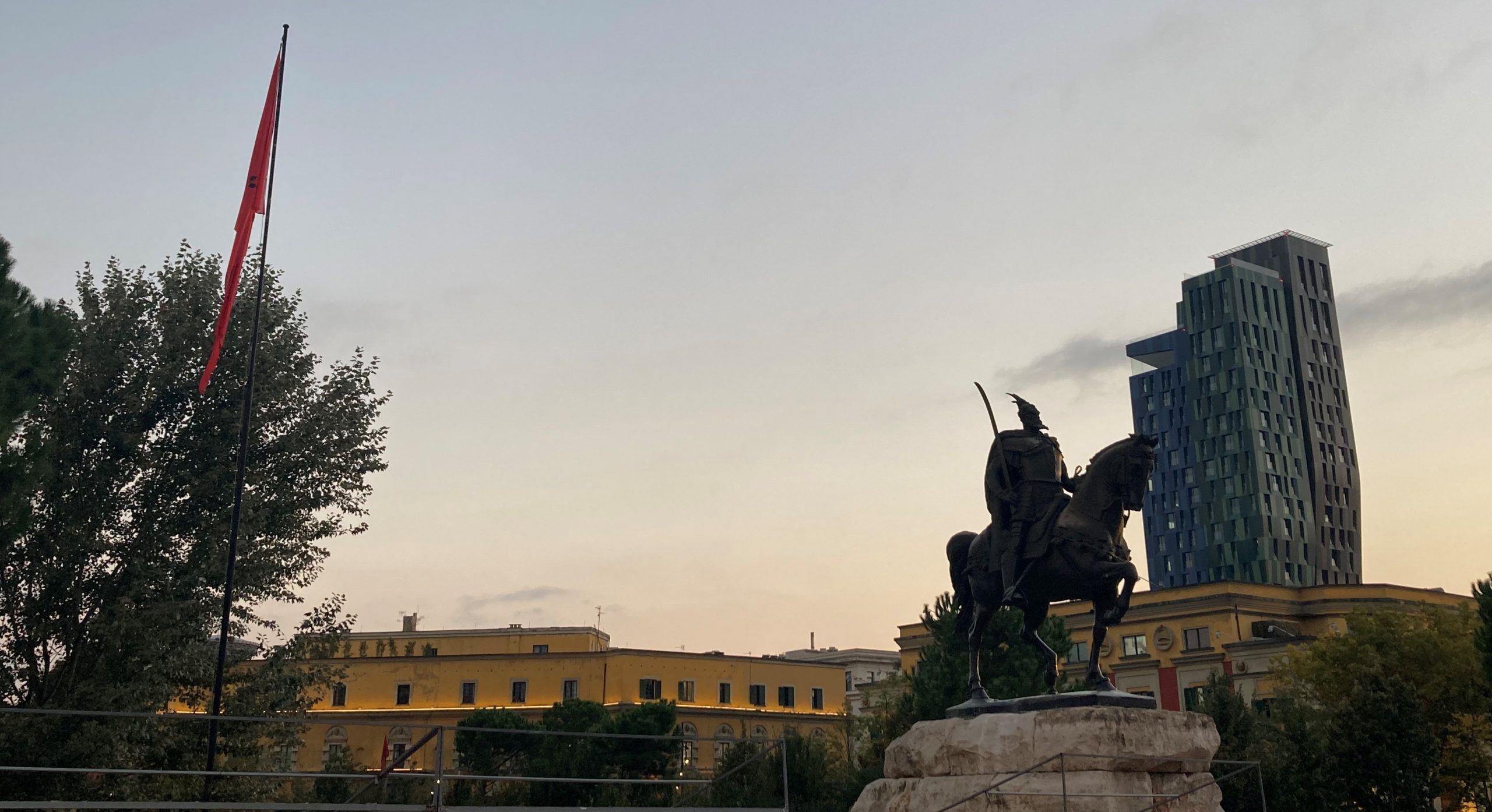 Tirana, Albania; Photo: Jan Cingel/OwnStock
Albania
Media freedom in Albania will not be endangered, according to Rama
On October 20, Edi Rama, Albania PM, has accused rights organizations of misunderstanding him concerning plans to create a Media and Information Agency. Rama claims that media "feed the world with false alarms" and plans to create a propaganda ministry. He said that rights organizations that urge him to cancel plans to set up a "Media and Information Agency" do not understand the purpose and necessity of the institution. Rama explained his concerns at a press conference with the EU ambassador in Tirana, Luigi Soreca, following the European Commission's latest Progress Report on Albania. In this report, freedom of media is considered as no progress area and criticized by the EU. The agency should be headed by the government's spokesperson, whose position will be "at the same level as a state minister." However, that was heavily criticized by activists who consider it a propaganda ministry that would limit journalists in their activities that hold the government accountable. Albania has long lasted issue with media freedom. EU, local and international activists claim that country is limiting and restricting journalists in their work, mainly to hide corruption and unlawful activities. Also, the EU remains concerned, as it calls for increasing the media freedom in the country, but without any significant change.
Bosnia and Herzegovina
The story of the undemocratic Constitution of Bosnia and Herzegovina
A new book by Aarif Abraham, "A Constitution of the People and How to Achieve It: What Bosnia and Britain Can Learn from Each Other," seeks to analyze the issue of the Constitution in Bosnia and Herzegovina. It explains the problematic situation with the Dayton Peace Agreement, which has never been officially translated into the local language.
Abraham argues that the leading players in the agreement did not understand how to build a policy around building a democratic nation where diversity is in part because they did not understand the fundamental power structures. The author sees that in the formation of the new Constitution, it was necessary to consider BIH's political culture, history, or religion, which were the presumed source of the conflict.
Abraham argues that what BIH needs is to take the right path in the trajectory of democracy, to include constitutional referendums, civic initiatives, and advisory assemblies as a solid and standard element of Bosnia and Herzegovina's politics. He argues that throughout history, the people of BIH have come under the strong influence of foreign powers, which has disrupted society's natural motivation for change.
The book immediately came to the attention of BIH's political elites, as an electoral law reform is currently being discussed, focusing on the distribution of power without addressing elements of social responsibility.
Croatia
Three police officers suspended for anti-immigrant violence
On October 11, the Croatian Police Directorate stated that three police officers had been suspended from service because of their participation in anti-immigrant violence at the border with Bosnia and Herzegovina. Croatian Interior Minister Davor Božinović confirmed that police from the country's anti-riot unit were the masked men seen in a video committing violent pushbacks filmed in June by a group of international investigative journalists at the Croatia-Bosnia and Herzegovina border. 
The incident took place in June when a group of Afghans and Pakistanis applied for asylum. However, they encountered Croatian police, which forced them to cross the Korana River and return to Bosnia and Herzegovina. Video footage shared by the Lighthouse Reports shows that some of them were beaten by at least two armed individuals dressed entirely in black and wearing balaclavas, later found to be the Croatian police officers. 
The EU's Home Affairs Commissioner Ylva Johansson said that she expected a thorough investigation of the issue. Johansson met with the Croatian interior minister in Brussels for two days of talks with his EU peers and urged him and Greece interior minister, who has a similar problem, to take the matter "very seriously".
Currently, hundreds of migrants, including small children, babies and elderly people, have camped out in northwest Bosnia and Herzegovina, braving worsening weather and tough Croatian border police for a chance to head on towards Western Europe. They refused to move into officially organized camps to keep as close to the Croatian border as possible. Instead, some of them tried to cross the Croatian border illegally. There's no running water, lavatories, showers or electricity in their makeshift camp. 
Sources:
Gabriela Baczynska, Reuters, "EU executive demands probe into alleged migrant pushbacks in Greece, Croatia", https://www.reuters.com/world/europe/eu-executive-urges-probe-after-report-migrant-pushbacks-greece-croatia-2021-10-07/
Info migrants, "Croatia: 3 border agents suspended for anti-migrant violence", https://www.infomigrants.net/en/post/35694/croatia-3-border-agents-suspended-for-antimigrant-violence
Child David, Al Jazeera, "Croatia, Greece, Romania illegally pushing refugees back: Report", https://www.aljazeera.com/news/2021/10/7/croatia-greece-romania-illegal-pushbacks-borders
Kosovo
Albin Kurti's party achieved mixed results in local elections
The first round of municipal elections took place in Kosovo on October 17. That was an unsatisfactory result for the ruling left-wing party Vetevendosje of the current Prime Minister Albin Kurti. Vetevendosje party did not win control of any of Kosovo's 38 municipalities.
The governing party must wait for the second round next month to see if it will succeed in at least one city. Seventeen candidates have won more than 50% of the vote, and another 21 will go to the second round, where voters will decide on one of the two most successful candidates from the first round. Vetevendosje will run-off in four of the seven big municipalities – the capital, Prishtine/Pristina, Prizren, Gjakove/Djakovica and Gjilan/Gnjilane.
The former ruling centre-right Democratic Party of Kosovo, PDK, has won in Mitrovica South, Ferizaj/Urosevac, Skenderaj/Srbica and Elez Han/Djeneral Jankovic. The oldest and largest centre-right party, the Democratic League of Kosovo LDK, has won the first round in Peje/ Pec and Lipjan/Lipljan. In Suhareke/Suva Reka and Decan/Decani, the right-wing Albanian nationalist party Alliance for the Future of Kosovo has won. Belgrade-backed party Srpska Lista won in 9 out of 10 municipalities predominantly inhabited by the Serbian minority. 
The governing party Vetevendosje experienced a massive slump after winning more than 50% of the vote in the parliamentary elections at the beginning of the year. About 798,000 (42.74%) of 1,86 million eligible voters cast their vote in Kosovo. According to Vetevendosje MP Fitore Pacolli, the elections went smoothly without significant incidents. She said that "we have shown that we are an example for the entire region in our ability to organize elections without incidents and deviations from citizens' will".
Sources:
Isufi Perparim, Milica Stojanovic, Balkan Insight, "Kosovo Ruling Party Loses Ground in Municipal Elections", https://balkaninsight.com/2021/10/18/kosovo-ruling-party-loses-ground-in-municipal-elections/
Taylor Alice, Euractiv, "Kosovo elects 17 mayors in first local election round", https://www.euractiv.com/section/politics/short_news/kosovo-elects-17-mayors-in-first-local-election-round/
Churm Philip Andrew, Euronews, "Kosovo's municipal election: Centre-right opposition lead after early results", https://www.euronews.com/2021/10/17/municipal-elections-take-place-in-kosovo-as-tensions-rise-with-serbia
Kosovo
Kosovo has declared two Russian officials persona non grata
On October 22, Kosovo President Vjosa Osmani announced that Kosovo had ordered the expulsion of two Russian diplomats on charges of destabilizing activities. Their names and functions were not made public, but the president said the reason was "their harmful activities that violated Kosovo's national security and constitutional order".
President Osmani stated that "Institutions of the Republic of Kosovo are determined in the fight against the malign influence of Russian Federation and their satellites in the region, which aim to destroy our achievements and those of the United States, NATO and the European Union". Osmani added that "we will continue to cooperate closely with our American and European allies to prevent any attempt that Kosovo and our region fall prey to the destabilizing ambitions of Russian Federation". 
Russia was among the first countries to condemn Kosovo's declaration of independence in 2008 and has since voted against Kosovo's membership of international organizations. The Russian embassy in Belgrade stated that "no decision of Pristina has legal force for Russia". "We do not recognize the independence of Kosovo, so we do not recognize their government or other structures".
Russian Foreign Minister Sergei Lavrov opened the Russian Liaison Office in Kosovo in 2005. According to the Kosovo Center for Security Studies report, Russia does not intend to influence Kosovars or their government to assimilate pro-Russian sentiments or policies. However, Russian-influenced operations aim heavily at the Kosovo Serbs to prevent Pristina's control over the Serbian majority.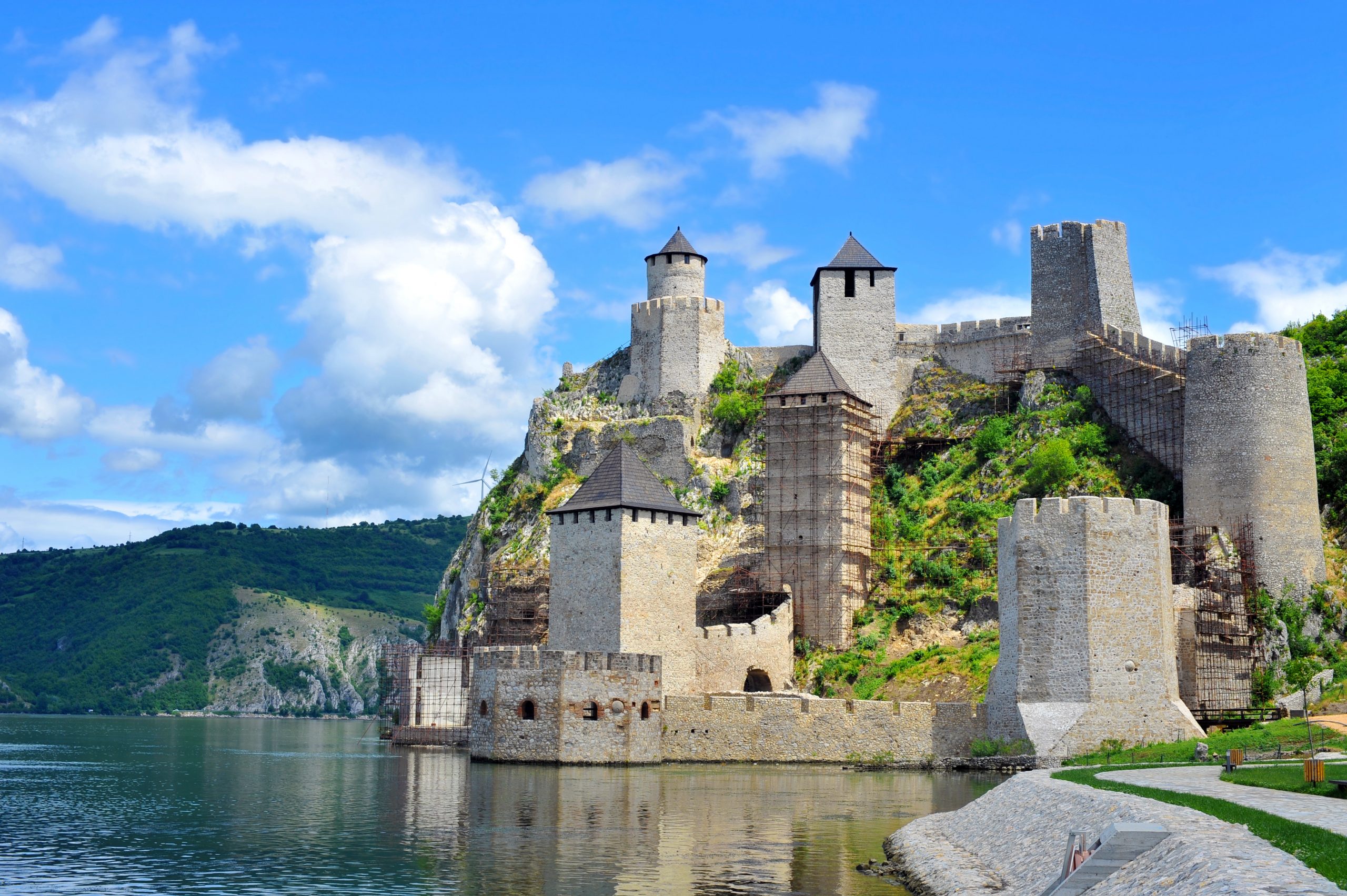 Golubac Fortress, Serbia. Photo: Pavle Marjanović/ Shutterstock.com
Montenegro
Serbian Orthodox Church Promotes Teaching of Religious Education in Montenegro
The new government's arrival in Montenegro, closely connected with the Serbian Orthodox Church, has opened a sensitive discussion about introducing religious education classes in schools. Experts and the opposition warn that this issue should be approached with caution. Besides, the timing of the debate on religious education in Montenegro does not seem to be the best, as ethnic differences in the former Yugoslav Republic seem to be widening. As one of the few countries, Montenegro did not introduce religious education in schools after the collapse of the former Yugoslavia. That was because it is a sensitive topic in the country, and the Montenegrin Orthodox Church is not recognized in the Orthodox world. It is not customary for the Orthodox Church in the Western Balkans region to have the same powers as the Serbian Orthodox Church in Montenegro. Nevertheless, the Serbian Orthodox Church plays a vital role in shaping the current government's policy, and it was the church that helped with the promotion of the ruling party Zdravko Krivokapić. The President of Montenegro Milo Djukanovic made no secret that he has had bad relations with the Serbian Orthodox Church. He said he sees the potential beginning of religious education in schools as yet another possible conflict between Serbs and Montenegrins in the country. Furthermore, he claims that this community promotes Serbian nationalism and undermines Montenegrin statehood. Montenegro has also signed several "fundamental agreements" with smaller religious communities such as the Catholic Church in 2011 and the Jewish and Islamic communities in 2012. No agreement has been reached with the Serbian Orthodox Church, although it is the largest religious community in the country. The opposition accused the government of giving in to the Serbian Orthodox Church and another country – Serbia.
North Macedonia
New conditions for Northern Macedonia – six Bulgarian requirements
The latest EU-Western Balkans Summit in Slovenia shifted further debates between Bulgaria and Northern Macedonia on Skopje's accession to European structures. The new round of negotiations will start at the end of October and will be based on a bilateral protocol containing six demands from Bulgaria. The question is whether Skopje can meet all six points in such a short time.
For Skopje, the protocol is the "gateway" to the start of negotiations with the EU and thus the obligation to meet the requirements if it wants to move forward in the accession negotiations after 16 years.
The six points are the short and long-form of North Macedonia's name; preventing hate speech; rehabilitating the victims of communism; greater engagement in the joint History Commission; non-interference in the other's domestic affairs; and naming Bulgarians in North Macedonia's Constitution.
At first glance, it may seem that the topics are appropriate in terms of neighbourly relations. However, it is essential to realize that each case hides ingrained historical wrongs and radically different past views, making it difficult to reach any agreement.
As for introducing Bulgarians to the Constitution, the North Macedonian prime minister says his government is willing to take such a step. On the other hand, the current Social Democratic government cannot assemble the two-thirds majority needed for a simple amendment of the Constitution. Another fact is that the opposition, composed mainly of nationalistic right-wing parties, would not agree to help the government with such a proposal. 
For Skopje to enter European structures as soon as possible, it must meet the conditions. Provided that all goes well, the protocol will be finalized in early November, which could mean that an official start date for accession negotiations could be set during the EU General Council in December.
Serbia
The arrest of a former state secretary at the Interior Ministry of Serbia
On October 15, a former state secretary of the Ministry of the Interior, Dijana Hrkalović, was arrested based on suspicion of having close ties to a notorious crime gang. She was detained on suspicion of removing evidence after the murder of Vlastimir Milosevic.
Veljko Belivuk, the leader of the crime gang Janjicari, was accused of this murder, known as a "railway murder." The murder of Vlastimir Milosevic took place on tram rails on March 27 Street in Belgrade downtown on January 30, 2017.
Hrkalovic's lawyer, Sead Spahovic, claimed that "the pro-government tabloids are spreading a lot of lies in recent days about her arrest. Most of that is not true. They praised her in previous years. Now, they are demonizing her, shifting the blame from the real culprits. She is just a scapegoat". Her lawyer added that "she was accused only of not delivering telephone conversations on time before the start of the murder trial. She is solely charged with delivering a report late".
Dijana Hrkalović, a member of the ruling party Serbian Progressive Party of Aleksandar Vucić, moved from the state intelligence service to the Deputy to then Minister of Interior Nebojsa Stefanovic at the age of 27 in 2014. In 2015 she became secretary of the criminal police department and, in 2017, state secretary of the Interior Ministry. It was widely believed that she had a close connection to Aleksandar Stankovic, the former leader of the Janjicari gang.