Strategic Analysis Caucasus Brief
Bi-weekly review (26.03.2023 – 9.4. 2023)
Tomáš Baranec
Armenia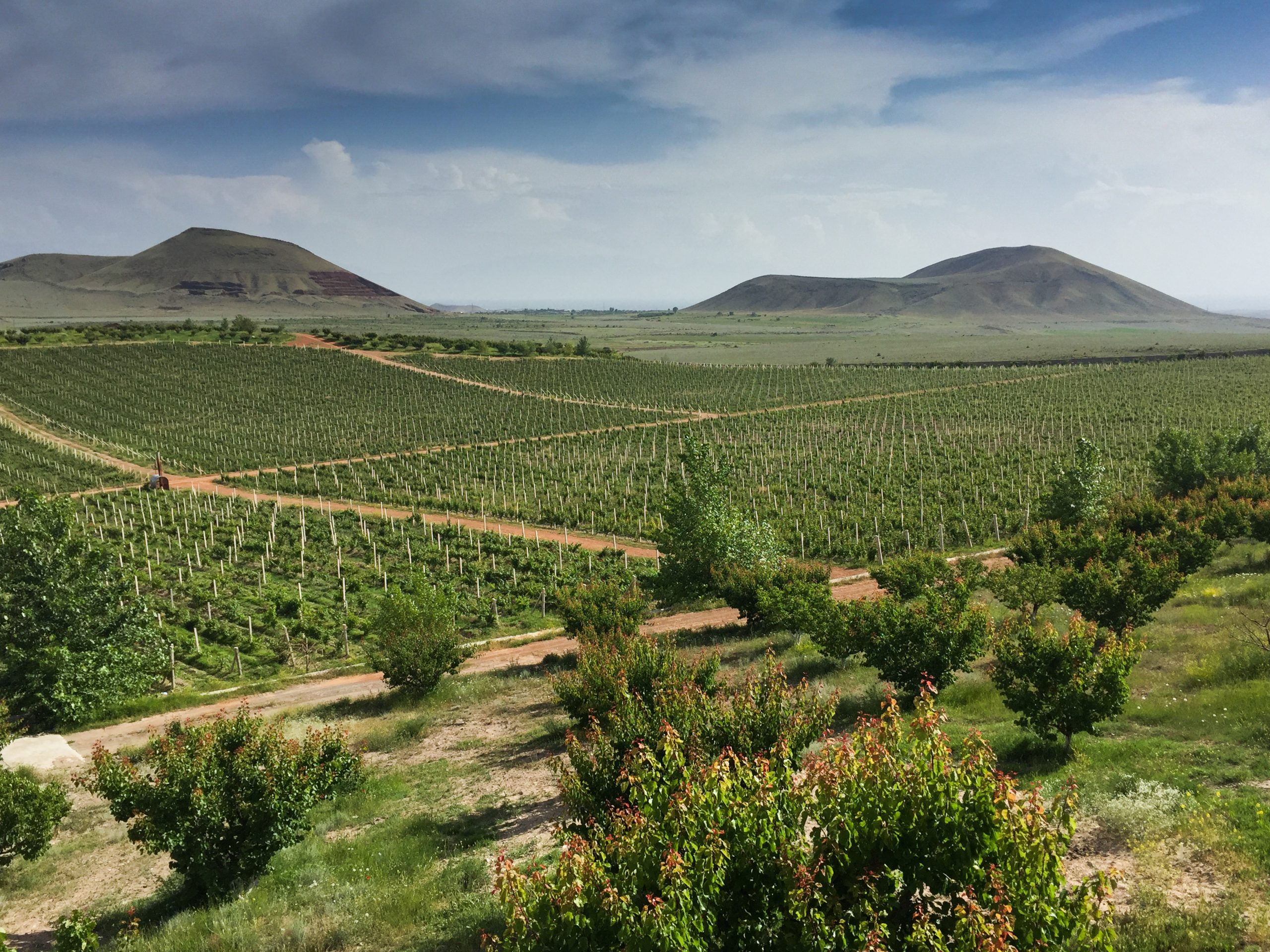 Vineyards, Aragatsotn province, Armenia. Photo: Elena Diego/ Shutterstock.com
Russia announces ban on dairy imports from Armenia amid a souring of relations
On March 31, Russia banned imports of dairy products from Armenia allegedly on health issues as relations between the two formally allied nations sour. Rosselkhoznadzor, Russia's agricultural oversight agency, claimed Armenian dairy companies use Iranian milk and other raw materials that are banned in Russia.
A spokeswoman for Armenia's Food Safety Inspectorate told RFE/RL's Armenian Service that the Iranian raw materials are safe for consumption. She said Rosselkhoznadzor inspected some Armenian dairy firms last week and did not detect "any problem threatening people's lives and health." "Food safety violations that threaten human life and health have not been found. The production of dairy products, as well as the entire food production chain, is properly controlled by the Food Safety Inspection Authority," the Armenian government agency said.
As RFE/RL writes Russian-Armenian relations have been on a downward trajectory ever since fighting reignited between Azerbaijan and Armenia in 2020. Prime Minister Nikol Pashinian's administration has criticised ally Russia for lack of support. Armenia is a member of the Russia-led Collective Security Treaty Organization, a military alliance consisting of several post-Soviet states.
Tension increased at the end of March after the Constitutional Court of Armenia gave the green light for the country to join the International Criminal Court (ICC). Moscow immediately warned that recognising The Hague tribunal's jurisdiction would have "extremely negative" consequences for Russian-Armenian relations.
Last month, the ICC issued a warrant for Russian President Vladimir Putin's arrest. Were Armenia to become a signatory to the ICC, it would be expected to detain Putin should he travel to the country.
Russia has for years used Rosselkhoznadzor as a blunt foreign policy instrument against former Soviet states whose actions Moscow disliked. Russia has banned food and drinks from Ukraine, Moldova, Georgia, Azerbaijan and Belarus during periods of increasing bilateral tension. Those countries have described Moscow's actions as economic sanctions.
Sources:
RFE/RL, "Russia Announces Ban On Dairy Imports From Armenia Amid Souring Of Relations", https://www.rferl.org/a/russia-armenia-dairy-products-ban/32344893.html
Caucasus Watch, "Armenia's Food Safety Agency Reacts to Russia's Plan to Restrict Dairy Imports from Armenia", https://caucasuswatch.de/en/news/armenias-food-safety-agency-reacts-to-russias-plan-to-restrict-dairy-imports-from-armenia.html
Confusion over Armenia's participation in U.S.-led military drills
On April 6, Armenia appeared on a list of 26 countries participating in the US-led Defender 23 multinational military drills in Europe, set to take place from April 22 to June 23. A few hours later, Armenia was removed from the list.
Later, on Friday, April 7, The Armenian military confirmed that it would not participate in the exercise. The ministry spokesman, Aram Torosian, said only that Armenian soldiers will likely participate instead in two other, more small-scale drills that are due to be organised by the US Army in Europe and Africa later this year.
One of those drills will involve multinational troops making up KFOR, the NATO-led peacekeeping force in Kosovo, Torosian said in written comments. A small Armenian military contingent has been part of KFOR for nearly two decades.
At first, it was unclear why Washington included Yerevan on the list. Hakob Badalian, an Armenian political analyst, suggested that Armenia's initial inclusion on the list of participants was hardly the result of a US "technical" error. "I don't think it's a technical issue," Badalian told RFE/RL's Armenian Service. "The question of why that happened is very important."
On April 8, The United States Department of Defense said that including Armenia in the list of participating countries in the Defender 23 military exercises happened by mistake. In response to a query by the Voice of America, the Department of Defense said Armenia never participated in the Defender 23 drills and wasn't supposed to be included in the list and that it happened due to an error by the Pentagon's internal press team.
As RFE/RL reminds, Armenia has long been allied with Russia. Russia claims to have faced growing "hostility" from NATO and the United States, in particular since its invasion of Ukraine. Armenia's relations with Russia and the Collective Security Treaty Organization (CSTO) have deteriorated in recent months due to what Yerevan sees as a lack of support from its allies in the conflict with Azerbaijan.
Earlier this year, the Armenian government cancelled a CSTO military exercise planned in Armenia and refused to appoint a deputy secretary-general to the Russian-led military alliance. It also rejected other CSTO member states' offer to deploy a monitoring mission to the Armenian-Azerbaijani border.
Sources:
Azatutyun.am, "Confusion Over Armenia's Participation In U.S.-Led Military Drills", https://www.azatutyun.am/a/32352696.html
Azatutyun.am, "Armenia Confirms Non-Participation In U.S.-Led Drills", https://www.azatutyun.am/a/32354054.html
AVETISYAN Ani, OC Media, "Armenia to take part in US-led military drills", https://oc-media.org/armenia-to-take-part-in-us-led-military-drills/
Armenpress.am, "Including Armenia in the list of participants of Defender 23 drills happened by mistake, says Pentagon", https://armenpress.am/eng/news/1108242/
Azerbaijan suggests Iran behind MP's shooting, warns of looming "crisis."
Azerbaijan's State Security Service (DTX) said on March 29 that lawmaker Fazil Mustafa was hospitalised with gunshot wounds to his shoulder and leg the previous evening after an unknown assailant opened fire at him near his home.
Mustafa is the only representative in parliament of the Boyuk Qurulus (Great Creativeness) party loyal to the government. Investigations into the attack are underway, DTX said. Mustafa is a sharp critic of neighbouring Iran's policies toward Azerbaijan.
Azerbaijan's Foreign Ministry has suggested that Iran was involved in the shooting attack. Meanwhile, Azerbaijani law enforcement reportedly arrested six people as suspects in the shooting of MP Fazil Mustafa. Four were detained as a result of joint operation of different law enforcement agencies, the Interior Ministry confirmed to local news agency Turan in the early hours of April 3.  A few hours later, pro-government news sites reported the detention of two more, apparently in a separate operation.
Although the identity of the detainees has not yet been officially reported, the local media has announced the names of the persons detained in the State Security Service. The media wrote that they are religious people of the Shiite sect connected to Iran.
A new crisis in relations between Baku and Teheran comes shortly after Israeli Foreign Minister Eli Cohen said at a joint briefing with Azerbaijani counterpart Jeyhun Bayramov that Azerbaijan and Israel had agreed to form a "unified front in the face of Iran."  "We must work together to prevent Iran from obtaining nuclear capability, and it will be best to achieve that goal through political and economical means while a credible military threat is understood," he said.
Iranian Foreign Ministry spokesman Nasser Kanaani commented on Cohen's statement as "yet another piece of evidence proving the Zionist regime's evil intentions to turn the Republic of Azerbaijan's territory into a threat against the national security of the Islamic Republic of Iran."
In his March 31 statement, the Azerbaijani MFA spokesman invited Kanaani to "listen carefully" to comments made by Bayramov. He asserted that the top Azerbaijani diplomat "has not displayed any standpoints against Iran" and that Azerbaijan "has never allowed the use of its territory against third countries."
On April 6, Baku expelled four Iranian diplomats. The Azerbaijani Ministry of foreign affairs noted that the ministry had expressed dissatisfaction with Iran's "provocative actions" in relation to Azerbaijan. It added that the embassy employees had been expelled on the basis of "activities that are not in accordance with their diplomatic status and contradict the 1961 Vienna Convention on Diplomatic Relations".
Sources:
RFE/RL, "Azerbaijani PM Known For Criticism Of Iran Wounded In 'Terrorist Attack' ", https://www.rferl.org/a/32340055.html
ISAYEV Heydar, "Azerbaijan suggests Iran behind MP's shooting, warns of looming crisis", https://eurasianet.org/azerbaijan-suggests-iran-behind-mps-shooting-warns-of-looming-crisis
Caucasus Watch, "Six Suspects Detained in Connection with Armed Assault on Azerbaijani MP", https://caucasuswatch.de/en/news/six-suspects-detained-in-connection-with-armed-assault-on-azerbaijani-mp.html
AGHAYEV Ismi, OC Media, "Azerbaijan expels Iranian diplomats", https://oc-media.org/azerbaijan-expels-iranian-diplomats/
Azerbaijanis "bar Nagorno-Karabakh residents" from crossing Lachin Corridor
The ethnic Armenian authorities in Stepanakert stated that the Azerbaijanis claiming to be eco-activists blocking the Lachin Corridor prevented a group of Nagorno-Karabakh residents from entering Stepanakert. At the same time, those willing to leave are allowed to do so.
On April 4, de facto Nagorno-Karabakh's State Minister Gurgen Nersisyan stated that the 27 Nagorno-Karabakh residents had attempted to enter Stepanakert accompanied by Russian peacekeepers. Nersisyan has said that the group had been residing in Armenia since the closure of the Lachin Corridor on December 12.
Only four group members were reportedly allowed into Stapanakert due to illness. At the same time, the rest returned to Goris in southern Armenia after "long and persistent negotiations [with the Azerbaijanis] yielded no results". Apa, a pro-government Azerbaijani TV channel, reported that the group had departed from Goris in Armenia and was met by Russian peacekeepers on the Lachin Corridor, who accompanied them to Shusha (arm. Shushi). In Shusha, the group was allegedly stopped by another Russian peacekeeping checkpoint because their trip to Stepanakert had not been pre-arranged.
Apa corroborated State Minister Nersisyan's claim that four group members were transported to Stepanakert due to illness, adding that they were taken there in Azerbaijani ambulances accompanied by Russian peacekeepers. "According to obtained facts, some Azerbaijanis even broke into one of the cars", the de facto Human Rights Defender of Nagorno-Karabakh, Gegham Stepanyan, wrote on Facebook late on April 4.
"Moreover, by allowing the exit of people from Artsakh (arm. Term for Nagorno Karabakh) in various ways but prohibiting entry, the Azerbaijani authorities are openly implementing a policy of ethnic cleansing, as Ilham Aliyev once again admitted in his statement on January 10". Stepanyan was referring to a statement made by Aliyev, in which he said: "For whoever does not want to become [an Azerbaijani] citizen, the road is not closed, but open. They can leave".
On April 5, Nersisyan said that "from now on, it will be possible to leave Artsakh for Armenia in case of emergency." According to him, entry and exit will be organised by the Russian peacekeeping contingent. Anyone needing to leave must first contact the RMK Interaction Center and obtain permission. The Ministry of Foreign Affairs of the unrecognised republic issued a statement saying that "Azerbaijan's criminal actions are becoming increasingly threatening in nature and scale."
Georgian government faces outcry over detained protester
The Georgian Young Lawyers' Association (GYLA) has claimed that the authorities failed to provide the detained foreign agent law protester Lazare Grigoriadis with a lawyer and that he was coerced into incriminating himself, reports OC Media. Grigoriadis, detained less than three weeks after the protests succeeded, faces up to 11 years in prison if found guilty of throwing two Molotov cocktails at the police and setting a police car on fire.
On April 3, his lawyer, Lika Bitadze, claimed Grigoriadis was initially deprived of his right to an attorney. Later, Grigoriadis was misled by the investigators, who suggested he would be able to use his mobile phone to contact a lawyer. However, the investigators allegedly took away Grigoriadis' phone after he had unlocked it.
On April 4, GYLA cited Bitadze as claiming her client was pressured into confessing after investigators threatened his friend. "He says that if I didn't give a testimony, and of course, it had to be an admission of guilt, they would have detained my friend Giorgi Jariashvili'", Bitadze claimed. "We believe that the developments in relation to Lazare Grigoriadis will significantly limit his right to a fair trial," reads the GYLA statement.
Georgian Prime Minister Irakli Garibashvili has commented on the case of Grigoriadis, saying the protesters' goal was to achieve chaos in the country. "Of course, what happened is unacceptable. All those accused of assaulting the police must be punished. In general, I would like to recall that in the United States of America, four people died during the storming of the Capitol [in 2021]. It turns out that we also have the norm of letting these anarchists into the parliament building and the norm to throw Molotov cocktails at the police, but the police must not act, and we must not punish anyone … Of course, this is not how it will be," the prime minister said.
The chairman of the ruling Georgian Dream party, Irakli Kobakhidze, said of the detainee that "he had all his priorities mixed up" and "this is a man who has gone astray." According to Kobakhidze, Grigoriadis is associated with the "Bolshevik troika" – Elene Khoshtaria, Zurab Japaridze and Giorgi Vashadze. Khoshtaria denies the claims spread by the chairman of the Georgian Dream.
"I personally do not know the arrested person, and he is not a member of Droa [the opposition party led by Khoshtaria], but we will protect him in every possible way. We are looking for contacts with the family and will be there according to their wishes. One of the main topics of the visit to Brussels was the protection of the demonstrators. We will protect them both outside and inside the country!" Khoshtaria wrote on Facebook.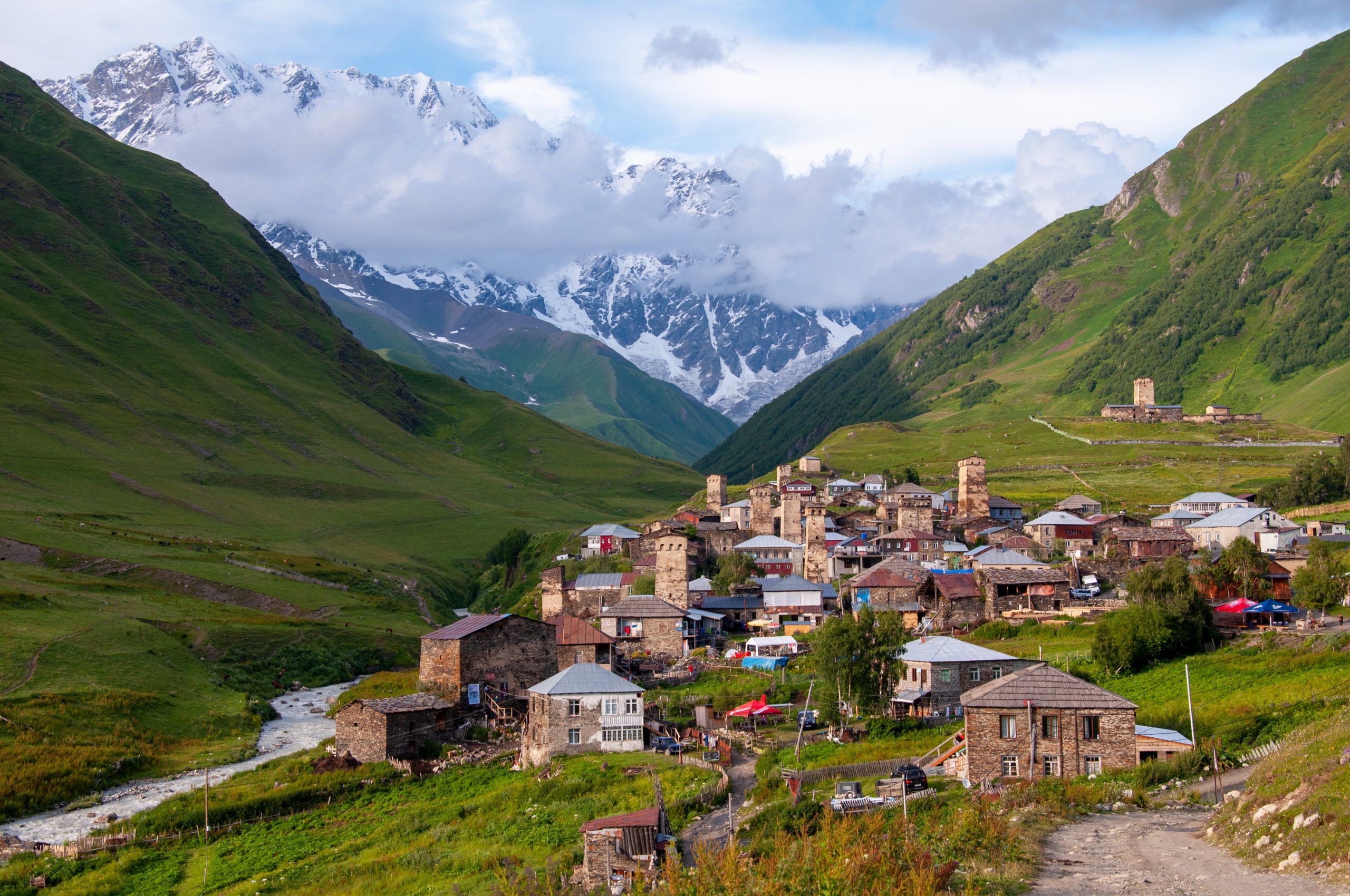 Svaneti, Georgia. Photo: Shutterstock.com
US sanctions senior Georgian judges for "undermining the rule of law. "
On April 5, the US State Department accused judges Mikheil Chinchaladze, Levan Murusidze, and Irakli Shengelia, and one former judge, Valerian Tsertsvadze, of "involvement in significant corruption" and "undermining the rule of law". The four Georgian nationals and their immediate family members have been banned from entering the USA.
 According to the statement, the above individuals abused their positions. "Today, the US Department of State is publicly designating Mikheil Chinchaladze, Levan Murusidze, Irakli Shengelia, and Valerian Tsertsvadze under Section 7031(c) visa restriction authorities due to their involvement in significant corruption. These individuals abused their positions as court Chairmen and members of Georgia's High Council of Justice, undermining the rule of law and the public's faith in Georgia's judicial system".
The United States continues to stand with all Georgians in support of democracy and the rule of law. It will continue to promote accountability for those who abuse public power for personal gain. We stand with all judges who have the integrity and courage to act impartially and independently…", reads the statement. 
Speaking with the TV network "Mtavari Arkhi", Murusidze denied abusing his power, claiming he didn't deserve sanction. He said it was bad for him, but "life goes on", and he "will get over it somehow", adding that it is a "really great injustice". He noted: "I don't have any accounts anywhere, I've lived an honest life, I haven't broken the law… I'm not involved in corruption, and I have always made the decisions that I thought were right and legal. But now, what can we do? It is what it is…".
Murusidze also commented on "Rustavi 2," saying: "In fact, the talk is that they want to take control and rule over the judiciary. No one needs an independent judiciary, they want to get into the court system and run the court system. When I made statements about the American Embassy, [that] in reality they are not helping the judicial system in any way, and this is all PR, they thought Levan Murusidze was preventing them from getting into the judicial system, from establishing control, and this is understandable."
Furthermore, Murusidze expressed concern: "I don't think they will stop. Sometimes I think they may even go as far as ending life… The Ambassador declared that justice is not night calls and bribes. I don't know what to say if the Ambassador knows that Murusidze makes night calls, i.e. they listen to my phone".
The ruling Georgian Dream party responded defiantly to the announcement, accusing the US of corruption and threatening to leak details of private conversations with US officials.
Sources:
KINCHA Shota, "US sanctions senior Georgian judges for 'undermining the rule of law'", https://oc-media.org/us-sanctions-senior-georgian-judges-for-undermining-rule-of-law/
Interpressnews, "US Department of State publicly designates Mikheil Chinchaladze, Levan Murusidze, Irakli Shengelia and Valerian Tsertsvadze 'due to their involvement in significant corruption. "
Civil.ge, "Georgian Judges Sanctioned by US State Department Speak Out Against Accusations", https://civil.ge/archives/536258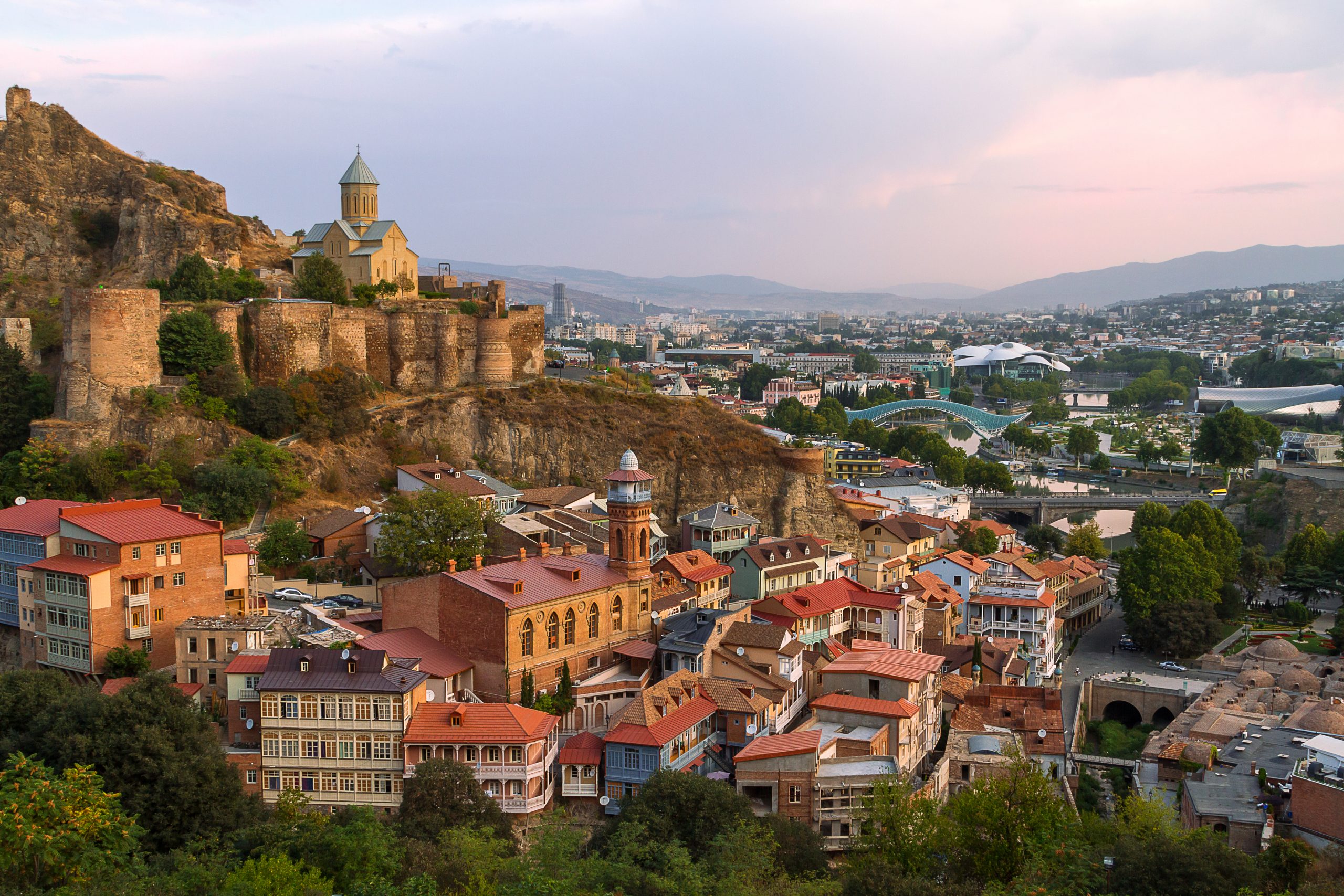 Skyline of Tbilisi. Photo: Shutterstock.com
Former Georgian security chief sentenced to five years
On April 4, the Tbilisi City Court found the former deputy head of the State Security Service, Ioseb (Soso) Gogashvili, guilty of all five charges. It sentenced him to 5 years in prison. Gogashvili was arrested late at night on July 16, 2022, during a special operation at his home. The prosecutor's office initially charged him with abuse of authority, obtaining, storing, and disseminating personal data by using one's official position and the illegal purchase and storage of firearms and ammunition. He was later also charged with deliberately disclosing state secrets and illegally obtaining and keeping secrets of private life.
Following Gogashvili's arrest, his wife, Tea Martkoplishvili, stated that law enforcement officers had placed one firearm under the bed and another in the closet, along with "a flash drive, a computer, written documents and a memory card" on the bedside table.
Gogashvili denied the allegations against him and, from prison, shared revealing information about the authorities. Among other things, he implicated the Georgian Dream founder, Bidzina Ivanishvili, in the 2017 kidnapping of Azerbaijani journalist Afgan Mukhtarli and the beating of former Deputy Interior Minister Gela Khvedelidze. He also accused Ivanishvili of threatening to "destroy the family."
The Prosecutor's Office said last year its investigation had shown Gogashvili held access to information containing "state secrets" and personal data of "certain individuals" between 2015-2018 while in office. The body noted Gogashvili had taken the data out of his office for "personal purposes" and kept it at home through misuse of his authority. Some of the personal data was later "disseminated with the participation of Gogashvili", the body added, violating the constitutional rights of individuals and "causing significant damage".
Sources:
Civil.ge, "Soso Gogashvili Sentenced to 5 Years in Prison", https://civil.ge/archives/535806
Agenda.ge, "Former Deputy Head of State Security Service convicted on exceeding authority, privacy invasion", https://agenda.ge/en/news/2023/1350