Strategic Analysis Caucasus Brief
Bi-weekly review (
23. 10. – 05. 11. 2023
)
Tomáš Baranec
Armenia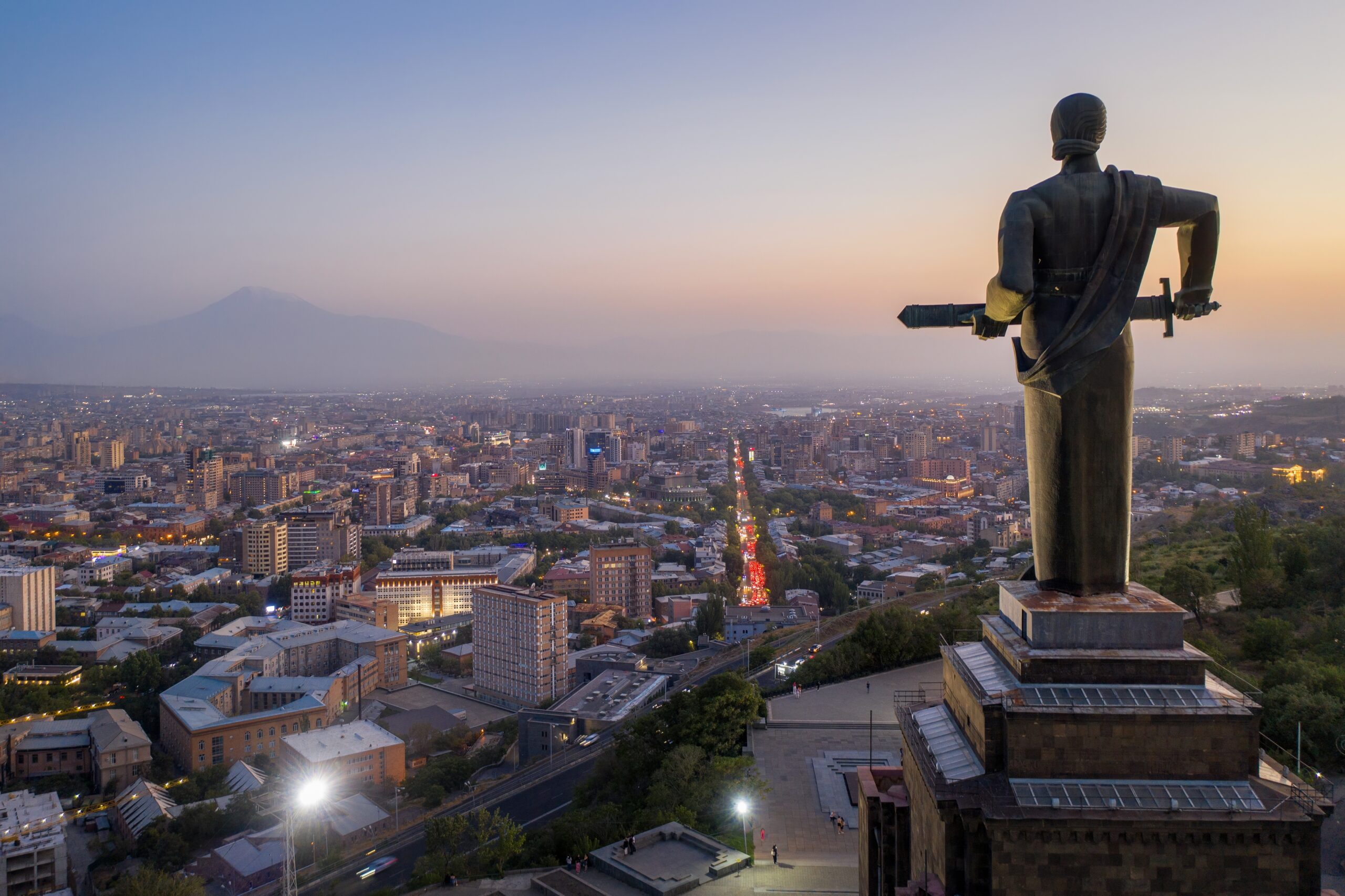 Yerevan, Armenia. View of Mother Armenia Statue, the city, and Ararat Mount at blue hour. Photo: Shutterstock.com
Moscow and Yerevan summon ambassadors as relations continue to plummet
On October 24, Yerevan summoned the Russian ambassador to the country over comments by Russian state TV criticising the Armenian government. Moscow summoned the Armenian charge d'affaires to Russia soon after, reported OC Media.
Armenian government reacted to Russia's Channel One hour-long programme titled: "Nikol Pashinyan: a harbinger of trouble". The show mainly focused on Prime Minister Nikol Pashinyan and his government and how he came to power in street protests in 2018. Experts invited to the show labelled this a "colour revolution" sponsored by the West.
Russian authorities responded by summoning the Armenian charge d'affaires in Moscow. Russian Foreign Ministry spokesperson Maria Zakharova said that "his attention was drawn to the most odious publications [in Armenian media] addressed to the Russian leadership, Russian diplomats, and [Russian] peacekeepers who risk their lives and sacrifice for the security of the Armenian people".
As Eurasianet.org reminded us, Russian state-owned media and propagandists regularly agitate for a change in Armenia's government. Pashinyan has repeatedly emphasised that such calls go against the principles of the countries' alliance. He told The Wall Street Journal that "such an approach violates many rules, starting with non-interference in each other's internal affairs and diplomatic correctness".
EU Monitoring Mission to Armenia opens new headquarters in Yeghegnadzor
On November 2, the European Union Civil Monitoring Mission in Armenia (EUMA) announced full operational capacity. It did so in the context of opening a last headquarters in Yeghegnadzor. Stressing that the region deserves lasting peace and stability, Markus Ritter, the head of the mission, expressed hope that the European mission will be able to contribute to achieving this goal.
"The issue of expanding EUMA will be discussed in Brussels until the end of the year," Ritter noted, informing the journalists that there is currently no high tension on the border of the two South Caucasus republics. Since the launch of this mission, more than 1,000 patrols have been carried out along Armenia's border with Azerbaijan, EUMA added.
Sources:
 News.am, "EU monitoring mission in Armenia announces full activity by opening headquarters in Yeghegnadzor city", https://news.am/eng/news/790340.html
Caucasus Watch, "EU Monitoring Mission to Armenia Opens New Headquarters in Yeghegnadzor", https://caucasuswatch.de/en/news/eu-monitoring-mission-to-armenia-opens-new-headquarters-in-yeghegnadzor.html
Armenians from de facto Nagorno Karabakh in Armenia look to the future with concern
On November 1, a group of former officials from former de facto Nagorno-Karabakh, as well as de facto president Samvel Shahramanyan, gathered in Yerevan to discuss "preserving the statehood" of Nagorno-Karabakh. The meeting was closed to the public, and few details of the discussions have been revealed. In addition to Shahramanyan, it included MPs from the region's de facto parliament and other public and political figures from Nagorno-Karabakh and Armenia.
The discussion was initiated by the Committee for the Preservation of Artsakh Statehood, founded by Suren Petrosyan, an Armenian opposition figure. Petrosyan previously announced that the committee's priorities were to preserve Nagorno-Karabakh's de facto institutions while promoting recognition of the right to self-determination for Nagorno-Karabakh's Armenian population and ensuring their safe return to their homeland.
Tigran Grigoryan, the head of the Regional Center for Democracy and Security, a Yerevan-based think tank, believes that such initiatives could pose a threat to Armenia. "In the long term, I think this will be quite dangerous for the Armenian authorities because there will be pressure from Azerbaijan to dissolve all those bodies", he said. "The Armenian authorities, if a peace agreement is signed, will not allow it to continue to exist in Armenia, at least at the level that all that exists now", he added.
Earlier on October 23, a group of Nagorno-Karabakh Armenians gathered in front of the region's representative office in Yerevan, protesting accommodation issues, unpaid military salaries, and the decree announcing Nagorno-Karabakh's dissolution. Shahramanyan, in his reaction, claimed that "any document cannot dissolve the republic created by the people".
Those gathered in front of the permanent representative's office were protesting issues they have been facing since fleeing Nagorno-Karabakh in late September and early October, particularly relating to issues finding housing and the freezing of de facto Nagorno-Karabakh's state budgets.
Protesters expressed their anger with Nagorno-Karabakh's outgoing de facto officials and denied rumours that the protest had been organised by Samvel Babayan, the former de facto Secretary of Nagorno-Karabakh's Security Council. One protester stated that no high-ranking officials were among the protesters "because they bought houses here with our money". "Let someone come and complain; let a minister come and complain. Let his [president's] staff come to protest. They don't do this because they all have houses here, and their children are safe. My children sleep in the car", said the protester.  He also called for Nagorno-Karabakh officials' houses in Armenia to be confiscated and given to the families of killed soldiers and poor Nagorno-Karabakh Armenians.
After meeting with Shahramanyan, protesters announced that they had not received satisfactory answers to their questions, following which the crowd once again pushed into the building. After the second breach of the police barricade, Shahramanyan came outside to address the protesters. He stated that the social issues raised would be directed to those institutions responsible for addressing them.
Meanwhile, in a cabinet session on October 26, the Armenian government approved the creation of a "temporary protected status" for displaced persons from former Nagorno-Karabakh. Prime Minister Nikol Pashinyan said that the new status would facilitate the protection of their rights in the local and international arenas.
The law automatically applies to the over 100,000 ethnic Armenians of Karabakh who fled to Armenia following Azerbaijan's forceful seizure of the territory on 19-20 September. Those eligible for the new temporary protected status are persons registered as residents of Nagorno-Karabakh, persons living in Armenia or abroad whose last registered address was in Nagorno-Karabakh, and persons who were not registered in Nagorno-Karabakh but lived there and were registered by the Armenian Migration and Citizenship Service as entering the country after September 19.
Those who hold citizenship of a country other than Armenia are not eligible, as their protection is deemed to be under the jurisdiction of the relevant country.
Armenian security services uncover terrorism plot
On October 2, Armenia's National Security Service (NSS) said it had arrested five members of an armed group that plotted to seize government buildings and "disrupt the work of state bodies."
As Azatutyun.am reported, the NSS did not identify the suspects and gave few details of the alleged plot. In a statement, it said that they planned to set off an explosion and assassinate a "civilian." The latter was not identified either. The security agency released two purported audios of their conversations secretly recorded by NSS officers. In one of them, a man can be heard saying that he has many "sponsors from America and Russia" and telling another to recruit "the ones who came from Ukraine." The two men also appeared to discuss a drone attack on an unknown target.
The NSS reports that documents seized show the group planned to create Ukrainian and Moldovan telegram channels one day before the scheduled launch of the terrorist operation to propagandise the operation. According to NSS, the group planned to take families of its members to Georgia for safety during the terrorist operation.
The NSS claimed to have foiled a similar plot in late September when it arrested eight men accused of conspiring to assassinate Armenian PM Nikol  Pashinyan and seize power. The suspects include Albert Bazeyan, a once prominent politician who had served
Sources:
ASLANIAN Karlen, Azatutyun.am, "Armenian Authorities Report Another 'Terror Plot'", https://www.azatutyun.am/a/32667778.html

Hetq.am, "Armenia's Security Service Claims It Thwarted Terrorist Plot to Overthrow Government", https://hetq.am/en/article/161683
Oldest cathedral in the world Etchmiadzin in Armenia. Photo: Shutterstock.com
Azerbaijan and Armenia agree on principles of a peace treaty
On October 30, representatives of Baku and Yerevan claimed that both countries were close to a peace agreement. According to Armenian Prime Minister Nikol Pashinyan, Armenia and Azerbaijan agreed on the "three main principles of peace and normalisation of relations". He said that if both parties remained faithful to those principles, "the signing of the peace treaty becomes realistic".
Hakob Vardanyan, Armenia's deputy minister for territorial administration and infrastructure, also announced Armenia's willingness to buy Azerbaijani gas after the settlement of "political problems".
On the same day, Azerbaijani Deputy Foreign Minister Elnur Mammadov said that most points of the peace agreement between Azerbaijan and Armenia have been agreed. According to him, Baku is committed to settling relations with Yerevan and signing a peace agreement with it. "Azerbaijan's proposal for a peace agreement is still valid today. Therefore, the next steps should be taken first by Armenia. Today, most of the points of the peace agreement have been agreed by the parties," said the deputy head of the Azerbaijani Foreign Ministry.
"After Azerbaijan fully restored sovereignty over its internationally recognised territories in Karabakh, the process of reaching a peace agreement has become simpler and easier, so the probability of its signing should be higher," Mammadov said.
Pashinyan's statement comes less than a week after he unveiled the "Crossroads of Peace", an Armenian government proposal to establish a series of roads, railways, and power lines connecting Azerbaijan and Turkey through Armenia. The project contains Armenia's vision for opening regional connections and is an "important part of the peace agenda."
"All [regional] infrastructures, including motorways, railways, airways, pipelines, cables, power lines, operate under the sovereignty and jurisdiction of the countries through which they pass. Each country implements border and customs control in its territory through its state institutions, as well as ensures the safety of infrastructures, including the passage of goods, vehicles, and people through them. In the near future, a special unit will be created in the law enforcement system of Armenia, whose function will be to ensure the safety of international communications passing through Armenia and the passage of goods, vehicles, and people in cooperation with our patrol police. The mentioned infrastructures can be used for both international and domestic transportation. All countries use each other's infrastructures on the principle of equality and reciprocity; thus, a certain simplification of border and customs control procedures can be implemented. Based on these principles, Armenia's readiness to open, reopen, reconstruct, and build all regional communications. They are necessary to avoid a number of misunderstandings and various interpretations. In the near future, we will officially present this project also to the governments of the countries of the region. I hope that with joint efforts, including in conditions of investor activeness, we will be able to implement it," the Armenian PM said.
Sources:
BARSEGHYAN Arshaluys, AGHAYEV Ismi, OC Media, "Pashinyan: Azerbaijan and Armenia in agreement on principles of the peace treaty", https://oc-media.org/pashinyan-azerbaijan-and-armenia-in-agreement-on-principles-of-peace-treaty/

Caucasus Watch, "Deputy Foreign Minister of Azerbaijan: 'Most Points of Peace Agreement between Azerbaijan and Armenia Agreed'", https://caucasuswatch.de/en/news/deputy-foreign-minister-of-azerbaijan-most-points-of-peace-agreement-between-azerbaijan-and-armenia-agreed.html

Caucasus Watch, "Armenian PM Unveils Peace Plans at Tbilisi Forum", https://caucasuswatch.de/en/news/armenian-pm-unveils-peace-plans-at-tbilisi-forum.html
Hikmet Hajiyev: Zangezur corridor is no longer attractive to us
As reported by the Caucasus Watch, on October 25, Hikmet Hajiyev, the Advisor of the President of Azerbaijan and the head of the Foreign Policy Affairs Department of the Presidential Administration, told POLITICO that Azerbaijan has no plans to seize Zangezur.
According to him, after the two sides disagreed on its opening, the project has lost its attractiveness for Azerbaijan, and it can do this with Iran instead. "Our agenda was only about building transport linkages and connectivity through the bilateral engagement framework," Hajiyev added. "If this is the case, yes, but if not, then OK. It's still on the table, but it will require the Armenian side to show they're really interested in that," the official noted.
Sources:
Caucasus Watch, "Azerbaijani Official: Zangezur Corridor No Longer Attractive to Us", https://caucasuswatch.de/en/news/azerbaijani-official-zangezur-corridor-no-longer-attractive-to-us.html
Mountain Park in Baku. Photo: Shutterstock.com
Ruling party intensifies criticism of local and international CSOs
The ruling Georgian Dream party intensified its criticism of CSOs for paying fines for detained protesters and taking credit for government work prior to the decision on EU candidacy status.
First, on October 31, Georgia's Parliamentary Speaker Shalva Papuashvili criticised international organisations for allegedly paying fines imposed on protesters, accusing them of seeking to "incite civil strife". Papuashvili criticised international organisations, likely in reference to the European Endowment for Democracy (EED), for paying the fines of "lawbreakers" — people detained at protests in Georgia — "which can be understood by extremist groups as a carte blanche for future violence".
Papuashvili stated that international organisations had paid the fines of at least 12 people, which he said "harms the preventive purpose of fines". He went on to accuse the EED of "funding radicals such as Droa [an opposition political party], and now it has become clear that it is also funding fines and renewing radicalism".
Papuashvili also renewed his accusation against the United States Agency for International Development (USAID) of planning to "incite riots" — an accusation made by Georgia's State Security Service (SSSG) in early October. Earlier, USAID's Deputy Administrator of the Europe and Eurasia Bureau, Erin McKee, refuted the accusations made by the SSSG and leading members of the ruling Georgian Dream party as "falsehood and misinformation". Papuashvili criticised her reply as "vague" and "inadequate".
"The task of some foundations and their local managers is to bring civil strife. It seems that they are connected with political parties", he claimed. "Of course, it is our responsibility to maintain civil peace, regardless of who is behind these trainings and initiatives, whose money it is, regardless of which state it is, every time we reveal the financing of civil conflict, we will talk about it".
The ruling Georgian Dream party members also criticised the local non-governmental organisations over their joint statement, issued on November 2, in which nearly 170 CSOs appealed to the European Commission, urging it to recommend to the European Council that Georgia be granted the EU candidate status. The GD leadership claimed CSOs were an "organic part of the United National Movement". It argued counterfactually that they have lobbied against Georgia's EU candidacy but are now trying to "take credit" for the GD government's forthcoming success in securing the favourable EC decision.
The GD members criticised the CSOs for allegedly "trying to separate the Georgian people from the government", stressing that the EU does not grant the status to one without the other. They also slammed the language used by the CSOs to frame their request, which implies that the GD government is not fulfilling its obligation to implement the twelve EU conditions properly. GD representatives claim that Georgian CSOs are trying to take credit for the forthcoming positive recommendation by the European Commission on November 8.
Sources:
SHOSHIASHVILI Tata, OC Media, "Papuashvili slams Western donors for paying fines of Georgian protesters", https://oc-media.org/papuashvili-slams-western-donors-for-paying-fines-of-georgian-protesters/

Civil.ge, "GD Members Say CSOs Appeal to the EU is Disingenuous", https://civil.ge/archives/567185
Georgia Announces New 27 km Section of Rikoti Pass
A 27 km section of the Rikoti expressway was opened to traffic on October 30. The Ministry of Regional Development and Infrastructure says the 4-line road section starts from Khevi village in the Kharagauli municipality and ends at the Shorapani settlement of the Zestafoni municipality.
''As of today, 48 tunnels have already been drilled and 83 bridges built. This is the largest project. Our country has never seen a project of such scale and complexity. Works are actively underway on the remaining sections, and according to our plan, the Rikoti section will fully open by the end of 2024'', said Georgian Prime Minister Irakli Gharibashvili.
The 52-kilometer-long road construction at the Rikoti Pass has been ongoing since 2019. Over 10,000 people, 70% of them Georgian citizens, are employed in the construction works. The total value of the project financed by the European Investment Bank (EIB), World Bank (WB) and Asian Development Bank (ABD) is GEL 2.6 billion (approximately 898 million euros). The works are expected to be completed in 2024.
According to the Government Administration, well-known American, Italian, Turkish, and Georgian companies worked on the design of the Rikoti highway. The construction works are carried out by four different Chinese companies that won the open contract, and international companies from France, Turkey, Australia, and Korea supervise the work.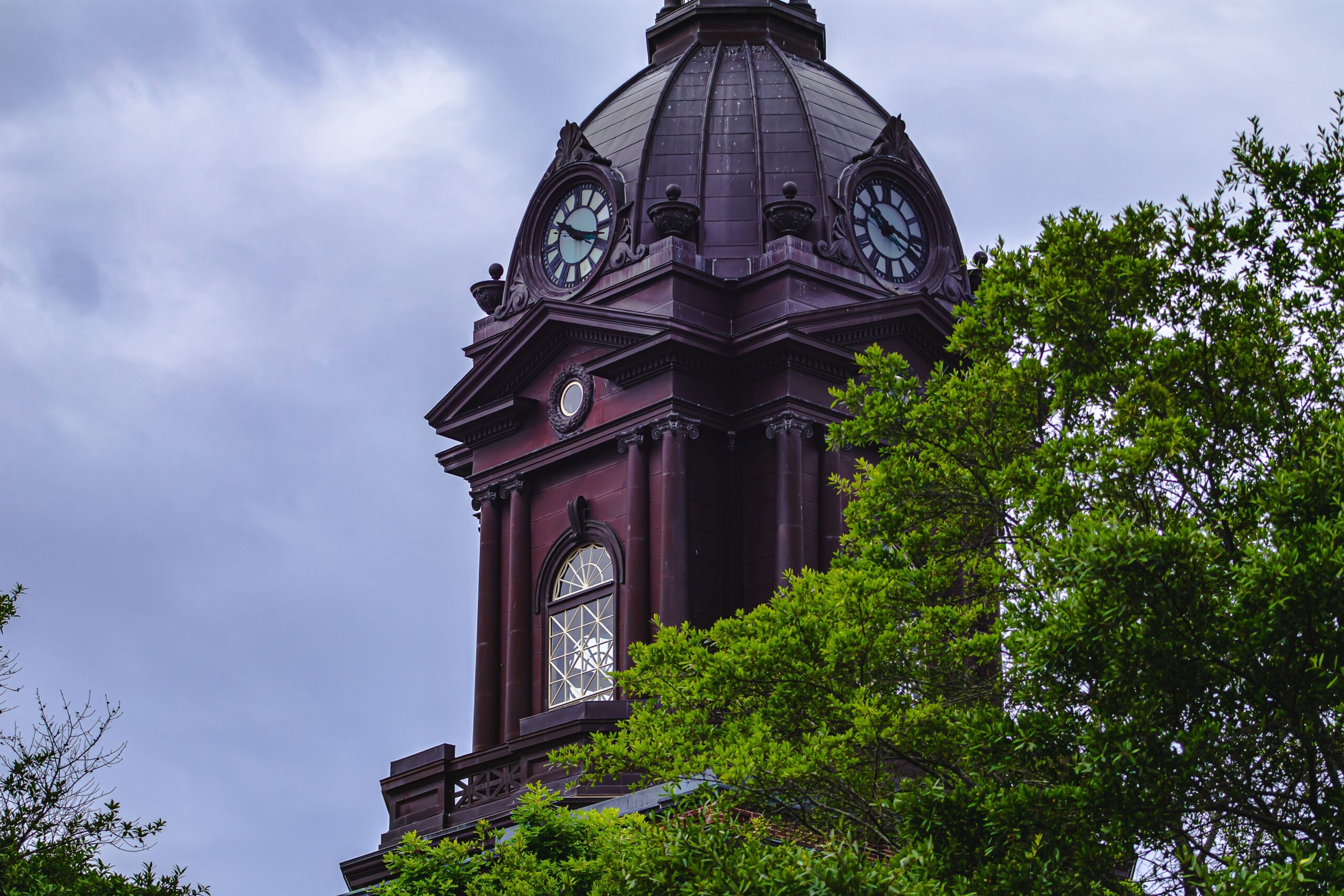 The Clocktower of Newnan, Georgia. Photo: Shutterstock.com