Strategic Analysis Caucasus Brief
Bi-weekly review (05.12 – 18. 12. 2022)
Tomáš Baranec 
Armenia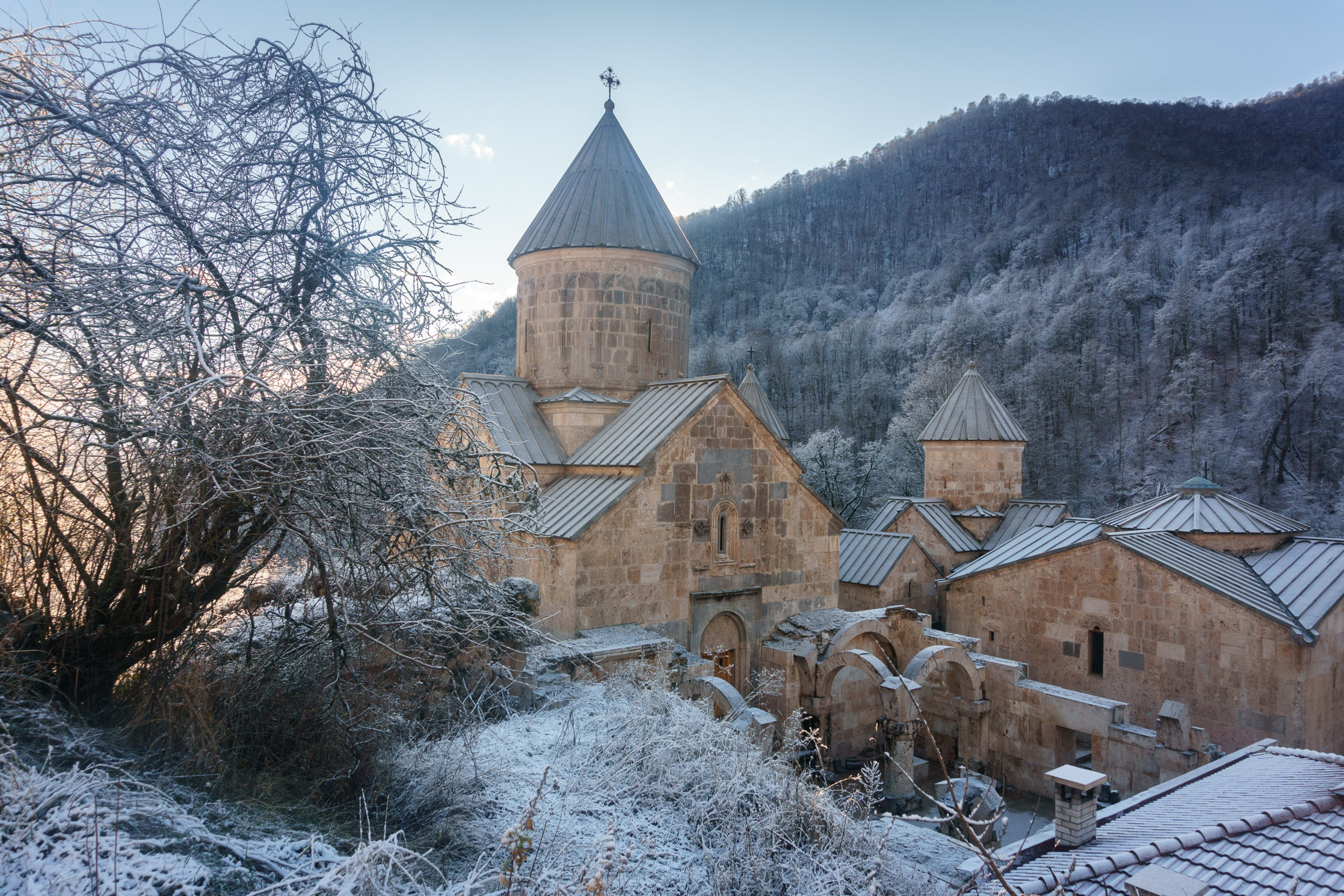 Haghartsin Monastery Armenia in Winter. Photo: Stepanov Ilya/ Shutterstock.com
Armenia to create the Foreign Intelligence Service
The Armenian Government has greenlighted the establishment of the Foreign Intelligence Service. A relevant decision was approved at a sitting on December 8. The 2021-2026 Government Action Plan stipulates the imperative to have a foreign intelligence service. Given the problems in the process of providing information by intelligence agencies during the Artsakh wars of 2016 and 2020, and taking into consideration the need to improve the efficiency and quality of intelligence information, the Government believes Armenia has an imperative to have a new quality intelligence and to form its own intelligence school to ensure the continuity of intelligence activities and the improvement of the field.
According to the Deputy Minister of Justice Grigor Minasyan, the bill proposes to create a new Foreign Intelligence Service – a subordinate body to the Prime Minister.  "Given that the Defense Ministry and the National Security Service have agencies with similar functions in which the service is military, a political decision was made to create a new type of state service. Creating the Foreign Intelligence Service will contribute to raising the functional efficiency of the National Security Service, focusing on the directions of counter-intelligence and counter-terrorism. It will also allow responding to global and regional challenges more flexibly and adequately," he said.
PM Nikol Pashinyan, in his turn, mentioned that amidst the significant dynamic changes in foreign intelligence forms and methods, Armenia urgently needs to transform and develop its capacities according to contemporary challenges and demands.  "Nothing will change in all the intelligence services currently operating until we are convinced that the newly created foreign intelligence service can absorb the functions currently performed by the National Security Service's Intelligence Department," Pashinyan said. Armenia's National Security Service (NSS) says the country is the only one lacking such an agency in the region. The bill will now be sent to the Parliament for ratification.