Strategic Analysis Caucasus Brief
Bi-weekly review (21.3. – 4.4. 2021)
Tomáš Baranec
Armenia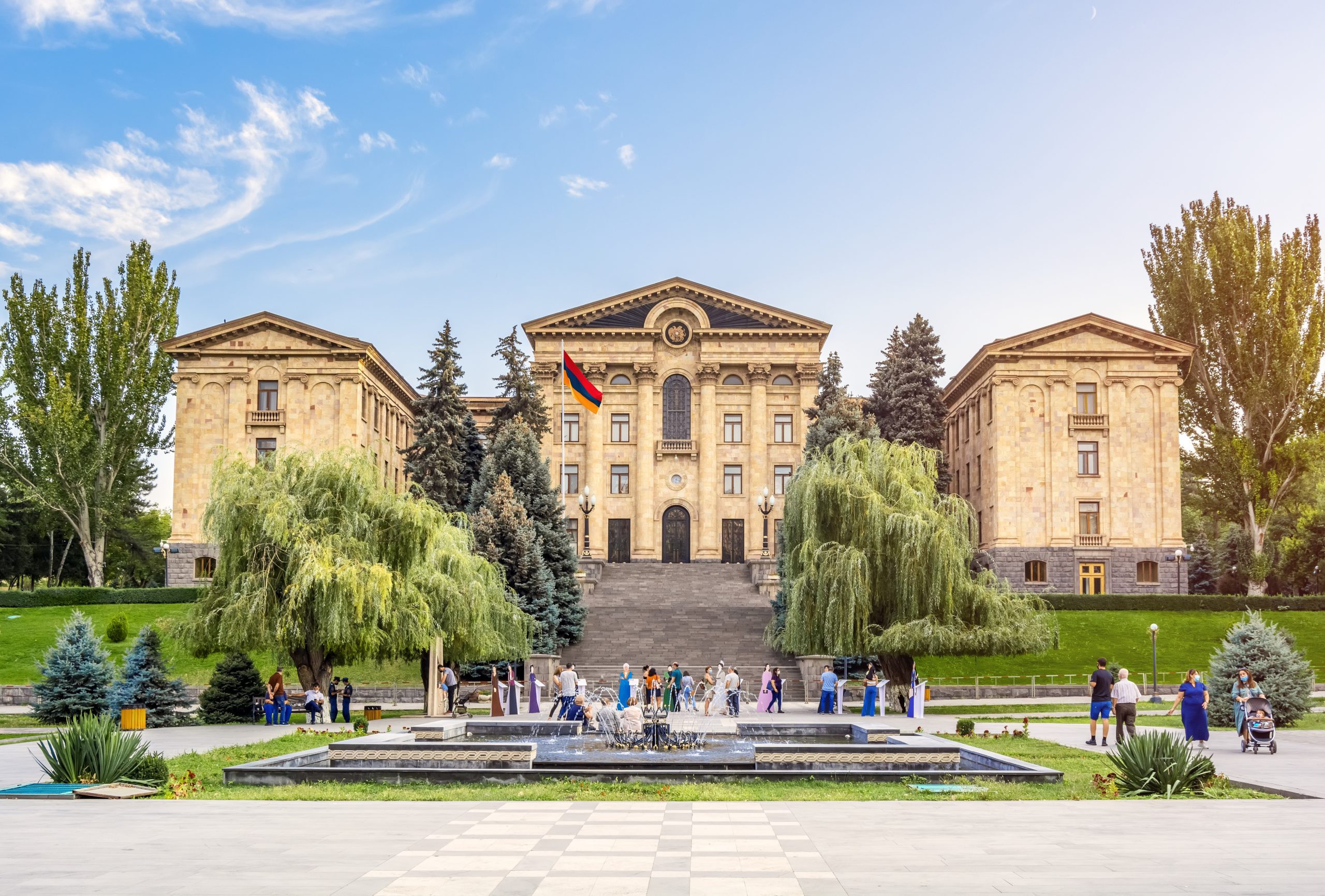 Parliament Republic of Armenia. Photo: Ruslan Harutyunov/ Shutterstock.com
Armenia triples libel penalties. Civil society protests.
The Armenian parliament has adopted on March 24 amendments to the Civil Code dramatically raising the maximum penalties for defamation and insult offences. Local media and NGOs are afraid this step will "significantly damage" freedom of speech and expression.
A total of 76 lawmakers voted in the second and final reading in favour of the bill setting the damages for defamation at up to 6 million drams (10 600 euro), and for insults at up to 3 million drams (5 300 euro). Forty members of the National Assembly voted against the changes authored by Deputy Parliament Speaker Alen Simonyan, with three abstentions.
Simonyan, a close ally of Prime Minister Nikol Pashinyan, has argued that the amendments "will provide additional guarantees for individuals to protect the dignity or business reputation of not only an individual but also the media, from false and offensive attacks."
"This change is extremely dangerous, especially if we take into account the tendency of government officials, politicians, other public figures to perceive even objective criticism as insult and slander and take the matter to court," said Armenian media organisations in a joint statement. They also called on President Armen Sarkisian not to sign the adopted bill into law and send it to the Constitutional Court to check its constitutionality.
Armenia earlier decriminalised defamation and insults in 2010 following an appeal of the Council of Europe's Parliamentary Assembly to member states.
Sources:
For additional information see:
MEJLUMYAN Ani, Eurasianet.org, "Armenian legislation draws criticism from press advocates", https://eurasianet.org/armenian-legislation-draws-criticism-from-press-advocates
The Armenian parliament has ended martial law in the country
Armenia has moved to lift martial law, introduced at the end of September 2020 at the start of the war with Azerbaijan for control of the breakaway region of Nagorno-Karabakh.
The decision, approved by 118 of the 132 deputies in parliament, is part of an agreement between Prime Minister Nikol Pashinyan and the opposition to defuse the political crisis caused by the Armenian defeat in the conflict, writes Euronews.
Political analysts, cited by the Caucasian Knot believe that the abolition of the martial law regime opens the way to the formal resignation of Prime Minister Nikol Pashinyan, which would then, in turn, allow organising the early parliamentary elections in Armenia, that are planned for June 20, 2021.
Sources:
Caucasian Knot, "Cancellation of martial law is preparation for Pashinyan's resignation", https://www.eng.kavkaz-uzel.eu/articles/55051/
Euronews.com, "Armenia's parliament votes to lift martial law ahead of June elections", https://www.euronews.com/2021/03/24/armenia-s-parliament-votes-to-lift-martial-law-ahead-of-june-elections
Nagorno Karabakh de-facto parliament approves Russian as a second official language
Russian has received the status of a second official language in the separatist Nagorno-Karabakh on March 25.
The amendments to the region's language laws were passed 27-0 with two absentees. Chairman of the Artsakh National Assembly Standing Committee on Science, Education, Culture, Youth and Sport, Aram Harutyunyan stressed that Russian is getting a status of official language, whereas Armenian remains the only state language of the separatist region.
Earlier, the persons behind this initiative had assured that there was no coercion from the Russian side in this regard, informs News.am.
Georgian ruling party and opposition fail again to reach an agreement on EU-mediated talks
EU-mediated talks between the Georgian Government and the opposition have once again ended in failure on March 31. Members of the European Parliament threaten to cut EU financial aid to Georgia.
The ruling Georgian Dream (GD) party and the opposition have failed to come to an agreement in the EU-mediated talks for the second time. The document offered by the EU mediator Christian Danielsson which concerned "ambitious electoral and judicial reform" and offered amnesty for suspects and convicts of the June 2019 protests in Tbilisi was not signed by any of the parties.
"I'm sad to report that none of the political parties could agree to this solution in whole," said Danielsson before wrapping up his mission to Georgia.
As Eurasianet explains, the sides appeared willing to go along with Danielsson's proposals on reforms to Georgia's electoral, legislative and judicial systems. However, they got hung up on the two most contentious issues pushed by the opposition: snap parliamentary elections and the release of what they call political prisoners, most notably Nika Melia, the chairman of the largest opposition group, the United National Movement.
Following the negotiations, the chair of GD Irakli Kobakhidze confirmed they were open for the amnesty but did not commit to releasing Giorgi Rurua. Rurua was arrested in November 2019 for illegal arms possession, several months after playing a role in large anti-government protests in Tbilisi, reminds OC Media.
Furthermore, after meeting Danielson, Georgian PM Irakli Garibashvili announced that the country's authorities did not intend to hold early elections. "There will be no early elections in the country. We have finished talking about this. […] The issue of early elections is closed; there are no political prisoners in Georgia," the "Georgia Online" quoted the Premier as stating on March 29.
The opposition, meanwhile, put the blame at the feet of Georgian Dream's founder and de facto leader, billionaire Bidzina Ivanishvili. "Ivanishvili and his entourage have not moved away from the nationally destructive position… to retain power and the status quo at any cost," said Giga Bokeria of the European Georgia party.
Shortly after the failed negotiation, a group of leading members of the European Parliament have threatened to cut the EU's financial aid to Georgia. "Following the refusal from the political parties to compromise, Georgia's leaders should not expect a return to business as usual from the European Union', the MEPs said in a joint statement on Thursday evening. The European Parliament, in particular, will call for consequences in terms of EU financial assistance, including both a suspension of further disbursements of and an increase in conditionality linked to EU Macro-Financial Assistance and budget support programmes," cites OC Media the statement.
Sources:
KINCHA Shota, "OC Media, EU-mediated talks fail for second time in Georgia", https://oc-media.org/eu-mediated-talks-fail-for-second-time-in-georgia/
FABBRO Robin, "OC Media, Leading MEPs threaten to cut financial aid to Georgia over political deadlock", https://oc-media.org/leading-meps-threaten-to-cut-financial-aid-to-georgia-over-political-deadlock/
LOMSADZE Giorgi, Eurasianet.org, "No European solution for Georgian crisis", https://eurasianet.org/no-european-solution-for-georgian-crisis
Agenda.ge, "EU-mediated talks between Georgian political parties fail again", https://agenda.ge/en/news/2021/849
Caucasian Knot, "Georgian opposition treats Garibashvili's words about early elections as ultimatum", https://www.eng.kavkaz-uzel.eu/articles/55095/
Deputy Minister of Internal Affairs steps down over alleged illegal surveillance
Kakha Sabanadze, Deputy Minister of Internal Affairs of Georgia, is leaving his post after the "Mtavari Arkhi" TV Company has made public an interview with a former law enforcer who spoke about secret surveillance of political and religious leaders, informed Caucasian Knot.
"I would like to respond to the recent media reports and emphasise that I have been serving the state for years and adhering to the law, the strict enforcement of which has been and will be my priority. I think that the above-mentioned facts need to be examined; therefore, a thorough and objective investigation must be conducted to establish the truth. In view of the above, in order to ensure confidence in the investigation process, I am resigning! I think it will be a precedent for all officials to act with a high standard of responsibility in case of questions that objectively emerge in the society," reads Sabanadzes statement.
Sabanadze made the decision to resign in reactions to an interview released by the "Mtavari Arkhi" TV Company in which the former law enforcer spoke about illegal surveillance of political and religious leaders.
According to the interviewee, in 2014, he got the instructions to enter the house of lawyer Ana Dolidze and install surveillance cameras. The cameras were removed after they had got a video with her private life, the "Georgia Online" reports.
Furthermore, the former special service officer said that he launched a virus into a PC of Vagif Akperov, Sheikh of the Georgian Muslim Board, in order to obtain personal information. The former law enforcers also added that during the rallies, he was instructed to set fire to a monitor, which broadcasted the protest actions.
Sources:
Caucasian Knot, "Deputy chief of Georgian police resigns after scandalous TV broadcast", https://www.eng.kavkaz-uzel.eu/articles/55036/
Interpressnews, "Deputy Minister of Internal Affairs Kakha Sabanadze steps down", https://www.interpressnews.ge/en/article/112546-deputy-minister-of-internal-affairs-kakha-sabanadze-steps-down/
Famous Russian journalist Vladimir Pozner left Georgia amid protests
Prominent Russian journalist Vladimir Pozner had to cut his birthday vacation in Georgia short after he and his entourage faced anti-Russia protesters in Tbilisi.
In the early hours of April 1, Georgian police escorted Vladimir Pozner and his dozens of friends out of Rooms Hotel in Tbilisi as protesters pelted the building with eggs. The demonstrators demanded that the famous Russian TV personality and his acquaintances, reportedly numbering around 50, stop celebrating Pozner's birthday — he turned 87 — and leave the country, informs OC Media.
Three activists said they wanted to meet Mr Pozner at the hotel and explain to him that he was wrong on the issue of territorial integrity and to demand from him to leave Georgia. However, the policemen, who had cordoned off the building, prevented them from entering the hotel. In their turn, protesters have stated that the action will continue until Pozner leaves Georgia.
As RFE-RL reminded in 2010, Pozner said that "Georgia lost [Abkhazia] forever" and the area "will never be Georgia's territory again." He also blamed Tbilisi for the situation that led to the deadly Russian-Georgian conflict.
Prime Minister Irakli Garibashvili criticised the opposition "United National Movement" (UNM) Party for organising the protest in such an uncivilised form. "The UNM's goal […] is destruction, sabotage, and infliction of maximum damage on our country by hurting the international image of our country. The form of the protest chosen by the UNM Party, which is clearly beyond the limits of civilised norms and standards, was completely unacceptable," emphasised Garibashvili.
On April 2, the monument to Russian writer and diplomat Alexander Griboyedov in Tbilisi has been desecrated with an anti-Russian inscription and an insult to Pozner. Alexander Griboyedov (1795-1829) was a classic of Russian literature and a diplomat. He was torn to pieces during an attack of religious fanatics on the Embassy of the Russian Empire in Tehran. He advocated regional autonomy for the Christians in Transcaucasia.
Sources:
Kincha Shota, OC Media, "Protesters foil birthday celebration of famous Russian journalist in Tbilisi", https://oc-media.org/protesters-foil-birthday-celebration-of-famous-russian-journalist-in-tbilisi/
RFERL.org, "Russian Journalist's Birthday Bash A Bust After He's Driven Out Of Georgia By Eggs, Power Cuts", https://www.rferl.org/a/georgia-pozner-birthday-harassment-russia/31181780.html
Caucasian Knot, "Posner leaves Georgia amid protests", https://www.eng.kavkaz-uzel.eu/articles/55120/
Caucasian Knot, "Georgian opposition experiences criticism after the incident with Pozner", https://www.eng.kavkaz-uzel.eu/articles/55122/
Caucasian Knot, "Posner's opponents desecrate monument to Griboyedov in Tbilisi", https://www.eng.kavkaz-uzel.eu/articles/55126/
North Caucasus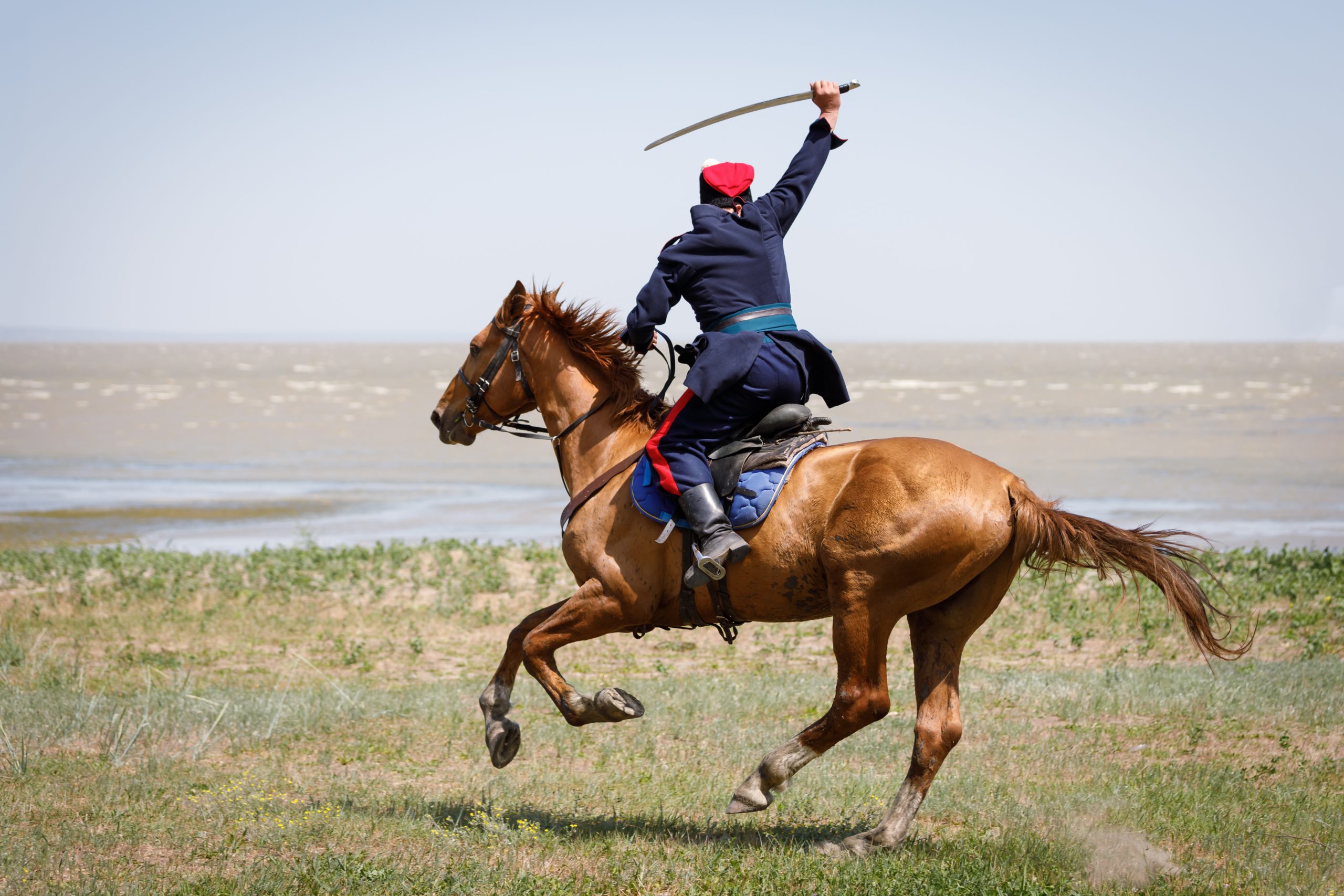 Don Cossack. Photo: Ovbelov/ Shutterstock.com
Cossacks to be counted in the census as a separate nationality
The Federal State Statistics Service (Rosstat) approved the inclusion of "Cossack" and "Don Cossack" in the register of nationalities during the upcoming population census.
"Rosstat has compiled and approved a dictionary of nationalities, containing more than two thousand possible answers to the question of nationality. Of these, using the word "Cossack" there are 13 options," stated the head of Rostovstat Marina Samoilova.
The head of Rostovstat added that the directory included the nationalities "Russian Cossack", "Don Cossack", "Orthodox Cossack" and others.
The All-Russian Population Census will be held in the fall of 2021.
Sources:
nazaccent.ru, "Казаков учтут на переписи населения как отдельную национальность (Cossacks to be counted in the upcoming census as a separate nationality)", https://nazaccent.ru/content/35446-kazakov-uchtut-na-perepisi-naseleniya-kak.html