Strategic Analysis Caucasus Brief
Bi-weekly review (12. 7. 2021 – 26. 7. 2021)
Tomáš Baranec
Armenia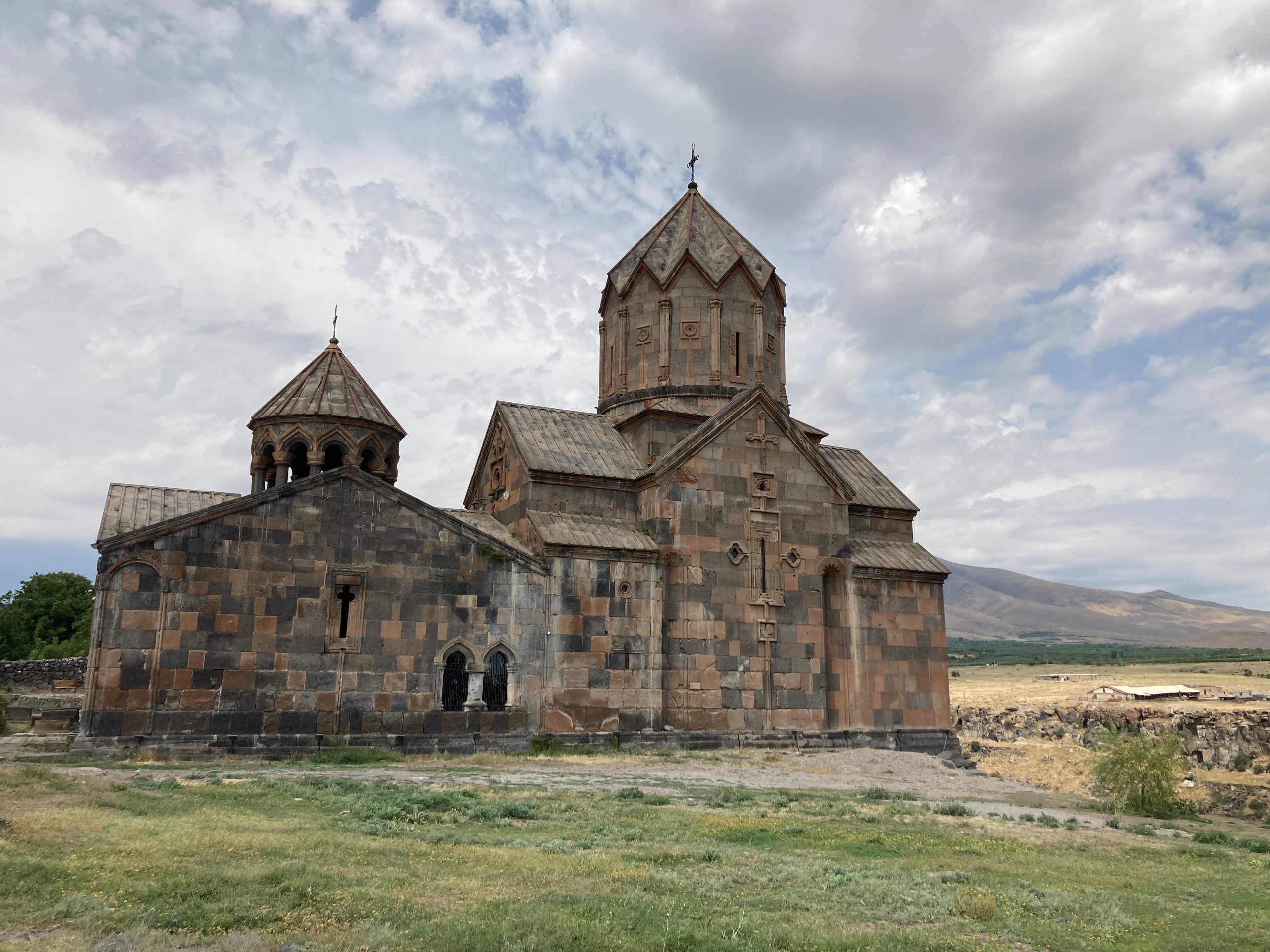 Hovhannavank Monastery, Aragatsotn province, Armenia. Photo: Jan Cingel/ OwnStock
A wave of arrests hits opposition officials in post-election Armenia
Since acting Prime Minister Nikol Pashinyan's landslide election victory on June 20, 2021, several politicians and local government officials connected with the opposition Armenia Alliance coalition, headed by Armenia's ex-President Robert Kocharyan, have been forced to resign, and many are facing criminal charges in connection to alleged corruption and vote-buying during the elections, informs the OC Media.
On July 14, Pashinyan called on Armenia's Investigative Committee to initiate more "effective and decisive" actions in order to "satisfy people's expectations". First forced resignations were reported in early July, with four village heads in Aragatsotn province leaving their posts after they were reportedly asked to do so by the Pashinyan-allied Governor.
The latest sackings, however, have hit much larger municipalities after Mayor of Meghri Mkhitar Zakaryan and Mayor of Goris, Arush Arushanyan, were targeted. On July 15, Arushanyan was also charged with vote-buying. He dismissed the allegations of vote-buying, telling journalists, "what can you expect from monkeys?" In the past, he had also been charged for "illegal entrepreneurship" among four other similar charges, being later released from detention by a judge.
Heads of two villages in Syunik province, Vorotan and Karahunj, were also charged with vote-buying and detained last week. As OC Media reminds, many of those sacked or arrested were subject to previous criminal charges and had been in police custody but were released on court order — an apparent continuation of the conflict between the Pashinyan government and the judiciary, which was overwhelmingly appointed by Armenia's pre-revolution authorities.
Although Armenian opposition regards this situation as political persecution, political observer Hakob Badalyan considers such claims unfolded. As he told the JAM News, in his opinion, it is not entirely logical to subject the opposition to political persecution after the elections, as it would have been more relevant to do it before June 20.
At the moment, the communities of Kajaran, Meghri, Vorotan, Goris, Sisian and Karahunj are left without a leader as heads of these communities are either arrested or detained.
Sources:
AVETISYAN Ani, "OC Media, Opposition officials hit by a wave of resignations and arrests in Armenia", https://oc-media.org/opposition-officials-hit-by-wave-resignations-and-arrests-in-armenia/
JAM News, "Is the opposition being targeted in the Syunik region of Armenia?", https://jam-news.net/is-the-opposition-being-targeted-in-the-syunik-region-of-armenia/
For additional information, see:
Hetq.am, "Goris Community Head Charged with Offering Election Bribes", https://hetq.am/en/article/133399
Constitutional Court dismisses Kocharyan's appeals. He refuses to sit as an MP
On July 17, 2021, Armenia's Constitutional court has denied the opposition's request to annul the results of the June 20 snap parliamentary elections, following a week of deliberations. Meanwhile, the leader of Armenia's largest opposition coalition and the country's second president, Robert Kocharyan, has announced that he will not sit as an MP in Armenia's parliament.
Results of last month parliamentary elections in Armenia were challenged by the Armenia Alliance, led by Kocharyan, the I'm Honoured bloc, led by former National Security Service chief Artur Vanetsyan, and two other minor parties.
The four opposition parties had accused the authorities under acting Prime Minister Nikol Pashinyan of committing electoral violations, including the misuse of administrative resources. They requested results to be annulled as well as a recount of the number of seats to be allocated to each party or for a second round to be held between the governing Civil Contract party and Armenia Alliance. Announcing their ruling, the court dismissed all appeals.
Two days later, on July 20, Kocharyan wrote on his Facebook that although he had previously been a member of the parliaments of both Nagorno-Karabakh and Armenia but "by virtue" of his character, he has "always been a person of executive power".
"By this step, I also express my consent with my thousands of teammates, who conveyed to me the opinion that after the posts of the Presidents of Artsakh and Armenia, I should not be tempted by the mandate of MP", Kocharyan said. "Finally, I was voted for as the bloc's candidate for prime minister", he added.
In his statement, Kocharyan stressed that his decision not to take the mandate does not suggest that he is quitting the "struggle" against Pashinyan and that he would continue to be the leader of the Armenia Alliance.
Violent clashes continue on the Armenia-Azerbaijan border
New clashes occurred not just in the vicinity of regions newly returned to Azerbaijan but also on the border between Armenia and the Azerbaijani autonomous Nakhichevan Republic on the south – just 66 kilometres from Yerevan.
The clashes, which took place in the vicinity of the Armenian village of Yeraskh and the Azerbaijani village of Heydarabad in Nakhichevan, reportedly began late on July 19 night and lasted into the early hours of July 20. Two people were reportedly injured, one from each side.
Following the latest incident, the Armenian Defence Ministry accused Azerbaijan of opening fire on Yeraskh using mortars. The village head, Radik Oghikyan, was injured, according to the ministry, while trying to extinguish a fire.
Similar statements were made by officials in Azerbaijan. According to the Azerbaijani Defence Ministry, Armenian forces fired in the direction of Heydarabad "using weapons of various calibres".
Tensions along the northern border of Nakhichevan rose on July 14 after an Armenian soldier was killed as shots were exchanged over the border.
On July 23, fresh clashes started on the border in the Kelbadjar District of Azerbaijan, leaving one Azerbaijani soldier dead and three Armenian wounded. One day later, Armenian MoD reported it shot down an Azerbaijani drone trying to penetrate its territory in the Gegharkunik region. The clashes continued in the coming days as well with casualties mostly reported on the Armenian side.
Sources:
AVETISYAN Ani, OC Media, "Fresh clashes on Nakhchivan border", https://oc-media.org/fresh-clashes-on-nakhchivan-border/
Caucasian Knot, "Shootouts continue on Armenian-Azerbaijani border", https://www.eng.kavkaz-uzel.eu/articles/56224/
Caucasian Knot, "Armenia states destruction of Azerbaijani drone", https://www.eng.kavkaz-uzel.eu/articles/56227/
Representatives of OSCE Minsk Group co-chairing countries refuse to visit Shusha
On July 9, 2021, ambassadors of 46 countries accredited in Azerbaijan visited Shusha (arm. Shushi) as part of a trip organised on behalf of President Ilham Aliyev. The fact that ambassadors of Russia, France and the United States, the OSCE Minsk Group co-chairing countries, refused to travel to the city sparked discontent in Azerbaijan.
The purpose of the visit was "to inform representatives of diplomatic corps about the atrocities committed by the Armenian armed forces, as well as familiarise them with the renovation-construction works carried out in Azerbaijan's Fuzuli and Shusha cities," wrote Azerbaijani stat-affiliated media.
However, the absence of representatives from Russia, the United States and France sparked ire among some officials in Baku. According to the deputy of the Azerbaijani parliament, head of the Azerbaijani delegation to the Parliamentary Assembly of the Council of Europe Samad Seyidov, "are obliged to go to the territories liberated from the occupation and will go. Because it is one thing to make statements, and another thing to see the vandalism that was committed during the years of occupation, it is much more expedient". He accused these countries of "double standards".
"The ambassadors of the United States, Russia and France should be subjected to official and public disregard until they go to Shusha. In other words, they should not participate in receptions, they should not be invited to any events," said former Minister of Foreign Affairs of Azerbaijan Tofig Zulfugarov.
After the end of the second Karabakh war, visits of representatives of the diplomatic corps accredited in Baku to the regions that came under the control of Azerbaijan are arranged periodically. So far, such official visits have been made to Fizuli, Zangilan, Jabrail, Gubadli, Lachin and Aghdam districts, reminds the JAM News.
Georgian government under rising pressure following the death of journalist beaten by an anti-LGBT mob
On July 11, 2021, the Cameraman of "Tv Pirveli", Lekso Lashqarava, was found dead in his home in Tbilisi. Lashqarava was recovering from injuries he sustained several days earlier from a violent mob of anti-LGBT protesters. His death sparked widespread protests against the government of Georgian PM Irakli Gharibashvili, both home and among Western partners.
Several thousand people gathered outside Parliament in central Tbilisi on the same day, demanding the PM and Interior Minister stand down. Protests were also held in Batumi, Kutaisi, Zugdidi, Gori, Akhaltsikhe, and Telavi. Twenty leading Georgia-based civil rights organisations also released a joint statement calling for their resignation. The government has faced accusations of inaction and even complicity in the riots in the capital on July 5.
Meanwhile, more than 70 Georgian media organisations, including Civil Georgia (Civil.ge) have appealed to the international community in the aftermath of the death of Lashkarava, saying that "cases of violation of the rights of media representatives in Georgia have reached a critical level".
The signatory media organisations asked the representatives of the diplomatic corps and international organisations accredited in Georgia immediately and effectively respond "to the purposive persecution of media representatives on Rustaveli Avenue on July 5, the facts of damage to health, obstruction of professional duties and inaction of the Georgian government."
One day later, after a noon deadline for Prime Minister Irakli Gharibashvili and his government to step down passed, a session of Georgia's parliament has been disrupted after opposition journalists entered the building and scuffles broke out between members of the ruling Georgian Dream party and opposition parties.
The Georgian Government has avoided taking responsibility for the circumstances surrounding Lashkarava's death. During two press conferences, an Interior Ministry spokesperson claimed that they were looking into all possible scenarios regarding Lashkarava's death. However, the ministry focused on details of Lashkarava's movement in the hours prior to his death, strongly suggesting that it may have been drug-related.
In the meantime, the government did not escape criticism from the West. MEPs Andrius Kubilius and Rasa Jukneviciene have released a statement in which they required full and impartial investigation in Lashkarava's death and blamed local police for staggering inaction.
"Georgia is at a very serious crossroads which will define her development and success or failure for nearest decades. The majority of Georgians have already chosen firmly and long ago the European development and European values. However, there are forces at work, which work to impede Georgia's progress on this path and reverse it," reads the statement.
Asked whether the U.S. is considering sanctions for Georgian officials over the anti-LGBT violence in Tbilisi on July 5, which left at least 53 journalists attacked, and was followed by the death of one of the attacked journalists, the U.S. State Department Spokesperson Ned Price said, "we have a number of tools to hold accountable those responsible in some way for human rights abuses, for violence around the world. Sanctions are indeed one of those tools."
"We don't preview sanctions before we enact them," the Spokesperson asserted, adding that "but we are following the situation very closely, and we are committed to seeing to it that those responsible for this are held accountable."
Another camera operator who was attacked by a mob on July 5, the employee of Georgia Public Broadcasting, Ilia Tvaliashvili, partially lost his sight as a result of a severe beating. "I still can't understand how you can beat up a complete stranger so mercilessly… I remember falling on the ground and being kicked to the head," Tvaliashvili recalls.
As of July 15, the second person was detained, being accused of attacking Tvaliashvili. In total, 21 people were detained because of attacks on journalists. They have pressed charges on obstruction of journalistic activities, harassment and participation in gang violence.
Sources:
KINCHA Shota, OC Media, "Calls mount for Georgian PM's resignation following journalist's death", https://oc-media.org/calls-mount-for-georgian-pms-resignation-following-journalists-death/
Civil.ge, "Journalist's Death Case: Georgian Media Appeals International Community", https://civil.ge/archives/431573
112 International, Cameraman beaten during LGBT march in Georgia blinded in one eye, https://112.international/society/cameraman-beaten-during-lgbt-march-in-georgia-blinded-in-one-eye-63163.html
Mtavari Channel, "Today, during early morning, the Cameraman of "Tv Pirveli", Lekso Lashqarava was found dead in his bed", https://mtavari.tv/en/news/50149-today-during-early-morning-cameraman-tv-pirveli
Interpressnews, "MEPs: The death of Lekso Lashkarava and staggering inaction of police in the face of the violent attacks need to be fully and impartially investigated MPs Andrius Kubilius, and Rasa Jukneviciene have released a statement on recent developments in Georiga", https://www.interpressnews.ge/en/article/114597-meps-the-death-of-lekso-lashkarava-and-staggering-inaction-of-police-in-face-of-the-violent-attacks-need-to-be-fully-and-impartially-investigatedmeps-andrius-kubilius-and-rasa-jukneviciene-have-released-a-statement-on-recent-developments-in-georiga
Civil.ge, "U.S. Department of State on Possible Sanctions, Journalist's Death, LGBT Rights", https://civil.ge/archives/432119
RFE/RL, "Georgian Parliament Disrupted By Scuffles Amid Anti-Government Rallies", https://www.rferl.org/a/georgia-lgbt-cameraman-death/31354285.html
Georgian parliament approval of new Supreme Court judges causes international condemnation
The ruling Georgian Dream party (GD) has pushed through six judicial appointments for the Supreme Court on July 12 extraordinary session at the Parliament, despite international warnings the move would contradict the April 19 EU-brokered deal.
Nika Simonishvili, Head of Georgian Young Lawyers' Association (GYLA), told Civil.ge that the Georgian Dream "rushed" the appointments in an attempt to "staff the Supreme Court with as many loyal judges as possible," a move that would have been otherwise rendered impossible by the forthcoming "fundamental reforms" in the judiciary.
ODIHR said earlier on July 9 the selection process of the Supreme Court justices did not meet the commitments taken under the EU-brokered deal. But the ruling party lawmakers, including Chair Irakli Kobakhidze, had argued that amendments to Common Courts legislation, passed in April before signing the agreement, were in line with Venice Commission recommendations, meaning that GD had already fulfilled its obligations for reforms and could move on with appointments.
Harsh criticism could also be heard from the Washington, where the U.S. Secretary of State Antony Blinken said today Washington is "deeply troubled" with Georgian Parliament's approval of six Supreme Court judges, "in contravention of the April 19 agreement." "Ambitious judicial reform is critical to Georgia's success," highlighted the chief U.S. diplomat in a tweet that coincided with a strongly-worded State Department Spokesperson's statement calling on Georgian authorities "to restore their commitment to democratic principles and the rule of law."
Spokesperson Ned Price stressed that April 19 deal, "mediated by the EU and the U.S.," had committed the signatories to pause "all ongoing appointments" until the passage of "ambitious" judicial reform. "This is what Georgia's political leaders, including the ruling party, agreed to do," he added.
In reaction, the Georgian Dream party chair Irakli Kobakhidze and senior lawmakers Archil Talakvadze and Shalva Papuashvili stated the ruling party is "astonished and concerned" by negative international reactions to the appointment of six Supreme Court judges.
The three legislators said, "the agencies of the country's key strategic partner [the U.S.] are receiving distorted information about the implementation of the political agreement due to dishonest actions of individual officials." MP Papuashvili clarified later that they did not refer to "a Georgian official". "We refrained from specifying because this issue [of this official] is connected to our partners, to their hierarchy and we don't want to cause any reputational damage," he said.
Explaining the ruling party's decision to move on with the appointment of the top court judges despite international calls to pause the process, the three lawmakers repeated in the statement they had already endorsed judiciary reforms required by the April 19 deal by the time of its signing.
Batumi International Conference foreshadows EaP future priorities
The Batumi International Conference, a discussion platform involving European Union and Eastern Partnership states, took place in Georgia's Black Sea city of Batumi on July 19.
In the one-day event, dignitaries included Georgia's Prime Minister Irakli Garibashvili, President Salome Zurabishvili, Foreign Minister David Zalkaliani, European Council President Charles Michel, President of Ukraine Volodymyr Zelensky and President of Moldova Maia Sandu.
Along with their aides, they discussed subjects under two principal themes of the conference – the "upgraded level" of the Eastern Partnership countries with the EU and the transatlantic affairs between the European Union and the United States.
Held in a hybrid format that sees speakers attend the event live but the audience connecting to the event remotely, the conference was hosted by the Georgian Foreign Ministry, with the 17th edition entitled "Enduring Power of Attraction – When the EU Makes Difference".
The president of the European Council, Charles Michel also declared, that during the upcoming Eastern Partnership Summit in December 2021, financial support of the European Investment Bank for infrastructural projects and SME's in the region should be discussed as one of the main priorities.