Strategic Analysis Caucasus Brief
Bi-weekly review (1. – 15. 11. 2021)
Tomáš Baranec 
Armenia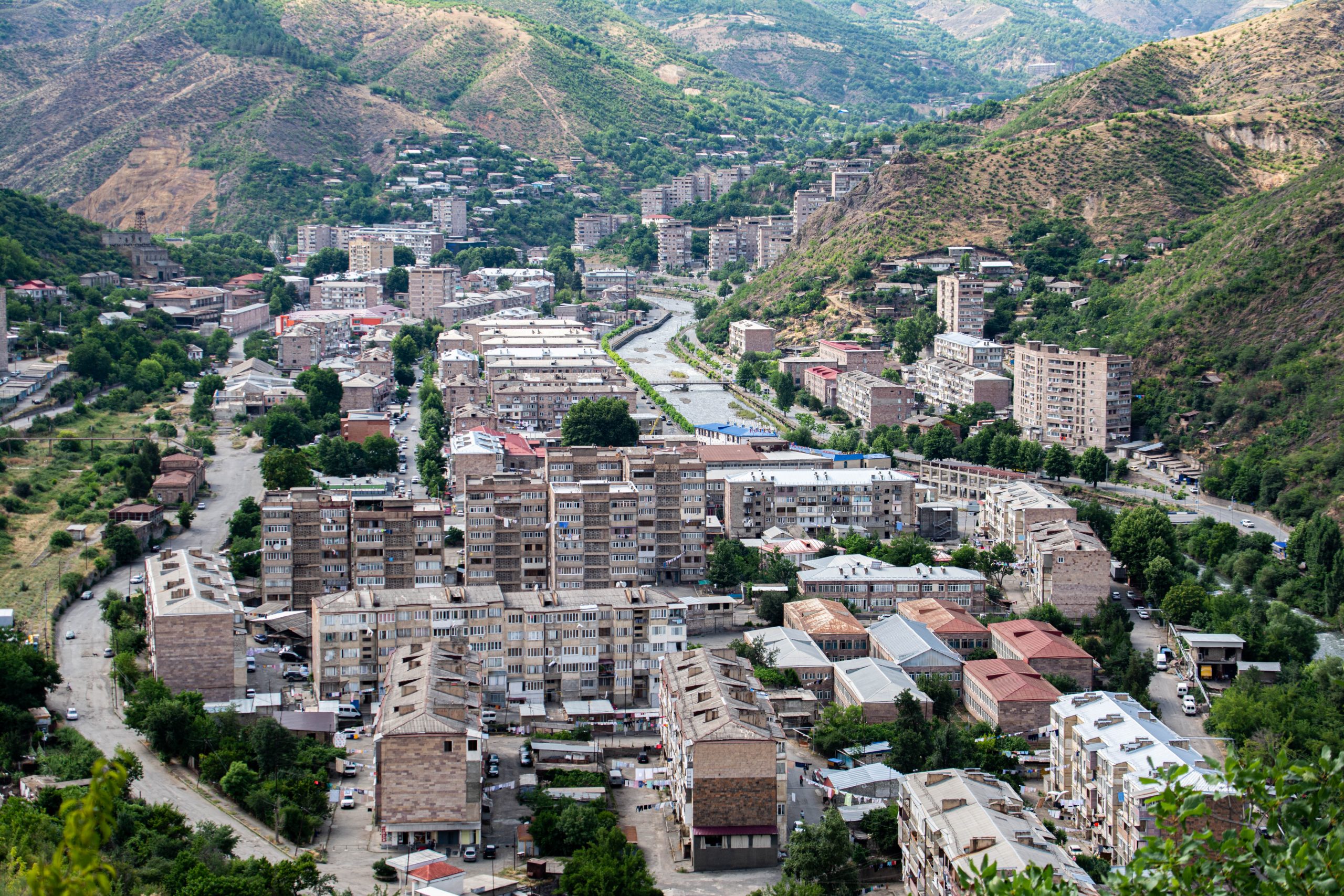 Kapan, Syunik province, Armenia. Photo: Artur Harutyunyan/ Shutterstock.com
Armenian MoD replaced following skirmishes on Armenian-Azerbaijani border
On November 15, President Armen Sarkissian has signed a decree relieving Arshak Karapetyan of the duties of Armenia's Defense Minister. According to two other presidential decrees, Suren Papikyan was dismissed from the post of Deputy Prime Minister and appointed Defense Minister.
The changes come after two days of reported skirmishes between Armenian and Azerbaijani armed forces along the border between the two countries as well as tensions within Nagorno-Karabakh where one ethnic Armenian civilian was killed and three others wounded, and three Azerbaijani soldiers were wounded in separate reported incidents during last week.
Armenian Prime Minister Nikol Pashinian convened a Security Council meeting on November 15, during which he discussed "an Azeri incursion into Armenia's territory at one of the sections of the eastern border." He also announced the replacement of the defence minister, stressing that the decision was made "as a result of the analysis of the events unfolding since yesterday".
Azerbaijan set up additional border checkpoints on the road connecting the southern Armenian cities of Goris and Kapan, Armenia's human rights ombudsman announced on November 12. Then on November 15, Azerbaijanis set up another checkpoint on the road leading southeast from Goris, local officials reported.
Azerbaijani checkpoints, targeting primarily Iranian trucks which had been supplying Karabakh, had already been operating on that road since August. Several segments of the road pass through Azerbaijani territory, over which Baku gained control as part of the ceasefire agreement ending last year's war. It wasn't immediately clear how the new checkpoints were operating, but this is the first time that the movement of Armenians along the road appears to have been significantly restricted.
Traffic along the second section of the road, from Kapan leading to Chakaten and onward to the southernmost section of the Armenia-Azerbaijani border, had previously been unhindered. But in the middle of the night on November 15, Azerbaijani troops set up a new checkpoint in another segment that passes through a slice of Azerbaijani territory at the village Gazanchi. Locals who live further along the road have not been told what the Azerbaijanis' intentions there are, local officials said.
Meanwhile, on November 14, Azerbaijani media released a video that appeared to show a group of Azerbaijani soldiers surrounding and capturing an Armenian military post, though it was not clear on what part of the border, or on which side, the episode took place.
On the same day, Armenia's National Security Council reported that Azerbaijani soldiers advanced into an unspecified part of Armenian territory and surrounded four Armenian military posts but eventually retreated.
The escalation of tensions coincided with a two-day visit of Karapetian to Nagorno-Karabakh reported by Armenia's Defense Ministry early last week. Azerbaijan strongly condemned that visit by a senior Armenian official made around the first anniversary of a Russian-brokered ceasefire that stopped last year's Armenian-Azerbaijani war. Authorities in Baku claimed that the trip was a violation of the terms of the ceasefire "aimed at destabilising the situation in the region."
ECHR ruling: Azerbaijan violated the right to life of Armenian prisoners
The European Court of Human Rights has passed verdicts on the cases of two residents of the border villages of Armenia, Mamikon Khojoyan and Karen Petrosyan. In 2014, both happened to be on Azerbaijani territory, where they were detained and tortured. The court ordered Azerbaijan to pay 40,000 euros in each case, informs JAM News.
Petrosyan, a 33-year-old villager, crossed the border for unclear reasons in August 2014. "On the same day, two video recordings of Mr Petrosyan were broadcast by Azerbaijani media. In the first one, he was seen being offered tea by a local resident of the village of Aghbulag and having a conversation with some of the other villagers. In the second recording, he was being interrogated, while standing on his knees with his hands cuffed and being restrained by soldiers", Armenia's official report regarding the case reads. Petrosyan was accused of being a soldier, "having killed civilians, inciting hatred and causing aggression".
He was pronounced dead the following day. Baku claimed that he died of "acute heart failure". Armenian authorities claimed that Petrosian was murdered.
Mamikon Khojoyan, a 77-year-old resident of Verin Karmirakhbyur village, Tavush region, was detained in January 2014. The Azerbaijani side returned him on March 4.
However, after a while, Khojoyan died. According to the forensic medical examination, the cause of death was general intoxication of the body.
Zahid Oruj, the chair of Azerbaijan's Parliamentary Committee on Human Rights, has called the ECHR's decision "biased", adding that he believed the Azerbaijani government would pay the fine.
Armenian genocide recognition bill passes first reading in UK House of Commons
On November 9, the House of Commons of the British Parliament unanimously adopted a bill on the recognition of the Armenian Genocide. This was the first reading of the document, the second will take place in March 2022, writes JAM News.
The bill was presented by Conservative MP Tim Loughton, who heads the United Kingdom-Armenia inter-parliamentary group. Loughton claimed that by recognising the Armenian Genocide, the UK can help right an "appalling historical injustice".
"Refusing to recognise the Armenian Genocide risk conveying a dangerous message of impunity that a crime unpunished is a crime encouraged or downplayed," he said. Loughton insisted, "glossing over the uncomfortable inconveniences of past history is not the basis for strong and constructive relationships." He told MPs: "We cannot legitimately call out and stand up to Genocide still going on in the 21st century by sidelining and neglecting the genocides of the 20th century. "Refusing to recognise the Armenian Genocide risk conveying a dangerous message of impunity that a crime unpunished is a crime encouraged or downplayed."
The tragic events of the beginning of the last century were recognised as Genocide and condemned by influential international organisations, including the Council of Europe, the European Parliament, and the World Council of Churches. Among the countries that have recognised the Armenian Genocide are Canada, Argentina, Switzerland, Austria, Italy, Belgium, France, Poland, Slovakia, the Netherlands, Russia, Uruguay, Greece, Cyprus, Vatican, Germany, Lebanon. Turkey, however, categorically rejects such a formulation.
Sources:
JAM News, "Armenian genocide recognition bill passes first reading in UK House of Commons", https://jam-news.net/armenian-genocide-recognition-bill-passes-first-reading-in-uk-house-of-commons/
GHZANCHYAN Siranush, Public Radio of Armenia, "Bill on Armenian Genocide recognition submitted to UK Parliament (video)", https://en.armradio.am/2021/11/09/bill-on-armenian-genocide-recognition-submitted-to-uk-parliament-video/
Post-war Armenia hit by a wave of emigration
A struggling economy and defeat in last year's war appear to be driving large numbers of Armenians to leave the country, writes Eurasianet.org. As the author points out, emigration is an unofficial process and so is not documented precisely in Armenia. Therefore, a proxy statistic to measure the flow is to compare the number of Armenians leaving the country to the number entering it. While that number was positive in each of the three years between 2018 and 2020 – that is, more Armenians entered the country than left – it has taken a dramatic turn in 2021.
In the three quarters of 2021, 103.000 more Armenians left the country than entered it, according to official data. That amounts to about 3% of the country's entire population. Most of the loss was in the first quarter of the year when the net loss represented almost 64.000 people.
Because seasonal migrant workers to Russia form the bulk of migrants, the real picture on migration will become clear by the end of the year when they traditionally return for the holidays, when work in Russia slows down, Ghazaryan said.
But there are indications that more Armenians may be moving to Russia permanently. According to Russia's Federal Migration Service, about 22,000 Armenians were granted Russian citizenship in the first half of this year. That's the highest such figure in the last four years.
While economic factors drive many Armenians to emigrate, the difficult situation following the war has also impacted Armenians with more means, claims Eurasianet.
Sources:
MEJLUMYAN Ani, Eurasianet.org, "Migration out of Armenia spikes", https://eurasianet.org/migration-out-of-armenia-spikes
One dead, three wounded as Azerbaijani troops open fire at Armenian civilians repairing water supply pipe near Shushi
On November 8, at the crossroads near Shushi, Azerbaijani military servicemen opened fire at Armenian workers who were repairing the water supply system; one of the workers died in hospital, and three others are in the state of moderate gravity, writes Caucasian Knot, citing the Nagorno-Karabakh de facto Ombudsperson.
The Nagorno-Karabakh Human Rights Defender Gegham Stepanyan said the deceased is 22 years old, while the three wounded civilians are 41, 31, and 43 years old, respectively.
According to unconfirmed reports on social media, the incident took place a few hundred meters from Russian peacekeepers who are observing the road connecting Stepanakert to the Republic of Armenia.
The de facto General Prosecutor's Office (GPO) of Nagorno-Karabakh has reported on its Facebook page that a criminal case was initiated under the articles of ethnic, racial or religious intolerance-motivated murder and a terrorist act on the November 8 incident near Shushi.
"Each such incident and combination thereof are aimed at one goal – to intimidate the Artsakh (Karabakh) Armenians, discredit the Russian peacemaking forces, thereby creating a feeling of insecurity among the people living in Artsakh," the GPO said in its statement that was translated by the "Caucasian Knot" correspondent.
In turn, Leyla Abdullaeva, the head of the press service of the Azerbaijani Ministry of Foreign Affairs (MFA), has stated that Armenia wants to cast a shadow on the activities of Russian peacemakers in Nagorno-Karabakh. According to her version, the November 8 incident in the vicinity of Shushi "is the result of another provocation undertaken by the Armenian party." "Usually, prior to performing any activity in this territory, Russian peacemakers are notified, and such activities are accompanied by peacemakers. This time, Russian peacemakers were not informed, and they did not monitor the works. This, of course, raises serious questions," Ms Abdullaeva has stated.
In October, however, another Armenian civilian was killed by Azerbaijani fire, reportedly while carrying out agricultural work and he was accompanied by Russian peacekeepers.
Karabakh corridor briefly closed after a bomb attack near Shushi left three Azerbaijani servicemen wounded
A Russian-controlled corridor linking ethnic Armenians in Nagorno-Karabakh with Armenia was temporarily closed on November 13 following an attack in which a local resident threw a grenade at Azerbaijani militaries near Shusha (Arm. Shushi).
The incident happened five days after one Armenian civilian was killed and three others were wounded by Azerbaijani forces while repairing water pipes just outside the Azeri-controlled town on November 8.
According to reports, Azerbaijani soldiers opened fire at an Armenian civilian car in response to the attack.
A video that appeared online later after the incident shows a man throwing an explosive device at an Azerbaijani checkpoint from a passing vehicle. Another video shows Russian peacekeepers detaining the man.
Authorities in Baku reported that three Azerbaijani soldiers were injured in the incident. They described the incident as a "terrorist act."
De-facto Armenian authorities in Stepanakert said that a joint investigation with Russian peacekeepers was underway to establish the circumstances of the incident. In a statement, they added, however, that the person who threw the explosive device did so in response to the "provocative actions" of Azerbaijani soldiers. It was the older brother of the young plumber, who was killed by Azerbaijani soldiers just a few days earlier, very close to the point of the incident. Nagorno-Karabakh's ethnic Armenian authorities also insisted that no one was hurt due to the grenade incident on the Azerbaijani side.
Immediately after the incident, it was reported that the Stepanakert-Shushi-Berdzor road, known as the Lachin corridor, was closed for traffic in both directions. Later, ethnic Armenian law-enforcement authorities of Nagorno-Karabakh said that the vital link was reopened.
Sources:
JAM News, "Armenia-Stepanakert / Khankendi road reopens after grenade incident", https://jam-news.net/armenia-stepanakert-khankendi-road-reopens-after-grenade-incident/
Azatutyun, "Karabakh Corridor Briefly Closed After Blast Targets Azerbaijani Checkpoint", https://www.azatutyun.am/a/31559492.html
Caucasian Knot, "Azerbaijan reports three wounded servicemen near Shusha", https://www.eng.kavkaz-uzel.eu/articles/57318/
Mass amnesty bill adopted in Azerbaijan amid Day of Victory in Karabakh war
On November 5. the Parliament of Azerbaijan has adopted a mass amnesty bill. According to preliminary data, at least 16.000 prisoners will be affected by it.
Lawmakers in Azerbaijan have approved a mass amnesty bill to mark the first anniversary of a 44-day war with Armenian forces that ended with Baku's regaining control over parts of the disputed Nagorno-Karabakh region and seven adjacent districts.
Ali Huseynli, deputy chairman of the Milli Majlis (National Assembly), said before lawmakers approved the bill on November 5 that at least 16.000 people will be affected by the clemency act, of which more than 3.000 will be released from penitentiaries.
The prison terms of another 3.000 inmates will be cut, while parole-like sentences and other legal restrictions on thousands of other convicted men and women will be cancelled, Huseynli said. He added that the mass amnesty was initiated by President Ilham Aliyev.
JAM News contacted several Azerbaijani experts for their commentary. According to Rufat Safarov, human rights activist and co-founder of the human rights organisation Line of Defense, human rights defenders had high expectations and hopes regarding the upcoming amnesty on the occasion of Victory Day.
"However, the articles of the draft law on amnesty indicate that it cannot be called a "golden amnesty ", since it most likely will not affect people whose only fault is their political activity and opposition", Safarov noted.
"I expected that the amnesty would affect the riot police, who were sentenced to life imprisonment and have been held in Gobustan prison for almost 30 years. Although these people committed a particularly grave crime by participating in a military rebellion, 30 years in prison, in my opinion, is sufficient punishment for people who, not sparing their stomachs, fought for their homeland", he added.
The coordinator of the Committee against Repression and Torture, Namizad Safarov, believes that on the occasion of the Victory Day, a "golden amnesty" should be announced, which would affect a wide range of convicts. "Acts of amnesty are adopted in Azerbaijan with political discrimination. Our amnesty does not apply to persons arrested for political beliefs and views. Although these persons are being charged under various articles of the Criminal Code, it is obvious that the criminal cases against them are far-fetched and fabricated", said Safarov.
Court trial on Saakashvili's case launched in his absence
The trial of third Georgian President Mikheil Saakashvili concerning crimes he is accused of committing 14 years ago began on November 10, despite the authorities preventing the former president from attending court, informed OC Media.
The case concerns the November 7, 2007 police raid on TV channel Imedi and violent dispersal of an anti-government demonstration the same day, as well as the seizure of Imedi and other assets from the family of Badri Patarkatsishvili. Patarkatsishvili was a Georgian tycoon leading the opposition forces against Saakashvili at the time, reminds the information portal.
Saakashvili was charged with the crimes in August 2014, several months after he left Georgia following the end of his presidential tenure. The former president, who has been on hunger strike since his arrest in Georgia on October 1, has already been convicted on several counts of abuse of power.
Despite a court's request to bring Mikhail Saakashvili to the trial, the special penitentiary service refused to do that, fearing an attack by the opposition on a convoy car.
"Some members of the opposition parties planned to block roads with their own cars," the special penitentiary service claimed in its message sent to the "Caucasian Knot" correspondent on November 10. According to the penitentiary service, the opposition planned to involve 500-600 cars in action and that "would cause an uncontrollable situation and chaos and would interfere with the process of transferring Mikhail Saakashvili to the court hearing." Moreover, the transportation is an additional risk to Mikhail Saakashvili's health since he refused to take medications, the special penitentiary service explains.
According to advocate Bek Basilaya, the authorities are "afraid of the Mikhail Saakashvili's appearance in court." "They (the authorities) are waiting for Mikhail Saakashvili to be in such physical condition when he really will not be able to move. They are waiting for a decrease in the intensity of street protests and for people leaving the place of protest," said advocate Bek Basilaya on the air of the "Mtavari Archi" TV Channel.
Sources:
KINCHA Shota, SHOSHIASHVILI Tata, "OC Media, Mikheil Saakashvili's trial kicks off amidst protests in Tbilisi", https://oc-media.org/mikheil-saakashvilis-trial-kicks-off-amidst-protests-in-tbilisi/
Cucasian Knot, "Court hearing on Saakashvili's case held in his absence", https://www.eng.kavkaz-uzel.eu/articles/57279/
Saakashvili transferred to a prison hospital due to deteriorating health
Former Georgian president Mikheil Saakashvili, who reportedly has been on hunger strike for more than a month, has been transferred to Gldani No. 18 prison hospital on November 8 "to prevent deterioration in his health due to increased risks," the Georgian Special Penitentiary Service reports.
Saakashvili's lawyer Beka Basilaia says that neither family members nor his lawyers were notified about the transfer, claiming that "it is abduction that puts extra stress on the person on hunger-strike".
Saakashvili's mother Giuli Alasania said that her son was "taken away by armoured vehicles, then put in a helicopter". A couple of days later, on November 11, the ruling Georgian Dream authorities came under fire over the penitentiary publishing explicit footage showing Saakashvili being dragged against his will into the Gldani No. 18 prison hospital by several prison employees. The State Inspector's Service, civil society leaders and opposition politicians have strongly condemned the move.
Meanwhile, Saakashvili has agreed to take up the European Court of Human Rights' call to end his hunger strike if the authorities agree to transfer him to a civilian clinic for rehabilitation.
Saakashvili, who was arrested on October 1 ahead of municipal elections in the country after allegedly illegally crossing the border, refused to receive hunger-related treatment following the release of footage by the penitentiary service of him receiving food in Rustavi Prison No. 12 on November 6.
The opposition leaders claim that the Saakashvili's transfer to Gldani hospital poses a great danger considering medical and safety conditions in the facility.
Georgian Public Defender Nino Lomjaria also states that the situation in the institution does not fully comply with the recommendations of the medical council.
Sources:
Agenda.ge, "Ex-pres. Saakashvili transferred to prison hospital due to 'increased risks'", https://agenda.ge/en/news/2021/3486
Civil.ge, "Saakashvili to End Hunger Strike if Treated in Civilian Clinic", https://civil.ge/archives/454491
Civil.ge, "GD Authorities Under Fire Over Saakashvili Videos, Treatment", https://civil.ge/archives/454454
Several opposition MPs left Georgian parliament in protest to Saakashvili's imprisonment
The leader of the Girchi party, Zurab Japaridze and three deputies of the United National Movement (UNM), Nona Mamulashvili, Anna Tsitlidze and Levan Varshalomidze, announced on November 7 that they had decided to leave the Georgian parliament. Meanwhile, Lelo opposition party leader Mamuka Khazaradze decided to officially suspend his MP status.
On October 30, the second round of voting in elections to local self-government bodies was held in 20 Georgian cities. The election commission recognised the elections as valid, calculating that the "Georgian Dream" won in 19 cities and that the "United National Movement" candidate won in Tsalenjikha municipality.
In reaction to elections, many representatives of the opposition consider rigged the representative of the United National Movement faction Anna Tsitlidze resigned from the mandate of a deputy of the Georgian parliament on November 1.
Meanwhile, jailed former president Mikheil Saakashvili also called on the opposition MP's to leave their mandates. "We must understand that the parliament has already lost the function of a government platform. No decision can be made and will not be made there. Conversations with the bandits about reforms and changes for the good of the country are only delaying the time for the charge of protest to go out and for our country to be given up. Therefore, I would advise all my comrades-in-arms and simply patriots of the country and decent people in parliament to follow the example of Mr. Khazaradze, leave the parliament and leave "Dream" alone with themselves," Saakashvili's lawyer said.
The leader of the Lelo opposition party, Mamuka Khazaradze, has said that he will move to the western Georgian town of Tsalenjikha and assist the newly appointed opposition mayor. Khazaradze announced his decision while delivering his speech at the opposition rally in the city of Zugdidi on November 3. "Tsalenjikha is a town of freedom, and I congratulate all its residents… I will move to Tsalenjikha and buy an apartment soon. I will stand by the newly appointed mayor of Tsalenjikha and use all my experience to turn Tsalenjikha into an oasis, Khazaradze said".
Nona Mamulashvili from UNM said while announcing her decision to leave parliament that she decided to follow Khazaradze's example.
Sources:
Caucasus Watch, "Four opposition MPs of Georgian parliament resign from mandates", https://caucasuswatch.de/news/4338.html
Regnum.ru, Соратницы Саакашвили заявили об отказе от депутатских мандатов,(Saakashvili's supporters announced their decesion to leave the parliament),
Agenda.ge, "Lelo leader officially requests parliament suspend his MP status", https://agenda.ge/en/news/2021/3435
Agenda.ge, "Lelo leader Khazaradze: I'll move to Tsalenjikha, assist newly appointed opposition mayor", https://agenda.ge/en/news/2021/3426
Droa party leader on hunger strike
The leader of the opposition Droa party, Elene Khoshtaria, announced on November 3 the beginning of a hunger strike in the parliament building demanding the transfer of the third president of Georgia, Mikheil Saakashvili, to a civil hospital.
"My main requirement is the transfer of Mikheil Saakashvili to a civil clinic because in all other cases there are high risks to his health and safety, this is not what I am talking about, but the Ombudsman. He needs guaranteed conditions to monitor the state of his health and safety," Khoshtaria said.
When the doctors, after transferring Saakashvili to the clinic, declare that he is not in danger, then she will stop the hunger strike, Khoshtaria explained. The prison administration is breaking the law by refusing Saakashvili's transfer to the hospital, she said.
As Caucasian Knot later informed, at doctors' insistence, due to deteriorating of her tests, on the eighth day of her hunger strike, Khoshtariya was made a blood transfusion.
Doctors insisted on a blood transfusion for Khoshtariya due to the deterioration of her tests. "I feel well, but given the fact that my hunger strike can be a long one, and on doctors' advice, I decided to take the medical intervention," Ms Khoshtaria said at a briefing. She said that her test results showed that her health was in danger.
Sources:
The Caucasus Watch, "Elene Khoshtaria is on hunger strike", https://caucasuswatch.de/news/4342.html
Caucasian Knot, "Elene Khoshtariya needs medical care", https://www.eng.kavkaz-uzel.eu/articles/57287/