Strategic Analysis Caucasus Brief
Bi-weekly review (14. – 27.12. 2021)
Tomáš Baranec
Armenia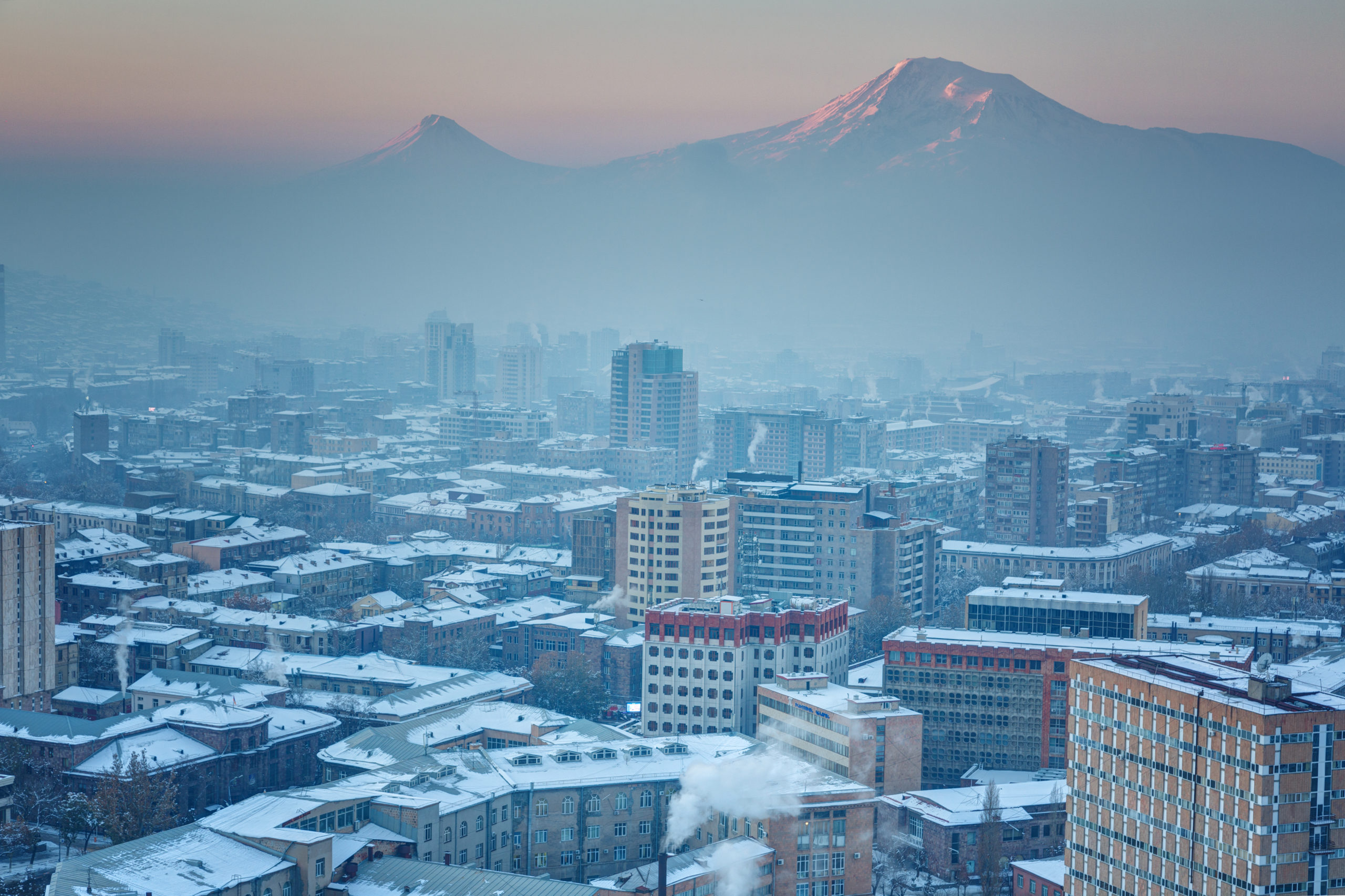 Yerevan in Winter, Armenia. Photo: Elena Shchipkova/ Shutterstock.com
Pashinyan and Aliyev meet in Brussels
Armenian Prime Minister Nikol Pashinyan and Azerbaijani President Ilham Aliyev pledged to de-escalate tensions and restore railway lines during a summit in Brussels hosted by European Council President Charles Michel on December 14, informed the Armenian Weekly.
According to a statement released by Michel after the meeting, Pashinyan and Aliyev agreed to take "further tangible steps" to "reduce tensions on the ground to ensure a conducive environment" for negotiations on delimitation and demarcation of the state border. The EU committed to providing an expert consultative group to provide technical assistance in the delimitation and demarcation process.
Following the meeting, Azerbaijani president Ilham Aliyev criticised Armenia. "So far, there are no positive signs", he said, referring to the possible normalisation of relations. "We must learn to live side by side, gradually preparing the ground for the normalisation of relations, including contacts between people". "We won the war, we are the winner, this reality must be taken into account", Aliyev said.
He also reiterated his previous claims that the Nagorno-Karabakh conflict has been resolved. "There is no going back to discussing the status of Karabakh or anything like that", he said.
The leaders agreed to "proceed with the restoration of railway lines, with appropriate arrangements for border customs and controls, based on the principle of reciprocity." According to Pashinyan, the railways will operate "within the sovereignty and jurisdiction of the countries," and Armenia will have railway access to Iran and Russia.
As the OC Media reminds, the issue of reopening transport links, especially between mainland Azerbaijan and the enclave of Nakhchivan, dubbed the "Zangezur corridor" by Azerbaijani authorities, has continued to be a point of contention.
While the agreement does not specify any status given to such transport links, the Azerbaijani president has repeatedly demanded a "corridor" that would be under Azerbaijan's jurisdiction.
Before the meeting, in a briefing with the NATO Secretary-General Jens Stoltenberg, the Azerbaijani president suggested that the legal aspect of the "Zangezur corridor" should be "fully similar to the regime of the Lachin corridor". The Lachin corridor connects Nagorno-Karabakh with Armenia and, since the war, has been under the control of Russian peacekeepers.
"Today, there are no customs in the Lachin corridor. Therefore, there should be no customs in the Zangezur corridor. If Armenia insists on using customs facilities to control cargo and people, then we will insist on the same in the Lachin corridor. This is logical", Aliyev said as cited by the OC Media.
One day later, both leaders met also with French President Emmanuel Macron. The meeting was not planned, or at least was not announced in advance.
No details have been reported on the exact topics that the Armenian Prime Minister and the President of Azerbaijan have discussed with the mediation of Emmanuel Macron. It is only known that the meeting took place after the end of the EU – Eastern Partnership summit, which was also attended by the leaders of Armenia and Azerbaijan.
Sources:
AVETISYAN Ani, OC Media, "Aliyev and Pashinyan meet one-on-one in Brussels", https://oc-media.org/aliyev-and-pashinyan-meet-one-on-one-in-brussels/
AVEDIAN Lillian, The Armenian Weekly, "Pashinyan and Aliyev meet in Brussels", https://armenianweekly.com/2021/12/15/pashinyan-and-aliyev-meet-in-brussels/
JAM News, "French President Macron, PM Pashinyan and President Aliyev meet in Brussels, discuss 'complex subjects' ", https://jam-news.net/macron-initiated-another-trilateral-meeting-with-pm-pashinyan-and-president-aliyev-in-brussels/
Hayk Marutyan dismissed as Yerevan Mayor by the ruling party
On December 22, the Yerevan City Council, held by the Armenian ruling My Step party, passed a vote of no-confidence against Hayk Marutyan and terminated his powers as the mayor of the capital city. The motion was backed by 44 Council members in a closed, secret ballot, 10 others voted against during the special sitting that had lasted for several hours.
In his last speech as mayor, Hayk Marutyan harshly criticised Armenia's post-revolutionary government, accusing officials of asking him to fire city workers who "had written a bad [Facebook] comment, or liked" a bad post, as well as requesting special privileges for themselves, their friends, and their relatives.  "Let's put this flower bed here, give a construction permit, give permission to add more floors [to a building], expand this land and so on", the former mayor said, listing the requests he had allegedly received. "In all cases, they received the same answer. As long as I am here, everything will be done within the framework of law and legality."
In a December 16 Facebook post on its official page, Armenia's ruling Civil Contract party, which holds a majority of seats on the Yerevan city council, justified the ouster of the mayor by citing his exit from the party, non-adherence to the party's municipal electoral programme, and of not fulfilling the "mission" to "eliminate systemic corruption from the Yerevan municipality".
Marutyan said he left the party in December 2020 because the apparent abuse of power he witnessed among officials was not befitting of a "revolutionary" city administration.
Sources:
AVETISYAN Ani, OC Media, "Recriminations fly as Yerevan mayor replaced by city hall". https://oc-media.org/recriminations-fly-as-yerevan-mayor-replaced-by-city-hall/
Panorama.am, "Hayk Marutyan dismissed as Yerevan Mayor", https://www.panorama.am/en/news/2021/12/22/Hayk-Marutyan-dismissed/2617880
Azerbaijani Parliament passes controversial law on media
On December 14, the draft bill, known as "On the Media," passed its first reading in the Azerbaijani Parliament. The plans to roll out a new Media Law in Azerbaijan were announced in January 2021 following a Presidential Decree "on deepening media reforms in the Republic of Azerbaijan."
According to the statement issued by a group of civil society representatives, the law "opens up a wide range of opportunities for the state to determine who can engage in journalism and rejects the model of media self-regulation. It inflicts incurable wounds on freedom of media, which is an important component of the right to freedom of expression."
The state will now create a registry of journalists who have to fit specific criteria (including lack of a criminal record) to be included. Owners of media outlets will have to live in Azerbaijan, which would effectively ban many of the country's independent media which are run by Azerbaijanis who fled the country's already repressive media environment. Online news outlets will be required to publish at least 20 news pieces on a daily basis. There are also a wide variety of content restrictions in the new law. Journalists will be prohibited from "propagating superstitions." "Tarnishing a business's reputation" will also not be allowed. Section 14.1.11 stipulates that "facts and events must be interpreted impartially and objectively, and one-sidedness must not be allowed," writes Eurasianet.org adding that the intent appears to be to give the government more freedom to block media it deems unfriendly.
On December 24, a small group of journalists protested against a new media law decrying it as unconstitutional. "From today on, media is considered dead," said freelance journalist Nurlan Libre, as he placed the headstone in front of the country's parliament building. Police dispersed the group within some 15 minutes.
"This is censorship, this is authoritarianism. It is against our constitutional rights. This means turning the country into North Korea," the visibly upset young man yelled. "We are against every chapter of this media bill," he added.
Meanwhile, media-friendly to the regime of Azerbaijani President Ilham Aliyev praised the bill. "The new bill will play an important role in eliminating a number of shortcomings that exist today in the field of media," said Sahil Karimli, the deputy editor-in-chief of the news agency Trend. "It provides all the details, from raising the level of professionalism of journalists to solving their social problems. One of the main issues is associated with the presence of so-called "random" journalists and media outlets in this area today. The new bill covers these issues as well.
During the discussion of the law in Parliament, one member, Javid Osmanov, dismissed critics of the bill as "anti-national forces" who were doing the bidding of Armenia. "Just as Azerbaijan won the Patriotic War, it will win the information war," he said.
Sources:
ISAYEV Heydar, Eurasianet.org, "Azerbaijan to implement new media restrictions", https://eurasianet.org/azerbaijan-to-implement-new-media-restrictions
Voanews, "Azerbaijani Journalists React to Draft Media Bill", https://www.voanews.com/a/azerbaijani-journalists-react-to-draft-media-bill/6364787.html
OCCRP, "Azerbaijani Journalists Protest Against New Media Law", https://www.occrp.org/en/daily/15718-azerbaijani-journalists-protest-against-new-media-law
AZ Netwatch, "In Azerbaijan, the Parliament is discussing the controversial law on media – the bill already passed its second reading", https://www.az-netwatch.org/news/in-azerbaijan-the-parliament-approves-the-controversial-law-on-media/
Saleh Rustamov ends his hunger strike and may be released from prison soon
After 41 days, Azerbaijani opposition activist Saleh Rustamov announced the end of the hunger strike on December 16. On November 6, Salekh Rustamov, an activist of the Popular Front Party of Azerbaijan, went on a hunger strike in protest against the fact that he was not affected by the amnesty. On December 13, he gave up water.
The activist's condition on the 41st day of the hunger strike became "extremely severe," doctor Adil Geibulla said. It would be wrong to bring oneself to death when the protest action received great publicity and partially achieved its goal. Furthermore, activists hold a solidarity hunger strike in Baku. Of course, being an intelligent person, Saleh Rustamov does not want others to suffer because of him. He was greatly concerned about the hunger strike of his brother Talekh Rustamov, who was diagnosed with several chronic diseases," doctor Adil Geibulla said, as cited by Caucasian Knot.
As Jam News informed, human rights activist Rufat Safarov was the first to share this information on social media, however, without any details. "On behalf of the state, my father was promised that he would be transferred to a civil hospital today or tomorrow and then released from prison. I hope they will keep their word", Sezgin Rustamov later wrote on his Twitter.
Saleh Rustamov's hunger strike provoked a wide public outcry, and human rights organisations in Azerbaijan, the US Department of State and co-rapporteurs of the Parliamentary Assembly of the Council of Europe (PACE) called on Azerbaijan's authorities to release Saleh Rustamov.