Strategic Analysis Caucasus Brief
Bi-weekly review (6.-20. 9. 2020)
Tomáš Baranec
Armenia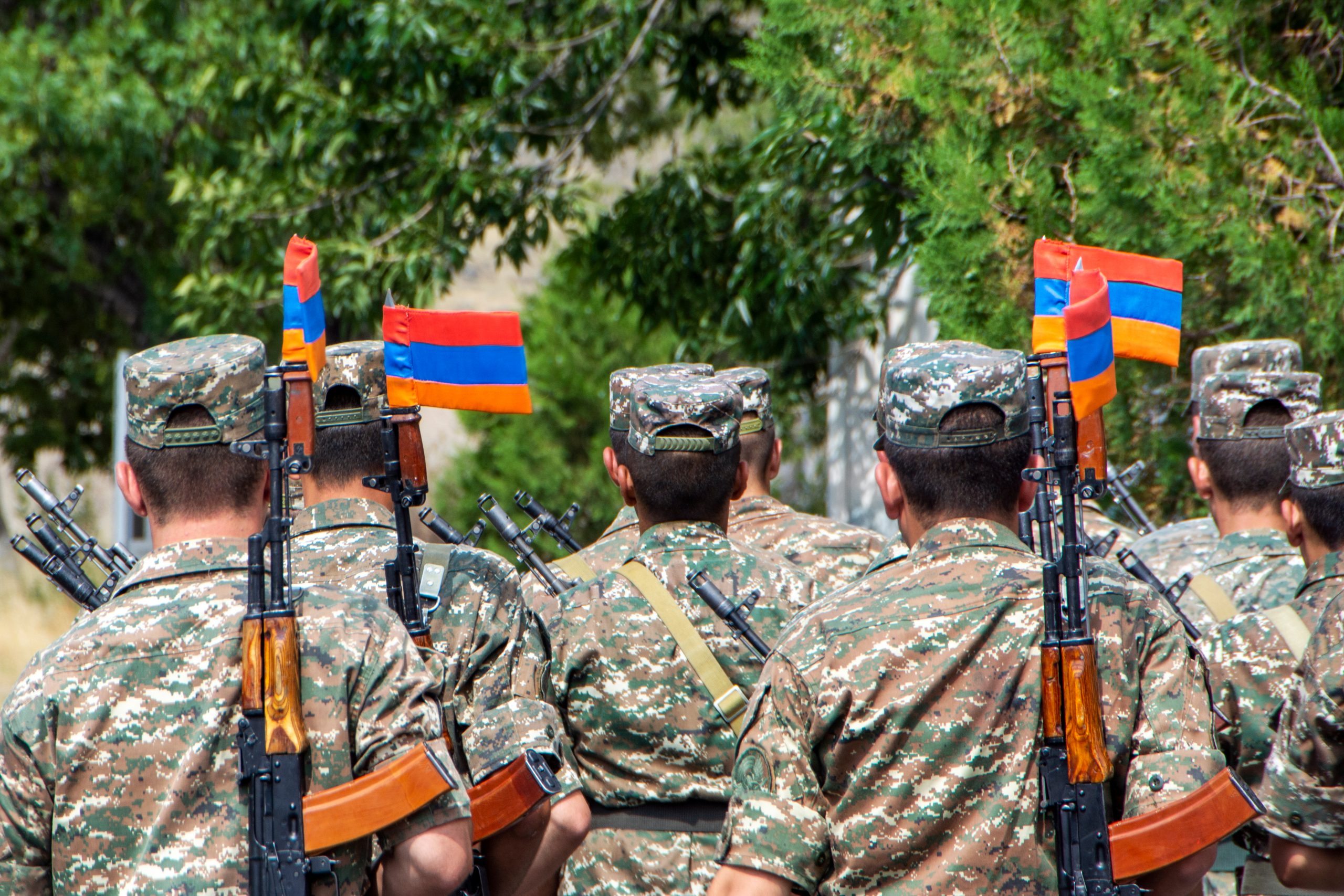 A squad of Armenian soldiers. Photo: Artem Avetisyan/ Shutterstock.com
FEATURED STORY
Soaring tension on the Armenian-Azerbaijani border claimed the life of the Armenian soldier
An Armenian soldier has been killed on September 16 on Armenian-Azerbaijani border following a recent increase in tension between both militaries.
Junior Sergeant Hovik Tamazyan (29) received a "fatal gunshot and shrapnel wounds as a result of provocation from the Azerbaijani side," wrote the press service of the Armenian Ministry of Defence in its statement.
Ministry added that "in recent days the Azerbaijani side has been active in the northeastern part of the Armenian-Azerbaijani state border and tried to carry out engineering work, which has contributed to the growth of tension on the front line."
After Tamazyan's death was reported, Azerbaijani Defense Minister Zakir Hasanov ordered all troops to maintain high combat readiness and be vigilant for attacks. Hasanov told Azerbaijani troops to "immediately and decisively prevent the possible provocation of the Armenian Armed Forces in different directions."
Convicted Azerbaijani opposition leader Tofig Yagublu transferred to house arrest after a live threatening hunger strike
The Azerbaijani opposition Musavat party member Tofig Yagublu, recently sentenced to more than four years in prison on hooliganism charges, has been moved to a house arrest on September 18, following 17 days of hunger strike against his conviction.
The court announced the decision on Friday after previously insisting his appeal would not be heard until September 28. Yagublu's son-in-law, Seymour Hazi, said he had spoken to Yagublu's doctor who informed him that Yagublu had ended his hunger strike. Opposition and human rights activists believe that car accident, leading to Yagbulu's arrest and sentence was most likely staged and demand his release.
Prior to his transfer to home arrest, Yagublu had to be hospitalised in Baku on September 12 after 14 days of hunger strike. "My father still stays at the resuscitation ward. Professor Adil Geibulla (a doctor treating Tofig Yagublu) already expresses concern over his health state. We can lose our father at any moment. The authorities should finally realise the responsibility for his condition and immediately release Tofig Yagublu," Yagbulu's daughter Nigyar Khazi told the Caucasian Knot correspondent after his hospitalisation.
The senior representative of Azerbaijani opposition started his hunger strike on September 2, after Judge Nariman Mehdiyev deprived him of his last statement in court, in which politician wanted to question the legality of the case against him.
One day later, on September 3, Yagublu was found guilty and sentenced to 4 years and three months in prison for "using a wrench to conduct an act of hooliganism" against the other driver after a car accident.
Yagublu's case has resonated both internationally and inside Azerbaijan, with several activists going on hunger strike in solidarity. Also, several demonstrations and a flash mob have been held in Baku calling for his release.
Yaqublu was arrested in March after a car hit his vehicle in Baku and the driver of this car started heated debates with the politician. Yaqublu and human rights groups say the car accident most likely was staged to be used for the "bogus" case. Yaqublu frequently criticises the government and authoritarian President Ilham Aliyev.
Sources:
Caucasian Knot, "Tofig Yagublu stays in critical condition, his daughter reports ", https://www.eng.kavkaz-uzel.eu/articles/52141/
OC Media, "Imprisoned opposition leader Tofig Yagublu hospitalised over hunger strike ", https://oc-media.org/imprisoned-opposition-leader-tofig-yagublu-hospitalised-over-hunger-strike/
RFE/RL, "Azerbaijani Opposition Politician Sentenced To Over Four Years In Prison On 'Hooliganism' Charge ", https://www.rferl.org/a/azerbaijani-opposition-politician-sentenced-to-over-four-years-in-prison-on-hooliganism-charge/30819097.html
RFE/RL, "Azerbaijani Rights Activists Call For Release Of Jailed Politician ", https://www.rferl.org/a/azerbaijani-rights-activists-call-for-release-of-jailed-politician/30831647.html
OC Media, "Azerbaijani court transfers opposition leader Tofig Yagublu to house arrest ", https://oc-media.org/azerbaijani-court-acquits-opposition-leader-tofig-yagublu/
For additional information, see:
RFE/RL, "Azerbaijani Hunger Striker Under Pressure To Confess 'Psychological Disorder' ", https://www.rferl.org/a/azerbaijani-hunger-striker-under-pressure-to-confess-psychological-disorder-/30825342.html
De facto authorities in Stepanakert propose colonisation of Nagorno Karabakh by Lebanese Armenians
The de facto president of Nagorno Karabakh Arayik Harutyunyan has recently proposed resettlement of 100-150 Armenian families from Lebanon to strengthen Armenian presence in this separatist territory, stirring outrage in Baku.
In a statement published on September 14, Azerbaijani Foreign Ministry has accused Yerevan of seeking "to strengthen the results of ethnic cleansing in the occupied territories and preserve the status quo based on occupation by illegally settling Armenians in Azerbaijan's territories".
"After the explosion in the Lebanese city of Beirut, the aggressor state Armenia, using the tragedy in this country for its nefarious purposes, began to implement plans to resettle Lebanese Armenians to Nagorno-Karabakh and surrounding areas which are internationally recognised territories of Azerbaijan and currently under military occupation," Azerbaijani ministry stated.
The ministry followed that "Armenia is trying to artificially increase the number of Armenians here by illegally resettling the ethnic Armenians who have nothing to do with the region to the currently occupied lands of Azerbaijan."
The reaction came after Harutyunyan posted a video on Facebook on September 11 showing the settlement of the first Lebanese Armenian families in Nagorno-Karabakh. Harutyunyan also announced his intent to form a colony of Lebanese Armenians in the region, informed portal Caucasus Watch.
De facto leader of Nagorno Karabakh claimed the first Lebanese-Armenian families are already being approved in Nagorno-Karabakh and reaffirmed that his administration is interested in preserving the Lebanese-Armenian' colony.
Over 1,100 Armenians have arrived from Lebanon, of which 10-15% are children, since last month's devastating explosion at Beirut port warehouses, head of the strategy development department of the office of the chief commissioner for diaspora issues Hovhannes Aleksanyan told Armenian News.
According to various estimates, there are between 80,000 and 120,000 Armenians living in Lebanon at present. The once-thriving community struggled to cope with Lebanon's ongoing economic crisis even before the August 4 explosion which killed 181 people and left tens of thousands of other Beirut residents homeless.
Sources:
Azernews.az, "MFA: Yerevan seeks to preserve status quo by settling Armenians in occupied territories ", https://www.azernews.az/karabakh/168932.html
Caucasus Watch, "Azerbaijan condemns the settlement of Lebanese Armenians in Nagorno-Karabakh ", http://caucasuswatch.de/news/3104.html
MENAFN, "Yerevan starts settling Lebanese Armenians in occupied Karabakh ", https://menafn.com/1100783423/Yerevan-starts-settling-Lebanese-Armenians-in-occupied-Karabakh
News.am, "Over 1,100 Armenians arrive from Lebanon ", https://news.am/eng/news/601833.html
azatutyun.am, "First Lebanon Armenians Move To Armenia After Beirut Blast ", https://www.azatutyun.am/a/30821591.html
For additional information, see:
Eurasianet.org, "For Armenians, they're not occupied territories – they're the homeland ", https://eurasianet.org/for-armenians-theyre-not-occupied-territories-theyre-the-homeland
Saakashvili named a candidate for PM by UNM
Mikheil Saakashvili, third president of Georgia and one of the most polarising leaders in the country, has been nominated as a candidate for prime minister by leading opposition party the United National Movement (UNM). Part of opposition, as well as many analysts, believe, that this nomination might, in fact, strengthen the ruling Georgian Dream in the run-up to elections.
"Utilising Saakashvili's resources is absolutely essential for our state in order to achieve its internal and foreign policy goals. He has connections, experience, and authority in business circles outside Georgia, and authority among representatives of executive and legislative powers in allied countries," said the UNM chairman Grigol Vashadze while naming Saakashvili as the Prime Ministerial hopeful of the UNM and its satellite parties of the Strength in Unity coalition on September 7.
However, other opposition forces that have cooperated to form a possible coalition government in November are divided over Saakashvili. While some softened their rhetoric against the third Georgian president, others remain adamant in their criticism.
Giga Bokeria, leader of the European Georgia party, which split off from UNM in January 2017, said Saakashvili was seeking unchecked power and claimed that the UNM is "interested in returning to the pre-2012 situation."
Kremlin-friendly Democratic Movement-United Georgia led by ex-speaker Nino Burjanadze and Lelo for Georgia party also excluded the possibility of cooperation with the government headed by Saakashvili.
Other parties such as the right-libertarian Girchi and Strategy Aghmashenebeli party, were rather careful in their statements expressing carefully worded doubts about support for Saakashvili as PM while keeping this possibility open for the future.
Political analysts asked by the Eurasianet.org agreed that Saakashvili's nomination is "driven primarily by his ego rather than any electoral calculations" and as such, it can strengthen the position of the ruling party.
Giorgi Mchedlishvili, a political scientist at International Black Sea University, claimed that the popularity of UNM is inversely proportional to Saakashvili's activities and statements aimed toward Georgia. UNM had tended to gain popularity "when Misha was silent and preoccupied with Ukraine," said analyst using Saakashvili's nickname.
Analyst Dmitry Moniava holds a similar view, claiming in his commentary on RFE/RL that more Saakashvili gets involved in Georgian affairs, "the more Bidzina Ivanishvili benefits". "Everyone says this: Saakashvili's friends, his enemies, and neutral commentators. But he is like a boxer who has been defeated many times who still wants to show that he is on top, racing back to the past and dreaming of a rematch in the same ring, with the same fans," he added.
Sources:
Civil.ge, "Georgian Politicians on Saakashvili's Prime Ministerial Hopes ", https://civil.ge/archives/366071
OCMedia, "Saakashvili named candidate for PM ", https://oc-media.org/saakashvili-named-candidate-for-pm/
Eurasianet.org, "Saakashvili winds back the clock in return to Georgian politics ", https://eurasianet.org/saakashvili-winds-back-the-clock-in-return-to-georgian-politics
Ekho Kavkaza, "Возвращение и отвращение (Return and reversal)", https://www.ekhokavkaza.com/a/30825608.html
EBRD and EIB found the Nenskra Dam to be non-compliant with their standards
European Bank for Reconstruction and Development (EBRD) and the European Investment Bank (EIB), two major investors in the Nenskra hydropower plant in Georgia's Svaneti region, found the project to be 'non-compliant' with their standards, including violating rights of the indigenous Svan population. Environmentalists now hope that this conclusion might significantly delay the realisation of the project.
As OC Media reminded in its article, CEE Bankwatch Network, together with Georgian non-governmental organisation, Green Alternative filed reports that have been investigated by the compliance mechanisms of both institutions back in 2018.
The reports submitted by these mechanisms have found that there has been 'non-compliance' concerning indigenous issues, broader environmental and social impacts, land acquisition, involuntary resettlement and economic displacement, cultural heritage, information disclosure, and stakeholder engagement.
Green Alternative's International Financial Institutions programme coordinator Dato Chipashvili told OC Media he hopes that the latest developments will also delay the construction. "Luckily, none of the banks have actually given the money to the project. They confirmed the loans, but no contracts have been signed yet. Otherwise, it would be much harder to stop this process," he stressed.
Once finished, the $1 billion project would be the third-largest Hydro Power Plant in the country producing 1,200 GWh of energy per year, allowing Georgia to close the energy gap that the country is currently experiencing in winter months. It would also decrease Georgia's dependence on energy imports from Azerbaijan and Russia while producing an energy surplus that might be sold to Turkey, claimed the Nenskra Hydro, the company that is building the plant and will directly operate it.
Nenskra Hydro was established in 2015 as a joint venture of the state-run Georgian Partnership Fund and state-run Korean K-water, which own 10% and 90% of the project, respectively. K-water will be directly responsible for the power plant and sell any electricity it produces for 36 years, after which full ownership will pass to the Government of Georgia free of charge, wrote OC Media.
Sources:
For additional information, see:
COVID-19: Epidemiological situation worsens in Georgia as another wave of Coronavirus hits the country
After managing the pandemic of the new coronavirus SARS-CoV-2 back in the spring, Georgia is now facing its another wave, with new epicentre in the Adjara region on the shores of the Black sea. The government reacted with new restrictive measures, while it has denied any lockdowns for now.
Georgia has reported 182 new cases of COVID-19, the disease caused by the new Coronavirus, on August 18, continuing the trend of the last couple of weeks. As much as 129 of the 182 new patients were from Georgia's coastal Adjara region. As of August 18, at least 1,665 individuals were infected.
Worsening in the epidemiological situation led the Georgian government to tighten of anti-coronavirus measures. Under new rules, large social gatherings such as weddings and wakes were forbidden starting September 10, while no more than 200 people may participate at events which take place in the open air. New measures, among other things, also postpone the planned opening of theatres and cinemas.
Sources:
Eursianet.org, "Georgia experiences its first wave of COVID-19 ", https://eurasianet.org/georgia-experiences-its-first-wave-of-covid-19
JAMnews, "No weddings, no wakes, no cinemas – coronavirus measures tightened in Georgia ", https://jam-news.net/georgia-coronavirus-weddings-cinemas-gatherings/
Agenda.ge, "Georgia reports 182 new cases of Coronavirus, 129 are in Adjara ", https://agenda.ge/en/news/2020/2882
Agenda.ge, "Coronavirus: large public, ritual events banned again in Georgia. What are the new restrictions? ", https://agenda.ge/en/news/2020/2774
Noble Partner 2020 drills took place in Georgia
Some 2,700 troops from the United States, the United Kingdom, Poland, France, and host Georgia participated in the Noble Partner 2020 multinational military exercise held at Georgia's Vaziani and Camp Norio training areas.
The exercises included situational training, live-fire drills, and combined mechanised manoeuvres, but also covered cybersecurity and information operations.
Georgia was hosting the annual Noble Partner 2020 for the fifth time this year. The multinational military exercise is designed to enhance regional partnerships and increase US force readiness and interoperability in a realistic, multinational training environment.
Source:
Agenda.ge, "Noble Partner drills in full swing with counter-terrorism, medevac operations ", https://www.agenda.ge/en/news/2020/2824
Agenda.ge, "Noble Partner 2020 exercises officially kick off in Georgia, involving over 2,700 troops "
The Financial, "Noble Partner 2020 military exercises ended in Georgia ", https://agenda.ge/en/news/2020/2752 https://www.finchannel.com/world/georgia/78366-noble-partner-2020-military-exercises-ended-in-georgia
North Caucasus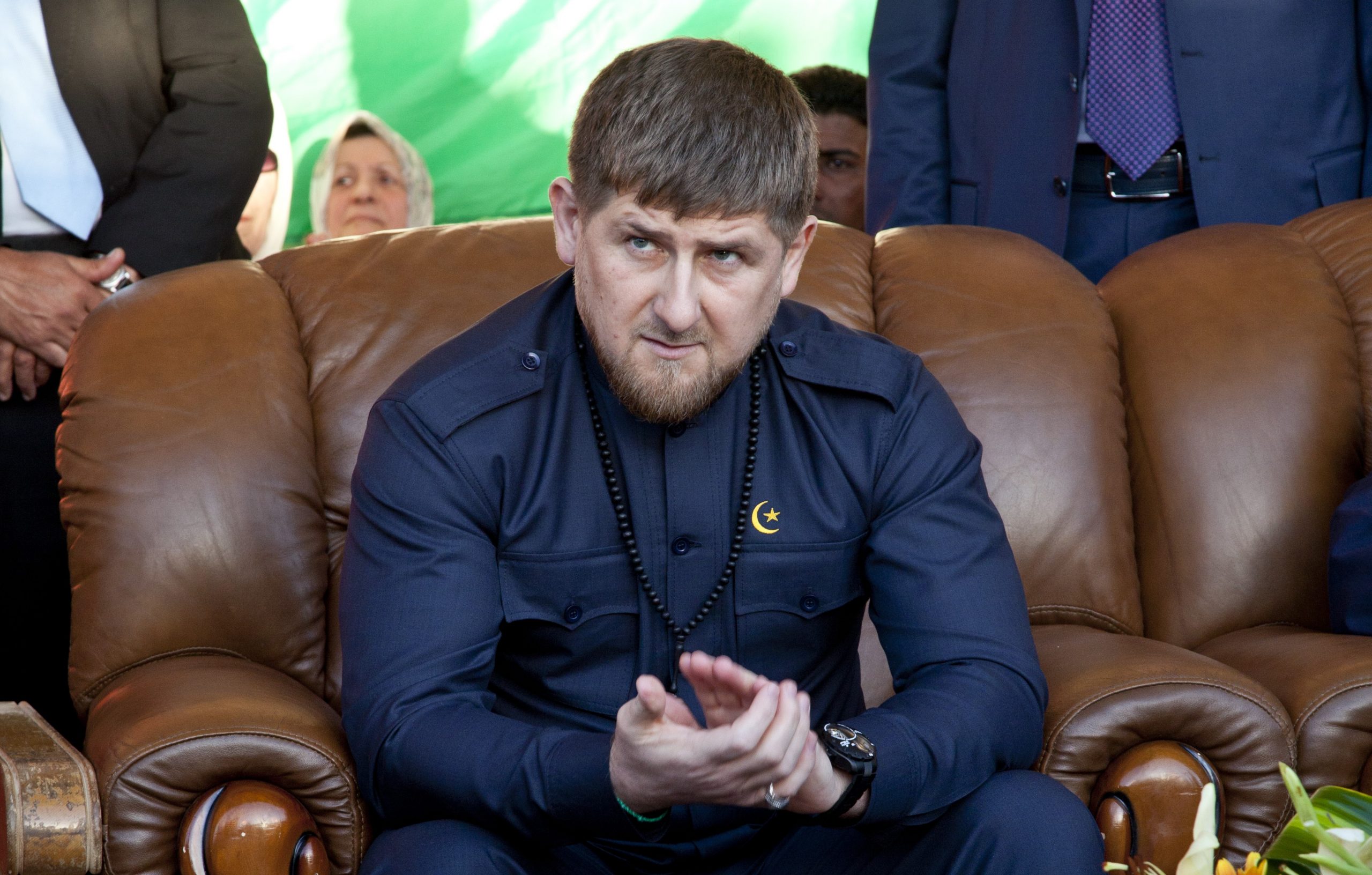 Ramzan Kadyrov, Chechen President. Photo: Zaid Saadallah/ Shutterstock.com
Chechens critical of authorities face increasing pressure both at home and abroad
Torture and brutal humiliation of 19-year-old Chechen, coupled with plans of Ramzan Kadyrov to set up a republican government agency for dealing with both "good" and "bad" compatriots abroad, have recently sent a shockwave among Chechens critical of authorities in Grozny.
A moderator of a Telegram channel 1ADAT critical of the authorities, 19-year-old Salman Tepsurkayev, has on September 7 appeared in a video torturing and raping himself with a bottle, after being reportedly kidnapped by a group of armed men.
"This is a dirty group, they discuss strangers, the Chechen Government, create pictures and write poetry, do all kinds of inappropriate things ", Tepsurkayev says in the video. "I realised that all this is inappropriate," he added. The young man then says that he "decided to punish himself" and begins to sodomise himself with a glass bottle from the Sernovodskaya mineral water, which as OC Media reminded in its article, is owned by the Akhmat Kadyrov Foundation, named after the father of Chechen leader Ramzan Kadyrov.
The UN Committee against Torture (CAT) has clarified that young man was kidnapped on September 6 in Gelendjik (Krasnodar Krai) by the people who introduced themselves as employees of the Ministry of Internal Affairs (MIA). Later his relatives managed to trace the location of Salman's phone in the territory of the Akhmat Kadyrov Police Patrol-and-Post Service Regiment stationed in Grozny, reported the Caucasian Knot.
Authors of 1ADAT Channel believe that Tepsurkaev now may face death due to the resonance after the publication of the video with his self-humiliation. "Since there are all the proofs of their involvement in the crime; and even the Council of Europe has already launched an inquiry into their crime; they are confident that if Salman is released, he will be persuaded to tell the whole truth about that Kadyrov's performance. Now, Salman for them is undesired witness to their crimes," says the channel's statement.
CAT, which does not exclude the possibility that Tepsurkaev will be murdered, sent an urgent complaint to the European Court of Human Rights (ECtHR) in the interests of the young man on September 11.
The kidnapping of young Chechen activist came shortly after Ramzan Kadyrov had unveiled plans to set up a republican government agency for relations with compatriots living abroad.
At a meeting of the government of the Chechen Republic on August 28, Kadyrov claimed that new agency will help "Chechens wherever they are". The condition for such help, however, according to Kadyrov's own words, is that people should "watch their tongue". For "good Chechens," he promised to do some good; and for "bad Chechens," he promised to do "whatever is necessary."
As Valery Dzutsati wrote in his assessment for Jamestown Foundation, murders and attempts on the lives of Chechen critics of Kadyrov in Europe "serve the interests of both Moscow and the ruler of Chechnya", as they "instigate fear among Chechen dissidents and pressure them into moderating any public criticism of the pro-Kremlin administration in Grozny. Meanwhile, they also allow Kremlin to "exploit an extensive and tightly knit Chechen diaspora in the EU ". Moreover, the involvement of "Kadyrov's henchmen" in the murders across the EU allows the Kremlin to claim plausible deniability and deflect international criticism. "This is hardly good news for those Chechen dissidents who left the Russian Federation in search of safety ", added the analyst.
Sources:
OC Media, "Chechen government critic, sodomises self with bottle in apology video", https://oc-media.org/chechen-government-critic-sodomises-self-with-bottle-in-apology-video/
Caucasian Knot, "More than week after his kidnapping, Tepsurkaev's whereabouts are unknown", https://www.eng.kavkaz-uzel.eu/articles/52131/
Jamestown.org, "Chechnya's Ramzan Kadyrov Announces Creation of New Agency Focused on Compatriots Abroad", https://jamestown.org/program/chechnyas-ramzan-kadyrov-announces-creation-of-new-agency-focused-on-compatriots-abroad/