Strategic commentary by Emil Souleimanov
Despite greater involvement by Turkey, Azerbaijan does not plan to conquer the whole Nagorno Karabakh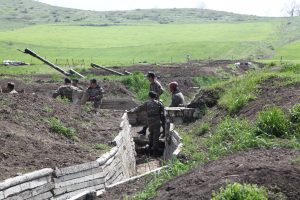 Photo: Albert Khachatryan / Shutterstock.com
To understand the role of Turkey in the recent flare-up of fighting in Nagorno Karabakh, and its possible impact on Azerbaijan's strategic goals, we must recall the history of the conflict. Despite the pro-Azerbaijani position, Ankara has sought to maintain a tangible distance from the armed conflict in Nagorno-Karabakh since the 1990s. Turkey's support towards Baku was diplomatic; providing the sale of weapons; training of Azerbaijani officers in Turkish military academies; joint military exercises and others.
Despite many efforts by the leadership in Baku, Ankara has been initially reluctant to enter into a formal military alliance with Azerbaijan. The reason is apparent: Armenia is an ally of Moscow, therefore in the event of a full-scale war in Nagorno-Karabakh, Turkey would have to face a militarily much stronger Russia and such development was out of the question for Ankara.
However, the situation has changed somewhat since the beginning of the 21st century. With "proxy wars" becoming more usual than before, Turkey and Russia are already competing in Libya and Syria. Meanwhile, the rational and cautious Turkish military leadership has, in recent years, been under the more substantial influence of Turkish president Recep T. Erdogan who, like his Russian counterpart Vladimir Putin, is not afraid to get involved in foreign interventions and bellicose adventures.
If we look at things from a rational point of view, Turkey's open entry into the Nagorno-Karabakh war remains unlikely. However, due to the specific personality traits of leaders involved and some changes in recent years, it is more likely than ever before. Most importantly, we should not omit a possibility of an accidental, out of hand, escalation on the battlefield. Under such circumstances, things that seem irrational today – and therefore not probable – might suddenly become acceptable also for Ankara.
Apart from extreme scenarios, more visible and intense support from Ankara does not mean, that Baku is now determined enough, to attempt full conquest of Nagorno Karabakh. This claim is supported, among other things, by the fact, that Azerbaijan did not fully mobilise the army, which would be necessary if it intended to fully reclaim all the lost territories.
Even though the Azerbaijani army has strengthened significantly in recent years, in order to control the mountain massif, such as the Nagorno Karabakh, Baku would need even more significant superiority in both arms and manpower than it enjoys at the moment. Meanwhile, Azerbaijanis would have to be prepared to sacrifice tens of thousands of lives and endure the collapse of the economy, since, unlike in the 90s, both countries now possess much more sophisticated weapons capable of hitting any strategically important point on adversary's territory.
We should also realise, that significant failure of a campaign in the Nagorno Karabakh might critically jeopardise regime in Baku, with Aliyev himself following in footsteps of first two Azerbaijani presidents – Ayaz Mutallibov and Abulfaz Elchibey, that were forced out by fiasco on the battlefield. Although the confrontational ethos and vision of military success are essential for the Azerbaijani leadership to survive politically, the risk of a large-scale war, in which Russia would be dragged in on the side of Yerevan, still terrifies both Baku and Ankara.
Therefore, the further escalation of the current military operations into a long-term proxy war taking a massive toll on the lives and economies of all parties involved is in nobody's interest. However, taking into account the current scope of military operations, such a scenario could occur even if nobody wishes it.
Disclaimer: Views presented here are those of the author solely, and do not necessarily reflect the views of the Strategic Analysis.