Strategic Analysis Balkan Brief
Review of August 2023
Petra Bošková, Lýdia Chobotová, Sára Gregová, Zuzana Šmilňáková, Chiara Mihalčatinová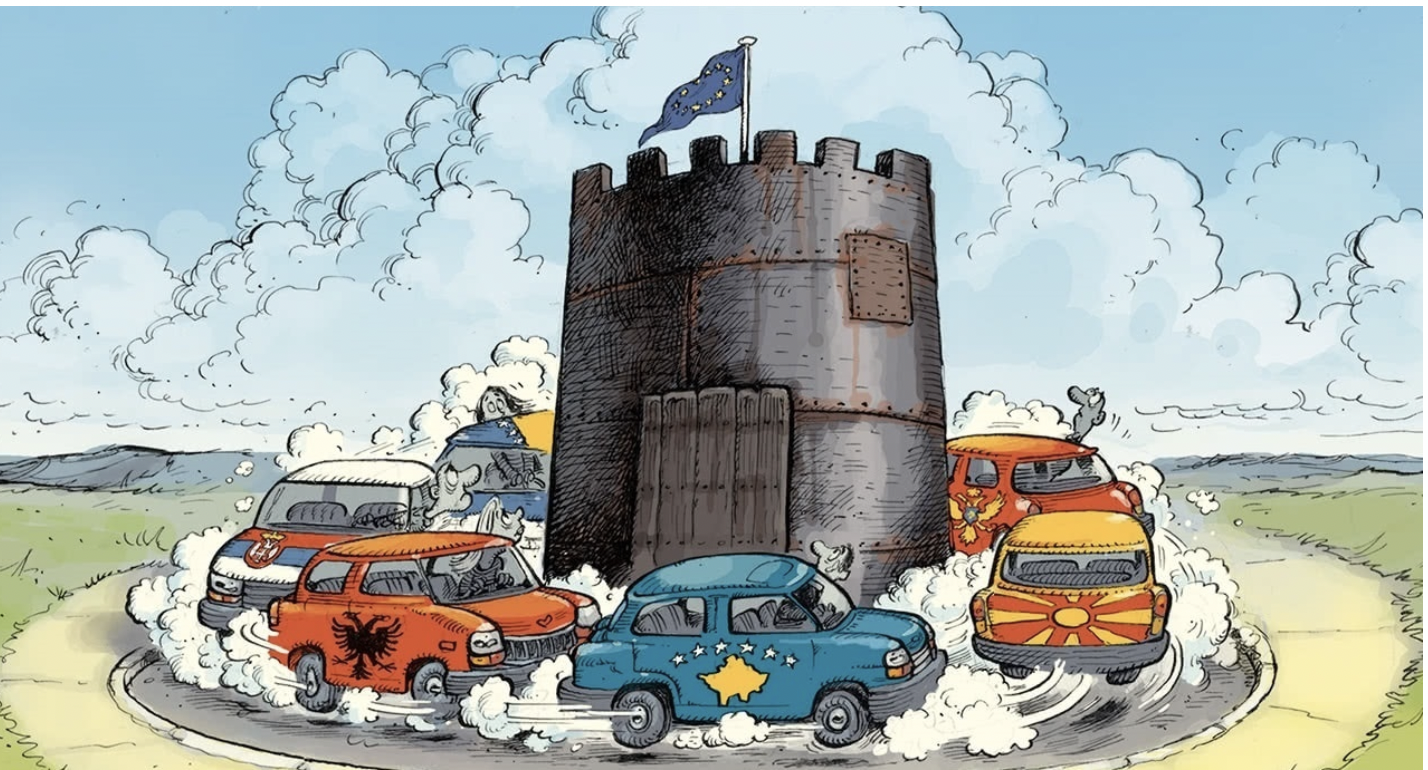 Caricature: Shutterstock.com
Albania
The detention of a Greek mayor threatens Albania's progress towards EU accession
Greek politicians have escalated their discourse regarding the prolonged detention of Fredi Beleri, the ethnic Greek mayor of Himara in Albania. They caution Tirana that Albania's progress towards EU accession could be jeopardized if the case remains unresolved.
Beleri was apprehended prior to Albania's local elections on May 14, accused of vote-buying, and has remained in police custody since. Despite his incarceration, he secured victory in the mayoral election in Himara, a region with a significant Greek minority. However, his tenure is at risk if he continues to be detained.
This case has led to strained relations between Albania and its southern neighbor, Greece. High-ranking Greek officials, including Prime Minister Kyriakos Mitsotakis, current Foreign Minister George Gerapetritis, and former Foreign Minister Nikos Dendias, have called for Beleri's release. Ordinary Greeks have mobilized on social media with the #freebeleri hashtag. Conversely, Albanian officials maintain that Beleri's arrest was not politically motivated and emphasize the importance of allowing justice to follow its course.
The most recent statement on this matter came from George Gerapetritis during his appearance on a Hellenic Broadcasting Corporation (ERT) program on August 8. He cautioned that if Albanian authorities fail to take the necessary steps to release Beleri and enable him to assume his duties, it could lead to a severe deterioration in diplomatic relations between Albania and Greece. Gerapetritis expressed doubts about Albania's EU accession process advancing in the face of such a violation of the rule of law.
Gerapetritis revealed engaging in two challenging phone conversations with his Albanian counterpart, Olta Xhacka, which yielded no tangible results. Consequently, he sent a letter to fellow EU foreign ministers and EU foreign policy chief Josep Borrell outlining Greece's stance and the obstacles posed by Albania's actions to its EU integration progress.
This is not the first time the case has been raised at the EU level. In June, MEP Kostas Papadakis submitted a question to Borrell, asserting that Beleri's detention was an attempt by the Albanian government to hinder the political activities of the Greek minority in Albania. He sought information on actions being taken for Beleri's immediate release. Borrell's response emphasized the need to uphold due process and refrain from commenting on ongoing investigations.
On July 12, the European Parliament approved an amendment to the 2022 European Commission report on Albania, reflecting Greece's concerns about treating the Greek minority. The amendment signaled that such tactics by Albanian authorities were not tolerated and emphasized the importance of upholding the rule of law and human rights.
At the end of July, Albania's Higher Court rejected a request for Beleri's release from police detention, prompting a response from European Commission Vice President Margaritis Schinas. Schinas argued that Beleri's continued incarceration raised doubts about due process and could be perceived as an effort to intimidate voters. He stressed that the EU could not remain passive in the face of such transgressions and must respond appropriately.
Greece has a history of using its EU membership status in its relations with neighbours, as seen with the Macedonia naming issue. Before Beleri's arrest, Albania and Greece had relatively positive relations stemming from their historical and cultural ties and shared NATO membership. However, trade between the two nations remains relatively low.
Bosnia and Herzegovina
Milorad Dodik is reacting to his indictment through another indictment
On August 15, Milorad Dodik, President of the Republika Srpska, filed an indictment against prosecutor Nedim Ćosić, who also happens to be the prosecutor in charge of filing an indictment against Dodik, for failing to carry out Christan Schmidt, the High Representative in Bosnia and Herzegovina's directives.
Dodik claims that Ćosić acted illegally with the objective of harming Miloš Lukić, the acting director of the Republika Srpska Official Gazette, as well as the institution of the President of the Republika Srpska. He emphasised that the prosecutor broke Article 346 of the Criminal Code of the Republic of Srpska and committed an abuse of office or authority under Article 315. Dodik is using this charge as retaliation for his own indictment, which the Court of BiH will decide on at the end of August. However, this indictment has already caused an international outrage.
For instance, the aforementioned Christian Schmidt's office made the following statement: "No one is above the law. The OHR requests that all individuals and authorities uphold the law". Even further, the US Embassy in BiH hailed Dodik's indictment as a crucial step toward the establishment of the rule of law. This incited the President of the Republika Srpska, who issued the following official declaration through his cabinet: ,,The indictment is a direct attempt by the Prosecutor's Office of Bosnia and Herzegovina (BiH) and political Sarajevo, with wholehearted support and assistance, i.e. the creation of the United States Embassy in Sarajevo and directly by Ambassador Michael Murphy, as well as Great Britain and the European Union, to annul the institutions of Republika Srpska chosen by the will of the people in the democratic elections".Furthermore, the cabinet labelled the overall process of the indictment as ,,a classic act of oppression of the Serbian people in the Republika Srpska".
Thus, Milorad Dodik is nowadays using anti-western rhetoric to divert attention from his own indictment toward the animosity directed at Western institutions operating in the country. He also promised everyone that, regardless of the conclusion of the investigation, he would not be banned from his political job and would, therefore, not resign.
Sources:
SarajevoTimes, ,,Dodik: I will not step down as the President of the RS", https://sarajevotimes.com/dodik-i-will-not-step-down-as-the-president-of-the-rs/
SarajevoTimes, ,,Embassy of the US in BiH comments on the Indictment against Republika Srpska President", https://sarajevotimes.com/embassy-of-the-us-in-bih-comments-on-the-indictment-against-republika-srpska-president/
SarajevoTimes, ,,Office of the High Representative: No One is above the Law",https://sarajevotimes.com/office-of-the-high-representative-no-one-is-above-the-law/
SarajevoTimes, ,, Republika Srpska President filed Indictment against the Prosecutor", https://sarajevotimes.com/rs-president-filed-indictment-against-the-prosecutor/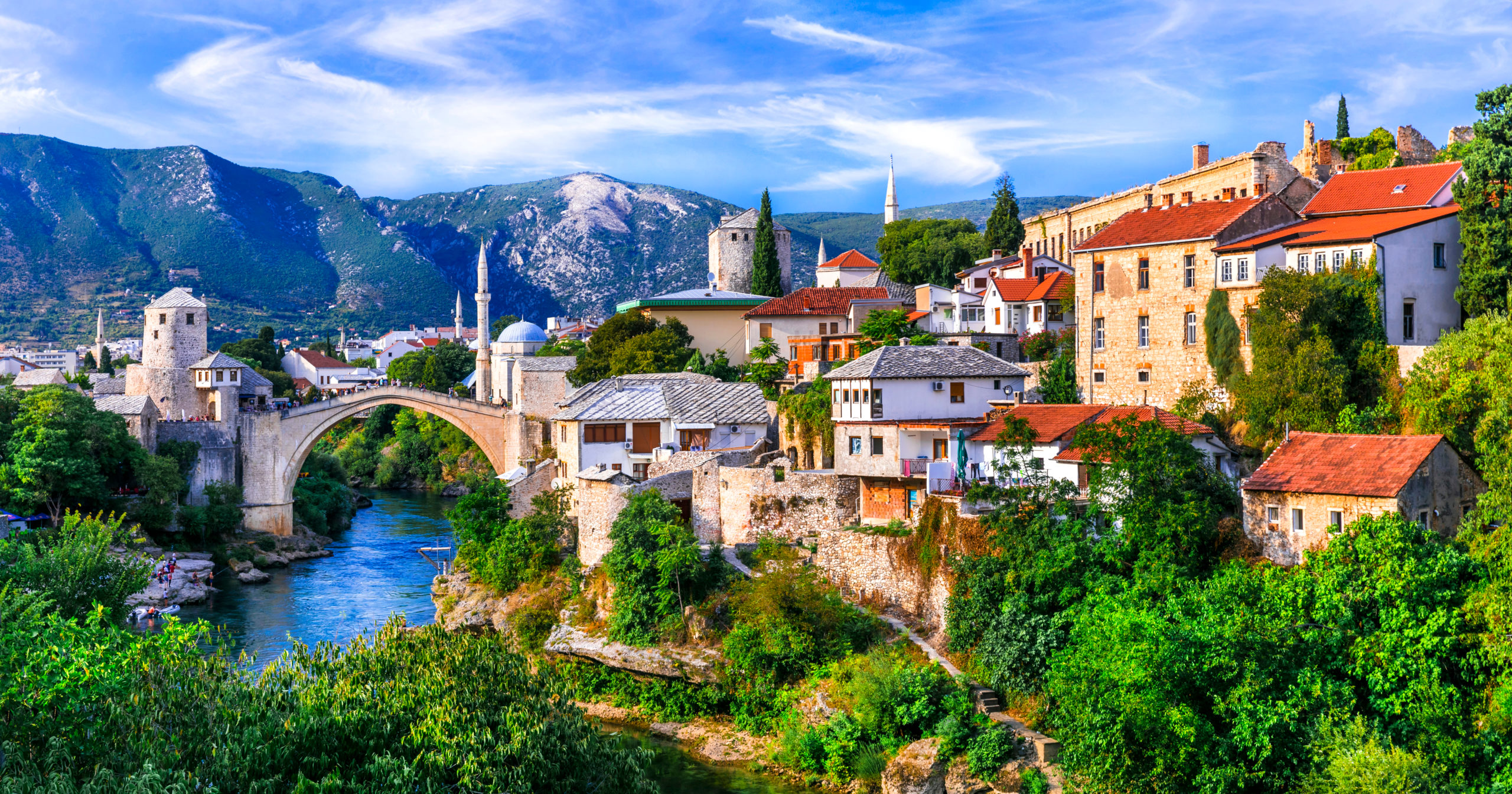 Mostar, Bosnia and Herzegovina. Photo: Shutterstock.com
Croatia
Croatia and Serbia exchange verbal attacks during Operation Storm commemorations
During the 1995 Operation Storm anniversary commemorations, leaders from Croatia and Serbia engaged in a sharp exchange of views, delivering sharp criticisms. This military operation resulted in the Croatian Army reclaiming territory held by rebel Serbs and triggering the displacement of approximately 200,000 Serbian civilians.
Croatia observed the anniversary of Operation Storm on August 5, 2023, a military campaign in which its armed forces regained control of territory previously held by rebel Serbs during the war. However, this year's commemoration was marked by sharp criticisms exchanged between officials from Zagreb and Belgrade.
In the city of Knin, Croatian officials organised a commemorative ceremony that included unfurling a large flag over the ancient fortress and reading the names of all Croatian soldiers who lost their lives or went missing during the operation. Wreaths were laid, and speeches were delivered by Gordan Jandrokovic, the Speaker of Parliament, Prime Minister Andrej Plenkovic, and President Zoran Milanovic.
Prime Minister Plenkovic emphasised the significance of Operation Storm, calling it the pivotal moment in the Homeland War and the operation that effectively put an end to the Greater Serbian aggression project led by the Milosevic regime against Croatia. He noted that reclaiming the territory held by rebel Serbs from 1991 to 1995 meant the restoration of normalcy in Croatia.
Plenkovic criticised statements made by Serbian President Aleksandar Vucic and Milorad Dodik, the President of the Serb-dominated Republika Srpska entity in BIH, during a commemoration event in the Bosnian city of Prijedor, where it was referred to as the 'Day of Remembrance of All the Serbs Killed and Expelled in Operation Storm' in Serbia.
Operation Storm resulted in the displacement of around 200,000 Serbs who were living in Croatia, and according to the Croatian Helsinki Committee, approximately 677 Serbs lost their lives during and after the operation. Plenkovic firmly asserted that Operation Storm represents the foundation of Croatian freedom, and Croatia will not tolerate any attacks on it or its veterans, soldiers, and police.
He also emphasised that Croatia would not accept Serbia's indictment of Croatian pilots involved in the operation, referencing the indictment of four Croatian pilots by Serbia for allegedly bombing a refugee convoy travelling from Knin to Serbia.
Parliament Speaker Gordan Jandrokovic echoed these sentiments in his speech, highlighting Croatia's victimhood during Greater Serbian aggression and its pride as victorious defenders in a war imposed upon them.
Operation Storm, which commenced on August 4, 1995, and lasted until August 7, saw the liberation of Knin, the former centre of the Serb rebellion, within hours, followed by the recapture of the remaining territory by Croatian forces.
Sources:
Vuk Tesija, Balkan Insight, "Croatia, Serbia Trade Barbs During Operation Storm Commemorations", https://balkaninsight.com/2023/08/05/croatia-serbia-trade-barbs-during-operation-storm-commemorations/
Kosovo
European Parliamentarians urged top US and EU Officials to Stop with the Belgrade-centred policy in the Balkans
On August 8, fifty-six members of parliament from various EU countries addressed a letter to the US Secretary of State, Antony Blinken, and the EU's High Representative for Foreign Affairs, Joseph Borrell. The letter was signed by the chairs of the parliamentary foreign affairs committees from the US, Germany, and Great Britain, alongside other members of parliament from Ukraine, Ireland, Estonia, Lithuania, the Czech Republic, and Iceland.
The authors call for a change in the joint US-EU foreign policy towards the region. They openly criticise what they perceive as an overly Belgrade-centred approach. Furthermore, they disagree with the international community's response vis-à-vis the tensions in Northern Kosovo this spring. In short, the elections in four Northern Kosovar municipalities were boycotted by its Serbian populations, resulting in a turnout of less than 4%, and the newly elected mayors were prevented from taking up their offices. The EU slammed Kosovo with sanctions and urged them to hold new elections, thus accommodating Serbian requests. Significant pressure was put on Kosovo to comply with the EU's policy. Presently, the fifty-six parliamentarians argue that Serbian involvement in the elections should be regarded as foreign interference and a disruption in democratic elections. They also pointed out a few positive outcomes were yielded by the ongoing Belgrade-Pristina dialogue led by the EU's special envoy, Miroslav Lajčák, and the US special envoy for the Western Balkans, Gabriel Escobar.
Prime ministers of both countries met at the end of August at the Strategic Bled Forum in Slovenia, where they got into a verbal exchange at the panel with other Western leaders. While the prime minister of Serbia, Ana Brnabic, argued that the normalisation of relations with Kosovo is high on Serbia's list of priorities, she also mentioned that it will not be possible until Kosovo creates an Association of Serb Municipalities as agreed in the Brussels Agreement signed in 2013. The prime minister of Kosovo, Albin Kurti, cited figures showing support for the EU membership in both countries, 98% in Kosovo and 35% in Serbia, and argued that Serbia, unlike Kosovo, has maintained relations with Russia amidst the ongoing war in Ukraine.
Sources:
Lisa O'Carroll, Guardian, "US and EU leaders urged to change tack on Kosovo-Serbia tensions", https://www.theguardian.com/world/2023/aug/08/us-and-eu-leaders-urged-to-change-tack-on-kosovo-serbia-tensions
Radio Free Europe, Radio Liberty, "Kosovar PM Welcomes European, U.S. Warning Against 'Belgrade-Centered' Policy", https://www.rferl.org/a/kosovo-western-letter-belgrade-centered/32540811.html
N1, "Brnabic, Kurti clash at Bled Strategic Forum", https://n1info.rs/english/news/brnabic-kurti-clash-at-bled-strategic-forum/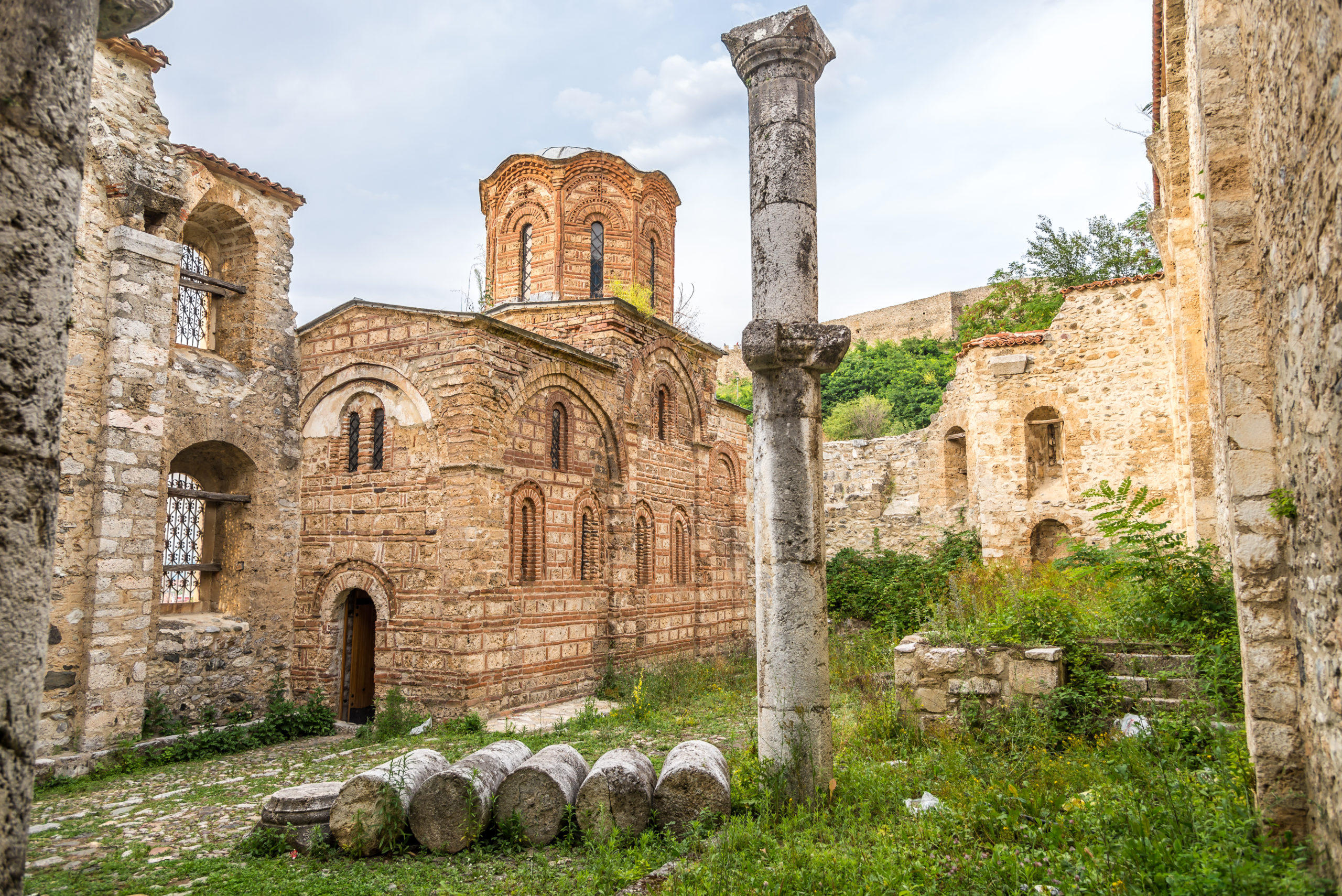 Prizren, Kosovo. Photo: Shutterstock.com
Montenegro
Centrist Movement Leader Designated as New Montenegro Prime Minister
On August 10, Montenegro officially selected Milojko Spajic, the leader of the Centrist Movement known as "Europe Now", as its newest Prime Minister appointed. Spajic now faces a 90-day window to create a new government.
During the parliamentary elections held on June 11,2023, the Europe Now movement secured 24 out of the 81 parliamentary seats, while the opposition bloc, led by the Democratic Party of Socialists, obtained 21 seats.
In the subsequent consultations with the President to determine the nominee for Prime Minister, Spajic's candidacy received support from a coalition of parties, including Democratic Montenegro, two Albanian coalitions, the Bosniak party, the Croatian Civic Initiative, and the pro-Serb Socialist People's Party. Spajic declined to engage in discussions with the opposition Democratic Party of Socialists and the civic movement URA, led by outgoing Prime Minister Dritan Abazovic.
President Milatovic emphasised the need for responsibility and efficiency in the process of forming the new government, emphasising the necessity for a stable, pro-European government focused on economic development, as well as judicial and electoral reforms.
He added that if Spajic encounters difficulties in forming a government, he can return the mandate, and a new candidate will be proposed.
Spajic previously served as the Minister of Finance and Social Care in a technical government formed following the historic victory of three opposition blocs over the Democratic Party of Socialists in August 2020.
In December 2021, parliament approved Europe Now's fiscal reform program, which included raising the minimum wage from 250 to 450 EUR and increasing average salaries from 530 to 670 EUR. The program, crafted by Spajic and then Minister of Economic Development Jakov Milatovic, aimed to narrow the gap between the minimum wage and the cost of essential goods and eliminated healthcare contributions, though these actions faced criticism from political opponents and some parties within the ruling coalition.
In June of the current year, outgoing Prime Minister Dritan Abazovic and Interior Minister Filip Adzic called for a probe into allegations that fugitive South Korean cryptocurrency trader Do Kwon had financial ties with Spajic. Spajic vehemently denied these claims, leading to the Special State Prosecution initiating an investigation on June 19. Concurrently, the Basic Court in Podgorica sentenced Do Kwon and his associate, Han Chang-joon, to four months in jail each for identity document forgery.
These developments come after nearly three years of continuous political turbulence and the fall of two governments, with the most recent government, led by Abazovic, assuming office in April 2022.
North Macedonia
Border police officers arrested in North Macedonia for corruption
A recent incident has come to light in North Macedonia, where the attention of law enforcement has been directed at a group of nine police officers stationed at the Tabanovce crossing in the country's northern region. These officers are now facing significant allegations, accused of engaging in an illicit practice involving the acceptance of bribes from motorists seeking expedited passage into Serbia at the border. The charges that have been brought against them encompass a range of serious offences, including "criminal conspiracy, bribery, and misuse of authority."
According to the accusations, these officers allegedly accepted both financial payments and various types of gifts from individuals who were seeking to bypass the standard border procedures when entering Serbia. It is noteworthy that among those detained in connection with these allegations are the commander and deputy commander of the police station, clearly highlighting the extent of the investigation's reach. Furthermore, an additional three officers have also been charged, although they have not yet been arrested or detained.
What makes this situation even more concerning is the reported duration of these illicit activities. Authorities have indicated that this group of officers was operating in a coordinated manner for a span of over two years, suggesting a level of organisation and systemic corruption that is deeply troubling.
Should these allegations ultimately lead to convictions, the potential consequences for the accused officers are substantial. If found guilty, each suspect could face a sentence of up to 20 years in prison, underscoring the severity of the charges they are facing.
The broader context within which this incident has occurred cannot be overlooked. North Macedonia, as a candidate for European Union accession, has been actively engaged in negotiations with the EU. Addressing corruption issues and upholding the rule of law are critical factors in these negotiations. Thus, the North Macedonian government's commitment to addressing these corruption concerns is particularly relevant. As the nation aspires to secure a place within the European Union, taking firm actions to combat corruption and ensure the integrity of its law enforcement agencies becomes paramount. This incident serves as a reminder of the challenges that must be overcome on this path toward greater integration and accountability.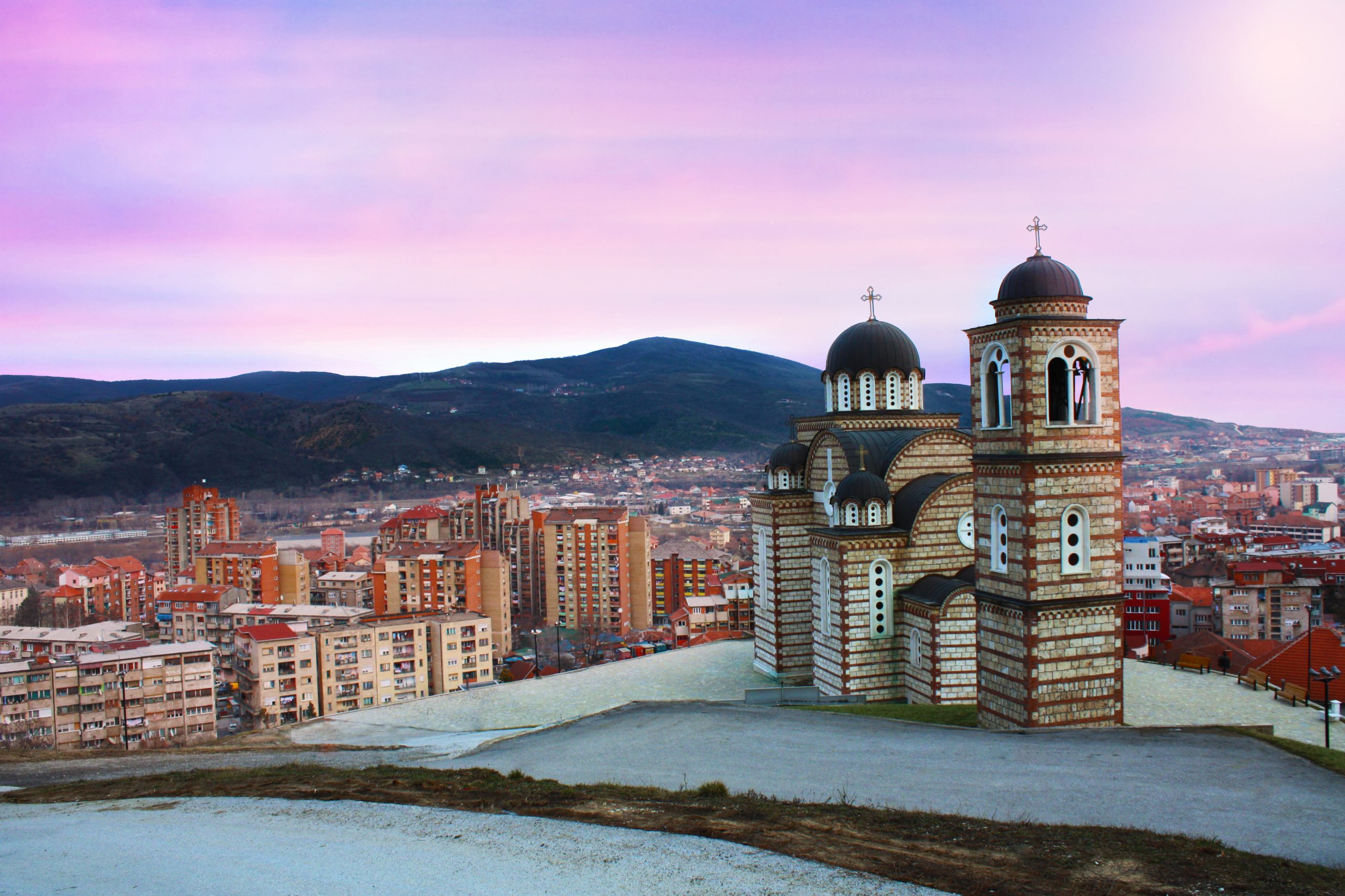 Serbian Orthodox Church. Photo: Shutterstock.com
Serbia stands fast on non-recognition of Kosovo in the international community
On August 11, several Ukrainian MPs who support Ukrainian recognition of Kosovo signed a letter demanding the US, EU and the UK "not to adopt a Belgrade-centred policy for the Balkans", particularly when it comes to Kosovo. This letter created speculations on whether Ukraine is planning to change its position on Kosovo – as of now, Ukraine does not recognise Kosovo, and in return, Serbia does not recognise the annexation of Crimea. After the speculations surfaced, Vucic expressed doubts that Ukraine would change its position as it "would destroy all their principles, what the defence of their position is based on, they would destroy everything".
On August 21, during the summit of Western Balkan countries in Greece, President Vucic had a meeting with Ukrainian President Zelenskyy, after which Vucic told the media that "I don't think there will be any changes in Ukraine's position regarding Serbia and the honouring of our territorial integrity, and we have backed Ukraine on its European path". However, later, the MEP Von Cramon, the European Parliament's rapporteur for Kosovo, expressed that she believes that it is very likely that Vucic and Zelenskyy agreed that Serbia will provide weapons to Ukraine and in return, Ukraine will not recognise Kosovo. Officially, Serbia denies shipping any weapons to Ukraine but also does not apply sanctions against Russia.
Later that day, Serbian Defence Minister and the head of the ruling Serbian Progressive Party, Milos Vucevic, proclaimed that the recognition of Kosovo by Montenegro, North Macedonia, and Albania would come back to hurt them because arguments that "Kosovo is sui generis, that it's a special case, are ridiculous". Moreover, Vucevic said, targeting both Montenegro and North Macedonia, that "they say that we are interfering in [their] internal affairs [with pro-Serbian parties in their national parliaments]. You are interfering in our internal affairs – recognising Kosovo [as an independent state], is there a worse, more indecent and more open interference in internal affairs?". The heads of Albania and North Macedonia later tried to calm the tensions through social media.
On August 23, Serbian PM Brnabic spoke at the Crimean Platform summit, a platform which is trying to restore the borders of Ukraine before the annexation of Crimea, proclaiming that "Serbia is Ukraine´s true friend" and emphasised Serbia´s commitment to "comply with the principles of international law, territorial integrity and political independence of states", confirming Serbia stands behind Ukraine´s borders before the annexation, but also hinting at its own territorial integrity and thus viewing Kosovo as its own part.
Sources:
ČTK, HNonline, "Srbsko sa zapojilo do Krymskej platformy, premiérka sľúbila Kyjevu priateľstvo", https://hnonline.sk/svet/96100793-srbsko-sa-zapojilo-do-krymskej-platformy-premierka-slubila-kyjevu-priatelstvo
Sasa Dragojlo, Sinisa Jakov Marusic & Fjori Sinoruka, Balkan Insight, "Serbia Riles Neighbours with Harsh Warning About Kosovo Recognitions", https://balkaninsight.com/2023/08/22/serbia-riles-neighbours-with-harsh-warning-about-kosovo-recognitions/
Zoran Radosavljevic, EURACTIV, "MEP: Serbia's Vucic pressed Zelenskyy on Kosovo non-recognition", https://www.euractiv.com/section/politics/news/mep-serbias-vucic-pressed-zelenskyy-on-kosovo-non-recognition/
Milica Stojanovic, Balkan Insight, "Serbia's Vucic 'Does Not Think' Ukraine Will Recognise Kosovo", https://balkaninsight.com/2023/08/11/serbias-vucic-does-not-think-ukraine-will-recognise-kosovo/