IN FOCUS: Ukraine & Moldova Brief
Review of April 2023
Petra Bošková, Laura Ďorďová, Sára Gregová, Katarína Žiaranová
UKRAINE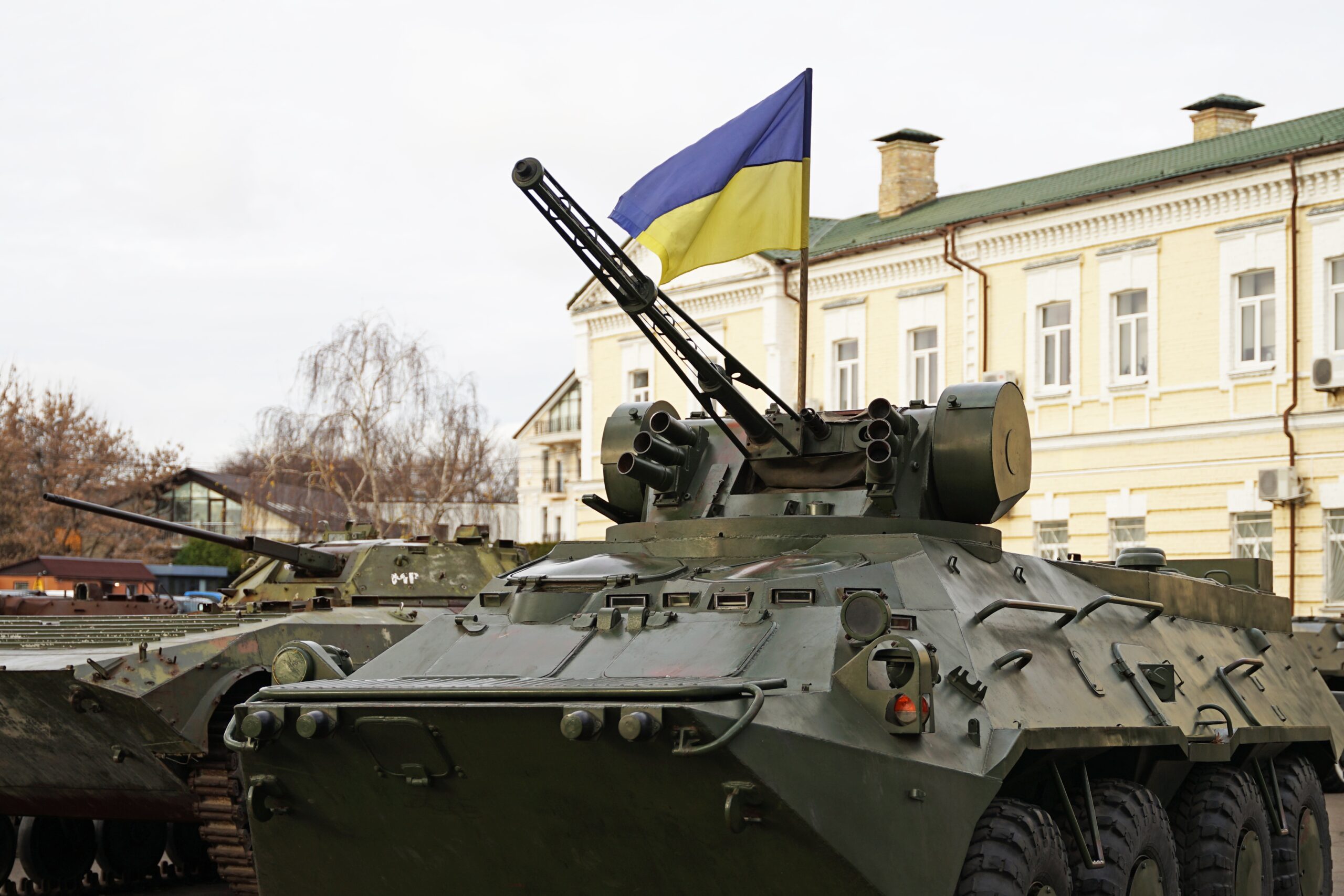 Army troops transporter and tank with Ukrainian flag. Photo: Shutterstock.com
MAIN STORY
Pentagon Documents on War in Ukraine were leaked
Highly classified documents and information about the war in Ukraine were posted online after a leak from the Pentagon database. Leaked documents detail the US military efforts in the war and intelligence involving other nations. The leaked American intelligence documents are labelled as secret and top secret. The US officials refused to provide any specifics, including the extent of the release and how it happened.
US Defense Secretary Lloyd Austin first became aware of the disclosure of classified briefing slides on April 6. Since that day, US Defense Secretary reached out to allies, held meetings to assess the scope of the information lost and reviewed who has access to those briefings. As a result, US authorities go through leaks that were posted online and try to determine their validity, but officials found that some of the documents have been redacted before being reposted online.
Pentagon officials stated that leaks represent a serious threat to national security and have the potential to spread disinformation. The person at the centre of the massive leak of internal classified documents from the Pentagon that detailed the war in Ukraine and US spying efforts in the world has been identified as Jack Teixeira, a 21-year-old Massachusetts Air National Guardsman. Teixeira is said to have overseen a private online chat group containing around 25 active members, in which the leaked documents were shared. He's now been arrested. Known as "OG" in the Discord chatroom, the man allegedly claimed to spend parts of his day inside a secure facility where phones were banned. It also appears to be unclear exactly how many highly classified records were leaked, but some estimates put the total in the hundreds as it was found out that Teixeira was leaking documents related to the war in Ukraine within days as Russia attacked its neighbor in February 2022.
Leaked US documents have revealed that disagreements in Russia's security apparatus led to the defence ministry being accused of undercounting casualties of the war in Ukraine. Russia has said very little publicly about the scale of its war deaths. But the files show the FSB security service claimed officials were not counting deaths of the Russian National Guard, Wagner mercenaries and others. Russia has already warned the leaks may be fake, deliberately dumped by the US.
However, the detail corroborates what was already widely known: that Russia's military and security groups have had frequent disagreements about handling the war in Ukraine and that Russia has avoided publicising the numbers of dead and wounded.
The FSB's reported calculation of almost 110,000 casualties by February 2023 is still far lower than numbers this week in previously leaked US documents, which estimated Russian losses at 189,500 and 223,000 casualties, with 35,500-43,000 men killed in action.
Russia's most recent official figure dates back to September last year when the deaths of 5,937 servicemen were confirmed. The same document says under-reporting of casualties within the system highlights the military's "continuing reluctance" to convey bad news up the chain of command.
Other leaked documents show how heavily Kyiv relies on American intelligence services since they provide Ukraine with real-time warnings on the timing of Russia's airstrikes and precise targeting data. Therefore, one of the US biggest concerns about the leaks has been that Kremlin would find and seal off the sources of American intelligence. However, since the leak of documents, there has been no indication that Kremlin's officials have taken steps to block the US from penetrating Russia's intelligence and security services.
Other leaked documents detailed US training and equipment schedules to support Ukraine and the steps Moscow may take to undermine relationships between the US and its allies and strategic partners. However, there were no signs that Moscow decided to change their operations on the ground in Ukraine in response to the leaks. The disclosures also show that Western officials believe that war will likely drag on into the next year and that Moscow's offensive in the Donbas region is heading toward stalemate.
Some Ukrainian public figures are convinced that the leak of the documents is useful for Ukraine because it emphasises the fact that Kyiv urgently needs more weapons and ammunition to defeat Russian troops.
Ukraine bans athletes from competing with Russians and Belarusians
The International Olympic Committee recently provided a set of guidelines for international sports federations, permitting the participation of athletes from Russia and Belarus who were previously banned from several Olympic sports due to Russia's invasion of Ukraine in 2022. This decision has sparked outrage from several governments, including Ukraine, Poland, and the Czech Republic, who argue that the ongoing war makes it inappropriate for athletes from these countries to compete.
After the permissions, Ukraine banned its national teams from competing against Russia and Belarus in all sporting events, including the Olympics. The decision comes amid an ongoing war between Ukraine and Russia. The Ukrainian Ministry of Youth and Sports announced the ban, which cited concerns about the safety and security of Ukrainian athletes and the region's political situation. The ministry stated that the ban would remain in place until Russia and Belarus comply with international law and respect Ukraine's sovereignty.
The boycotting decision will impact a wide range of sports, including football, basketball, and athletics, as well as the upcoming 2024 Summer Olympics in Paris. Ukrainian athletes will not be able to compete against their Russian and Belarusian counterparts, which could significantly impact their ability to qualify for international events.
Mixed reactions filled the international arena, with some athletes expressing disappointment and frustration at the decision. Others have praised the move as a necessary step to protect Ukrainian athletes and assert the country's sovereignty in the face of ongoing aggression from Russia.
The ban could also have broader implications for international sports, as Ukraine is a member of several international sports organisations, including FIFA and UEFA. It remains to be seen how these organisations will respond to the ban and whether they will take any action against Ukraine for violating their rules on international competition. The IOC President Thomas Bach comments: "It cannot be up to the governments to decide which athletes can participate in which competition. This would be the end of world sport as we know it today."
Ukraine has begun to export electricity again
After long-lasting targeted attacks by Russia, the Ukrainian energy infrastructure recovered. Ukraine could carry out the sale of its excess electricity again.
Ukrainians had to face power cuts and scheduled blackouts during the coldest months of the year as strikes on their infrastructure started last October by Russian forces.
Of course, the priority is to have enough for locals, which don't have to worry about energy restrictions at the moment. The less strain on the energy infrastructure is also caused by population decrease. The consumption of Ukrainians has also fallen due to the fact that millions of refugees live beyond its borders.
The winter ended, and Energy Minister Herman Halushchenko said that they had been producing extra capacity for almost two months, therefore, he signed an executive order authorising the exports. "The next step is to start exporting electricity, which will allow us to attract additional financial resources for the necessary reconstruction of the destroyed and damaged energy infrastructure."
The power supplies became more reliable, but Kyiv can not be sure that Russian attacks on the energy infrastructure will not continue. According to the country's electricity network operator, Ukrenergo, Russia has launched more than 1.200 missiles and drones on its energy facilities across the country so far. The attack on the Ukrainian energy system is huge, and each of its hydroelectric and thermal power plants has been damaged to a certain degree. Also, its nuclear power plant at Zaporizhzhia, which is Europe's biggest one, was attacked and, at the moment, is no longer under the control of Kyiv. During this winter, half of the energy infrastructure was damaged, and the situation was close to critical. Transformers have quickly become Ukraine's number one requirement.
Assaults have cut not only electricity but also water and heating too, and lots of people had to use "resilience centres", which offered power, heat and essential food or medicine.
The European Union is the main export partner for energy, and Ukraine could finally sell the excess and thus increase their incomes now.
Sources:
BBC News,  "Ukraine to export electricity again after months of Russian attacks, "https://www.bbc.com/news/world-europe-65220003
BBC News, "Has Putin's assault on Ukraine's power grid failed?" https://www.bbc.com/news/world-europe-64899045
Moldovan Great National Assembly to support integration into the European Union
A large outdoor assembly is planned to be formed in Chinsau in May 2023, where thousands of Moldovans are about to gather to confirm their country's pro-European orientation. President Sandu addressed the citizens, reiterating her commitment to the European path for Moldova and highlighting the importance of cooperation with the EU. "The time has come for Moldovans to show that we are a people that can defend democracy and peace. … We are Europeans, and at the Great National Assembly on May 21, we will show that this is the path we have chosen," said President Sandu.
Many observers note the assembly's significance in the context of Moldova's ongoing efforts to align itself more closely with the European Union. As one of Europe's poorest countries, Moldova has recently struggled with corruption, political instability, and economic challenges. However, under Sandu's leadership, there is growing hope that the country can begin to make progress towards a more prosperous and democratic future.
The Great National Assembly has been gathered multiple times in the past, and it was a driver of key events in Moldova, for example, the 1991 independence from USSR. The assembly in 2023 is seen as a demonstration of support for Sandu's efforts to deepen Moldova's relationship with the EU, which has been a critical priority for her administration. In recent months, Moldova has made progress on several fronts related to European integration, including signing an association agreement with the EU and taking steps to implement essential reforms.
The EU has welcomed Moldova's pro-European orientation, with officials expressing support for Sandu's efforts to deepen ties with the bloc. "I call upon everyone — farmers, teachers, students, NGOs, entrepreneurs, doctors, cultural figures, private sector employees, public officials — to come together and support our common dream," President Sandu added, "let's demonstrate that we desire peace. We want the European Union to be at home with us."
Moldova, Ukraine, and Romania Strengthen Ties at Security Meeting
At a trilateral security meeting in Bucharest, neighbors Moldova, Romania and Ukraine signed cooperation agreements to boost security in the Black Sea region with an aim to counter threats posed by Russian aggression. The agreements are supposed to strengthen economic, political and security cooperation between the three countries.
The Black Sea Security Conference, held on April 12 – 13, addressed the impact that Russian aggression in Ukraine is having on the region. At the conference, foreign and defense ministers, government officials and international partners agreed that Moscow poses a threat to the Black Sea region, as well as to European and Allied states, and they called for stability and peace in the region. In addition to security issues, participants of the conference addressed other topics, such as the facilitation of energy transport routes and freedom of trade.
Moldova's main representative, Foreign Minister Nicu Popescu, declared that Chișinău remains the target of Russian-backed destabilization plots and Russia's cyberwarfare efforts. Popescu also stated that the impact of the Moscow-led war in Ukraine is being "felt by every citizen" of Moldova. Romania's Foreign Minister Bogdan Aurescu stated that NATO presence in the region is a must since Moscow represents the most serious threat to the Black Sea region and European security. Aurescu stated that Russia orchestrates attacks not only against the Black Sea region but also against European and Allied states. Ukraine's Foreign Minister Dmytro Kuleba, who attended the conference by video link, called for a security network for countries in the Black Sea region that are threatened by Moscow. The Foreign Minister also insisted on the admission of Ukraine into the NATO military alliance, "it's time to turn the Black Sea into what the Baltic Sea has become, a sea of NATO", referring to Finland's recent admission to the NATO. However, Western partners are careful in committing to this request.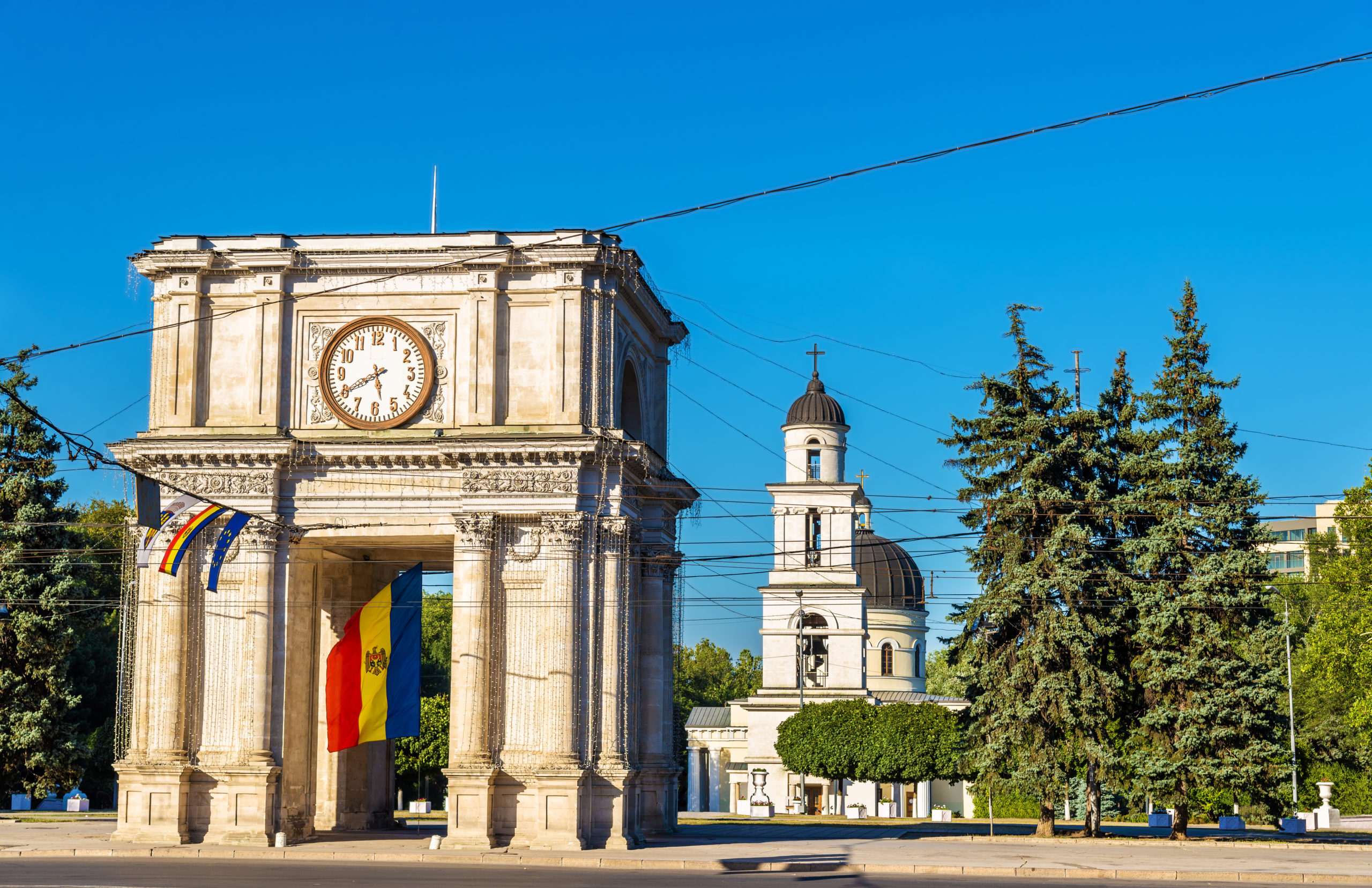 The Triumphal Arch in Chisinau – Moldova. Photo: Shutterstock.com
An EU Civilian Mission in Moldova
A European Union civilian mission will come to Moldova and, according to the plan, would stay there for two years. The main target of this mission is strengthening cybersecurity, and combating disinformation and other external risks, that the Republic of Moldova is facing. Among other things, it should prepare the country for the start of accession talks with the EU. A mission like this was requested by Moldova already earlier. In a letter to the EU High Representative, the Prime minister of the Republic of Moldova invited the EU to deploy a civilian mission in the country under the CSDP in January this year. Its history, political situation and geopolitical location make Moldova a vulnerable country. Moldova and its pro-western government have repeatedly accused both Moscow and pro-Russian forces in Moldova of their attempts to destabilise the country.
This dispatch was approved by the European Council and announced by Josep Borrell Fontelles, High Representative of the EU for Foreign Affairs and Security Policy. On April 24, he wrote a tweet in which he declared that "The EU is committed to supporting Moldova to protect its security and resilience. We are establishing today a civilian CSDP mission – EU Partnership Mission to Moldova. It will strengthen Moldova´s crisis management structures and enhance its capacity to counter hybrid threats." This mission should help Moldova to face the threats of the Russian Federation. Stefano Tomat has become the commander of this mission. He also holds a position as a Head of Civil Planning and Conduct of the European External Action Service. The whole operational headquarters of the civilian mission will be based in Moldova and will feature a project cell responsible for identifying and implementing projects.
The mission will provide advice at a strategic level on the development of strategies and policies and identify needs for capacity building for early warning, detection, identification, attribution of threats and response to hybrid threats.
Vitalia Pavlicenco, a Moldavian politician, said, "The Republic of Moldova is one of the states most affected by the war in Ukraine. I am not just talking about refugees, but also about the interest at the border and the Transnistrian danger. And in this sense, security issues are very important. This civil mission aims to strengthen the resilience of the security sector. Moldova is not a NATO member. Thus, other ways are being sought to help prevent destabilisation and manage it. I believe that the Transnistrian danger is very high, and this civil mission is not just an expertise and training of our experts, but it is also a signal to Russia that Moldova is not alone and is being assisted logistically and with expertise by the West."
Sources:
Council of the European Union. "Moldova: EU sets up a civilian mission to strengthen the resilience of the security sector". https://www.consilium.europa.eu/en/press/press-releases/2023/04/24/moldova-eu-sets-up-a-civilian-mission-to-strengthen-the-resilience-of-the-security-sector/
Marina Gridina. "An EU civilian mission will arrive in Moldova: To counter the threats of Russian Federation". www.moldovalive.md. https://moldovalive.md/an-eu-civilian-mission-will-arrive-in-moldova-to-counter-the-threats-of-the-russian-federation/
"EU mission in Moldova sends a message to Russia, says Pavlicenco". https://moldovalive.md/eu-mission-in-moldova-sends-a-message-to-russia-says-pavlicenco/