IN FOCUS: Ukraine & Moldova Brief
Review of May 2023
Petra Bošková, Laura Ďorďová, Sára Gregová, Katarína Žiaranová
UKRAINE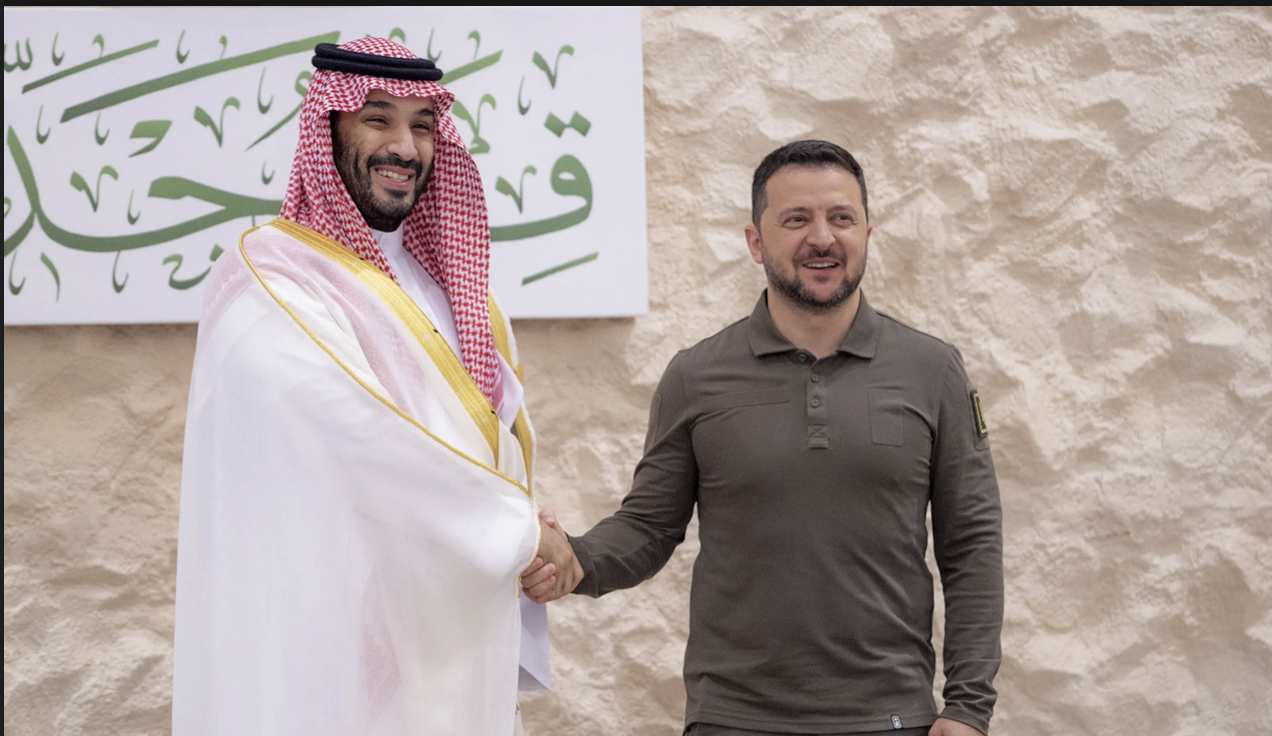 Saudi Crown Prince Mohammed Ben Salman meets with Ukrainian President Volodymyr Zelensky during the Arab League summit in Jeddah, Saudi Arabia, May 19, 2023. Photo: AP News.
President Zelenskyy attended the Arab League Summit
On May 23, Ukraine's President Volodymyr Zelenskyy made a surprise visit to Jeddah, Saudi Arabia and attended the annual summit of the Arab League to support Ukrainians in their fight against Russia. He mentioned that some countries, including members of the Arab League, preferred to "turn a blind eye" to Russian aggression. "I am sure we can all be united in saving people from the cages of Russian prisons," he said. The President of Ukraine thanked Saudi Arabia for its past help and asked them to cooperate with Ukraine directly without intermediaries. He also declared that each delegate would receive his 10-point peace plan.
Saudi Prince Mohammed bin Salman expressed that he is ready to be a mediator in this war. He also has a close tie with Russia, which probably helped secure the release of 10 foreigners captured by Russia in Ukraine last year. Ukrainian leader wrote on his Twitter that "The Kingdom of Saudi Arabia plays a significant role, and we are ready to take our cooperation to a new level."
For the first time in more than a decade, the summit was joined by Syrian leader Bashar al-Assad, who relies heavily on Russian military support to wage war against his own people.
Gulf states have felt the Western pressure to help isolate Russia (an OPEC+ member) through the Gulf oil producers, but they tried to remain neutral. Saudi Arabia faced a critique from the US last year for that. The reason was that they decided to cut oil production, which the Western countries saw as financial support to Russia by boosting the world prices of oil and oil products. The Kingdom has an important position to both Washington and Moscow as the world's largest oil exporter at the moment. Saudi Arabia tried to have good relations with Kyiv and with Moscow alike. They guaranteed $400 million, including a $300 million grant in oil derivatives to help Ukraine, but on the other hand, they coordinated with Russia in OPEC+. The effort to comply with both sides was confirmed by the Saudi foreign minister, Prince Faisal bin Farhan who said that "All Arab countries have excellent relations with Ukraine that predate this crisis, and likewise, we are eager to preserve our relationships with Russia," and "There is a war that we have to find a way to end, and that won't happen without being open to hearing all parties and all voices." For the most part, Arab officials have viewed this war as a European crisis to be handled by Western nations and Russia.
Sources:
Aljazeera,2023. Why Saudi Arabia Arab League invited Zelenskyy to their summit. https://www.aljazeera.com/news/2023/5/23/why-saudi-arabia-arab-league-invited-zelenskyy-to-their-summit
New York Times. 2023, Zelensky Urges Arab Leaders Not to 'Turn a Blind Eye' to Russian Aggression. https://www.nytimes.com/2023/05/19/world/europe/zelensky-arab-league-saudi-arabia.html
Reuters, 2023. Ukraine's Zelenskiy visits Saudi Arabia, seeks Arab League support for his people. https://www.reuters.com/world/middle-east/ukraines-zelenskiy-lands-jeddah-attend-arab-league-al-hadath-tv-2023-05-19/
Ukraine-Russia Grain Deal Extended to Address Global Food Crisis
In a significant development to combat the global food crisis, the grain deal between Ukraine and Russia has been extended for additional two months. The agreement, initially brokered by the United Nations and Turkey in July 2022, has played a crucial role in facilitating the safe export of grain, sunflower oil and other products from Ukrainian ports located along the Black Sea. With the extension of this vital initiative, millions of tonnes of grain can continue to reach countries in need, helping to stabilise food supplies and alleviate hunger. 
Following the Russian invasion of Ukraine in February 2022, Ukrainian grain exports were severely disrupted as Russian military vessels blockaded Ukrainian ports in the Black Sea. The blockade trapped approximately 20 million tonnes of grain, significantly increasing global food prices. The situation posed a grave threat to food supplies, particularly in Middle Eastern and African countries heavily reliant on Ukrainian grain. Recognising the situation's urgency, the United Nations and Turkey intervened to negotiate a solution.
The Black Sea Grain Initiative, established on July 22, 2022, created a safe maritime humanitarian corridor that allowed food and fertiliser export from three Ukrainian ports: Chornomorsk, Odesa, and Yuzhny/Pivdennyi. This corridor, spanning 310 nautical miles and three nautical miles wide, allowed cargo ships to navigate through the Black Sea, ensuring the transport of essential commodities. Since its inception, the initiative has successfully facilitated the export of over 30 million tonnes of grain and other products.
Russia had previously threatened to withdraw from the grain deal, citing obstacles to its own agricultural exports resulting from Western sanctions. Kyiv authorities and their Western allies asserted that Moscow was attempting to undermine the deal and exploit food exports as a political weapon. In the end, the Ukraine-Russia grain deal has been extended for an additional two months to address ongoing food security challenges and the need for sustained grain exports. This extension is a crucial step in ensuring the uninterrupted flow of grain shipments through the Black Sea corridor. Initially meant to be extended for 120-day days, the agreement has faced challenges due to divergent interests and concerns over agricultural exports.
The grain exports from Ukraine through the Black Sea corridor have reached various countries, including both developed and developing nations. While approximately 64% of wheat exports have reached developing countries, maise has been exported almost equally to developed and developing nations. The United Nations World Food Programme has also shipped wheat from Ukrainian ports to countries such as Ethiopia, Yemen, Afghanistan, Sudan, Somalia, Kenya, and Djibouti, aiming to alleviate hunger and support vulnerable populations. The availability of additional grain supplies from Ukraine has played a significant role in stabilising food prices and addressing the mounting food crisis. The prices of essential grains, including wheat and maise, have gradually declined since the establishment of the initiative and brought much-needed relief to consumers worldwide.
President Zelenskyy's Multi-Stop European Tour 
In May, President Zelenskyy decided to meet officials in Rome, Berlin, Paris, and London to secure more support for Ukraine in the fight against Russia. The objective of Zelenskyy's European tour was to replenish Kyiv's depleted weaponry supplies ahead of the spring offensive that is aimed at changing the course of the war.
In Rome, Zelenskyy met with Italia's Prime Minister Giorgia Meloni and Pope Francis. Italian Prime Minister promised full financial and military support for Kyiv for as long as necessary. Meloni also condemned Moscow's aggression against Ukraine as brutal and unjust and called for immediate Russian withdrawal from Ukrainian territory. Prime Minister declared that "you cannot achieve peace through surrender. It would be a very grave precedent for all nations of the world." Meloni also emphasised the importance of Ukraine's membership of the EU and strengthening its partnership with NATO.
Afterwards, Zelenskyy held private talks with Pope Francis in the Vatican. Zelenskyy expressed his support for Pontiff's peace plan, which tried in the past to put an end to Russian aggression. Pope Francis stated that the Vatican would help in the repatriation of tens of thousands of deported Ukrainian children taken to Russia.
In Berlin, Zelenskyy met with German Chancellor Olaf Scholz to secure new Western military equipment and to solidify European support for Ukraine. Scholz promised Zelenskyy to support Ukraine "for as long as necessary". Ahead of the Ukrainian President's visit, the German government pledged a new package of military aid worth an estimated 2.7 billion EUR for war-torn Ukraine. Scholz expressed his support for European Union accession negotiations and the expansion of the partnership within NATO with Ukraine.
The next Zelenskyy's stop after Berlin was Paris, where the Ukrainian President met with his counterpart Emmanuel Macron. Paris pledged additional military aid for Ukraine, including light tanks, armoured vehicles, and defence systems, but without giving specific numbers. France also decided to provide training for Ukrainian soldiers. Paris aims to train about 2.000 Ukrainian soldiers in France this year and nearly 4.000 others in Poland. Macron also expressed support for Ukraine's sovereignty, territorial integrity, and independence. Just like Scholz in Germany, Macron promised that political, humanitarian, economic and military aid will continue "for as long as necessary ".
The latest stop of Zelenskyy's European tour was London, where the Ukrainian President met with Prime Minister Rishi Sunak. London confirmed already earlier it would provide Ukraine long-range attack drones and more air defence missiles to Kyiv. Downing Street also confirmed the delivery of Storm Shadow cruise missiles which grant Kyiv the ability to strike targets in Russian-occupied Crimea. The British government also decided to hold a "Ukraine Recovery Conference" as part of efforts to "galvanise international investment to support Ukraine's reconstruction".
However, US intelligence leaks suggested that Zelenskyy has considered capturing areas in Russia for possible use as bargaining chips in peace negotiations. This would be a problem for the West since Western allies insisted that weapons they provide cannot be used to attack targets on the territory of Russia.
MOLDOVA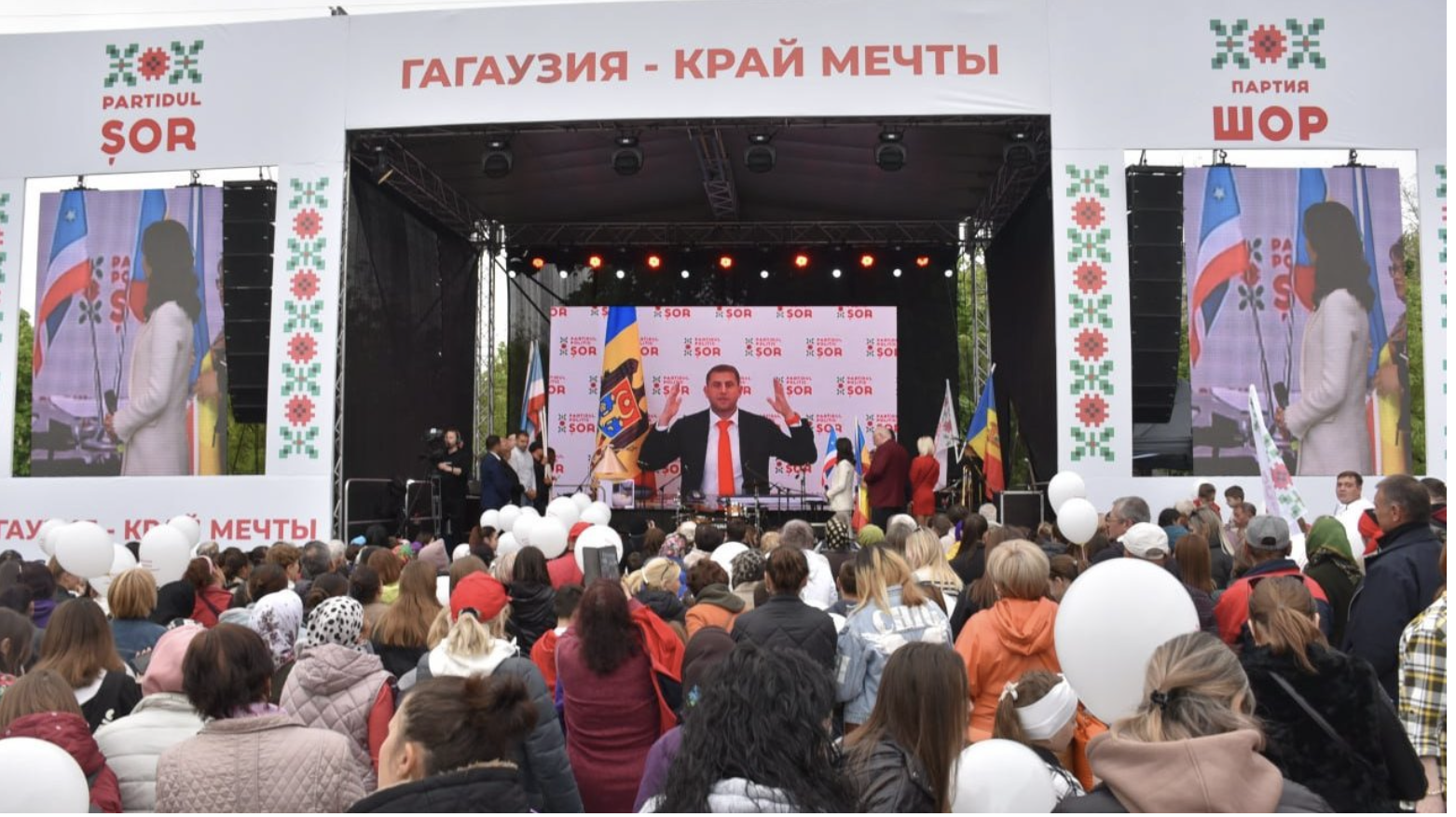 Moldovan oligarch Ilan Shor in a video broadcast to voters in Gagauzia on May 12 before the second round of the local elections. Photo: Ilan Shor Party/Facebook 
The Governor of Gagauzia elections has been won by a pro-Russian candidate
In the southern region of Moldova, Gagauzia, the election of the Governor has been won by a pro-Russian candidate Evghenia Gutul. The Governor of Gagauzia, or "bashkan", is the highest political position in this autonomous region of Moldova. Gutul is a part of a political party Ilan Shor headed by an oligarch who is currently hiding in Israel as he was sentenced in absentia to 15 years in prison in April this year over stealing over 1 billion EUR from the Moldovan banking system. After the election results, he wrote on his Facebook, "Today began a new era of prosperity and wealth for the Gagauz!"
The results of this election for the position of bashkan were validated by the Court of Appeal in the region's central city Comrat. Several cases of organized bussing of voters were reported, and the electoral Commission in Comrat received a letter from the Central Electoral Commission in Chisinau. Gutul asked the court to recognize her victory with 52% of all votes. Her opponent was Grigori Uzun from a Socialist Party, who took 48%. Her triumph came after a controversial campaign marred by accusations of fraud from the central authorities in Chisinau. The disputes between this pro-Russian autonomous region´s leadership and Moldovan authorities is nothing unusual. However, Iana Covalenco, the president of the Electoral Commission of Gagauzia, said, "No obvious irregularities were found that could have affected the election results". Suspicions of Chisinau began in the first round of the election on April 30, and a criminal case for vote-buying and the illegal financing of the Shor Party's candidates was opened. I. Shor sees it differently and said, "Masked people stormed the Gagauzia CEC meeting. At gunpoint, they asked the institution's employees to give them documents. Chisinau gives all Gagauzians the understanding that their choice is worth nothing."
Pro-Russian-oriented Gagauzia improving ties with Moscow is one of the complications and an element of destabilization for the pro-European central Government of Moldova. The Shor Party has demanded PM Sandu´s resignation. After confirmation of the results, hundreds of protestants gathered, shouting, "Down with Dictatorship, down with Maia Sandu!"
Moldova's Withdrawal from the Commonwealth of Independent States (CIS): A Quest for European Integration
Moldova recently announced its decision to initiate the procedure for withdrawing from the Parliamentary Assembly of the Commonwealth of Independent States (CIS). The move reflects Moldova's dissatisfaction with the organisation's effectiveness since, as the head of the Moldovan government mentions, "being in CIS did not protect member countries from military attacks, war, illegal occupation of sovereign territories". Moldova's desire for European integration and concerns over Russian influence has further fueled its determination to sever ties with the CIS.
The CIS, formed in 1991 after the dissolution of the Soviet Union, aimed to foster cooperation among former member states in economic, political, and security matters. However, in recent years, the organisation has experienced diminishing participation and criticism of Russian dominance. Moldova joined the CIS as a founding member, hoping to benefit from economic and political cooperation with other post-Soviet states. However, Moldova's engagement with the CIS has been limited and sporadic, with declining participation from Moldovan delegates in the Interparliamentary Assembly. Pro-Western parties, such as the ruling Party of Action and Solidarity (PAS), have criticised the CIS as an ineffective organisation and advocated for closer alignment with the European Union.
Moldova's decision to withdraw from the CIS stems from its frustration with the organisation's inability to address critical issues. Moldovan officials, including Igor Grosu, head of the Moldovan parliament, have cited the CIS's failure to resolve the Transnistrian conflict and remove Russian forces from Moldovan territory. Moldova has also expressed discontent with the CIS's perceived inability to protect member countries from economic embargoes, energy blackmail, military attacks, and the illegal occupation of sovereign territories.
The withdrawal from the CIS is accompanied by notable progress in press freedom. Recent data from 2023 reveals that Moldova ranks highest in terms of press freedom among CIS countries. Armenia, Georgia, and Ukraine follow closely behind, while Turkmenistan, Russia, and Belarus are identified as the most oppressive in limiting the press. Moldova's pursuit of European integration aligns with its commitment to democratic values, including independent media. Upholding press freedom will be crucial for Moldova's democratic progress and its aspirations for closer ties with the European Union. Moldova's pro-Western government, led by President Maia Sandu, has emphasised the importance of European integration and has sought to align its policies accordingly. The withdrawal from the CIS represents a stepping stone toward Moldova's long-term goal of EU membership.
However, the withdrawal from the CIS has raised concerns and provoked diverse reactions from the pro-Russian opposition parties within Moldova. Those argue against withdrawal, highlighting potential negative economic consequences and disruptions to trade with former Soviet countries. The geopolitical tensions between Moldova and Russia have intensified, particularly since the Russian invasion of Ukraine, resulting in fears that the conflict may spill over into Moldova.
Moldova obtains Financial Assistance from European Union
On May 3, European Union provided Moldova with financial assistance in the defence sector and macroeconomic sector. Regarding the economic sector, European Union provided Moldova with a 40 million EUR loan as a part of its ongoing efforts to mitigate the effects of Russian aggression against Ukraine. Moldova is one of the countries that have been most directly and heavily impacted by the war in Ukraine. The war has significantly impacted the Chișinău economy, adding to its pre-existing imbalances and challenges.
The loan is a part of the EU's Macro-Financial Assistance, and it brings the total amount of EU's additional support to Moldova up to 150 million EUR. The financial package will help Chișinău to maintain and support overall macroeconomic stability while enabling wide-ranging and ambitious reforms. The granting of the loan is conditional on the achievement of political and economic reforms. Moldova has fulfilled the conditions agreed with the EU to release the disbursement. Moldova's government strengthened public sector governance, the rule of law, and the public and financial sector governance.
The loan will help Chișinău to advance on its path to European integration since it supports necessary reforms. In January, European Commission proposed providing Moldova with an additional 145 million EUR in financial assistance. Nevertheless, this proposal is currently under consideration by the European Parliament and Council.
Moldova also obtained financial assistance from the European Peace Facility to enhance stability, resilience, and national security in its defence sector. EU also aims to promote gradual convergence in foreign and security policy. The assistance is worth 40 million EUR and will finance non-lethal equipment, technical training, services and supplies for the Armed Forces of Moldova. Overall, the assistance will enhance the operational effectiveness of Armed forces and accelerate their compliance with EU standards and interoperability, which contributes to the better protection of civilians during emergencies and crises.