IN FOCUS: Ukraine & Moldova Brief
Review of June 2023
Petra Bošková, Laura Ďorďová, Sára Gregová, Katarína Žiaranová
UKRAINE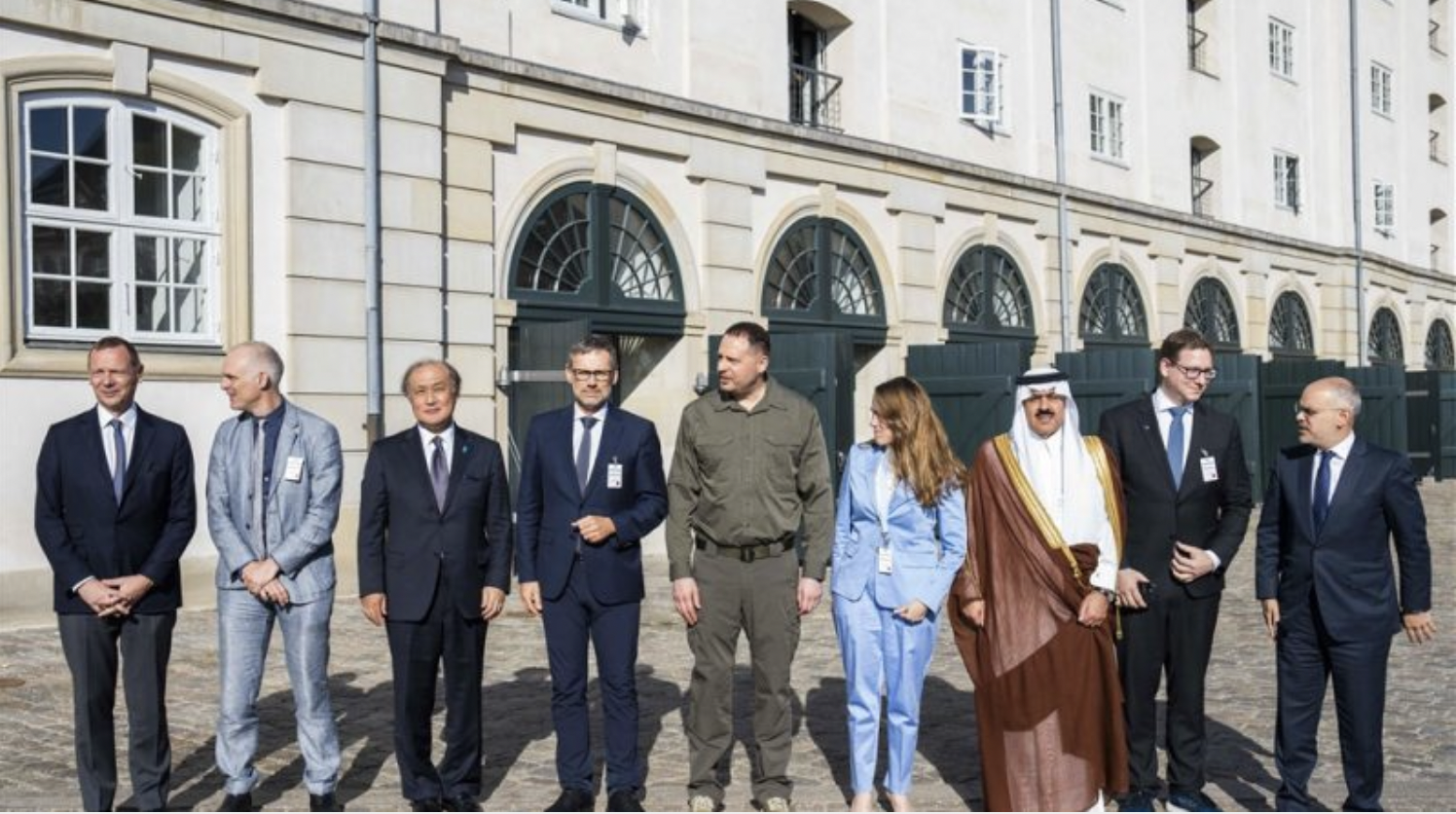 Participants to the 'Copenhagen Conference' outside Denmark's Ministry of Foreign Affairs in Copenhagen, Denmark, 24 June 2023. The meeting was organized by Ukraine. In picture is seen Andrii Yermak, the Head of the President's Office of Ukraine Photo: EPA-EFE/MARTIN SYLVEST
Ukraine Organizes Multinational Meeting in Denmark to Strengthen Peace Efforts
Ukraine is taking proactive steps towards achieving international peace by organising a meeting in Denmark on June 21, 2023. With a focus on engagement and collaboration, this initiative aimed to garner international support and forge a path towards a just and lasting peace.
The meeting, organised by Ukraine, was set to take place in Copenhagen and brought together representatives from various countries, including those that have remained neutral on the Russian invasion. The goal of the meeting was to facilitate discussions on strategies and approaches that can lead to a sense of sustainable peace in Ukraine and Europe. Although the meeting was expected to be informal, its significance lay in including critical actors worldwide.
US national security adviser Jake Sullivan attended the meeting, underscoring the importance of American support for Ukraine's peace efforts. Other attendees included representatives from Brazil, India, South Africa, China, and Turkey. These nations, some of which are part of the BRICS bloc with Russia, have not joined the West in sanctioning Moscow, making their participation in the meeting crucial for a comprehensive resolution.
The Denmark meeting was a significant step towards a more prominent peace summit that Ukrainian President Volodymyr Zelensky plans to organise in the coming months, potentially in Copenhagen or Paris. The European Union has emphasised the need for substantial preparation, highlighting the importance of broad support from the international community.
It is essential for Ukraine to obtain new support, particularly in light of its ongoing counter-offensive and the need for reconstruction. At an international conference in London, foreign donors pledged substantial financial assistance totalling 60 billion EUR for Ukraine's reconstruction. This demonstrates the international community's commitment to supporting Ukraine's recovery and long-term stability.
The international meeting organised by Ukraine in Denmark represents a crucial step towards achieving peace in Ukraine. The amount of published information about the Denmark meeting is limited. However, what is known is that by engaging representatives from various nations, including supportive and neutral countries, this initiative aimed to explore viable pathways to a "just and lasting resolution". The involvement of Jake Sullivan and potential attendees from Brazil, India, South Africa, China, and Turkey signals the importance of broad international support. As the peace progresses, continued financial assistance and reconstruction efforts will be essential in securing Ukraine's long-term stability and prosperity.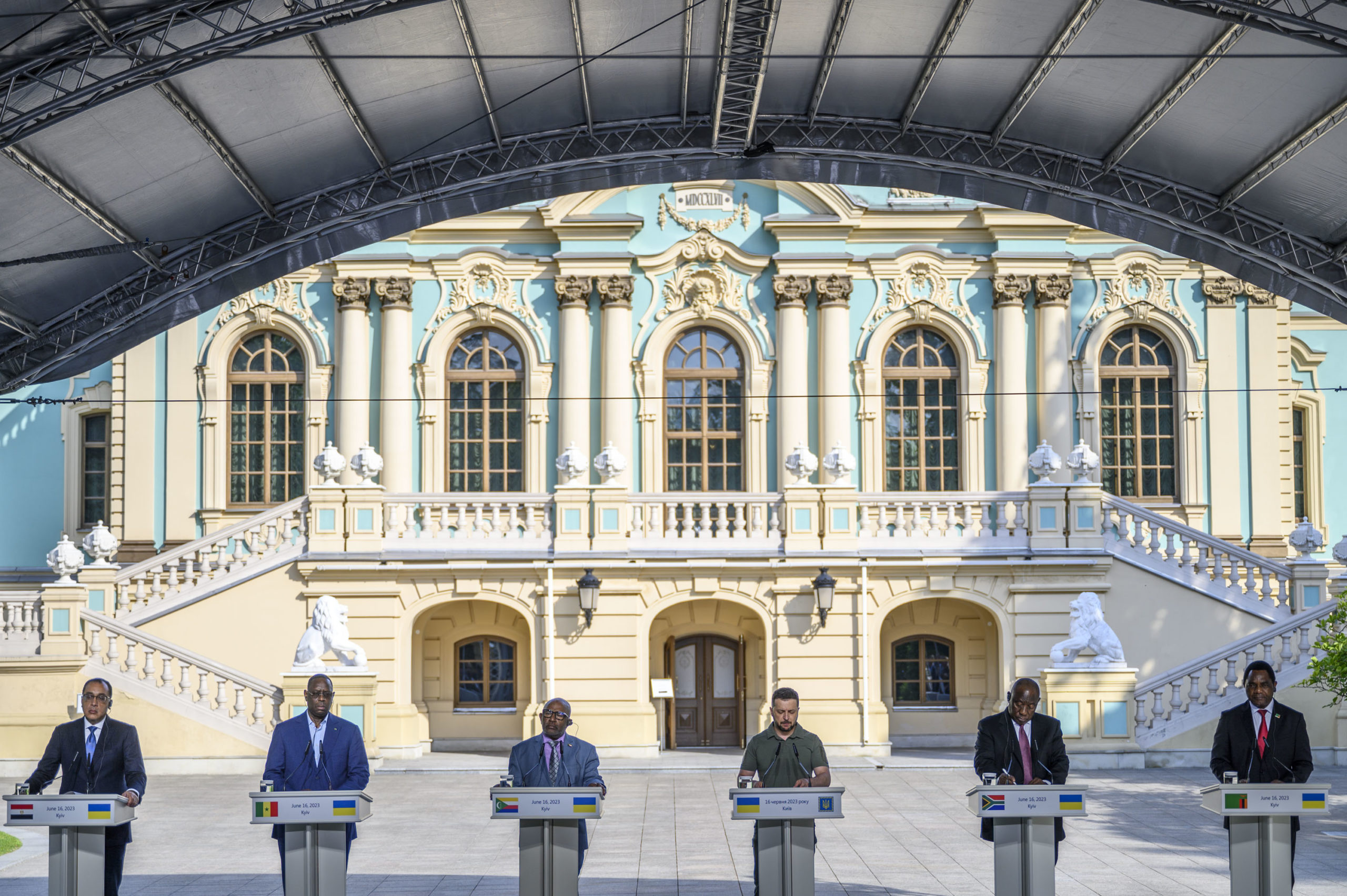 Photo: Official website of the President of Ukraine
Ukrainian Counter-offensive So Far 
On June 10, President Zelenskyj officially confirmed that Ukraine's long-awaited counter-offensive against Russian troops on its territory had started. Ukrainian troops were carrying out offensive measures even earlier, but for obvious reasons, they decided not to forecast its plans. The primary goal is to retake a swathe of Russian-occupied land in southern and eastern Ukraine.
The international community has great expectations regarding the Ukrainian counter-offensive. Ukraine has to show its international partners that the continued supply of NATO weaponry is used effectively and can be decisive in the war. However, US officials have stressed that the West will continue to back Ukraine regardless of the outcome. Many experts conclude that expectations are set too high after Ukraine's successful counter-offensives in the Kherson and Kharkiv regions last year, which might prove counterproductive for Kyiv in the long term perspective.
During these days, we can see the first phase of the counter-offensive taking place. The goal during this phase is to find the weakest places in the Russian defence line and to breach the defences. Ukraine is trying to probe the depth of Russian defences, including miles of trenches, anti-tank ditches and other fortifications, predominantly located along the front line from Zaprizhzhia in Southern Ukraine to the Donbas in the east.
Kyiv's launched campaign is making steady progress. Ukraine has reclaimed several towns in the southeast, such as Storozheve and Neskuchne, but its troops are losing heavily. Ukraine's deputy defence minister concedes that the counter-offensive had only "partial success" so far. However, even with losses, the incremental progress is defying expectations, given that Moscow has had months to fortify its defences across the front. Zelenskyy admits that Ukraine " would like to make bigger steps, " but at the same time, he evaluates the operation as "generally positive".
Relatively limited territorial gains reaffirm previous expectations that an offensive in the south would be gradual and extremely difficult, especially without air superiority. Also, the destruction of the Nova Kakhovka dam has been a significant setback for Ukraine. Kherson now faces humanitarian and ecological catastrophe. The collapse of the dam caused the cut-off of the canal supply. Tactically, it is a setback for any potential Ukrainian assault across the river.
The primary aim of the counter-offensive is to isolate Crimea and Donbas. Therefore the priority is progress along the southern front and to break through to the Sea of Azov by seizing the cities of Berdyansk and Melitopol. Both cities mark the valuable land corridor between Donbas and occupied Crimea. If either city is taken, Kyiv will cut off a land connection from Russia to Crimea. An isolated Crimean peninsula is harder to defend and resupply, leaving the Russian president with two options: cut Russian losses and pull them back or expose Russian military assets in Crimea to a long standoff.
Sources:
Nick Paton Wash, CNN, "Ukraine's counter-offensive has been brutal and slow. But Kyiv has many cards left to play", https://www.cnn.com/2023/06/21/europe/ukraine-counteroffensive-slow-analysis-intl/index.html
Holly Ellyatt, CNBC, "Ukraine's counter-offensive has been underwhelming so far – but it's low key for a reason ", https://www.cnbc.com/2023/06/16/ukraine-war-why-kyivs-counteroffensive-has-been-low-key-so-far.html
Alex Gatopoulos, Aljazeera, "Ukraine's counter-offensive begins: What do we know so far?", https://www.aljazeera.com/news/2023/6/13/ukraines-counteroffensive-begins-what-do-we-know-so-far
Brad Dress, The Hill, "Ukraine's counter-offensive so far: steady gains, heavy losses", https://thehill.com/policy/defense/4052608-how-ukraines-counteroffensive-is-going-so-far/
Yasmeen Serhan, Time, "Has Ukraine's Long-Awaited Counter-offensive Begun? Here's What We Know", https://time.com/6285236/ukraine-counteroffensive-beginning/
Delegation of African representatives in Russia and Ukraine
After several others, African countries would like to take the role of peacemakers in the Ukraine-Russia war. Seven leaders and representatives, specifically heads of Egypt, South Africa, Zambia, Congo, Uganda, Senegal, and Comoros, decided to meet President Volodymyr Zelenskyj and President Vladimir Putin.
The choice of countries represents different parts of Africa that have different views on the conflict. From the participating countries in the trip, some are perceived as pro-Western, such as Zambia and Comoros, while others are perceived as closer to Russia, such as Uganda and South Africa. Senegal, Egypt, and Congo are perceived as generally neutral. South Africa, with its leader Cyril Ramaphosa, who de-facto led the small group of representatives, has come under pressure from the United States recently. Although South Africa denied it, there are accusations of supporting Russia with arms shipments.
These delegations hoped for the end of the war, as it is affecting living standards across the Continent. In general, this war is in Africa seen as a conflict between the West and Russia, and such activism of African leaders is rather unusual. However, the timing of this mission was not optimal, as Ukraine has just recently launched its much-vaunted counter-offensive.
Jean-Yves Ollivier, the head of the Brazzaville Foundation, prepared the ground for this session. The Brazzaville Foundation is based in the UK, and its focus is mostly on peace and development initiatives in Africa. Ollivier´s links to Denis Sassou-Nguesso, Congo´s authoritarian leader, made him controversial. According to previous interviews with Ollivier, the purpose of this delegation should not be resolving the war but to start the dialogue. This conflict badly affects African countries, which are dependent on imports of both grains from Ukraine and fertilisers from Russia. Exports from both countries were restricted by the war, which caused global food insecurity. The effort of this delegation was to achieve more stable conditions – ask Ukraine to alleviate current restrictions for export fertilisers held up in ports and extend the fragile agreement, which provides Ukraine export through the Black Sea.
Sources:
BBC, 2023. Why South Africa's Cyril Ramaphosa is leading Ukraine peace mission. https://www.bbc.com/news/world-africa-65916196
BBC, 2023. South Africa supplied arms to Russia – US ambassador Reuben Brigety. https://www.bbc.com/news/world-africa-65563027
MOLDOVA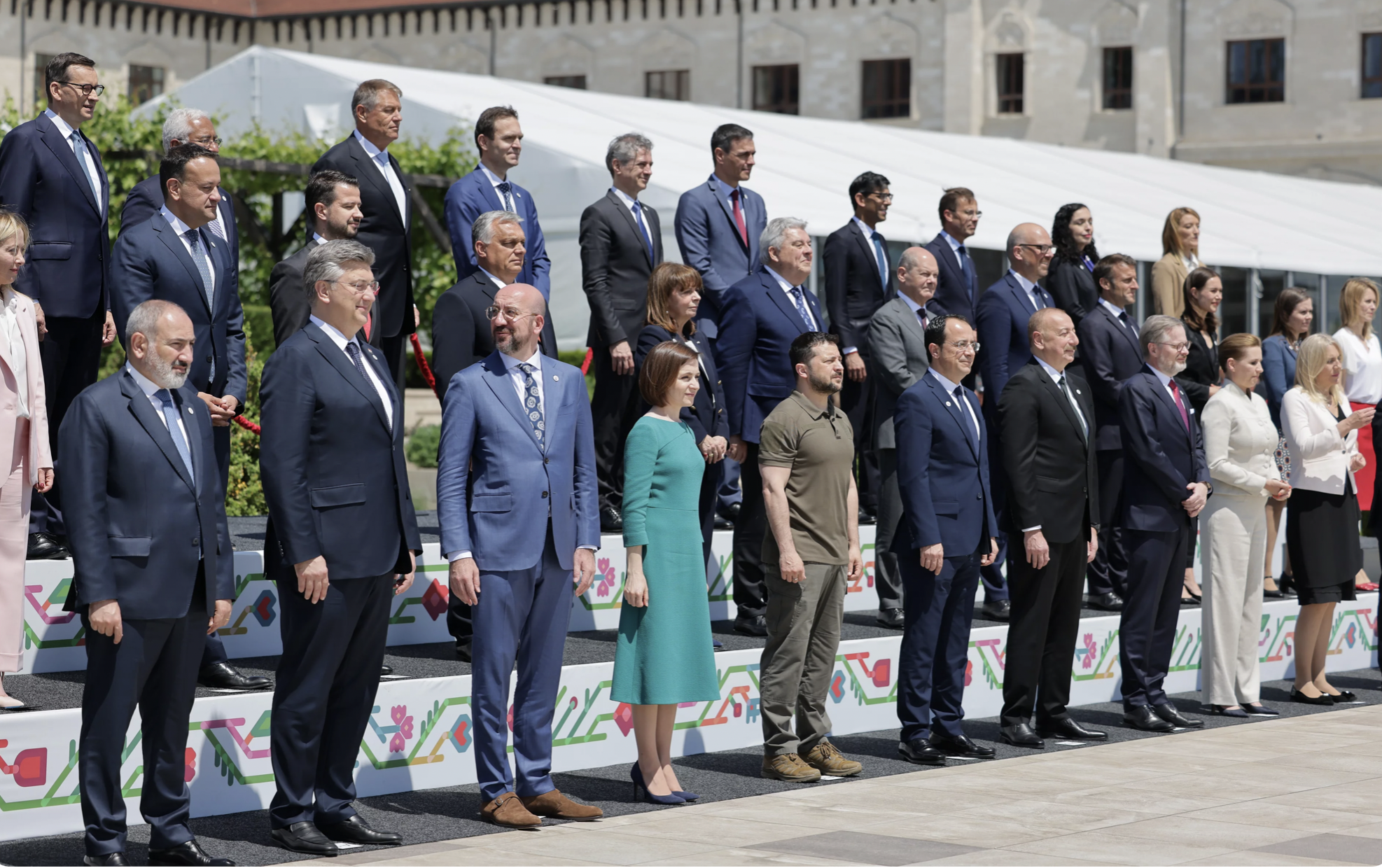 European Political Community summit takes place in Moldova bringing together 45 countries. Photo: EU Neighbours East.
European Political Community Gathers for Summit in Moldova
On June 1, European leaders gathered in the Moldovan capital of Chișinău for a second summit of the European Political Community. The general goal of the European Political Community is to strengthen the security, stability, and prosperity across the Continent and foster political dialogue and cooperation.
At the summit in Moldova, leaders discussed joint efforts for peace and security, climate, energy resilience and connectivity and mobility in Europe. The selection of security and energy as the main topics are of utmost importance, given their significance as vulnerable areas for Moldova.
Moldova's president Maia Sandu declared that the European Political Community could become a key forum for pan-European action for peace and security in Europe. Ukrainian President Zelenskyy, who attended the summit as well, said that a clear invitation to NATO membership and a clear positive decision on Kyiv's EU accession are necessary.
Moldova has never received such a high-profile event in its history therefore, the decision to organise the summit of the European Political Community in Moldova has strong security implications – Moldova is not alone in regards to the security challenges that Russian aggression in Ukraine generated for the whole region. It sends a clear message that a small country can be at the centre of European support. Moldovan Foreign Minister declared that summit shows "that the whole Continent stands by Moldova and Ukraine in this difficult time in European history."
According to many experts, the summit also represents a moment for Moldova to convince EU leaders about the seriousness of its goal to join the bloc, as well as a chance to gain significant international visibility. Moldova has proved to be a truly European country to the European community due to its exemplary response to the Ukrainian refugees. It showcased its commitment to European values.
One of the important side meetings of the summit was the one between Armenia, Azerbaijan and some of the EU leaders. The leaders discussed topics such as security and rights, connectivity, the peace treaty and the border delimitation in the troubled South Caucasus region. Charles Michel also announced that there will be two more meetings with Armenia and Azerbaijan. They will take place in Brussels and later in the fall in Spain. He added that the EU will do everything to make more progress towards normalising ties between the two countries.
Moldova has gone beyond the usual security measures for the summit, such as aviation restrictions. The reason behind this was the country's geographical location. Moldova borders Ukraine, and Russian soldiers are stationed just 50 kilometres away from the capital. According to the expert Anastasia Pociumban, hosting such an event represents "a challenge, but it's also a big opportunity to showcase Moldova. It's a big stretch for the administration because the Government is dealing with so many issues and crises at the same time."
Strengthening Chisinau-Bucharest Relations: Advancing Moldova's European Integration
The partnership between Chisinau and Bucharest has seen remarkable progress in recent years, with a focus on strengthening Moldova's European integration aspirations.
The political dimension of the Chisinau-Bucharest relations has been pivotal in driving Moldova's European integration agenda. Prime Minister Dorin Recean expressed gratitude for Romania's swift and substantial support, particularly in overcoming the energy crisis. The joint efforts encompass constructing interconnection infrastructure, including roads, bridges, and energy networks, fostering closer ties and facilitating the movement of people and goods.
The economic dimension of the Chisinau-Bucharest relations has paved the way for increased trade and investment opportunities. Trade relations between Moldova and Romania rose by 50% in 2022. The leaders discussed the allocation of financial assistance from Romania for projects aimed at enhancing the opportunities for Moldovan companies and developing settlements within Moldova. "These nine projects are worth 28 million euros, and they will be used for investments for the opportunities of our companies and will develop the settlements from Moldova," said the PM of Moldova Dorin Recean. This cooperation fosters economic growth and contributes to the broader goal of regional prosperity.
Romania's instrumental role in supporting Moldova's European integration process is central to the Chisinau-Bucharest relations. Prime Minister Recean acknowledged Bucharest's assistance and emphasised the importance of Romania's continued support as Moldova strives to commence accession negotiations. The collaborative efforts between the two nations are directed towards building a more robust and integrated Europe.
The consolidation of Chisinau-Bucharest relations represents a significant milestone in Moldova's journey towards European integration. The collaborative efforts in political, economic, and social domains exemplify the commitment of both nations to enhance regional connectivity and foster socio-economic progress. The support extended by Romania not only addresses immediate challenges but also strengthens Moldova's position in the European arena. "I have the feeling I have come home. I didn't come to an older or younger brother, but to a twin brother because all the challenges we went through, with all the overlapping crises that befell the Romanians on both banks of the Prut, must be addressed jointly," said the PM of Romania Marcel Ciolacu. The growing partnership between Chisinau and Bucharest offers promising prospects for Moldova's future within the European Union.
Attempt to destabilize Moldova and US sanctions
United States Department of the Treasury sanctioned seven Russians who were suspected of links to Moscow's intelligence services. They were also accused of being part of an attempt to overthrow Moldova's pro-Western Government. The pro-Russian propaganda is very powerful in Moldova, and the country has faced constant attacks in the infosphere. Office of Foreign Assets Control, which is part of the US Treasury, imposed sanctions because of attempts to destabilise democracy and influence elections in Moldova, Ukraine, and the Balkan countries. Russia's embassy in Washington called the sanctions a "spy hysteria" and an attempt to meddle in relations between Russia and its neighbours.
These seven individuals were not made known in Moldova, and there was no publicly available information about them. According to the US sources, however, Konstantin Sapozhnikov should be among them and named as the leader of the group, which attempted to destabilise the Moldova government at the beginning of the year.
President Maia Sandu and her pro-European Government have experienced several demonstrations and calls for her ousting from the side of the pro-Russian opposition. Other members of the group had also worked on gathering security details on various government buildings in Moldova, logistical support for the plot, handled budgeting for and financing the plot in Chisinau, or they attempted to sway public opinion abroad in favour of Russia in the context of the war against Ukraine. Accused persons were also involved in anti-government protests in Moldova initiated by Ilan Shor, whose political party was declared unconstitutional by Moldova's Constitutional Court on June 19.
The group is part of a large global information operation connected to Russia that targets Ukraine and neighbouring countries, as well as the European Union, the UK, and the US. Their members provoke, train, and oversee groups in democratic countries and conduct anti-government protests, rallies, marches, and demonstrations.
US sanctions on individuals that tried to destabilise Moldova also happened before. In October 2022, three Russian nationals were accused of coordinated efforts in 2020 and 2021 to influence the outcome of Moldova's elections. They were added to the US sanction list.
"Collaboration with external partners is essential in ensuring peace and security in Moldova and throughout the region. We effectively counter attempts to undermine stability and promote sustainable development and progress in our country," said Nicu Popescu, Minister of Foreign Affairs and European Integration of Moldova. The US sanctions, according to him, "represent an important step in our joint efforts to maintain stability and public order in our country".
Sources:
BalkanInsight,2023. US Sanctions Russians Over Alleged Coup Attempt in Moldova. https://balkaninsight.com/2023/06/06/us-sanctions-russians-over-alleged-coup-attempt-in-moldova/
Euractiv, 2023. Moldova bans pro-Russian Shor party after months of destabilisation activism.https://www.euractiv.com/section/europe-s-east/news/moldova-bans-pro-russian-shor-party-after-months-of-destabilistion-activism/
Euroactiv, 2023. US sanctions target Russian influence campaign in Moldova. https://www.euractiv.com/section/global-europe/news/us-sanctions-target-russian-influence-campaign-in-moldova/