IN FOCUS: Ukraine & Moldova
Review of July 2023
Petra Bošková, Laura Ďorďová, Sára Gregová, Katarína Žiaranová
UKRAINE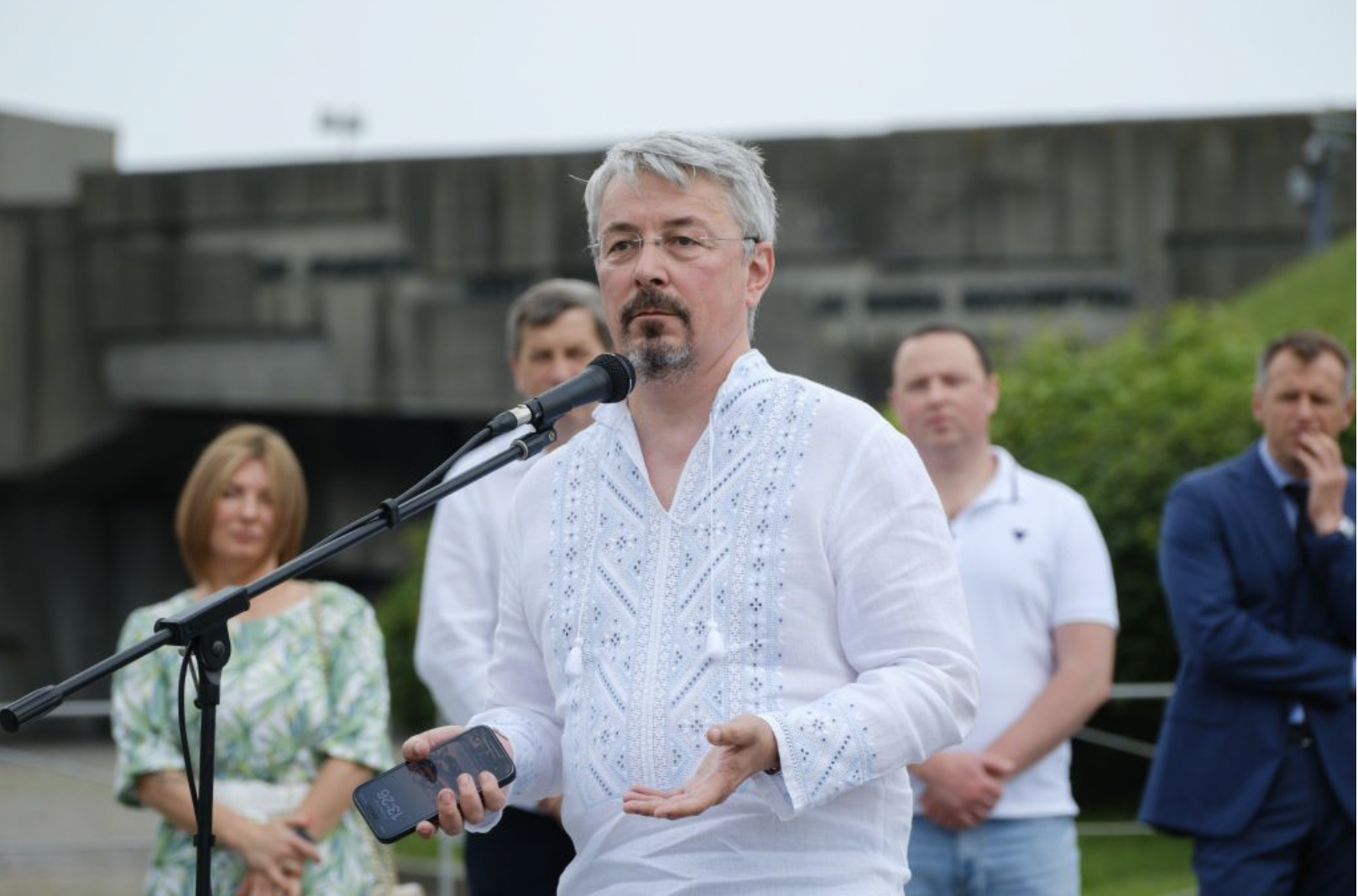 Minister of Culture and Information Policy of Ukraine Oleksandr Tkachenko at a briefing in the Museum of the History of Ukraine in the Second World War on July 13, 2023 in Kyiv, Ukraine. Photo: Vitalii Nosach/ Getty Images
Dismissal of Oleksandr Tkachenko: A Controversial Tenure in Ukrainian Culture and Information Policy
On July 27, Ukraine witnessed a significant event in its political landscape as the Verkhovna Rada, the country's Parliament, voted 321 to 2 to dismiss Oleksandr Tkachenko from his ministerial role in culture and information policy.
The issue was brought to a vote after the Parliamentary Committee on Humanitarian and Information Policy rejected Tkachenko's earlier resignation, which he had tendered on July 26. The circumstances leading to his resignation were marked by growing discontent and mounting criticisms from various quarters.
President Volodymyr Zelensky's involvement surfaced when he requested Prime Minister Denys Shmyhal to consider replacing Tkachenko on July 20. Tkachenko, however, pre-empted any formal dismissal by announcing his resignation, citing a "wave of misunderstanding about the importance of culture in wartime" as the reason behind his decision. "Culture in war is as important as drones. Because culture is about both the past and the future. This is what unites us, it is about talents. It is ultimately about our soft power in the world," he said on the Telegram app.
In his resignation statement, Tkachenko emphasised the crucial role of culture during wartime and argued that funds allocated for cultural initiatives were equally significant as those invested in military assets, as culture serves as a shield for national identity and borders. Nevertheless, his words sparked a mixed response on Ukrainian social media, with one soldier's sarcastic tweet suggesting that a good movie would suffice for soldiers in the trenches.
Oleksandr Tkachenko's appointment as the minister of culture in June 2020, following his election as an MP for the Servant of the People party in July 2019, met with disapproval from many within the Ukrainian cultural sector. A petition demanding his dismissal had gained traction and garnered 25,000 signatures in June, the minimum requirement for government consideration.
Tkachenko's tenure was marred by controversies, with various incidents sparking public outrage and calls for his removal. In August 2022, protests erupted when the Dovzhenko Center, housing Ukraine's most prominent film archive, faced reorganisation and relocation, leading to accusations against Tkachenko's role in the decision-making process. Critics claimed the move was influenced by property development interests, given the centre's strategic location in Kyiv.
The minister's budget allocations also came under intense scrutiny. Particularly contentious were decisions regarding state-funded television programming during wartime, with concerns raised about its impact on freedom of information and expression. Additionally, the allocation of funds to produce Ukrainian television series and the construction of the National Memorial Museum of Holodomor was criticised, particularly considering the wartime context.
President Zelensky cited Tkachenko's decisions on budget allocations as the primary reason for his dismissal. He stressed the need for fair and appropriate use of budget resources and suggested seeking private funding for genuinely necessary cultural projects. Critics, however, expressed concerns that Tkachenko's replacement might remain the same as the cultural sector's policies.
Sources:
Black See Agreement has expired
The Black Sea Grain Agreement was signed in July last year, allowing Ukraine to safely export grain via the Black Sea. Ukraine is one of the world's top producers of grain, but its access to ports in the Black Sea was initially blocked by Russian warships following the invasion in February last year. This Agreement was negotiated between Turkey, the UN and Russia to ensure Ukraine that its grain could leave its southern ports via the Bosphorus. This initiative, marked as one of the few diplomatic achievements since the war started, allows for commercial food and fertiliser exports from three key Ukrainian ports in the Black Sea – Odesa, Chornomorsk, and Pivdennyi.
The agreement was extended several times, but Russia announced it would pull out of the grain deal in July this year. Putin partly blamed the withdrawal on Western sanctions that he said restricted the sale of Russian agricultural products abroad. This step is not threatening only Ukraine but is likely to have repercussions far beyond the region. Ukraine is among the world's top three exporters of barley, maise and rapeseed oil and accounting for 46% of the world's exports of sunflower oil.
Vladimir Putin has promised free grain supplies to six African countries. UN secretary general, António Guterres, said a "handful of donations to some countries" would not correct the dramatic impact the end of the deal would have. The UN Security Council session told that the world's poorest and most vulnerable are at risk. Putin was accused of stoking famine by blocking grain exports through the Black Sea, with the aim of profiting from higher global food prices.
Meanwhile, food exports from Russia were rapidly increasing, and the higher prices caused by the collapse of the Black Sea grain agreement worked for Russia's economic gain.
"They're exporting more grains than ever before and at higher prices. Russia is simply using the Black Sea grain deal as blackmail. It's playing political games and holding humanity hostage." said Linda Thomas-Greenfield, the US ambassador to the UN.
Dmitrij Polyanskiy, Russia's deputy representative to the UN, said: "We stand ready to consider the possibility of re-joining but only under one condition – the lifting of financial and economic sanctions that have an impact on Russian grain and fertiliser exports."
Sources:
Ukraine's battle with corruption
Since the start of Russia's full-scale invasion of Ukraine, Kyiv has been actively seeking support from Western nations. Their objectives include receiving assistance in arming their forces on the frontlines and securing the country's future post-war. Kyiv's goal is to achieve EU and NATO membership, a challenging feat even without the ongoing conflict. Such success would entail winning an indefinite war and implementing fundamental changes in Ukrainian society and governance.
Despite the obstacles, Kyiv has devoted considerable effort to expedite EU and NATO accession. A significant requirement set by Brussels is addressing corruption. As of 2022, Ukraine fulfilled two of the seven EU membership requirements related to media law and the judiciary. However, it must now address the five other requirements, which include tackling money laundering, curbing the influence of oligarchs, and combating widespread corruption.
Ukraine has made less progress compared to several Central and Eastern European countries in resolving the issues stemming from its post-communist era. Only recently has Kyiv initiated comprehensive reforms targeting problems like judicial corruption. In 2013, a year before Russia's illegal annexation of Crimea, Ukraine scored 25 out of 100 on Transparency International's Corruption Perception Index.
Since 2013, Ukraine has shown some improvement in Transparency International's corruption ranking, reaching a score of 33 last year. Nonetheless, it remains nine points behind the EU's lowest-ranking member, Hungary. The Revolution of Dignity in 2013 brought about a shift in public attitude towards corruption, with Ukrainians becoming less tolerant of such practices.
Following Russia's full-scale invasion, Ukraine has intensified its efforts to combat corruption and meet EU standards. Measures like reinstating the anti-corruption scheme and appointing new heads for anti-corruption institutions have been taken. The Ukrainian President's administration has dismissed various officials linked to corruption, and anti-corruption prosecutors have made high-profile arrests.
Despite these achievements and Prime Minister Denys Shmyhal's goal of joining the EU within two years, some EU leaders emphasise that Ukraine has a long journey ahead before becoming a member state. French President Emmanuel Macron even suggested that it could take decades for Ukraine to join the EU. Croatia and Romania, Ukraine's EU predecessors, took several years to join the bloc, with Zagreb taking 10 years and Bucharest taking 12 years.
Meeting the EU's requirements becomes particularly challenging during wartime when the Ukrainian government has numerous pressing priorities to address. Nevertheless, Kyiv remains determined to overcome these hurdles and strive for eventual EU membership.
MOLDOVA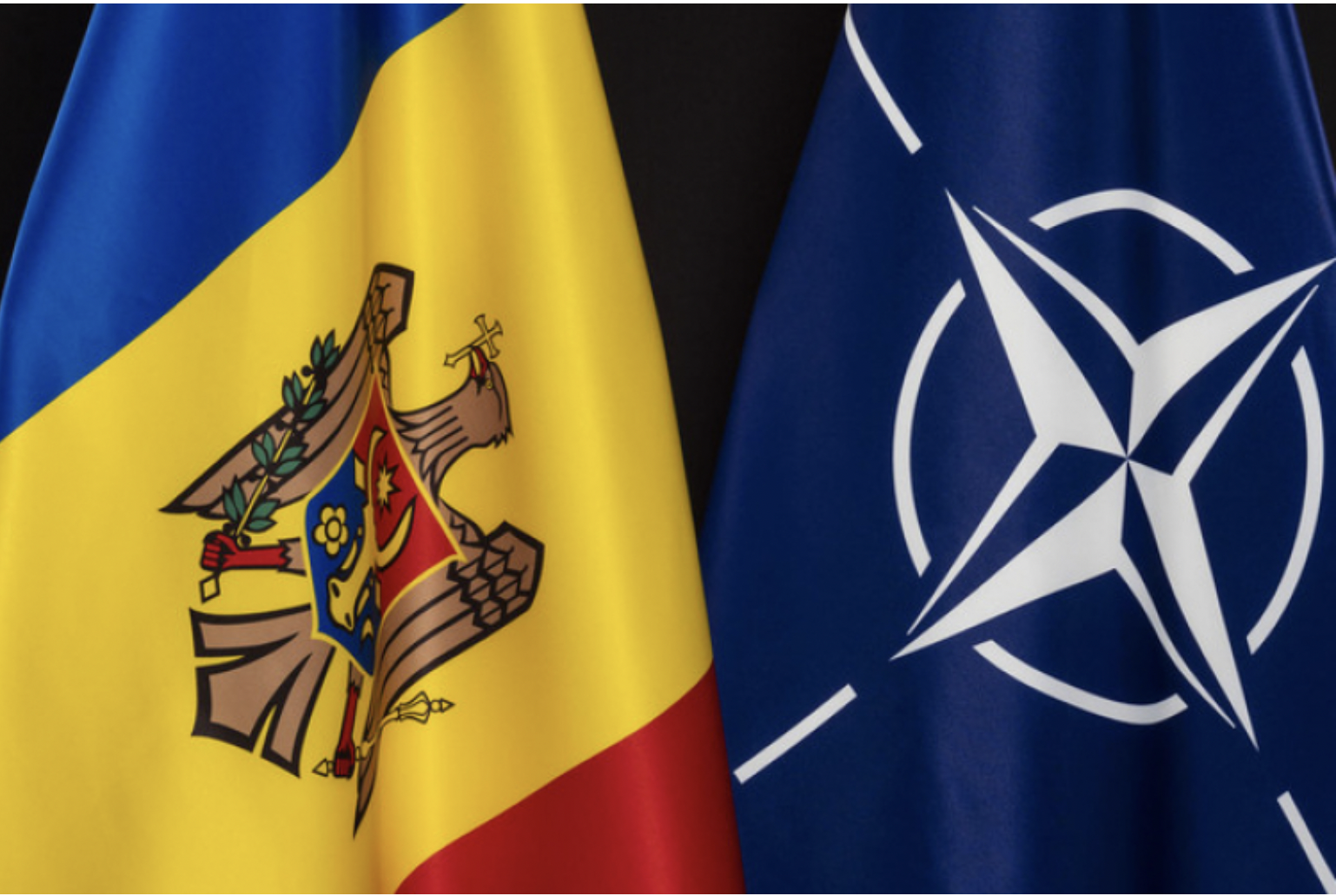 NATO and Moldova Flags.  Photo:  Shutterstock.com
Moldova aims for stronger cooperation with NATO
Moldova's constitutional neutrality has sparked increasing discussion among the public. Currently, a debate revolves around whether this neutrality is adequate or not. Moldova's political leaders argue that the country's prosperity and security can only be assured by eventually becoming a member of the European Union and forging closer ties with NATO.
Despite the government's belief that neutrality falls short of ensuring the country's security, the governing Party of Action and Solidarity (PAS) lacks sufficient votes in parliament to amend the constitution. Moldovan Foreign Minister Popescu emphasises that joining the EU and fostering stronger cooperation with NATO are the most favourable paths for Moldova.
Popescu praises Ukraine's progress towards NATO, stating that their strong resistance has contributed to Moldova's peace and security. He believes that Ukraine's closer ties with NATO will further strengthen Moldova's stability, "clearly, any measures that help Ukraine resist, that assist Ukraine in reclaiming its own territories, also contribute to fortifying the security of the Republic of Moldova. Moreover, Ukraine's movement towards NATO is a factor that will continue to aid in keeping the Republic of Moldova stable."
In summary, though protected by the constitution, Moldova's neutrality is a hot topic among its citizens. While the government acknowledges its insufficiency in guaranteeing security, the preferred route lies in EU membership and deeper collaboration with NATO. Ukraine's proximity to NATO is also seen as beneficial for Moldova's own security and stability.
Sources:
Shor Party was officially claimed as unconstitutional
The pro-west government of Moldova has been struggling with the opposition political party – Shor (Sor). It was endangering the sovereignty and independence of Moldova and contradicted the principles of the rule of law.
On June 19, the Constitutional Court of Moldova officially banned this political party. The political party was led by a fugitive and convicted oligarch Ilan Shor. He fled Moldova in 2019 already but was sentenced to 15 years in prison in April 2023 in absentia. The Chisinau Court of Appeal also ordered the seizure of assets worth 5 billion Moldovan lei, which approximately equals 250 million EUR.
The decision of the Court divides Moldovans. Some of them see this as a right and logical step caused by the proven illegalities. The party was declared unconstitutional because of paid protests, vote buying and close ties with Russia, which is trying to destabilise Moldova. The party is even supported by Russian secret services and financed from outside.
On the other hand, some experts consider this step a dangerous precedent which can endanger West-oriented political parties in the future. It is a step of suppression of opposition by the government.
However, as his party was forbidden, oligarch Ilan Shor reacted fast by the creation of a new political bloc to replace the Shor Party. He said: "I decided to form the 'Chance, Obligations, Achievements' political bloc. The abbreviated name is the 'SOR' bloc, and it has two objectives: to achieve victory in the local, presidential, and parliamentary elections but also to do everything possible for Moldova to become rich, prosperous, and truly independent," and spoke to other parties, that they are free to come and join the newly created political formation.
On July 6, the authorities of Moldova had to react and started to prepare a "de-oligarchisation" law. The purpose of it is to block the influence of fugitive oligarchs in crucial sectors such as politics, economy, or mass media. The government is determined to curb these influences and also has support from the West.
Sources:
Balkan Insight, 2023. Court Ban on Shor Party laves Some in Moldova Feeling Uneasy. https://balkaninsight.com/2023/06/26/court-ban-on-shor-party-laves-some-in-moldova-feeling-uneasy/

Balkan Insight, 2023. Fugitive Moldovan Oligarch Shor Launches New Political Vehicle. https://balkaninsight.com/2023/06/26/fugitive-moldovan-oligarch-shor-launches-new-political-vehicle/

Balkan Insight, 2023. Moldova Prepares Law to Curb Fugitive Oligarch's Malign Influence. https://balkaninsight.com/2023/07/06/moldova-prepares-law-to-curb-fugitive-oligarchs-malign-influence/
Moldova Cutting the Ties with Russia
Moldova has announced its decision to expel 45 Russian diplomats and other personnel associated with the Russian embassy in Chisinau due to their perceived "unfriendly actions." This action will reduce the total number of Russian diplomats allowed to stay in the country to 25, a figure more aligned with the size of Moldova's diplomatic presence in Moscow.
Since Russia's full-scale invasion of Ukraine in February 2022, the Moldovan government has accused Russia of engaging in espionage and supporting opposition groups within Moldova. In response to mounting tensions and what it perceives as unfriendly conduct, Moldova has taken this step to expel Russian personnel, with a deadline set for their departure by August 15.
The expulsion comes amidst concerns raised by Moldova's foreign ministry regarding a media report about installing new surveillance equipment on the roof of the Russian embassy and a neighbouring building utilised by Russia. This report originated from the Russian investigative media outlet Insider and Moldova's Jurnal TV channel.
Moldovan Foreign Minister Nicu Popescu justified the decision by citing years of hostile Russian actions and policies, many of which were allegedly executed through the Russian embassy in Moldova. In response, Russia has condemned the move and warned there would be repercussions, though specific measures have not been announced yet. These may include restrictions on consular services and Moldovan citizens' interactions with Russia.
With a population of approximately 2.6 million, Moldova faces significant challenges as one of Europe's poorest economies, exacerbated by its exposure to the conflict in neighbouring Ukraine. The country experienced a severe energy crisis, partly due to outdated power infrastructure from the Soviet era, exacerbated by Russia's restrictions on gas supplies and attacks on Ukraine's power grid, leading to sporadic power outages within Moldova. The invasion of Ukraine also resulted in an influx of Ukrainian refugees, putting strain on Moldova's public services.
Sources: