IN FOCUS: Ukraine & Moldova Brief
Review of August 2023
Petra Bošková, Laura Ďorďová, Sára Gregová, Katarína Žiaranová
UKRAINE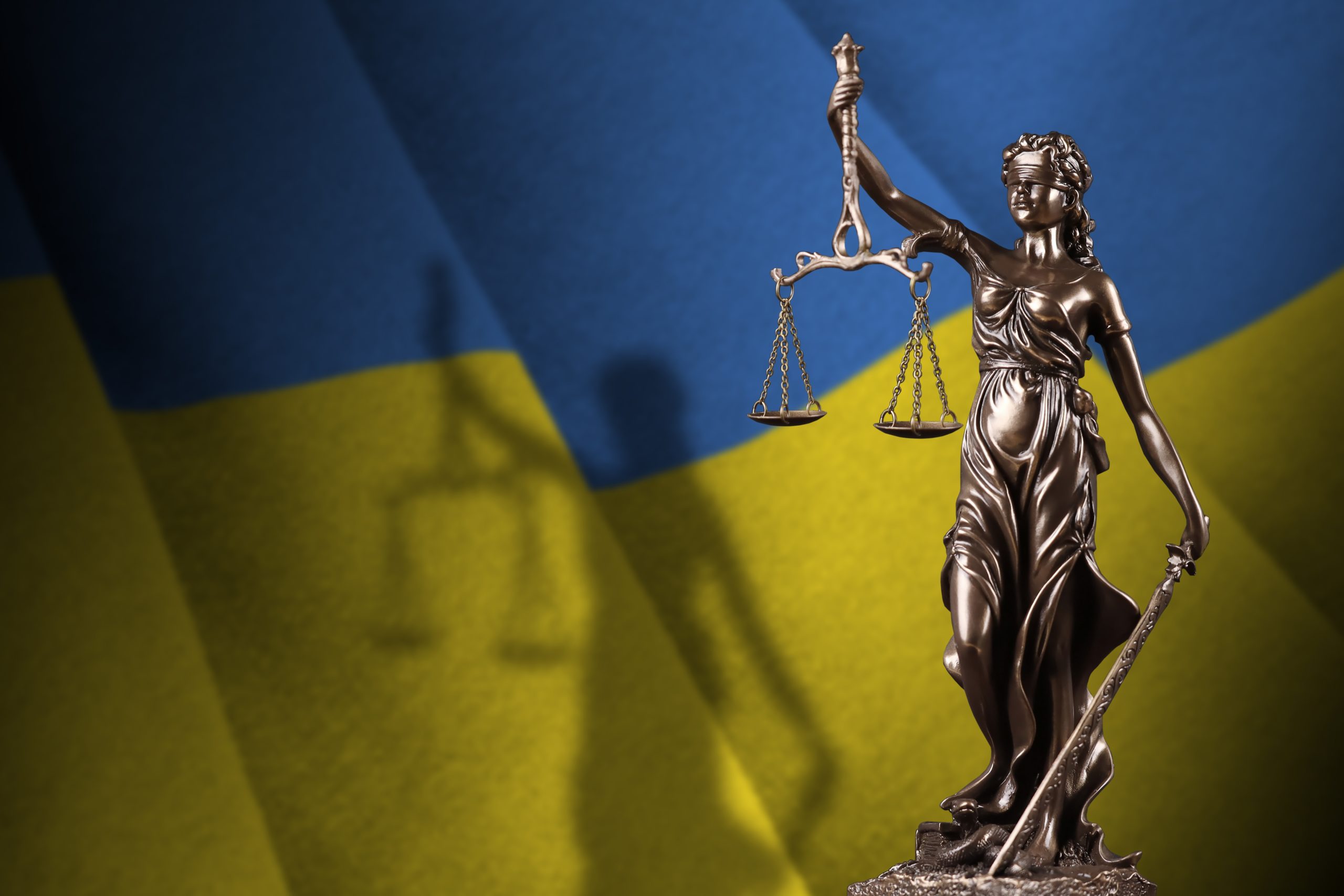 Ukraine Flag with Statue of Lady Justice and Judicial Scales. Photo: Shutterstock.com
Fight with wartime corruption in Ukraine
Despite the war, the fight against corruption is as crucial for Ukraine as fighting the enemy on the frontline. According to Kyiv's top anti-graft official, it's a matter of sheer survival. Ukraine has been set for a fight with corruption as a goal in 2014 when a Russian-backed leader was toppled. This gave hope for the European future, nowadays, corruption is seen in a slightly different light. "Corruption is no longer seen as just a crime, but as a crime against national security," says Semen Kryvonos, head of the National Anti-Corruption Bureau of Ukraine (NABU).
NABU, an independent investigative body set up in 2015 with help from Kyiv's Western partners, is at the forefront of a battle that President Volodymyr Zelenskiy says is key to winning the war against Russia.
However, NABU has investigated crimes in many different areas since its beginning. Resource crunch and greater public demand for accountability means it must now focus on wartime crimes that endanger Ukraine more directly. Currently, the priorities are strategic areas – defence, reconstruction, and energy, as well as those involving senior officials. "We need to demonstrate results by targeting current corruption schemes that involve truly top officials, not just some kinds of ordinary perpetrators," told top anti-graft official for Reuters.
Kryvonos' appointment in March 2022 was a key requirement for the European Union to launch membership negotiations with Ukraine. For Ukraine is progress in this area very important because it will be closely watched by Brussels.
Only in 2023 did NABU and the anti-corruption prosecutor's office began almost 300 cases and sent 58 indictments to the court. Anti-corruption authorities have also sent over $52 million in funds seized during probes or as part of court settlements to Ukraine's military. Their investigation amplifies government shake-ups. This month, after a nationwide audit, all the regional military recruitment chiefs were dismissed.
Ukraine was, according to the Corruption Perceptions Index by Transparency International on 116th position out of 180 countries (last placed country seen as most corrupt) in 2022. Russia, for instance, ranks 137th in the same Index. In June 2023, Transparency International Ukraine released a survey where they explored that in matters of rebuilding the country, Ukrainians, especially business representatives, consider corruption an even greater threat than a possible repetition of hostilities (73% of Ukrainians and 80% of business representatives are most concerned about the resumption of corruption schemes in the reconstruction process). The population and entrepreneurs consider the following to be the key problems of Ukraine: war, destruction, corruption, and unemployment.
Sources: 
Euractiv, 2023. Ukraine's anti-graft police zero in on major wartime corruption. https://www.euractiv.com/section/global-europe/news/ukraines-anti-graft-police-zero-in-on-major-wartime-corruption/
National anti-corruption bureau of Ukraine. 2023. Corruption is no longer seen as just a crime, but as a crime against national security – Semen Kryvonos. https://nabu.gov.ua/en/news/ukraines-anti-graft-police-zero-in-on-major-wartime-corruption/
Transparency International. 2023. https://www.transparency.org/
​​ Transparency International Ukraine. 2023. UKRAINIANS FEAR CORRUPTION IN FUTURE RECONSTRUCTION MORE THAN WAR — SOCIOLOGICAL SURVEY. https://ti-ukraine.org/en/news/ukrainians-fear-corruption-in-future-reconstruction-more-than-war-sociological-survey/
The Declining Birthrate of Ukraine: A Strategy or Side Effect of the Ongoing War with Russia?
The conflict between Ukraine and Russia, which began in 2014 with Russia's annexation of Crimea, has had far-reaching consequences, extending beyond territorial disputes. One striking consequence is the dramatic decline in Ukraine's birthrate, which has raised concerns about its long-term demographic prospects. In this article, we will explore the statistics and reasons behind this decline, and we will also draw parallels with a historical study conducted by Wilson H. Grabill in 1944, shedding light on the possibility that this decline might not be solely a side effect but could be a strategic move by Russia to weaken Ukraine.
Official statistics indicate that since the beginning of the conflict, Ukraine's birth rate has plummeted by a staggering 28%. To put this into perspective, in the first six months of 2023, only 96,755 children were born in Ukraine, compared to 135,079 during the same period in 2021. This alarming birth drop represents the most significant decline in Ukraine's history since gaining independence in 1991.
 Before the war, Ukraine's population stood at more than 43 million, but the conflict has forced nearly six million people to flee, according to the United Nations. These demographic shifts are deeply intertwined with the birthrate decline. During civil conflicts, fertility rates typically experience a drop of up to one-third, but they often rebound quickly once the fighting ends, says the US-based Population Reference Bureau. However, in Ukraine's case, the decline persists. Before Russia invaded Ukrainian lands, up to 23,000 babies were born in Ukraine every month. This has now fallen to about 16,000.
Since the annexation of Crimea, Ukraine has been facing demographic challenges. The birth rate has been steadily declining at a rate of 7% per year since 2015. This ongoing trend has cast a shadow over Ukraine's population prospects, with the UN predicting a 50% decline by 2050. Ukraine was already grappling with one of the lowest birthrates globally, but the conflict has exacerbated the issues.
The war's human toll cannot be underestimated. Tragic images of pregnant women navigating bombed maternity hospitals or giving birth at metro stations and bunkers have symbolised the horrors Ukrainian civilians face. Such incidents have resulted in loss of life and raised fears about maternal and child health, potentially further discouraging childbirth.
In 1944, Wilson H. Grabill conducted a landmark study titled "Effect of the War on the Birth Rate and Postwar Fertility Prospects." This study analysed the impact of World War II on birth rates and fertility. Grabill's research found that birth rates declined significantly during the war due to various factors, including the absence of men at home, economic hardships, and societal instability. However, it also revealed that birth rates tended to rebound in the post-war period as stability returned.
Considering the severity and persistence of Ukraine's birthrate decline, one cannot help but ponder the possibility of a more strategic motive. While demographic shifts during conflicts are standard, the extent of Ukraine's decline raises questions. The decline in Ukraine's birthrate since the onset of the conflict is undeniably a cause for concern. While historical patterns and the lingering effects of the war explain some of this decline, it is essential to remain vigilant and consider the possibility that Russia's actions might be contributing to this demographic crisis. 
Ukraine's effort to build influence in Africa
On August 21, the Ukrainian government has identified an opportunity to enhance its diplomatic connections in Africa, capitalising on Russia's efforts to maintain its key allies in the region. As the BRICS summit in Johannesburg approaches, both Russia and Ukraine view this event as a chance to solidify their international relationships and influence in Africa and around the world.
Ukraine's Foreign Minister, Dmytro Kuleba, recently expressed the country's intention to significantly expand its strategic engagement with African partners after years of disregard. He emphasised that "though much time has been lost, we are committed to advancing a rebirth of Ukrainian-African ties, propelling these connections back to life."
Pointing out Russia's utilisation of "coercion, corruption, and intimidation" to wield authority across multiple African nations, Kuleba stressed that Ukraine "does not aspire to become a replacement for Russia. Our approach centres on liberating Africa from Russia's grasp." He pinpointed several countries, including Liberia, Kenya, Ghana, Côte d'Ivoire, Mozambique, Rwanda, and Equatorial Guinea, where Russian influence is gradually weakening. Nevertheless, the Kremlin finds itself prepared to sustain its accustomed level of influence. As a consequence, Russia's ongoing manoeuvres in Africa will cast a significant shadow over this year's BRICS summit, which convenes the leadership of Brazil, China, Russia, India, and South Africa.
Although Vladimir Putin will not make an in-person appearance due to the potential risk of being arrested under an International Criminal Court warrant, his presence will only be virtual. The remaining four governments will face intense scrutiny for their often unclear stances toward his administration, with particular attention on South Africa.
South Africa is a country that has above-standards relations with Russia. Since Russia initiated a full-scale invasion of Ukraine in February 2022, criticism from Ukraine's allied governments has been directed towards South African President Cyril Ramaphosa for his relationship with the Kremlin. Despite declaring neutrality in the conflict, South Africa was accussed of supplying arms and ammunition to Russia. Subsequently, Ramaphosa granted immunity to Putin, even though there was an international arrest warrant, enabling Putin to potentially attend the BRICS summit in person without the risk of arrest.
From a Western standpoint, it might appear perplexing that South Africa and other African nations maintain a welcoming stance towards Russia despite its actions in Ukraine. There is a longstanding connection with Russia in many parts of Southern Africa since Russia extended support to the ANC during their exile and went beyond that by backing Cuban armed forces in Angola. These forces thwarted the South African (then apartheid regime) military's advances in Angola on two occasions, playing a pivotal role. In South Africa and resource-rich Angola, the Russians are still credited with playing a substantial role in shaping this sequence of events.
Nevertheless, Ramaphosa has encountered significant domestic opposition due to his position on the war, exacerbated by the perceived mishandling of efforts to involve South Africa and Africa more broadly in the conflict's dynamics.
MOLDOVA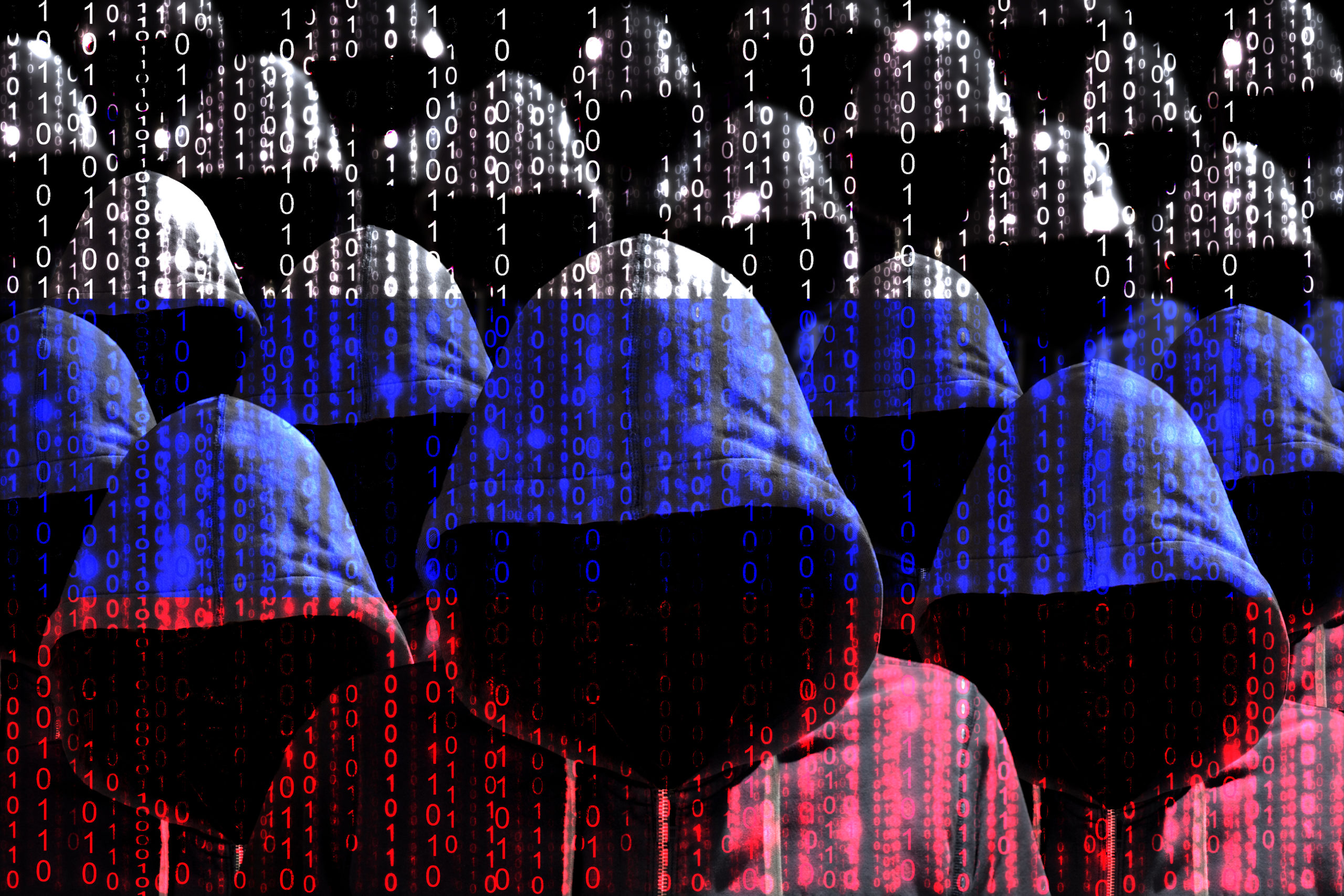 Group of Hooded Hackers Shining Through a Digital Russian Flag. Photo: Shutterstock.com
Reduction of Russian diplomatic staff and cancelled agreements with Russian intelligence
At the end of July, the government of Moldova ordered a reduction of Russian diplomats and other embassy staff after an "unfriendly action". This decision has sent home 18 Russian diplomats and 27 technical embassy staff. They left Moldova until August 15. At the moment, just a third of the diplomatic staff remain in Moldova. "The number of diplomatic posts of Russia in Chisinau has been reduced to 10. Also, the number of auxiliary posts has been reduced to 15, so the entire diplomatic apparatus of Russia in Chisinau will operate with 25 people," the government spokesperson Daniel Voda said.
The reduction has also occurred in Russia, from 15 diplomats of Moldova in Moscow before the Russian invasion of Ukraine in 2022 to only six currently. Reducing the number of Russian diplomats is a trend across Europe.
Moldova suspected Russian diplomats after Moldovan journalists counted 28 antennas located on Russian diplomatic buildings in Chisinau. They could be used as a tool that could potentially intercept mobile phone conversations, Wi-Fi data and communications over long distances. Oleg Vasnetsov (Russian ambassador in Chisinau) said these were not used for espionage, and such a large number was due to Moldova's "poor telecommunications and Internet infrastructure".
The Russian embassy is located near the Moldovan Presidency, parliament, and government on the main boulevard.
"For many years, even decades, we have witnessed and been the target of quite hostile Russian activities and policies. A number of them were carried out through the Russian embassy in Chisinau," Moldovan Foreign Minister Nicu Popescu commented on the situation.
The next point in this ongoing confrontation was that the Moldovan Intelligence and Security Service (SIS) terminated its partnership agreement with its counterparts, Russia's Federal Security Service (FSB). Another organisational part of the SIS ended the cooperation agreement with the SVR – Russian Foreign Intelligence Service. These agreements were signed in 1994 and allowed the presence of Russian special services in Transnistria. Currently, they must leave Tiraspol.
"The SIS does not maintain external partnership relations with similar structures of other states that defy legislation, act to the detriment of national security and carry out subversive activities against Moldova," said the SIS in a statement. This could be the lowest point in the bilateral relationship between Chisinau and Moscow since the ´90s.
Sources: 
Balkan Insight, 2023. Moldova Slashes Russian Diplomatic Staff, Citing Moscow's 'Hostile Actions'. 

https://balkaninsight.com/2023/07/26/moldova-slashes-russian-diplomatic-staff-citing-moscows-hostile-actions/

Balkan Insight, 2023. Moldovan Secret Services Cancel Agreements with Russian Intelligence.https://balkaninsight.com/2023/08/01/moldovan-secret-services-cancel-agreements-with-russian-intelligence/
BBC, 2023. Moldova expels 45 Russian diplomatic staff in spy row. https://www.bbc.com/news/world-europe-66320894
 Mysterious Death of Transnistria's Opposition Leader Sparks Homicide Inquiry and Human Rights Concerns
Moldova's national police have initiated a homicide inquiry subsequent to the discovery of a deceased opposition leader in the Russia-supported secessionist region of Transnistria. The deceased opposition leader is Oleg Khorzhan, aged 47, who held a leadership position within the Transnistrian Communist Party. Khorzan was seen as one of the few public figures who exhibited the courage to champion fundamental rights and liberties within Transnistria.
Non-governmental organisations perceived him as an individual who "positioned himself as an advocate for human rights, both through political declarations and by initiating efforts to assist groups of individuals who have been or are currently victims of the Tiraspol regime".
The NGOs also urged Moldovan authorities to conduct an effective investigation while also appealing to foreign diplomatic missions within the nation to oversee and denounce the systematic targeting of activists from the Transnistrian region. Transnistria, housing approximately 470,000 inhabitants, is a narrow stretch of land situated between the eastern bank of the Dniester River and Moldova's border with Ukraine.
Following a brief civil conflict in the early 1990s, the region's pro-Russian factions declared independence, forming a secessionist state; however, only a very few states or entities acknowledged its independence. To date, Russia maintains roughly 1,500 troops in the area under the pretence of peacekeeping.
In March, Transnistrian authorities asserted that they had thwarted an assassination plot against the region's president, Vadim Krasnoselsky, attributing the scheme to Ukraine's national security service, the SBU. The SBU denied these allegations and labelled them a Kremlin-engineered provocation.
Since Russia's invasion of Ukraine in February 2022, Moldova's leaders have repeatedly accused Moscow of orchestrating campaigns aimed at destabilising the nation, which was a former Soviet republic until 1991 and attained European Union candidate status the previous year.
 Tragedy Strikes at Moldova's Chisinau Airport: Shooting Incident and Ministerial Resignations
Moldova, a country navigating complex geopolitical challenges, was rocked by a shocking incident at Chisinau International Airport on June 30. 
In a harrowing turn of events, a man opened fire at Chisinau International Airport, resulting in the tragic deaths of two individuals, according to the Moldovan Interior Ministry. The shooter, wounded and subsequently detained, reportedly attacked after being denied entry into the country. President Maia Sandu confirmed that the victims were a border guard and an airport security official, with a third person sustaining injuries in the attack.
The suspect, identified as Rustam Ashurov, a 43-year-old Tajikistan national, arrived from Turkey and was refused entry into Moldova. As he was being escorted to a special area at the airport, Ashurov managed to seize a firearm from a border police officer and used it to fatal effect, leading to the deaths of the two security personnel. Shocking videos from the scene showed passengers outside the airport on the grass as the building was evacuated. At the same time, flights to and from Chisinau Airport, the country's largest, were temporarily halted.
Ashurov's criminal background emerged as Tajikistan prosecutors revealed that he was wanted in connection with the alleged kidnapping of a bank deputy chairman in Dushanbe on June 23. Fleeing Tajikistan, Ashurov had sought refuge in Moldova through Turkey, where he was subsequently detained and the criminal case of "murder with aggravated circumstances" was initiated.
Moldova declared July 4 a national mourning day to honour the slain security officers. Flags at state institutions flew at half-staff, and a minute of silence was observed around midday. Authorities also advised against holding "mass entertainment events" on this solemn day.
Two weeks following the airport shooting, Moldova's Prime Minister, Dorin Recean, made a significant announcement regarding the resignations of three government ministers, including Interior Minister Ana Revenco. While Prime Minister Recean did not disclose the reasons behind their resignations, it responded to the opposition's demands, which called for Revenco's resignation following the airport incident.
In a heartfelt message on Facebook, Ana Revenco expressed her pride in serving her country and lauded her team for their courage in maintaining peace and stability amidst various crises. She noted the challenges of Russia's war in Ukraine, Moldova's neighbour, among other threats.
The airport shooting at Chisinau International Airport is a stark reminder of Moldova's complex challenges on its path to stability and prosperity. The tragic loss of life underscores the gravity of such incidents, while the subsequent resignations of critical ministers signal a period of political change. As Moldova moves forward, it does so in a spirit of resilience and reflection, mindful of the need to address the root causes of such tragic events in a turbulent region.