Strategic Analysis Ukraine and Moldova Brief
 Review of February 2023
Petra Bošková, Laura Ďorďová, Sára Gregová, Katarína Žiaranová
UKRAINE
Motherland statue in Kyiv, Ukraine. Photo: Valua Vitaly. /Shutterstock.com 
Ukraine as the main topic of this year's Munich Security Conference
War in Ukraine was the main topic of discussion and dominated this year's Munich Security Conference. Munich Security Conference is an annual gathering of the international security community designed to discuss the world's conflicts. Heads of states, politicians and security experts from around the world attend the conference. For the first time in decades, Russian political leaders were not invited.
The speech of Ukraine's President Zelenskyy was clear, he urged the West "to act rather than talk". He emphasized the importance of speed regarding arms deliveries to Ukraine and the decision-making of the Allies. Zelenskyy also insisted that Ukraine's membership in the EU and NATO is a necessity. Although, membership in the Euro-Atlantic structures was questioned at the conference because of Ukraine's longstanding problems with corruption and government graft. As a response, Zelenskyy emphasized that anti-corruption reforms are already unfolding.
The key European allies, France and Germany, showed their resolute support to Ukraine. Germany pushed for higher military spending within NATO and European Union, and Chancellor Olaf Scholz asked other European states to deliver battle tanks to Ukraine, as Berlin did. However, he rejected the idea of sending fighter jets to Ukraine, as it could cause the escalation of the conflict. French President Emmanuel Macron also encouraged the European partners to intensify their support for Ukraine. Macron also claimed that he does not believe in regime change in Russia therefore, the international community has to find a way to persuade Moscow "to come back to the table under the conditions of Ukraine". In relation to Ukraine, Macron also mentioned the global South, where resentment still exists towards the West because of the anti-colonialist and anti-imperialist history. He insisted that some actors, including Russia, are playing with that historical perspective to gain more power in the world.
Vice President Kamala Harris used her speech to accuse Russian soldiers of carrying out crimes against humanity in the Russo-Ukrainian war. The US Government already accused Moscow of committing war crimes, and now they have gone one step further by classifying Russian atrocities as crimes against humanity. Harris claimed that Russian forces are deliberately targeting civilians and are committing execution-style killings, rape, electrocution, and torture above all.
Another important international player, China, represented by diplomat Wang Yi, called for peace in the Ukrainian conflict. However, he did not elaborate on how to achieve it. The US State Department Secretary Blinken warned Wang against China providing any material support to Russia or helping Moscow evade Western sanctions. Wang also claimed that "some forces" do not want the war in Ukraine to end because of "bigger strategic goals than Ukraine." Wang did not elaborate further on who are "some forces". However, he was presumably implying that NATO has no interest in entering into peace talks over the war in Ukraine, as claimed by Moscow.
However, the most important parts of the conference that will generate real progress over current security issues are off-the-record discussions, not official statements of heads of governments, mentioned above.
Geopolitical changes after one year of the war
The Russian invasion of Ukraine began on February 24, 2022. From the very beginning, it was clear that this intervention would influence the world´s geopolitical situation. It is February 2023, and the war in Ukraine has lasted for a whole year now. There is a significant phenomenon of forming new blocks, like those in the Cold war era. Although, there is a tendency for countries to form around two centres – Beijing and Washington nowadays. This war has shaken the position of Russia's grip over former Soviet republics in Central Asia and opened a new role for Turkey as a mediator. Also, other regions of the world are "battlefields" in which actors like China, the EU, Russia, and Turkey fight to gain influence. That can be, for instance, achieved by investment projects or diplomatic, military or trade deals. Russia and Europe will be after this conflict weakened, and countries that can profit from this situation and strengthen their international position are China and the United States. China wants to aim for a long-term goal – to be the world´s leading power by 2049.
Pierre Razoux, the head of French think-tank FMES, thinks that "this chaotic reorganization is real, but probably temporary ". However, Beijing supports Moscow, but it also doesn´t want to make moves that could be negatively perceived by the West. Although Washington offered help to Ukraine, which is on a higher level than China's help to Russia, economic relationships became stronger, and Russia, according to Euractiv, is hazardous of becoming a vassal or satellite of China. "The Kremlin is betting on diversifying its geopolitical, economic and strategic ties with Turkey, the Middle East, Iran and Africa" to limit its dependence on Beijing, P. Razoux said.
The European Union, in this situation, can be considered a key player, but there is a risk of "playing second fiddle" to the US. EU, during this conflict, showed lots of qualities, such as quick reactions, military support, offering aid to refugees, and reducing its energy dependence. There is a question if there will be just two world blocks and the EU will join the Washington one, or the EU will become a third one.
Changes can also be seen in globalisation. Because of harsh sanctions from the EU and the US, the Russian economy has slowed down, and the standard global free-trade system has transformed.
The three most basic needs of humans were influenced by the war – food, heat, and shelter. It creates pressure not only in the developing countries but the "wealthy West" as well. The consequence of these issues is numerous protests in several countries.
Sources:
For additional information see: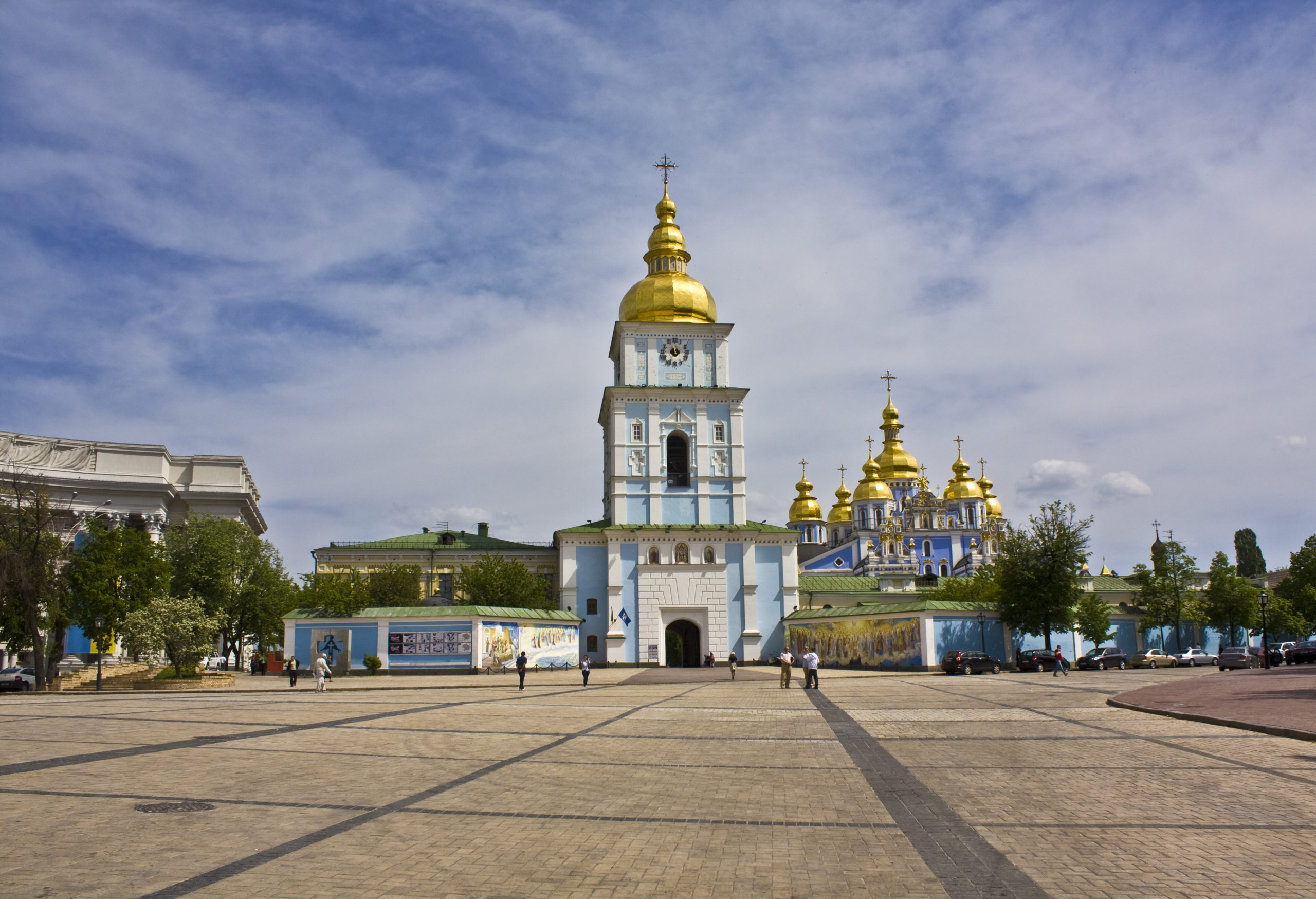 Mihaylovskiy Monastery in Kyiv, Ukraine. Photo: Irina Afonskaya/ Shutterstock.com
Volodymyr Zelenskyy visited the European Parliament
February 2023 was the first time that Zelenskyy had the capacity to visit Western and Central Europe since the beginning of Russia's invasion of Ukraine. Before, he had left Ukraine only once, when travelling to Washington in December 2022. "Welcome home, welcome to the EU," tweeted Charles Michel, the chief of the European Council.
Zelenskyy has surprisingly visited multiple European capitals. Along with the capital of the EU, Brussels, he also stepped into Paris, meeting with high European officials Emmanuel Macron and Olaf Scholz, and London, where Zelenskyy paid a visit to the UK Parliament and met the UK Prime Minister Rishi Sunak. This diplomatic mission aimed to negotiate with the West for more military help and express gratitude for the long-lasting support. "We are defending ourselves against the most anti-European force in the modern world. We are defending ourselves. We, Ukrainians, are on the battlefield with you. I thank you for the fact that we are defending ourselves together! And we must defend ourselves!", told Zelenskyy.
Italian PM Giorgia Meloni commented that the visits carried out before Brussels was, in her opinion, "inappropriate", "I believe our strength is community and unity […], but there are times when favouring internal public opinion risks being to the detriment of the cause, and this seems to me to be one of those cases," she said in Brussels.
The outcomes of the negotiations are vague. "There are certain agreements which are not public but which are positive. I don't want to prepare the Russian Federation, which is constantly threatening us with new aggressions," Zelenskyy said during a joint press conference with European Council President Charles Michel and the head of the European Commission, Ursula von der Leyen. The Europan Commission's head introduced new sanctions against Russia. Those include export bans and target Russian propagandists "poisoning the public space".
"Ukraine is Europe, and your nation's future is in the European Union," told the President of the European Parliament, Roberta Metsola, to Zelenskyy. Ukraine officially became a candidate member country of the EU in 2020. However, it looks like the journey will be arduous.
Moldovan Parliament backs new pro-EU Prime Minister
Moldovan president Maia Sandu has nominated a new prime minister after the former one resigned. The new Prime Minister, Dorin Recean, is from the same pro-European party as the President of Moldova, and he previously served as Sandu's defence and security advisor. By voting in favour of the pro-European Prime Minister, Chisinau gives a clear signal that it aims to stay on the pro-Western trajectory.
Recean, in his first statements as the Prime Minister, supported the idea of abandoning Moldova's military neutrality and questioned its enshrinement in the constitution. The issue of neutrality was raised given the fact that the new Government was endorsed with a mandate to protect Moldova from the security threats posed by Moscow. Russia aims to stage a coup d'état to establish control over Moldova. Moreover, Kremlin still keeps its armed forces in Moldova's pro-Russian breakaway region of Transnistria. Therefore,  regarding the question of neutrality, Recean stated that "we must not confuse the defence with neutrality. Neutrality does not insure us in case of aggression." President Sandu suggested that Moldova does not rule out the possibility of accession to NATO, however, it has to be analysed whether constitutional change is necessary to become a member of any military alliance. Furthermore, most of Moldova's population does not favour joining either NATO or CSTO.
Regarding EU membership, Recean is a pro-European figure and plans to continue Chisinau's pursuit of accession to the EU. Moldova was granted European Union's candidate status last year, together with Ukraine. The new prime minister stated that "we are ready to embark on this journey to continue advancing with the EU integration, implement all the necessary reforms and provide stability for our country." Before becoming prime minister, Recean spearheaded a few crucial reforms, bringing Chisinau closer to European Union, while he served as interior minister between years 2012-2015. With the new prime minister appointed, this government changeover might be an opportunity for Chisinau to reassert its authority after months of political upheaval.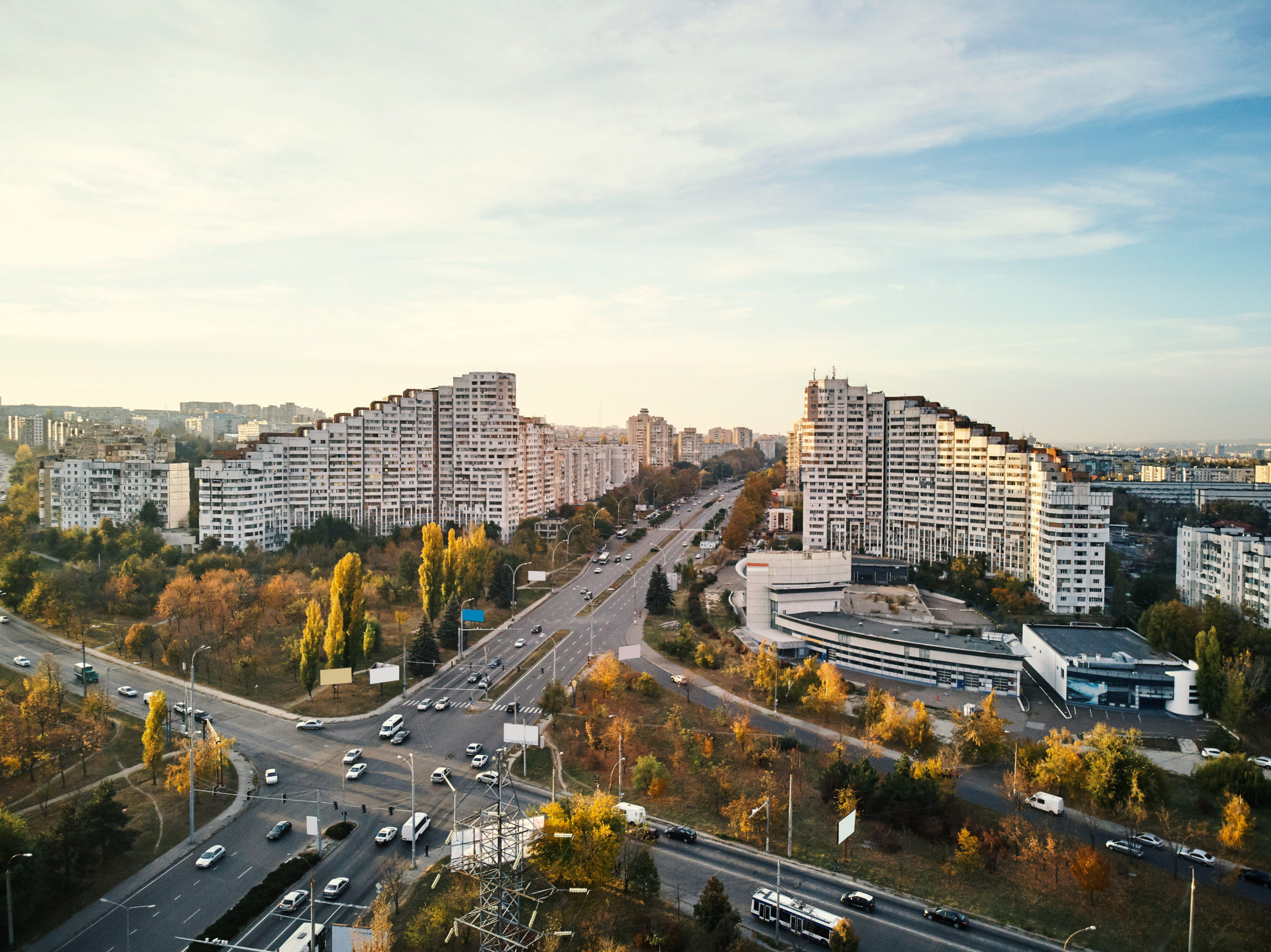 Chisinau, Moldova. Photo: FrimuFilms. /Shutterstock.com
Protests in Moldova
Moldova faced protests organised by the Socio-Political Republican Equality Movement (Sor) party. This Moldovan party is known for holding pro-Russian, Eurosceptic stances and is commonly referred to as populistic. The Minister of Justice requested the Constitutional Court to outlaw Sor in November last year, as it is "trying to destabilise the country at a crucial moment at international level due to the Russian invasion of Ukraine. " The costs of Moldovan protesters, which travelled to Chisinau mostly by buses, were reportedly covered by this opposition party. By estimation, thousands of people from the whole country came to the capital city, and their motivation is related to poverty and frustration with the Government. The protesters ask the Government to pay their energy bills in full for the months of December-February. They chanted "Down with the government" and "Down with the dictatorship".
Moldova has long-term problems with mass displacement, poverty, and other socio-economic indicators. The Russian aggression in Ukraine has worsened the situation because of close economic relations between Moldova and the actors of this conflict, Russia and Ukraine. United Nations Development Programme´s (UNDP) early projections have predicted that more than 30% of the population could live below the poverty line, and 54% could be at high risk of falling into poverty. One of the consequences of the war is an energy crisis, and now, according to Moldova´s President, energy bills consume more than 70% of households' income. Russian Federation could quickly put pressure on Moldova because of its dependence on gas. They cut supply to Moldova by half last year, and protests caused by increasing prices of energy started last autumn. This could lead to the destabilisation of the country.
A few days before these protests, the Moldovan President warned that Russia was planning to send military-trained saboteurs into the country, disguised as civilians, to undermine her pro-Western Government. On the other hand, Russian opinion is that this accusation should just distract Moldavians' attention from the Government´s social and economic failures. Border security services in Moldova denied entry to the country of 57 citizens of nations friendly to Russia (for example, several boxers from Montenegro or football fans from Serbia). Moldova's airspace was even closed for several hours last week. President Sandu has called for tougher security laws to be passed by the Parliament.
Moldovan society is already widely split, and Russian forces (from inside and outside) worsen the situation. Some of the members of the Sor party have confirmed that they would welcome Russian intervention. Similar opinions are heard in front of Parliament in Chisinau nowadays.
Sources:
BBC, "Moldova wary of protests fanned by pro-Russian party", https://www.bbc.com/news/world-europe-64700590
News360, "Moldova's Government calls for outlawing the opposition party Sor", https://www.news360.es/australia/2022/11/08/moldovas-government-calls-for-outlawing-the-opposition-party-sor-4/
TVP World, "Anti-govt protests in Moldova as President speaks to world leaders in Munich", https://tvpworld.com/66434581/anti-govt-protests-in-moldova-as-president-speaks-to-world-leaders-in-munich
UNDP, "UNDP scales up support in Moldova as early projections suggest thousands could be pushed into poverty by a protracted war", https://www.undp.org/moldova/press-releases/undp-scales-support-moldova-early-projections-suggest-thousands-could-be-pushed-poverty-protracted-war
Moldovan PM resigns along with her Government
After 18 months in the function, the Moldovan Government has resigned, and the Prime Minister has stepped down. Natalia Gavrilita became the Prime Minister of Moldova in August 2021 when President Maia Sandu's Party of Action and Solidarity (PAS) won the parliamentary election. She was finance minister from June 2019 till November 2019, when Sandu functioned as the Prime Minister.
The Government collapsed on February 10, 2023, just a few days after Gavrilita left Brussels to take stock of Moldova's EU membership prospects. She also met with European Council President Charles Michel and European Commission President Ursula von der Leyen. Moldova was granted EU candidate status in June 2022, jointly with Ukraine.
The Moldovan Government in Chișinău has experienced severe pressure from Russia. The country shares a 1.222 km border with Ukraine and has suffered greatly from the fallout of Russia's invasion. Russia has sought to undermine the pro-European Government's authority. Gavrilita articulated her worries about Russia's efforts to destabilise her Government. "Moldova is a collateral victim of the war in Ukraine and has faced multiple crises, overlapping crises since the onset of the war," Gavrilita said, speaking to EURACTIV ahead of the meetings in Brussels.
"We saw the anti-government protests, bomb threats, cybersecurity attacks, and we think that this is part of a greater effort of various groups that want to prevent the European integration of Moldova and to thwart the government from this path," she told EURACTIV in Brussels. The influx of Ukrainian refugees and power cuts add to the security problems Moldova faces today.
According to Ukrainian intelligence, Ukraine's President Volodymyr Zelenskyy declared that Russia had a plan to "destroy" Moldova.
"These documents show who, when and how Russia is going to break the democracy of Moldova and establish control," he told EU leaders at a summit in Brussels. "I immediately warned Moldova about these threats," Zelenskyy added. Afterwards, Moldovan intelligence services confirmed they had also identified "subversive activities" aiming at "undermining the state of the Republic of Moldova, destabilising and violating public order."