Strategic Analysis Balkan Brief
Bi-weekly review (01.12. – 14.12.2022)
Petra Bošková, Ivan Iliev, Adam Németh, Natália Lešňovská, Lýdia Chobotová, Sára Gregová, Laura Ďorďová, Tibor Čech, Chiara Mihalčatinová, Adam Šiko, Lenka Semančíková, Marianna Dobisová
Albania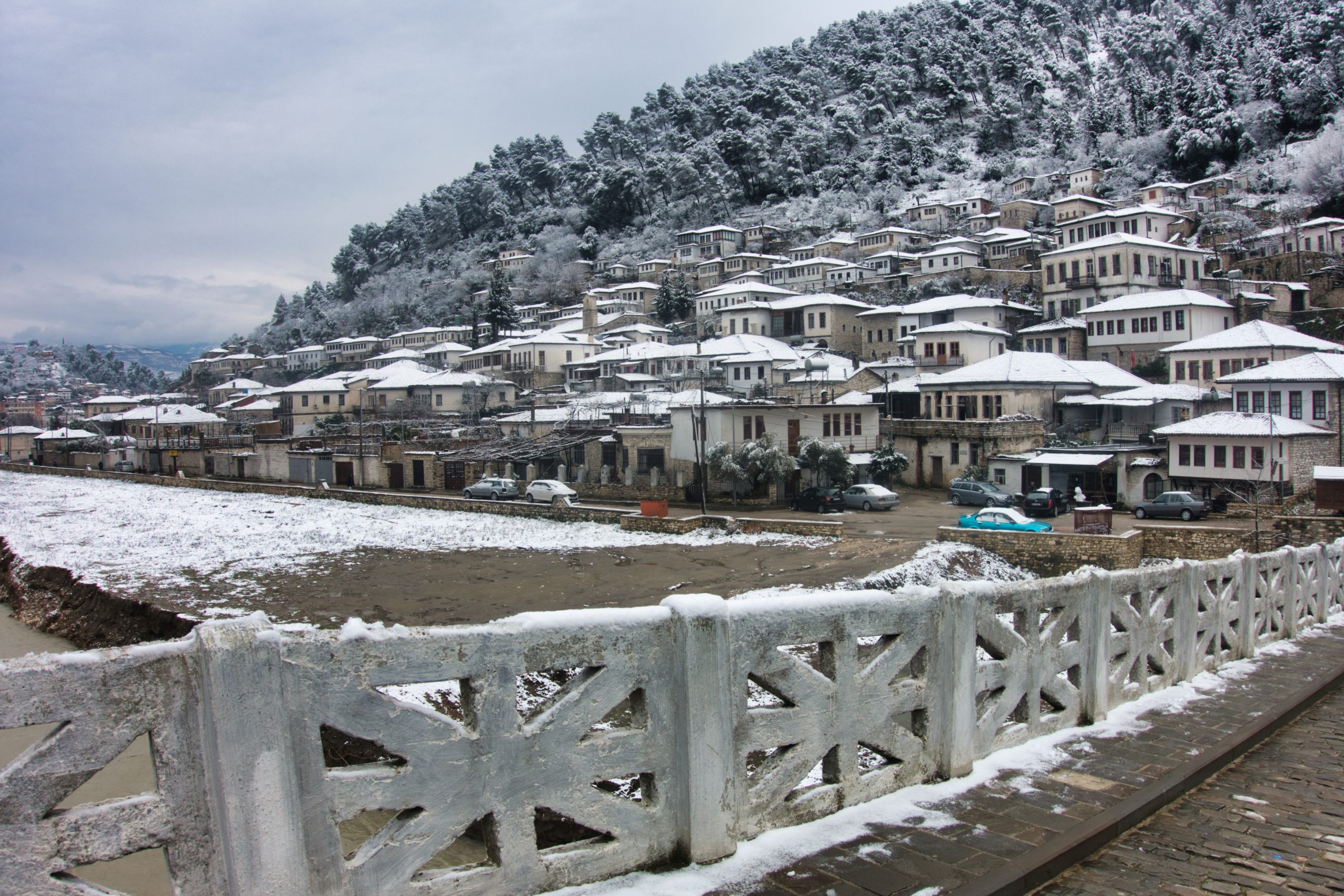 Berat, Albania. Photo: Christian Brandt. /Shutterstock.com
Albania as the first Western Balkans country to host the EU-Western Balkans Summit
December 6, 2022, was a historic day, according to the President of the European Council, Charles Michel. For the first time, the European Union and Western Balkans Summit were held on Western Balkans soil in Tirana, Albania. The Summit was part of executing the European Council's Strategic Agenda for 2019 to 2024. The leaders of the six Balkan countries: Albania, Bosnia and Herzegovina, Kosovo, Montenegro, North Macedonia and Serbia negotiated with the EU about four key topics – Russian aggression against Ukraine; increased political engagement; intensifying security and resilience against foreign threats; as well as migration and terrorism. 
The parties discussed the Russian war in Ukraine within the energy security framework. The EU offered specific support for vulnerable families and small and medium-sized enterprises. Reflecting the European Union's diversification strategy, it wants to help accelerate the energy transition of the Western Balkans by opening up standard purchases of gas, LNG and hydrogen.
The talks resumed with the commitment to intensifying and expanding the policy cooperation and integration in the EU's internal market, free movement and recognition of IDs, mutual recognition of university diplomas and the payments systems. The unification of Western Balkans with the EU will be vital for their accession and integration. Furthermore, there was a final agreement between the telecom operators signed during the Summit. The deal will significantly reduce roaming costs between the Western Balkans and the EU, starting as of October 1, 2023. 
Intensified security against foreign threats is crucial in Russia's war on Ukraine. Both regions want to strengthen defense cooperation, build resilience and strategic communication and enhance their collective cyber security.  
As the migration flows substantially increased over the past years, the final discussed point of the Summit was migration management and the EU visa policy. The EU is prepared for considerable investment into the Western Balkans to enhance the asylum policies and reception systems, strengthen border protection, and fight against organized crime groups and smuggling networks. The talks also mentioned strengthening cooperation on counter-terrorism and discussed the preventive measures against radicalization.   
The EU-Western Balkans Summit was concluded with the signing of the Tirana Declaration, reaffirming the welcoming and unified position of the EU towards the integration of the Western Balkans. As Charles Michel puts it: "I deeply believe that the future of our children will be safer and more prosperous with the Western Balkans inside the European Union."
Albanian migration to the UK 
On December 7, the statement released by The Home Affairs Committee of the UK Parliament explained that the Committee is working on the possibility that the Albanians are exploiting the Modern Slavery Act, a 2015 UK law aimed at helping victims of human trafficking. In addition, there has been a massive illegal migration to Great Britain in the previous months. This problem has not been solved and has created enormous tension for the current Prime Minister of Great Britain, Rishi Sunak. 
United Kingdom's Prime Minister Rishi Sunak is now trying to solve this problem and is saying that everybody who arrived illegally in the country will be returned. Later, there have been talks between the PM of the UK and Albania. As a result, they signed a new deal that will include border force staff in Tirana. At the same time, Albanian Prime Minister Edi Rama was angered by the British government's focus on Albanian migrants. He said that the UK should stop discriminating against people from his country to excuse its migration policy failures. 
Economic issues cause migration in Albania, which can lead to an obligation to ask for loans from organised crime groups. That goes with the Albanian government's failure to deal with domestic violence and organised crime groups. It is estimated that of 44.000 illegal migrants this year that came to the UK, around 35% of them were from Albania. However, it is unknown whether these are Albanians living in Albania or already living in other EU countries. 
Croatia
Croatia Parliament debating training Ukrainian soldiers 
The aid and training under the EUMAM, European Union Assistance to Ukraine, which consists mainly of providing ammunition and military equipment – ensuring the delivery of lethal force for defensive and non-lethal equipment, would be executed by Croatian military aid to Ukraine. This topic has naturally stirred a debate that led to disagreement in the Croatian parliament. Prime Minister Andrej Plenković and President of the Republic Zoran Milanović disagreed; Plenković supported the idea, while Milanović opposed it. 
This dispute between the President and Prime Minister had to be negotiated in the parliament to decide on this topic with a two-thirds majority. Some of the MPs currently residing in the opposition stated that the engagement of Croatia in EUMAM conflicts with the Constitution. This action has led to an accusation from the ruling party HDZ, which said that the MPs who noted that this action conflicts with the Constitution are siding with Russia. 
Croatian SDP leader Peđa Grbin disagrees with the reasoning. He says Croatia's Constitution has become a collateral victim of Russia's war in Ukraine. "If we are talking about combat or potential combat, then with all due respect to my colleagues in the HDZ, you are lying to us and asking the Sabor to decide. If this is only about military training and exercises, then you are violating the Constitution because the Sabor does not make that decision," stated Grbin. 
Grbin also said that Dario Zurovec from Focus, Reformists and Independents also believes such a decision would violate procedure and that Croatia would come out as a victim. "This is an ordinary rivalry between the president and prime minister in which Croatia is the victim," he said and added: "A big yes for helping Ukraine, but also a big no if the Constitution is going to be breached." 
If parliament had agreed, the Croatian army would help Ukraine and been a part of the training of Ukrainian soldiers, mainly in Poland and Germany and Croatia. The voting took place on December 16, but it was rejected. Out of 151 MPs, 97 backed the proposal, four fewer than needed, and 10 opposed the proposal, the rest abstained. The two-thirds majority was not reached.
Sources:
EEAS Press Team, European Union EXTERNAL ACTION, "European Union Assistance Mission Ukraine (EUMAM)", https://www.eeas.europa.eu/eeas/european-union-assistance- mission-ukraine-eumam_en
Tesija Vuk, Balkan Insight, "Croatia Parliament Debates Training Ukrainian Soldiers", https://balkaninsight.com/2022/11/30/croatia-parliament-debates-training-ukrainian- soldiers/
Hina, Croatian Parliament, "The parliament debates government's proposal on the training of Ukrainian soldiers in Croatia", https://www.sabor.hr/en/press/news/parliament- debates-governments-proposal-training-ukrainian-soldiers-croatia
Miličić Katja, Glas Hrtvatske (The Voice of Croatia), "Lawmakers debate Government's Ukraine military assistance proposal", https://glashrvatske.hrt.hr/en/politics/lawmakers-debate-government-s-ukraine-military- assistance-proposal-10473147
Kosovo
Emergency talks over car plates were unsuccessful; EU warns of escalation
On December 1, 2022, the EU warned of escalation and violence after Serbia and Kosovo failed to reach an agreement in emergency talks in Brussels to end their long-running dispute over car license plates used by Kosovo's ethnic Serb minority. "After many hours of discussion, the two parties did not agree to a solution today," the EU's chief diplomat Josep Borrell told reporters in Brussels after fruitless talks that lasted more than eight hours.
"Both bear full responsibility for the failure of the talks today and for any escalation of violence that might occur on the ground in the following days," he said. Tensions have risen in recent months between Belgrade and its former province, which declared independence in 2008, threatening to become the most severe crisis between the two sides in recent years.
Kosovo, which is still unrecognized by Serbia and has a majority ethnic Albanian population, wants all citizens, including the 10.000 Kosovo Serb car owners who still have Serbian license plates from before 1999, to switch to Kosovo Republic plates. According to Borrell, the EU made a proposal that could have avoided further escalation, which was accepted by Serbian President Aleksandar Vučić but not by Kosovo Prime Minister Albin Kurti.
The EU's lead foreign affairs spokesperson Peter Stano told reporters that "any claims that the EU is giving up on its proposal on normalisation of relations between Kosovo and Serbia, which is supported by Germany, France, and the US, are untrue". The EU side, he added, expects both sides "to avoid escalation, which requires immediate action from both Parties – Kosovo not to start issuing fines and Serbia not issue new KM plates anymore".
"I made it very clear to both leaders that if the EU accession is their ultimate objective, one to which they have both committed, we expect them to act accordingly with that. From my side, I will keep the dialogue very high on my agenda," he added.
Sources:
Brzozowski Alexandra, Euractiv, "EU warns of escalation as Serbia, Kosovo emergency talks over car plates dispute fail.", https://www.euractiv.com/section/enlargement/news/eu-warns-of-escalation-as-serbia-kosovo-emergency-talks-over-car-plates-dispute-fail/
Bosnia and Herzegovina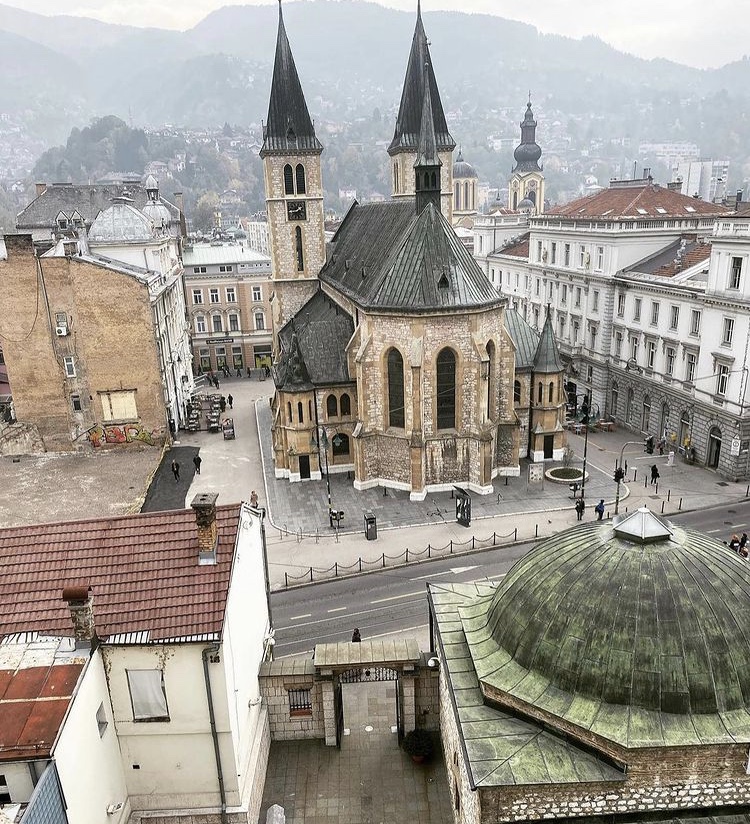 Sarajevo, Bosnia and Herzegovina
Bosnia and Herzegovina on its path toward EU candidate status 
 On December 13, the EU General Affairs Council approved the proposal to grant EU candidate status to Bosnia and Herzegovina, following the recommendation from the European Commission given this October. The decision of the EU General Affairs Council was confirmed by all of the 27 leaders in the European Council.
EU realises the region's strategic importance in the current geopolitical context. As a result, it underlines the urgency for Bosnia and Herzegovina to move closer to the EU. Bosnia and Herzegovina has been a potential candidate for EU membership since 2003, and it started its path toward European integration in 2016 when it formally applied for membership. 
However, the decision to grant the candidate status does not imply an immediate start of the negotiation process. Instead, it is a symbolic gesture encouraging Bosnia and Herzegovina to continue toward European integration. Foreign Minister of Bosnia and Herzegovina, Bisera Turković, perceives the decision of the EU General Affairs Council positively and claims that candidate status sends a solid signal to the political elites and citizens of Bosnia and Herzegovina that country's efforts in fulfilling requirements are recognised. Turković also added that candidate status could enforce cooperation at the EU-BiH level. 
Nevertheless, granting candidate status to Bosnia and Herzegovina is not without problems. A few EU member states are not entirely convinced of the suitability of BiH for getting candidate status. For example, Germany, France and Netherlands claim that BiH lacks a functioning government in place and that BiH's parliamentary elections need to have a definitive outcome. Furthermore, to start EU accession negotiations, BiH must implement 14 reform priorities in the European Commission's opinion on its EU membership application. These reform priorities focus on democracy, the rule of law, the fight against corruption, fundamental rights and migration management. 
Bosnia and Herzegovina: Uncertainty in gas prices 
Bosnia and Herzegovina's gas contract with Russian monopoly Gazprom expires on January 1 2023. That leaves the country only two weeks to negotiate a new contract, with the gas prices still being determined. The current contract between Bosnia and Herzegovina and the Russian Federation is signed semi-annually, with the last signing occurring on June 1 2022. One of the contract terms is the right to adjust the price every quarter based on possible changes in the price of oil derivatives. The June contract replicated the terms of the previous agreement, and hence the terms of the new contract are expected to remain unchanged. 
However, the whole situation is complicated because both entities, Republika Srpska and the Federation of Bosnia and Herzegovina, entirely depend on gas imports from Russia. Together with Northern Macedonia, it shares the position of the most dependent European country. The gas transits into the country via the Turkish Stream gas pipeline, and its entry point is the Shepak terminal, on the border with Serbia. On the Bosnia and Herzegovina side, two companies – Energoinvest and Gas-res, cover the gas supply. 
Energoinvest, the company that procures gas for the Federation of Bosnia and Herzegovina, recorded a price increase of 9.7% in October 2022. Gas-res, the company responsible for gas supplies in the Republika Srpska, experienced a price change of 5.04%. Both companies expect a slight increase in January, with Gas-res saying it even sees the possibility of cheaper gas. The assumption is based on stabilising oil prices in the energy market. However, energy analyst, Almir Bečarević, accentuates the case of a sharp increase if the Russian Federation decides not to use the current calculation formula but to adjust the gas price to the prices on the stock exchange.
Bosnia and Herzegovina has no natural gas reserves and will not achieve diversification of resources until 2024 when construction of the South Interconnection pipeline begins. Thus, if a sharp increase in prices, Bosnia cannot afford to withdraw from the contract, as this could lead to a blockage of gas supplies and a reduction in the country's economic performance. 
Sources:
 Katić Goran, Radio Slobodna Evropa, ,,Uvoznici gasa u BiH čekaju nove ugovore sa Rusima", https://www-slobodnaevropa-org.translate.goog/a/uvoznici-gas-bih-ugovori-rusija/32166141.html?_x_tr_sl=auto&_x_tr_tl=sk&_x_tr_hl=sk&_x_tr_pto=wapp
 Statista, ,,Share of gas supply from Russia in Europe in 2021, by selected country", https://www.statista.com/statistics/1201743/russian-gas-dependence-in-europe-by-country/
 Sarajevo Times, ,,Gas Suppliers in BiH are waiting for new Contracts with the Russians",https://sarajevotimes.com/gas-suppliers-in-bih-are-waiting-for-new-contracts-with-the-russians/
Montenegro
Montenegro Might Keep on Issuing 'Golden Passports' Despite EU Criticism
In some countries, one of the ways to obtain citizenship is through the so-called economic citizenship programs. These programs allow investors to become citizens of a given country in turn for investing in it. Such schemes are considered to be controversial by many, as they can contribute to increasing inequalities, and the process often lacks transparency. On the other hand, it is believed that they can have a significant economic impact, especially on small countries.
Montenegro has had its economic citizenship strategy since 2019, colloquially known as 'golden passports'. The main condition for potential investors is to invest either 450,000€ in the north or 250,000€ in the south. Although the limit of 2000 citizenships a year was set, few people have applied for it, and only a fraction of the applications have been granted. Since 2019, 108 foreigners, mostly from Russia and China, have been granted Montenegrin citizenship. The European Commission voiced its reservations to Montenegro as it finds these schemes rather problematic. The bloc argues that 'golden passports' go against its principles, although there are the notoriously known cases of Cyprus and Malta offering citizenship in return for an investment.
Montenegro is not an outlier in this regard in the region either, with North Macedonia having a similar program, while Albania is about to introduce one. The EU shows consistency in its position on the matter, with its recent criticism of Albania in which it stated that "such schemes pose risks as regards security, money laundering, tax evasion, terrorist financing, corruption and infiltration by organised crime". Keeping this program running could be a problem for Montenegro as an aspiring EU member. However, despite the plans to terminate the program originally at the end of 2021, the government prolonged it by one year.
Recently, in December 2022, Finance Minister Damjanović announced that Montenegro will not phase out the scheme this year either as it brings necessary economic development. This goes against multiple statements by Prime Minister Abazović from earlier this year in which he reassured the EU that the program will end this year. As the discrepancy between the statements of the Prime Minister and the Finance Minister shows, the future of 'golden passports' in Montenegro is unclear, and so is the speed of Montenegro on its path to EU membership.
North Macedonia
The upcoming chairmanship of North Macedonia in OSCE
On December 1 and 2, a ministerial meeting of OSCE Member States was held in the Polish city Łódź. It was the last meeting before North Macedonia took over the OSCE Chairmanship from Poland for the year 2023. In Łódź, North Macedonia was represented by the Minister of Foreign Affairs, Bujar Osmani.
During the meeting, Osmani made a speech. In his remarks, he focused mainly on current security and political challenges. As the meeting also focused on the main goals and ambitions of North Macedonia during its presidency, Osmani highlighted, among other things, the country's readiness to face the current demanding international and security situation caused mainly by the Russian aggression in Ukraine. He affirmed that North Macedonia would continue to prioritise Ukraine and support its territorial integrity and sovereignty during the chairmanship. This way, the country has again reaffirmed its clear foreign policy position. Another vital ambition of the countries' chairmanship will be to develop relations with Asian countries further and to coordinate joint action with these partners to face common problems.
North Macedonia's ambition is also to cooperate with the other OSCE Member States and to consider their recommendations, if any. Also, with this objective in mind, Osmani had two important bilateral meetings in Łódź. One took place with the Minister of Foreign Affairs of Ukraine, Dmitry Kuleba, which was primarily concerned with the current situation in Ukraine. Osmani's second important meeting was with Victoria Nuland, Deputy, Under Secretary of State for Political Affairs of the United States. Based on this meeting, Osmani announced close cooperation with the United States during the OSCE chairmanship.
Serbia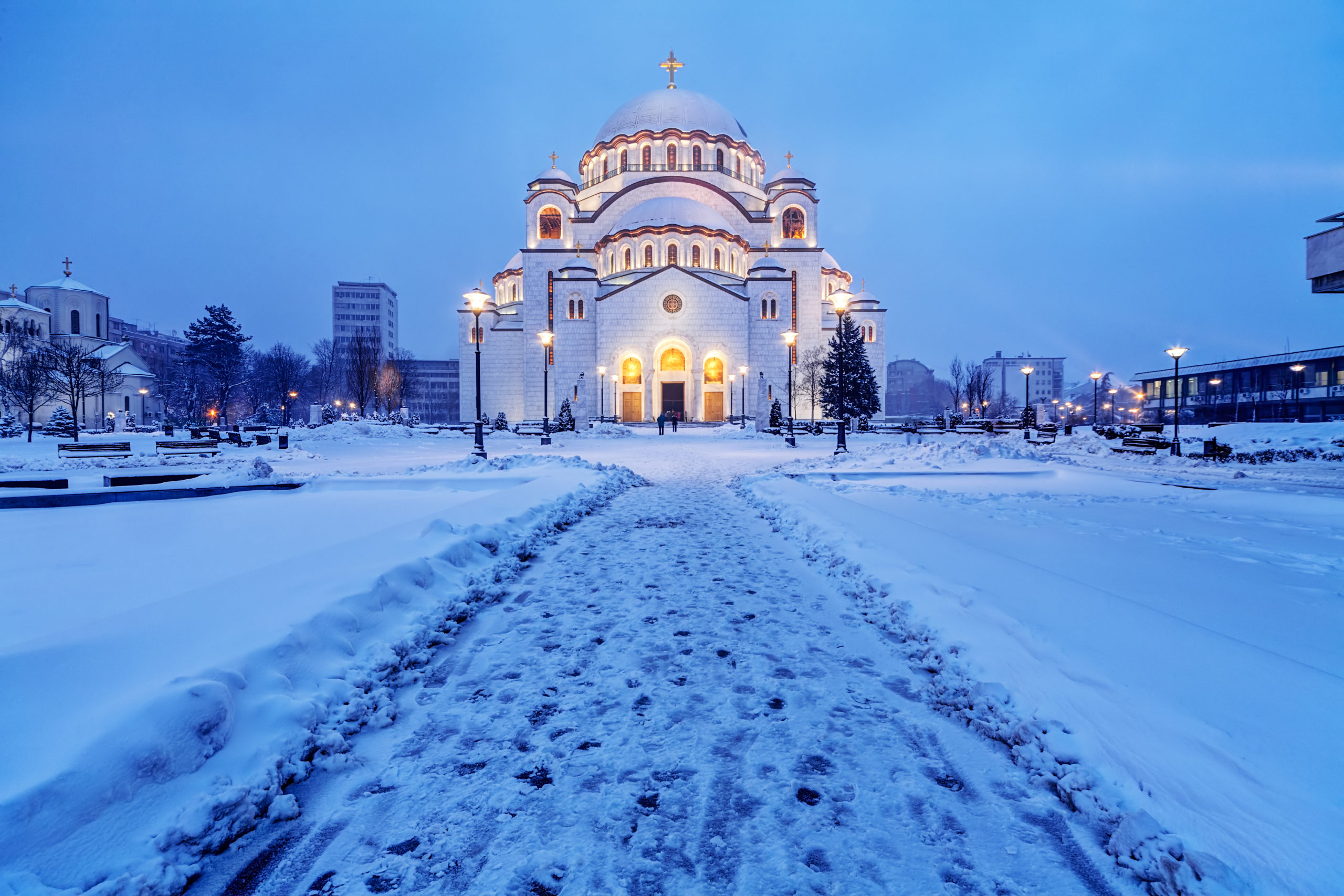 Saint Sava Temple in winter, Belgrade Serbia. Photo: Vladimir Nenezic/ Shutterstock.com
Serbia – "Darkness in Serbia without free media"
On December 6, two private Serbian TV stations, N1 Srbija and Nova S, stopped broadcasting their regular programme for 24 hours and displayed a black background with the message "Darkness in Serbia without free media". The same notice was posted on their social media. 
The move demonstrated poor media freedom in Serbia since both stations did not receive a broadcasting license for 2023 from the national regulator earlier this year. Furthermore, the stations accused the regulatory body of being under the influence of political parties in power, as both N1 and Nova S frequently criticise President Vučić and the Serbian government and allegedly have close ties with the opposition parties. As a result, the broadcasting licences were only awarded to four pro-government TV stations – Happy, Prva, B92 and Pink. In a statement issued on the same day, N1 furthermore stated, "in this way, we highlighted years of pressure we've had to put up with, as well as attempts to curb our visibility and cut our financing."
Several opposition Members of Parliament showed their support by holding up a sign with the same message displayed by the TV stations during a Parliament session. Moreover, MP Stefan Jovanović handed in a document to the Committee on culture and media of the Council of Europe, in which he expressed that Vučić's government represses media freedom and threatens journalists by labelling them as enemies and traitors. Vučić briefly commented on the TV stations' protest, claiming, "if they say they have a problem with the freedom of expression and cannot speak freely, then it's a problem for their owner who is not allowing them to do so."
Serbia has been criticised long-term for the government's involvement in media control and lacks of support for independent media. According to the 2022 World Press Freedom Index, Serbia is ranked 79th out of 180 countries for its media freedom. 
Sources:
Dragojlo Sasa & Jeremić Ivana, Balkan Insight, "Serbian TV Stations Halt Broadcasts, Claiming Media Freedom Stifled", https://balkaninsight.com/2022/12/06/serbian-tv-stations-halt-broadcasts-claiming-media-freedom-stifled/
Radosavljević Zoran, EURACTIV, "Two private Serbian TVs go off air to protest poor media freedom", https://www.euractiv.com/section/politics/news/two-private-serbian-tvs-go-off-air-to-protest-poor-media-freedom/
Will Serbia deploy police forces and military to Kosovo?
On December 10, 2022, Serbia requested to deploy a thousand of its police forces and soldiers to the north of Kosovo to protect Serbian communities and monasteries first time since the 1999 war. President Vučić refers to the fact that Serbia has the right to send its forces based on the UN Security Council Resolution no. 1244 from 1999. The resolution says Serbia can deploy up to 1,000 military, police, and customs officials to Orthodox Christian religious sites, areas with Serb majorities, and border crossings if KFOR's commander approves such a deployment. Serbia sought NATO approval, but the NATO international KFOR force with almost four thousand members refused it. 
Vučić's remarks came after incidents between Kosovo authorities and local Serbs, who constitute a majority in northern Albanian-majority Kosovo. Everything started with the refusal to exchange Serbian KS license plates for the Kosovo RKS (Republic of Kosovo) ones ordered by the central government in Prishtina. Because of this rejection, barricades are being built in the north of Kosovo and shooting is heard. 
Tensions also rose after the announcement of new elections for mayors in four Serb-majority municipalities in northern Kosovo scheduled for December 18 after the incumbent mayors resigned. In the meantime, the planned elections were postponed by April 23, 2023, by the Kosovo administration. A group of Serbs attacked several election commission offices in northern Kosovo on December 6 to disrupt the upcoming vote. One of the perpetrators was former Serbian policeman Dejan Pantić, who was arrested by the Kosovo police. They accused him of terrorism and violation of the country's constitutional order. Serbs expressed dissatisfaction and started protesting. 
Kosovo Prime Minister Albin Kurti said that the deployment of police military forces by Serbia would be "an act of aggression" and an indication of "Serbia's tendencies to destabilise the region".