Strategic Analysis Balkan Brief
Second half of February 2023
Petra Bošková, Viktória Širocká, Natália Lešňovská, Adam Németh, Adam Šiko, Sára Gregová, Marianna Dobisová, Chiara Mihalčatinová, Lýdia Chobotová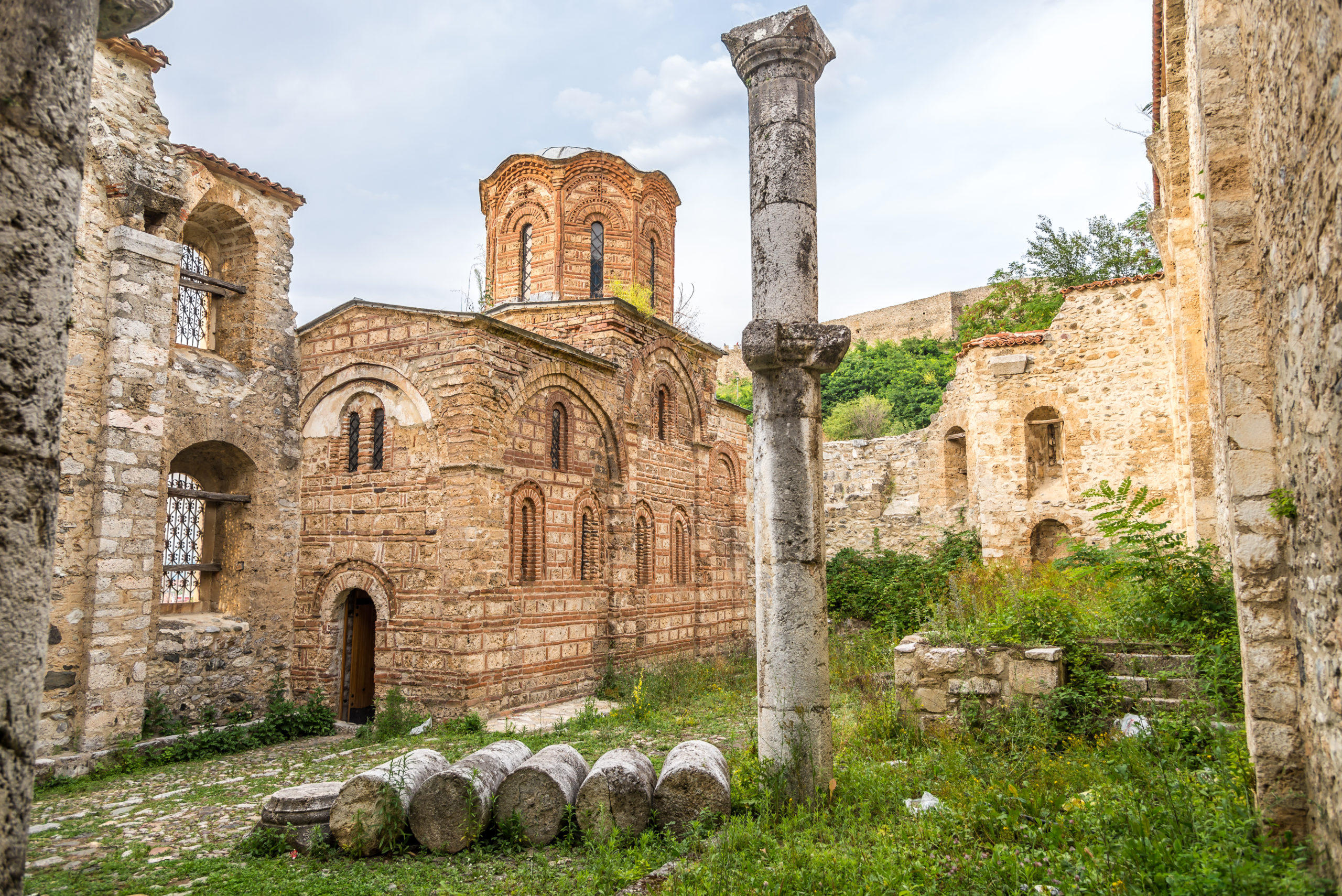 Church of Holy Salvation in Prizren, Kosovo. Photo: Shutterstock.com
Albania
Albanian police seize Liberian vessel smuggling 22,500 tons of suspected Russian oil worth over 40 million EUR
Albanian police intercepted a Liberia-registered ship carrying suspected Russian oil. On February 20, 2023, the police, in conjunction with other law enforcement agencies, halted the Liberia-registered vessel suspected of transporting Russian oil in the coastal town of Durres. The operation resulted in the arrest of the 22-person crew and the seizure of 22,500 tons of oil, with an estimated market value exceeding 40 million EUR.
According to the authorities, the vessel claimed to have obtained the oil from another ship in Kalamata, Greece, after commencing its journey in Azerbaijan. However, Albanian authorities remain unconvinced, suspecting that the oil originated in Russia. Albania has supported sanctions against Russia imposed by the Western and European Union countries in response to Russia's aggression against Ukraine.
This latest incident is not the first attempt to smuggle oil products into Albania, with multiple ships attempting to transport Libyan oil to Albania over the past several years. In September last year, the Albanian Coast Guard detained the Queen Majeda tanker carrying 2,275 tons of oil, which was supplied from Benghazi, Libya, an area not under the control of the internationally recognized government of Libya.
Sources:
Geri Emiri, Balkan Insight, "Albania Seizes Liberia-Registered Ship Carrying Suspected Russian Oil", https://balkaninsight.com/2023/02/20/albania-blocks-liberian-registered-ship-carrying-suspected-russian-oil/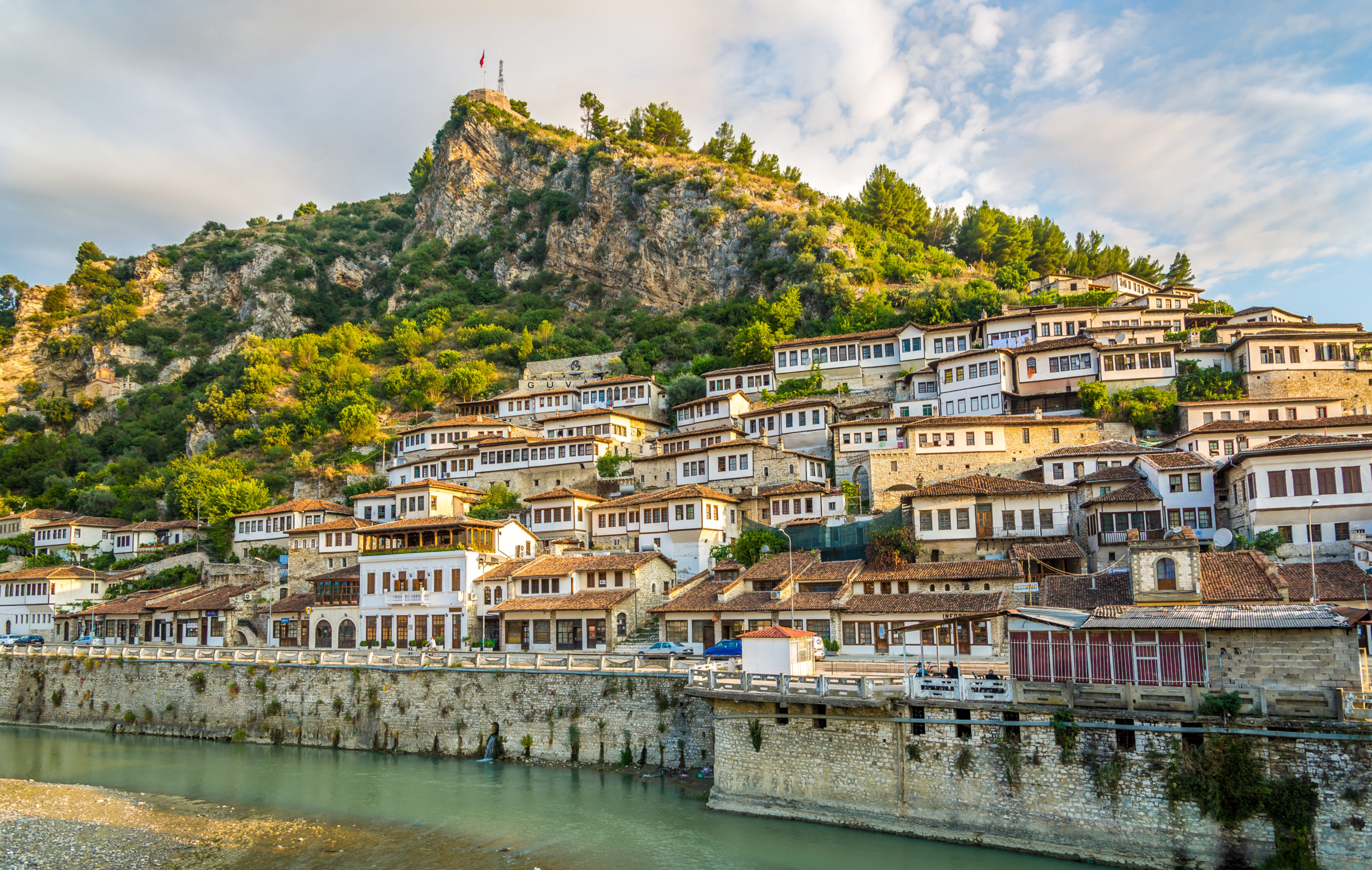 View at Old City of Berat, Albania. Photo: Shutterstock.com
Croatia
Croatian Prime Minister's amendments to the Criminal Procedure Code – A threat to free journalism? 
For decades, Croatian journalists have faced many challenges regarding media freedom, such as cuts to the public funding of non-profit media or political pressure. In February, a new threat to Croatian journalism emerged. Prime Minister Andrej Plenkovic aims to change the criminal procedure code and the criminal code in a way that poses limitations to free journalism, according to the assessment of some media experts.
By changing the law, Plenkovic stated that he aims to avoid situations when "things from our files go out in an uncontrolled, deliberate, political, selected and arranged manner and cause political problems…"  The plan to amend a law came after text messages between a member of the ruling Croatian Democratic Union, HDZ, and two former state officials, were published.
Former Minister of Regional Development and EU Funds Gabrijela Zalac and Former State Secretary in the then Ministry of Administration Josipa Rimac exchanged messages in which a person named "AP " was mentioned. "AP " could stand for Prime Minister's own initials. However, the messages did not directly accuse Plenkovic of anything.
Both of them, Zalac and Rimac, are now indicted for corruption and abuse of office. Former Minister Zalac is charged with offences regarding favouring applicants who were expected to pass the state exam to get employment in the state administration. Former State Secretary, Rimac, is charged with alleged irregularities in the allocation of state aid to farmers and grants to businesses and unfair employment.
The Croatian Journalists' Association criticised the amendment of the law as a threat to free journalism. Association perceives it as a violation of the right of journalists to freely report and have free access to information. Association decided to fight against the amendment by informing President's office and the European Commission.
Bosnia and Herzegovina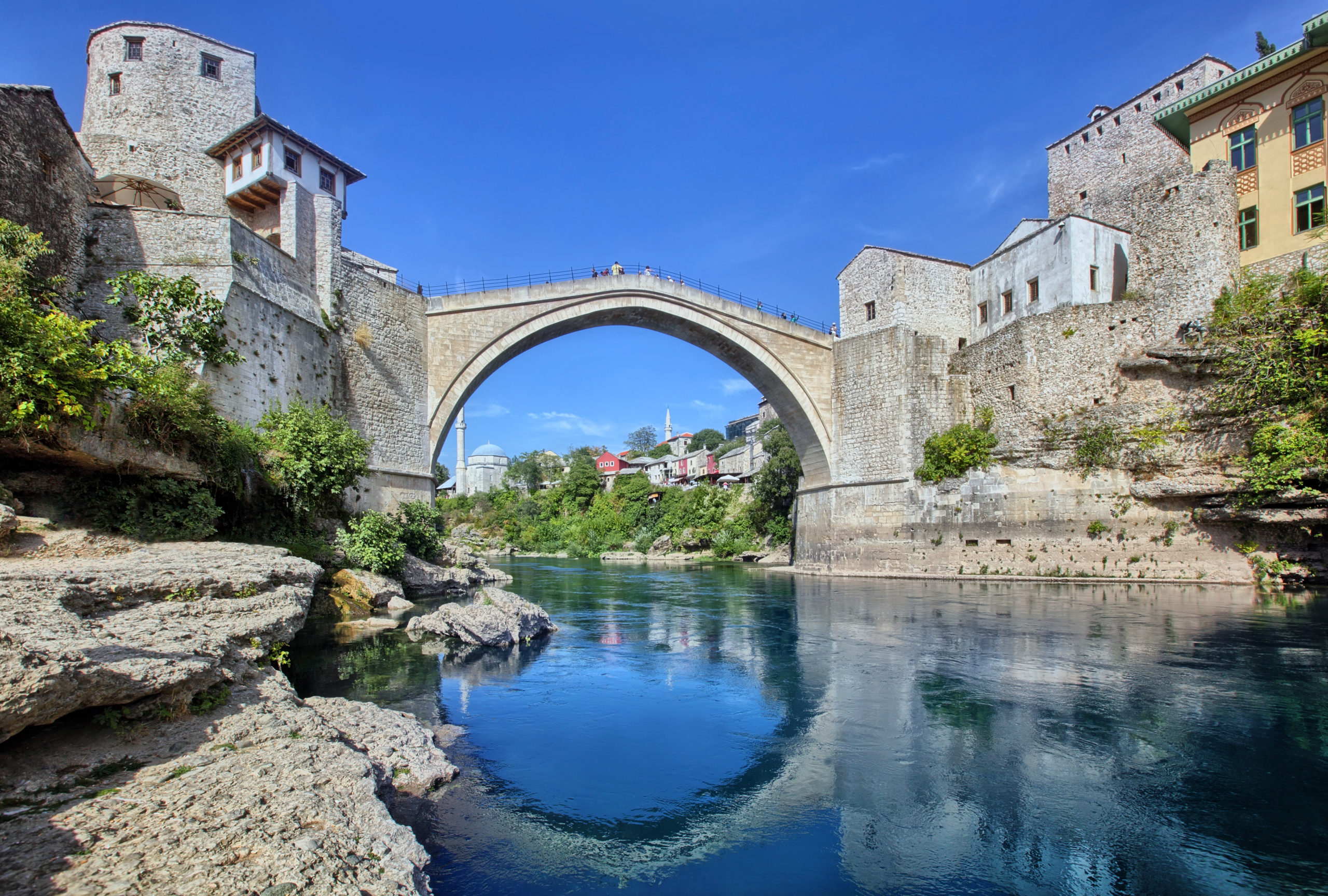 The Old Bridge in Mostar, Bosnia and Herzegovina. Photo: Shutterstock.com
Ex-Fighters from Bosnia's Croat Army Found Guilty of War Crimes in Mostar
Three former members of the Croatian Defense Council who committed crimes against civilians in the Mostar region in 1993, including rape, unlawful detention, and mistreatment of prisoners, received a combined sentence of 16 years in prison.
On February 24, a Bosnia and Herzegovina state court sentenced former Croatian Defence Council, HVO fighter Nedzad Tinjak to 12 years in prison, Jure Kordic to three years, and Drazen Lovric to one year in prison for war crimes against civilians illegally detained and mistreated in Mostar in 1993. Dario Susac, Nuhan Sikalo, Dario Mihalj, Stanko Skobic, Tomislav Ancic, and Slavko Golemac were acquitted of allegations of committing war crimes during the war in the 90s.
Tinjak was found guilty of illegally arresting Bosniak civilians, who were then detained at the Vojno prison camp, as well as treating them inhumanely and raping two women. Kordic was found guilty of illegal arrests and inhumane treatment of detainees at the Vojno prison camp. Lovric was found guilty of illegal arrests. They were acquitted on multiple other counts because the court could not find them guilty beyond a reasonable doubt. According to presiding judge Enida Hadziomerovic, they were acquitted of sexual abuse charges because one witness described what happened differently than what was written in the indictment, and a second witness consistently identified different people as the perpetrators.
Susac, Sikalo, Mihalj, Skobic, Ancic, and Golemac were found not guilty of unlawful detention, torture, inhumane treatment, and rape of civilians at the Vojno detention camp from 1993 to 1994.
The trial began in May 2018. During the proceedings, two defendants, Nedzad Coric and Marinko Sunjic died. This was a first-instance decision that can be appealed.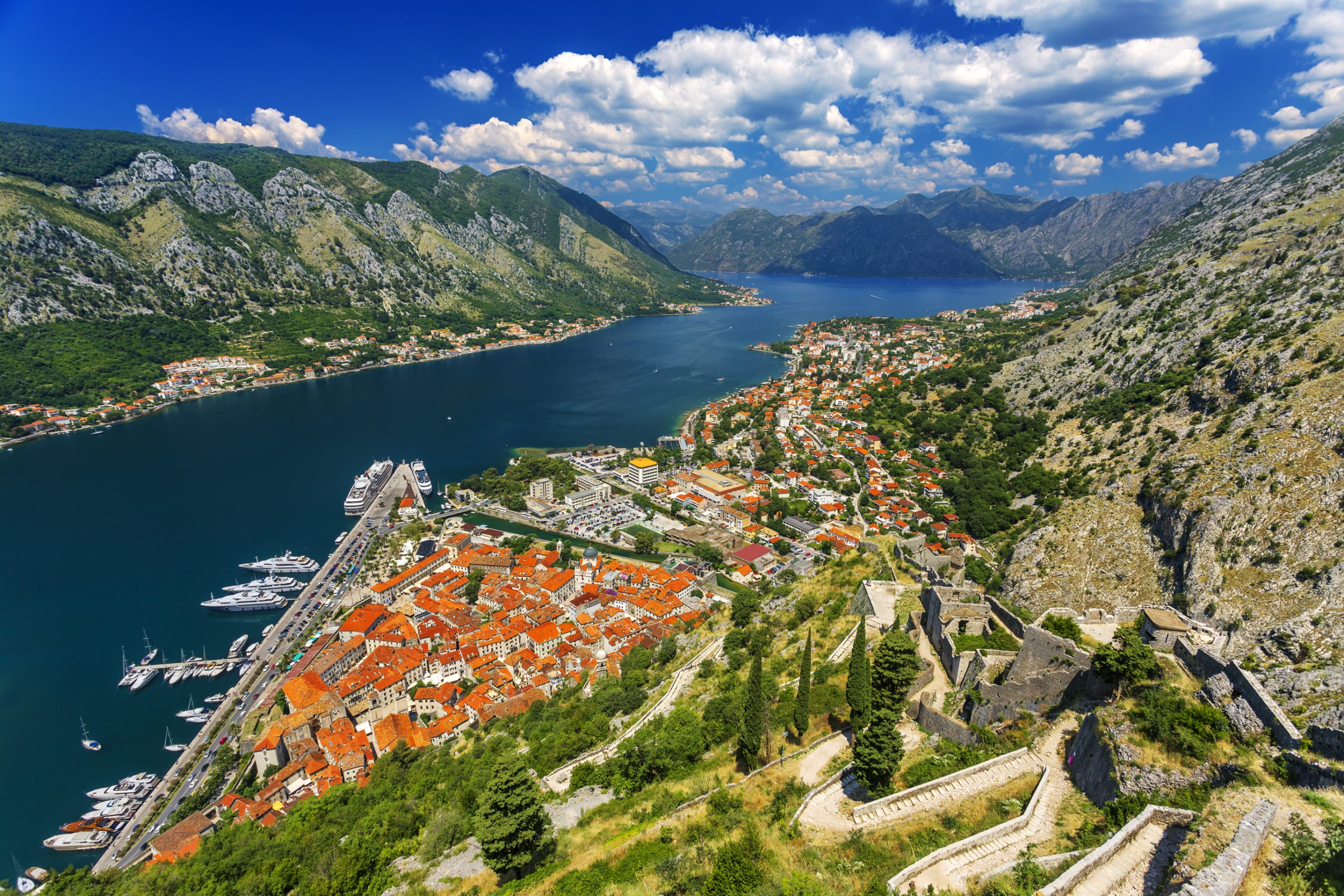 Bay of Kotor, Montenegro. Photo: Shutterstock.com
The BiH Gas Law causing political turmoil 
A proposal for the writing of a gas law was made on February 18 by Denis Bećirović, a member of the BiH Presidency. The main recommendation is the abolition of unconstitutional entity regulators and the installation of a state regulator for natural gas. However, top state authorities immediately criticised the proposal and threatened to block its adoption.
The proposal aims to introduce clear rules in the natural gas sector, develop the market and strengthen competition to align with the current EU energy packages. Its adoption is necessary for Bosnia and Herzegovina to meet EU conditions and to be able to benefit from the EU's energy program for the Western Balkans. However, Željka Cvijanović, the Chairperson of the BiH Presidency, issued a statement expressing her disagreement with it and voiced her support for maintaining the energy sector solely under the jurisdiction of the entities. Likewise, the President of Republika Srpska, Milorad Dodik, rejected any transfer of powers from the entity to the state and, moreover, criticised Bećirović for submitting the recommendation, as the energy sector does not fall within his competencies. The Minister of Foreign Trade and Economic Relations of BiH, Stasa Kosarac, also joined the criticism, considering the adoption of the law as a blatant attack on the constitutional rights of Republika Srpska.
Bećirović himself responded to the criticism by referring to the Constitution: "As the Chairperson knows very well, energy as a whole, and in individual areas, is under the jurisdiction of the state of Bosnia and Herzegovina. This is simply a fact according to the Constitution of BiH…". Therefore, it is evident that the state must be the one regulating the energy industry, but since there is no political agreement on how to do it, the problem remains unresolved.
Sources:
Kosovo-online, ,,Bosnia and Herzegovina could run out of money from projects for the Western Balkans worth one billion euros", https://www.kosovo-online.com/vesti/region/bih-bi-mogla-ostati-bez-novca-od-projekata-za-zapadni-balkan-vrednih-milijardu-evra-22
Sarajevo Times, ,,Dodik: No Regulator for Gas will be formed at the BiH Level", https://sarajevotimes.com/dodik-no-regulator-for-gas-will-be-formed-at-the-bih-level/
Sarajevo Times, ,,Chairperson of BiH Presidency: Energy is the Responsibility of the Entity", https://sarajevotimes.com/chairperson-of-bih-presidency-energy-is-the-responsibility-of-the-entity/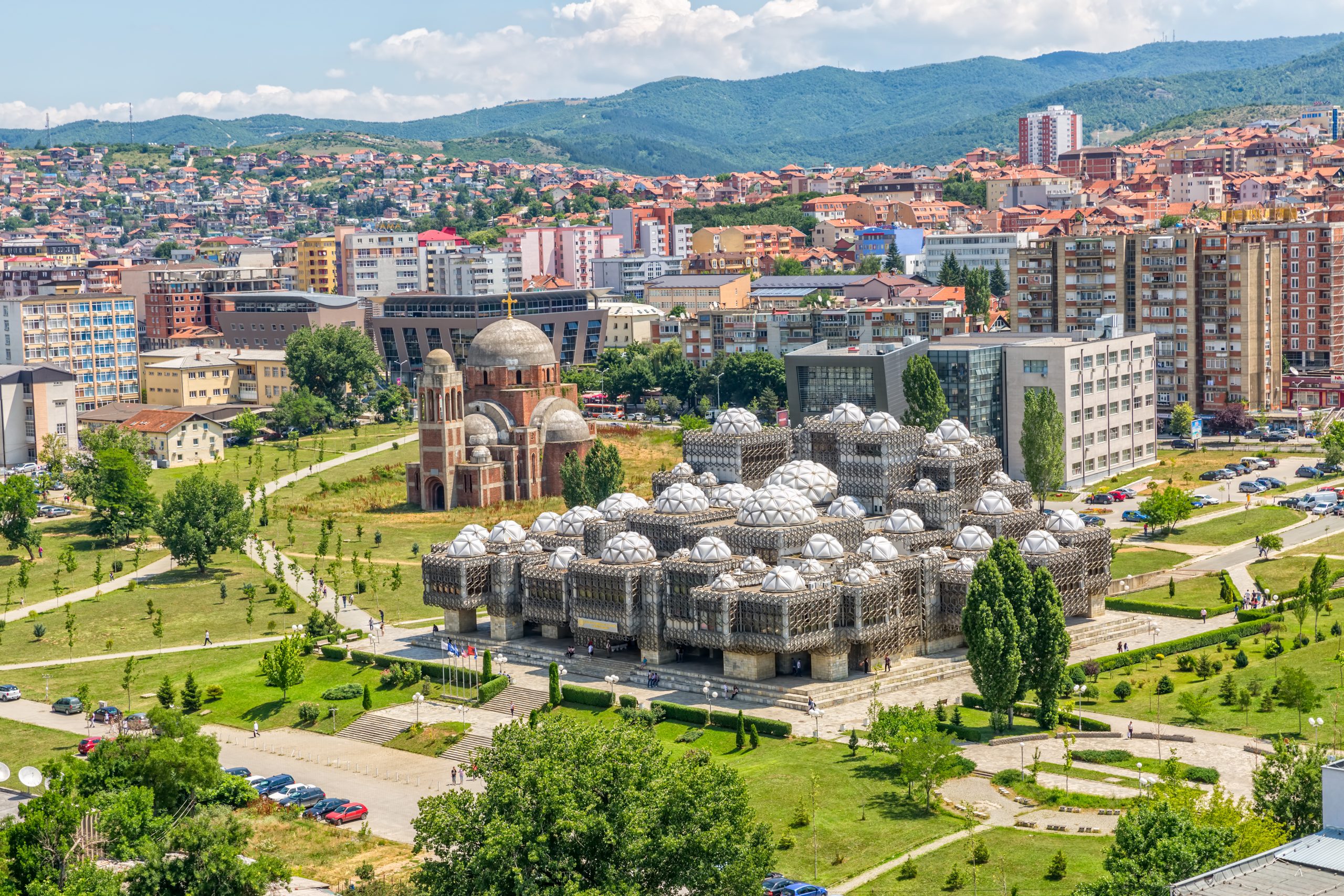 Prishtina, Kosovo. Photo: OPIS/ Shutterstock.com
Montenegro
Montenegrin Boxer Team Banned from Entering Moldova Amid Security Concerns
 On February 14, a boxing team from Budva, Montenegro, was on its way to Moldova for a boxing tournament. After landing at Chisinau Airport, five of its members were not allowed to enter the country. Despite the team arguing that the boxers had received an official invitation to take part in a competition in Chisinau, they were forced to return to Montenegro on the next day without being provided with a further explanation from the Moldovan authorities, after
spending the night in the transit zone with their documents confiscated.
The rejection to enter Moldova was received the same day by certain Serbian football fans who were claiming to be visiting Moldova to see an international football match. However, as it was revealed later, these two events were related to the ongoing security concerns in Moldova.
Sources close to the current pro-Western administration in Moldova confirmed that these groups from Montenegro and Serbia posed a serious threat to state security. Moldovan President Sandu stated on February 13 that some residents of Russia, Belarus, Serbia, and Montenegro had already intended to, and others will still intend to enter Moldova and assist in overthrowing its pro-EU administration in order to replace it with a Russian-controlled puppet regime.
According to President Sandu, pro-Russian opposition protests in Moldova would be used as a cover for a coup attempt by foreign saboteurs with military training who would enter the country as civilians.
This news came after the Moldovan police confirmed that the Russian plans to topple the pro-Western administration in Chisinau, made initially public by Ukrainian President Zelenskyy, were of serious concern and needed to be addressed adequately.
The more detailed findings from the Moldovan intelligence indicate that Russia plans to infiltrate the ongoing anti-government demonstrations with the help of nationals of Belarus, Serbia, and Montenegro.
Unsurprisingly, the allegations of the coup have been rejected as unreasonable by Russia, while Serbia and Montenegro sought explanations from Moldovan officials. Consequently, Montenegrin, Serbian and Moldovan governments agreed on sharing information regarding the potential criminal acts of their citizens.
Kosovo
Kosovo police's raids on drug labs in Serb-dominated North
Kosovo police raided and seized two illegal marijuana laboratories in three locations in the North of the country on February 12. It took place in the Serb-majority area of North Mitrovica, which happened to be the epicenter of tensions and disputes between the ethnic Serbs and Pristina over the last few months.
Kosovo's Interior Minister, Xhelal Svecla, stated that eight drug labs were destroyed in the last 2 years, and three drug labs with sophisticated equipment for narcotics cultivation were found yesterday alone. "Police arrested two Serbs as suspects while all police actions are being undertaken in coordination with justice institutions," police said. Linking the recent attacks against police officers with the findings, Svecla accused the owner of one of the laboratories of being part of gangs that takes orders from organised crime in Serbia, adding that an owner is also a person who attacked the Kosovo police officers in January. "Activities in the northern part of our country are carried out by paramilitaries and drug dealers, protected by President Vucic and Petkovic".
In light of the events, Svecla tweeted that "December's barricades protected the drug dealers, not citizens, serving criminal interests. The era of protection for drug dealers and paramilitaries has ended. Justice will triumph sooner than expected".
The Serbia-backed Kosovo Serb party, Serbian List, is vehemently against the accusations, claiming that Svecla is only trying to make a false connection between the arrests and the attempted murder of Miljan Delevic, who was shot by the police at the checkpoint after he had hit a police car while driving and who is one of the owners, according to Svecla.
Srpska Lista opposes such actions by labelling police officers as criminals in special unit uniforms who, according to them, are illegally present in the North of Kosovo. Moreover, they said that neither the director of the Office for Kosovo nor the Serbian representatives of the party support nor condone any sort of criminal behaviour. They suggested that Svecla tried to come up with an alibi for "constant harassment of the Serbian people" and denied claims about links between criminals and Serbian state officials.
Following Kosovo's independence from Serbia in 2008, after the 1998-1999 Kosovo-Serbia war, most of the Serb population has not accepted Pristina's authority over the country and looked to Belgrade instead.
Sources:
Isufi, Perparim, Balkan Insight, "Kosovo Police Seize Drug Labs in Serb-Run North", https://balkaninsight.com/2023/02/13/kosovo-police-seize-drug-labs-in-serb-run-north/
Taylor Alice, Euractiv, "Kosovo police bust drug labs in Serb-majority north", https://www.euractiv.com/section/politics/news/kosovo-police-bust-drug-labs-in-serb-majority-north/
Kossev, "Three drug labs discovered in North Mitrovica, two Serbs arrested", https://kossev.info/three-drug-labs-discovered-in-north-mitrovica-two-serbs-arrested/
Serbia
Serbia – Right-wing protests against normalizing relations with Kosovo
Around a thousand right-wing and pro-Russian protesters gathered in Belgrade on February 15 to demand that the Serbian government not accept the Western-backed proposition to normalize relations between Kosovo and Serbia. Many protesters held signs reading "Kosovo-No surrender" and chanted "Serbia-Russia" and "treason". Some were seen with symbols of the Russian Wagner group and the letter "Z" for the Russian army. The leader of the far-right People´s Patrol group, which organized the protest, Damjan Knezević, spoke in front of the crowd and stated no one in the ruling party "can call themselves a Serb", as they are betraying Serbia by normalizing relations with Kosovo. Knezević continued: "You (government) are fearing riots. I swear to you, we are ready for more than that," thus suggesting a potential government overthrow and removal of President Vučić if the Serbian government fails to adhere to the protesters´ demands.
The protesters also tried to storm the Presidency building by removing the protective fences around it before the riot police stepped in. Later, the police arrested five men, among which was also Knezević. The arrests were made "on suspicion that they committed the crime of calling for a violent change in the constitutional order". Later, on February 17, supporters of Knezević and the others arrested gathered outside the Palace of Justice in Belgrade and demanded the release of the arrested men.
Serbian President Vučić spoke to the media and declared that all people threatening the constitutional order of Serbia would be held accountable and face Serbian law. However, Vučić avoided calling the protestors "pro-Russian" but rather called them "anti-Serbian". This shows Vučić´s balancing act between Serbian ties with Russia and Serbian EU accession talks.
Sources:
Sasa Dragojlo, Balkan Insight, "Serbian Rightists Demand Release of Activists Facing Coup Charges", https://balkaninsight.com/2023/02/17/serbian-rightists-demand-release-of-activists-facing-coup-charges/
Radio Free Europe, "Riot Police Prevent Right-Wing Demonstrators From Entering Presidency In Belgrade",https://www.rferl.org/a/serbia-right-wing-protesters-kosovo-riot-police-storm-presidency/32273205.html
Reuters, "Serb nationalists pledge riots if Belgrade tries to improve ties with Kosovo", https://www.reuters.com/world/europe/serb-nationalists-pledge-riots-if-belgrade-tries-improve-ties-with-kosovo-2023-02-15/
North Macedonia
False Bomb Threats
Since October 2022, there has been a daily disruption in North Macedonia. This is due to several emails containing false bomb threats sent primarily to institutions in the capital Skopje. Such institutions are, for example, shopping centres, museums, and schools, but also government officials of the country. Most recently, several schools in Skopje and also in Prilep have received such an email. On February 21 2022, the President of North Macedonia, Stevo Pendarovski, received such an email for the first time.
The country has been in chaos for months because of this fear campaign. For example, many schools have been forced to suspend classes for the safety of teachers and pupils. Psychologists agree that further disruptions of classes after the Covid crisis are only putting the country's education system back under strain and putting parents, children, and teachers alike in a stressful situation.
The police are, of course, investigating such false threats, evacuating the buildings, checking them properly, and carrying out all the necessary checks by the anti-terrorist squads. Minister of Internal Affairs Oliver Spasovski described the threats as "hybrid terrorist attacks" originating from abroad. According to Spasovski, the aim of these false threats is only to intimidate the population.
The prime minister, Dimitar Kovachevski, has hinted at a link between the bomb threats and the country's response to the ongoing war in Ukraine. Indeed, North Macedonia has joined the European sanctions imposed on the Russian Federation. The country is also a member of NATO since 2020. According to Kovachevski, bomb threats represent a new form of hybrid warfare that has not been seen on the European continent.
At the same time, the government has taken several measures to improve the general security situation in the country and continues "to improve the security of information systems in institutions".