Strategic Analysis Caucasus Brief
Bi-weekly review (0
9. 04. – 23. 04. 2023

)
Tomáš Baranec
Armenia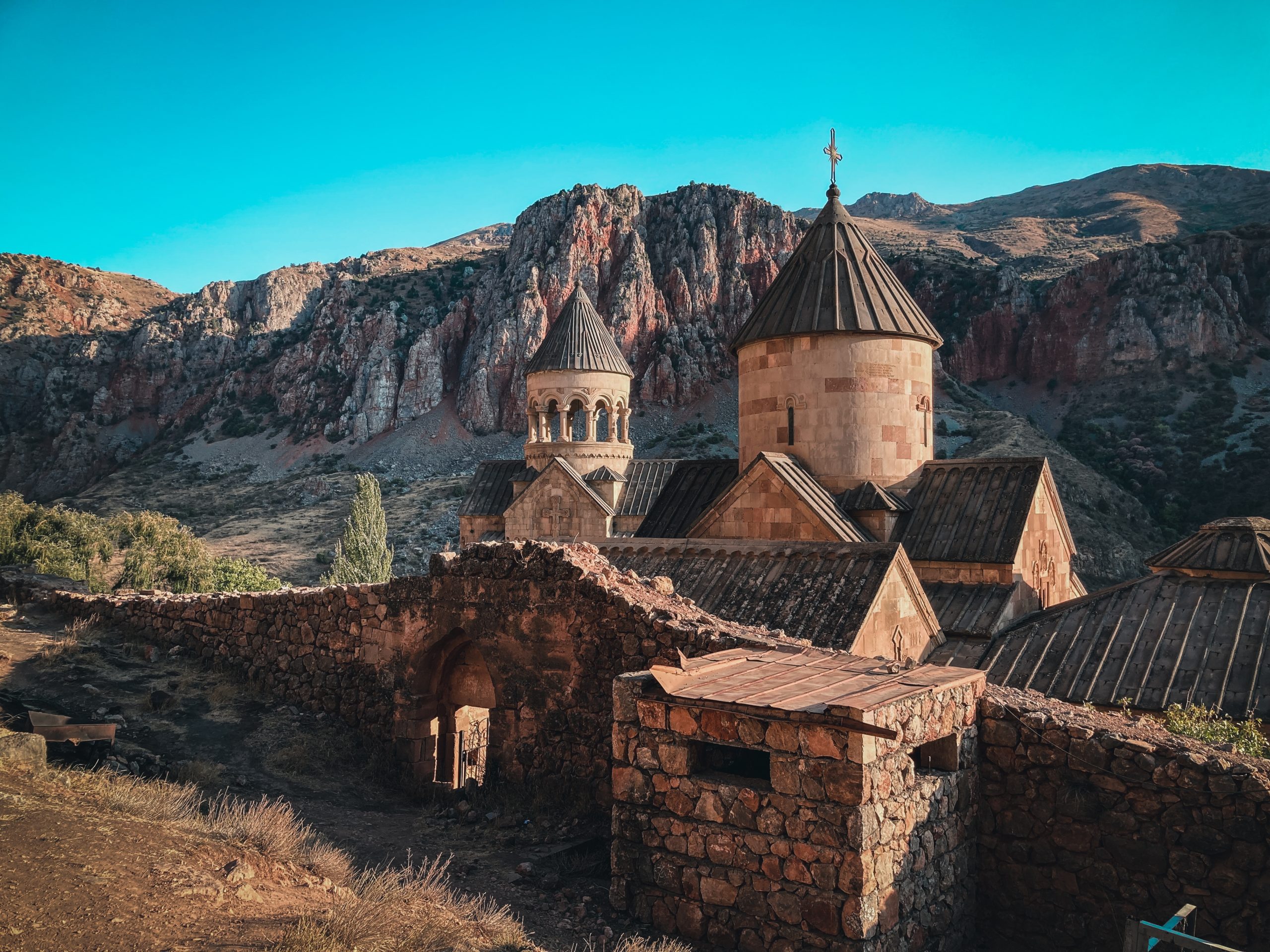 The medieval monastery of Noravank in Armenia. Photo: Shutterstock.com
Two Azerbaijani soldiers detained in Armenia
Azerbaijan's Foreign Ministry announced that two Azerbaijani soldiers, Agshin Babirov (born in 2004) and Huseyn Akhundov (born in 2003), got lost due to poor visibility and poor weather from the border area between Nakhchivan and Armenia "a few days "before April 10".
According to independent Azerbaijani outlet Meydan TV, however, the uncle of one of the soldiers claimed they went missing on April 5. The first soldier, Agshin Babirov, was found and detained on April 10 by residents of the Ashotavan village in Syunik Province. Huseyn Akhundov was found on April 13 near the village of Achanan, around a 90-kilometre walk from Ashotavan and 40 kilometres from the border with Nakhchivan.
Shortly after the second soldier's capture on Thursday morning, two videos spread widely online. The first allegedly showed Akhundov live-streaming from Syunik.
"By God, we have arrived in Armenia", says Akhundov in the video. "We have spilt the blood of Armenians […] If we die, you should know that we are not traitors to the country". Azerbaijani pro-government media claimed the video was old, from before the soldiers became lost.
The second shows the soldier on the ground, tied up and being kicked in the face. Images of the soldier around the time of his detention also showed him with blood and bruises on his face, with some shared on Azerbaijani social media appearing to show his captors holding knives while he lies tied on the ground.
Diplomatic missions in Baku immediately condemned the incident, with the US Embassy in Baku stating that it was "disturbed by a video appearing to depict violence against an Azerbaijani soldier in Armenia" and urging Azerbaijan and Armenia to resolve outstanding issues through peaceful negotiations.
A number of Armenian civil society activists also condemned the soldier's mistreatment. "While it's important to hold those responsible for the infiltration and murder accountable, it's equally important to recognise that violence toward prisoners is never justified. The mistreatment of the captured Azerbaijani soldier by locals must be addressed", Andranik Shirinyan, project coordinator for Freedom House in Armenia, wrote on Twitter.
On April 18, by the decision of the supervising prosecutor, the charges brought against Azerbaijani citizen Huseyn Akhundov were changed and supplemented. He has been charged with the murder of a 57-year-old security guard in the Syunik region, says the statement released by the Prosecutor's Office.
Speaking to RFE/RL's Armenian Service earlier on Tuesday, Narek Ghahramanian, a Kapan-born parliamentarian affiliated with the ruling Civil Contract party, said that Akhundov confessed to the murder. Ghahramanian suggested that investigators were looking for his weapon.
Prime Minister Nikol Pashinian said on April 12 that two Azerbaijani soldiers deserted their army unit in Nakhichevan because of "being subjected to hazing and humiliation by other soldiers."
The Azerbaijani government demanded the immediate release of both servicemen charged with illegally crossing into Armenia. It did not immediately react to the murder charge brought against Akhundov.
Sargis Khandanian, the chairman of the Armenian parliament committee on foreign relations, indicated that given the accusations levelled against them, Yerevan does not intend to swap Akhundov and Bebirov for any of at least 33 Armenian soldiers who were taken prisoner during or after the 2020 Karabakh war and remain in Azerbaijani captivity. "Armenia is not planning to make any concessions on this matter," Khandanian told reporters.
Sources:
AGHAYEV Ismi, AVETISYAN Ani, OC Media, "Second Azerbaijani soldier captured in Armenia", https://oc-media.org/second-azerbaijani-soldier-captured-in-armenia/
STEPANIAN Ruzanna, Azatutyun.am, "Azeri Soldier Accused Of Murder In Armenia", https://www.azatutyun.am/a/32369257.html
News.am, "Azerbaijani serviceman killed a guard in Syunik, he has been indicted", https://news.am/eng/news/755493.html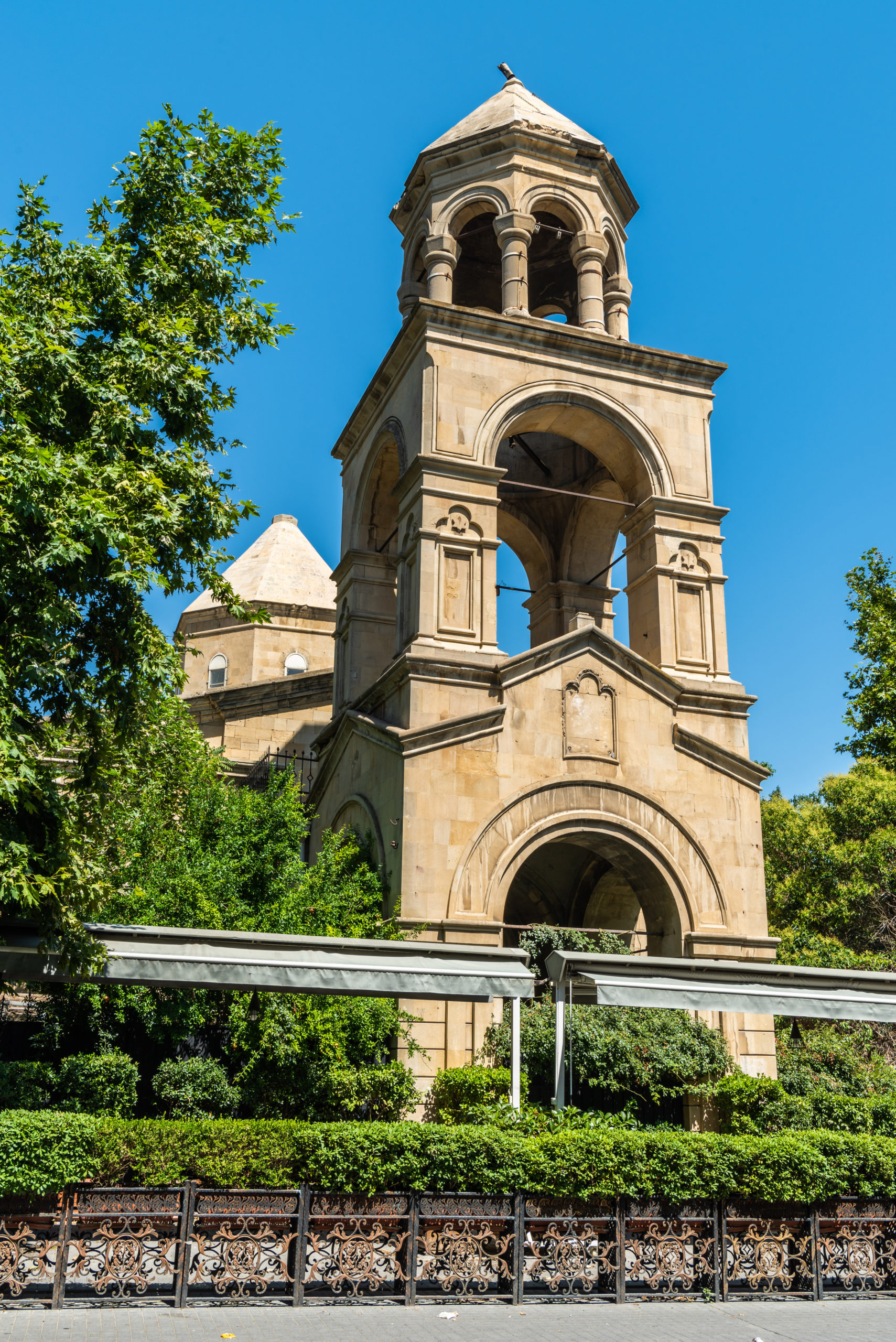 Baku, Azerbaijan. Photo: Shutterstock.com
Human rights activists report hundreds of detained religious Shias
According to the local media and rights activists, the Azerbaijani authorities have arrested hundreds of religious Shias in recent weeks. While pro-government media have reported on only a few of those cases, they have labelled a number of the detainees as spies working for Iran, despite the lack of evidence reflected in the charges filed against them.
As pressklub.az writes, the arrests have accelerated since the gun attack on Azerbaijani MP in late March, which Baku has suggested was Iran's doing. On April 6, Azerbaijan's law enforcement bodies released a joint statement saying that they carried out "joint special complex operational measures" to prevent "criminal acts aimed at destabilising the country that was being orchestrated by a group of people manipulated and financially compensated by the Iranian special services."
The statement named eight people, saying that two ethnic Azeris living in Iran and cooperating with Iranian special services instructed an Azerbaijani citizen living in Azerbaijan's central Tartar district to create a "resistance group" to violently seize power and then "forcefully change the constitutional structure of the Republic of Azerbaijan" to make the country a Shia theocracy.
These eight arrests are the only ones confirmed by the authorities. But media and rights activists have reported the arrests of hundreds. Rufat Safarov, director of the local human rights group Defense Line, says that more than 500 religious Shias have been arrested in recent weeks. "It's true that Iran had a spy network inside Azerbaijan, and our citizens fell into this trap knowingly or unknowingly. In that regard, I stand by the law enforcement bodies who carry out the crackdown," he told Berlin-based news outlet Meydan TV.  "However, I can also presume that there are innocent people among the detainees, who were only practising their religion and perhaps criticised the government's policy regarding religious freedoms."
Nearly all the detainees identified by rights groups as having been religious Shias were, in fact, arrested on drug-related charges. Pro-government media outlets have leapt to declare some of them spies and traitors in the absence of any such official charges.
BBC expose turns up the heat on shadowy Georgian ex-official
On April 12, the BBC published an article titled "On the hunt for the businessmen behind a billion-dollar scam", detailing the results of a year-long journalistic investigation into a global fraudulent trading network that defrauded unwitting customers. The investigation produced a number of names that eventually led to a single figure – David Kezerashvili, the former defence minister of Georgia. 
The report delivered another blow to the reputation of Kezerashvili, who has already been under scrutiny for his alleged meddling in Georgia's opposition party politics. The BBC cited multiple pieces of evidence linking Kezerashvili to groups of businessmen and companies involved in the network, including what is known to police as the "Milton group" and a group predating it.
"Kezerashvili has frequently promoted the scam trading platforms on his personal social media accounts," the BBC said. "Behind the scenes, Kezerashvili appeared to be at the centre of that network." It is not the first time that the former official's name came up in the context of journalistic investigations into alleged call centre fraud. He was mentioned in a 2020 OCCRP report on a Ukrainian call centre involving the Milton Group. 
Kezerashvili responded to the accusations made in the journalistic investigation on his Facebook page, saying that he had "never" had any connection with the issue of so-called call centres described by BBC. "I declare with full responsibility that I have never participated in such schemes." Kezerashvili said he would not ignore the damage caused to him by the published material, especially when "politicised justice is being carried out by the Georgian authorities" against him and Formula TV, which he founded. He also noted that this attack by the ruling party had an organised nature.
Parliament Speaker Shalva Papuashvili said the BBC's investigation strengthened doubts that the money, which ex-defence minister Davit Kezerashvili invests in politics, NGOs and media, was stolen from the army and European pensioners.
"It is regrettable that Europe provides asylum to Kezerashvili. We see him plotting disorder in the country from there. He himself admits he finances political parties, media outlets, non-governmental sector. The person who stole 5 million from the army and then robbed European pensioners through a swindling scam is directly involved in Georgian politics," Papuashvili said.
The Speaker expressed hope that European countries would handle the issue seriously and hand over former defence minister Kezerashvili to Georgia to convict him of the crimes he had committed. As Eurasianet.org reminds, Kezerashvili has already faced scrutiny for allegedly pulling the strings in opposition politics, particularly amid the recent leadership challenge in the United National Movement (UNM), the former ruling party. A group of top party members claimed Kezerashvili's meddling was behind the ousting of now-former chairman Nika Melia.
After the BBC report made the rounds in Georgian media, Melia wrote on Facebook that he had "advised Davit Kezerashvili that staying away from politics would be good both for him and for the future of the country." Other opposition groups have also tried to distance themselves from Kezerashvili and the party in which he allegedly calls the shots.
Kezerashvili, 44, was an early supporter of former President Mikheil Saakashvili's United National Movement. He assumed the role of head of the Financial Police shortly after the party came to power in 2004. In 2006, at the age of 28, he became Georgia's defence minister, a post he held during Georgia's defeat in the August 2008 war with Russia. He quit that post in late 2008 and moved to the business world, with various reports associating his name with oil and transportation businesses, among others. With the change of government in 2012, the ex-minister left the country before being charged with corruption. France and Great Britain have denied Georgia's requests to extradite him. Kezerashvili later announced he was transferring half of his controlling share of TV Formula to the company's "collective" but would continue to finance the channel.