Strategic Analysis Caucasus Brief
Bi-weekly review (
21. 5. – 4. 6. 2023)
Tomáš Baranec
Armenia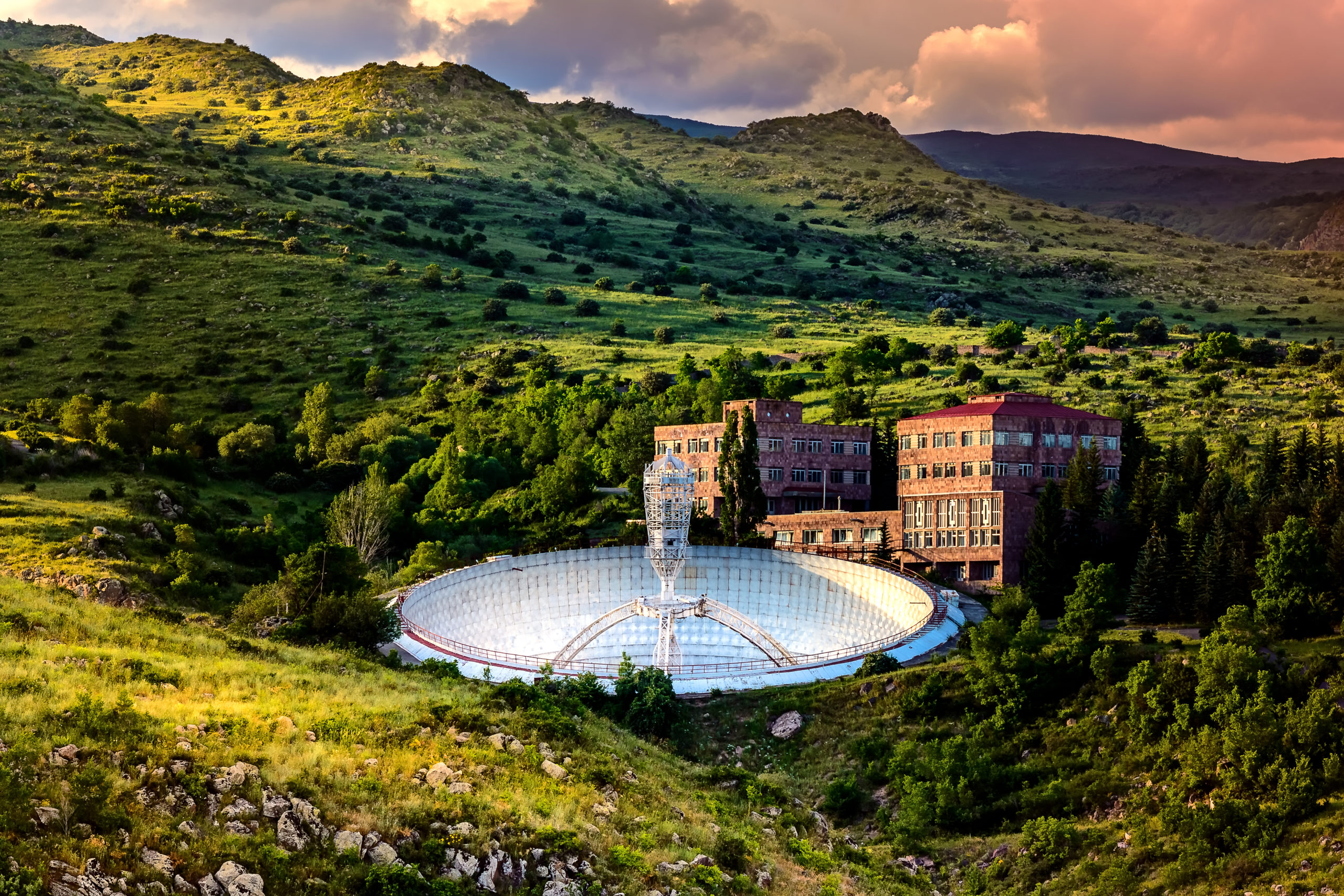 Mirror Telescope, Armenia. Photo: Shutterstock.com
No new agreements after Pashinyan and Aliyev argued in Moscow
On May 25, talks were held in Moscow between the leaders of Armenia and Azerbaijan through the mediation of the President of Russia as a part of the Supreme Eurasian Economic Council (SEEC) meeting.  As JAM News informed, two documents were expected to be signed. Russian publications reported that the documents were being arranged the previous day. The vice-premiers were preparing to sign a document on unblocking regional transport, while the foreign ministries were preparing the fifth joint statement of Pashinyan, Aliyev and Putin.
Although Russia counted on adopting these documents to reassert its role as the primary mediator in the Baku-Yerevan dialogue, signing the documents didn't happen. During the opening remarks of the broad-format meeting, Pashinyan and Aliyev exchanged pointed disagreements regarding Aliyev's mention of the "Zangezur corridor", a route proposed by Baku to connect Azerbaijan to its western exclave of Nakhchivan through Armenia.
After interrupting the Russian President, Pashinyan accused Aliyev of using "an expression that in recent years has served as a title for putting forward territorial claims against Armenia", in response to which the Azerbaijani president claimed that corridor was "an international term" and so could not constitute an encroachment on someone's territory.
Aliyev also asserted that the Zangezur corridor was supported by Russia, with Pashinyan responding that this was "the first time" he had heard the latter claim. Aliyev and Pashinyan disagreed regarding the Lachin Corridor and the blockade of de facto Nagorno-Karabakh before the discussion was called to a halt by the Russian President.
Following a later meeting between Aliyev, Pashinyan, and Putin, which took place behind closed doors late at night and lasted only 20 minutes, a further meeting between the three countries' deputy prime ministers was agreed for the following week. Still, no new agreements were signed, despite Russian media predictions to the contrary. The leaders reportedly discussed opening transport and economic links between Armenia and Azerbaijan, informed OC Media.
Sources:
SHOSHIASHVILI Tata, EDGAR Anna, OC Media, "No new agreements after Pashinyan and Aliyev argue in Moscow", https://oc-media.org/no-new-agreements-after-pashinyan-and-aliyev-argue-in-moscow/

Caucasus Watch, "Supreme Eurasian Economic Council Meeting in Moscow: Aliyev, Pashinyan, Putin Meet", https://caucasuswatch.de/en/news/supreme-eurasian-economic-council-meeting-in-moscow-aliyev-pashinyan-putin-meet.html

JAM News, "Pashinyan-Aliyev dialogue in Moscow: signing of documents didn't happen", https://jam-news.net/aliyev-pashinyan-putin-negotiations-in-moscow/
Pashinyan hinted that Armenia might leave Russia-led CSTO
At a press conference in Yerevan on May 22, Armenian Prime Minister Nikol Pashinyan said his country could withdraw from Moscow-led Collective Security Treaty Organization (CSTO). Yerevan has grown increasingly frustrated over what it calls Russia's failure to protect Armenia in the face of military threats from Azerbaijan.
"I am not ruling out that Armenia will take a decision to withdraw from the CSTO" if the bloc fails to respect its treaty obligations, he told a news conference in Yerevan, as quoted by the Moscow Times. "…Such a decision can also be made if the status of a member of the CSTO interferes with the discussion of security issues of the Transcaucasian Republic with other countries," he added. According to him, membership in the CSTO previously became an obstacle for Yerevan to discuss the issues of purchasing weapons and military equipment in third countries. "We were told: you are a member of the CSTO; what should we discuss with you?" the head of the Government explained.
Pashinyan's remarks came ahead of the talks with Azerbaijani President Ilham Aliyev, hosted by the Russian leader Vladimir Putin in Moscow. At a briefing for journalists on May 24, Russia's Foreign Ministry spokeswoman Maria Zakharova called on the Armenian leadership to understand the danger of word manipulation.
The spokeswoman answered a question about Pashinyan's statement that if Armenia de iure decides to withdraw from the CSTO, then this will happen due to fixing that the CSTO has withdrawn from Armenia. "If this is a figure of speech to lobby for a position on Armenia's withdrawal from the CSTO, then it seems to me that we still need to understand the whole danger of manipulating words. How can the CSTO leave Armenia? It is not very clear what it is about," Zakharova noted.
Azerbaijan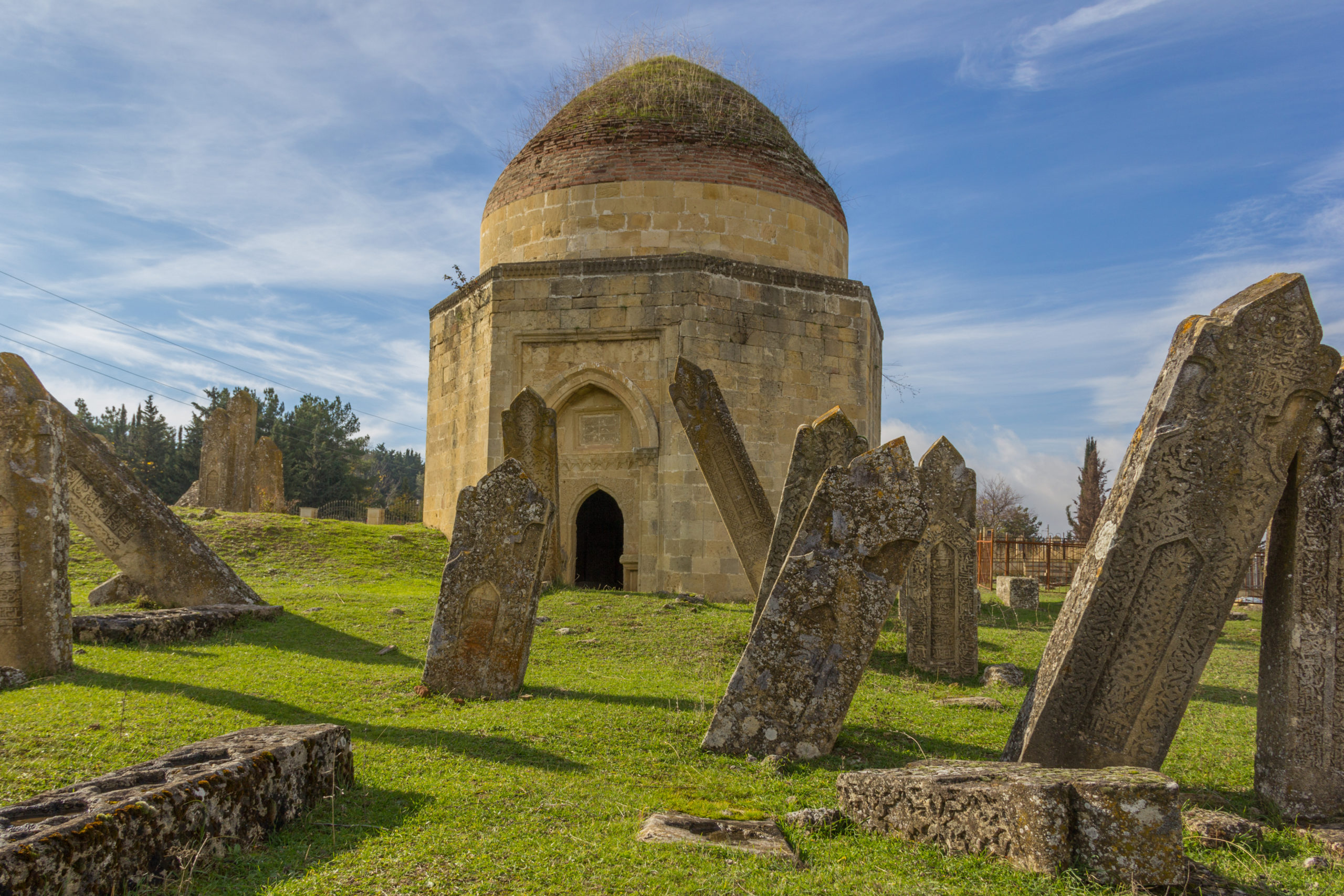 "Yeddi Gumbaz" mausoleum in an ancient Muslim cemetery near Shemakha, Azerbaijan. Photo: Shutterstock.com
Azerbaijani President gives ultimatum to de facto Karabakh authorities
The President of Azerbaijan has delivered an ultimatum to de facto authorities in Nagorno Karabakh: disband your Government or prepare for the consequences. He also suggested Baku could quickly end the de facto Armenian administration of the region through military action, writes Eurasianet.org. 
 Ilham Aliyev delivered a speech on May 28 in the town of Lachin, near the breakaway region, which was under Armenian occupation for three decades and returned to Azerbaijan only after the 2020 Second Karabakh War.
"There will be no third invitation. Either they themselves will come to us humbly, or events will develop in a different direction," Azerbaijani President Ilham Aliyev said of the fate of the Armenian population of Karabakh. "We have every opportunity to carry out any operation in that region. Therefore, the "parliament" must be dissolved, the element calling itself "president" must surrender, and all "ministers", "deputies" and others must already leave their posts. Only in this case we can talk about any kind of amnesty," he added. Aliyev further stressed that Karabakh is the "ancestral land" of Azerbaijanis, which "belongs to them by right". 
 According to Karabakh de facto ex-minister of state Ruben Vardanyan, the Azerbaijani President showed with his speech that the concept that exists in Armenia, that Nagorno-Karabakh can become part of Azerbaijan and then the Armenians of Artsakh will try within this framework to fight for their rights, cannot be realised.
The Armenian-populated region has been under blockade since December last year when Azerbaijani government-backed "activists" staged a sit-in on the Stepanakert-Lachin road, connecting Nagorno-Karabakh to Armenia. The demonstrations ended after Azerbaijan set up a customs checkpoint on that road at the border with Armenia, but most of Armenians refused to enter through that checkpoint. 
Sources:
Eurasianet.org, "Azerbaijani President gives ultimatum to Karabakh authorities", https://eurasianet.org/azerbaijani-president-gives-ultimatum-to-karabakh-authorities

JAM News, "Ilham Aliyev on the fate of Karabakh Armenians", https://jam-news.net/aliyev-on-the-fate-of-karabakh-armenians/

News.am, "Karabakh ex-minister of state: Azerbaijan's Aliyev showed that the concept voiced in Armenia can't be implemented", https://news.am/eng/news/762600.html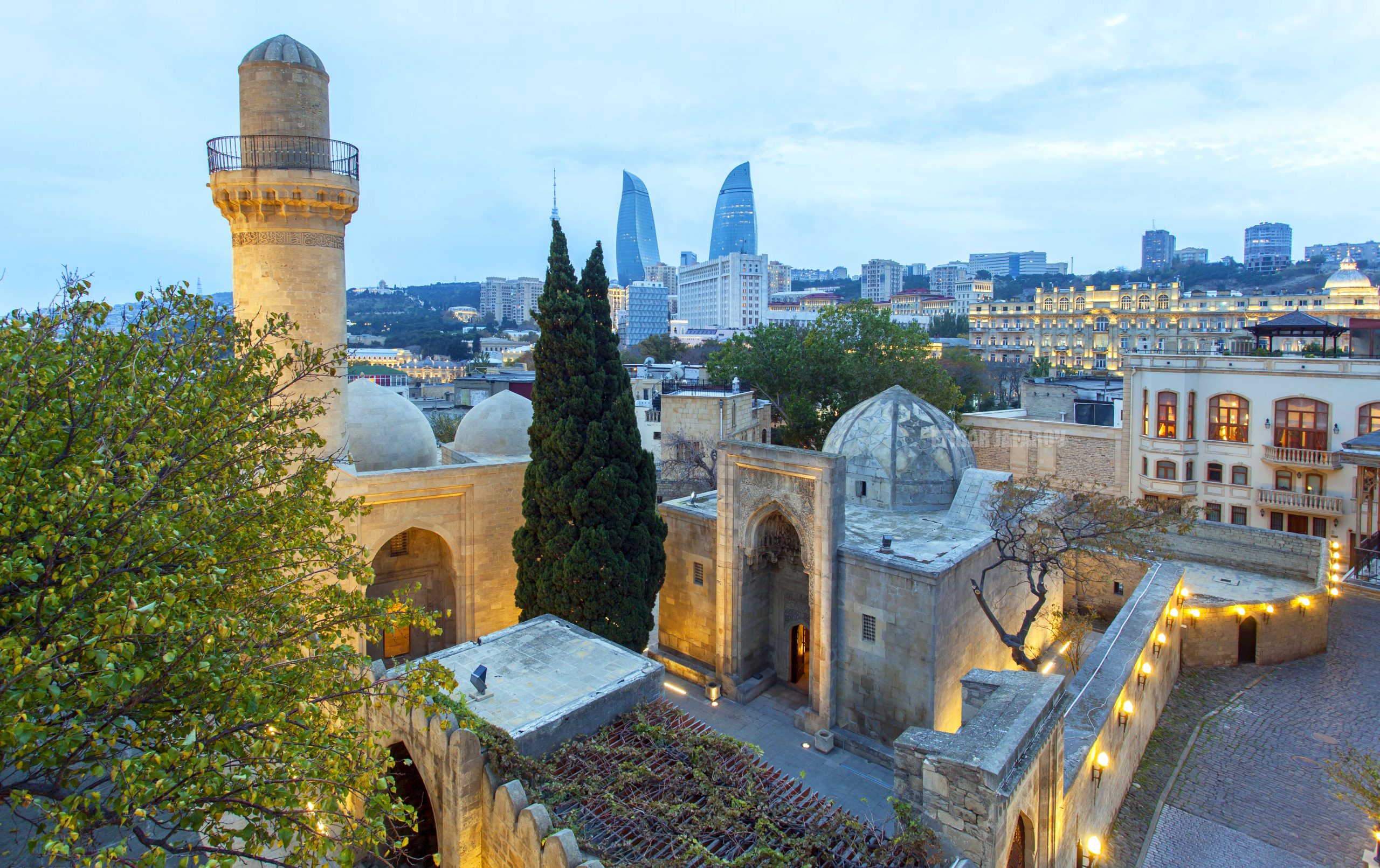 Baku, Azerbaijan. Photo: Shutterstock.com
Aliyev and Pashinyan met in Chisinau with no concrete results
On June 1, Armenian prime minister Nikol Pashinyan and Azerbaijani President Ilham Aliyev met in Moldova's capital Chisinau on the sidelines of the European political community summit. They were joined by the EU Chief Charles Michel, French President Emmanuel Macron and German Chancellor Olaf Scholz. No concrete agreements were announced as a result.
Pashinyan has described his latest meeting with Azerbaijani President Aliyev as "useful" but disclosed few details. "On the whole, I consider the discussion useful," Pashinyan told a group of ethnic Armenians from Moldova and Ukraine in Chisinau later in the evening.
He did not clarify whether the conflicting parties narrowed their differences on an Armenian-Azerbaijani peace treaty. He said Baku now seems to accept an Armenian proposal to use 1975 Soviet maps as a basis for delimiting and demarcating the Armenian-Azerbaijani border.
On its part, Azerbaijan has accused French President Emmanuel Macron of distorting the parties' positions after the five-sided meeting in Chisinau. Press Secretary of the Azerbaijani Foreign Ministry Aykhan Hajizada called Macron's statement after the meeting "unilateral," noting that it does not reflect the parties' position and distorts it." According to him, "it is not the first time that France demonstrated such behaviour that does not contribute to the peace process between Azerbaijan and Armenia, peace and stability in the region."
European leaders have called on Armenia and Azerbaijan to respect all their commitments, particularly that of releasing war detainees as soon as possible, the Elysee Palace said in a statement after EU-mediated talks between Armenian and Azerbaijani leaders. "They also recalled the importance of the contribution of the EU monitoring mission in Armenia. Finally, they stressed the importance of defining rights and guarantees for the Armenians of Nagorno-Karabakh," the statement reads.
According to the press release, French President Emmanuel Macron particularly insisted on the importance of not indulging in any hostile rhetoric and continuing the efforts to return to peace for the benefit of all the populations in the region.
Azerbaijan detains two Armenian servicemen
On May 26, the State Border Service of Azerbaijan announced that the attempt by the sabotage group of the Armenian armed forces to violate the state border had been prevented. Azerbaijani officials said that the incident took place in the Zangilan region and that two Armenian soldiers were detained.
In turn, the press service of the Ministry of Defence of the Republic of Armenia denied the information of the State Border Service of Azerbaijan. "The information spread in the Azerbaijani press about the alleged attempt of the Armenian side to create provocations in the south-eastern part of the border is completely false and does not correspond to reality," the Press Service of the Ministry of Defence of Armenia reported.
The ministry said that the soldiers, Harutiun Hovakimian and Karen Ghazarian, were ambushed and "kidnapped" after delivering water and food to Armenian army units guarding the border with Azerbaijan. It published photographs of their abandoned military truck found in a wooded area in the south-eastern Syunik province.
Hovakimian's mother told RFE/RL's Armenian Service that the 34-year-old contract soldier had been engaged in food supplies to troops manning Armenian border posts in Syunik's Shikahogh forest reserve for years. "He always went back and forth through that road," she said. "He knows the road very well and could not have deviated a single inch from it."
The Armenian Government asked the European Court of Human Rights to order the Azerbaijani authorities to provide urgent information about the soldiers' health and detention conditions. On May 31, The European Court of Human Rights gave Azerbaijan time until June 6 to provide information about the two detained Armenian servicemen.
Sources:
Caucasus Watch, "Azerbaijan Detains Two Armenian Servicemen", https://caucasuswatch.de/en/news/azerbaijan-detains-two-armenian-servicemen.html

Azatutyun.am, "Two Armenian Soldiers Captured By Azerbaijan", https://www.azatutyun.am/a/32432864.html

News.am, "ECtHR gives Azerbaijan until June 6 to provide information about 2 detained Armenia soldiers", https://news.am/eng/news/762929.html
Georgian President visited Brussels for the first time in 13 years
Georgian President Salome Zourabishvili addressed the European Parliament on May 31 as part of her visit to Brussels. Her speech focused on Georgia's EU integration, Georgia's European identity and EU candidate status, the war with Ukraine and relations with Russia.
Georgia's "historical" European choice is "not only legitimate, [but] it has no alternative", the Georgian President stressed. Zourabishvili noted the Georgian Government, the people and the member countries of the EU should together decide the future of Georgia, "although the population of Georgia has already decided this issue […] Georgia wants to become a member of the European family".
She stressed Georgia's request for EU membership started from the country's European past, sharing common values and cultural foundations with Europe, emphasising that Georgia would "reunite with" its "European family". The President vowed she would work hard for Georgia to overcome domestic and international challenges and move towards European integration.
Zourabishvili once again expressed Georgia's "principled" solidarity of Ukrainian people amid Russia's invasion of the country and expressed hope that "in the near future", representatives of both Georgia and Ukraine would "sit side by side" in the European Parliament, recalling "the price Georgia's people have paid in the face of Russian aggression" for independence and right to become a member of the free, democratic world.
The President's address to the European Parliament has triggered mixed reactions from Georgian politicians. Mamuka Mdinaradze, chairman of the Georgian Dream faction, criticised the President, claiming that although her speech in Brussels was soft and correct, her speeches back home are often damaging. "We should probably explain to the President that when she addresses the Georgian Parliament, when she speaks at the May 26 event, all this will be broadcast outside the country; it is 2023, and in this century, modern technologies allow foreigners to hear her speeches in Georgia." Other ruling party representatives evaluated the President's speech mostly in favourable terms.
Representatives of the opposition mainly claimed that Zourabishvili's speech was correct in principle but lacked a more specific criticism of the allegedly anti-European policies of the current Government. "When the Prime Minister and the leaders of the majority make statements against the country's interests and practically change the country's foreign policy course, the President should be much more acute… she should quit her role of a political commentator and take active measures within her constitutional powers in order to restore the political balance in favour of Europe," said Levan Bezhashvili from the United National Movement.
Zourabishvili was the first Georgian President to visit Brussels in 13 years.
Irakli Garibashvili attracts criticism for comments on the war in Ukraine at GLOBSEC
Irakli Garibashvili, the Prime Minister of Georgia, took part in a topical debate while in Bratislava to attend the Global Security Forum (GLOBSEC) from May 29 to 31. At the discussion, which was also attended by Georgian Defence Minister Juansher Burchuladze and Georgian Foreign Minister Ilia Darchiashvili, Garibashvili said that "everyone knows" that NATO Enlargement was one of the main reasons for the start of Russia's war in Ukraine. "I don't want to quote the statements of the Russian Government, but one of the reasons was Ukraine's will and determination to become a member of NATO. Therefore we see the consequence", said Garibashvili.
"Now we are witnessing this brutal war in Ukraine, and as I said, we don't see any efforts or any will from either side that this war should be stopped", Garibashvili added. He also repeated his party's claims that the ruling Georgian Dream party was responsible for "peace in the country", going so far as to state that had they been in power in 2008, the August War would have been avoided.  He also stated that international reactions to that war were "disappointing" as sanctions were not imposed on Russia and "everybody continued business as usual".
While Garibashvili's fellow party members supported his claims, opposition and European political figures were quick to criticise his statements, reports OC Media. Ani Tsitlidze, a United National Movement opposition party member, described Garibashvili's claims that the war in Ukraine was attributable to Ukraine's intent to join NATO as "treason and cooperation with the enemy".
Ana Natsvlishvili, a member of the Lelo party, added that Garibashvili had "crossed out [Georgia's prospects] not only for the European Union but also for NATO". Western political figures and commentators also criticised the Prime Minister's positions. "Govorit Moskva!" [Moscow speaks!], wrote MEP Rasa Juknevičienė on Twitter, also responding to Garibashvili's comment about Russia's war in Ukraine being the consequence of 'NATO enlargement'.
Former American congressman Adam Kinzinger called for sanctions against the party's founder. "Georgian Dream isn't even hiding their Putinism [sic] anymore. It's time to sanction Ivanishvili and others. They have led their country on a path to failure", wrote Kinzinger. "For Garibashvili to say this, he is under the influence of someone.. and it's not the Georgian people".
On May 30, activists from the civil anti-government organisation GEUT (Stubborn) staged a picket in protest to Garibashvili's statements. In a video published by the activist Gela Khasaia, Police approached a small group of demonstrators holding posters and started confiscating the signs, ripping some in the process. Some protesters held signs with photographs of Prime Minister Irakli Garibashvili, while another held a poster featuring the Georgian flag and an anti-Russian poem written by historic Georgian poet Akaki Tsereteli.
Public Defender's Office issued a statement regarding the incident, stating that the posters were confiscated "for a completely incomprehensible reason and in a rude manner". The statement added that the action did not correspond to the obligation of law enforcement officers to promote "the full exercise of [citizens'] rights, including through various means of expression".
Sources:
SHOSHIASHVILI Tata, OC Media, "Georgia's Prime Minister attracts criticism for comments on Ukraine war", https://oc-media.org/gharibashvili-attracts-criticism-for-comments-on-ukraine-war/

Caucasus Watch, "Irakli Garibashvili Addresses Russo-Ukrainian War and EU Candidacy at GLOBSEC", https://caucasuswatch.de/en/news/irakli-garibashvili-addresses-russo-ukrainian-war-and-eu-candidacy-at-globsec.html

SHOSHIASHVILI Tata, OC Media, "Police confiscate anti-government banners and detain a protester in Tbilisi", https://oc-media.org/police-confiscate-anti-government-banners-and-detain-protester-in-tbilisi/