Strategic Analysis Caucasus Brief
Bi-weekly review
(20. 8. – 3. 9. 2023)
Tomáš Baranec
Armenia

Republic Square, Yerevan. Photo: Andrei Bortnikau/ Shutterstock.com
Yerevan outpaced Rome and Paris in Russian tourist bookings in the summer of 2023
On August 21, OneTwoTrip analysts reported that Yerevan entered the list of one of the most popular destinations for Russians in the summer of 2023. A total of 4.3% of bookings were made for a trip to the capital of Armenia in the current summer season. Yerevan has become more popular this year by 34.4% compared to last year, writes Caucasus Watch.
The Armenian capital took the second place by this indicator, yielding to Istanbul. Rome is in the third place. Paris, Rimini, Dubai, Antalya, Bangkok, Budapest, and Milan were also included in the Russians' top 10 tourist preferences.
Over 1 million tourists visited Armenia in the first seven months of 2023. The highest activity was recorded in July – 255,706 visits, the lowest in February – 130,588. Most tourists in the mentioned period arrived in Armenia from Russia – 51% (644 thousand) and Georgia – 11% (138 thousand).
Sources:
 Caucasus Watch, "Yerevan Outpaces Rome and Paris in Russian Tourist Bookings This Summer", https://caucasuswatch.de/en/news/yerevan-outpaces-rome-and-paris-in-russian-tourist-bookings-this-summer.html
Armenia slams Russia for "absolute indifference"
Armenia has condemned Russia's "absolute indifference" towards Azerbaijani attacks on Armenian territory after Russia's Foreign Ministry claimed that Armenia was to blame for the ongoing humanitarian crisis in Nagorno-Karabakh.
The diplomatic conflict started by Russian foreign ministry spokesperson Maria Zakharova's statement on August 31 that Pashinyan's recognition of Azerbaijan's territorial integrity that supposes Baku's sovereignty over Artsakh has resulted in the current situation in de facto Nagorno-Karabakh. "I would like to remind you that the current situation in the Lachin corridor is a consequence of Armenia's recognition of Nagorno-Karabakh as part of the territory of Azerbaijan," Zakharova said. "This was formalised as a result of summits attended by the leaders of the two countries under the aegis of the European Union in October 2022 and May 2023. "We believe that placing the blame on the Russian peacekeeping contingent in this context is inappropriate, wrong and unjustified," Zakharova told a news briefing.
Armenia's foreign ministry spokesperson, Ani Badalyan, reacted by declaring that Moscow's statement has caused "confusion and disappointment" for Yerevan, asserting that Russia itself has, on numerous occasions, recognised de facto as part of Azerbaijan. The statement also accused Russia and the CSTO of maintaining the "obviously false and highly dangerous thesis" that the border between Armenia and Azerbaijan was not demarcated and that attacks on and incursions into Armenian territory were consequently challenging to verify.
The Foreign Ministry statement additionally accused Russian peacekeepers of acting "outside the scope of their mission and geographical area of responsibility" during a conflict near the Lachin checkpoint on June 15 and of providing support to Azerbaijani soldiers attempting to plant an Azerbaijani flag on Armenian territory.
Since Azerbaijan's blockade of the Lachin Corridor began in December 2022, both officials and broader society in Armenia and Nagorno-Karabakh have accused Russia's peacekeeping contingent and political leaders of being inactive, deepening existing concerns and criticism regarding the mission and Russia's involvement in the region. As the blockade worsened, Russian peacekeepers were accused of taking money from people in Armenia and Nagorno-Karabakh to import basic necessities from Armenia or even allow people to travel out of the region. After Azerbaijan barred the peacekeeping forces from using the Lachin Corridor to deliver aid, there have been widespread reports in Nagorno-Karabakh that they have used helicopters to deliver supplies for themselves.
The obstruction of the Lachin Corridor, the main road connecting Nagorno-Karabakh to Armenia, has resulted in severe shortages of food and basic necessities, compounded by a lack of fuel and electricity. The region's government and humanitarian organisations have warned that a humanitarian crisis is unfolding, with the region's population increasingly at risk of starvation, writes OC Media.
Sources:
AVETISYAN Ani, OC Media, "Armenia slams Russia for 'absolute indifference'", https://oc-media.org/armenia-slams-russia-for-absolute-indifference/?fbclid=IwAR3OnKA84iu3JH9-tiogM-APWlDn3LXwp6bBmmBTT5I6Y7u0iFmJkE684vI
Asbarez, "Armenia 'Disappointed' at Russia Blaming Yerevan for Lachin Crisis", https://www.asbarez.com/armenia-disappointed-at-russia-blaming-yerevan-for-lachin-crisis/
Arayik Harutyunyan resigns as de facto president of Nagorno-Karabakh
On August 31, Arayik Harutyunyan announced his decision to resign as the de facto president of Nagorno-Karabakh. Harutyunyan said the global "unstable geopolitical situation" and "Artsakh's internal political and social environments" require flexibility and a change in approach to governance. "A change in the primary actors is needed in Artsakh, starting with me," Harutyunyan said in a message posted on Facebook on August 31.
"My background and Azerbaijan's attitude towards it are artificially creating a number of conditions generating significant problems concerning our further steps and flexible policy. Besides, the defeat in the war and the resulting difficulties that emerged in the country reduced trust in the authorities and especially the president, which represents a severe obstacle to further good governance," Harutyunyan said, as cited by the Armenian Weekly.
Harutyunyan said he will present his official resignation to the de facto Artsakh National Assembly on September 1. De facto Artsakh State Minister Gurgen Nersisyan also resigned, and de facto Secretary of the Security Council Samvel Sergey Shahramanyan has been appointed to replace him.
Local experts have differing views on assessing Harutyunyan's resignation's actual impact on the region. Political analyst Boris Navasardyan believes that nothing fundamentally changes with the resignation of Harutyunyan. "The confrontation between the most influential groups in Nagorno-Karabakh remains, and Harutyunyan's associates continue to control most of the power structures. Apparently, the new state minister is the most trusted person of the retired president. Samvel Shahramanyan would not have been entrusted to represent Nagorno-Karabakh Armenians at the only meeting with Baku's plenipotentiary representative in Khojaly in March this year, he said."
On the other hand, Political scientist Gurgen Simonyan warns that this step can lead to the usurpation of power in the region and deep political crisis. "With the resignation of Araik Harutyunyan, the only legitimate representative of the Armenians of Artsakh is no longer the president. No one is going to organise free, fair and transparent elections in the current conditions, as a result of which a president who has received a national vote of confidence can come to power. It turns out that in this crisis situation, some persons will be appointed by a group of suspicious persons without holding elections. And this implies usurpation of power. This creates the ground for a permanent political crisis".
Harutyunyan assumed the de facto presidency in May of 2020. He served as president of Nagorno-Karabakh during the 44-day war waged by Azerbaijan in the fall of 2020, which resulted in Armenia's defeat and the loss of the seven districts adjacent to Nagorno-Karabakh as well as a large part of Nagorno-Karabakh itself.
Sources:
AVEDIAN Lillian, "The Armenian Weekly, Arayik Harutyunyan resigns as president of Artsakh", https://armenianweekly.com/2023/08/31/arayik-harutyunyan-resigns-as-president-of-artsakh/

JAM News, "'Harutyunyan is a deserter'. Opinions on the resignation of the President of the unrecognised NKR", https://jam-news.net/resignation-of-the-president-of-the-unrecognized-nkr/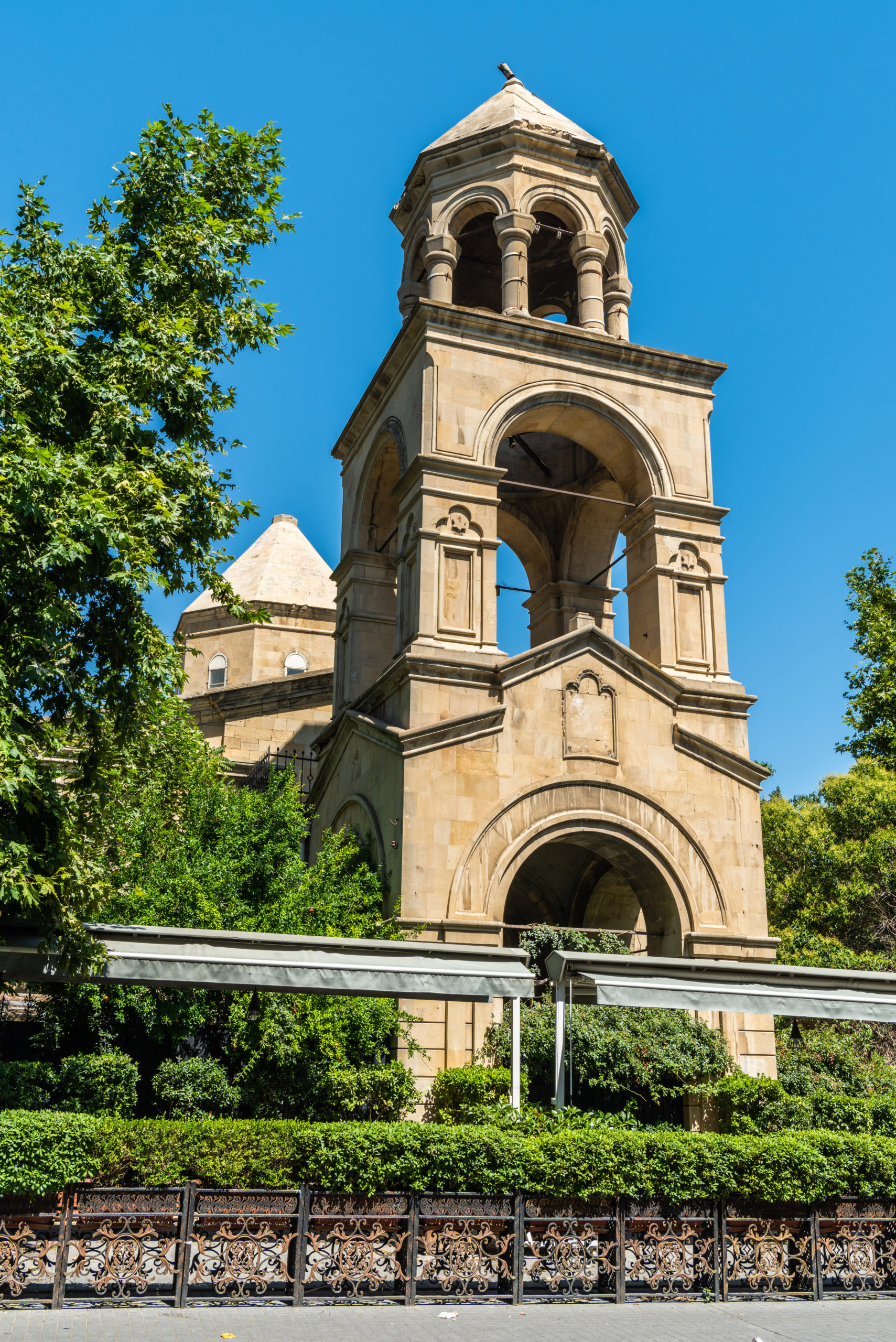 Baku, Azerbaijan. Photo: Shutterstock.com
Azerbaijan expands economic relations in the East and the West
Recently, Baku intensified economic relations with Romania, Uzbekistan and Hungary, increasing its oil and gas exports and widening the potential for cooperation in the field of electric energy, reported Caucasus Watch. Azerbaijani authorities informed in August that Baku exported almost 386,000 tons of crude oil and oil products to Romania in January-July 2023 alone. This indicator increased by 48.35% or 125.78 thousand tons in annual terms.
The value of the export of Azerbaijani oil and oil products to Romania in the period amounted to 233.767 million dollars. This is by 23.31 USD or 44.188 million USD more than in the same period of 2022.
Overall, Azerbaijan exported about 15.54 million tons of oil and oil products in January – July 2023, which is 5.33% less than the figure for the same period last year (16.414 million tons). In value terms, oil exports exceeded 9.44 billion USD.
On August 20, President of Azerbaijan Ilham Aliyev and the Prime Minister of Hungary Viktor Orbán met in Budapest. During the meeting, they lauded the successful development of energy cooperation between Azerbaijan and Hungary, including oil and gas. On August 21, Péter Szijjártó, the Minister of Foreign Affairs and Foreign Economic Relations of Hungary, reported that Budapest and Baku had signed an agreement under which the volume of Caspian gas supplies to Hungary will increase to about 1 billion cubic meters.
According to him, Hungary will buy 100 million cubic meters of gas in the fourth quarter of 2023. The head of the Hungarian diplomacy also recalled the agreement on storing 50 billion cubic meters of Caspian gas in Hungary's reservoirs. According to Szijjártó, Budapest has been developing cooperation with Baku for a long time, and the signed agreement provides for a further increase of gas supplies of up to one billion cubic meters. At the same time, the minister emphasised that Hungary is working to diversify gas supplies.
On August 22, a meeting was held between Minister of Energy of Azerbaijan Parviz Shahbazov and the delegation led by Minister of Energy of Uzbekistan Jurabek Mirzamahmudov, who was visiting Baku, to deepen cooperation in the field of energy between Azerbaijan and Uzbekistan.
The strategic course of the heads of state reflecting the comprehensive development and strengthening of relations between countries in all fields was discussed. Within the framework of the meeting, the "Road Map on the expansion of cooperation in the energy sector for the years 2023-2025 between the Ministry of Energy of the Republic of Azerbaijan and the Ministry of Energy of the Republic of Uzbekistan" was signed. The Road Map covering fourteen directions envisages cooperation on geological exploration and production of hydrocarbon resources and establishing joint ventures in both countries.
According to the document, Azerbaijan and Uzbekistan will cooperate on renewable energy, energy sector reforms, efficient use of energy resources, energy transition, decarbonisation, and exchange of information and experience related to hydrogen production. Also, following the Memorandum of Understanding signed between "Uzbekistan National Electric Network" JSC and "Azerenergy" JSC on July 26 of this year, the continuation of cooperation between the system operators of both countries is reflected in the Road Map as one of the main directions of activity.
Azerbaijan summons French ambassador for sending humanitarian aid to Nagorno-Karabakh
Azerbaijan's Foreign Ministry has summoned French Ambassador Anne Boillon and handed her a note of protest against her country for sending a humanitarian convoy to the Lachin Corridor. On August 31, Baku accused Paris of interfering in Azerbaijan's internal affairs and violating its sovereignty and territorial integrity by sending a humanitarian aid convoy to blockaded Nagorno-Karabakh.
"These provocative actions, which are a tool of the campaign of lies and manipulation by Armenia, are another example of steps aimed at escalating the situation in the region and encouraging Armenia to continue its revanchist stance, which has intensified in recent days", stated the ministry.
The ministry also accused France of endangering the "fragile normalisation process promoted by the active efforts of international actors in the region". France had sent a convoy of 10 lorries to Nagorno-Karabakh — its second in less than a month. The convoy, accompanied by Anne Hidalgo, the mayor of Paris, was blocked from entering the region.
Behind the black diplomatic SUVs and the minibuses full of foreign and local press were ten white trucks filled with humanitarian aid donated from France, each emblazoned with the names of the regions taking part — including Ville de Paris, Île-de-France, Occitanie, Pays de la Loire and Strasbourg.
According to Politico, Hidalgo's visit, along with a group of French regional leaders, was part of an improbable gambit to draw attention to a burgeoning humanitarian crisis in Nagorno-Karabakh, bringing together politicians more accustomed to dealing with planning permissions and bin collectors' pensions than tense foreign policy on Europe's far-flung fringe.
De facto Nagorno-Karabakh has been under varying degrees of blockade since December 2022 and has been completely cut off from supplies from Armenia since mid-June 2023 as Baku continues to insist that the Lachin Corridor — the only road connecting de facto Nagorno-Karabakh to Armenia — was not under blockade.
Georgian Dream to begin impeachment proceedings against president
At a briefing on September 1, the chair of Georgian Dream, Irakli Kobakhidze, announced that the party's political council had decided to initiate impeachment proceedings against the President of Georgia.
The move was prompted by the presidential administration's announcement on August 31 that President Salome Zurabishvili would travel to a series of official meetings in Europe despite the Georgian government refusing her requests. The ruling party alleges that Zurabishvili violated the Georgian Constitution, as the president does not have the power to engage in foreign policy independently and without oversight of the executive branch.
Article 52 of Georgia's Constitution states that the president can only exercise representative powers in foreign relations with the government's consent. According to Kobakhidze, Zurabishvili's position is that Georgia does not deserve candidate status and that the Georgian parliament and government only formally fulfil the European Union's recommendations. "Against the background of such an attitude, it is obvious that any visit of the President of Georgia to Europe is counterproductive in terms of Georgia's getting the candidate status and directly contradicts the efforts of the Georgian government to grant Georgia the said status." The announcement came hours before President Zurabishvili was scheduled to meet with the president of the European Council, Charles Michel.
While Zurabishvili has not yet commented on the announcement, a photograph of the president smiling on a train, presumably in Europe, was posted on her official Instagram account shortly after Kobakhidze's statement. Kobakhidze also explained that impeachment requires 100 votes, and therefore, without the support of the opposition, it has no chance of succeeding. Before the process begins, the Georgian Dream will ask the Constitutional Court to confirm that the President of Georgia has violated the Constitution.
Nevertheless, the Georgian opposition was swift in denouncing the impeachment. UNM's Irakli Pavlenishvili called the plan an act of "sabotage" against Georgia's European integration and an attempt to divert public attention from real problems. Paata Manjgaladze, an MP with Strategy Aghmashenebeli, alleged the decision was related to Russian President Vladimir Putin's interest in preventing Georgia from achieving European candidate status.
Georgian Dream's announcement was also criticised by several members of the European Parliament, including Thijs Reuten (S&D),  Markétka Gregorová (Greens/EFA), and Miriam M. Lexmann (EPP).
Sources:
KINCHA Shota, OC Media, "Georgian Dream to begin impeachment proceedings against the president", https://oc-media.org/georgian-dream-to-begin-impeachment-proceedings-against-president/?fbclid=IwAR3HRY5yPAz8RSWIY57BRHygtRTHsv-xPeX6vT_7ElnwJCIMjLWC0BVmK38

Civil.ge, "Georgian Dream Launches Impeachment Proceedings Against President", https://civil.ge/archives/557470

Georgia Today, "Georgian Dream starts impeachment procedure against President Zurabishvili", https://georgiatoday.ge/georgian-dream-starts-impeachment-procedure-against-president-zurabishvili/
Georgia's Foreign Trade Surges by 18% in First Half of 2023
According to the National Statistics Service of Georgia (Geostat), in January-July 2023, Georgia's external merchandise trade (excluding undeclared trade) amounted to 12 105.5 million USD, 18% higher than in the same period of 2022. Exports amounted to 3 583.4 million USD (15.9% higher), while imports amounted to 8 522.1 million USD (19.0% higher). The negative trade balance in January-July 2023 was 4,938.7 million USD, and its share in foreign trade turnover was 40.8%.
In January – July 2023, the share of the ten largest export partner countries accounted for 80.8% of Georgia's total exports. The three largest exports were as follows: Armenia (495.0 million USD), Azerbaijan (485.3 million USD), and Russia (416.2 million USD).
As reported by Geostat, in January – July 2023, the share of the top ten trading partners by imports in the total imports of Georgia amounted to 70.7%. The main partners were Turkey (USD 1 420.6 million), Russia (USD 1 087.5 million), and the USA (USD 975.3 million).
Re-exports of automobiles remained the leading item of Georgia's foreign trade in the first half of 2023. Cars occupy the first line in both exports and imports. It is 32.9% of all exports at 1.18 billion USD and imports – 19% at 1.62 billion USD. In the first half of the year, the new restrictions on exporting American and European cars to Russia were not yet in effect. In the first six months of 2023, 53 million USD worth of automobiles were sold through Georgia to Russia.
Sources:
Civil.ge, "Geostat Publishes Foreign Trade Details for Jan-Jul 2023", https://civil.ge/archives/556471

Caucasus Watch, "Georgia's Foreign Trade Surges by 18% in First Half of 2023", https://caucasuswatch.de/en/news/georgias-foreign-trade-surges-by-18-in-first-half-of-2023.html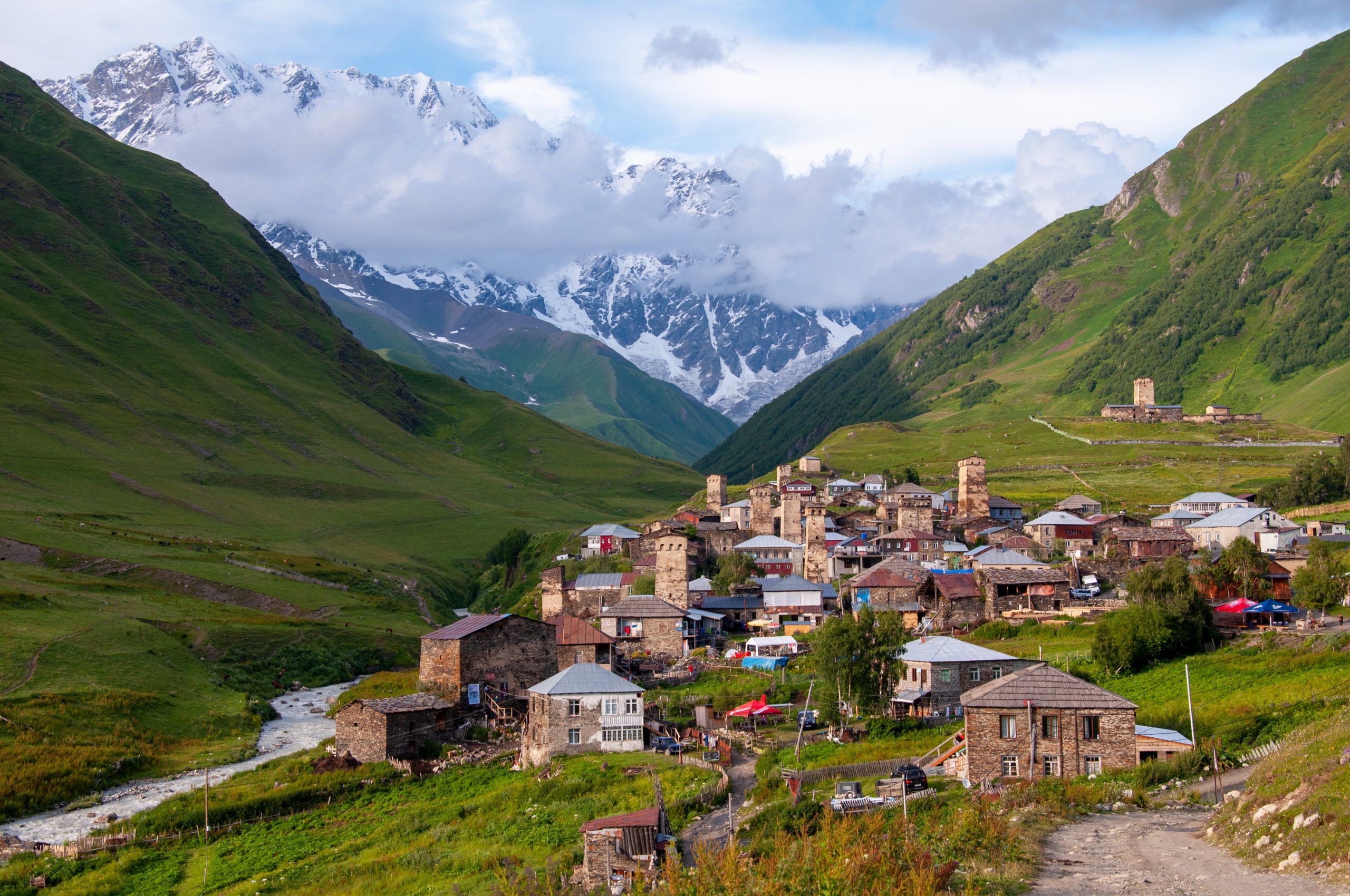 Svaneti, Georgia. Photo: Shutterstock.com
Changes in the pension scheme leave Georgians worried about their savings
The plans of Georgia's Pension Agency to invest large parts of retirement funds in high-risk endeavours have left many citizens anxious about their savings, reports Eurasianet.org.
 Georgia's Pension Agency will invest savings from the pension system in shares of major international companies, including Apple, Google and Toyota, Chief Investment Officer Goga Melikidze revealed on September 1. The representative of the state body said the cumulative pension scheme would be used to allocate funds to an investment portfolio, adding the "high-risk" investments would also be used for shares of the likes of Louis Vuitton, Nestle and Samsung.
 As part of the new phase of the scheme, individuals will have the choice to invest in three distinct portfolios, each varying in terms of risk and potential returns – to be categorised as low-risk, medium-risk and high-risk portfolios. Participants can choose their preferred portfolio between August 6 – September 6 annually, with savings automatically transferred to the high-risk portfolio for the next 12 months if no selection is made.
Melikidze claimed that pension savings were managed by a "qualified and independent" investment council supervised by the National Bank of Georgia, adding that "one of the main goals" of the Agency was to ensure" effective management, protection and investment of pension savings according to the best interests of the participants".
The short notice, tight deadline for opting out, and general distrust in financial policies left many in panic. There is a persistent distrust towards long-term saving schemes in Georgia, tracing back to post-Soviet financial shocks. Georgia passed an ambitious pension reform in 2018-2019. The new individual saving scheme is based on the 2+2+2 contribution principle, where 2 per cent of a person's gross monthly salary goes to their individual pension account. At the same time, employers and the state each contribute an additional 2 per cent of the salary. The new scheme, by default, involved all women under 55 and men under 60, while those already over 40 in 2018 were allowed to opt-out. Georgia's Pension Agency was established in 2019 as a part of the above–mentioned pension reform.
Sources:
GABRITCHIDZE Nini, Eurasianet.org, "Changes in pension scheme leave Georgians worried about their savings", https://eurasianet.org/changes-in-pension-scheme-leave-georgians-worried-about-their-savings
Agenda.ge, "Georgia's Pension Agency to invest savings in shares of major corporations", https://agenda.ge/en/news/2023/3168