Strategic Analysis Caucasus Brief
 Bi-weekly review of  (0
3. 09. – 24. 9. 2023)
Tomáš Baranec
Armenia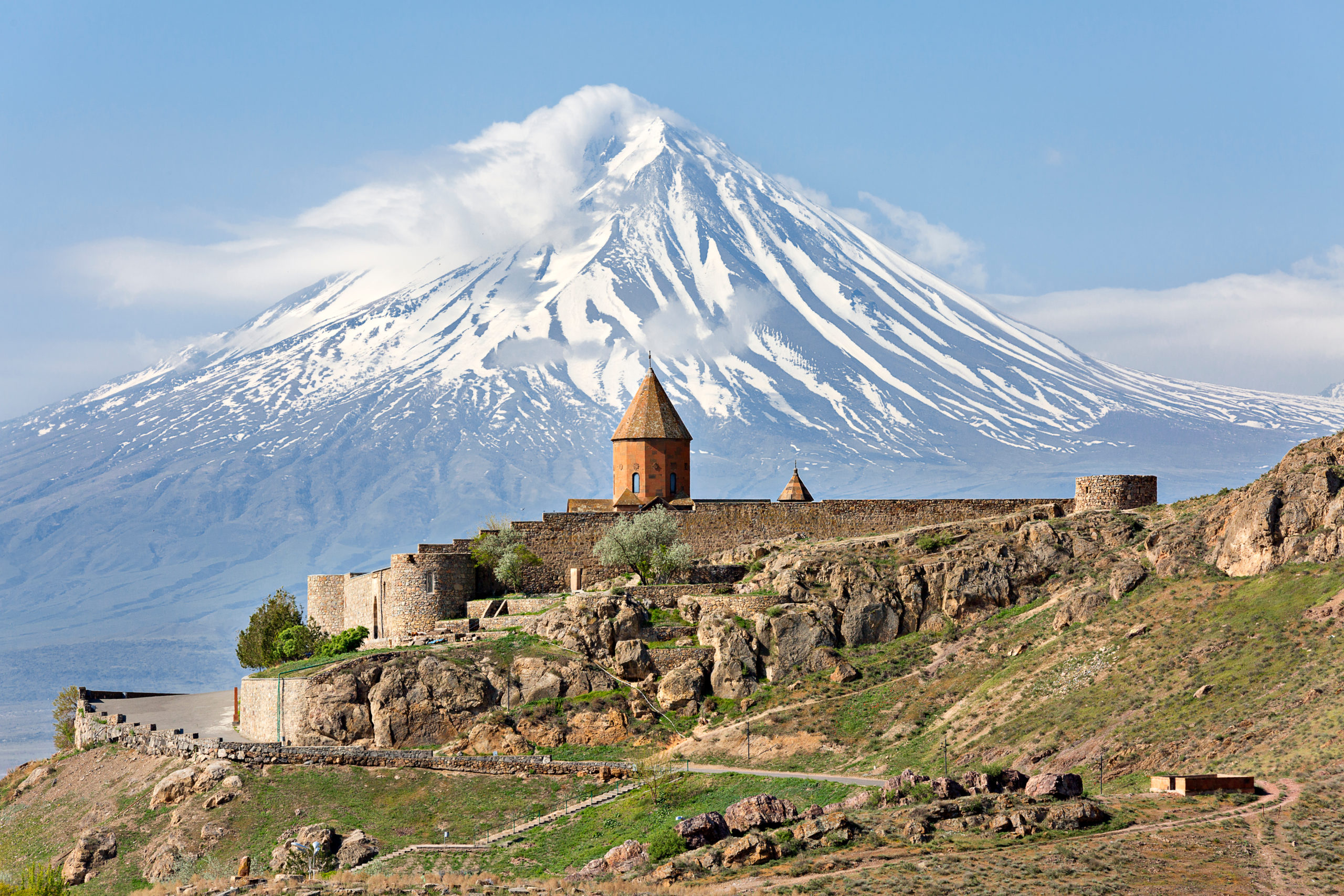 Khor Virap Church, Armenia. Photo: Shutterstock.com
U.S. and Armenian troops held joint drills in Armenia
Armenia and the United States held joint military exercises on Armenian territory. "In the framework of preparation for participation in international peacekeeping missions, the Armenia-U.S. joint exercise "EAGLE PARTNER 2023" was held from September 11 – 20 in Armenia," informed the Armenian Defence Ministry.
Colonel Martin O'Donnell, spokesman for the US command, said the exercises are "a vital opportunity for our soldiers from our two nations to build new relationships at the tactical level and to increase interoperability for peacekeeping operations."
The drills were held at the Zar and Armavir Training Areas near Yerevan and ended on September 20. The US military said 85 US soldiers and 175 Armenians took part. The Americans, including members of the Kansas National Guard, which has a 20-year-old training partnership with Armenia, were not using heavy weaponry, it added.
Speaking with journalists on September 11, Dmitry Peskov, the Press Secretary of the Russian President, stated that Armenia's decision to conduct joint military exercises with the United States rather than with the Collective Security Treaty Organization (CSTO) requires serious analysis. "We need to understand what goals Armenia is pursuing; we will do this in a partnership dialogue with it," the Kremlin representative noted. At the same time, Peskov emphasised that Russia and Armenia have been and will be close partners. "There may be problems, but they need to be resolved through negotiations," Peskov expressed.
According to the Press Secretary of the Russian President, there have been no official signals about Armenia's withdrawal from the CSTO. "But the Kremlin has seen many discussions on this topic, including by pro-Western Armenian analysts," he said.
Sources:
News.am, "Armenia-U.S. joint exercise "EAGLE PARTNER 2023" commenced on September 11 in "Zar" Training Center", https://news.am/eng/news/780105.html

RFE/RL, "Armenia Kicks Off Joint Military Exercises With U.S. Despite Russian Opposition", https://www.rferl.org/a/armenia-military-exercises-us-russian-opposition/32587572.html

Caucasus Watch, "Kremlin Seeks Clarification on Armenia's Joint Military Drills with the US", https://caucasuswatch.de/en/news/kremlin-seeks-clarification-on-armenias-joint-military-drills-with-us.html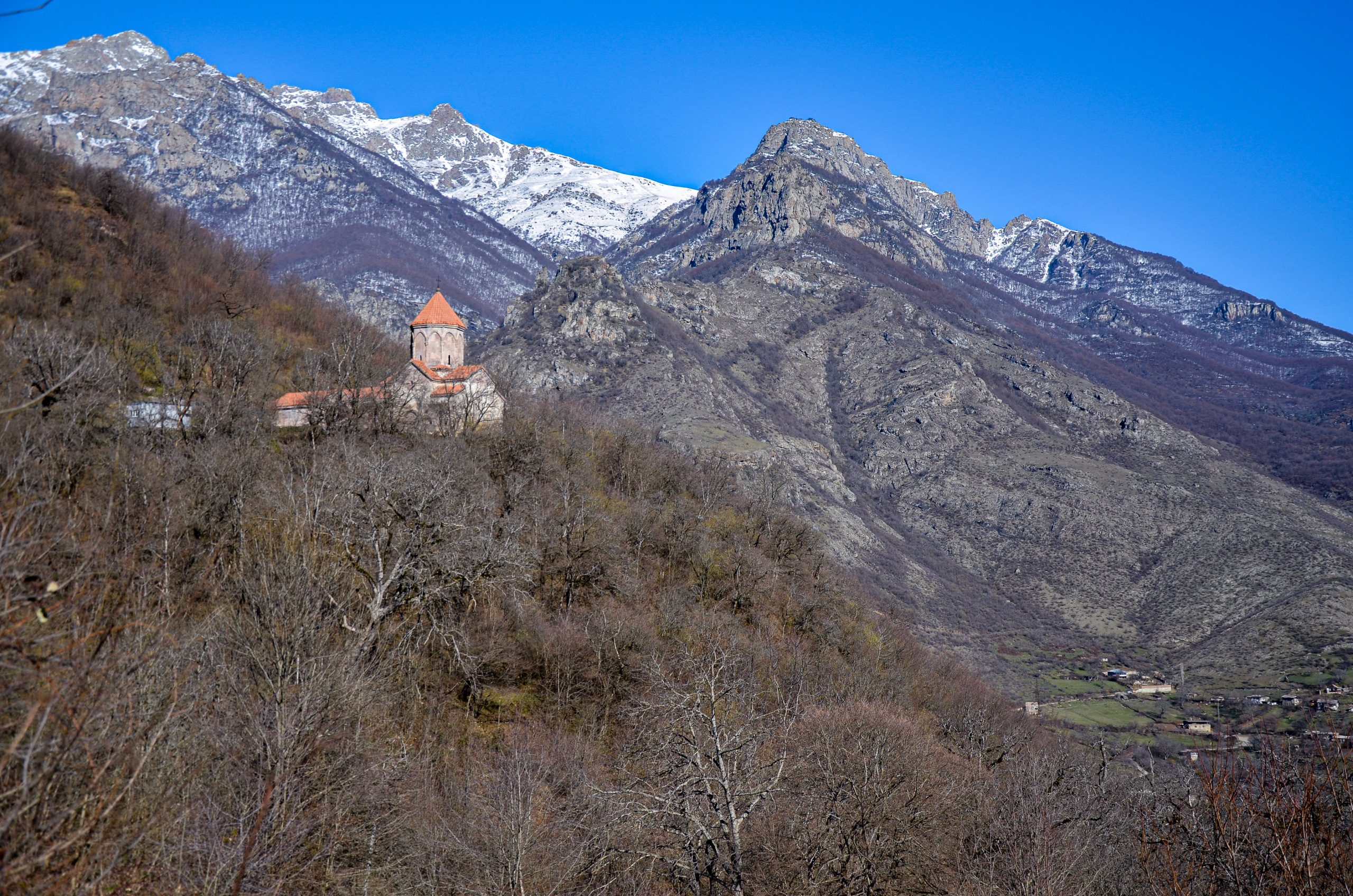 Monastery in Amrmenia. Photo: Shutterstock.com
Tensions rise between Armenia and Russia
Already tense relations between Armenia and Russia have grown more heated in recent days after Armenia sent its first delivery of humanitarian aid to Ukraine, withdrew its representative from the Collective Security Treaty Organisation (CSTO), and announced joint military exercises with the US.
 More recently, in an interview with the Italian newspaper La Repubblica on September 2, Armenian Prime Minister Pashinyan criticised the "failure" of Russian peacekeepers to protect Armenians in Nagorno-Karabakh, where they have been deployed since the 2020 war with Azerbaijan. He also lamented Yerevan's "strategic mistake" of depending on Russia almost entirely for its security and mused about cooperating more extensively with the West. 
And that followed a statement by the Foreign Ministry of Armenia three days earlier criticising Russia's "absolute indifference" to what the ministry called Azerbaijan's acts of aggression, including the September 2022 incursion and the June 15, 2023 incident in which Azerbaijani troops advanced towards Armenia from the border checkpoint on the Lachin road, which connects Armenia and Nagorno-Karabakh.
On September 5, Armenia also withdrew their representative from the Russian-led CSTO after increasingly frequently voicing criticism of the organisation regarding its perceived failure to intervene after Azerbaijan attacked Armenian territory in September 2022. 
A day later, on September 6, Armenia's Defence Ministry announced that a joint military training exercise with the US would take place from September 11–20 in Armenia to help train Armenian forces for peacekeeping missions.
 Moreover, on September 8, Armenian security forces detained pro-Russian blogger Mikael Badalyan, who criticised local authorities for ties with the United States and the EU, and Sputnik columnist Ashot Gevorkyan. "A day before the kidnapping, Mikael Badalyan took part in my program on Sputnik radio, where he spoke rather harshly with an opposition point of view and criticised the Armenian government for, as Mr. Badalyan believed, anti-Russian policies," Evgeniy Primakov, the head of Federal Agency for the Commonwealth of Independent States Affairs, Compatriots Living Abroad, and International Humanitarian Cooperation, said. The Investigative Committee of Armenia confirmed the detention of Badalyan and Gevorkyan.
On the same day, the Russian Foreign Ministry reported that certain doubts have recently appeared in official circles and the political elite of the Republic of Armenia about the expediency of allied ties within the CSTO and with Russia on a bilateral basis, as well as about the feasibility of a set of trilateral agreements between Moscow, Yerevan, and Baku on ways to normalise Armenian-Azerbaijani relations.
"Against this background, the Armenian leadership has taken a series of unfriendly steps in recent days, including the launch of the process of ratification of the Rome Statute of the ICC, a trip to Kyiv by the wife of Prime Minister Anna V. Hakobyan to deliver humanitarian aid to the Kyiv Nazi regime, and the holding of military exercises on Armenian territory with the participation of the United States," the report added.
 On the margins of the Eastern Economic Forum (EEF) in Vladivostok on September 13, the Kremlin changed the tone. Russian Foreign Ministry Spokesperson Maria Zakharova said Russia is not Armenia's enemy and will never become one. "It was not Russia that recognised Azerbaijan's rights to Nagorno-Karabakh. It was the Armenian leadership that did it. It is up to them, the people of Armenia, to decide how to treat it. But we should not put the blame and responsibility for the decisions made in Yerevan on Russia. One should not look for an enemy in Russia. Russia has never been Armenia's enemy and never will be." the official emphasised.
At the same venue, Russian President Vladimir Putin said that Armenian Prime Minister Nikol Pashinyan sent him a detailed letter about the current situation in the South Caucasus. "We are in contact with him, we have no problems with Armenia, and we have no problems with Pashinyan. We are in constant contact," the Russian head of state emphasised.
Putin stated that Azerbaijani President Ilham Aliyev claims that the issue of Nagorno-Karabakh's status is closed as Armenia itself has recognised it as a part of Azerbaijan. "We offered our options for settlement, what to hide, I think it is well known. Armenia controlled seven districts, which it brought under its control after the famous Armenian-Azerbaijani [1991-1994] conflict. We proposed to agree with Azerbaijan in such a way that two districts – Kalbajar and Lachin remained, in fact, under the jurisdiction of Armenia. And the whole of Karabakh. But the Armenian leadership did not agree to this, although we tried to convince Armenians for decades, 10-15 years," Putin noted. "There were different options, but in the end, it all came down to this. When asked what you would do, the answer in Armenia was, "We will fight". In the end, the current situation has developed," he added.
Sources:
AVETISYAN Ani, Eurasianet.org, "Tensions rise between Armenia, Russia", https://eurasianet.org/tensions-rise-between-armenia-russia

BARSEGHYAN Arshaluys, OC Media, Tensions rise between Armenia and Russia as officials trade accusations, https://oc-media.org/tensions-rise-between-armenia-and-russia-as-officials-trade-accusations/7/

Caucasus Watch, "Armenia Detains Pro-Russian Bloggers"; Russia Reacts, https://caucasuswatch.de/en/news/armenia-detains-pro-russian-bloggers-russia-reacts.html

Caucasus Watch, "Russia Summons Armenian Ambassador Over Doubts About Alliance", https://caucasuswatch.de/en/news/russia-summons-armenian-ambassador-over-doubts-about-alliance.html

Caucasus Watch, "Russia is Not Armenia's Enemy", Says Russian Foreign Ministry, https://caucasuswatch.de/en/news/russia-is-not-armenias-enemy-says-russian-foreign-ministry.html

Caucasus Watch, "Putin Discusses Pashinyan's Letter and Armenia-Azerbaijan Relations at EEF", https://caucasuswatch.de/en/news/putin-discusses-pashinyans-letter-and-armenia-azerbaijan-relations-at-eef.html
Anti-government protests hit Armenia following the capitulation of Nagorno-Karabakh
Thousands of people have joined protests in Yerevan, Armenia's capital, after the Azerbaijani offensive against Nagorno-Karabakh began on September 19. Since Nagorno-Karabakh's surrender on September 20, protesters have demanded that the Armenian government take action to ensure the safe evacuation of Nagorno-Karabakh's Armenian population while urging the government's resignation.
On September 19, riot police clashed with angry protesters gathered outside the government building in Yerevan. According to Armenia's Health Ministry, 34 people were injured, 18 civilians, while 16 were law enforcement officers. The protesters, who included refugees from Karabakh, blamed Pashinyan for the Azerbaijani offensive and demanded that Armenia intervene to prevent a mass killing and deportation of Karabakh's ethnic Armenian population.
Some participants of the spontaneous rally scuffled with security forces guarding the Prime Minister's office in Yerevan's central Republic Square. The latter fired stun grenades to push the crowd away from the building. Armenia's Investigative Committee launched a criminal investigation into calls for violent overthrow of the "constitutional order," which it said were made by some of the little-known speakers at the rally. The committee said it made an unspecified number of arrests in connection with such calls.
The rally continued peacefully at Republic Square. Andranik Tevanyan, an opposition politician who joined it after the first scuffles, urged the demonstrators to camp out in the sprawling square and keep protesting there until Pashinyan agreed to step down. "Nikol Pashinyan is the biggest threat to Armenia's security," declared Tevanyan. "His exit is the only way to ensure the security of Armenia and Artsakh."
The police intervened again at midnight to stop the protesters from pitching tents there. The crowd tried to push back, chanting, "Nikol traitor!"
Addressing concerns regarding the safety of Nagorno-Karabakh's population, Armenian Prime Minister Nikol Pashinyan on September 21 stated that, at present, there was "no direct threat" to Nagorno-Karabakh's civilian population. Sevada Ghazaryan, an Armenian journalist and fact-checker, noted that Civic.am, a media outlet affiliated with the ruling Civil Contract party, had targeted Nagorno-Karabakh Armenians in its coverage of the protests. Screenshots shared by Ghazaryan referred to the protesters as "destroyers from Karabakh", and stated that they had attacked cars in the city. "This is hate speech; this is a call for violence. This is how the foundations of civil war are laid", wrote Ghazaryan. "And this is done by the personal blog of the Civil Contract party".
Moreover, opposition members taking part in the protests have also been beaten by police. On September 22, journalists released footage of Levon Kocharyan, the son of Armenia's second president, Robert Kocharyan, being beaten by police in a police car. His attorney later stated that Kocharyan was hospitalised after being "severely beaten". Kocharyan has taken part in anti-government protests in recent years and was a candidate for the opposition Armenia Alliance in 2021. Gegham Manukyan, a well-known lawmaker from the opposition Armenia Alliance bloc, also said a police officer beat him at an anti-government protest.
"Two days ago, during the protests, a conspiratorial, Nikol-supporting police officer tried to hit me while he was standing behind his friends," Manukyan said in a Facebook video with bandages stretched across his nose. "It doesn't matter. I'll return to the ranks in a couple of days."
Sources:
 AP, "Separatist parliament in Azerbaijan's breakaway Nagorno-Karabakh region elects new president", https://apnews.com/article/armenia-azerbaijan-nagorno-karabakh-blockade-8c17f95af29c66638bcd38fb7fb02812
Caucasus Watch, "International Community Reacts to Controversial Karabakh Elections", https://caucasuswatch.de/en/news/international-community-reacts-to-controversial-karabakh-elections.html
JAM News, "'There is a risk of internal clashes': on elections in unrecognised NKR", https://jam-news.net/presidential-elections-in-nagorno-karabakh/
Nagorno-Karabakh receives first aid in months, but route to Armenia remains closed
A Russian Red Cross truck carrying humanitarian aid entered Nagorno-Karabakh from the Azerbaijani city of Aghdam on September 12. It was the first delivery of supplies to the territory in nearly three months since Azerbaijan shut down all traffic on the Lachin corridor, the only road connecting the Armenian-populated region to the Republic of Armenia. 
 It was also the first use in some three decades of the road connecting Aghdam with Karabakh's de facto capital, Stepanakert. Baku had been pushing since July for Nagorno-Karabakh to be supplied from the Azerbaijani side. That proposal was also endorsed by the EU, which brokers Armenian-Azerbaijani peace talks, but vehemently opposed by Karabakh Armenians, who saw it as a legitimisation of Azerbaijani rule. 
Stepanakert announced its willingness to receive humanitarian aid sent by the Russian Red Cross through Azerbaijan-controlled territory, a change in position that came hours after the region's parliament elected Samvel Shahramanyan as president, replacing Arayik Harutyunyan.
Nagorno-Karabakh de facto officials stated that they would accept the delivery of humanitarian aid via the Aghdam–Stepanakert road due to "acute humanitarian problems". It added that an agreement was reached "at the same time" to allow Russian peacekeepers and the Red Cross to resume their transport of humanitarian aid via the Lachin Corridor, which connects Nagorno-Karabakh to Armenia. 
A truck from the Russian Red Cross brought 1,000 packages of Russian-made essential goods, such as food, bedding and hygiene items. The 1,000 aid packages are intended for 120,000 people who have been under blockade for nine months – since December 12 last year. Since June 15, Azerbaijan has banned the delivery of all types of humanitarian aid. And for a month and a half, trucks with 400 tons of aid from the Armenian government have been idling at the entrance to the Lachin corridor. The Azerbaijani authorities have also prevented humanitarian cargo sent here from various cities and regions of France from entering the territory of Nagorno-Karabakh.
Head of the Azerbaijani Foreign Ministry Press Service Aikhan Hajizadeh regards the transfer of Russian humanitarian aid along the Agdam road as "progress" and "a positive step". However, the vital Lachin Corridor remains closed.
Nagorno-Karabakh's former de facto state minister, Ruben Vardanyan, accused Azerbaijan of having "renounced established agreements" in not allowing goods to be transported through the Lachin Corridor following the transportation of Russian humanitarian aid through Aghdam. Artak Beglaryan, another former de facto State Minister, has said that Aliyev's regime had reneged on its promise to reopen the Lachin Corridor once humanitarian aid enters the region via Aghdam.
Sources:
ISAYEV Heydar, SHAHVERDYAN Lilit, Eursianet.org, "Nagorno-Karabakh receives first aid in months, but a route to Armenia remains closed", https://eurasianet.org/nagorno-karabakh-receives-first-aid-in-months-but-route-to-armenia-remains-closed

BARSEGHYAN Arshaluys, OC Media, "Lachin Corridor remains closed despite 'rapidly deteriorating humanitarian situation", https://oc-media.org/lachin-corridor-remains-closed-despite-rapidly-deteriorating-humanitarian-situation/

JAM News, "1000 packages for 120 thousand people in blockade: Russia's aid to unrecognised NK", https://jam-news.net/russia-sends-humanitarian-aid-to-nk/
Karabakh elected a new de facto president
Lawmakers in de facto Nagorno-Karabakh voted to elect Samvel Shakhramanyan, the new de facto president, on September 9 in a move that was strongly condemned by the Azerbaijani authorities. Shakhramanyan's election as the new president of Nagorno-Karabakh follows the resignation of Arayik Harutyunyan, who stepped down on September 1 as the de facto president of the region.
Azerbaijan's Foreign Ministry denounced the vote as a "gross violation" of the country's constitution and a "serious blow to the efforts of normalisation in the region." The ministry emphasised that "the only way to achieve peace and stability in the region is the unconditional and complete withdrawal of the Armenian armed forces" from Nagorno-Karabakh and "the disbandment of the puppet regime."
The elections were criticised by other international actors as well. On September 11, US State Department Spokesman Matthew Miller stated: "We do not recognise Nagorno-Karabakh as an independent and sovereign state, and therefore, we do not recognise the results of the so-called presidential elections that were announced over the last few days."
European Union Foreign Affairs Spokesperson Nabila Massrali noted that taking into account the so-called elections held in Nagorno-Karabakh on September 9, the European Union once again declares that it does not recognise the constitutional and legal framework in which the elections were held. The EU also stated that it is important for Karabakh Armenians to unite around a leadership capable and ready to conduct result-oriented discussions with official Baku and is committed to supporting this process. The Ministry of Foreign Affairs of Turkey issued a statement that condemned the election held when Azerbaijan and Armenia tried to continue peace talks.
According to political analyst Tigran Grigoryan, there was a political consensus, and Samvel Shahramanyan was likely to be elected. He said that clearly a decision has been made "to manage the republic in this crisis situation by united efforts, therefore the candidacy of Shahramanyan, who is not a political figure, is presented". As the political scientist explains, he represents that informal political alliance, which was consolidated by Ruben Vardanyan, former state minister of the unrecognised Nagorno-Karabakh. It includes former presidents and representatives of the three opposition factions of the parliament.
Sources:
For additional information see: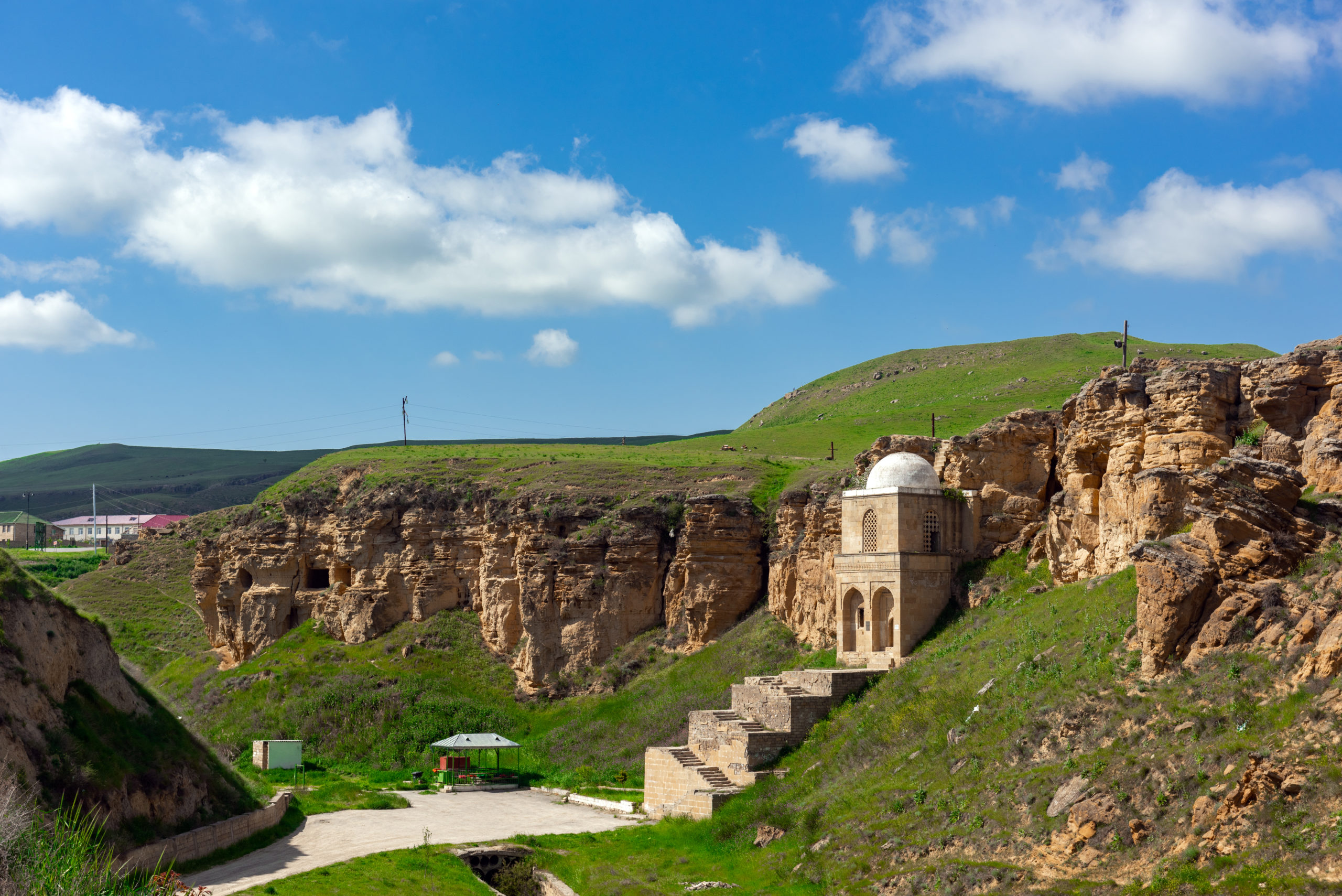 Gobustan City, Azerbaijan. Photo: Shutterstock.com
De facto Nagorno-Karabakh surrendered to Azerbaijan following one day of war
On September 19, Azerbaijan launched a massive assault on the Armenian-populated de facto Nagorno-Karabakh region. Before the operation, the Azerbaijani side reported that a "KamAZ" vehicle carrying personnel from the Ministry of Internal Affairs of Azerbaijan, while en route to the location of an attack that occurred on the same day, resulting in the deaths of State Road Agency employees, was detonated by a mine at around 04:30 am on the new tunnel road constructed in the village of Taghavardi/Taghaverd in the Khodjavend district, located on the 58th kilometre of the Ahmedbeyli-Fizuli-Shusha road.
The population of Nagorno-Karabakh – which has been under siege for the past nine months, enduring acute food and supply shortages – was left to its own devices to resist despite the presence of Russian peacekeepers stationed there since the last full-scale war in 2020. Azerbaijani troops and hardware movements and supplies of weapons from Israel presaged the offensive. It started at about 1 pm local time when the Azerbaijani Defense Ministry announced the launch of "local anti-terrorist operations aimed at restoring constitutional order" in Karabakh.
In the ensuing hours, Azerbaijani media outlets and social media users circulated Defense Ministry videos purporting to show explosions of military installations belonging to the "Armenian armed forces." (The phrasing is a pointed refusal to differentiate between Armenian and Karabakh armed forces.)
Meanwhile, images of Nagorno-Karabakh showed damage to apartment blocks and other civilian infrastructure. Towards evening, a former official wrote that 26 civilians, including 11 children, had been wounded and two civilians, one of them a child, had been killed.
In a post on X (formerly Twitter) about four hours after the assault began, Azerbaijani presidential advisor for foreign affairs Hikmet Hajiyev reiterated Baku's longstanding demand that the "illegal separatist puppet regime" (the de facto government of Nagorno-Karabakh) dissolve itself and that all units of "Armenian armed forces" there be disarmed.
A short time later, Hajiyev told Turkish television that most military targets in Nagorno-Karabakh had been neutralised and that now smaller surgical operations were underway. Armenian Prime Minister Nikol Pashinyan's first public reaction to the fighting was to reject any notion that the Republic of Armenia was involved or planned to intervene. He reiterated that Armenia has no troops in Nagorno-Karabakh.
Then, a statement of the Ministry of Defense of Azerbaijan was conveyed to the participants: "The Ministry of Defense of the Republic of Azerbaijan states that considering the appeal by the representatives of the Armenian residents living in the Karabakh region of Azerbaijan, conveyed by the Russian peacekeeping contingent, an agreement has been reached as of 13:00, September 20, 2023, to stop the anti-terror measures under the following terms:
The formations of Armenia's armed forces stationed in the Karabakh region of the Republic of Azerbaijan and illegal armed groups lay down their arms, withdraw from their battle positions and military outposts, and are subjected to complete disarmament.
Simultaneously, all the ammunition and heavy military equipment is handed over.
Conducting the above-mentioned process in coordination with the Russian peacekeeping contingent is ensured."
At the end of the briefing, it was noted that the leadership of the Ministry of Defense of Azerbaijan gave the troops relevant instructions in this regard.
The number of casualties of the war remains unknown. The authorities in Nagorno-Karabakh have confirmed that at least 200 people were killed and over 400 wounded. Of those killed, at least 10 were reportedly civilians, including five children. Azerbaijani authorities have not released casualty figures. However, independent Azerbaijani news site MeydanTV reported to have confirmed the identity of 80 soldiers killed in the fighting by checking with local municipal authorities, family members of those killed, and other sources. Independent journalist Habib Muntazir said he had already confirmed the deaths of over 100 people.
According to the authorities in Nagorno-Karabakh, over 10,000 people were displaced, while many remain missing. The Russian peacekeeping mission said that 1,340 people were at their base in the region, including 607 children. On Wednesday, there were widespread reports that thousands of people had gathered at Stepanakert airport. Tigran Grigoryan, a Yerevan-based political analyst from Nagorno-Karabakh, said they were stuck without food or water.
Several Russian peacekeepers were also killed after their vehicle came under fire. Azerbaijan has claimed that they were killed by forces from Nagorno-Karabakh. However, in a phone conversation on September 21, Azerbaijan's President Ilham Aliyev apologised to Russian President Vladimir Putin and offered to compensate their families.
Sources:
Eurasianet.org, "Azerbaijan launches massive offensive in Nagorno-Karabakh", https://eurasianet.org/azerbaijan-launches-massive-offensive-in-nagorno-karabakh

Caucasus Watch, "Azerbaijan Launches Military Operation in Karabakh: Latest Developments", https://caucasuswatch.de/en/news/azerbaijan-launches-military-operation-in-karabakh-latest-developments.html

Caucasus Watch, "Azerbaijan Halts Military Operations Following Complete Disarmament Agreement with Karabakh Armenians", https://caucasuswatch.de/en/news/azerbaijan-halts-military-operations-following-complete-disarmament-agreement-with-karabakh-armenians.html

AGHAYEV Ismi, BARSEGHYAN Arshaluys, FABBRO Robin, "Nagorno-Karabakh surrenders to Azerbaijan", https://oc-media.org/nagorno-karabakh-surrenders-to-azerbaijan/
Azerbaijan declares victory as surrender talks begin with Karabakh Armenians
On September 20, Azerbaijani President Ilham Aliyev delivered a speech to the nation in which he praised the agreement reached between his government and the Armenian de facto authorities in Nagorno-Karabakh a few hours earlier.  "The process of withdrawal of Armenia's illegal armed units from their positions has already begun. In addition, they have accepted our terms and started laying down their arms," Aliyev said in his televised speech.
Talking about the Armenians as a nation, he emphasised, "Despite all the injustices, despite all the crimes committed by the criminal Armenian regime, we have never blamed the Armenian people for these crimes. We did not blame the Armenian people for the Khojaly genocide, the destruction of our cities and villages, and the digging of graves. We have accused the elements of the criminal regime and the leaders, and we will bring them to justice. Some have already received their deserved punishment, and some will."
Aliyev said that Azerbaijan would convey to Karabakh Armenians "our visions of future coexistence. All their rights will be guaranteed: educational rights, cultural rights, religious rights, and municipal electoral rights because Azerbaijan is a free society," he said.
In accordance with the surrender announcement, on September 21, two representatives of the Karabakh Armenian population – David Melkumyan, a member of Nagorno-Karabakh's parliament, and Sergey Martirosyan, head of the region's security council – arrived in Yevlakh, under escort of Russian peacekeepers, to meet representatives of Azerbaijan's central government.
Azerbaijan was represented by Ramin Mammadov, a ruling party MP, and Bashir Hajiyev and Ilkin Sultanov from the presidential administration. In a statement following the meeting, the de facto authorities in Nagorno-Karabakh said that "a number of issues of mutual importance" were discussed. "The parties especially emphasised that all existing issues need to be discussed in a peaceful atmosphere, with a readiness to continue the meetings", the statement said.
Azerbaijan's Presidential Administration also released a statement saying that the meeting was held in a "constructive and positive environment" and that they had presented their plans for the "reintegration" of the population of Nagorno-Karabakh.
"The issues of reintegration of the Armenian population of Karabakh, restoration of infrastructure, and the organisation of activities based on the Constitution and laws of the Republic of Azerbaijan [were discussed]", the statement said.
They said that the delegation from Nagorno-Karabakh had requested humanitarian aid, including food, fuel, medical supplies, heating systems for kindergartens and schools, and firefighting services. They claimed that they planned to "quickly" supply these, adding that the next meeting would be held "soon".
On September 22, Azerbaijani presidential advisor Hikmat Hajiyev claimed that Azerbaijan would offer an amnesty to members of the armed forces of Nagorno-Karabakh who lay down their arms. However, Hajiyev said the amnesty would not include those who committed crimes during the First Nagorno-Karabakh War. The decision to pursue participants of the First Nagorno-Karabakh War could put a large proportion of the male population of the region who were of military age at the time at risk, stressed OC Media.
Sources:
Eurasianet.org, "Azerbaijan declares victory as surrender talks begin with Karabakh Armenians", https://eurasianet.org/azerbaijan-declares-victory-as-surrender-talks-begin-with-karabakh-armenians

AGHAYEV Ismi, BARSEGHYAN Arshaluys, OC Media "Nagorno-Karabakh and Azerbaijani officials meet in Yevlakh to discuss region's future", https://oc-media.org/nagorno-karabakh-and-azerbaijani-officials-meet-in-yevlakh-to-discuss-regions-future/

AGHAYEV Ismi, OC Media, "Azerbaijan offers amnesty to Nagorno-Karabakh soldiers, except for crimes during the first war", https://oc-media.org/azerbaijan-offers-amnesty-to-nagorno-karabakh-soldiers-except-for-crimes-during-first-war/

Caucasus Watch, "Ilham Aliyev on Agreement with Karabakh Armenians, Meeting in Yevlakh, and Armenia's Reaction to Recent Military Operation in Karabakh",https://caucasuswatch.de/en/news/ilham-aliyev-on-agreement-with-karabakh-armenians-meeting-in-yevlakh-and-armenias-reaction-to-recent-military-operation-in-karabakh.html
US Imposes Sanctions on Ivanishvili's Close Associate
On September 14, the Department of the Treasury's Office of Foreign Assets Control (OFAC) imposed sanctions on Otar Partskhaladze, considered by the media and watchdogs as one of the close associates of the oligarch, and ruling party patron, Bidzina Ivanishvili. The State Department stated that Partskhaladze, who served as a Prosecutor General, was designated for his efforts to influence Georgian society and politics in cahoots with an FSB officer.
The US State Department release reads: "FSB Officer [Aleksander] Onishchenko likely assisted his associate Partskhaladze in obtaining a Russian passport and possibly Russian citizenship. Partskhaladze has fully taken on Russian identity and routinely travels to Russia. Onishchenko and the FSB have leveraged Partskhaladze to influence Georgian society and politics for the benefit of Russia. Partskhaladze has reportedly personally profited from his FSB connection."
On the following day, in a written statement submitted to Rustavi 2 TV, Partskhaladze claimed that the decision on his sanctioning was based on assumptions rather than facts. Partskhaladze said the United National Movement, the Georgian Dream's nemesis, was behind the decade-old "dirty campaign" to discredit him, which brought about the US sanction.
The ruling Georgian Dream initially used the same line to downplay the links with Partskhaladze but promptly changed tack. GD MPs and officials rallied behind Partskhaladze and demanded proof from the US State Department to confirm any wrongdoings.
Another wave of indignation among representatives of the ruling party occurred on August 18, after the National Bank of Georgia restricted access to bank assets and financial transactions to Partskhaladze. The Bank said it had acted to limit the accounts based on an instruction issued by its President in August that required the domestic financial sector to bring its operation in line with sanctions for individuals in the US Department of the Treasury's Office of Foreign Assets Control list.
Irakli Kobakhidze, the chair of the ruling Georgian Dream party, alleged that suspending former Prosecutor General Otar Partskhaladze's accounts by Georgia's National Bank in line with US sanctions went against Georgia's constitution. Kobakhidze stated that in the case of decisions when the National Bank's internal regulation and the country's constitution were "in conflict with each other", priority should be given to the constitution. "If such a decision is taken by the National Bank, it directly contradicts the constitution of Georgia and, in particular, one of its basic principles — this is the presumption of innocence when talking about a citizen of Georgia", he said.
Kobakhidze and Georgia's President Salome Zurabishvili also commented on Otar Partskhaladze's citizenship. While the US State Department announcement described Partskhaladze as a Georgian-Russian citizen, Georgian citizens are allowed to hold dual citizenship only if granted permission by Georgia's President. According to opposition-aligned TV Pirveli, Partskhaladze received Russian citizenship in 2021.
Hower President Zurabishvili wrote, "no documents regarding Otar Partskhaladze's Georgian citizenship have been sent to the President's office". On the same day, Irakli Kobakhidze announced that Georgia's judiciary had begun investigating Partskhiladze's citizenship, allowing for the possibility that "the question of loss of citizenship may arise".
AS JAM News noted, Partskhaladze was appointed chief prosecutor of Georgia on November 7, 2013, but resigned on December 30 of the same year. Having worked in his post for only 47 days, Partskhaladze was involved in many scandals.  The scandal, after which Partskhaladze resigned, was related to his past conviction in Germany (presumably for stealing shoes). Partskhaladze confirmed his conviction but said he was not charged with theft but with resisting police. After leaving the post of Prosecutor General, Partskhaladze went into business. He is also close to the family of former Georgian Prime Minister Bidzina Ivanishvili.
Sources:
Civil.ge, "US Sanctions, Who is Otar Partskhaladze?", https://civil.ge/archives/559664

JAM News, "US imposes sanctions on former Georgian Prosecutor General Otar Partskhaladze", https://jam-news.net/sanctions-against-former-prosecutor-general/

Agenda.ge, "Georgian central bank restricts access to bank assets, financial transactions to US-sanctioned former Prosecutor General", https://agenda.ge/en/news/2023/3423

Civil.ge, "US Sanctions | Who is Otar Partskhaladze?", https://civil.ge/archives/559664
Georgian PM Gharibashvili Faces Backlash Over Alleged Use of Government Plane for Personal Travel
A scandal has erupted over Prime Minister Irakli Gharibashvili's use of a government plane to fly himself and members of his family to the United States. The scandal started out with the government administration Strategic Communications department head Nino Giorgobiani publishing a FB post on September 7 saying that "some media are trying to create a scandal over the fact that Prime Minister Irakli Gharibashvili travelled to the US in August with his son, who was starting his academic year at the University of Pennsylvania." Giorgobiani wrote that there was nothing scandalous, "no laws" were broken and "no state money was spent".
However, Giorgobiani's claim that the PM used the charter to travel to the US raised questions about how exactly the Prime Minister chartered a flight to the United States. In its reaction, the government's Stratcom changed its story, claiming that Gharibashvili had arrived in Europe on a charter flight, and from there, he took a regular flight to the United States.
The pro-opposition TV Pirveli journalists' team obtained the entire flight route of the government plane, which confirms that the aircraft, which Irakli Gharibashvili used on August 19 for personal purposes during his vacation, belongs to the Georgian government and is operated by "Georgian Airways" airline.
Moreover, not only did the Prime Minister allegedly fly on holiday in the state plane, but according to the journalistic investigation by TV Pirveli, the plane that took the Prime Minister to Munich was parked at the German airport for the whole week that he was in the United States. Gaiashvili claims it was there for "technical servicing".
So far, it has yet to be determined how much the Prime Minister's trip to the US with his son cost. According to his financial statement filed in October 2022, his annual salary was around 45,000 GEL (approximately 17,000 USD), comparable to a mid-level civil servant and much lower than the salaries of cabinet ministers. The statement also said that he had received a "gift" of GEL 150,000 (about USD 57,000) from his parents.
On September 11, Several Civil Society Organizations in Georgia called for an investigation into allegations that Prime Minister Irakli Gharibashvili misused a state-owned aircraft for personal purposes.
Later, on September 12, Anzor Chubinidze, the Head of the Special State Protection Service, said the Georgian Prime Minister's father, Tariel Gharibashvili, had paid for the charter flight. "I would like to confirm to the public that the [money] contribution was made to the account of the Special State Protection Service, which provides for the expenses related to the Tbilisi-Munich-Tbilisi flight. The contribution was made by a private person, and this amount is equivalent to 34,000 EUR in lari", Chubinidze said.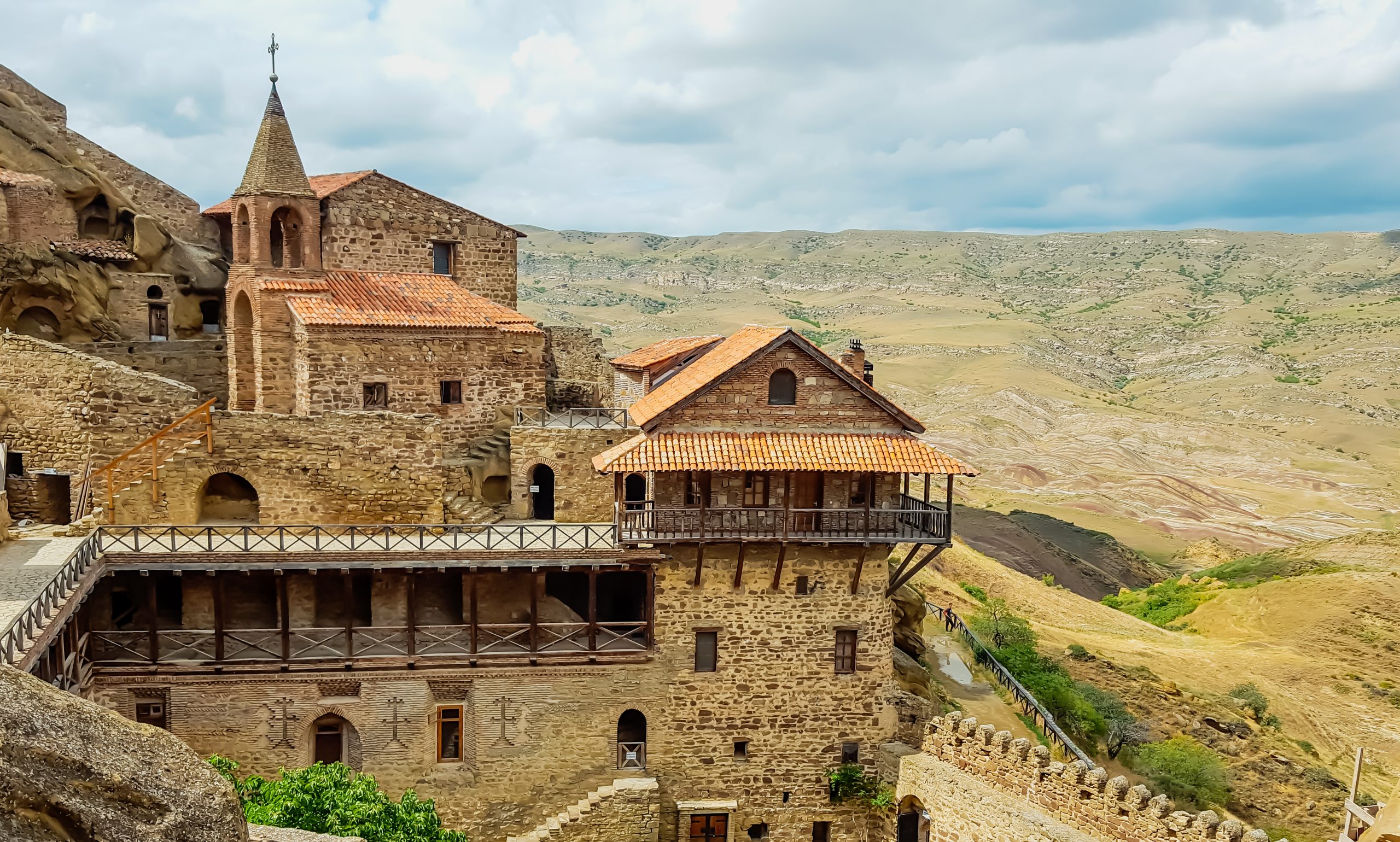 Ancient Monastery Complex of David Gareji, Georgia. Photo: Shutterstock.com
Josep Borrell Reviews His Visit to Georgia
On September 11, Josep Borrell, the High Representative of the European Union for Foreign Affairs and Security Policy, reviewed his visit to Georgia. Borrell noted that there is no doubt for the European Union that Georgia belongs to the European family and further highlighted the overwhelming European aspiration of Georgian citizens.
Speaking of his visit to Georgia, the EU High Representative notes that he wanted to share three main messages with the Georgian people and the Georgian authorities. "First: there is no doubt for the EU that Georgia belongs to the European family. Visiting Georgia, you can feel the overwhelming European aspiration of the Georgian people. I have seen more European flags in the street of Tbilisi than in most European capitals…," said the High Representative, stressing that more than 80% of the Georgians want their country to become a part of the European Union.
His second message was linked to the war in Ukraine. Borrell claimed the EU welcomes the clear position of Georgia in international fora in this regard, as well as Georgia's cooperation on the prevention of sanctions' circumvention. "However, I have had to say also that we regret the resumption of direct flights between Georgia and Russia, making Tbilisi a hub for bringing Russians to Europe. More engagement is also needed to counter Russia's hybrid activities, starting with Russia's propaganda and disinformation war. The EU will continue supporting independent media and civil society in Georgia to help build resilience to information manipulation. Independent media and fair access to information are at the core of democracy," said the EU High Representative.
"My third message was about our unwavering support of Georgia's security, sovereignty and territorial integrity. Since 2008, Georgia has been a victim of Putin's neo-imperialist worldview. Our longstanding commitment to stand by Georgia is today as strong as ever in light of Russia's aggression against Ukraine. "These are not just words. We are backing this up with concrete actions: we have an active EU Special Representative for the South Caucasus, Toivo Klaar and our dedicated civilian mission, the EU Monitoring Mission (EUMM), that has been in the country for the last 15 years," closed Borell his remarks.
Georgia Announces Visa-Free Travel for Chinese Citizens
A visa-free regime for Chinese citizens has been introduced in Georgia since September 11. According to Georgian Prime Minister Irakli Gharibashvili, tourism is vital for the economy of Georgia and last year brought 3 billion 500 million dollars in direct revenue to the country. The government expects those revenues to grow to 4-4.5 billion dollars.
"You know, I had a very successful visit to China, and China today is the second economy in the world, the strongest economy. One of our main interests is strengthening trade and economic relations with China to attract Chinese investments and tourists to Georgia. My visit served this purpose, and one of the main components of signing strategic cooperation will be the continuation of trade and economic relations".
Gharibashvili also noted that the delegation of the Chinese Minister of Economy came to Georgia specifically about direct flights.
Sources:
JAM News, "Georgia introduces visa-free regime for Chinese citizens", https://jam-news.net/georgia-introduces-visa-free-travel-for-chinese-citizens/