Strategic Analysis Caucasus Brief
Monthly review of October 2023
Tomáš Baranec
Armenia

Republic Square, Yerevan. Photo: Andrei Bortnikau/ Shutterstock.com
Armenia ratifies the Rome Statute, defying Russia
On October 3, the Armenian parliament ratified the ICC's founding statute, subjecting itself to the court's jurisdiction and vexing Russia, whose president, Vladimir Putin, the ICC wants to arrest.
  A spokeswoman for the Yerevan parliament said 60 deputies voted to ratify the Rome Statute of the ICC, and 22 voted against it. Now, Armenia's president must sign off on the decision, which will come into force 60 days after the vote.
Ahead of the vote, Kremlin spokesperson Dmitri Peskov said that Moscow would view any move to join the international court as "extremely hostile" towards Russia. The Kremlin said the decision was "incorrect" and that it would have questions for Armenia's "current leadership", which should instead look to its established allies, not least Moscow. "We would not want the president to have to refuse visits to Armenia for some reason," Kremlin spokesman Dmitry Peskov said. "Armenia is our ally, a friendly country, our partner… But at the same time, we will have additional questions for the current leadership of Armenia… We still believe it is a wrong decision," he added.
Moscow has voiced increasing frustration with Prime Minister Nikol Pashinyan, who has publicly said landlocked Armenia's policy of solely relying on Russia to guarantee its security was a mistake and pointedly hosted joint manoeuvres with US forces. Armenian officials have argued the move has nothing to do with Russia and was prompted by Azerbaijan's aggression against the country.
Sources:
Al-Jazeera, "Armenia to join International Criminal Court; 'wrong' decision, says Russia", https://www.aljazeera.com/news/2023/10/3/armenia-to-join-international-criminal-court-wrong-decision-russia-says
Euronews.com, "Armenia ratifies ICC Rome Statute in a show of defiance against Russia", https://www.euronews.com/2023/10/03/armenia-ratifies-icc-rome-statute-in-show-of-defiance-against-russip
France to provide military equipment to Armenia; Azerbaijan responds
At a press conference in Yerevan on October 3, French Foreign Minister Catherine Colonna stated that France agreed to sign an agreement with Armenia, thanks to which Paris could provide Yerevan with military equipment. "France agreed to the signing of an agreement between Armenia and France, according to which Paris will be able to provide military equipment to Armenia to ensure the country's defence," she said. She also welcomed Armenia's ratification of the Rome Statute of the ICC. "From Yerevan, I welcome the decision of the Parliament of the Republic of Armenia to ratify the Rome Statute, which will allow Armenia to become a state party to the International Criminal Court," the minister said.
Moreover, Colonna stated that Paris is ready to sign an agreement on military assistance to Armenia. "We discussed issues of bilateral cooperation in the field of security. France agreed to conclude a contract with Armenia in the future, which would allow the supply of military products so that it could ensure its security," she added. Colonna noted that it could not provide details, but a number of issues have already been agreed upon between Paris and Yerevan.
Azerbaijan condemned France's plans on October 4. "The efforts to supply Armenia with weaponry in every possible way and the instigation of this country for another aggression and military adventure by France are unacceptable," an Azerbaijani Foreign Ministry statement said.
Sources:
Caucasus Watch, "France to Provide Military Equipment to Armenia; Azerbaijan Responds", https://caucasuswatch.de/en/news/france-to-provide-military-equipment-to-armenia-azerbaijan-responds.html
AA.com, "Azerbaijan condemns France's plans to sign military cooperation deal with Armenia", https://www.aa.com.tr/en/asia-pacific/azerbaijan-condemns-frances-plans-to-sign-military-cooperation-deal-with-armenia/3007527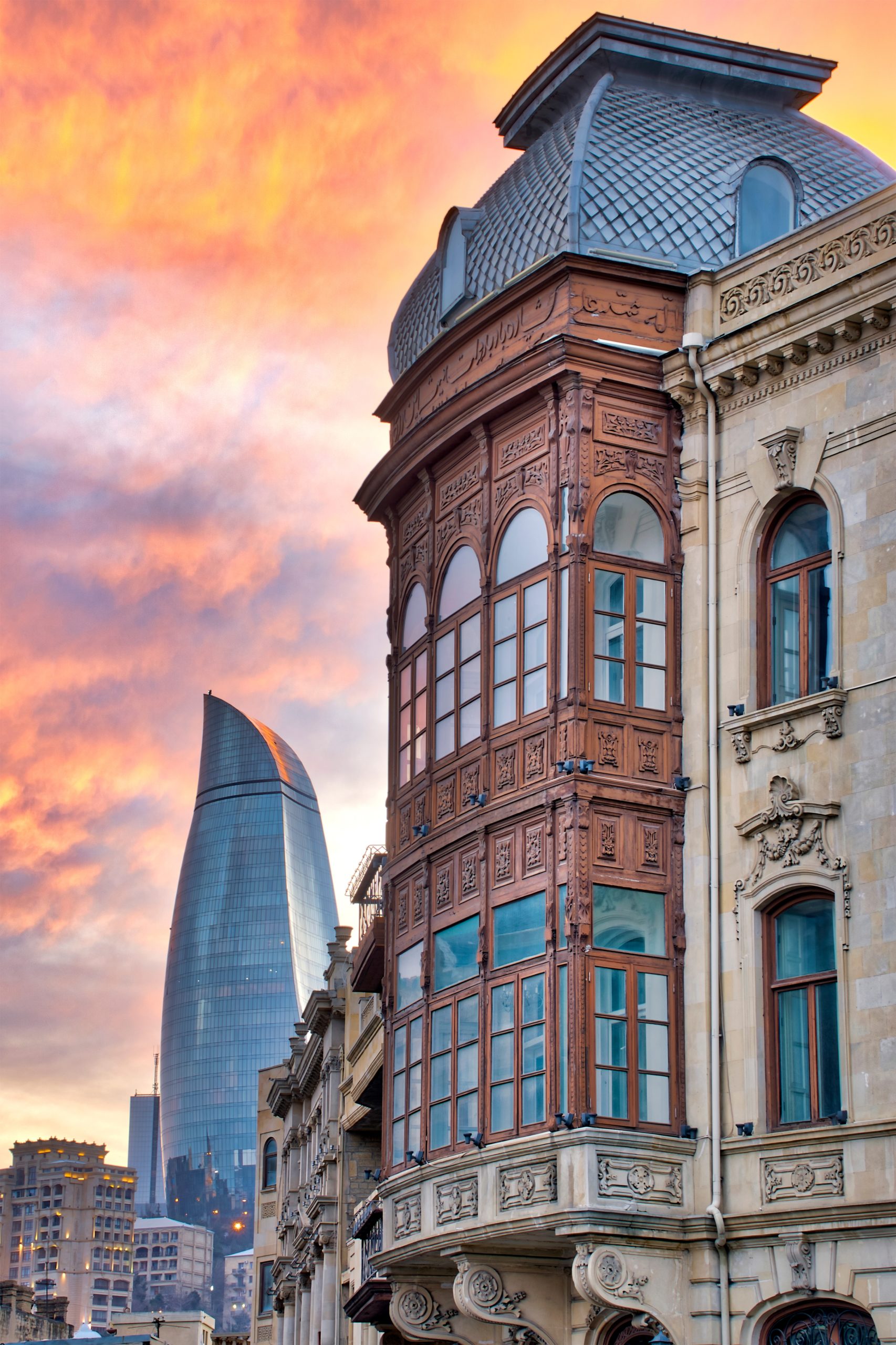 Street in Icheri, Baku. Photo: Shutterstock.com
Ruling party installs new Yerevan mayor after election setback
Three weeks after its worse-than-expected performance in municipal elections, the ruling Civil Contract party installed on October 10 one of its senior members as mayor of Yerevan. It managed to do so with the decisive help of a controversial video blogger wanted by Armenian law-enforcement authorities, reports Azatutyun.am.
The new mayor, Tigran Avinyan, has effectively run the Armenian capital since March amid opposition and media allegations that he is illegally using his government levers for electoral purposes. He has repeatedly denied them. Avinyan, a former deputy mayor and a close ally of Prime Minister Nikol Pashinyan, won by a margin of 32-5, with 28 members not voting. The Mother Armenia alliance, led by Andranik Tevanyan and backed by Armenia's parliamentary opposition, and the National Progress party, led by former mayor and second-place mayoral candidate Hayk Marutyan, boycotted the vote.
According to official results of the September 17 elections, no political group won a majority of seats in the 65-seat city council empowered to appoint the mayor. Civil Contract garnered 32.5% of the vote, which earned it 24 seats in the council. A small party represented by former Mayor Hayk Marutian (19%) and the radical opposition bloc Mayr Hayastan (15.4%) that won 14 and 12 seats respectively trailed it. The Public Voice party of blogger Ghukasyan won 7 seats, giving the three anti-government contenders a narrow majority in the council and thus putting them in a position to appoint the mayor jointly.
Such an alliance almost came together but failed as two of the council members-elect of Public Voice, a party led by fugitive media personality Vardan Ghukasyan, were facing criminal charges and could not participate in the session. At the end, Ghukasyan ruled out a boycott, effectively predetermining Avinyan's election. He said he regards Avinyan as a lesser evil than Marutian or other potential opposition mayors. The remaining Public Voice members then decided to participate in the mayoral vote, breaking ranks with the other opposition parties.
A former police officer nicknamed Dog Ghukasyan emigrated to the United States about a decade ago. He has since attracted large audiences with his hard-hitting and opinionated comments on political developments in Armenia. He has been notorious for using foul language, including against Pashinyan and his family members, in videos posted on YouTube.
Earlier this year, law-enforcement authorities issued an international arrest warrant for Ghukasyan and arrested his associates in Armenia on charges of blackmail, extortion and fraud vehemently denied by them. It is still unclear whether they have formally demanded his extradition from the US.
Meanwhile, Avinyan already managed to spark public outrage after it emerged that a lavish inauguration ceremony organised by him cost taxpayers over 87 million AMD (approximately 205 000 EUR). Despite the apparent election setback, Avinyan's inauguration, attended by Armenia's top state officials but boycotted by opposition groups, was held with unprecedented pomp that raised eyebrows in the country.
The municipal administration revealed the cost of the ceremony in a written statement to RFE/RL's Armenian Service. It said half of the money was spent on decorations evoking the ancient kingdom of Urartu, whose 8th century BC ruler Argishti First is considered the founder of Yerevan. As Avinyan entered the inauguration hall, men dressed as Urartian warriors greeted him. The 34-year-old put his hand on a replica of a cuneiform inscription left by Argishti as he took the oath of office. Avinyan defended the unusual event staging when he spoke to reporters afterwards. He said it was meant to remind Armenians of "the origins of Yerevan."
Armenia considers banning Russian TV channels
Amid increasing tensions between Yerevan and Moscow, High-Technology Minister Robert Khachatryan suggested that the retransmission of state-run Russian TV channels in Armenia could potentially be banned. "All scenarios are discussed, but no decision has been made," Khachatryan told reporters when he was asked to comment on the possibility of the ban, prompting severe concern from Russian officials.
He cited a 2020 Russian-Armenian agreement that allowed Russia's two leading federal channels and the Kultura TV station affiliated with one of them to retain their slots in Armenia's national digital package accessible to TV viewers across the country. "The agreement calls for relevant steps in case of violations, and we will take those relevant steps," the minister said without elaborating. Asked whether he too regards the Russian TV broadcasts as a security threat, he said: "I won't comment on that."
Last month, a lawmaker representing Prime Minister Nikol Pashinyan's party, Lusine Badalian, called for such a ban. Badalian claimed that the Russian broadcasters' news coverage threatens Armenia's national security. She appeared to allude to their recent reports critical of Pashinyan.
Sources:
Caucasus Watch, "Armenia Considers Banning Russian TV Channels", https://caucasuswatch.de/en/news/armenia-considers-banning-russian-tv-channels.html

Azatutyun.am, "Minister Won't Rule Out Ban On Russian TV Broadcasts In Armenia", https://www.azatutyun.am/a/32645591.html
Azerbaijan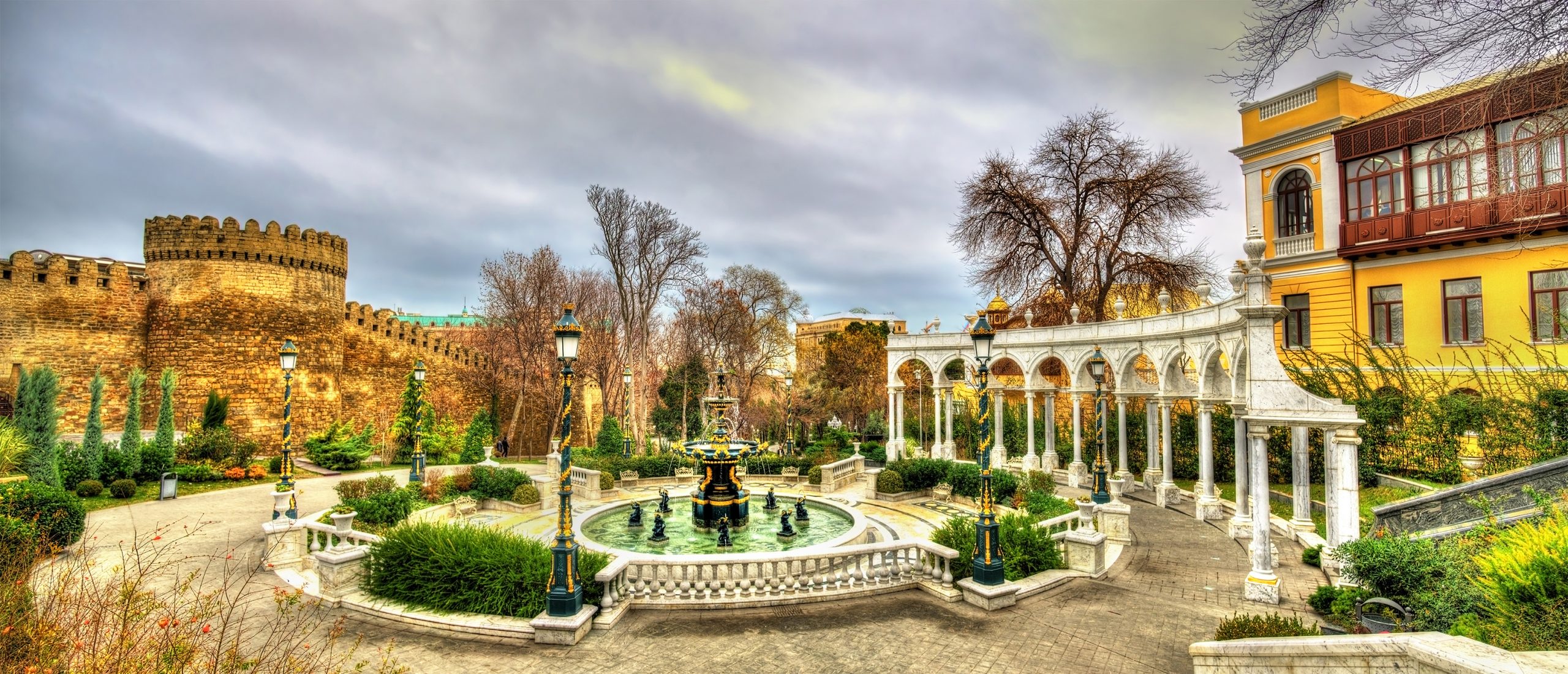 Philharmonic Fountain Park, Baku. Photo: Leonid Andronov/ Shutterstock.com
De facto Nagorno-Karabakh to abolish itself while its former leaders are being arrested
On September 28, Samvel Shahramanyan, the de facto president of the unrecognised Nagorno-Karabakh Republic, announced "Measures arising from the situation after September 19, 2023," which envisages the end of the existence of the de facto republic. He signed a decree in this regard, reported Caucasus Watch.
According to the document, all state institutions and organisations of the regime will be dissolved by January 1, 2024. According to the decree, this document is based on the priority of ensuring the physical security and vital interests of the people of Nagorno-Karabakh, taking into account the agreement reached through the mediation of the command of the Russian Armed Forces in connection with the current difficult military and political situation, and the representatives of the Republic of Azerbaijan and the peacekeeping contingent of Nagorno-Karabakh. "It was signed on the basis of the Constitution of Nagorno-Karabakh in accordance with the agreement on ensuring the free, voluntary and unhindered passage of its residents, including the property of military personnel who have laid down their weapons, through the Lachin Corridor with their vehicles," the information said.
The document added: "By January 1, 2024, all state institutions and organisations under their control should be abolished, and the existence of the Nagorno-Karabakh Republic should be terminated." Meanwhile, Baku launched a campaign to arrest former de facto representatives of de facto Nagorno-Karabakh.
Three former presidents and the acting parliamentary speaker of Nagorno-Karabakh were arrested by Azerbaijan on October 3, bringing the total number of detained former and acting officials to eight. Three former presidents of Nagorno-Karabakh — Arayik Harutyunyan (2020—2023), Arkadi Ghukasyan (1997—2007), and Bako Sahakyan (2007—2020) — as well as the speaker of the National Assembly, Davit Ishkhanyan, were arrested by Azerbaijan and transferred to Baku. APA, Azerbaijan's government press agency, reported that they were detained by the State Security Service of Azerbaijan.
Armenia's Foreign Ministry "strongly condemned" the arrests of the Nagorno-Karabakh officials. The ministry stated that "arbitrary arrests" were continuing despite meetings between officials from Azerbaijan and Nagorno-Karabakh and statements from Azerbaijani officials asserting their commitment to respecting and protecting the rights of Nagorno-Karabakh's Armenian population and establishing peace in the region.
On October 4, TASS, citing a source in the close circle of de facto Nagorno-Karabakh, reported that Samvel Shahramanyan, the current de-facto president of the Nagorno-Karabakh, was already on the territory of Armenia, and the Azerbaijani security forces did not detain him.
Sources:
Caucasus watch, "Separatist Nagorno-Karabakh Republic to Abolish Itself by January 2024", https://caucasuswatch.de/en/news/separatist-nagorno-karabakh-republic-to-abolish-itself-by-january-2024.html,
The Caucasus watch, "Azerbaijan Detains Ex-Karabakh Leaders, Shahramanyan Moves to Armenia", https://caucasuswatch.de/en/news/azerbaijan-detains-ex-karabakh-leaders-shahramanyan-moves-to-armenia.html,
BARSEGHYAN Arshaluys, AGHAYEV Ismi, OC Media, "Azerbaijan arrests former presidents and parliamentary speaker of Nagorno-Karabakh", https://oc-media.org/azerbaijan-arrests-former-presidents-and-parliamentary-speaker-of-nagorno-karabakh/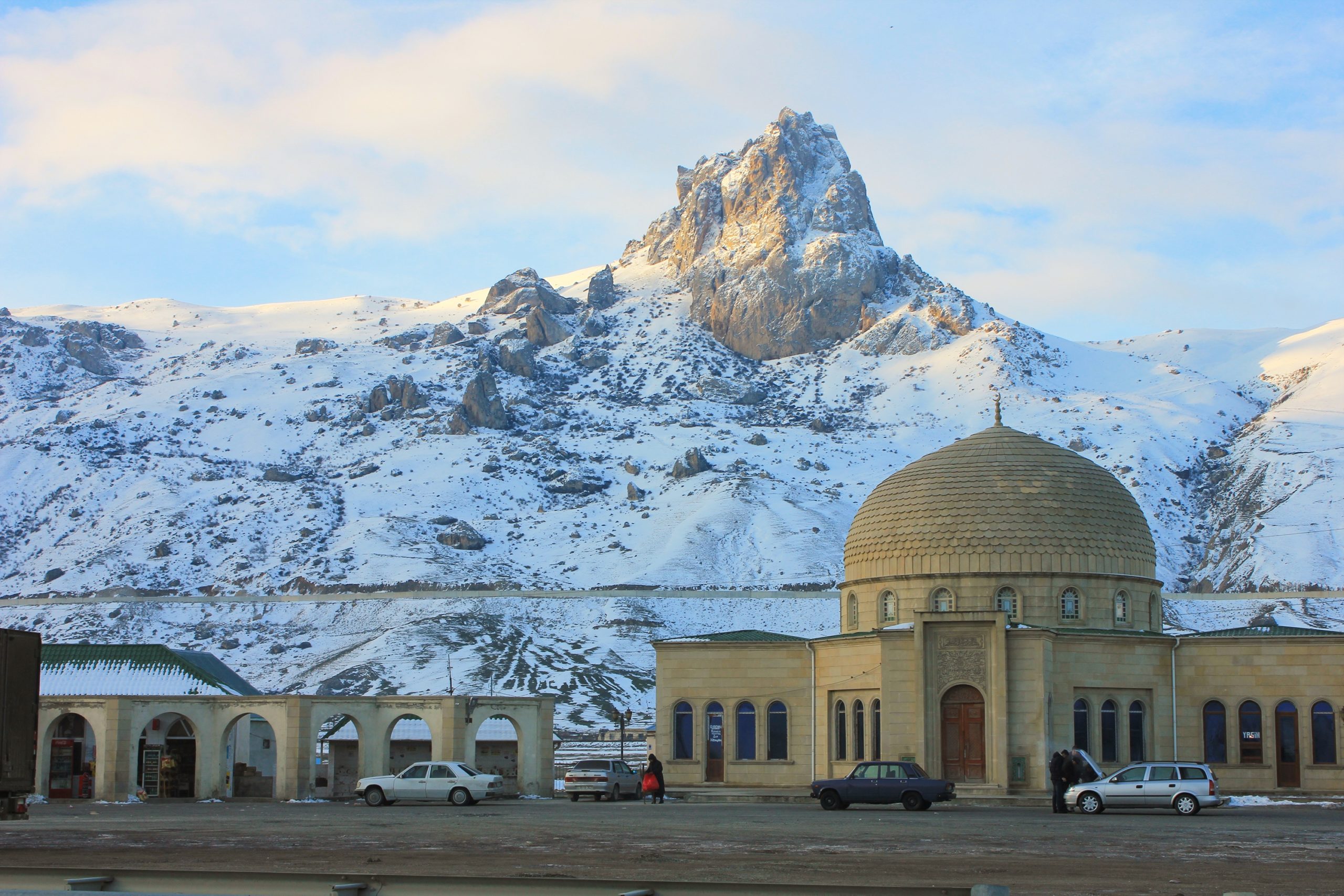 Baku, Azerbaijan. Photo: Shutterstock.com
Azerbaijan-Iran normalisation on the horizon
The two countries, whose relations have long been strained, are now working together on a transit corridor and discussing normalising their relations, reports Eurasianewt.org. On October 6, Azerbaijan's Deputy Prime Minister Shahin Mustafayev and Iran's Minister of Roads and Urban Development, Mehrdad Bazrpash, took part in a groundbreaking ceremony for a bridge connecting the two countries over the River Aras.
Bazrapsh announced that Azerbaijan and Iran would establish a border crossing near the abandoned town of Aghband, close to the point at which the borders of Iran, Azerbaijan, and Armenia meet. The city came under Azerbaijani control during the Second Nagorno-Karabakh War. This project should lead to the construction of a corridor from Azerbaijan to its exclave, Nakhichevan.
The corridor is set to be financed by Azerbaijan and overseen by Iran and will include a motorway and a railway. It was initially announced in March 2022, with the two countries forming a joint economic commission to oversee construction. "In this project, Azerbaijan is responsible for the construction of the bridge, and Iran is responsible for the construction of the highway", said Bazrapsh.
Also, an agreement was reached on constructing the bridge and the railway line. Since the end of the Second Nagorno-Karabakh War, Azerbaijan has increasingly sought to establish a corridor to connect the exclave of Nakhchivan to the rest of the country. This manifested in proposed plans to establish the "Zangezur corridor" through Armenia's southern Syunik Province. The proposed corridor remains a point of contention between Armenia and Azerbaijan in peace talks.
The following day, Bazrpash said Azerbaijan's embassy in Tehran could resume its work soon. "The Iranian side has asked for the quick restoration of the activity of the Azerbaijani embassy, and Azerbaijan has promised to take steps in this direction in the near future," Azerbaijan's APA news agency reported, quoting Bazrpash.
Tensions between Iran and Azerbaijan have been on the rise since the end of the Second Nagorno-Karabakh War. Azerbaijan evacuated its embassy in Tehran following a gun attack in January 2023 that left one embassy staffer dead and two wounded. Azerbaijan's President Ilham Aliyev directly blamed "some branches of [the] Iranian establishment" for the attack and said that any normalisation of relations could happen only after "those who sent the terrorist, those representatives of the Iranian establishment who did this brutal act against Azerbaijan" are brought to justice. Iran has also held at least two military exercises on the border with Azerbaijan, with officials in Tehran often issuing threatening statements against Azerbaijan.
There are signs that tensions are abating in relations between Azerbaijan and Iran now. They come after Baku's lightning offensive to take back Nagorno-Karabakh and the subsequent exodus of the region's ethnic Armenian population. Iran officially welcomed the region's return to Azerbaijan's fold.
Sources:
ISAYEV Heydar, Eurasianet.org, "Azerbaijan-Iran normalisation on the horizon", https://eurasianet.org/azerbaijan-iran-normalization-on-the-horizon

AGHAYEV Ismi, OC Media, "Azerbaijan begins construction of corridor to Nakhchivan through Iran", https://oc-media.org/azerbaijan-begins-construction-of-corridor-to-nakhchivan-through-iran/
Former de facto Nagorno-Karabakh cleansed of Armenian population
On October 1, Nagorno-Karabakh's de facto Human Rights Defender, Gegham Stepanyan, announced that the last bus with Armenian refugees from de facto Nagorno-Karabakh had arrived in the Armenian city of Goris. Over 100,000 refugees are reported to have arrived in Armenia since Nagorno-Karabakh's surrender. According to the UN mission dispatched to the region, between 50 and 1,000 ethnic Armenians now remain in former Nagorno-Karabakh.
"Everyone thought the road would be closed and rushed to the border. People were passing 300-400 meters daily, no one had food, and people had to make fireplaces near the road to cook something and get warm. Three days of being sober, broken, and disgusted," formerly Karabakh-based journalist Hayk Harutynuan said in an Instagram post.
After making it through the border, refugees had to wait on the Armenian side as well. People had to get out of their vehicles to register, receive first aid, and get some food. "The situation is very bad, especially for the children. They mostly have a cold. For example, one group came in an open-body car, and they were under the rain for two days. Imagine how cold and drenched they were," said local doctor Zhaklin Avetisyan to Eurasianet.org.
She added that most people who were seriously injured in last week's fighting have already made it across the border. But people are still falling through the cracks. Avetisyan said she tended to a man who almost lost his leg and had spent 10 hours in the caravan with everyone else. Every few hours, a row of ambulances pushes everyone off the road and speeds through the checkpoints.
'We thought it would be good, until the last minute, we didn't believe that we would have to leave", Mariam Nalbandyan said to OC Media of the aftermath of the 44-day war in 2020, which left the Armenian side defeated. The family knew of only three people left in Martuni. An elderly woman who did not want to leave her husband's grave, another man who did not want to leave his son's grave, and a homeless person.
On September 28, the Armenian government announced it would allocate 360 million AMD (about 911 900 USD), or just under a million dollars, to Armenia's regional governors to purchase food and non-food essential goods for Armenians who fled Karabakh. It also announced a one-time handout of 100,000 AMD (about 256 USD) to each person who escaped.
Territorial Administration and Infrastructure Minister Gnel Sanosyan said the governors' offices in Syunik, Gegharkunik and Vayots Dzor provinces will be given 50 million AMD each (about 126 653 USD), while the rest of the provinces 30 million AMD each (about 75 992 USD). "In the future, we will increase the amount of funds and distribute them as needed," he noted. Sanosyan reminded that on Monday, the government had already provided 100 million AMD (about 253 306 USD) to the Syunik region.
But absorbing this many people in such a short period of time would be a difficult challenge for any government, let alone Armenia, with its meagre population of less than three million. "The Armenian government needs huge international support to deal with the needs of up to 120,000 refugees, especially in the long term," Benyamin Poghosyan, a senior research fellow at APRI Armenia, told Eurasianet.
Sources:
 De Pencier Fin, Eurasianet.org, "Armenia scrambles to accommodate uprooted Karabakhis", https://eurasianet.org/armenia-scrambles-to-accommodate-uprooted-karabakhis
Berseghyan Arshaluys, OC Media, "The last bus out of Nagorno-Karabakh", https://oc-media.org/features/the-last-bus-out-of-nagorno-karabakh/
Arka.am, "Armenian authorities to provide 360 million drams to governors' offices to support Karabakh refugees", https://arka.am/en/news/politics/armenian_authorities_to_provide_360_million_drams_to_governors_offices_to_support_karabakh_refugees_/
Aliyev "backs out" of meeting with Pashinyan after France greenlights arms to Armenia
Azerbaijan's President Ilham Aliyev has turned down a European meeting in Spain with Armenia's Prime Minister Nikol Pashinyan because of European support for Yerevan. The talks were to take place on the sidelines of the European Political Community summit, under the mediation of France, Germany and the European Council.
"Azerbaijan did not consider it necessary to participate in negotiations in this format," an Azerbaijani government official told AFP. Aliyev would not attend because of "pro-Armenian statements by French officials… and statements on the supply of weapons and ammunition (to Yerevan), on military cooperation", the official told AFP.
French Foreign Minister Catherine Colonna said in Yerevan that Paris had agreed to deliver military equipment to Armenia without elaborating.
The official said Aliyev's decision was also influenced by "accusations made by EU Council President Charles Michel". Michel, who has mediated several meetings between the foes in recent years, criticised Baku's use of military force. The official also cited an "anti-Azerbaijani atmosphere" and said Baku had wanted the meeting to take place in Turkey, its ally, which welcomed the Karabakh offensive.
Pashinyan, in his reaction, claimed chances were high for signing a document in Granada until Azerbaijan opted out of the meeting. "We believed there was an opportunity to sign a document that would mark a turning point. We were assessing the chances very high until this morning," PM Pashinyan said. "We regret that the five-party meeting will not take place, but we do hope that the concept document put on the table will be signed at a convenient time. I'm ready to sign that treaty and regret that tomorrow I will not have an opportunity to declare tomorrow that a very important decision has been made," PM Pashinyan stated before the planned meeting.
After the meeting, the President of the European Council, Charles Michel, the President of France, Emmanuel Macron, and the Chancellor of Germany, Olaf Scholz, underlined their unwavering support for the independence, sovereignty, territorial integrity and inviolability of the borders of Armenia. They also expressed their support for the strengthening of EU-Armenia relations, in all its dimensions, based on the needs of the Republic of Armenia.
They agreed on the need to provide additional humanitarian assistance to Armenia as it faces the consequences of the recent mass displacement of Karabakh Armenians. They stressed that these refugees must be free to exercise their right to return to their homes and places of living without any conditions, with international monitoring, and with due respect for their history, culture and human rights.
Sources:
France 24, "Azerbaijan's president refuses to attend EU talks with Armenia PM", https://www.france24.com/en/europe/20231004-azerbaijan-s-president-refuses-to-attend-eu-talks-with-armenia-pm
Armradio.am, "Armenian PM says chances were high for signing a document in Granada until Azerbaijan opted out of the meeting", https://en.armradio.am/2023/10/04/armenian-pm-says-chances-were-high-for-signing-a-document-in-granada-until-azerbaijan-opted-out-of-the-meeting/
European Council, "Statement by Prime Minister Nikol Pashinyan of Armenia, President Michel of the European Council, President Macron of France and Chancellor Scholz of Germany", https://www.consilium.europa.eu/en/press/press-releases/2023/10/05/statement-by-prime-minister-nikol-pashinyan-of-armenia-president-michel-of-the-european-council-president-macron-of-france-and-chancellor-scholz-of-germany/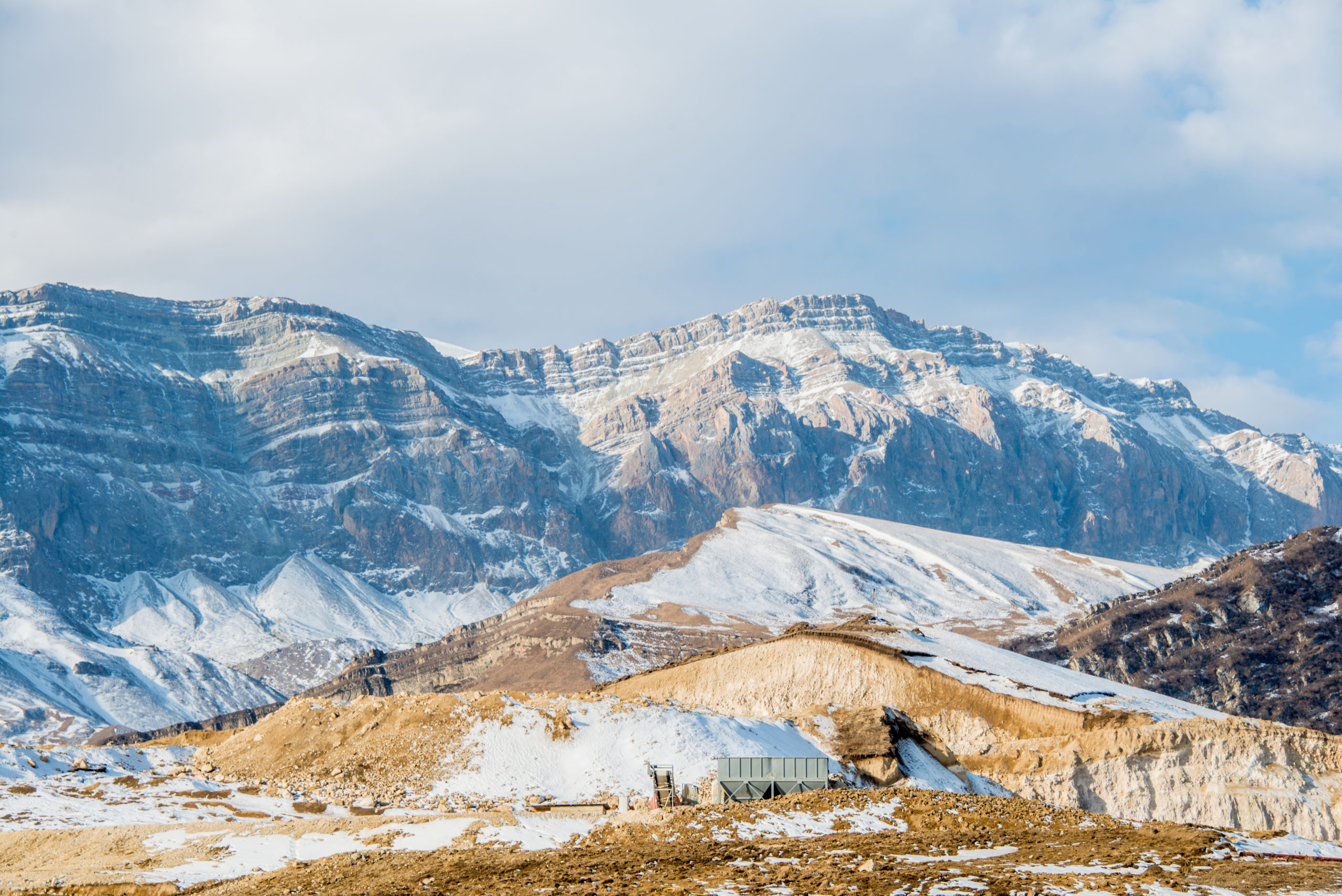 Mountains during winter in Azerbaijan. Photo: Shutterstock.com
Azerbaijan's SOCAR made an oil deal with Russia's Lukoil
Private Russian oil producer Lukoil will lend Azeri state oil firm SOCAR 1.5 billion USD (1,4 billion EUR) as part of a broader deal allowing Socar's 200,000-barrel-per-day Turkish STAR refinery to process Russian crude again.
The deal will give Lukoil another customer close to Russian ports after most European refiners stopped importing its crude to comply with European Union sanctions imposed after Moscow launched an invasion of Ukraine in 2022. According to Eurasianet.org, the unusual agreement is apparently structured to overcome the problems SOCAR was facing in purchasing Russian crude oil for its STAR refinery due to the sanctions imposed by the West.
SOCAR's head office in Baku did not respond to a query about its agreement with Lukoil, and it is unclear how the loan from Lukoil will be structured or how it will be integrated with the agreement to supply crude oil to SOCAR's STAR refinery.
Commissioned in 2018, SOCAR's STAR refinery in Turkey has the capacity to process 11 million tons of crude oil a year, producing mainly diesel and jet fuel for Turkey's domestic transport market and gasoline for SOCAR's Petkim petrochemicals plant, adjacent to the refinery.
The STAR refinery was developed by Azerbaijan's SOCAR. It uses crude oil both from fields SOCAR owns and operates itself and from Azerbaijan's main ACG oil field, which a consortium led by BP operates.
These Azerbaijani crudes are "light" ones and command a higher price on global oil markets from refineries designed to take advantage of its special properties and produce a different range of products from that required by the Turkish market.
As such, the STAR refinery was designed to process all types of crude oil available in the east Mediterranean region, including Russia's heavier Urals crude, which is exported by tanker through the Black Sea.
Sources:
O'BYRNE David, Eurasianet.org, "Azerbaijan's SOCAR in sweetheart oil deal with Russia's Lukoil",https://eurasianet.org/azerbaijans-socar-in-sweetheart-oil-deal-with-russias-lukoil

ZHDANNIKOV Dmitri, Reuters, "Exclusive: Russia's Lukoil lends Socar $1.5 billion in a deal to supply its Turkish STAR refinery", https://www.reuters.com/markets/commodities/russias-lukoil-lends-socar-15-bln-deal-supply-its-turkish-star-refinery-sources-2023-10-05/
Region's largest solar power plant to be put into operation in Azerbaijan
On October 20, Azerbaijani Energy Minister Parviz Shahbazov said that in the coming days, the region's largest solar power plant (SPP) will be put into operation in Azerbaijan.
"The 230 MW Garadagh SPP is the first station built in our country at the expense of foreign investment in the amount of 225 million USD (212 million EUR). Thanks to this station, our energy balance will include 500 million kWh of "green energy" annually.
Also, in accordance with the implementation agreements with the United Arab Emirates company "Masdar" for the evaluation, development, and implementation of 1 GW of solar and 1 GW of wind on land, and initially 2 GW in the sea and in the next stage 4 GW of wind energy and hydrogen projects areas and potential areas in the sea are determined," he said.
The minister added that within this framework, the construction of 390 MW solar power plants in Neftchala, 445 MW solar power plants in Bilasuvar, and 200-300 MW wind power plants in Gobustan is planned.
Azerbaijan has been encouraging the development of new renewable energy projects intending to meet 30 per cent of the country's power demand from renewables by 2030. Baku believes that developing its renewable energy potential can reduce its dependence on natural gas for power generation, freeing up more gas for export and thus maintaining its export revenues as production from the country's oil fields declines. The Garadagh plant alone is expected to generate sufficient power to save an annual 110 million cubic meters of gas.
According to Eurasianet.org, Azerbaijan has enormous scope for developing renewable power generation, most notably its offshore wind capacity in the Caspian Sea.
Georgia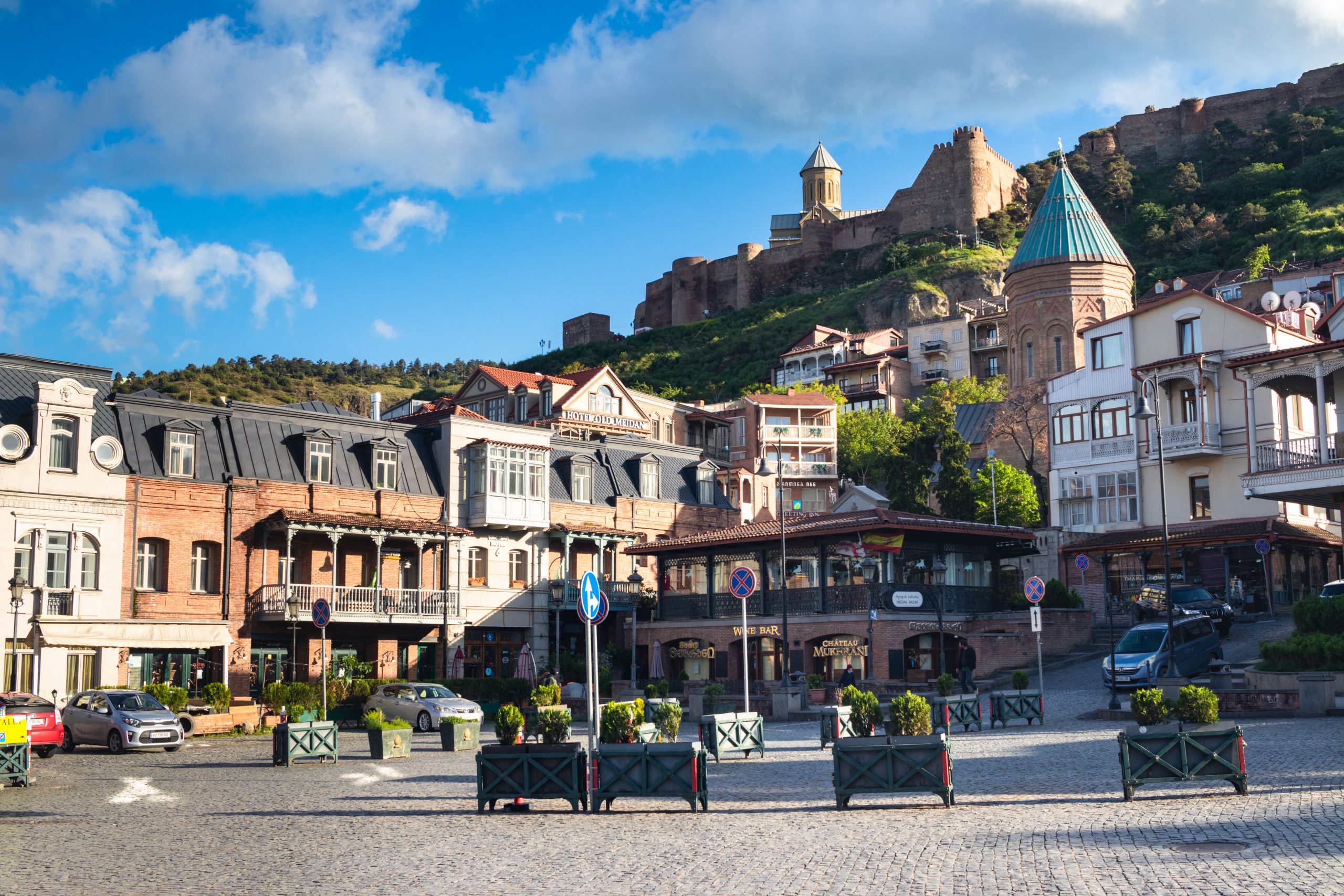 Meidani Square, Tbilisi. Photo: Viktor Kochetkov/ Shutterstock.com
Georgian Dream passes new anti-protest amendments 
Georgia's ruling party has passed controversial amendments to the country's law on protest, which critics warn will severely restrict freedom of assembly. The amendments were proposed following claims by the country's security service that international groups aimed to incite violent civil unrest in the country later this year.
On October 5, the parliament endorsed the amendment to the Law on Assemblies and Manifestations that the ruling party rushed through in an accelerated procedure. 74 MPs voted for and 22 against. The law, critics say, will provide the police with more powers to curtail the freedom of assembly.
The law, if adopted, would prohibit participants of any assembly or demonstration from setting up "temporary structures" (such as tents, shacks, etc.) if: Setting them up poses a threat to the participants of the assembly or demonstration or other persons; Interferes with the protection of public order and security by the police; Disrupts the normal functioning of the enterprise, institution, or organisation; Without these structures, the holding of the assembly or demonstration is not substantially impeded, and/or its organisation of the assembly or protest is not related to the holding of a rally. Failure to comply would lead to a fine of 500 GEL and, in cases of severe violations, detention for a duration of up to 15 days.
The recently enacted legislation is commonly dubbed by opposition and activists the "New Russian Law." Some activists staged a protest in front of the parliament building on the evening of October 5. Demonstrators erected tents and remained overnight, demanding that Georgia's President, Salome Zourabishvili, veto the legislation.
Two people were arrested during the rally. According to the Ministry of Internal Affairs, they were detained for administrative offences under Article 166. In addition, law enforcement officials barred Lazare Grigoriadis' father, Beka Grigoriadis, and his brother, Kakha Grigoriadis, from the area. According to those gathered near the parliament, there was a verbal altercation between the police and the rally participants, after which Beka and Kakha Grigoriadis were taken away by police patrol cars. Whether they have been detained or just removed from the scene remains unknown.
The ruling party MPs tabled their initiative days after Georgia's State Security Service (SSG) announced that they were investigating a coup being plotted by a group including Ukraine's deputy director of counterintelligence, Georgian volunteers fighting against Russia in Ukraine, and a former bodyguard of ex-president Mikheil Saakashvili.
SSG claimed that in the event that the EU refused to grant Georgia membership candidacy status later this year, those involved planned to organise a "city of tents" in Tbilisi between October and December, allegedly additionally planning to detonate a bomb in one of the tents during street protests to incite violent unrest.
"It has been established that the organisers are considering implementing in Georgia a scenario similar to Euromaidan in Ukraine in 2014", the SSG claimed on September 18, referring to the wave of protests that followed then-President Viktor Yanukovych's decision not to sign an association agreement with the European Union, in favour of closer ties with Russia. Yanukovych and his government were ousted after three months of protests.
After opposition-aligned media chastised the SSG for failing to provide evidence for its assertion, it held a briefing on October 2 at which it accused the US Agency for International Development (USAID) of training Georgian activists how to plan a revolution. It stated that an investigation into the matter was ongoing.
At the briefing, the SSG released footage that it described as showing three members of the Serbian Canvas group, brought to Georgia by USAID, teaching activists how to enact violent unrest and regime change. The voices heard in the footage describe their experience of protest and activism and strategic approaches to protest.
The US Embassy in Georgia reacted to the accusations made by the SSG against the USAID: "Allegations made publicly today against one of our assistance projects are false and fundamentally mischaracterise the goals of our assistance to Georgia. USAID has been supporting the Georgian people since 1992. As always, our assistance is transparent, and we welcome any opportunities to discuss any concerns the government may have.
The Public Defender of Georgia, Levan Ioseliani, released a statement on October 4 and emphasised that the amendments "represent an intense interference with freedom of expression/assembly, which restricts the expression of opinion by using temporary constructions (for example a tent).
Sources:
KINCHA Shota, OC Media, "Georgian Dream pass new anti-protest amendments", https://oc-media.org/georgian-dream-pass-new-anti-protest-amendments/

Civil.ge, "Parliament Adopts the Amendments to the Law on Assemblies and Manifestations", https://civil.ge/archives/562238

Civil.ge, "Explainer | What is the "Tents Law" GD is Rushing through the Parliament?", https://civil.ge/archives/561991

Caucasus Watch, "Georgian Officials Allege USAID-Backed Activists Plotting Government Overthrow; US Embassy Responds", https://caucasuswatch.de/en/news/georgian-officials-allege-usaid-backed-activists-plotting-government-overthrow.html
Georgia's ruling party fails to remove the president
On October 18, the Parliament of Georgia failed to impeach President Salome Zurabishvili, with 86 votes in favour and one against. One hundred votes were needed for impeachment, but only 90 MPs registered. Before the official decision, the ruling Georgian Dream representative noted that the majority itself had not expected it would be able to impeach the president since the opposition would likely be against the decision.
Georgian Dream Chair Irakli Kobakhidze, who said that "if Salome Zurabishvili had retained her basic dignity, she would have resigned", also attended the session. "She will remain exclusively the president of the [opposition United] National Movement; what is the value of the presidency in such conditions? Judge for yourself", he said.
On October 16, Georgia's Constitutional Court ruled that Zurabishvili violated the constitution by making official visits abroad in August and September after the government refused to grant her official permission. Georgian Prime Minister Irakli Gharibashvili responded to the ruling by the country's Constitutional Court by saying, "The time of presidents in this country thinking they stand above the law is over".
Following the Constitutional Court's decision on the president's violation of the constitution and the failure of the Parliament to impeach her, the president has also been threatened by the ruling Georgian Dream representatives with criminal prosecution if she continues with the visits to the international capitals without the government's consent.
In her address to Parliament during the session, Zurabishvili denied violating the constitution and stated that the vote would harm Georgia's "European future". "I will not be deprived of anything by this process. Today, it is not my fate, but your fate is decided. You are not impeaching me, but yourself, the country, its European future, and every one of your votes [in favour of impeachment] is a vote against this future of ours", said Zurabishvili.
The Georgian opposition nearly univocally criticised the impeachment process. Ana Tsitlidze, a UNM MP, said that "Georgian Dream will take drastic measures against anyone it perceives as obstructing its Russian plan. Now, it is the President of Georgia who is preventing the implementation of this Russian plan, but I think the main thing here is not what the Russian Dream will do. We know and have experience that the Russian Dream will do everything…".
According to Salome Samadashvili, a Lelo deputy, "The 'Russian' government will attempt to fight with Soviet methods against all those institutions and individuals that are unacceptable for them, so I don't rule out such an absurd act on the part of the GD."
Before Zurabishvili's impeachment was put to the vote, Transparency International Georgia accused the ruling party of attempting to "sabotage Georgia's European integration process".
The EU is set to make a decision regarding Georgia's EU membership candidate status in November.
Georgia offers mediation between Armenia, Azerbaijan
On October 9, during an unannounced visit to Tbilisi, Azerbaijani president Ilham Aliyev endorsed the idea of Georgia acting as a mediator and host of peace talks between Armenia and Azerbaijan.
"We are grateful to Azerbaijan, which, in turn, always supports Georgia's territorial integrity and sovereignty. We have also confirmed that we have great hopes that Azerbaijan and Armenia sign a peace agreement," Georgian PM Irakli Gharibashvili said during the press conference. "We have always been impartial here in Georgia and are ready to contribute to this issue today. We want to be a mediator in this matter and are ready to offer any friendly format. Our future should be peaceful and stable, and all three countries of the South Caucasus should address regional issues themselves," he added.
Aliyev welcomed the idea and suggested he would prefer it to the ongoing peace talks formats. "Several countries and some international organisations are trying to support the normalisation process between Armenia and Azerbaijan today. We welcome that. If it is not lop-sided and biased, of course, we welcome any mediation and assistance. However, in my opinion, taking into account both the historical relations and the geographical factor, the most correct option in this field would certainly be Georgia," Aliyev said. "[I]f Armenia agrees, the heads of our relevant authorities can immediately come to Georgia for both bilateral and trilateral meetings."
On October 11, Armenia's Prime Minister, Nikol Pashinyan, responded to a proposal by Azerbaijan's President to consider Georgia as a venue for negotiations and bilateral and trilateral meetings in Tbilisi. Pashinyan expressed concern that Aliev's suggestion was made at the same time discussions about a meeting in Brussels were underway. They could be interpreted as an attempt to undermine the already agreed principles and shift to a different negotiation platform, believes Pashinyan.
The Armenian PM said in an interview with Armenia's Public Television: "A meeting was held in Granada, and the principles of regulation of relations between Armenia and Azerbaijan were established on the platform of the European Union, from our point of view and from the point of view of the European Union. And it is clear that when we meet in Brussels, the conversation should be held within the framework of these principles, and I will not say that they correspond only to the interests of the Republic of Armenia. The Republic of Armenia has accepted them, and by the way, Azerbaijan has also accepted them… if Azerbaijan tries to propose another platform, it can be interpreted by us that by changing to another platform, Azerbaijan wants to neutralise the already agreed principles."
Pashinyan further expressed concerns about the possibility of hidden agendas that might lead to the use of force, a new conflict, or heightened tensions. He clarified: "We do not oppose dialogue but are opposed to a course of action that would deviate from the established principles."
Russia to establish a naval base in Abkhazia
Russia plans to build a permanent naval base on the Black Sea coast in de facto Abkhazia. De facto president of Abkhazia, Aslan Bzhania, said on October 5 that Abkhazia and Russia have already signed an agreement, and the new base will be in the Ochamchira district "in the near future".
"All this is aimed at increasing the level of defence capability of both Russia and Abkhazia, and this kind of cooperation will continue because it ensures the fundamental interests of both Abkhazia and Russia, and security is above all," he said. "There are also things I can't talk about".
As Politico.eu stressed, the news of the new naval base comes a day after the Wall Street Journal reported the Kremlin had withdrawn the bulk of its Black Sea Fleet from its main base in occupied Crimea. Citing Western officials and satellite images, the newspaper wrote that Russia had moved its vessels from Sevastopol — which has been targeted by Ukrainian missiles — to other ports that "offer better protection."
The agreement on opening the military base met with the disapproval of practically the entire Georgian political spectrum. President of Georgia Salome Zourabishvili said that the Russian decision to open a naval base on de iure Georgian territory constitutes a "direct threat" to Georgia, its EU aspirations and the Black Sea security. She called on the international community "to firmly react, condemning this blatant provocation."
"Russia is already planning to build the third military base, in this case, a naval base on our territory, of course, without our permission. This is the result of occupation. This is the continuation of the occupation, of course, that's how we perceive this illegal decision," said Georgian Prime Minister Irakli Gharibashvili.
Opposition United National Movement also condemned "Russia's illegal decision about opening a so-called permanent naval base in Ochamchire, occupied Abkhazia". It also criticised the Georgian government, claiming that the "ruling Georgian Dream did not have a proper reaction".
Badri Japaridze, leader of the Lelo Party, stressed that establishing the base "is an attempt of the Russian Federation to bring military activities to Georgia, to bring a frontline in Abkhazia, within the internationally recognised borders of Georgia".
Sources:
CHIAPPA Claudia, Politico, "Russia to build a naval base in breakaway Georgia region", https://www.politico.eu/article/vladimir-putin-russia-black-sea-abkhazia-plans-to-build-naval-base-in-georgias-breakaway-region-as-it-pulls-vessels-from-sevastopol-base/

Civil.ge, "Reactions to Opening of Russian Navy Base in Occupied Abkhazia", https://civil.ge/archives/562405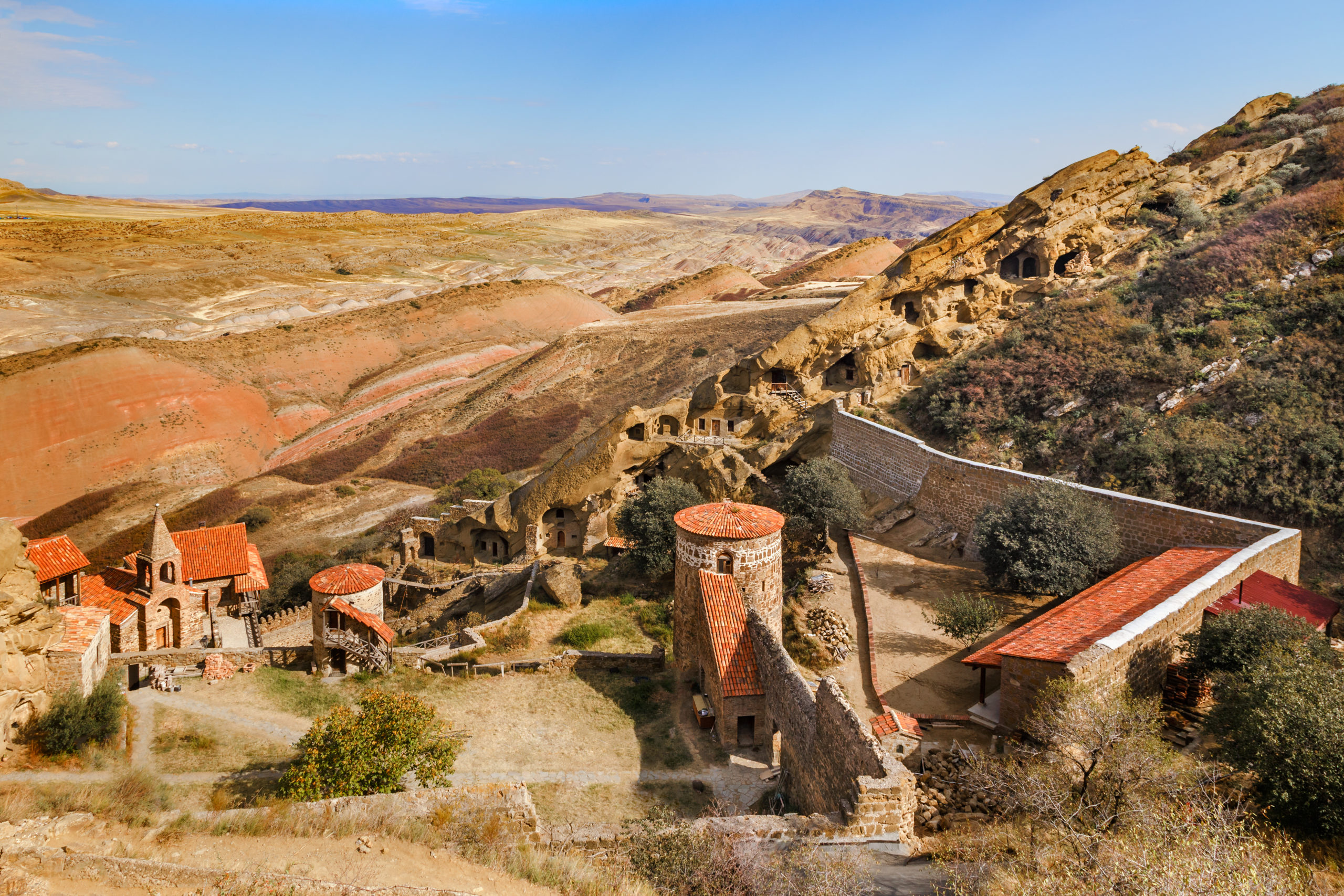 Aerial View of David Gareja Monastery and Caves, Georgia. Photo: Shutterstock.com
Racha forest protests enter fourth week in Georgia
Since September 27, Racha-Lechkhumi and Kvemo Svaneti residents have been protesting the 49-year hunting license for 104,712 hectares of Racha forest granted to Davit Khidasheli's private company.
Led by Varlam Goletiani, the Save Rioni Valley movement leader and a key figure in the Namakhvani protest, they argue that the government is leaving remote, inaccessible areas for Racha National Park, meanwhile ceding critical conservation territories to Khidasheli.
According to protesters, the Racha National Park has virtually no qualities of a nature reserve or a national park. The outline of the reserve does not cover any rivers on which a dam could potentially be built. All the areas where minerals were mined during the Soviet times have been cut off. The national park does not include the area marked for manganese mining in Shkmeri. They included Glaciers and the Caucasus range in the protected area of the national park. A person cannot walk there, a road cannot be built, trees don't grow, and you cannot dig for minerals – it is already protected, wrote Sakartvelos Ambebi.
On October 20, protesters moved to the town of Ambrolauri, an administrative centre of the Racha-Lechkhumi and Kvemo Svaneti region, demanding a meeting with regional governor Papuna Margvelidze. A day earlier, activists briefly blockaded a municipal hall in Oni in response to the cancellation of a meeting with Margvelidze and representatives of the environmental protection ministry. While the meeting had been set to take place on. Oni city hall staff demanded protesters not film the meeting in a live broadcast, a proposition the protesters rejected.
In April 2022, the online media outlet "Mtis Ambebi" conducted a journalistic investigation revealing that the Georgian government had granted Davit Khidasheli's company a 49-year license to Racha forest to establish a hunting farm. Khidasheli, known for his connections with Vladimir Putin's inner circle and close ties to Bidzina Ivanishvili and Prime Minister Irakli Garibashvili, is a Georgian businessman who played a key role in the "Cartographers' Case." From 2007 to 2014, he served as the executive vice president of AFK Sistema PAO, a Russian conglomerate owned by sanctioned tycoon Vladimir Yevtushenkov, who supported the annexation of Crimea.          The land transferred to Khidasheli for hunting farms borders Russia and the occupied Tskhinvali region. It's larger than Lagodekhi, Vashlovani, Javakheti, and Erusheti National Parks.
The hunting license was auctioned in March 2022 for 1,151,832 GEL/400 000 EUR (11 GEL/3,82 euros per hectare) with only one bidder, HG Capra Caucasica LLC. The auction terms stipulate a 5 million GEL/1 737 000 EUR investment within five years (47.7 GEL/16,5 EUR per hectare) and the reintroduction of noble deer and Caucasian deer to the land. The license area also includes the "Emerald Network" territories, aimed at conserving European biodiversity. Its establishment is necessary for the European Convention for the Protection of Wildlife and Natural Habitats, the Berne Convention, to which Georgia acceded in 2009.
Transparency International – Georgia claims that granting the license to Khidasheli on a third of Racha's territory resulted in lost revenue of about 2,057,593 GEL (714 000 EUR) from donor organisations and potentially involved corrupt dealings. As the watchdog notes, Khidasheli was "awarded" this license from Ivanishvili for his contribution to the "Cartographers' Case".
Source:
KINCHA Shota, "OC Media, Racha forest protests enter the fourth week in Georgia", https://oc-media.org/racha-forest-protests-enter-fourth-week-in-georgia/

Civil.ge, "Racha Protests: 49-Year Hunting License Awarded to Russia-Connected Businessman", https://civil.ge/archives/564537

Sakartvelos Ambebi, "Locals Demand Cancellation of Decision to Transfer Racha Forests to Khidasheli", https://sakartvelosambebi.ge/en/news/locals-demand-cancellation-of-decision-to-transfer-racha-forests-to-khidasheli
Georgian Dream rushes through controversial amendments outlawing "obscenity"
On October 19, the Parliament of Georgia adopted, in an expedited manner, with 79 votes in the third hearing, the controversial changes to the Law on Broadcasting, further expanding the power of the Georgian National Communications Commission. According to the Parliament, the amendments to the law concern the appeals procedure for decisions by media self-regulation bodies on the distribution of programmes and advertisements containing hate speech and incitement to terrorism.
The Parliament release says that the amendment "allows for appeals against such decisions to the Commission, in particular in cases of violation of the ban on broadcasting programmes and advertisements containing obscenity, hate speech and incitement to terrorism".
In the case of "gross violations of human rights", the Commission will be empowered to impose administrative sanctions on the offender. Finally, the sanctioned entity will be able to challenge the Commission's decision in court. The law already prohibited the dissemination of hate speech and incitement to terrorism in the media, but measures to respond to violations could only be taken under the self-regulatory mechanism.
Experts see these changes as a potential restriction of freedom of speech in the country. The package of changes was controversial even at the initiation stage, but the version adopted in the first reading is even more alarming. "To the state regulation of the clause on incitement to hatred was suddenly added a clause on the regulation of obscenity. This clause was not in the initiated version. It was added in the first reading before adoption. And this is a big threat to media freedom!" – says Eduard Marikashvili, Chairman of the Democratic Initiative of Georgia.
Natia Kuprashvili, Director of the Alliance of Regional Broadcasters, believes the planned changes are extremely vague. The legislative amendments allow for interpretation and interpretation, which means that based on its vision, the regulatory body can initiate legal proceedings against the broadcaster and apply sanctions in exceptional cases, which can become a mechanism for punishing critical media, Kuprashvili told Radio Liberty.
"Media Rights Coalition" also reacted to the draft law on October 17. In a statement released by the organisation, it notes that the concentration of additional powers in the hands of the regulator increases the risk of abuse. The organisation says it has legitimate concerns in light of past practices.
Irakli Kobakhidze, Chairman of the Georgian Dream party, said regarding the amendments that the government has no political interest and that it is the directive of the European Union. He claimed that the draft law had been sent to the European Union, and out of three options, they chose the one that the Parliament is now considering.
"As for these regulations, everything is based on the EU directive from beginning to end. This draft law was sent to the European Union. We offered options; they chose one of the three, and we adopted it. That's the end of the story. It is a directive of the European Union. As for obscenity, that record is not new and remains in the law. We heard obscenity from TV broadcasts in the past; this is a matter of culture, and we don't interfere in it. "I don't even know the details of this bill – we have no political interest. It is an EU directive that is being implemented," Kobakhidze affirmed.
Sources:
Civil.ge, "Parliament Adopts Controversial Amendments to Broadcasting Law", https://civil.ge/archives/564535

JAM News, "Amendments to the Law on Broadcasting may become a mechanism for punishing critical media in Georgia – experts", https://jam-news.net/amendments-to-the-law-on-broadcasting/

Georgia Today, "Parliamentary majority initiates amendments to the broadcasting law", https://georgiatoday.ge/parliamentary-majority-initiates-amendments-to-the-broadcasting-law/